We may be a bit biased, myself specifically, but living in Idaho offers some pretty incredible things. For starters, Idaho has gorgeous rivers, the foothills are easy to access, Bogus Basin is only 20 miles from downtown, and the hikes near Boise are pretty incredible.
Boise is a city in the Treasure Valley of Idaho located on the edge of the Boise Foothills and the Boise National Forest. Several nature reserves, parks, and trail systems can be found in Boise.
The trails in the Boise Foothills offer panoramic views of the city. The routes vary in difficulty and are ideal for hiking, biking, trail running, and even watching breathtaking sunsets. Boise is home to so much more than just potatoes; you'll find recreational activities to keep you busier than you ever expected.
The best thing is that there are options for every skill level, from little children who are just getting started to seasoned hikers.
Before we dive into some of the best hikes around Boise, let's answer a couple of questions that you may be asking.
What to Bring For Hiking Near Boise Idaho
As a beginner looking to get out and enjoy the trails around Boise, you don't need much to get started. You'll want to have water and some sturdy shoes -ones that don't give you those annoying hotspots. Boise heats up quickly throughout the day, so I emphasize the need to bring water.
After you have these two items, you're ready to hit the trails around the Boise area. The hiking trails around Boise are popular for people of all ages because they're easy to access, and hiking requires little investment to get started.
Pro Tip: For those of you that may be like me (horrible with direction), I'd recommend a trail mapping app, so you don't get lost. I'm CONSTANTLY getting lost. Anytime I think I should take the trail to the left…I'm wrong… I should have got right. My favorite trail app is Trailforks because it's excellent for hiking and biking.
Advanced Hiking Needs Around the Boise Area
After you've gotten a couple of hikes under your belt, you may find that you want to take your hiking to the next level. In this case, you may consider purchasing hiking poles, a sturdy daypack, and maybe even a sleeping bag, cooking gear, and a backpacking pack for overnight hikes.
Here's a List of Hiking Necessities to Make Things Easier
Good Hiking Shoes or boots- Choose a pair that are comfortable, and ideally waterproof
High Quality Socks- High quality socks will help prevent blisters
Water bottle or Camel Pack (our favorite way to hydrate)
Backpack/Daypack- We like this Luzon 24L Day Pack from Cotopaxi because it holds a lot of gear, and packs down really small when storing in the van
Hiking Poles
Sunblock- If you are hiking near Boise during the summer season, you're going to want to pack sunscreen
Sunglasses
Breathable Shirt and layers- When planning your Boise hikes, it's important to know that the mornings start out cool, and warm up quickly during the day.
Hiking Shorts or Hiking Pants- Having hiking pants or something similar will allow you to easily hike the trails without feeling restricted
How to Prepare for Hiking in Boise
Pick your hiking trail by using the list we've provided below or use Alltrails or Trailforks to guide you in picking the trail you'd like to explore.
Hiking in Boise During The Summer
If you're planning on hiking in Boise during the summer, you're going to want to hit the trails early. Boise can get downright hot in the summer, so you don't want to be caught on a longer-than-expected hike during the hottest part of the day. As always, make sure to take water on your hike.
Hiking in Boise During The Fall
Hiking during the fall in Boise is spectacular, you'll see the leaves change colors and the feel the fall crisp air set in.
What types of Passes do I Need to go Hiking in Boise?
One of the best things to do in Boise is to get outside and explore the endless trails that surround the city. The great thing about hiking near Boise is that it doesn't require special trail passes as many big-city trails do.
Does Boise Have Good Hiking Trails?
After hearing terms like the "Boise foothills" or "Camels Back Park", you may be wondering if Boise even has good trails for hiking. Your quick and easy answer is it definitely does!
Don't let the word "foothills" fool you into thinking there aren't big mountains. If you head 2-3 hours to McCall, Sun Valley, or Stanley, you'll find incredible mountains to explore.
You May be Wondering…What are the Boise Foothills?
The Boise Foothills rise above Idaho's capital city, providing a beautiful scenic backdrop. There is a web of roads and trails that winds through these hills, linking not only communities with public areas but also bringing people into contact with the natural world.
With over 190 miles of trail, there's something for everyone.
Ridge To Rivers in Boise
The Ridge to Rivers is the best source for being in the know about the trails around Boise. This is the source to use if you're trying to find out if the trails are too muddy in the area you're want to adventure to. You may find that Ridge to Rivers is used interchangeably with the Boise Foothills.
Here's access to a Ridge to Rivers Map.
The Mountains Are Close To Boise
The best part of the mountains around the Treasure Valley is they are really easy to access. Neighborhoods like the North End or Avimore have trails in their backyards. A drive up to Bogus Basin; the local ski and adventure center is only 18 miles from Boise, and it'll take you less than an hour to get there.
Locals love the Table Rock Hike if you're looking for something even closer than Bogus Basin.
Insider Tip: The Table Rock Hike is one that everyone should do. You get a panoramic view of Boise from the top of Table Rock that shouldn't be missed.
Best Beginner Hikes Around Boise
We'll start with some "simple" hikes for everyone, whether you're new to hiking, looking for short hikes near Boise, or have small kids. These hikes will be simple and easy, with little to no elevation change, and won't require any special gear.
These are also fantastic hikes to do when you want to get out and get some fresh air, but you're not feeling like breaking a sweat.
Oregon Trail
Difficulty: Easy
Length: 2.8 miles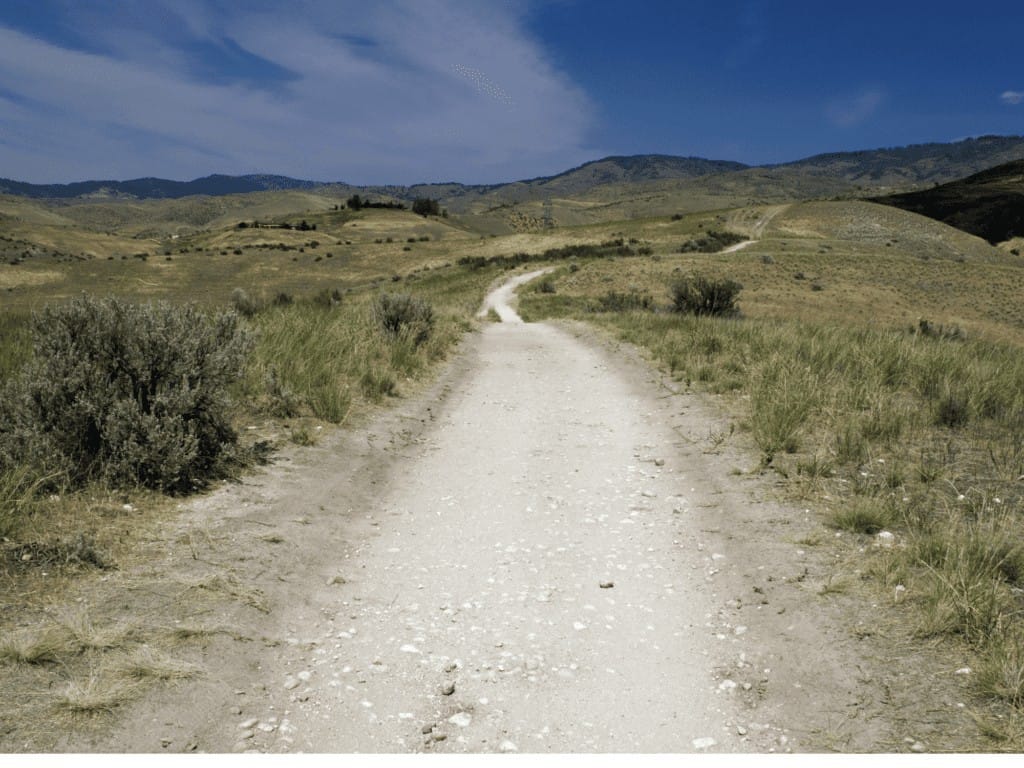 Hiding in Boise is the well-known Oregon Trail. The Oregon Trail is a significant part of the country's history, and the Oregon Trail played a huge role in forming the Gem State. The best part is you can hike it. The historic hike follows the same route that early pioneers took to get to the West.
Exploring this trail has the feel of participating in a living history lesson, with informative signage and even remnants of original wagon ruts. It's something every history lover in Idaho should do at least once.
The Oregon Trail is great for young children, beginner hikers, and those looking to experience what the pioneer travelers did. It's mostly flat, so you won't need special equipment or hiking boots to complete it.
Eagle Rock Loop
Difficulty: Easy
Length: 1.9 miles. Elevation 331
This two-mile multi-use trail loop is smooth and has little elevation change. This, coupled with the trails birds' eye views of Boise, makes it a fun and thrilling excursion for youngsters.
You'll experience beautiful wildflowers, and its proximity to the Idaho Botanical Garden and the Old Penitentiary make it desirable for people who want to explore these Boise attractions.
Bethine Church River Trail
Difficulty: Easy
Length: 2.7 miles
This trail is a 2.7 miles long paved path along the Boise River Greenbelt. The area is shaded and suitable for both walking and jogging. Kids enjoy this hike because they can discover new and different plants, see nesting animals, and spot fish in the streams.
This is a fun hike for the whole family and is an excellent walk if you're looking for a bit of a nature getaway.
Heroes Trail
Difficulty: Easy
Length: 1 mile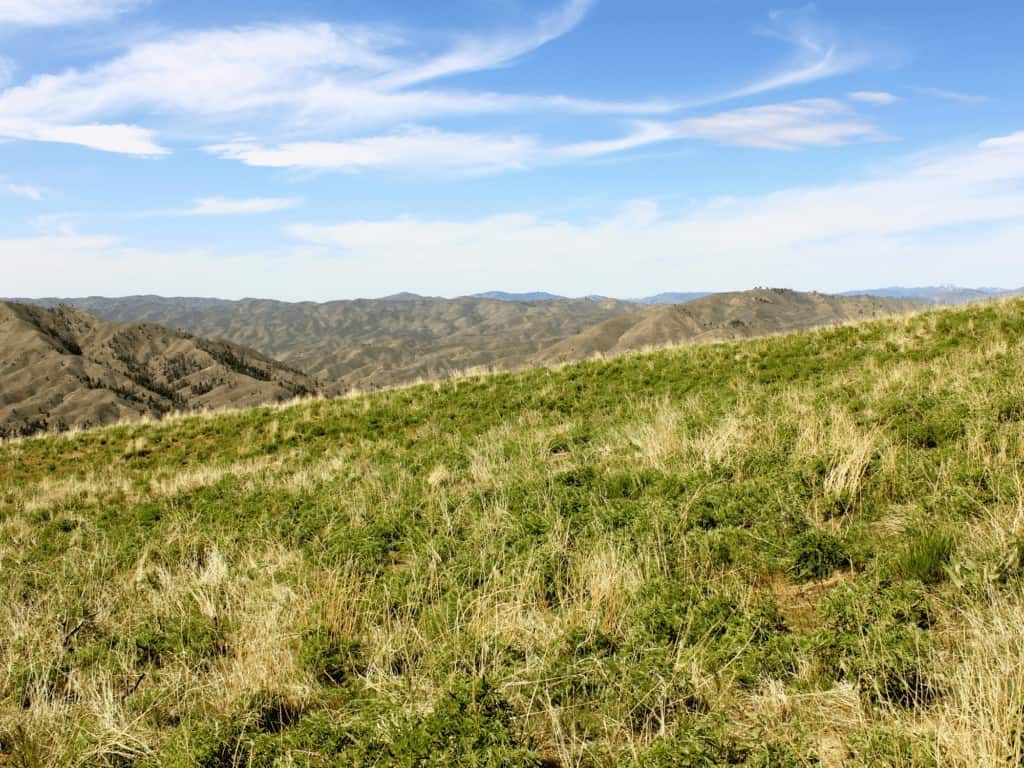 The great thing about hiking in Boise is that new trails are built all the time. This is a .80 connector trail that connects the Boise VA Medical Center to existing trails in the Military Reserve and Boise's North and East End neighborhoods.
The Heroes Trail was established as part of the 190-mile Ridge to Rivers Trail System to commemorate veterans' and healthcare workers' services to the community. Although it is a shorter walk at just .8 miles, this route offers an excellent educational opportunity for children.
Elephant Rock Loop
Difficulty: Easy
Length: 1 mile
The beautiful half-mile lollipop path is conveniently situated in Boise. It's a fun way to burn off energy, and the best part is that there's a big elephant-shaped rock for the kids to climb on.
Best Hikes for Views of Boise
There are a variety of reasons why certain trails become more popular than others. Most hikers like to explore something natural or beautiful along their route. A waterfall, superb locations for birdwatching, or an overlook are all wonderful aspects that make for some of the best views for hiking.
Table Rock Trail- Our Favorite Quick Hike Near Boise
Difficulty: Moderate
Length: 3.7 miles, 994' elevation gain
Estimated time: 2 to 3 hours (location)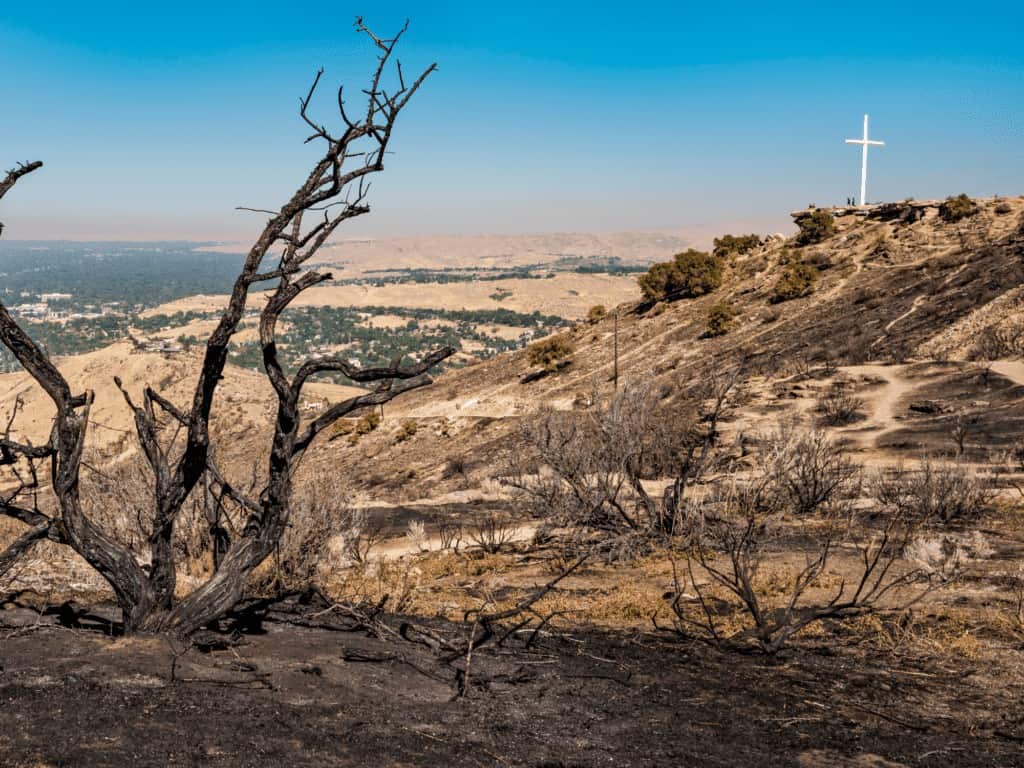 The 3.7-mile loop around Table Rock is a great way to explore the Boise foothills. It provides birds' eye views of Boise, and if you visit at the right time of day, you may see a lovely sunset. The trail is well-maintained, making it an excellent choice for hikers of all experience levels.
Be sure to bring plenty of water, especially during the hotter months. The views from the top of Table Rock are pretty spectacular, and it's a great place to catch a sunset in the summer evenings.
Adelmann Mine
Difficulty: Moderate
Length: 4.7 miles Elevation gain 1322
Estimated time: 2-3 hours
This trail is a great hike close to Boise and Lucky Peak, located on the Boise River Wildlife Management Area. We love that this hike is a dog-friendly 4.7-mile out-and-back trek to the abandoned Adelmann Mine.
The path is a dirt road that gets the steepest at about 3/4 way into your hike. The views are spectacular; take time to glance back at the mountains as you go up. There's a detour near the top that will bring you to fantastic 360-degree views.
The old mining facility makes for excellent photographs with a great backdrop. You can see what remains of an old mine next to it. This hike is a good one that doesn't take up your whole day. Expect around 2-3 hours (4 maximum) based on how quickly you go.
Camels Back Loop Trail-
Difficulty: Easy
Length: 1.70 miles
Estimated time: Less than an hour
Camels Back Trail Loop is a popular trail that is located in the heart of the North End of Boise in the popular Camels back park. This nearly 2 mile hike will take you on a loop trail hike. The route has a couple of steep sections but the views from the top make it worth it.
After your hike enjoy some time relaxing in the park or head to Hyde park area to get a bite to eat at Parilla Grill or ice cream at Goody's.
Harrison Hollow Trail
Difficulty: Easy
Length: 1.9, 286′ elevation gain
Estimated time: 45 minutes to 1 hour
If you're looking for a network of trails to take your dog on, this is it! This place is a mecca for dog walkers. The trail to Harrison Hollow is a 1.9-mile route that takes you along the Boise Foothills with views of the city of Boise and Owyhee mountains. Harrison Hollow is sandwiched between several different Boise neighborhoods so it can be reached from various areas throughout the city.
The trails in Hillside to Hollow are generally narrower than those on the Ridge to Rivers Trail System's other sections, making them appealing to runners and mountain bikers.
What we love most about this trail is that it's behind Highlands Hollow Brewhouse, so we can pop in for a drink after our hike in the area.
Hulls Gulch Nature Trail
Difficulty: Easy
Length: 6.3
The interpretive route is a great trail for nature lovers. If you want to learn more about the Boise Foothills' history, this pedestrian-only educational walk is an excellent alternative. If you'd like to extend your journey, the Camels Back Trail Loop joins the Hulls Gulch Nature trail.
This hiking trail is an easy hike to complete. The hiking trail will bring you to a scenic view of the Treasure Valley, waterfall and rolling mountains. This hiking trail is great for anyone looking for some exercise or a nice relaxing day outdoors.
Boise Hikes For Experienced Hikers
If you're looking for a more difficult experience, the Boise area offers no shortage of challenging trails. Take your time with these strenuous hikes or explore them as overnight backpacking adventure.
Cottonwood Creek Trail
Difficulty: Advanced
Length: 16 miles
Willow Creek Loop
Difficulty: Advanced
Length: 10 miles
The Willow Creek Trail is a 10-mile out-and-back that also gives access to numerous other trails on the Danskin Trail System. This route is ideal for those seeking something more challenging. There are several creek crossings with no bridges, so bring suitable waterproof boots. It also has a hot spring that you'll have to go off the beaten track to view.
Mount Heinan North Route- Our Favorite Longer Hike Near Boise
Difficulty: Advanced
Length: 9 Miles
The 9-mile out-and-back is a fantastic choice for trekking, camping, horseback riding, and cycling in the Boise Mountains. If you'd like to split your journey into two days, there are locations along the route where you may camp for the night. Mount Heinen is close to Boise and is one of the 4 peaks that make up the 'Grand Slam' (the others are Cervidae, Shaw, and Kepros).
Dry Creek – Shingle Creek
Difficulty: Intermediate
Length: 14 miles
This is an intermediate trail that is only 10 minutes from downtown Boise. The Ridge to River Trail System, includes this route making it a popular trail for many Boise locals. There are several river crossings, beautiful outcroppings, and a maxim The hike's difficulty varies along the route, so consider bringing a pair of trekking poles.
Toxaway to Alice Lake Loop
Difficulty: Advanced
Length: 19.1
Estimated time: 2-3 day backpacking
The Sawtooths are a remote range of mountains located in Central Idaho. This 19-mile hike passes through the Sawtooth Mountains. The trip usually takes around 2-3 days, depending on your speed and desire. There are several camping locations along the trail, so you'll have no trouble finding peace and quiet.
Boise Idaho Hiking
As you can see, the city of Boise has everything a hiker could need. Whether you're looking for a quick hike or an entire weekend on the trail, you'll be able to find it. Hiking is a good way to escape from life's daily grind and discover something new about yourself. We'd love to hear your idea of the best hikes near Boise. Leave us a comment below.
Other Fun Things to Do in Idaho
If you're looking for other fun things to do in Idaho don't miss our article about the best things to do in Twin Falls Idaho. Twin Falls is just 2 hours from Boise and makes for a great trip if you're looking for things to do around Boise.