Poised along the steep canyon walls of the Columbia River Gorge, Hood River is a vibrant and fun town full of youthful energy. At just an hour from Portland this bustling town comes alive with those in search of any number of outdoor activities. The surrounding areas are rich with hiking, biking, waterfalls, camping, skiing, and of course the Columbia River itself.
While Hood River is perhaps best known for its wind surfing and high flying kite boarding acrobatics, you're going to love the adrenaline induced breweries of Hood River. Let's have a look at the Best Hood River Breweries, including our personal favorite, plus another unique watering hole in the neighboring town of the Dalles.
Full Sail Brewing Co.
When you source local ingredients using sustainable local farms and pair that with a bunch of beer enthusiasts, you get Full Sail Brewing. From the day they opened in 1987 they have stuck to their plan and continue to crank out awesome beer that supports local farms. Today this massive facility sits proudly high above the city with immense views of the Columbia River Gorge.
As you walk up to the brewery take a few minutes to gaze at the impressive canning and brewing facility that they display through an entire city block of windows. Despite the massive size of the facility the actual tasting room is rather small and cozy.
With both indoor and outdoor seating you can't help but take in the amazing views of the river and the adrenaline inspired wind surfing and kit boarding scene. As you belly up to the bar in addition to the beer you'll also have your choice of ciders that they brew. When it's time to eat they have a great menu with normal pub fare.
Double Mountain Brewery- Our Favorite Hood River Brewery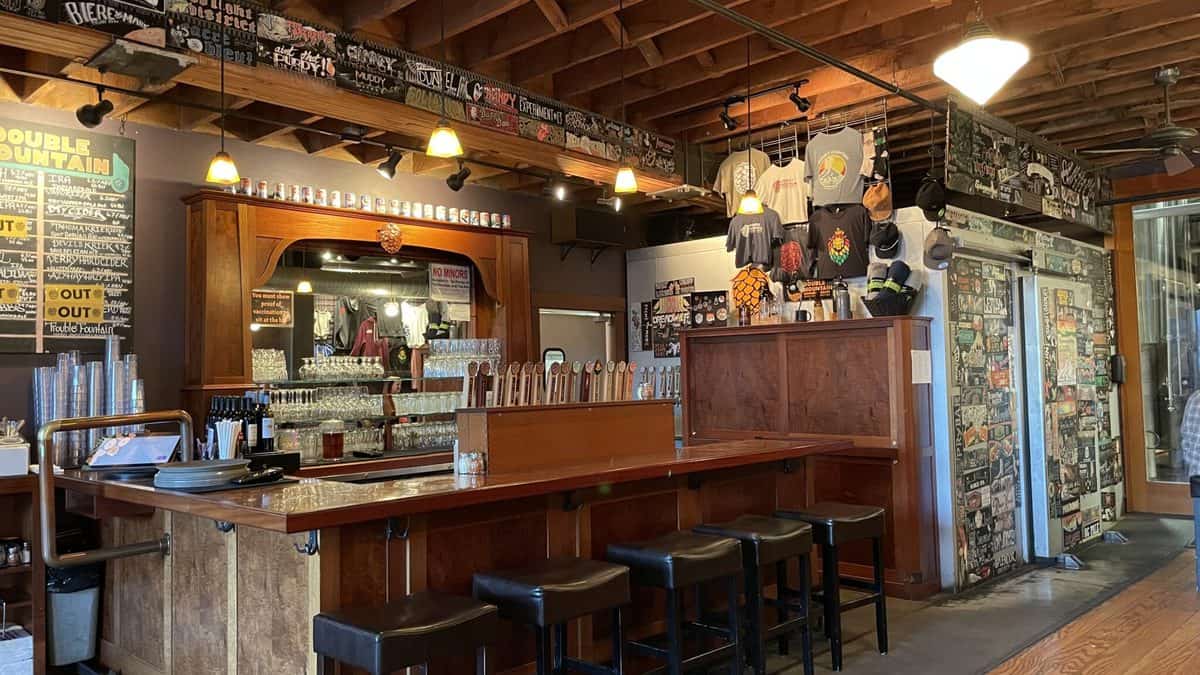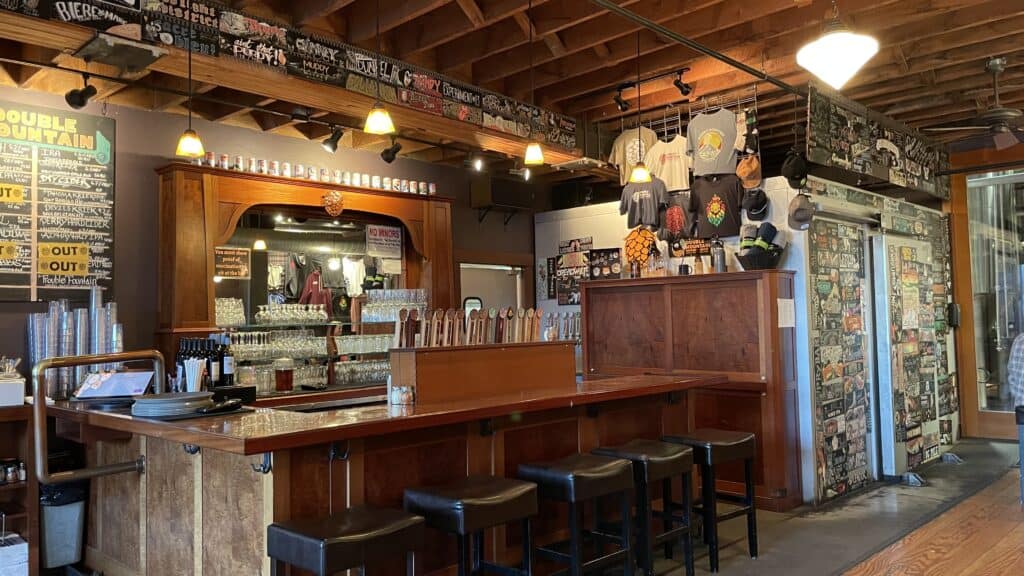 If we had to pick one as our favorite brewery, Double Mountain Brewery would be our choice. Tucked in along a side street in the heart of downtown, the historic building gives this brewery that rustic industrial charm. With massive overhead wood and steel beams along with two bar areas makes this place anything but ordinary.
But how's the beer you're probably asking? Well it's great! And so are the wood fired pizzas and like Full Sail they also brew an assortment of ciders. This place just felt friendly and from what we could tell this was very popular with the locals which is always a good sign.
Ferment Brewing Company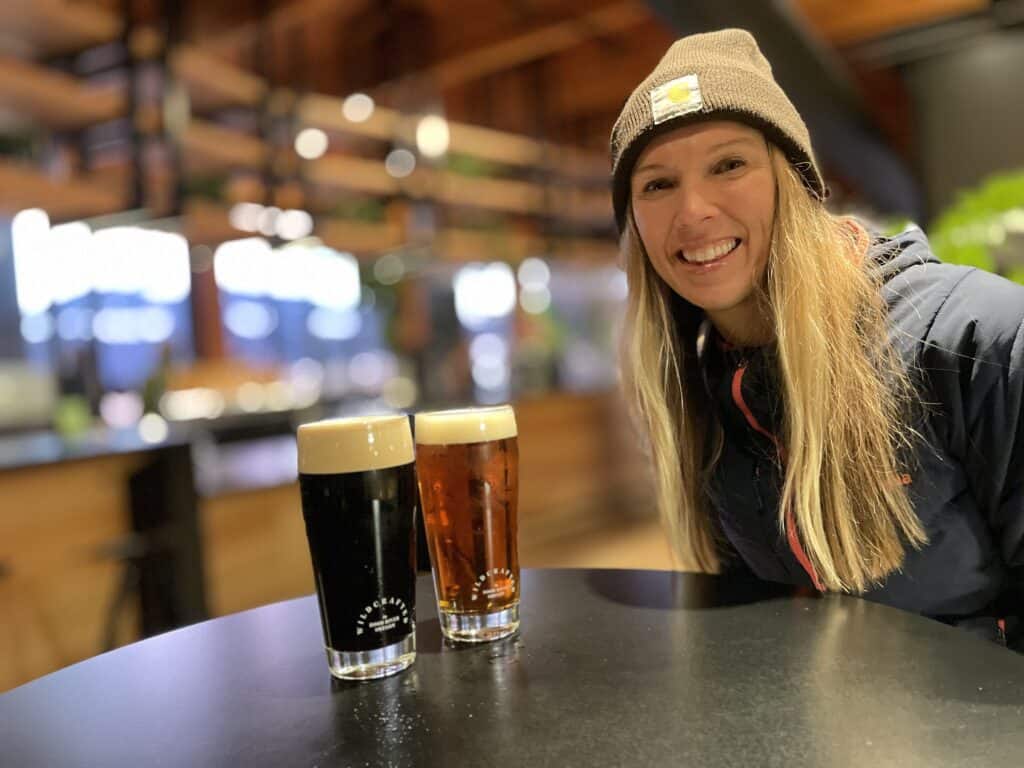 Sitting high above the shores of the Columbia River you'll find Ferment Brewing which wins hands down for the best view. This ultra modern brewery has indoor seating with expansive views of the river. Or you can peer down through the massive windows which open up to the brewery below you where you can learn a bit about the brewing process.
What really makes this place special is the 2nd-story high outdoor seating complete with propane fire pits and the best view around. In addition to great beer they have an awesome menu as well as a few specialty cocktails should you prefer something other than beer.
pFriem Brewery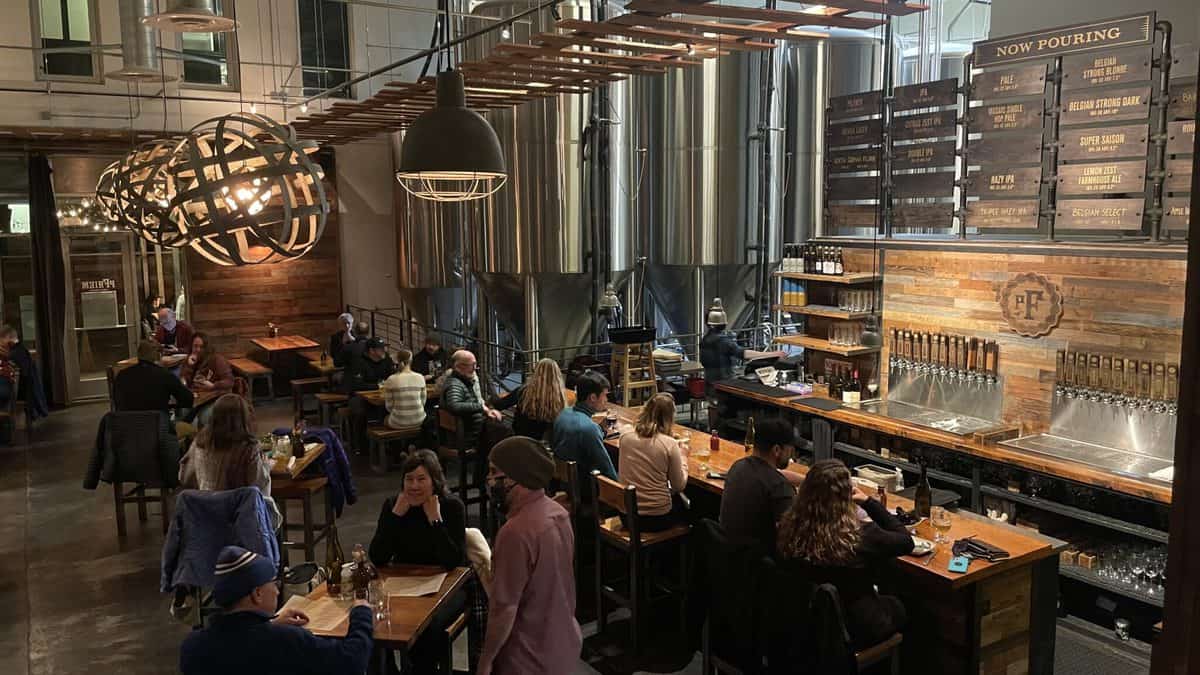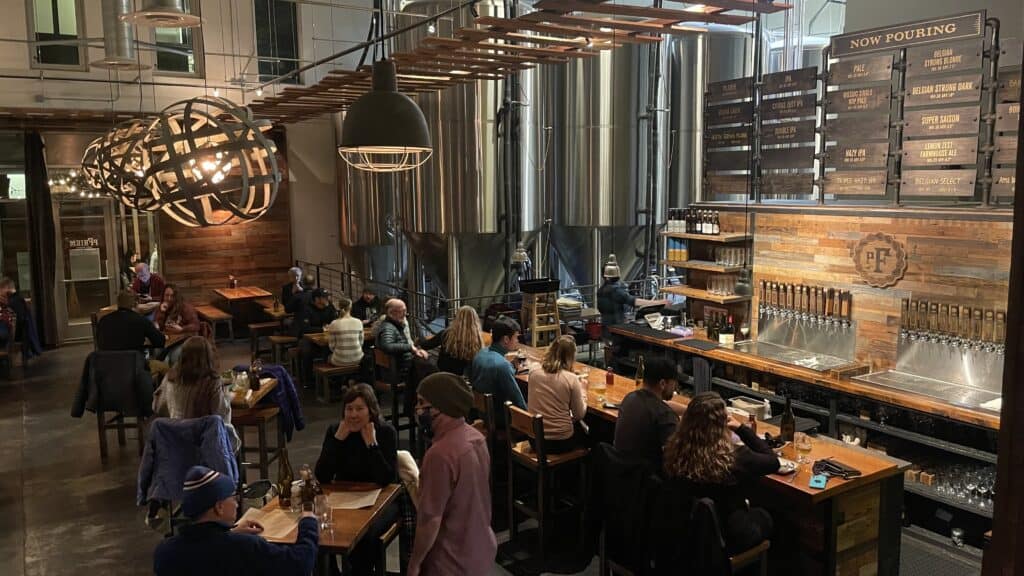 Also located along the newly developed waterfront part of Hood River, pFriem Brewing throws down terrific beer along with great food and a lively vibe. If you're just looking to enjoy a craft beer they have a great "outside" serving window where you can chill alongside the busy sidewalk which is perfect for people watching.
Once it get's chilly you can head inside or grab a seat at the massive propane fire pit where you can swap stories with fellow beer lovers.
Everybody's Brewing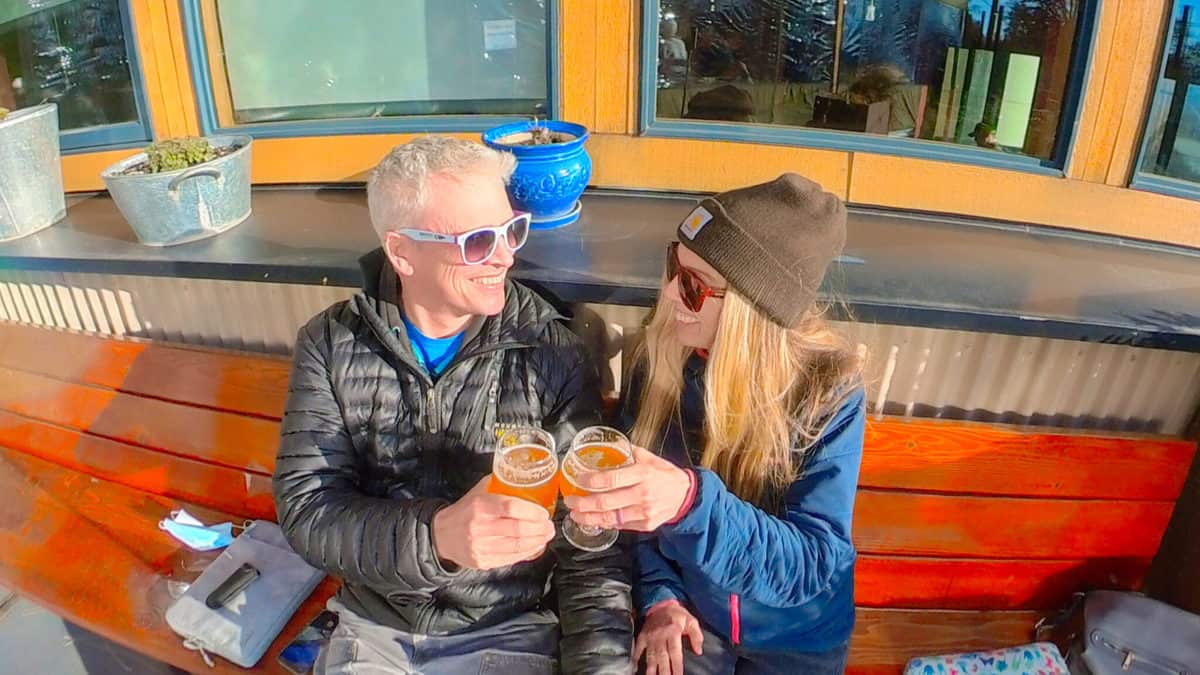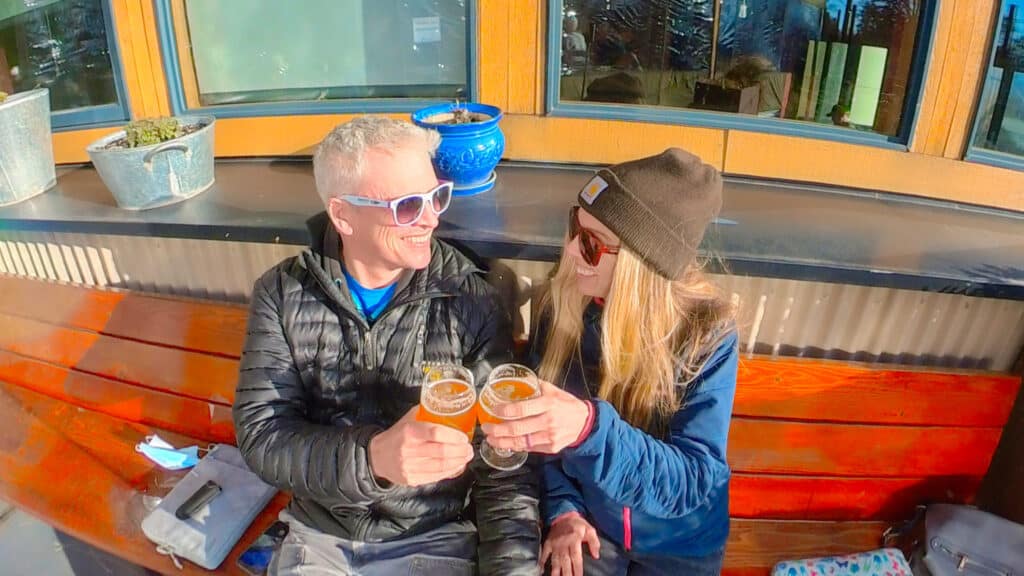 Located across the river from Hood River is the fun little town of White Salmon. Tucked in amongst the steep hillsides sits this lively quaint town, and yes they have a brewery. To get to White Salmon you'll need to take an old historic toll bridge which is worth the trip alone, costs $2.
Once across the river you will wind and climb your way up to White Salmon and Everybody's Brewing. The views of Mt Hood are amazing from up here.
Everybody's Brewing has a modern feel and features filtered views of Mt Hood and the Columbia River. They've got a nice bar area for you to belly up and even a loungy couch area. There's plenty of outdoor seating on the rooftop deck as well as a large propane fire place should things get chilly.
All of the beers we had were great and they also brew a few different ciders which they have on tap. Although we didn't have anything to eat, folks reported that the food was great.
Crush Cider Cafe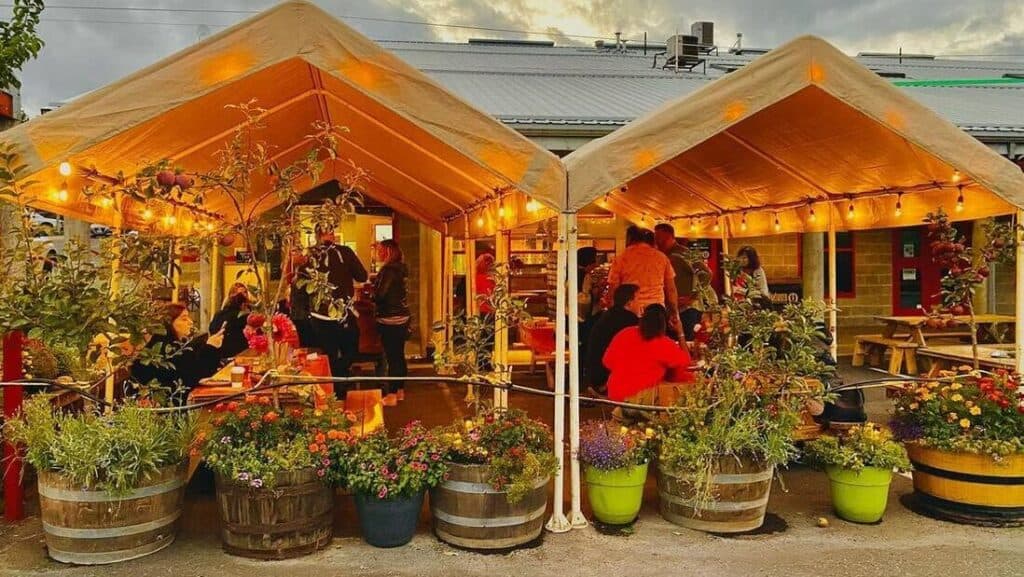 While they aren't a brewery of beer, they do throw down some unique and fun ciders along with a generous tap list from local breweries. Just down the street from Full Sail, Crush Cider is worth a visit. It's a small cozy place where you'll likely find the owners pouring the impressive list of locally sourced ciders.
We enjoyed all the ciders we tried but really liked one that was brewed with local pear and ginger. They have an abundance of outdoor seating and a fun Mexican themed menu.
Surrounding Area Breweries Worth Mentioning
Just a 15 minute drive East from Hood River is the Dalles. We found a brewery here we really liked as well as this incredible old mill building that serves local wines and beer.
Freebridge Brewing
This place was great and had awesome beer complete with a mug club and a killer local vibe. Built in an old industrial garage like building the small tasting room spills out amongst the brewery itself. You might even catch a little spray as they rinse the brewing equipment.
They have a small simple menu and we had the beer chili nachos which were great. They have happy hour daily from 3-6pm, $1 off pints and $2 off appetizers.
There's another brewery in town by the name of Sedition Brewing. Despite them saying they were open they were not once we arrived. After talking to a few locals they reported that they are closed more often than they are open. If you happen to check it out let us know in the comments what you think of the beer.
Sunshine Mill Winery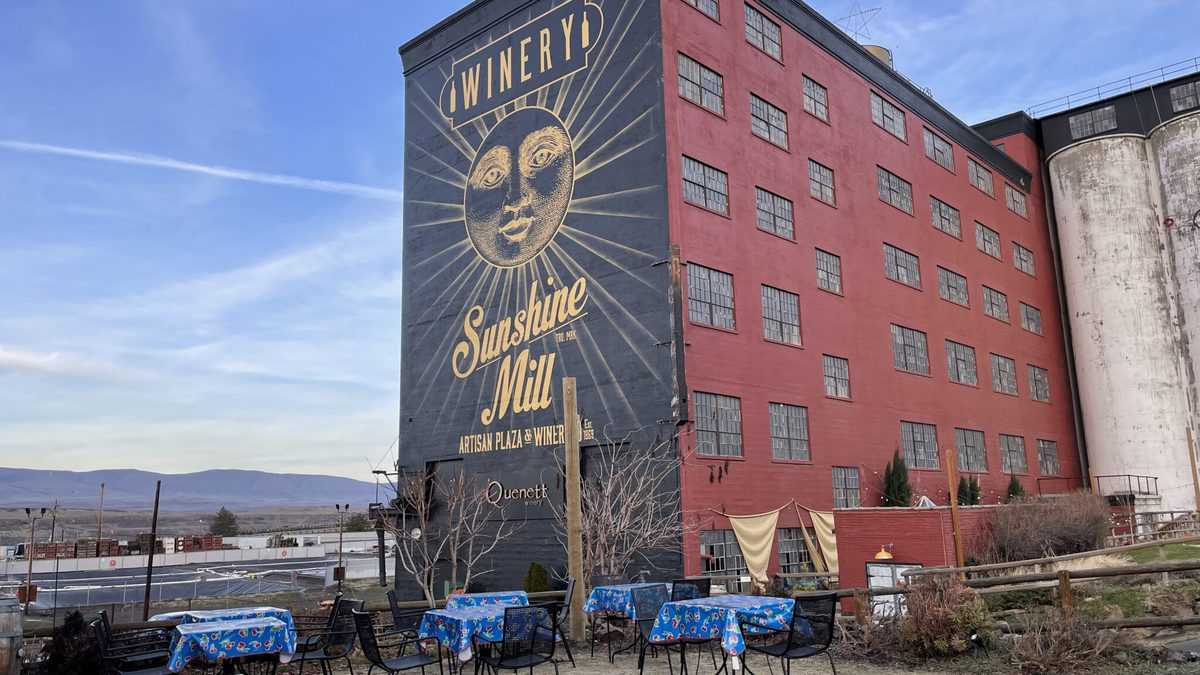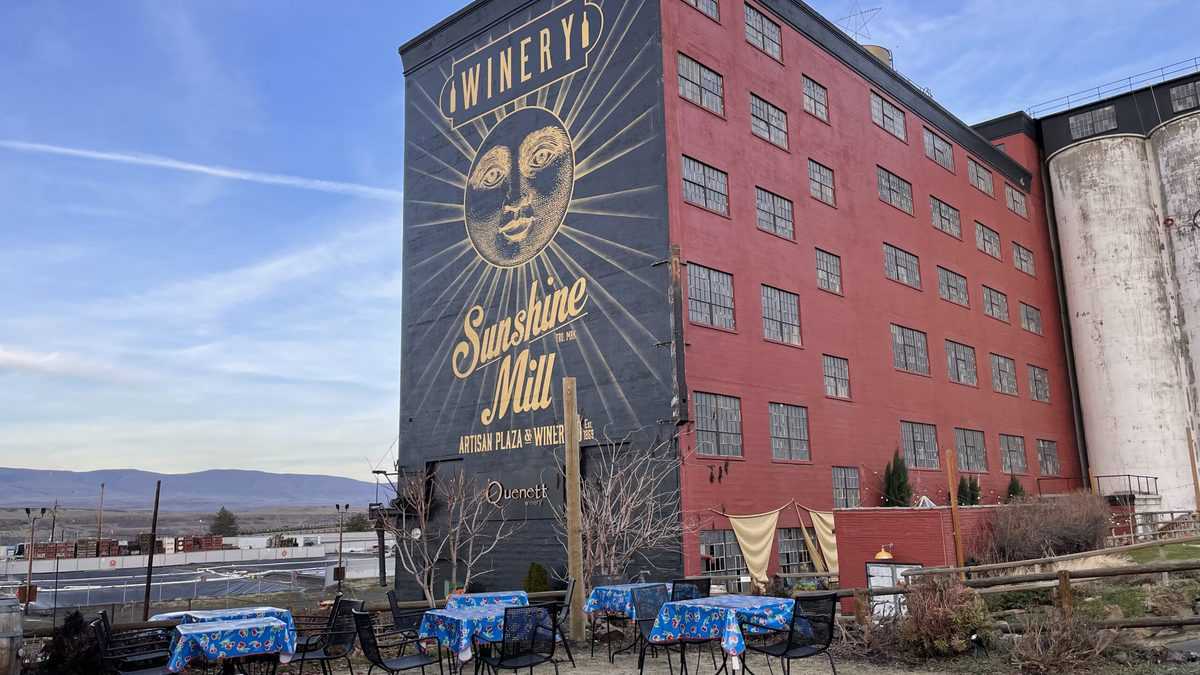 While technically a tasting room for a local winery this places also serves up a healthy variety of local craft brews. But what makes this place special is the building. I promise you, it's like nothing you've ever seen!
The elegantly decorated bar area is within the engine room of this once mighty saw mill. Above you are massive rollers and pulleys all connected by large leather belts. It's an amazing site.
Once you're done admiring the inner workings of the mill they also have some chill outside seating that's tastefully decorated.
A Visit To Hood River
We love Hood River and the surrounding area. Whether it's mountain biking, hiking, or taking to the water we've always enjoyed our time here. The new water front area has been a fun addition but nothing beats the hilly historic downtown area. And after a day of adventuring you'll have no problem finding a delicious craft beer at one of Hood River's Breweries.