Are you looking for the Best Hot Springs in Southern California? If so, you've come to the right place.
When you think of California, I don't imagine that hot springs are something that comes to your mind. You're probably thinking about sunshine, beaches, and the waves of the ocean, but there's much more to this great state than meets the eye.
Did you know that California is home to some of the most amazing natural hot springs in the country? These springs offer a relaxing mineral water experience and are a favorite destination for locals and tourists.
Keep reading to learn about the best hot springs in Southern California, tips on when to visit, and what to expect, and we've even thrown in some of our favorite Northern California hot springs too!
California Natural Hot Springs
First things first let's answer a couple of questions in regards to hot springs and the unique minerals that are found in some of California's natural hot springs.
Because heated water can retain more dissolved solids, hot springs are particularly rich in minerals. This means a single hot spring might contain everything from calcium and magnesium to silica, lithium and even radium. It's like taking a multivitamin for the skin!
Are There Free Hot Springs in California?
We all know California is expensive, so when it comes to finding hot springs in California, you can imagine that there are some fabulous hot spring resorts that are REALLY expensive. However, lucky for all of us there are still some free hot springs to be found in California.
Hot Springs In Southern California
Lets get to exploring our favorite hot springs in California
Hot Springs In Southern California Map
If you're looking for a map that will help you find all of the hot springs in the State of California, I found this website that has google map of most of the hot springs; I think you'll find it helpful
Hot Springs Canyon (Montecito Hot Springs)- Best Hot Spring in Our Opinion
You might be surprised to find out that Montecito, California – one of the country's wealthiest and most exclusive communities – is home to natural hot springs. The springs were first used by the Chumash Native Americans, who believed the mineral waters had curative powers. It quickly became a place for healing after its discovery by soldiers in 1846 when they took over Santa Barbara.
You will hike about two miles uphill from the trailhead until you reach the hot springs. The hike is really pretty, with gorgeous vistas of the surrounding mountains, shaded forest, and multiple streams. There are several pools to relax in, with the hottest water at the top and temperatures decreasing as it flows down.
Weekends tend to be busiest, so try to visit during the week if possible. A weekday morning is your best bet for a really peaceful experience soaking in the thermal waters under the California sun.
Need to know about Hot Springs Canyon
Hot Springs Canyon Trail is dog-friendly.
Limited parking requires an Adventure Pass.
Strict no parking rule roadside is enforced.
Gaviota Hot Springs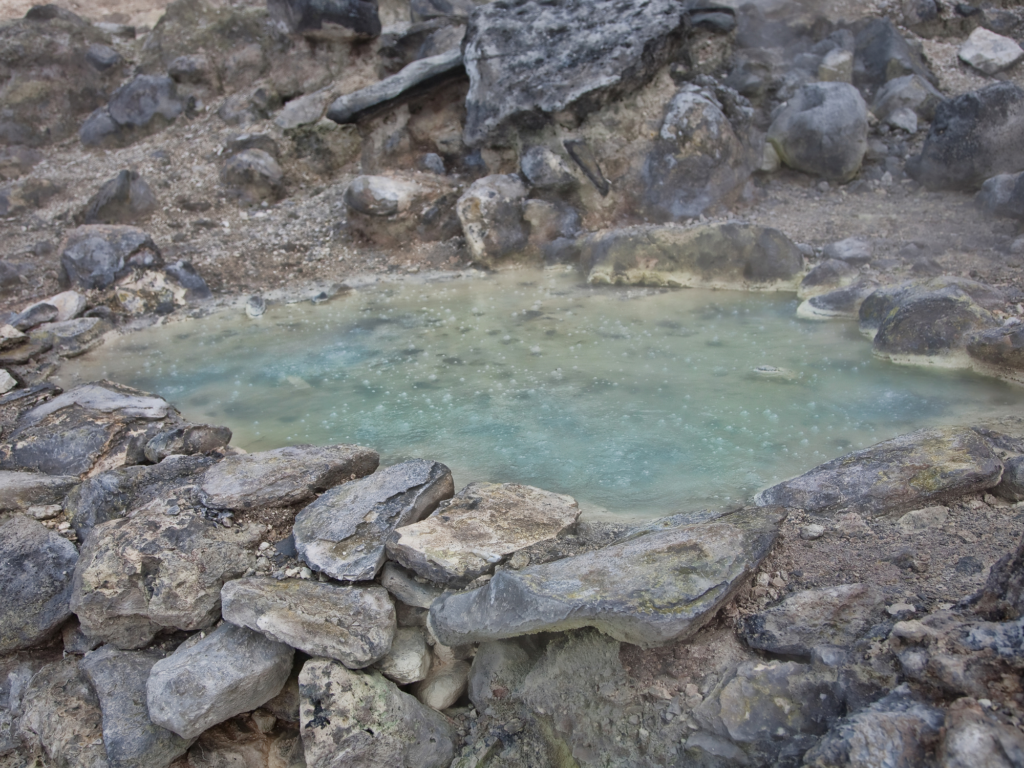 Located just off Highway 101, Gaviota Hot Springs is a popular destination for locals and tourists alike. More of a "warm" springs at about 80 degrees; they are located in a beautiful natural setting, just off the 6.6-mile Trespass Trail loop. The full hike is an excellent but difficult trek. On the way up, you'll get fantastic views all the way to the top of Gaviota Peak; then, you can treat yourself to a refreshing dip in the springs near the end of the loop.
The trail and springs are open year-round, but they are busiest from May to October. The best time to visit Gaviota Hot Springs is early morning; however, be prepared for crowds on weekends and holidays. Bring plenty of water as this is a challenging hike in a desert climate.
Need to know about Gaviota Hot Springs:
Hikers have spotted poison oak near the springs.
The top pool is deep enough to sit in but not swim.
You can skip the full loop and hike about .5 miles to the springs from the trailhead near the parking lot.
Bring $2 in cash for the parking fee. The lot closes at sunset.
Deep Creek Hot Springs- Best Hot Springs in Our Opinion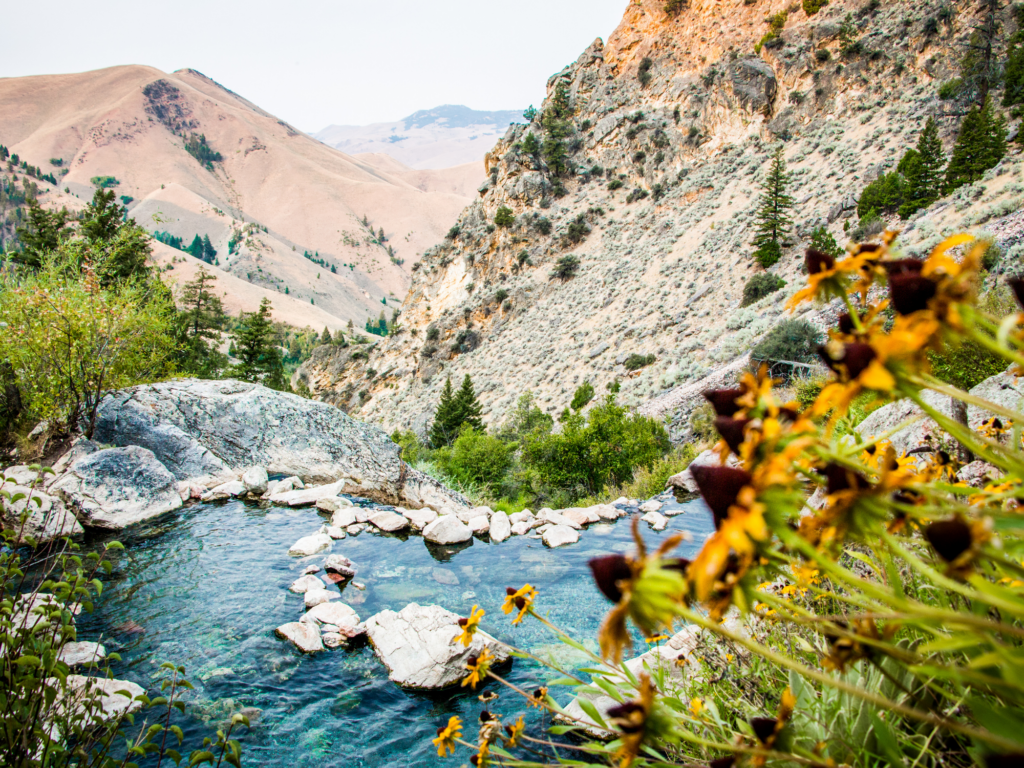 Mentioned in nearly every "things to do in California before you die" list, Deep Creek Hot Springs is a popular spot to take a dip and enjoy some beautiful natural mineral water. Less than two hours outside of Los Angeles off Highway 173 in the San Bernadino Mountains, you'll find five hot mineral pools ranging from about 100-104 degrees.
There are two different ways to get to the hot springs. The easiest route is about 3.5 miles round trip starting at Bowen Ranch. It is privately owned, and you will need up to $30 (the amount varies!) in cash to park and then cross their property to reach the hot springs.
The other route is Bradford Ridge Path, a beautiful but tricky and sometimes difficult hike of about 6 miles round trip. Be well-prepared for your hike and take precautions to finish before sunset.
The best time to visit Deep Creek Hot Springs is during the late spring and summer, when temperatures are highest, although it is open year-round. We recommend going early on a weekday to avoid the crowds.
Need to know about Deep Creek Hot Springs:
You may need to cross a cold creek to get to the Hot Springs.
The hot springs are clothing optional.
You may need an Adventure Pass if parking at the trailhead.
Bradford Ridge Path is dog-friendly.
Holtville Hot Springs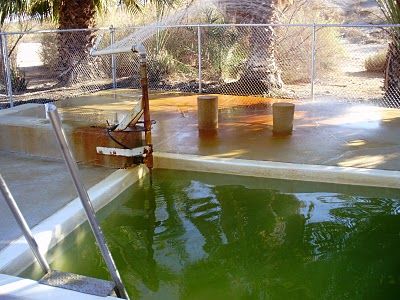 If you're looking for less trendy Southern California desert hot springs to soak in, Holtville Hot Springs is a great option. This geothermally heated pool destination is located in San Diego, about 20 miles east of El Centro, near the Mexico border.
Holtville Hot Springs is also sometimes called Highline Hot Well or Old Fogey Hot Springs, due to its popularity with traveling snowbirds.
Visitors enjoy a free soak in one of the manmade tubs situated inside a beautiful palm oasis with views of the desert and mountains. The water in the main 5-foot deep hot pool is the hottest on our list, starting at about 125°F and cooling to 104-110°F. This then feeds the smaller concrete pool, which is a few degrees cooler. These both feed the large sandy-bottom lagoon pond, also available for swimming.
If you'd like to spend a few days exploring San Diego, the Hot Springs Long Term Visitors Area offers both paid and free camping options depending on the time of year. Due to its desert location, the best time to visit is late fall to early spring.
Need to know about Holtville Hot Springs:
Pools are cleaned weekly by volunteers, usually on Tuesdays.
No food, beverages, glass, pets, or use of soap are allowed in the pool area.
Remington Hot Springs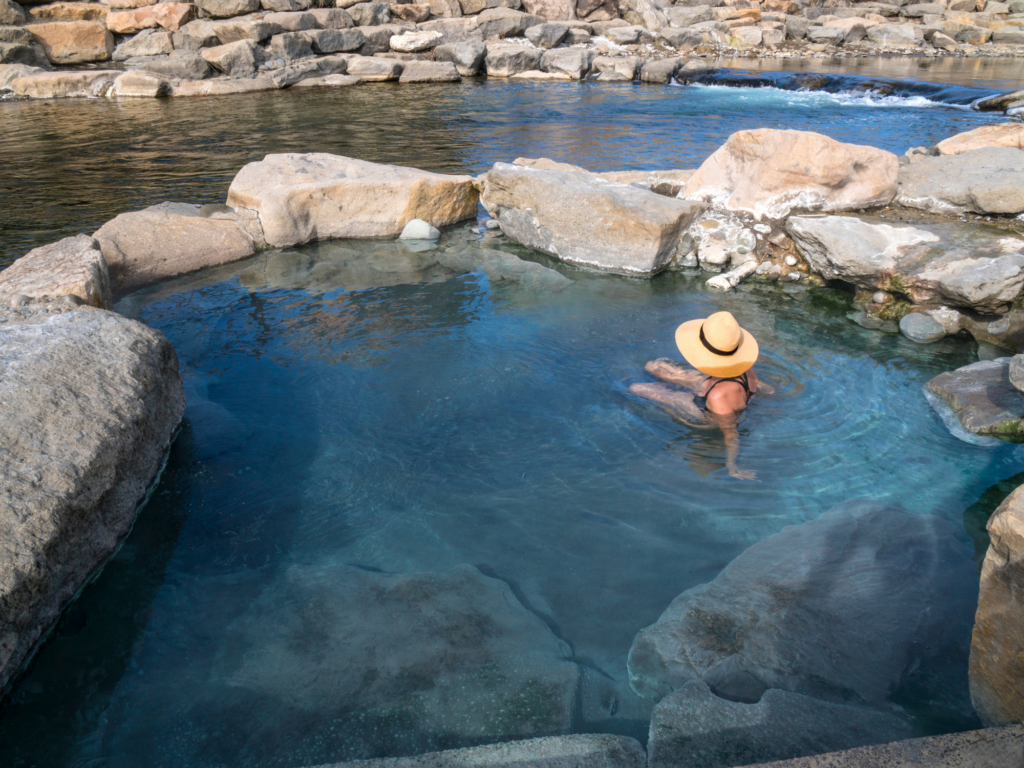 Remington Hot Springs is located just north of Bakersfield and offers a unique opportunity to relax and rejuvenate in nature alongside the Kern River. These beautiful natural sulfurous hot spring pools have been constructed with locally sourced rocks by nearby residents. The hot mineral water is warmest in the first pool at about 105 degrees and then cools off as it flows to the 2nd and 3rd pools.
The Remington Hot Springs is located off HWY 178, just before Lake Isabella. They are easily accessible from the dirt parking lot and tend to get crowded. The best time to visit these hot mineral springs is during the weekdays, when fewer people will likely be.
Need to know about Remington Hot Springs:
There is camping nearby at Hobo Campground.
Off-road enthusiasts may enjoy the Freeway Ridge 4WD Trail close by.
These hot springs are clothing optional.
Northern California Hotsprings
I had intended this to be only about the Southern California Hotsprings but I had to add in a couple of extras because there are hot springs that we've visited or heard about and really enjoyed.
Benton Hot Springs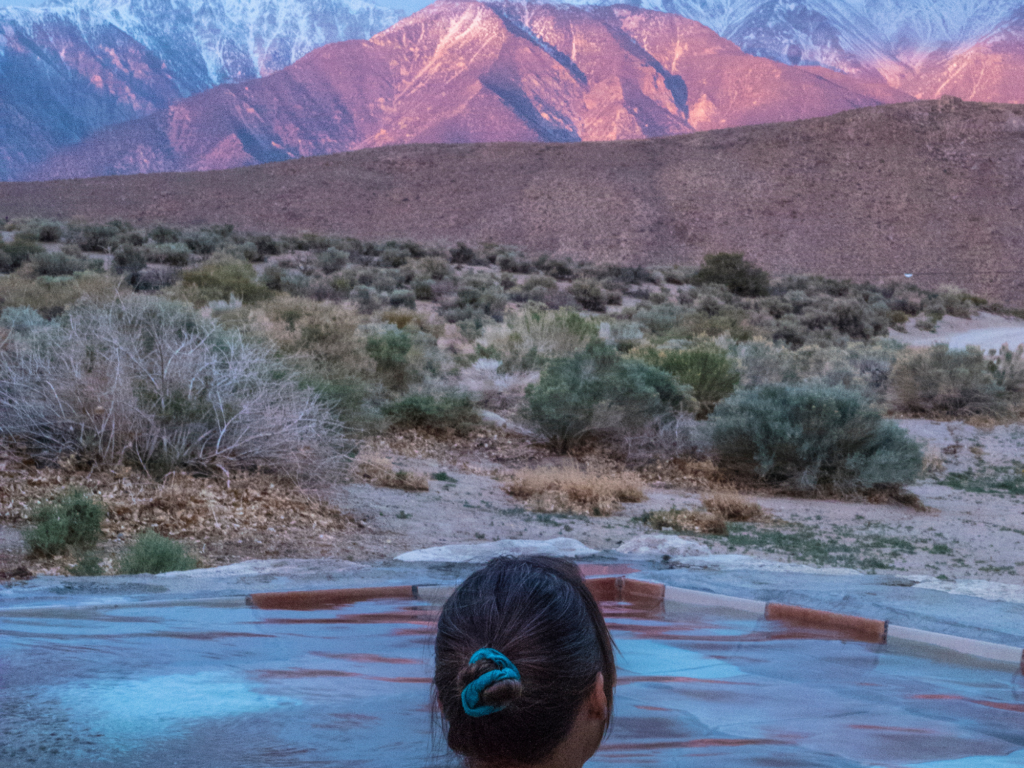 The Benton Hot Spring is a high mountain spring in Mono County, California, around which the community of Benton grew. It's located 3 miles west-southwest of Benton and 31 miles north-northwest of Bishop, at an elevation of 5630 feet. The best part of the Benton Hot Springs is you can make a vacation out of visiting these springs because of their more remote location.
The Inn at Benton Hot Springs has 11 Rentable Sites with Hot Tubs fed by Natural Hot Springs. Each features a private hot tub, picnic table, and fire pit. Visitors can pitch a tent or park their camper or RV at the site. There are no hook-ups available.
Need to know about Benton Hot Springs:
These hot springs are located at the Inn at Benton Hot Springs, where you need to make reservations for a site, room, or bungalow.
A private hot spring pool comes with your camping reservation.
These hot springs are high in the mountains, and the temp cools off in the evenings.
Hot spring tubs can be rented per hourly rate if available.
Calistoga Hot Springs
Calistoga, located in the Napa Valley, is a wellness destination known for its hot springs and mineral pools. When the region's original inhabitants, the Wappo tribe, arrived in Calistoga some 8,000 years ago, they discovered the magical waters.
The Wappo tribe would steam and soak in the geyser water, believing they had therapeutic qualities.
Anyone who has visited a Calistoga hot spring or mineral pool can vouch for the therapeutic value of such an experience. The hot water aids in the treatment of rheumatoid arthritis, back discomfort, and skin disorders like psoriasis.
The calcium and sodium bicarbonate minerals are also supposed to enhance good blood circulation, encourage sleep, and reduce tension.
To learn about the various places in Calistoga to soak, check this out.
Need to know about Calistoga Hot Springs:
Because this is in the Napa Valley area, many Calistoga hot springs are located inside high-end resorts.
If you're not staying at one of these resorts, finding a day pass to soak at the hot springs may be difficult. Your best bet for finding a day pass is at Meadowlark Inn, but it's pricy.
Beverly Hot Springs
In Los Angeles, California, this southern California hot spring is in the city's center. It is the only natural hot spring in the city. It is especially popular among individuals looking for a vacation from city life to unwind and enjoy the benefits of a full-service spa.
Beverly Hot Springs is conveniently located in the center of Los Angeles, allowing residents and visitors alike to enjoy the health-boosting advantages of natural spring water without having to travel outside of the city.
The water's sodium bicarbonate content is high, and the temperature ranges from 95 to 105 degrees Fahrenheit. The pools are beautifully designed, with ferns and Buddha statues surrounding them.
Need to know about Beverly Hot Springs:
clothing is optional
Spa Entrance: Monday, Thursday, and Friday $45 and on Saturday and Sunday $50 : (access to Hot Springs Pool, Cold plunge, Steam Room and Dry Sauna.
Wilbur Hot Springs- 2.5 Hours From San Francisco
If you're looking for an off-grid solar-powered rustic experience, Wilbur Hot Springs is your place! Wilbur Hot Springs is located on an 1800 acre Nature Preserve; it's a haven from the fast pace, noise, and information overload of our modern lives. Wilbur's medicinal healing water provides an uncommon chance to rest, quiet your mind, and immerse yourself in nature.
The soaking area has a sauna and a swimming pool, with volcanic mineral water ranging from 98-110 degrees Fahrenheit. There's little to distract you from the basic activities of soaking, resting, cooking your meals, and getting outside to explore nature.
Need to know about Wilbur Hot Springs:
You have to have a confirmed reservation for overnight AND day use
There are hiking and biking trails nearby
Clothing is optional
There are cabins to rent for an overnight stay
Tecopa Hot Springs
Tecopa Hot Springs are located in Tecopa, the gateway to Death Valley National Park. This quiet little desert town is about a 90-minute drive from the Furnace Creek Visitor Center and Las Vegas. There isn't too much happening in the area other than the hot springs. However, the rumor is that Tecopa now has a brewery and some pretty decent food.
If you're looking for a camping or rustic glamping experience with some hot springs check this out
If you're looking for a free hot spring experience, you can access the springs on public land along the road if you're heading towards Shoshone.
Need to know about Tecopa Hot Springs:
You'll notice many businesses advertising their hot springs in Tecopa.
You may luck out and have a few other visitors at the free hot spring alongside the road
Free hot springs are clothing optional
Esalen Institute Hot Springs
The Esalen Institute's hot springs pools are among the most beautiful you'll see. Private access to several heated spring pools provides views of the Pacific Ocean below. If you're visiting the Big Sur region for the first time, you'll understand why it's recognized as one of California's most beautiful areas.
The Esalen Institute provides a retreat environment for artists, writers, dancers, theologians, sociologists, and anybody looking to disconnect from a hectic schedule and reconnect with nature. The property is perched on the cliffs above the Pacific Ocean and features spring-fed hot tubs.
Need to know about Esalen Institude Hot Springs:
You can only soak in the Esalen hot springs if you're staying on the property
Other Popular Hot Springs in California
Sierra Hot Spring Resort
Sierra Hot Springs, located in the high Sierra Nevada Mountains, is a popular resort with hot springs and breathtaking views of the Sierra Valley. This California hot spring is about 90 minutes drive from Lake Tahoe. It has three different spring areas: A Meditation pool, an Old bathhouse, and a Domed hot spring.
The mineral-rich thermal spring water of the Sierra Valley provides a refuge to unwind in the soothing and well-maintained pools at Sierra Hot Springs Resort.
The facility also has lodging and camping sites, as well as meals, health and wellness workshops, and custom retreats.
Need to know about Sierra Hot Spring Resort:
Clothing is optional at this northern California hot springs.
Because Sierra Hot Springs is close to National Forest land, there are plenty of outdoor activities and camping nearby.
Check their website for more information on camping on the hot springs property or booking a room
Reservations are required for all visits.
No matter which California hot springs you choose, we're sure you'll enjoy a relaxing hot soak in the mineral baths. So get ready for some rest and relaxation, and be sure to practice the Leave No Trace principles so everyone can continue to enjoy these natural gems.
Best Camping Near Hot Springs in California
There's something about enjoying the beauty of the outdoors and combining it with relaxing hot springs that really makes me happy. Yes, of course, a nice full-service resort is nice, but we typically enjoy the more rustic hot springs that are nature-oriented.
Benton Hotsprings are our favorite hot springs for camping and enjoying the beauty of a hot soaking tub. The higher elevation of the Benton Hot springs means it cools off a bit cooler at night, making the hot springs all that much more enjoyable.
Get Out and Explore California Hot Springs
Have you visited any hot springs in Southern California? We would love to hear about your experience in the comments below!