If there's one thing we've learned from all our travels, it's that less is more. This pertains to a lot of things but most importantly, how to pack light. The burden of a big bag on crowded buses and streets can be a real drag. Not to mention the outrageous check-on fees. These all can be avoided with an appropriately packed travel bag.
Now I realize I'm not going to talk everyone into ditching their checked bags but I'm gonna try. Traveling abroad is complicated and there is no better way to ease your way into a new country than with a light bag.
TRAVEL LIGHT
When you get off that flight in your new country with a whole new culture and language, there's no better sense of security than knowing all your belongings are with you. No standing at baggage claim hoping your bag made the numerous connecting flights.
Travel is about gaining those meaningful experiences and has little to do with belongings. In fact, taking a break from our culture of excess is an important benefit of travel.
Being free and weightless from all your stuff back home is what makes travel so relaxing. By keeping things light and simple with your packing you won't clutter your trip with too much stuff and the stress that comes with it.
BENEFITS OF PACKING LIGHT
Easy to get around – Cabs, buses, and walking are just easier with a light bag
$hit happens – When things go wrong always having your bag with you is essential. Canceled flights and missed connections get stressful real quick when you don't have your bag.
Baggage fees – Checked baggage fees are a complete waste and can be avoided altogether with a light pack.
Vacation from the stuff – Surrounding yourself with less stuff, fewer choices, and less worry is a real treat. It frees you to focus on what matters, your travels.
HOW TO PACK LIGHT
Packing light is more a state of mind than anything else. You can roll, squish, and squeeze your stuff all day long but if you take too much you've missed the point. Be realistic about what you actually need and chose items that will work for both casual and formal dress.
Use packing cubes or roll your clothes. I prefer to use a packing cube and then roll that up. These also come in handy to separate clean and dirty clothes.
Don't pack bulky things like sweatshirts. Use layers of clothing instead. This will better cover you over a wider range of temps as well. Or perhaps you can wear the bulkier clothing on the flight.
Don't forget that you can always buy things wherever you are going. Sometimes I'll pack just half the shirts I need knowing that I'll grab a few as souvenirs.
Don't worry about planning for every possible weather scenario. On many trips, you may have warm beach weather down low but up high things get cold. For those days when you go to the high country just pick up an extra layer or two and then give them away once you're done with that part of the trip.
Laundry services are everywhere so don't bring enough clothes to get you through the entire trip. Usually a week's worth is enough.
If you aren't familiar with Solid Shampoo and Conditioner then you'd better check them out. They look like bars of soap but are actually shampoo/conditioner and work really well. They save a ton of space and weight and you don't have to worry about things spilling. They make a similar item called Toothy Tabs that take the place of toothpaste.
Take time packing. Don't do this the night before you leave because you will most likely forget stuff and pack way too much.
You might also enjoy:
How To Plan A Trip – Everything you need to know about passports, visas, cheap flights, safety, and so much more!
TRAVEL PACKING TIPS AND TRICKS
Here are some of our favorite products that make for light yet comfortable travel.
DITCH THE LIQUIDS
When it comes to packing light one of the major hurdles to get over are the liquids. Not only do they weigh a lot but you can't take large quantities of liquid as a carry on.
Shampoo and conditioner bars are an easy way to cut out some liquid weight without skimping on the comforts of clean hair. And Toothpaste tabs are another great way to ditch some liquids.
TRAVEL CLOTHING THAT MAKES SENSE
FOR THE GUYS
For the guys here are a couple pieces that I really like. They function well when hot or wet and the pants with layering work great in the cold.
In fact these pants got me through a snowy trek at 18,000 feet in Nepal. Just throw a pair of long underwear underneath and you're good to go.
THE ULTIMATE TRAVEL SHORTS
For shorts you can kill two birds with one stone by having shorts that not only look good but make for good swim trunks as well. The absolute best I've found and which are my daily shorts are the O'Neill Loaded Hybrid Board Short.
These can be as dressy or as casual as you want. Dry super quick and a perfect everyday short. The hidden waist drawcord makes them great for swimming. They also come in a TON of colors, over 12 to be exact!
21″ Outseam
140% Hyperfreak stretch
Hyperdry Durable Water Repellent
Zipper fly
Internal waistband drawcord
Front hand pockets with zippers
89% Polyester / 11% Elastane
Belt loops
button rear pocket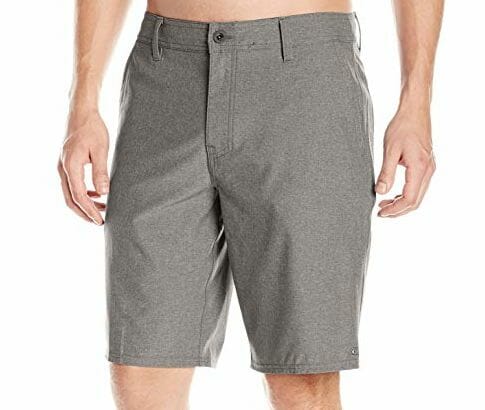 THE BEST TRAVEL PANTS
The prAna Stretch Zion Pant is hands-down my favorite travel pant. I just can't stand the look of the zip-off pants so I opt for the non-zip.
You can pull off dressy if you need but make for a great all day hiker as well.
Quick to dry in that unplanned rain storm and I've even swam in them in a pinch.
Single side cargo pocket where I keep my journal for easy access.
Integrated belt or you could add your own.
Come in a variety of colors
CLOTHING FOR THE LADIES
The Backcountry Super stretch Pant
This stretchy yet stylish pant that is perfect for any occasion.
The pigment-dyed nature of the fabric creates a distressed look such that colors and patterns can vary—each and every pair is unique.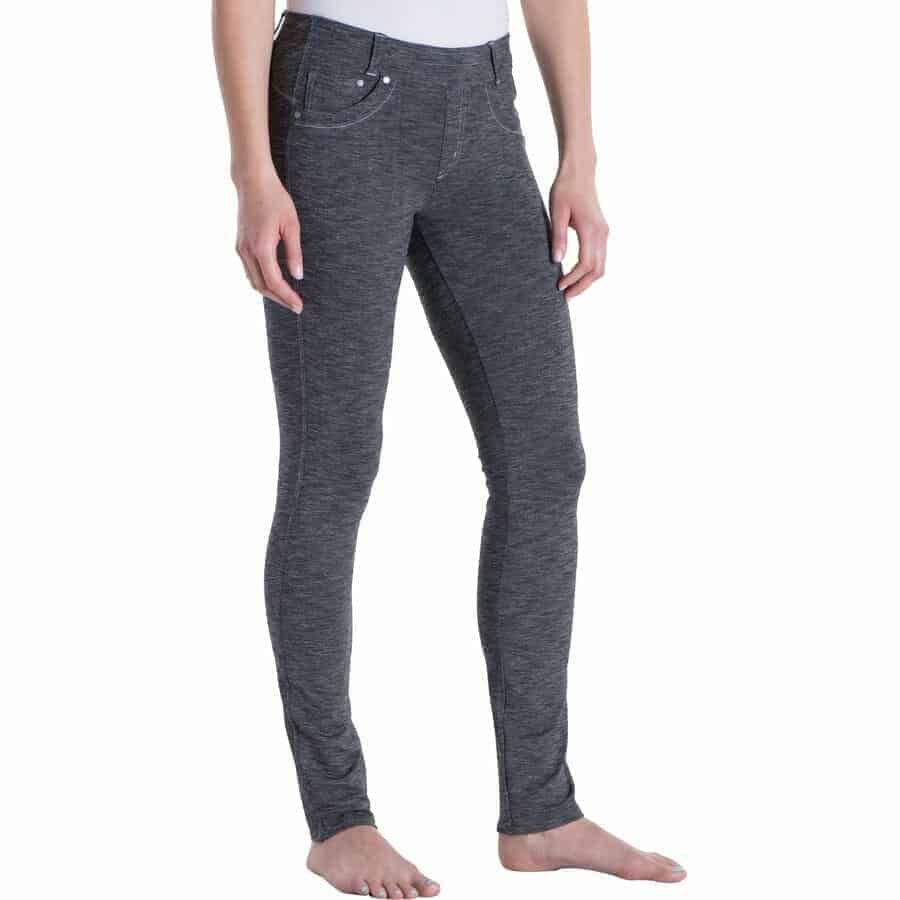 Kuhl's Mova Women's Skinny Pants look like jeans, but are actually made from Kontour, a stretchy blend of nylon and spandex that hugs your curves while giving you tons of mobility. Working with the higher-in-the-back Kuhl Kurve waist and internal drawstring, this gives the Mova Skinny the flexibility to be worn on short hikes, mellow climbing days, and globetrotting adventures.
You won't want to nama-stay in bed when you can take on the day in the flattering style and stretchy comfort of the Prana Women's Briann Pant. The Briann is made with a lightweight synthetic blend that offers plenty of stretchy so you can get the skinny look you love without the restrictive, leg-binding feel. And since it dries quickly, blocks the sun's harsh rays, and offers timeless five-pocket styling, this pant makes a great choice for your summer travels.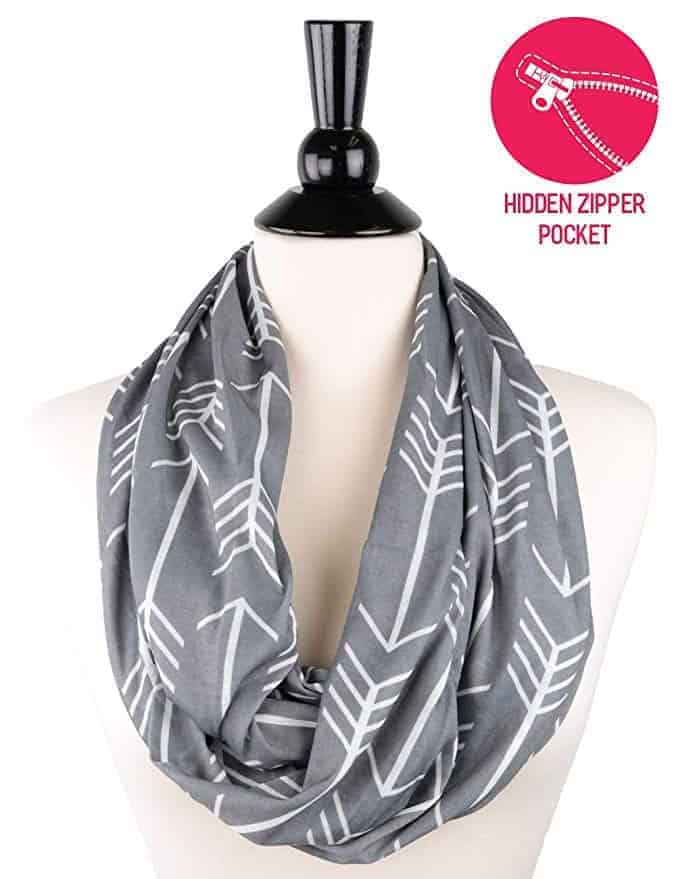 Check out our favorite comfy and downright stylish Travel Shoes for the ladies.
IF YOU MUST CHECK A BAG…
Have you ever had your baggage lost? While the lost baggage rates are improving it's still worth planning for should something happen. My wife and I on our honeymoon to Peru had to wait 3 days for my bag to arrive. That was the last time I ever check a bag.
If checking a bag is part of your plan just make sure you have a carry-on that would keep you comfortable for a few days. Here are some essential items to keep in your carry-on to get you through a night without your luggage.
TRAVEL CARRY-ON ESSENTIALS
Medications – prescriptions and OTC meds
Toiletries – personal items, contacts, razors, toothbrush and toothpaste
Clothing – Pack a little clothing so that you aren't stuck wearing what you took on the plane with you. Pack whatever would make sense to wear for your destination.
Entertainment – books, magazines, or whatever else you might want while sitting (hopefully around the pool) waiting for your luggage to arrive.
Electronic stuff – Cell phones, computers, e-readers, and their charging cables.
Booking confirmations and phone numbers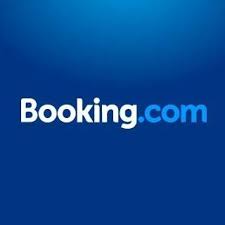 BEST CARRY-ON TRAVEL BACKPACK
For the actual carry-on bag itself my wife and I have tried many. But without a doubt these are our two favorites.
For me it's the Osprey 40 Farpoint and for Jill it's the Osprey Porter 46. The 40 liters is perfect for me while Jill prefers a little more volume with the 46 liter option.
They both have stow-able shoulder straps to make squeezing them in as a carry on easier. We both have over 5 years on these bags and can vouch for their durability.
The Osprey 40 Farpoint has served me well. It has a large suitcase style opening with internal straps to help compress and secure things so they don't bunch up at the bottom.
Plenty of small storage compartments and a padded laptop area.
The shoulder straps and waist belt tuck away into a zippered compartment so you can have a clean bag for carry-on storage.
The only exception to us using the above bags would be if we had a long trek planned. For those we would stick with a more traditional backpacking style pack.
If trekking is on the list check out our trekking packing list here.
Have you heard of extended layovers? They are a great way to score FREE travel.
Stopover Flights: Extend Your Trip For Free
CLEAN WATER
Depending on where you're traveling, clean water can be a big concern. A SteriPen can make a big difference and keep your water safe. Best of all you won't have to buy all that bottled water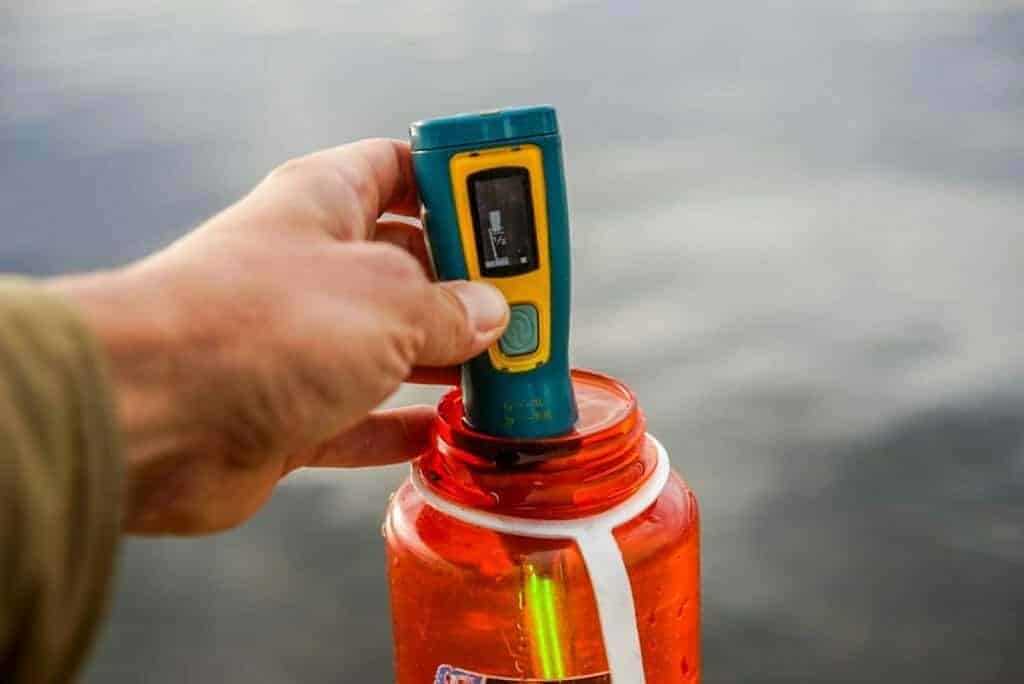 WHAT ARE YOUR FAVORITE PACKING TIPS?
Packing is very personal and there certainly isn't one list for everyone. The above items and my approach to packing has worked well for me in many different countries. Be sure to write down what you take in your travel journal so that the next time you won't be starting from scratch.