***Update*** New Starlink 12v Conversion Kit Available, no cutting of the cables required!
NEW STARLINK 12 VOLT CONVERSION KIT!!!
I've been using this kit for the past few months now and so far it has been great. Makes for a very clean and easy 12 volt conversion that does not require cutting of the stock Starlink cables. You'll also need a power supply along with this kit.
Part 1 – Cable Adapter
Part 2 – POE Injector
Part 3 – Power Supply
Starlink satellite internet has been a game changer for us. Allowing us to venture further off grid while still having internet to work remotely, perfect for our nomadic travels.
The only hassle has been the fact that the Starlink Power Supply is only powered by 120 volt AC. Well that has now changed!
Here's how we converted our Starlink Satellite Internet to 12 volts DC. And yes this works for 24 volt and 48 volt systems as well.
Check Out These Other Camper Van Build Topics
How Does Starlink Work
This guide is based on the V.2 square Starlink system. I'm not familiar with other versions so I can't say if this would work for different versions.
Unfortunately at this time there is no Starlink 12v adapter. In order to make a Starlink DC power adapter let's first get a basic understanding of the Starlink components. There are two parts to the Starlink system.
Part 1 – Starlink Satellite Dish
The satellite dish is what houses the actual modem and provides all of the 'Starlink' functionality including the Starlink app functions.
The dish connects to the Starlink router/power supply(part 2) by way of a shielded Cat5 ethernet cable. A proper Starlink install of the dish is vital for optimal internet speeds.
Part 2 – Starlink Power Supply and WiFi Router
The Starlink Power Supply and router does two things. First it broadcasts the internet WiFi signal. And second it takes in 120 volt AC power and converts the voltage down to 48-56 volts.
This 48-56 volts of power is then fed into the ethernet cable by the Starlink power supply which is how part 1, the dish, gets its power.
Stock Starlink Power Supply Specs:
Starlink rv power requirements:
Starlink runs off of 100-240V, 50-60Hz, and consumes around 50-70 watts on average.
Starlink RV power requirements are the same as residential
The high performance dish uses about twice the energy.
How Does The Starlink Dish Get Its Power
Since the dish itself does not have a dedicated power cord, the power for the dish is provided by way of the main cable.
This is termed POE or power over ethernet. When you look at the Starlink system it's not obvious that the cables are just Cat5 ethernet since Starlink uses its own proprietary connections.
Because the system needs POE to power the dish it's not as simple as just cutting the cable and attaching a a standard router since they are not designed to provide POE power.
In order to power Starlink on DC power we will need to remove the Starlink power supply and router from the system.
The Starlink power supply and router will be replaced by three components,
Standard WiFi router
POE injector
DC power supply
Goals For This Project
Click below for a video going over the steps of converting your Starlink Satellite Internet to 12 volts.
Benefits of Starlink 12 Volt Conversion
In addition to the obvious benefit of powering from a DC source there are several other perks to the Starlink 12v conversion.
The big one for us was shortening the lengthy 75 foot cable that connects to the dish. For residential applications this isn't a problem but for Vanlife and Overlanding all that extra length is a lot to deal with.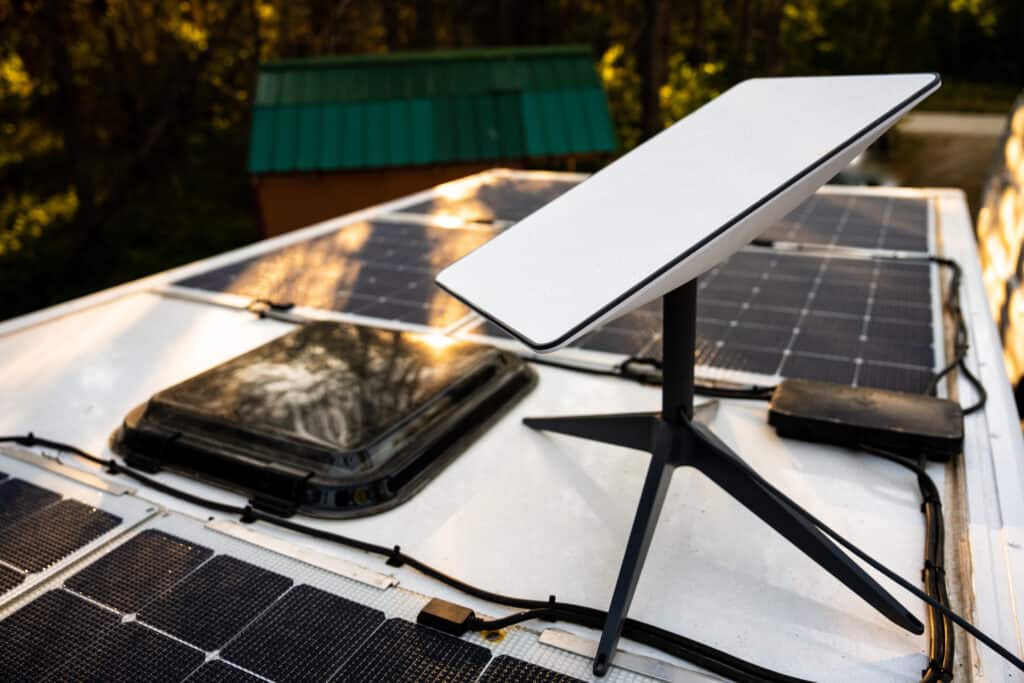 We find that we typically mount our Starlink dish to the roof of our overland truck which needs only 5-10 feet of cable.
By cutting the Starlink cable and replacing the connections with network RJ45 connectors we can choose whatever length we need.
The remainder of the cable can also still be used and simply added into the system should you want the Satellite dish a littler further away from your RV or camper.
Another benefit to converting the Starlink connectors to RJ45 fittings is that there are some nice wall pass through connectors that can be wired into the side of your camper box.
These provide a clean water-tight connection for the Starlink cable.
Beginners Guide To Campervan Electrical Systems – A great place to learn or refresh on the basics of campervan electrical systems. We go over Watts and Amps, 12v Vs. 24v systems, charging sources, and the difference between standard batteries and Lithium.
Building Starlink 12v Power Supply
In order to build a Starlink internet system that will run off 12 volt, 24 volt, or 48 volt DC power you will need the following 3 components.
Head to our Amazon Store for a complete list of everything needed(Click HERE)
This device is what connects inline with the ethernet cable to provide the power that the dish needs to operate. This combined with the DC to DC converter is what makes the Starlink 12v power supply.
Now this device doesn't actually provide the power as it is just the mechanism that provides a way to introduce power.
To provide the needed power to the POE injector we need a source of at least 48 volts to power the Starlink.
These DC to DC converters are available in various configurations for either 12 volt or 24 volt systems but must be capable of the Starlink wattage of at least 130 watts at 48 to 56 volts.
With the DC power supply connected to the POE, the ethernet cable can now be powered with the 48-56 volts needed for the Starlink dish.
3. DC Powered Router
The final component needed for this conversion is a DC powered router. This is an easy one as almost all routers are powered by 12 volt even if they have an 120 volt AC plug.
The router that we will be using is a router that also has an internal cellular modem which takes a dedicated SIM card for cellular data connections.
This single router now can provide internet by way of cellular SIM card or Starlink. In addition some routers can even load share or load balance. This is where the data is split between the different sources of internet which can increase upload and download speeds.
Here's the router we are using which I highly recommend. They also have a similar version that lets you use two different cellular SIM cards at once.
Now keep in mind the most basic of routers will work here. You certainly don't need one as feature rich as the model above. This $30 model below would work just fine.
So these are the three pieces of hardware needed to make the Starlink run on DC power and replace the router. If you already have a 48 volt system you would not need the DC to DC converter mentioned above.
Best Off-Grid Air Conditioner For Camper Vans – We took an in-depth look to find the best air conditioner that we could run off-grid in our Overland truck. What we found might surprise you and so far we are loving it.
Starlink Satellite DC Conversion Overview
Here's a diagram outlining the general setup of the DC conversion. This design is what we used because we wanted to shorten the main cable length.
There is another way of doing a 12 volt conversion that doesn't require cutting the main cable so that you could always return the system to stock down the road.
This might be useful in the future if you wanted to sell the system. I'll go over that option next.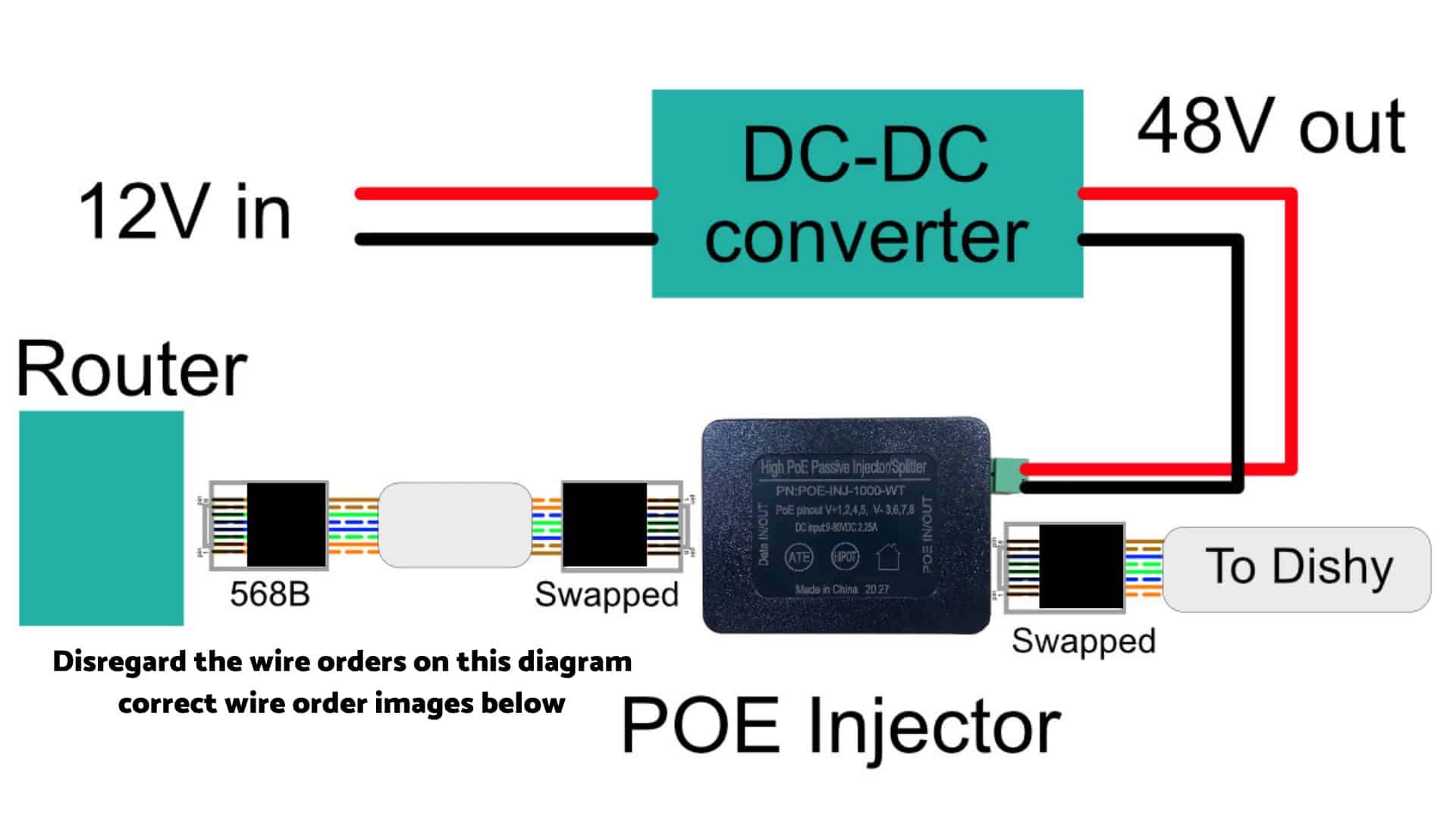 The system is fairly strait-forward but let's run through each part one more time.
From the dish you will cut off the proprietary Starlink connector and replace that with a standard RJ45 connector but wired in a unique way that we will refer to as the 'swapped' wiring.
That swapped connector from dish is then plugged into the powered port of the POE injector. The DC power source which provides 48-56 volts and at least 130 watts of power is also wired into the POE device.
On the other end of the POE device is another swapped network connector. This cable is what goes from the POE device to your standard router.
On the router end of that cable you will have a standard T568B wired connector that connects to the router. With this configuration you can now plug your DC powered Starlink into ANY router.
Overland Camper Build Group
Have questions? Join our Facebook group with fellow builders like yourself. It's a great place to ask questions and learn from other builders.
Starlink DC Conversion Using Ethernet Adapter
Here's the other option I talked about above that doesn't require the cutting of the main Starlink dish cable.
For this setup you will need to purchase the Starlink ethernet adapter and replace the proprietary connector on that adapter with a swapped ethernet connector described above. The ethernet adapter has an RJ45 port which you won't actually use.
***When you cut off the the proprietary connector you'll see two sets of paired wires. Ignore the smaller wires and just use the larger gauge wire set***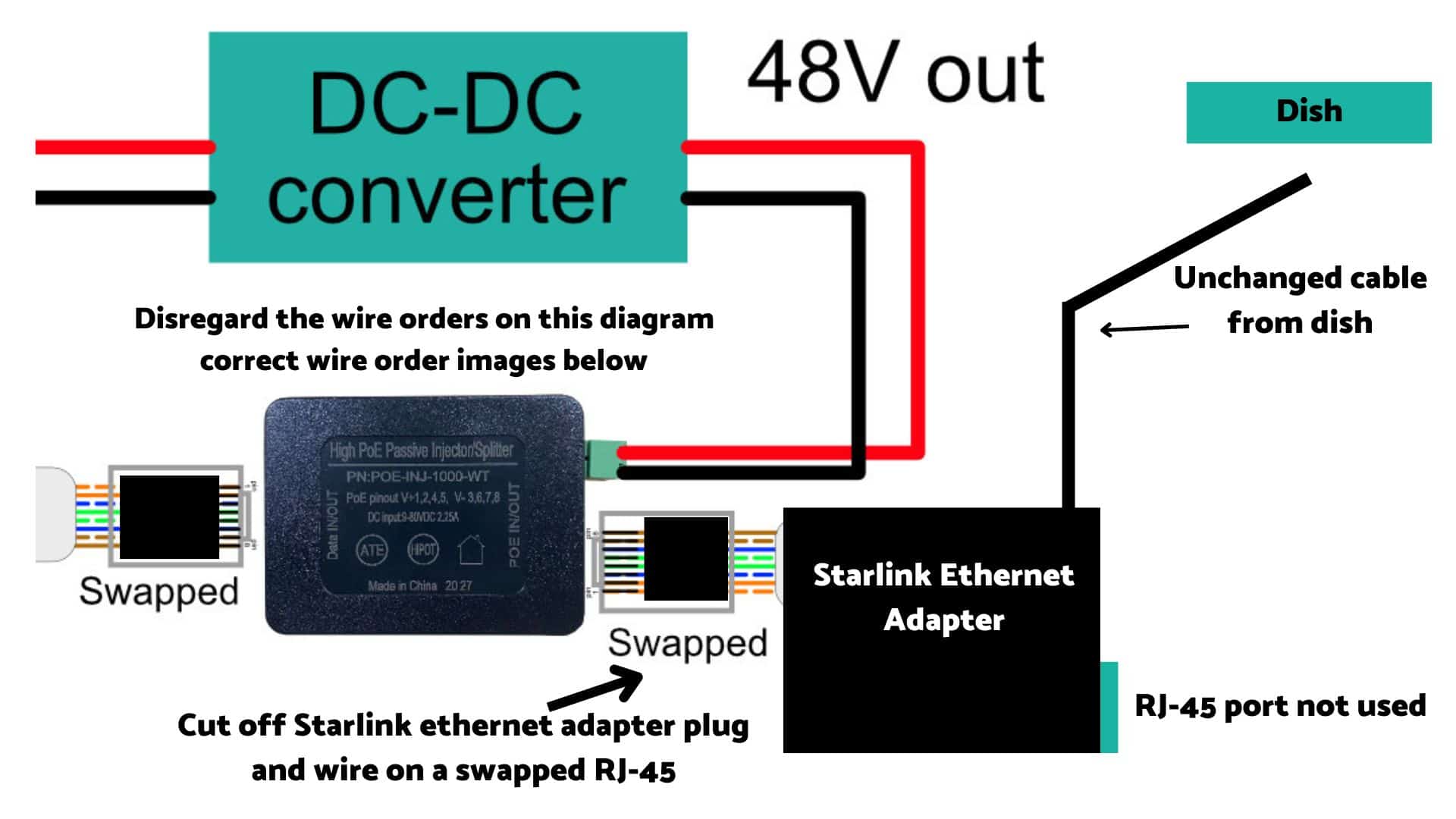 Once you replace the Starlink connection on the ethernet adapter with the swapped connector you just simply plug the Starlink connector from the dish to the ethernet adapter.
The swapped connector on the ethernet adapter then just plugs into the POE injector and the rest of the setup is the same.
Check out our favorite Starlink mounting options and accessories…including flat mounts – Best Starlink Accessories
Wiring The Swapped RJ45 Starlink Connections
Ethernet cables are composed of 4 pairs of wire. There's an orange and white pair, green and white, blue and white and brown and white pair.
I should mention that Starlink uses a shielded Cat5e cable which means there's an additional layer sheathing as well as a bare wire that helps reduce interference. The shielded wires require a shielded RJ45 connector which has metal on it to maintain the shielding.
Standard RJ45 Connector Wiring – T568B
There are a couple standards for the wiring order of ethernet cables but the one that we will be using is T568B.
This is the wire order that will be used on the cable end that plugs into the router. That same cable will have the swapped or different wiring order on the end that plugs into the POE injector.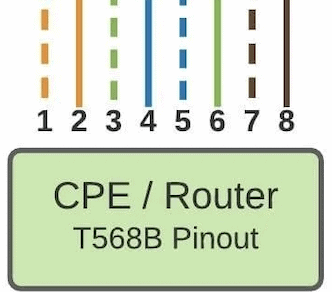 Swapped RJ45 Starlink Connector Wiring
Next we have the swapped wire order that is needed to provide a path for the power from the POE to the dish. These connections will be used on both sides of the POE injector and if used, the pigtail on the Starlink ethernet adapter.
Now that you have an idea of the different wire orders let's have a look at which side of the RJ45 connector is the number 1 spot vs number 8 spot.
If you're holding the connector with the metal contacts pointing away from you and facing up then number 1 is on the left and number 8 will be on the right.
Required Tools
Here are the necessary tools to make the conversion. These are all less expensive versions of these tools but we've found they are holding up just fine.
If you haven't checked out the YouTube on this DIY conversion now would be a good time to give it a look.
Here you can see the actual process of ordering and sorting the wires along with crimping of the RJ45 connectors. You can also get a good view of the finished system and how everything goes together.
Starlink DC Conversion Step by Step YouTube
Starlink Power Consumption
The amount of power that Starlink uses has been more variable than I would have thought. On average I'm seeing about 50-70 watts or 4-6 amps at 12 volts.
The Starlink power consumption would of course go way up in freezing temps with the snowmelt function activated.
With snowmelt active and running I was seeing about 130 watts or 11 amps at 12 volts.
The other thing to consider for those of us using Starlink in an RV is the power saved by not having the inverter running. Just having an inverter on uses power in addition to 5% lost in the conversion from AC power to DC.
Check Out These Other Camper Van Build Topics
Starlink 12 volt DC Conversion Long Term Review
We've been running the Starlink on DC power, 24 volts, for a couple years now. Overall it has been working great. We even keep our dish permanently flat mounted on our roof and haven't noticed any speed degradation.
While the system has worked well we have had some components that have needed replacing.
We have yet to find a good pass through connector that we like for these RJ45 connections. We have tried several but they all eventually let water in which shorted out the system.
This would typically fry the POE injector which we have had to replace. Fortunately they are rather affordable so we now just keep an extra on hand. The power supply has so far held up but we did purchase an extra to have on hand just in case.
I'll keep you updated on how our Starlink DC power supply is holding up. Hope you found this article helpful and drop a comment if you have any questions.
Does The Starlink App Still Work With a 12 Volt Conversion?
Yes, the app still works since the Starlink dish and not the router control the app functionality
How Much Does Starlink Cost?
Starlink costs $110 a month plus a one time purchase of $599 for the equipment
What is Starlink for RVs?
Starlink for RV allows you to pause and un-pause your Starlink service on a monthly basis. This option brings your monthly rate to $135 but you only pay for it when you need it.
How much power does Starlink use?
The amount of power Starlink uses can vary, but generally between 50-70 watts of power per hour. It can get as high as 150 watts if the snowmelt function is on.
How many amps does Starlink use?
At 12 volts DC Starlink on average uses between 3-6 amps per hour. It can get as high as 12 amps per hour if the snowmelt function is on.
How is Starlink powered?
Starlink comes powered by a 120 volt AC power. This can be modified to run off 12-48 volt DC power.
How many watts does Starlink use?
Starlink on average uses between 50-70 watts of power. It can go as high as 150 watts if the snowmelt function is enabled and active.
Is there a Starlink car adapter?
Starlink is designed to run on 120v or 220v power. The easiest way to power from car would be to use an inverter rated for at least 200 watts.
How many amps does Starlink draw?
Starlink uses up to about 2 amps on 120 volts or 150 watts.
How To Power Starlink Off Grid?
There are a two options for powering Starlink Off Grid.
Option 1: Use an inverter and just simply plug in the existing Starlink system into the 120v inverter(Least efficient).
Option 2: Eliminate the 120v system and power directly by way of 48v system(More efficient)
What Size Inverter For Starlink?
Starlink can draw up to 150 watts so in general it's a good idea to double the size of inverter. So a 300 watt inverter would be enough to power the Starlink.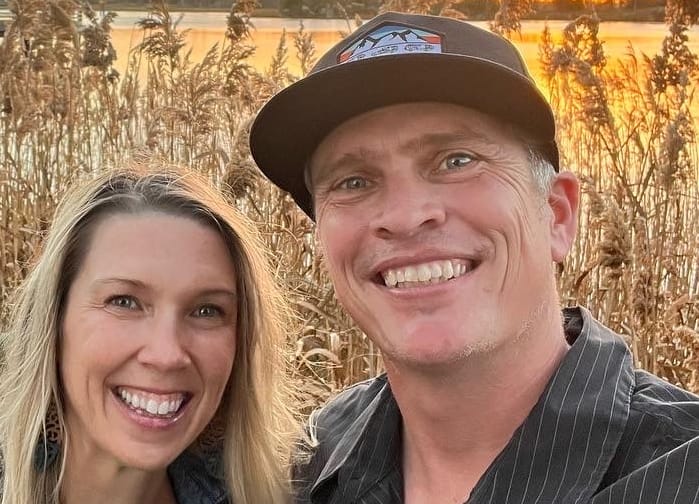 Hello! My name is August, and I'm a devoted traveler and travel blogger living full-time on the road. I made the decision to leave my 9-to-5 job and pursue a nomadic lifestyle, and it's been an incredible journey. My passion for experiencing new cultures is what drives me, and I aim to motivate others to embark on their own adventures through my stories, photos, and advice. When I'm not discovering the wonders of the world, I indulge in skiing, mountain biking, and savoring the unique flavors of different places.