Accommodations make up a big part of our travel expenses and reducing those costs can lead to big savings. Let's look at these legitimate ways to score FREE accommodations for travelers.
Have you considered free accommodation jobs? How about house sitting for free travel? If you own a home you could always do a home exchange for free travel.
Let's have a look at whether these options are a suitable choice for you.
When traveling, especially to a touristy area, it's easy to get funneled down the tourist highway. The same streets, sights, and restaurants that just about every tourist sees.
The real culture of the city sits behind these "tourist walls." But getting behind these walls is difficult.
That's where housesitting, couchsurfing, homestays, and working while abroad come into play. Not only will these get you free or deeply discounted accommodations but perhaps more importantly, they get you talking with a local.
You are now behind the tourist wall and can get real answers. The local knowledge about where to go, eat, see, and do. Not to mention being invited along on excursions or dinner parties where you can interact with even more locals.
Further reading: How to shape sustainable travel through your accommodations – How To Be A Steward Of Sustainable Travel
1.  CouchSurfing
For you backpackers and those that aren't picky we have just the solution for you. It's called Couchsurfing.com and it consists of a large network of people that are willing to lend a hand to a fellow traveler.
Couchsurfing is a platform where you can search for destinations and get in touch with locals willing to share a space. It works really well and is a great way to meet new people.
Tips and tricks for couchsurfing:
Read the persons profile to get a feel for what they are like. Have a look at their picture. If they don't have a profile setup I would probably look elsewhere.
Read the reviews. These are the real backbone of couchsurfing and why it works well and is safe. Both parties can review each other so problem people tend to get weeded out.
Couchsurfing does offer up a verification process that aims to make sure these are real people and not a phony profile. So make sure your person is verified.
In the end, it's still a personal choice and while this may not be right for everyone I've found it really useful and fun.
The experience of making a new friend out of the deal is a real bonus if you ask me.
2.  House Sitting
People all over the world are in need of house sitting and even more so if they have pets.
Well that's where Trusted House Sitters comes to the rescue. They match up those people who have a need for travel and who also love pets, with those who need their pets and homes taken care of.
When you log-in you can search by destination and time-frame to find a location that works for you. You can then browse the listing where the specifics on the animals and what is needed will be clearly laid out.
Trustedhousesitters.com is also great for those of us that need our pet or home watched while traveling. Paying for house sitting or pet boarding is a thing of the past.
Membership Cost
The program costs $120 a year but that includes unlimited stays. It won't take long to get your monies worth.
I find the homes are all really nice and the listings all have pictures so you can see the home and accommodations.
There are verification processes on both ends so that the homeowner and the sitter can rest assured they are getting a safe match. They also have enhanced verification levels that even include background checks.
3. Home Exchange
Home Exchange is a great option for those who own a home. The premise is simple in that you are just swapping homes for a period of time.
It could be a neighboring state or across the world. It could be for a week or several months. In fact, those details can often be worked out between the two parties as many people are flexible.
Rest assured there are verification and security checks to help keep things safe. You will also have plenty of time to chat with the exchange family to make sure it's a good fit.
Homeexchange offers up two payment plans. One is labeled the "essential" package where you will pay $15 per night of any exchange you do.
Their "optimal" plan is a flat rate of $150 per year and is unlimited. If you don't book anything during that first year they will credit your account so you'll get the second year for free.
4. Work Away
Work Away is another great option for free accommodations. Here people post accommodations that are free but you have to do a little work.
What kind of work? Well the options are endless. Perhaps someone has a rental home that you can stay in for some work in the garden. Or maybe someone needs help painting.
Or often it's more specific and might have to do with a small startup company overseas and someone looking for computer expertise.
Or maybe work around the farm for a place to stay. I've even seen large hotel chains that will give you a free room for help with painting.
Make sure it's a fair deal because some may be asking a little too much.
5. Free Accommodations With Wwoof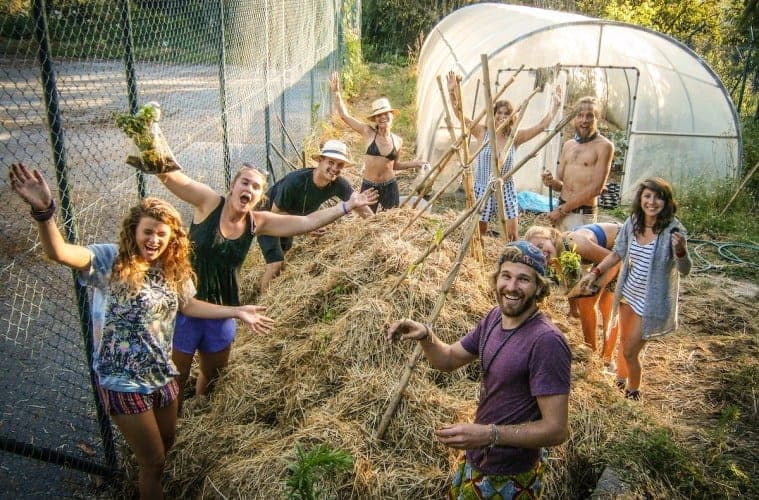 Want to live and learn on organic farms worldwide? Want to share your life with other like-minded people?
WWOOF is a worldwide movement linking volunteers with organic farmers and growers to promote cultural and educational experiences based on trust and non-monetary exchange, thereby helping to build a sustainable, global community.
This is a great way to learn a new trade, meet amazing like-minded people, and get your accommodation and food costs taken care of.
Check out Wwoof for more info.
6.  Collect Points
Collecting mileage or hotel points is a great way to get free travel. In my opinion you need to be comfortable putting everything on credit cards to really get the points rolling.
It does however work and works really well. My wife and I haven't paid for a plane ticket for years and we travel a lot.
I have an article that focuses on this specifically and you can find that here,
Beginner's Guide To Travel Hacking & The Best Travel Credit Card
7.  HelpX
HelpX is an online listing of host organic farms, non-organic farms, farmstays, homestays, ranches, lodges, B&Bs, backpackers hostels and even sailing boats who invite volunteer helpers to stay with them short-term in exchange for food and accommodation.
Similar to Wwoof but offers opportunity outside of the farming community. For more info head to Helpx.
8.  Working On A Cruise Ship
There are a ton of work opportunities on cruise ships. Even if you don't want to be on the water they offer a lot of land-based jobs as well.
Scoring a job on a one-way relocation cruise is a great way to explore the world without buying costly airplane tickets.
Head over to All Cruise Jobs to get a feel for what's out there.
9.  Teaching
Teaching overseas is a great way to earn income and feel great about what you're doing. Teaching English for a school while abroad is easy if you have a bachelors degree.
Even without a bachelors English teaching jobs are available as a private tutor. And don't forget other teaching skills you may have. Such as Yoga, music, exercise and fitness to name just a few. The opportunities are endless.
To find these jobs it takes a little networking but a good place to start is the local hostel or even better are homestays where you can really get in with the locals.
Free Travel Accommodations
I'm not saying your travel will be completely free but you can certainly limit your expenses all while enrichening your experience.
Don't be afraid to think outside the box and remember networking with fellow travelers and locals is the best way to find these great opportunities.
We'd love to hear your stories of traveling abroad. Let us know what worked and didn't work for you.