Finding an international cell phone plan is easier and less expensive than you think. Here are the ways to do it right so you don't get any costly surprises when you get home.
The technology in our smart phones has gone nuts. Who would have ever thought how capable our cell phones would become. While they can certainly distract from your travel experiences let's look at a few reasons why cell phones are great for travel.
Phone calls – Well duh! When I travel I prefer to keep my itinerary flexible. I don't like to map out a month's worth of accommodations and be forced to stick to that. If I like a place and want to stay longer, I want that option.
Having a phone allows me to keep a flexible itinerary. The ability to book rooms a couple nights ahead is a real treat. Now of course you could do this over the internet but there's just something nice about talking with someone.
Emergencies – Having a phone in an emergency can really help speed things along and reduce some of that stress in an already stressful situation.
Be sure to read our travel safety roundup. We asked 16 travel professionals what their biggest travel safety mistakes were.
Camera – Cell phones have great cameras these days. From video to still shots they are truly worthy of hang on the wall quality. I also love how they geotag the photo's so you know exactly where they were taken.
Social Media – Whether you like it or not, social media is here to stay. It's become the norm of how many people stay in touch, especially while traveling.
Language apps – There are many great language apps out there that can make travel more enjoyable. From simple dictionaries to more sophisticated translation programs. There are even apps that you just point the camera at, say a road sign, and it appears translated in the picture.
Mapping apps – These are my absolute favorite for travel. You can download maps of cities or the trekking trails of Nepal. The best part is they all have GPS functionality and don't even require a cell signal as long as you preload the maps. My favorite app for this is Gaia. With the purchase of the app you get free map downloads for anywhere in the world.
WILL MY CELL PHONE WORK OVERSEAS?
Cellular systems differ around the world so it's important to know how to check if your phone is compatible.
What you want to look for in your phone is that it supports quad-band GSM or is titled a "world phone." Most current models from any of the main carriers will have this standard. Some older models, especially on Verizon may not. You can look through your manual or better yet call your service provider to get this information.
BEST INTERNATIONAL CELL PLAN
One way to get your phone talking overseas is to upgrade your current plan to one that allows for international use. All of the major providers have international plans that you can purchase for extra. You can usually purchase them for any duration that you chose.
VERIZON
Verizon does a great job of outlining the various plan options. For as low as $5 you can add Mexico and Canada. For $10 you can extend that to over 130 countries.
AT&T
AT&T also offers similar plans to Verizon.
SPRINT
Sprint international plans are a little tricky to find but remember they are just a phone call away if you have questions about getting set up.
T-MOBILE
T-Mobile is the clear winner in this race. They offer worldwide roaming FREE as part of their base plan. It's a no brainer if you're a frequent international traveler.
Just remember if you don't grab one of these plans and use your phone, expect to pay some outrageous fees. We're talking thousands of dollars for a few weeks.
The above options are great for occasional use or for emergencies but anything more, especially data, you're going to want to look at other options.
The next options we are going to talk about require an "unlocked" phone. So just what is an unlocked phone?
UNLOCKING YOUR PHONE
When you purchase a phone it is typically "locked" and will only work under the cell provider you purchased it through. The cell providers have the ability to unlock your phone if they wish. An unlocked phone allows you to use other carriers SIM cards.
Phones operate with something called a SIM card. A SIM card is basically the key that allows that particular phone to work with a cellular system. If your phone has a Verizon SIM card it will only work with Verizon cell plans.
The SIM card is simply a small chip that you will swap out in a hidden compartment within your phone. Takes about 10 seconds to do it. The location of the SIM card is different for every phone.
Here's a video showing how to swap a SIM card on an iPhone, most other phones are even easier.
Having an unlocked phone allows you to use any cell service provider by inserting that particular provider's SIM card in your phone. For example, in Peru you would be able to buy the local cell company SIM card, insert it into your phone and you would now be able to use their network just as the locals do.
Through most providers, iPhones are unlocked to use international SIM cards. Definitely check with your service provider so they can check on your phone model. For me on Verizon with an iPhone you can simply pick up a SIM card from any country OTHER than the US and you should be good to go.
Some phone models and some providers require that you are no longer under contract before they will unlock your phone. The best thing to do is check with your provider to figure out what needs to be done.
There are also ways to unlock your phone through various hacking programs. These are risky as they can "brick" you phone making it completely useless. In my experience just ask your provider nicely and they should unlock it for you no problem.
HOW TO BUY AN UNLOCKED INTERNATIONAL CELL PHONE
You can also purchase an unlocked phone and we've used Gazelle and Amazon in the past. We like these two options because you know you are getting a new or refurbished and working phone. And if it's an unlocked phone you can rest assured it's not a hacked version. The international cell providers that I will be discussing next also offer unlocked phones for sale.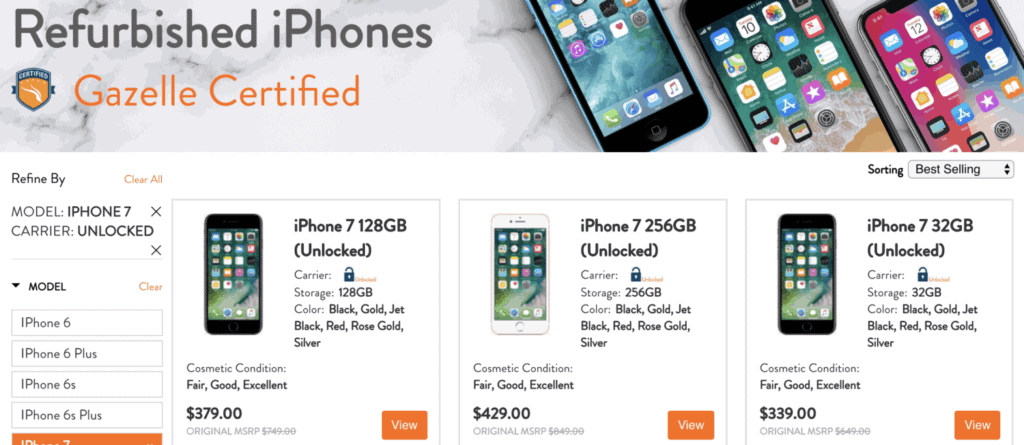 Gazelle is also great for selling your old phones and other electronics. No haggling, no auction or bidding, just a fair price.
With an unlocked phone you now have all sorts of options. Prices will vary but it's usually less expensive than using the roaming options from the US providers.
With an unlocked phone you have complete control over which provider you chose to use. We've talked about using providers of the country you are traveling to. But what if you are visiting multiple countries? Let's talk about what I consider the best options for travel.Unlocked Phones
TRAVEL AND INTERNATIONAL SIM CARDS
With an unlocked phone you now have the ability to purchase cell phone plans designed for international travel. These are a far better deal and will work in more countries than upgrading your domestic plan. There are many options available but I will cover the 3 most popular.
Now keep in mind the following 3 are ideal if you plan to travel throughout several different countries and don't want the hassle of swapping SIM cards (phone number) all the time.
If you were just flying into England for example, I would recommend just buying the local SIM card. Most likely it will be a better deal unless of course you plan to travel to ther countries in the same trip.
These SIM cards can be picked up at airport kiosks and convenience stores at your destination.
ONESIMCARD
OneSimcard specializes in international cell plans.  That's what they do and they do it well.  When you purchase a plan from any of these providers you will get your new SIM card and once installed in your phone you will have a functioning overseas cell phone.
OneSimcard also cells unlocked phones and even has phone rentals if that is something you'd prefer.  Now let's have a look at their plans.
They offer 3 different plans that you can see in the following graphic. Click on the image to enlarge it. The best plan for you will depend on your specific needs.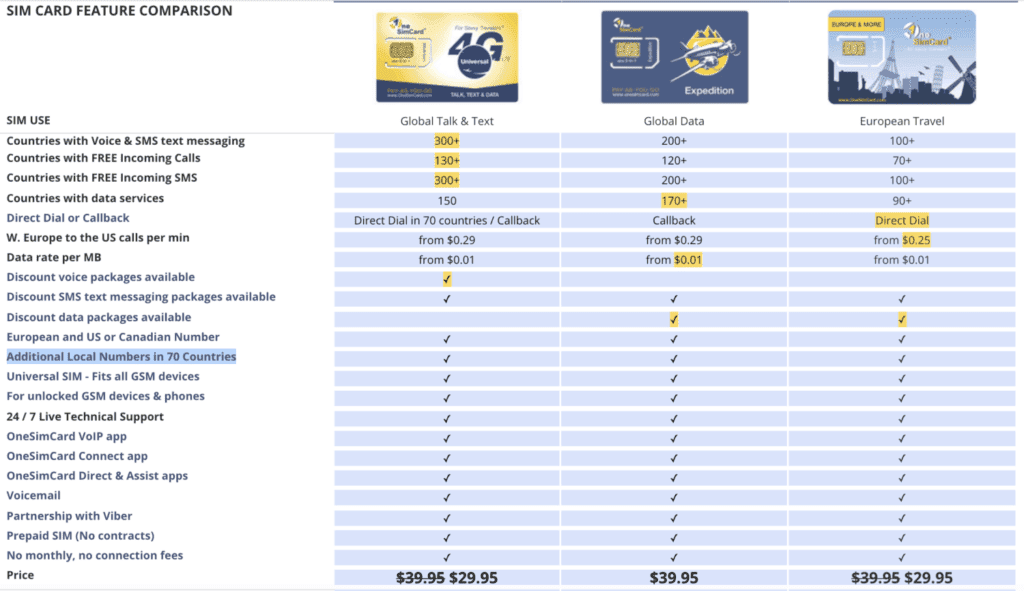 WORLD SIM
World SIM is another great option for international travel. The majority of their plans are pay as you go meaning it won't cost you a dime if you don't use it. A great option if you just want a phone for emergencies.
Pricing for World SIM will be similar to the other options once you start using your phone for calls and data. World SIM also sells unlocked phones.
Here are the pay as you go rates, this snapshot was for calls originating in Germany.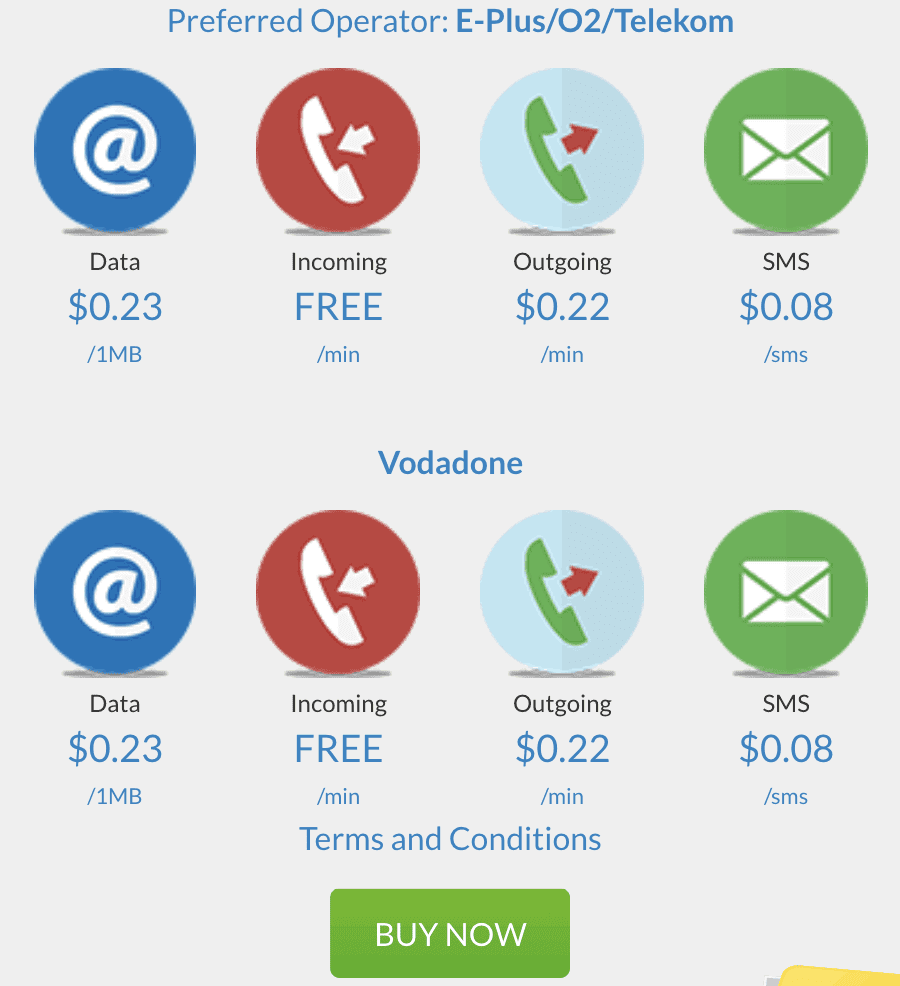 As you can see, the pay as you go is a great option for just occasional use. The FREE incoming calls is a nice touch as well.
TELESTIAL
Telestial offers bundled plans similar to oneSim. They also have data only options.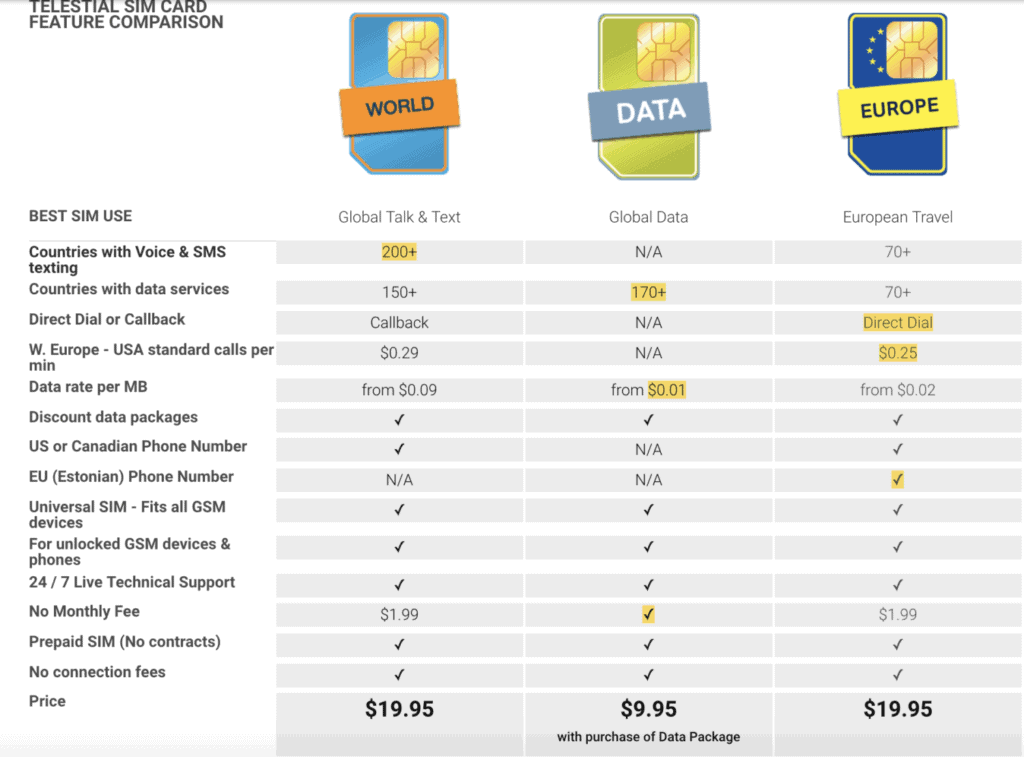 GIGSKY DATA ONLY PLANS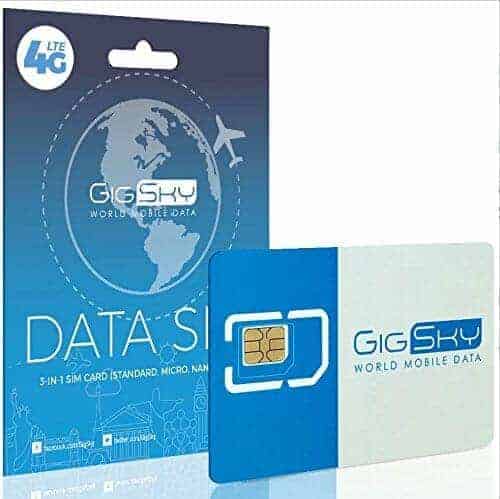 For data only GigSky is a great option and has the lowest data rates. Works in over 190 countries and has easy pay as you go billing. You can fund your GigSky account using the GigSky app and even chose from regional bundles depending on where you are traveling.
You can see the various plan options here and GigSky is easy to purchase at Amazon. It's only $9.99 and Prime ready. Once it arrives you then select the region and plan that will best fit your needs.
These are the 4 best and most popular options available. The one that really stands out to me is World Sim and their pay as you go structure. This is a no-brainer to at least have the option should you need it.
WIFI ONLY OPTION
Let's not forget about good old wifi. With things like Facetime, WhatsAap, Google Voice, and Skype you can have voice and even video conferences with folks back home all while using free wifi. Just be sure you turn cellular data completely off to avoid any surprise charges.
While the above wifi options work well they do have small fees associated with them. For occasional use, they are a great option.
CONCLUSION
As you can see there are a lot of options when it comes to international cell phone plans.  It's now easier than ever to keep that phone ringing while traveling.  To have the option to use your phone for an emergency is a good idea if you ask me and the FREE plan through World SIM is worth a look.  For the ultimate in coverage and service, I would look at OneSimcard.
Be sure to read: