Have you heard of the term glamping? It's a perfect blend between camping and a 5-star hotel. It's camping but with a touch of luxury. In fact, some of these are just down right over the top luxurious glamping destinations.
On your next road trip consider treating yourself to some of the finer things in life with the west's best glamping destinations.
With the motto "you can touch the earth here," Treebones Eco Resort takes #1 for the ultimate in glamping. Rising above the Pacific Ocean along HWY 101 this over the top glamping destination checks all the boxes.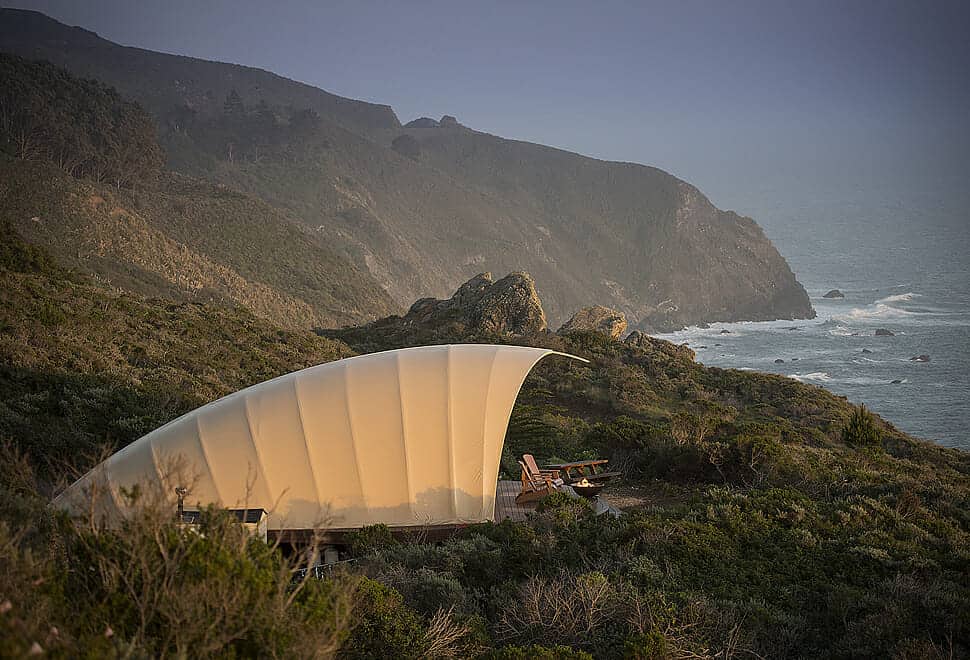 Conveniently located about 3 hours south of San Francisco along the famous HWY 1 coast, this gem delivers. The Big Sur area is full of outdoor activities from cruising the beach to hiking in the lush Big Sur forest.
When it comes to delivering a unique experience Treebones won't disappoint. The accommodations are superb and offer out of this world views of the rugged Pacific Big Sur coast.
While they have terrific yurts available for rent you can also rough it and throw up a tent at one of their tent sites. And yes you'll still have access to all the amenities even if you tent camp.
The lodge provides a central hang out with tables and seating overlooking the coast. Food and drinks are available at the main lodge but if you want a really special experience be sure to check out the Sushi Bar.
The charming Sushi bar is small and promises an intimant experience with perhaps one of the finest views ever. The food and service are terrific. While the majority of the area is off limits to those who are not staying the night, the lodge and Sushi bar are open to visitors.
I'm telling you, the view alone is worth a visit.
With its own organic garden this eco-lodge finds the perfect balance between luxury and camping. And if my word isn't enough, Tripadvisor has named Treebones in their Hall Of Fame every year since 2011.
Oh I almost forgot, they have an outdoor pool and spa! This place really does check all the boxes.
Head over to Tripadvisor for more great photos, reviews, or to book the ultimate glamping experience.
HUCKLEBERRY TENT & BREAKFAST – SANDPOINT IDAHO
The Huckleberry Tent & Breakfast is a wilderness wonderland located just 30 minutes from Sand Point, Idaho. This glamping experience adds a touch of "tent and breakfast" for a unique camping experience. The canvas walled tents are complete with fireplace and kitchen.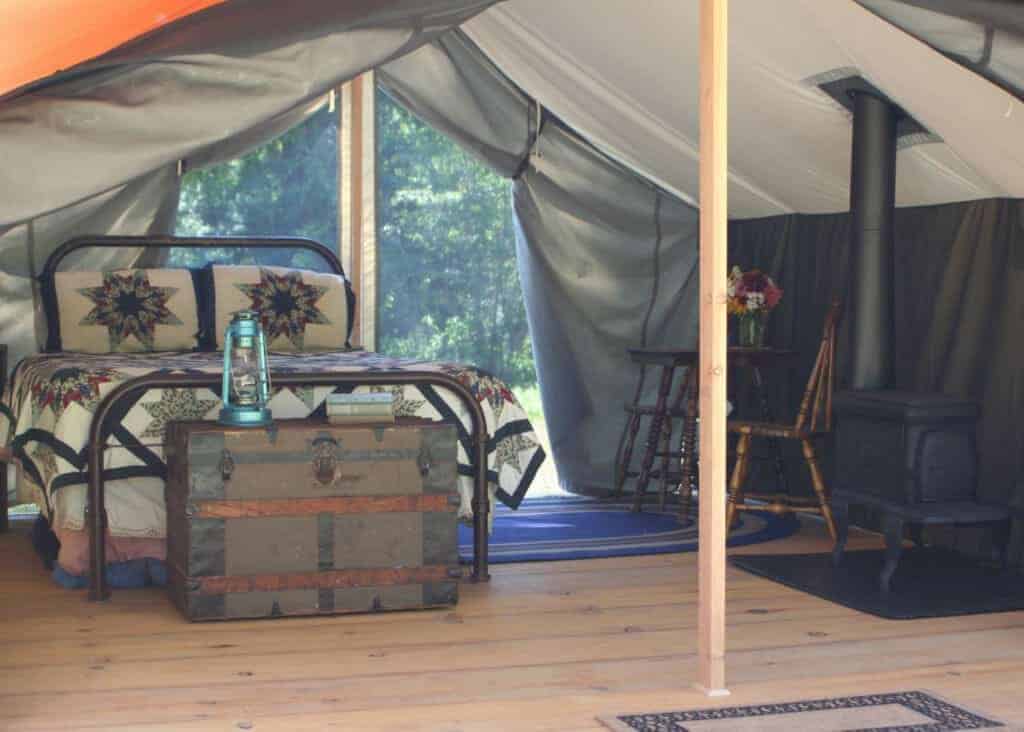 You'll also enjoy an outdoor fireplace and even a heated outdoor shower. Best of all when you awake to the fresh mountain air just head over to the Homestead where you can enjoy a fresh homemade breakfast that is included with your stay.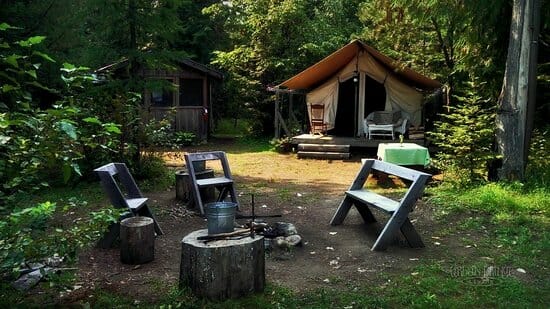 Surrounded by some of Idaho's best country including wildlife, rivers, and lakes you'll have no problem finding things to do.
Get more details HERE including pricing and reviews.
Knock your next road trip out of the park with these proven tips.

Expert Road Trip Tips To Make Travel Easy
UNDER CANVAS – MOAB, UTAH
Under Canvas has locations in Moab, Yellowstone, Glacier, Zion, Tucson…and a bunch more. With their multiple locations, you'll have no problem adding a night of luxury on your next road trip.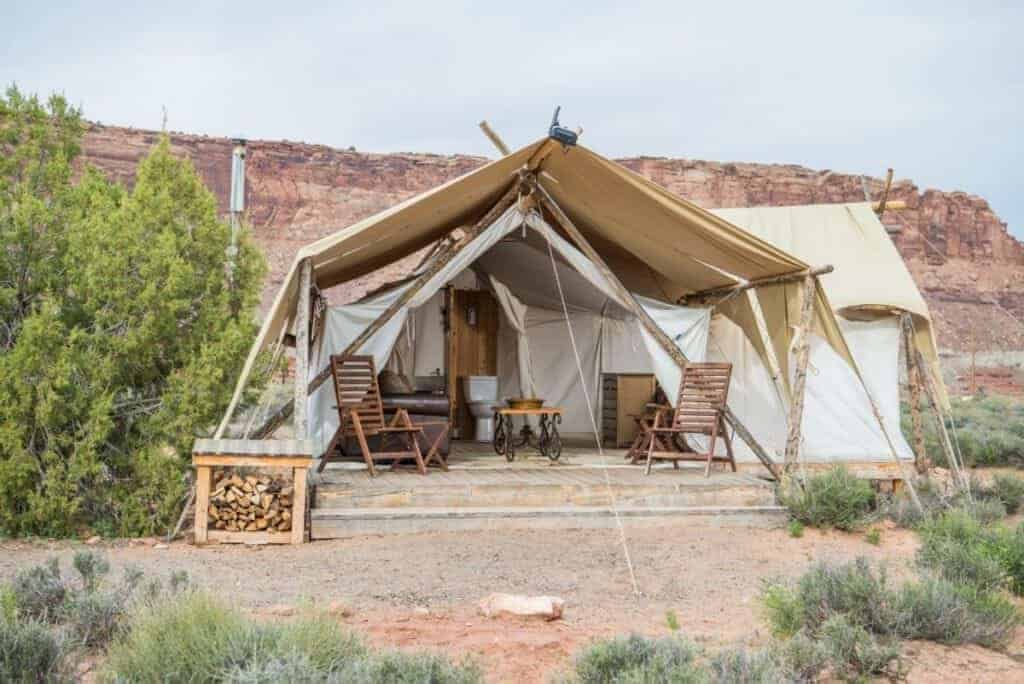 They have several different accommodations available and each location serves up its own unique charm. The rooms are typically canvas walled tents but with that twist of luxury.
The Under Canvas Locations are all superb and offer up endless opportunities to explore some of America's greatest sites. The Moab location is just minutes from Arches National Park and endless array of fascinating rock formations, vistas, and amazing hiking and biking.
Or perhaps you prefer to see things by air or even a Jeep ride. Both of which are available in Moab.
Under Canvas is a great place to host a wedding or other large gathering.
More details, pictures, reviews, and pricing can be found HERE.
Are you planning a road trip and need more epic destinations?

11 Stunning Destinations Not To Miss In The US
PAWS UP – BLACKFOOT RIVER, MONTANA
The 37,000 acre resort of Paws Up is truly an immense and special place. The resort has all types of accommodations but most importantly has some terrific glamping options.

This place is a great option if perhaps other folks in your group are looking for more traditional accommodations as they have those as well.
Your own private island lodge
This resort also boasts the most activities I've seen and would be a terrific choice for kids. They even have their own adventure course in addition to over a dozen other kid friendly activities.

The resort is a true 4-seasons resort so activities will shift drastically from the warm summers to the snow filled winter. Cross-country skiing and snowmobiling just to name a couple.
This place really is deluxe and offers up just about anything you can imagine. The accommodations and food are top notch, and you'll enjoy your time here as you take a step back in history.
You can book your dream Paws Up luxury glamping HERE.
AUTOCAMP – MULTIPLE LOCATIONS, CALIFORNIA
AutoCamp combines the adventure of camping with the luxury of meticulously remodeled iconic Airstream trailers. With Locations in Russian River, Yosemite, and Santa Barbara you won't be hard-pressed to land one of these on your next road trip.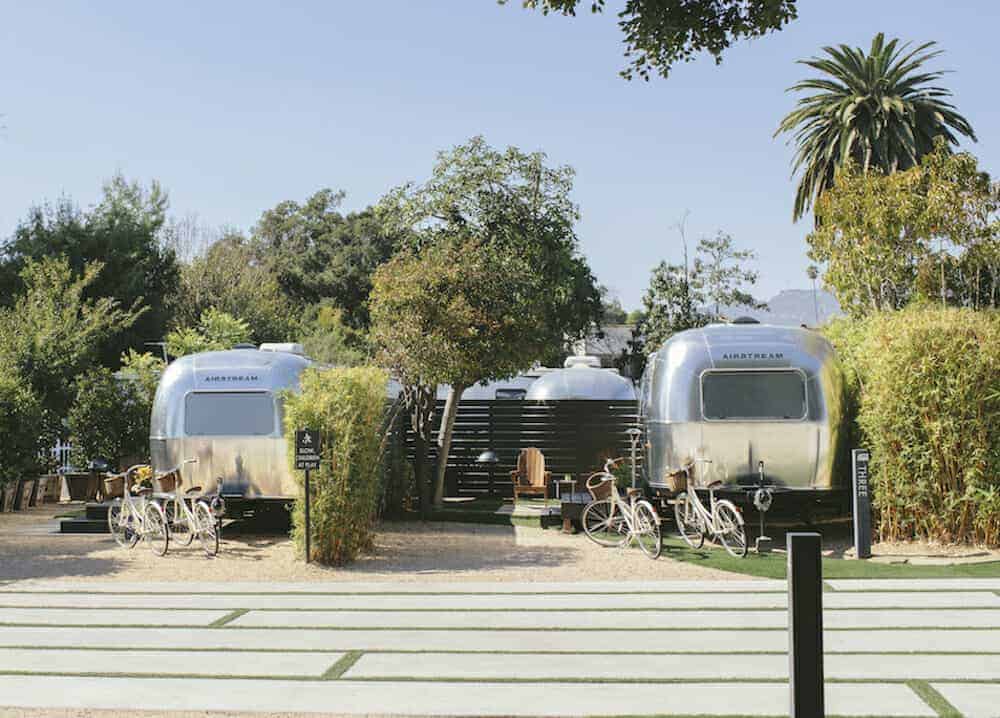 Every location has its own unique vibe but the one thing in common is that these aren't your average trailers.
With finishes that you would normally find in a 5-star hotel these trailers make glamping look good.
Autocamp also takes pride in creating some amazing common areas so linking up with fellow travelers or friends and family is easy.
More photos and reviews available over at Tripadvisor.
Small towns are what make America Great. Don't miss these must see destinations.

9 Not To Miss Small Towns Of The West
TREEHOUSE POINT – FALL CITY, WASHINGTON
Just 30 minutes from Seattle, TreeHouse Point serves up a very unique glamping experience. Nestled amongst the large timber of Washington state are 6 adorable tree houses, one even has a suspension bridge.
The tree houses all vary in design making even a repeat visit a unique experience. From suspension bridges to winding stair cases the one thing in common is the sense of elevation.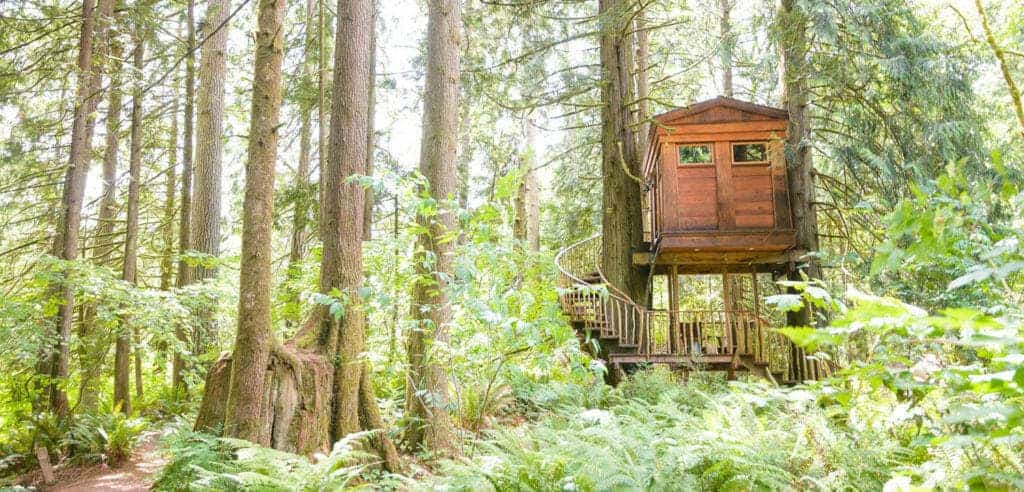 Enjoy the view from above as you take it all in from your private porch.
With 6 tree houses and 3 lodge-style accommodations, TreeHouse Point can also handle large groups.
Bring out the inner kid in you and stay in a tree house.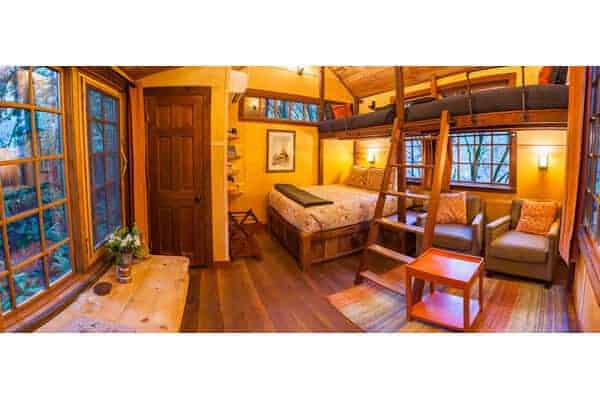 Grab some more details and book perhaps the most unique glamping experience available. More Info Here
ROLLING HUTS – WINTHROP, WASHINGTON
If you haven't had a chance to check out Winthrop Washington you need to make it a priority. It made my cut for the 9 small towns of the west you must visit. Located high in the North Cascades, Rolling Huts are a perfect jumping point for any sort of outdoor activity.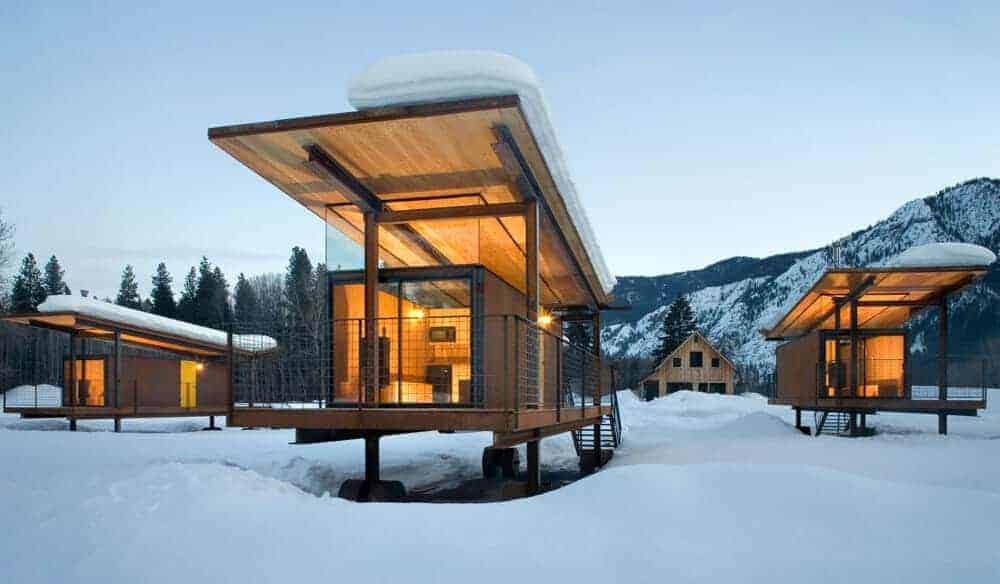 For any road trip that starts or ends in Seattle consider taking the North Cascades Highway and making a stop in Winthrop.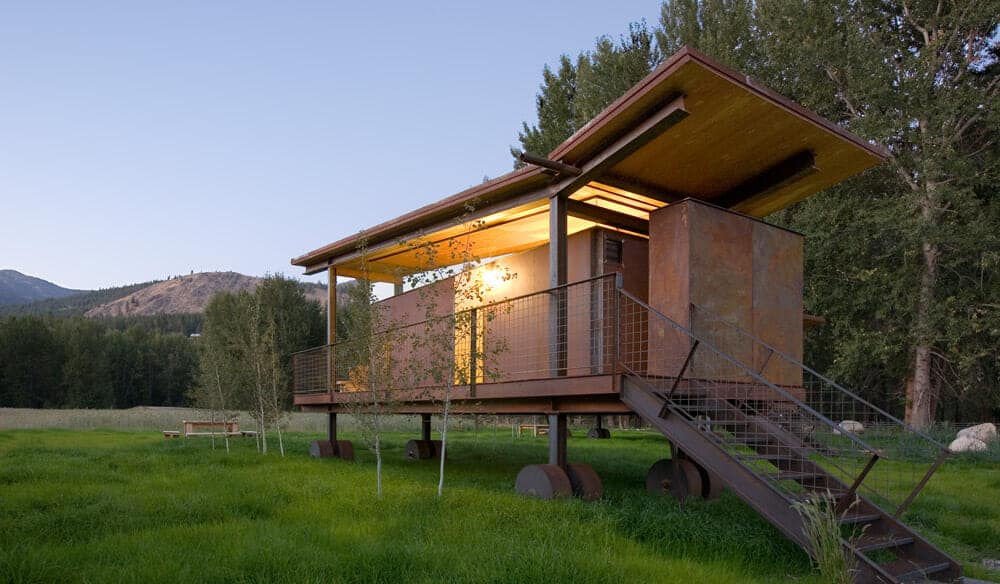 During the winter you'll find miles of groomed nordic trails as well as endless exploration opportunities by snow shoes.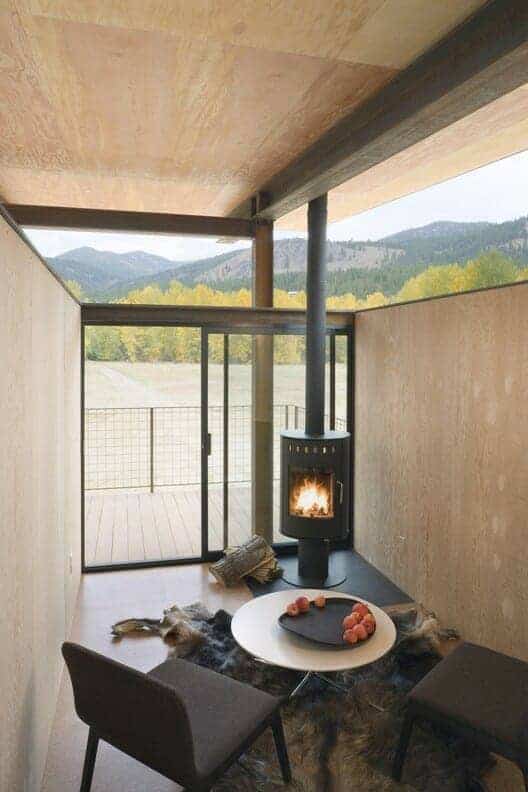 The summer is ripe with climbing, hiking, biking, golfing, and fishing to name a few. The town is charming and right out of an old western movie with its wooden sidewalks.
Enjoy a cold brew at the local brewery or try your luck at the miniature golf course. Winthrop is a great place for kids.
Link up all these epic spots with America's most scenic drives

Scenic Drives Of The U.S. You Don't Want To Miss
GET YO' GLAMPING ON
I hope I've inspired you to treat yourself to a little glamping on your next road trip. I promise you will not be disappointed with these spots.
Happy travels!