A comprehensive guide on Machu Picchu Travel that will take the guesswork out of planning your next trip to Machu Picchu. Essential tips and insider tricks to make it the trip of a lifetime.
Machu Picchu, an Incan city of spectacular granite is thought by scholars to have been a sacred archaeological center for the nearby Incan capital of Cusco. Built at the peak of the Incan Empire in the mid-1400s, this mountain citadel was later abandoned by the Incas. The site remained unknown except to locals until 1911, when it was rediscovered by archaeologist Hiram Bingham.
WHEN TO GO
Peru, depending in how you look at it, is either blessed or plagued by unpredictable weather. Picking a time to visit Machu Picchu is not clear cut and even a visit during the dry season may be met with torrential downpours.
But not to worry, Machu Picchu can be a stunning place amongst the clouds. This scene came about after a heavy rain storm forcing most of the visitors off the hill to seek shelter. We felt like we had the place to ourselves, a very special moment. In fact, throughout these pics I think you will see how few people there were. Rain isn't necessarily a bad thing in Machu Picchu.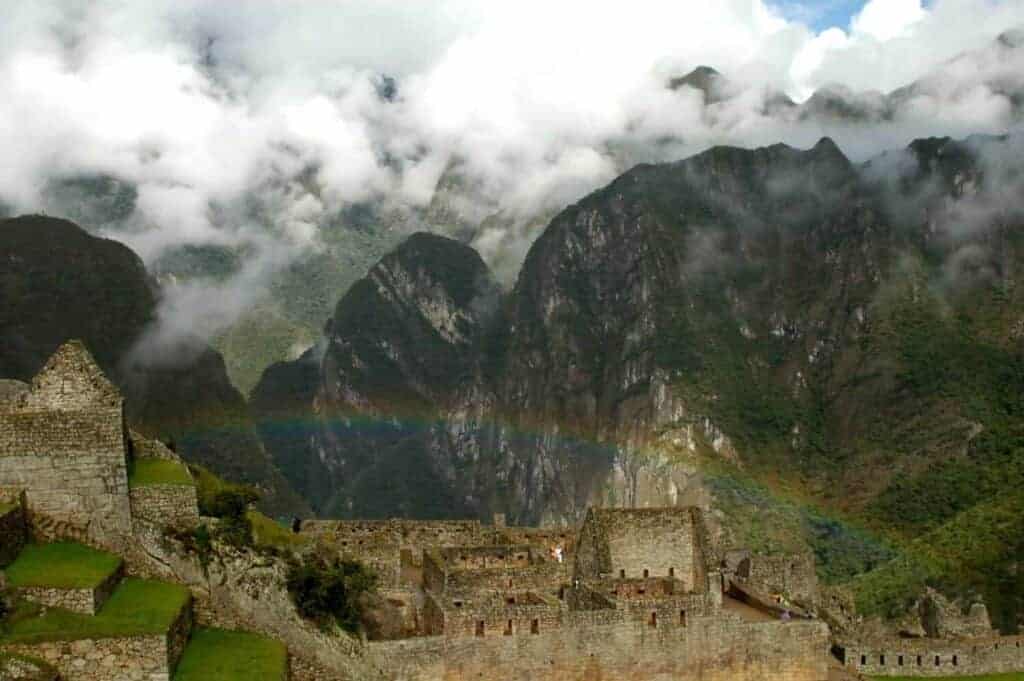 Here are some tips
Dry season is May to September which will increase your odds of a sunny day but also guarantee bigger crowds.
Rainy season is October to April, the above picture was taken in March.
The best times to visit are early in the morning and late afternoon to avoid the heaviest crowds.
The Inca Trail is closed all of February for maintenance
Be sure to come prepared with rain gear and sturdy shoes should you find yourself in a downpour.
I carry small garbage bags that I place my camera in, making a hole for the lens to see through, that's how these shots were taken.
Check out our International Travel Planning Guide, from visas to scoring that cheap flight…
CUSCO THE GATEWAY TO MACHU PICCHU
Cusco is the logical home-base for a Machu Picchu visit. One of the prettiest and well-kept cities you'll ever see. It's a great city to explore and a necessary place to chill in order to acclimatize.
Cusco can also be the gateway to something not so great, altitude sickness.
ALTITUDE SICKNESS
Cusco sits at just over 11,000 feet and unless you live in the mountains you will likely feel the effects. It's recommended to stay a day or two in Cusco to acclimatize to the altitude. This is even more important if you plan to hike to Machu Picchu.
SYMPTOMS OF ALTITUDE SICKNESS
Dizziness, lightheadedness
Headaches
Nausea
Vomiting
Diarrhea
Difficulty breathing
Heart Racing
Be sure to take a minute and read our How To Avoid Altitude Sickness. It's full of tips and remedies to keep you safe and feeling great.
If you aren't using travel Insurance it's time to take another look at it. We both enjoy the peace of mind travel insurance gives us. World Nomads is a great place to start.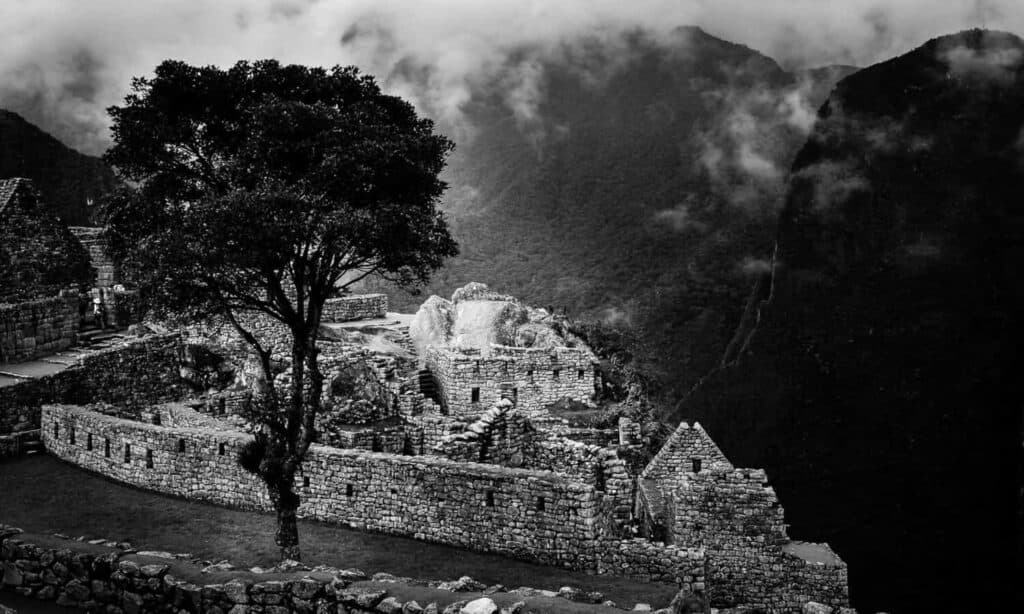 THINGS TO DO IN CUSCO
The city is easily walkable but remember to take it slow
There are several surrounding ruins, Sacsahuaman and Qenko are worth a visit. Qenko offers a magnificent view above Cusco.
Consider purchasing a Boleto Turistico if you plan to visit several of the nearby sites. It grants access to 16 attractions and costs $50 USD. Can be purchased at many hotels or tourist offices.
Be sure to check out the temple Qorikancha
Sit back and relax, people watching on Plaza de Armas is a great way to spend an afternoon.
Try the local food. From Cuy (guinea pig) to lomo saltado (steak sauteed with spicy peppers and onions) there are plenty of fine restaurants in Cusco.
WHERE TO STAY IN CUSCO
Accommodations are endless in Cusco and there is something for every budget. Here are a few of our favorites.
Mama Simona Hostel, well priced with clean rooms. Free WiFi and a great breakfast.
Hostal Nueva Alta is another great choice
If you're looking to treat yourself, Nao Victoria Hostel is a great option.
Check out the reviews at Booking.com and Trip Advisor
HOW TO GET TO MACHU PICCHU
There are basically 3 options,
Hiking in via one of several trail systems
Stay in Aquas Calientes, day trip from there via bus or hike
Day trip from Cusco via Train or bus

Lesser known Machu Picchu Facts…
HIKING MACHU PICCHU
Trekking to Machu Picchu on one of several trails is an unforgettable experience. The trek will take you through incredible mountain ranges, diverse flora and fauna, and stunning cultural and archaeological sites. It really is a trip of a lifetime.
Be sure to read A Trekkers Guide: Machu Picchu Packing List
INCA TRAIL
The Inca Trail to Machu Picchu is part of a vast network of trails built by the Incan Empire over 500 years ago. The classic option is the 4 days/3 night itinerary. This can be lengthened or shortened by a day or two depending on where you start. This trek can also be combined with other trails to make for an epic 7 night adventure.
The classic version of the Inca Trail is 26 miles long and reaches a max elevation of 13,780 feet (4,200 meters). It is a moderately challenging trek that can be completed by most people, as long as you're relatively fit and more importantly properly acclimatized.
The Inca Trail requires a guide and is typically very busy. The busy season is between May-September and I would recommend booking at least 6 months ahead of time.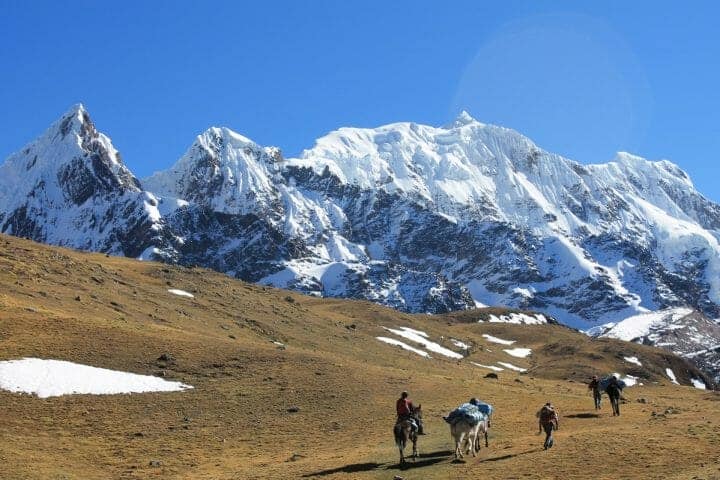 SALKANTAY TREK
This great 5-day trek is filled with the incredible views of Nevada Salkantay peak. Voted one of National Geographics Top 25 Treks in the world, it's now the 2nd most popular trek to Machu Picchu. This trek is filled with the stunning views of Salkantay Peak, piercing the sky at over 20,500 feet. The glaciated peak with the lush grassland in the foreground is quite the site.
LARES TREK
This less strenuous trek brings with it countless opportunities to interact with the local Andean communities along the way. These communities give you a true taste of what Andean life is like. This hands-down is the best cultural trekking experience in the region. It is also less crowded than the other treking options.
This trek ranges from 2-3 days and can be combined with a visit to Machu Picchu by extending the tour by 1 or 2 days. This is a great way to visit Machu Picchu if other treks are sold out.

CHOQUEQUIRAO TREK
For those seeking an epic and rewarding adventure, Choquequirao won't disappoint. Being one of the longest and toughest treks in the region you are rewarded with the ultimate archaeological experience. The Choquequirao Inca ruin site alone is worth a visit. This challenging but rewarding trek sees far fewer people and is my personal favorite for the sole fact of getting away from the crowds.
The Choquequirao Trek can be completed as a stand-alone trek or with the optional Machu Picchu visit. What's unique about the stand-alone version is no guide is needed. Now that's amazing if you ask me! If you want to visit Machu Picchu as part of this trek then a guide is required.
My advice would be to do Aguas Calientes overnight stay with a day trip to Machu Picchu. Be sure to catch the first bus from Aguas Calientes to Machu Picchu and you will beat all the day crowds that come from Cusco. Then complete the Choquequirao trek on your own. It'a an amazing trip I promise.
VILCABAMBA TREK
This adventurous trek has yet to be heavily impacted by tourism. The very remote, beautiful, and un-crowded trek delivers stunning scenery without the crowds. Make no mistake this is one of the tougher treks in the area so make sure you are well prepared.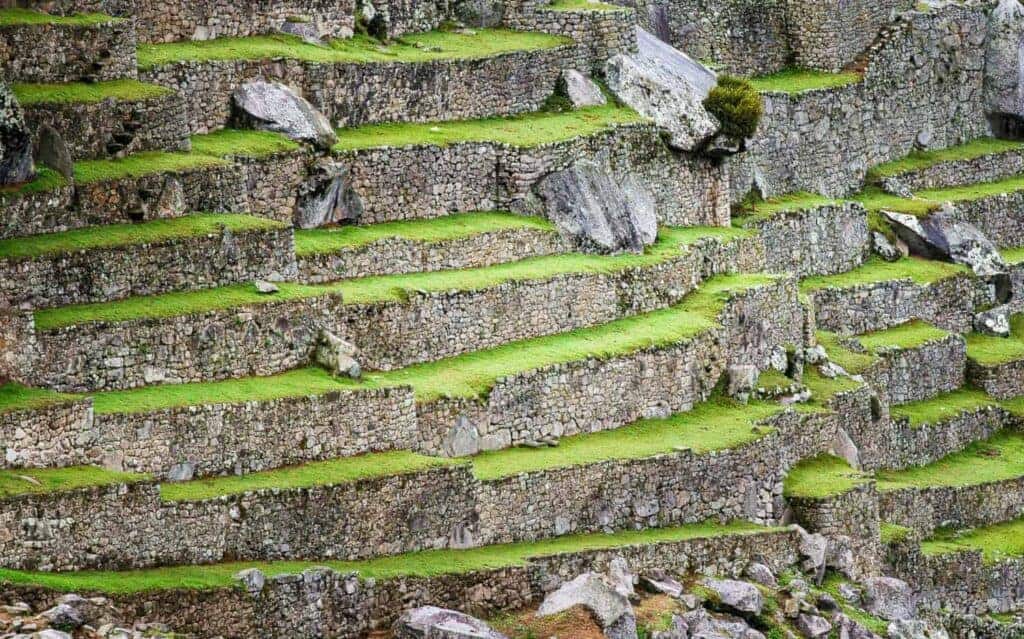 Proven Safety Travel Tips, what to watch for, planning, vaccinations, and so much more…
AGUAS CALIENTES TO MACHU PICCHU
If a trek isn't possible due to time constraints or other reasons, this would be my next recommendation. Aguas Calientes is located about an hour from Cusco and is about 2,000 feet lower. This makes it a great place for folks that are feeling the altitude a little too much. Aguas Calientes has many great hotels, hostels, and restaurants to choose from.
The beauty of Agus Calientes is that you are ahead of the crowds coming up from Cusco on day trips to Machu Picchu. To take advantage of this be sure to catch the earliest bus to Machu Picchu and you will have the place to yourself. Try the stunning Hotel Guarany, check prices at Trip Advisor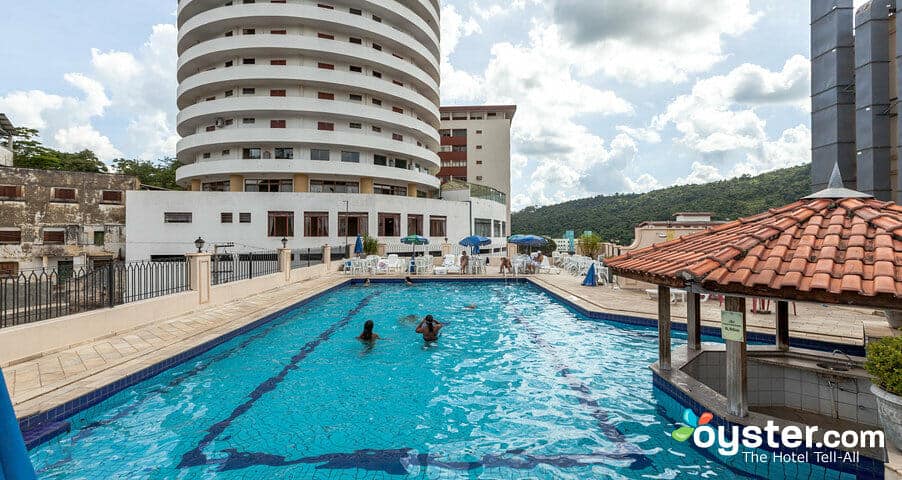 TAKING THE TRAIN
And last but certainly not least we have the option of day trips from Cusco. I will be focusing on taking the train but you can hire a van or taxi as well. But why take a taxi when you can travel in style on the train. All aboard!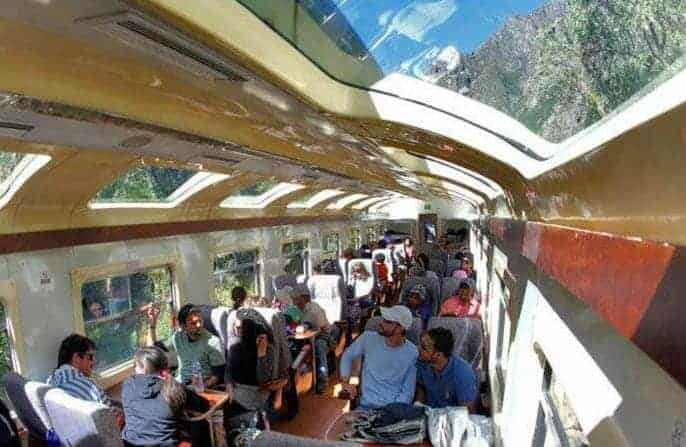 There are two train services now in Cusco, the original Peru Rail and the relatively new Inka Rail. I have only taken Peru Rail but I hear Inka Rail is great as well. Both will get you to the same place in the same amount of time. They both use the same track so plan according to what departure times work best for you. The trip is about 3.5 hours depending of course on where you start from.
TRAIN ROUTES:
Poroy – Machu Picchu
Poroy – Machu Picchu (Hiram Bingham)
Ollantaytambo – Machu Picchu
Urubamba –Machu Picchu
COACH, BUSINESS, OR FIRST CLASS
The trains are offered with 3 different pricing options and can be purchased one way or round trip. You can save some money by buying a one-way and then taking the bus back down.
EXPEDITION (COACH)
Has windows along sides and roof. Seats four per table.
Food is available for purchase, some complimentary snacks provided.
Price is around $145 round-trip
VISTADOME (BUSINESS)
Larger windows
Complimentary snacks and beverages (non-alcoholic)
More modern car but similar seating to above
Price is around $165 round-trip
HIRAM BINGHAM (FIRST CLASS)
Luxerious and spacious. With formal dining setting and often live entertainment.
A gourmet meal with drinks
Prices vary but expect to pay about $350 one-way
WHERE TO BUY TRAIN TICKETS
PERU RAIL – HAS SEVERAL EASY TO FIND TICKET CENTERS
Larco Mar: Malecón de la Reserva 610, Centro Comercial Larcomar, Plaza Centro, 1st floor, Miraflores, Lima
Lima Airport: Elmer Faucett s/n, National Departures, 2nd floor, between Gates 13 and 14, Callao
Cusco Airport: Velasco Astete s/n, Distrito de Wanchaq, Cusco
Central Plaza Cusco: Portal de Carnes 214, Plaza de Armas, Cusco
Plaza Regocijo: Plaza Regocijo 202, Plaza Regocijo, Cusco
MACHU PICCHU TICKETS
Entrance to Machu Picchu requires a ticket and your Passport. In addition the tickets cannot be purchased at Machu Picchu itself and must be purchased beforehand. Also keep in mind they limit how many tickets are sold per day and during peak season will often sell out.
There are 3 different ticket packages to choose from and if you book a tour you can often purchase tickets with your tour. Ticket prices current as of October 2018.
MACHU PICCHU ONLY
This provides entry to the main portion of Machu Picchu only. This includes the primary ruins, terraces, and temples.
Adult $70 USD
Student $41 USD
MACHU PICCHU + HUAYNA PICCHU
This is the lower and busier mountain above Machu Picchu, Huayna Picchu (8,923 feet). This includes entry to the Temple of the Sun and the ruins at the top. There are two available times to make the climb, 7-8am and 10-11am.
MACHU PICCHU + MOUNTAIN
This ticket allows you to climb the taller mountain which is 10,111 feet. This provides a stunning view looking down on the primary ruins. Usually a less busy option but it does not have any ruins and is a long climb. It also has two time slots, 7-8am or 9-10am.
MACHU PICCHU + MUSEUM (MUSEO DE SITIO MANUEL CHÁVEZ BALLON)
This option is often missed and left out in most reviews. When you visit Machu Picchu you immediately notice one thing, there is almost no signage. The opposite of what we are used to at typical museums and tourist attractions. They have chosen to not litter this amazing place with signage trying to explain every single feature. This is a great thing but if you don't have a tour guide, you risk leaving the place with many unanswered questions and potentially missing some amazing history and facts.
That's where this often missed museum comes into play. At the end of the road at the base of Machu Picchu is a great museum that will answer all those questions and offer you a complete picture of this amazing place. It would be a shame to not include this as part of your visit. The museum tickets can also be purchased separately.
Below are the ticket options with current prices,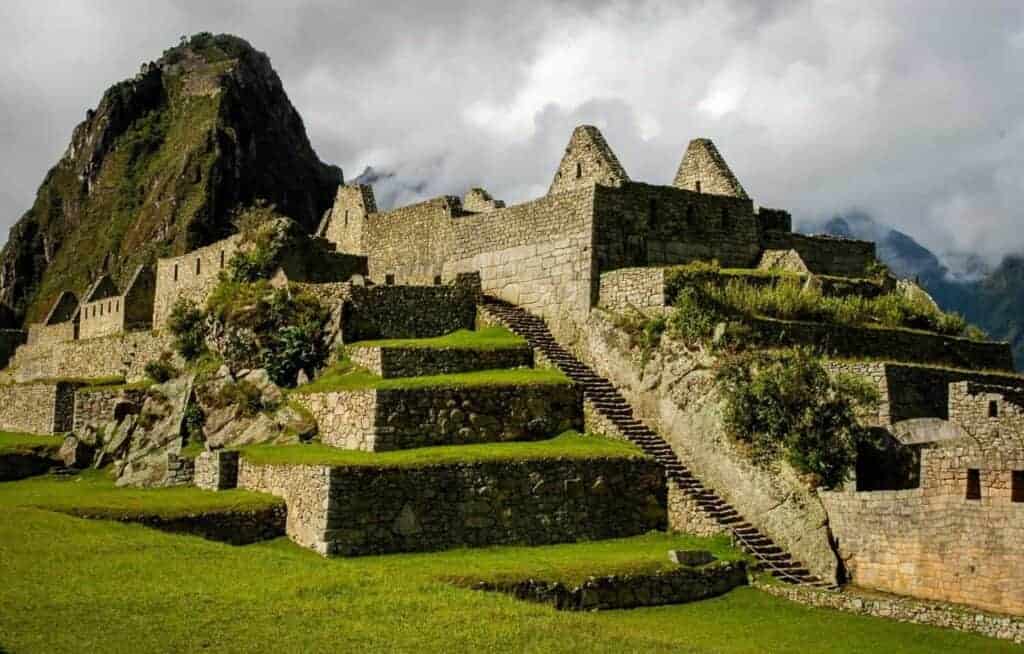 WHERE TO BUY MACHU PICCHU TICKETS
Buying your tickets online is the most convenient and guarantees you a ticket, remember they do sell out. There are many online ticket purchasing options and some are better than others.
For the cheapest price buying from one of the Peru run, online ticket retailers is an option. Be warned however, that the sites are clunky and often crash leaving you not knowing whether you purchased a ticket or not. They also may limit the type of credit card used and you will be subject to international fees when using a card. With that said here are a couple you could try,
If you are willing to spend a few more bucks I would without a doubt go with any of the earlier links I've been posting. They are from, Get Your Guide which is a very reputable International Travel booking service. You can rest assured you'll actually get the ticket and it's considered a US purchase so there won't be any extra fees.
Buying in person is available in Cusco and Aguas Calientes. Be sure to bring your passport and as of a couple years ago they only take cash.
Cusco
Ministerio de Cultura
Address – Casa Garcilaso on Calle Garcilaso
Hours – Mon-Sat, 7AM-8PM
Aguas Calientes
Machu Picchu Cultural Centre
Address – Av. Pachacutec
Hours – Mon-Sun, 5AM-10PM
MACHU PICCHU PACKING LIST
I've written an in-depth packing guide for Trekking to Machu Picchu.
Here is an abbreviated list and would encourage you to check out the guide for all the details.
CLOTHING
(3) Underwear synthetic
(2 pair) Liner socks
(2 pair) Socks
Boots
Sandals
(1) Base layer bottoms
(1) Synthetic pants
(1) Fleece pants
Baseball cap or hat
(1) Shorts
(3-4) Short-sleeve shirts
Baselayer top
Middle layer top
Puffy coat
Shell Jacket
Hat and gloves
TREKKING GEAR
You MUST take your Passport
$50-100 USD in small bills for tipping your guides
Backpack
Sun glasses
Sunscreen
Insect repellent
Cash
Trekking poles (rent locally)
Headlamp
Sleeping bag (can be rented)
Sleeping bag liner
Sleeping pad (can be rented)
Water bottles
Toilet paper in zip-lock bag
Ear plugs for snoring neighbors
Camera
Toiletries
Hand sanitizer
IN CLOSING
Machu Picchu and the surrounding area is a true world gem. Although it is crowded you can't help but feel the energy this place has. Whether an epic trek or luxurious train ride is in your future I promise you will not regret it.
Check out the International Travel Planning Guide, from visas to cheap flights…

Please read up on Altitude Sickness so you don't fall victim to this avoidable problem…

And of course the Machu Picchu Packing Guide