The Mekong Delta in Vietnam unfolds like a vivid tapestry of green hues, offering a watery realm where house, boats, and markets seem to float effortlessly on a maze of canals, rivers, and streams crisscrossing the landscape.
The enchanting allure of the Mekong Delta, combined with its distinctive local lifestyles, gives rise to top attractions: lush fruit orchards, iconic floating markets, dense mangrove forests, Buddhist temples, Khmer pagodas, and secluded islands.
While the town pulsates with commercial energy, the countryside exudes a serene, almost dreamlike tempo.
This is a special place and was a highlight of our trip to Vietnam.
If you don't want to read the entire article, below are our
picks for the Best Mekong Delta Tour
The 5 Best Mekong Delta Tours
The Mekong Delta in Southern Vietnam boasts a plethora of captivating destinations and distinct ecosystems that warrant more than just a brief day trip from Ho Chi Minh City.
As the Mekong River divides into nine distinct channels, it forms the bountiful Delta known today. Here, daily life ebbs and flows with the water's rhythms: rice fields emerge with the receding waters, while fisheries prosper during the annual floods. Often referred to as Vietnam's "Rice Bowl," the Mekong Delta exudes an enchanting charm that captivates every visitor.
Given that life in the Mekong Delta revolves around water, it's no surprise that boats are the primary mode of transportation here. As you navigate its waters, you'll be treated to sights of verdant rice fields, abundant fruit orchards, bustling floating markets, Buddhist temples, and homes nestled snugly along the riverbanks.
⭐️RATING: 5 out of 5 Stars (4,382+ Reviews) ⎸ ⏳TOUR LENGTH: 8 hours
Why choose this tour? Most 5-star reviews and a great deal
Discover the highlights of the Mekong Delta with a day excursion from Ho Chi Minh City. Journey through the unique delta scenery using both a motorized river vessel and a traditional row boat.
Along the route, explore a classic temple, canal island, and a local residence. Pause at a restaurant to savor a lunch inspired by delta flavors.
This trip was an absolute blast and covers all transportation, activities, entrance charges, meals, and refreshments, plus hotel transfers in central Ho Chi Minh City.
Full-day Mekong Delta tour from Ho Chi Minh City
Explore by motor boat and row boat
Enjoy a delta-style lunch at a local restaurant
Hotel pickup and drop-off in Ho Chi Minh City
Transfer by Air-conditioned Van/Bus
English speaking tour guide
Lunch of Vietnamese cuisine (vegan food available)
Bottle of water + Tropical fruits
⭐️RATING: 5 out of 5 Stars (New tour) ⎸ ⏳TOUR LENGTH: 2 days
Why choose this tour? Overnight homestay for a truly unique experience
This tour has been getting some amazing reviews and offers a very unique Mekong Delta experience with an overnight homestay.
Escape the hustle of Da Nang and embark on a private journey to the Ba Na Hills. Experience the globe's lengthiest cable car ride to arrive at Sun World, where the spectacular Golden Bridge beckons.
Delve into attractions like the French-style village replica, Linh Ung pagoda, and a monastery in Sun World. Post a sumptuous buffet lunch, indulge in fun activities at the indoor Fantasy Park to round off your adventure.
Take the world's longest cable car in Vietnam's Ba Na Hills
Spend the day exploring the many attractions like the Golden Bridge
Sit down to a delicious buffet lunch at a local restaurant
Enjoy a personalized experience with a private guide and vehicle
⭐️RATING: 4.8 out of 5 Stars (72+ reviews) ⎸ ⏳TOUR LENGTH: 8 hours
Why choose this tour? 2 tours in one, the Cu Chi tunnels should not be missed
This tour includes both the Mekong Delta and the Vietnam war era Cu Chi tunnels.
Two standout destinations near Ho Chi Minh City (also known as HCMC or Saigon) are the Cu Chi Tunnels from the Vietnam War period and the verdant terrains of the Mekong Delta. Explore both without the challenges of navigating on your own through this comprehensive guided tour.
Once you've explored the tunnels and had lunch, journey to My Tho city for a boat voyage on the Tien River, complete with a Sampan ride, cycling experience, musical entertainment, and delightful desserts.
See both the Cu Chi Tunnels and the Mekong Delta in just a day
Capture gorgeous photos of orchards, canals, and local crafts
Stay fueled with lunch, guerilla snacks, fruit, tea, and coconut candy
Stress-free 2-way transfers direct from your hotel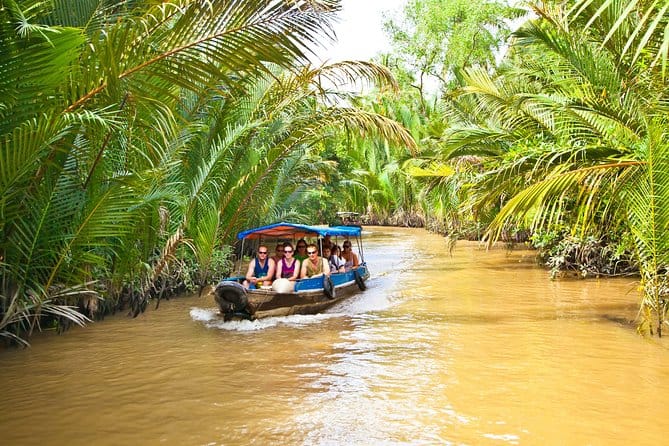 ⭐️RATING: 4.8 out of 5 Stars (107+ reviews) ⎸ ⏳TOUR LENGTH: 9 hours
Why choose this tour? For the active tour we recommend this one for the kayaking and biking.
We liked this tour for the kayaking, biking and cooking class.
Trade the urban hustle of Ho Chi Minh City for the serene waterways of the Mekong Delta on a comprehensive day tour. A perfect getaway from Vietnam's vibrant capital, this excursion takes care of all the planning for you.
Dive into a diverse agenda, featuring a cooking class, kayaking, biking, and a live musical showcase. Benefit from an intimate experience with group sizes capped at just 12 individuals.
Transfers by Air-conditioned Van/Bus
English speaking tour guide
Lunch of Vietnamese cuisine (vegan food available)
Kayaking, Biking, Cooking class options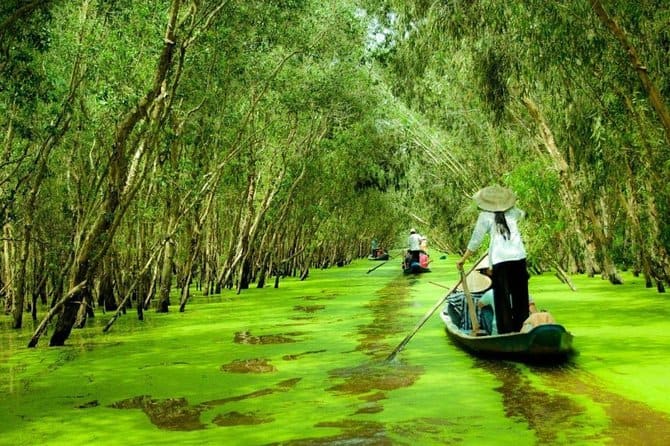 ⭐️RATING: 5 out of 5 Stars (28+ reviews) ⎸ ⏳TOUR LENGTH: 3 days
Why choose this tour? 3 day tour including meals and overnight stays with host family and 3-star hotel
We always like to travel slow as you gain a much richer experience. This 3-day Mekong Delta Tour includes everything you need for an unforgettable time.
Immerse yourself in the Mekong Delta with a leisurely 3-day tour from Ho Chi Minh City. Ideal for first-time visitors, this tour offers a rich cultural experience, letting you explore the Tra Su Cajuput Forest and Cai Rang Floating Market at a comfortable pace. Leave the logistics to your guide who arranges all accommodations, meals, and excursions.
Private air-conditioned car or minivan transfer
Vietnamese English-speaking guide
All boat trips Bicycle Snacks (fruits, honey tea, candy.
Meals (2 Breakfasts, 3 Lunches, 1 Dinner)
Cooking Class at a homestay
1 night accommodation at a homestay (2 guests/room)
1 night accommodation at a 3-star hotel (2 guests/room) Hotel pickup and drop-off
Best Time to Visit the Mekong Delta
The best time to travel to the Mekong Delta is from October to March, when the river water level is highest, ideal for boat markets and sailing trips. This is also when life on the river becomes the busiest.
Our favorite time has been late September as we find the best deals on hotels and accommodations.
What to See and Do in the Mekong Delta
1. Cai Rang Floating Market 
Often referred to as "the rice bowl of Vietnam", the Mekong Delta is a major provider of fresh produce for the nation. A journey to this region isn't complete without witnessing the vibrant trade at the renowned Cai Rang floating market, a favorite spot for photography enthusiasts.
Located about 6km from Can Tho, Cai Rang stands as one of Vietnam's largest floating markets. Here, boats brim with juicy watermelons, small dugouts transport pigs, and barges are laden with pineapples. Local sellers, donning traditional conical hats, vociferously announce their prices while sealing deals in greasy foil packets, offering visitors a genuine glimpse into their daily trade.
To fully experience the market's essence, it's best to arrive early in the morning. Navigate through the bustling waters on a traditional boat for an optimal view, observing local merchants in lively barter exchanges.
Live a local life with a Family in Vinh Long
Vinh Long holds a strategic position as a key transshipment hub in the Mekong Delta, boasting geographical benefits that distinguish it from other regions. It serves as a nexus between Vietnam's mainland and its offshore islands.
With a network of rivers and canals enveloping it, residents of Vinh Long harness these waterways for their livelihood. Many families now open their doors to travelers, offering an intimate glimpse into their everyday lives.
Nestled alongside the river and enveloped by orchards bursting with tropical fruits, these homes offer visitors simple yet tidy private rooms for their stay. By dining with local hosts and absorbing the daily rhythms of life, coupled with enlightening conversations about culture and cuisine, travelers are granted a truly unparalleled experience, one that remains elusive to many who venture to Vietnam.
Walking through Sa Dec Port
Sa Dec port once served as a docking point for extensive cruises and was a former US patrol base. Today, while it thrives as a commercial port, it sees only a limited influx of tourists, ensuring it retains its authentic local ambiance.
The port boasts streets shaded by trees and homes showcasing French-inspired terraced designs with soft-hued facades. The Huynh Thuy Le Old house stands out among these structures. Once the abode of a prosperous Chinese family, it gained fame as the home of Huynh Thuy Le. He had a love affair with the French author Marguerite Duras, and their relationship inspired her acclaimed autobiography, "The Lover."
Situated inconspicuously beside the animated river, this area offers both locals and visitors a bounty of fresh fruits and vegetables.
Visit Sam Mountain in Chau Doc Town
Chau Doc, nestled on the border with Cambodia, is characterized by the distinctive Sam mountain that rises amidst lush rice fields. Standing at a modest height of 182m, this mountain offers a commanding view over the expansive flatlands. From its peak, one can behold sweeping vistas stretching to Cambodia.
Given that Buddhism is the prevalent religion here, your ascent will be marked by vibrant temples and tombs dotting the path.
Interestingly, the path leading to the summit is adorned with ceramic dinosaur sculptures. At the very top, a tin watchtower stands as a sentinel, from where the Vietnamese army oversees the Cambodian border.
For those keen on witnessing a Chau Doc sunrise from the mountain's crest, the path is illuminated to ensure a safe climb. Post this mesmerizing experience, you can indulge in a local breakfast at quaint eateries lining the path, reenergizing before your descent.
Visit Tra Su Mangrove Forest
Situated in the A Giang region of the Mekong Delta, Tra Su Mangrove Forest stands out for its predominantly dry environment throughout most of the year. The ideal period to appreciate its splendor is towards the year's end during the sunny season.
This is when rising water levels convert the landscape into a flooded forest, making it an optimal setting for visitors to experience the view from a watercraft. The months from September to November particularly highlight the forest's breathtaking beauty.
Tan Lap Village
Tan Lap floating village, nestled in the Mekong Delta, stands out as a renowned ecotourism destination. Positioned deep within Dong Thap Muoi, it's enveloped by a lush forested landscape. While the village welcomes visitors year-round, the period from August to November — the floating season — offers the most picturesque views.
During this season, the diverse plant and animal life flourish, complemented by fragrant lotus ponds in full bloom. For an additional USD2.5, visitors can meander along the elevated walkways amidst cajuput trees or embark on a boat journey through the channels.
Festivals and Events in Mekong Delta
Here are some festivals and events in Mekong Delta that are worth a visit:
Ok Om Bok Festival: At the end of November, Khmer ethnic people celebrate Ok Om Bok festival on the full moon day. At this festival, locals celebrate bountiful harvests, express gratitude to the gods for their blessings, dance and play folk games. Each village will host its own small festival and gather around the local temple.
Tet Holiday: The Lunar New Year from late January to early February is the biggest holiday in Vietnam. Cities and towns are flooded with red flags và yellow light, a symbol of good luck. This is also the busiest time in the Mekong Delta, when you see boats filled with yellow flowers.
Why is the Mekong Delta famous?
The Mekong Delta is famous for several reasons:
1. Biodiversity: The Mekong Delta is one of the most biodiverse regions in the world. Its swamps, marshes, and rivers provide habitats for a vast array of plant and animal species.
2. Agricultural Significance: Often referred to as the "Rice Bowl" of Vietnam, the Mekong Delta produces more than half of Vietnam's rice output. It's also a significant producer of fish, shrimp, and other aquatic products, as well as fruits like coconuts, bananas, and pineapples.
3. Floating Markets: One of the iconic sights of the Delta are its floating markets. Traders on boats of all sizes gather, offering a range of goods, primarily fresh produce. Popular markets include Cai Rang, Phong Dien, and Cai Be.
4. Waterway Culture: The life in the Delta revolves around the water. From houses on stilts to floating villages, the Delta's inhabitants have adapted to a life intertwined with the river and its canals.
5. Historical Significance: The Mekong Delta played a crucial role during the Vietnam War. Places like the Cu Chi tunnels bear testament to the region's strategic importance and the resilience of its people.
6. Unique Geography: The Mekong River, one of the world's major rivers, splits into numerous tributaries and waterways as it approaches the South China Sea, creating the vast and fertile Delta.
7. Cultural Blend: The Mekong Delta is home to a mix of cultures, including ethnic Vietnamese, Khmer, and Chinese communities, resulting in a rich tapestry of traditions, festivals, and cuisines.
8. Eco-tourism: With its unique landscapes and ecosystems, the Mekong Delta has become a focal point for eco-tourism, with attractions such as the Tra Su Cajuput Forest and bird sanctuaries drawing visitors.
9. Local Crafts and Industries: Various local crafts, such as coconut candy production and traditional weaving, are a draw for tourists.