Sorting through the different ways to get internet while on the road can be daunting. Mobile internet for RV and vanlife is a must for many folks who work from the road. Whether it's WiFi, Verizon unlimited mobile data plans, or Starlink mobile satellite let's have a look at the pro's and con's of each.
After many years of using everything under the sun, the clear winner is Starlink. Especially since we converted Starlink to run on 12 volts. But to be thorough we've include other options as well that might be a better choice for some folks.
Determining Your Data Needs for Van Life
If you plan to live in a van or RV and work from the road, you'll need a data plan to stay connected. The amount of data you need will depend on how you plan to use it. If you only need to check email and browse the web, then a lower data limit will suffice. However, if you need to stream video or use high-bandwidth applications, then you'll need a higher data limit. You can always upgrade your data plan if needed.
30-50GB data plans that accompany most cell phone hotspot plans are sufficient for checking emails and occasional surfing the web.
For streaming video like Netflix, Zoom calls, or for watching/uploading YouTube videos you'll need at least 100GB of data and the fastest speeds possible.
Check Out These Other DIY Build Topics
Cell Phone Hotspots for Van Life
There are many different ways that you can get internet while living in a van or RV. One option is to use a cell phone service plan hotspot. This is where you use your cell phone as a way to connect to the internet. Your cell phone will actually broadcast a WiFi signal that you can connect your computer, TV, or any other device to. Some carriers refer to this as tethering.
You can do this by using your existing cellular phone service data plan. Most cellular plans allow between 30-50GB of hotspot or tethering use. It's important to note, hotspot data is not the same as cellular data. So even though you may have unlimited cellular data(surfing and streaming from phone) you won't have unlimited mobile hotspot data for use with a laptop.
Campervan Cell Phone Booster
Cell phone boosters can help make a weak signal stronger. They work by way of an outside antenna that's placed on the roof of your RV or van. This improved signal is then broadcasted inside to help with poor reception. These work both when stationary and while driving.
The main advantage of using a cell phone hotspot for van life is that it can be very convenient. You can take your hotspot with you wherever you go, and as long as you have cellular service, you'll be able to connect to the internet. This can be a great option if you don't want to deal with setting up Wi-Fi in your van or if you're constantly on the move and need an internet connection that's easy to take with you.
There are a few things to keep in mind if you're considering using a cell phone hotspot for your van life internet needs. First, make sure that your cellular carrier has good coverage in the areas where you'll be using your hotspot. Otherwise, you may find yourself with spotty or no internet connection at all.
Second, keep in mind that using your data plan for your Hotspot will eat into your monthly data allotment. If you go over your data limit, you may be charged overage fees or your speeds may be throttled. So, if you plan on using your hotspot frequently make sure you have a good understanding of your plan.
Data Only Cellular Plan For Mobile Internet
Previously we talked about using your cell phone data by way of the cell phones mobile hotspot or tethering feature. Now let's have a look at a dedicated cellular data plan that's separate from your phone.
With these plans you are purchasing a separate cellular plan that is designed exclusively for internet. Instead of a phone you'll have a small device, similar to a phone, that you can connect your devices to through WiFi. These plans typically start at around $100 per month but cost goes up fast as you add more data.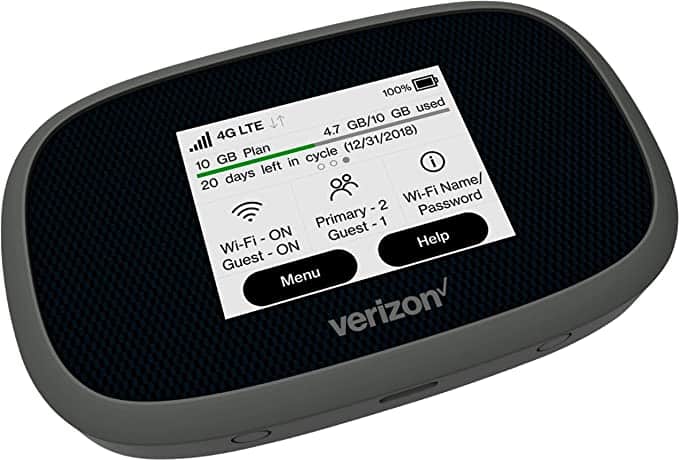 Benefits over using a cell phone hotspot:
Stronger WiFi signal
Your phone is free to use so you won't drop the internet connection to your computer when you walk away
Data is not throttled and often faster than using your phone hotspot
Easier for multiple people to connect
You can chose a different cellular carrier than your phone
You can purchase plans with lots of data for streaming Netflix and Zoom calls while on the road
TRULY Unlimited Cellular Service Plans – Grandfathered
At the time of writing this article a Verizon data only cellular plan was $100 for 150GB of data. That may sound like a lot of internet data but it's really not. You'll easily chew through 150GB in month watching a couple of your favorite nightly shows on Netflix.
When you purchase a data only plan like this you are guaranteed fast internet until you reach your data limit, in this case 150GB. After that you may still continue to get internet service but at a VERY slow throttled speed, often not usable aside from maybe checking email.
Back in the day, 10 to 15 years ago, many of these cellular providers did offer TRULY UNLIMITED CELLULAR DATA. Trust me, they certainly don't offer that now. But here's the trick, you can FIND and TAKE OVER one of these old unlimited plans. These are often referred to as Grandfather Cellular Plans.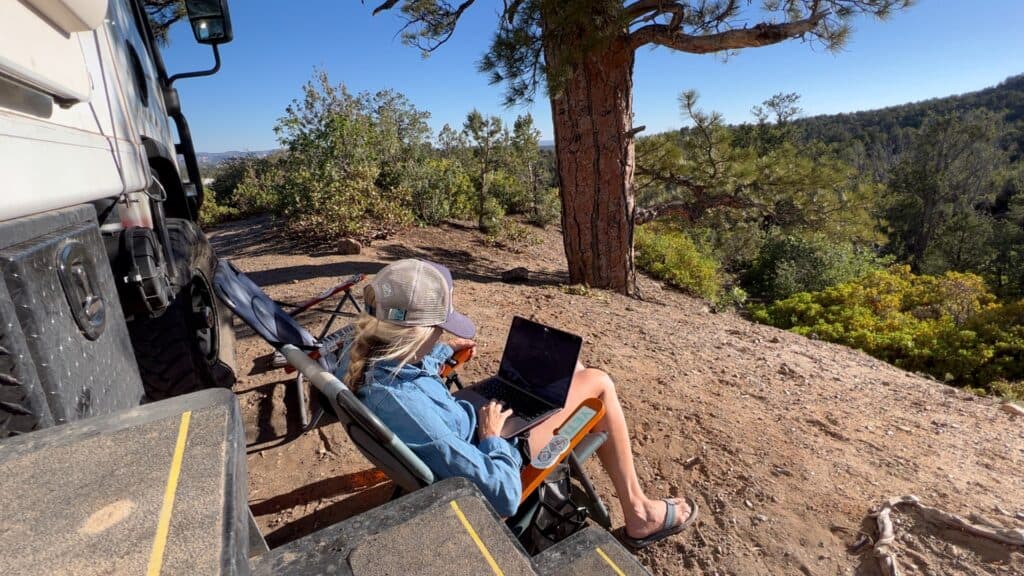 How To Take Over A Grandfathered Unlimited Cellular Data Plan
The cellular carriers are nice enough to honor the terms of the original plan, as in unlimited data, but they are not willing to transfer that to a new owner and if you even miss a payment they will end that unlimited plan forever. Obviously the carriers would like all these older unlimited plans gone and eventually that will happen.
If you can find someone that has an old grandfathered unlimited plan that wants to get rid of it you are in luck! While you can't technically transfer it, you can take over the payment and change the access login and password so that the old owner cannot access the account.
Here are some important tips for taking over a grandfathered cellular account:
Never try to change the primary account holders name
Only update the billing information and credit card but NOT the primary account
The previous owner will give you their login or they can create a temporary login that you can later change
Once you have control of the account you can then change the email and password so that only you have access to it. Now it's essential transferred to you but in the original owners name. You're just paying the bill essentially.
The less changes you make to the account the better as you don't want to throw any red flags because the carriers love to shut these old unlimited plans down.
How To Find Grandfathered Cellular Plans
The best way is through community RV or Vanlife groups. We just recently transferred an unlimited Verizon data plan that we no longer needed to some folks in the RV Entrepreneur group on Facebook. That was an unlimited Verizon data plan that ran only $65 per month.
There are some more "commercial" options that you'll easily find doing a quick google search. These are a bit more risky and you never know what you're really getting. And guaranteed there's a middle man taking some of your money.
Cellular Coverage – Picking The Right Carrier For Travel
Unless you only plan to be in urban areas, picking the right cellular carrier is important. You'll want to pick the one that has the best coverage for the areas you intend to travel. Most folks agree that Verizon has the best coverage in the US making it a great choice for mobile internet.
For our cell phones we us T-Mobile and while it doesn't have the best coverage it does offer much better coverage and data use while traveling international. In our RV for cellular data we use a grandfathered AT&T plan along with Starlink.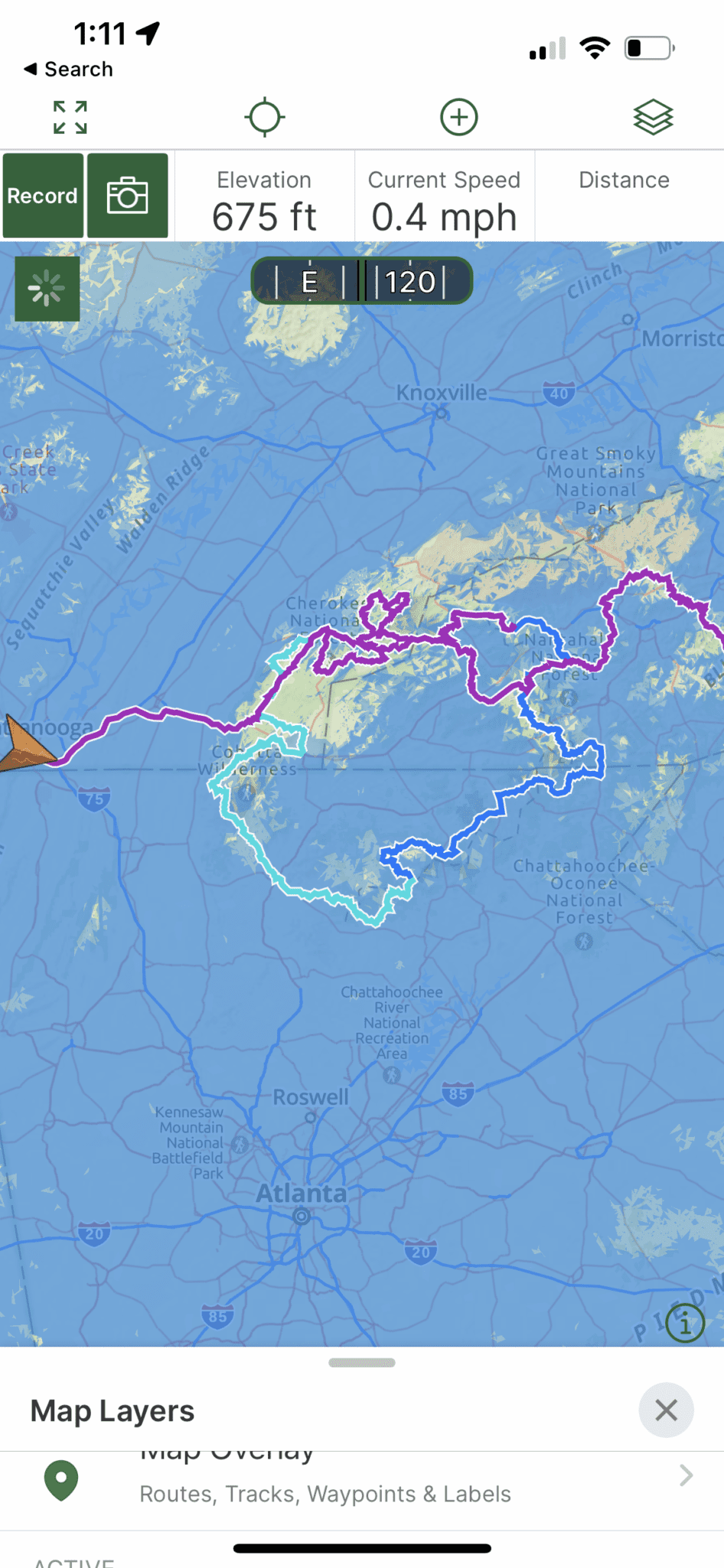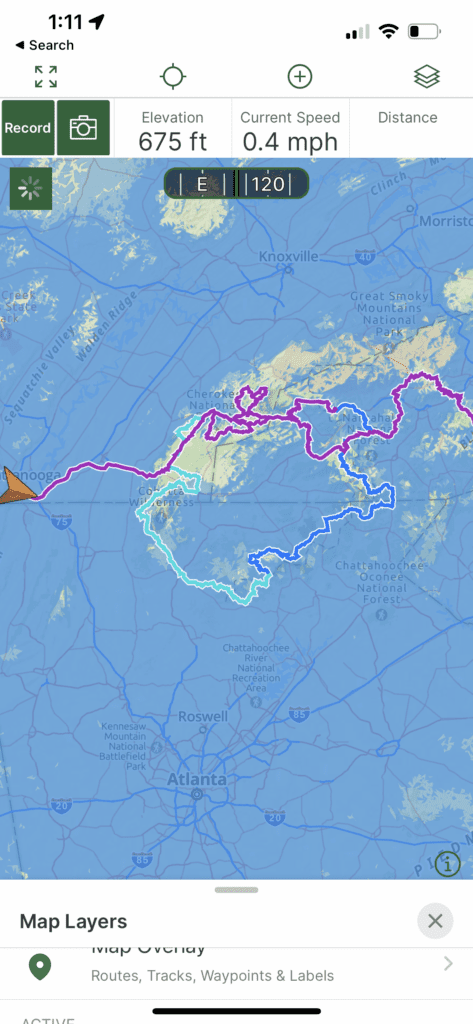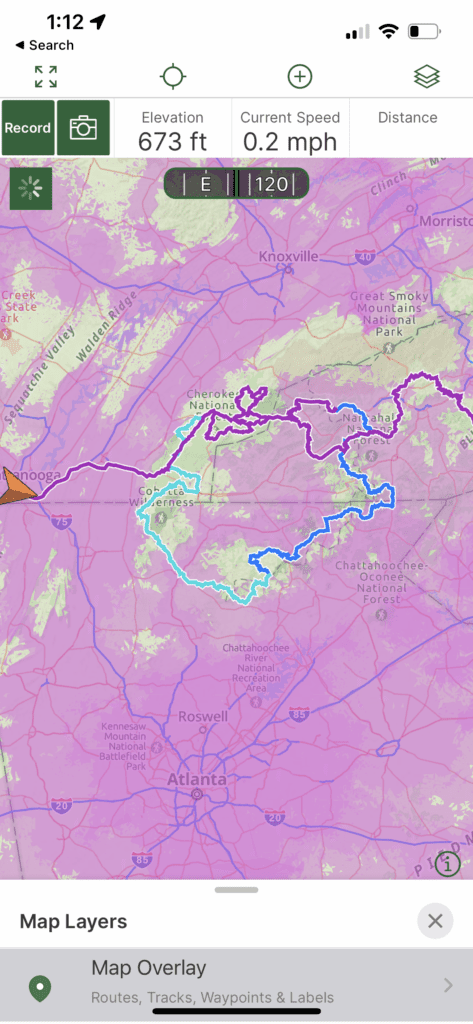 To get an idea of cellular coverage we use Gaia maps. Gaia is great for off-line gps mapping and also has layers for cellular service for all of your major carriers. It basically turns your phone into an awesome GPS device with a ton of cool features. The OpenSignal app is a free app (Android or iPhone) that has cellular coverage maps as well.
Cellular Plans and Cost
With the best coverage in the US Verizon is an obvious choice for RV and Van Life. But with that generally speaking comes more expensive plans and/or lack of features like included international travel. The international travel perks are why we use T-Mobile for our cellular phones. Take some time and look over the various carrier plans to find the right one for you.
Ways To Reduce Data Usage
When using mobile internet cellular plans it's important to monitor your data usage. You'll be surprised how much data your phone might be using in the background without you even knowing it. This can be from backing up files and pictures to the cloud or various apps.
Bellow are some tutorials on how to monitor your phones apps and data usage.
The same goes for your computer when using cellular data. Turning off automatic updates and cloud syncing services can save a lot. Below are a couple tutorials on how to monitor and save data when using Mac or PC computers.
Beware of No-Name Unlimited Mobile Hot Spot Plans
If it sounds too good to be true it probably is. There are numerous companies out there that offer unlimited and cheap data plans. These companies use the same cellular towers as the major carriers but their service is deprioritized and will result in slower speeds and poor service.
These fly by night companies also tend to make you pay for an entire year of service and then will conveniently go out of business leaving you high and dry. We recommend sticking with the reputable cell providers listed above.
Starlink Satellite Internet For RV and Van Life
Starlink satellite internet has been a game changer for RVers, nomadic travelers or anyone looking for high speed internet on the road. With a good view of the sky Starlink has some of the fastest internet and will certainly out perform cellular internet in most situations.
In addition to fast upload and download speeds, Starlink gives you 1 tb of included data which you won't find with cellular data plans. This makes satellite internet a great option for RV's and vanlifers that use a lot of data.
Check out our Starlink Install and Setup Guide to see how all the components work together.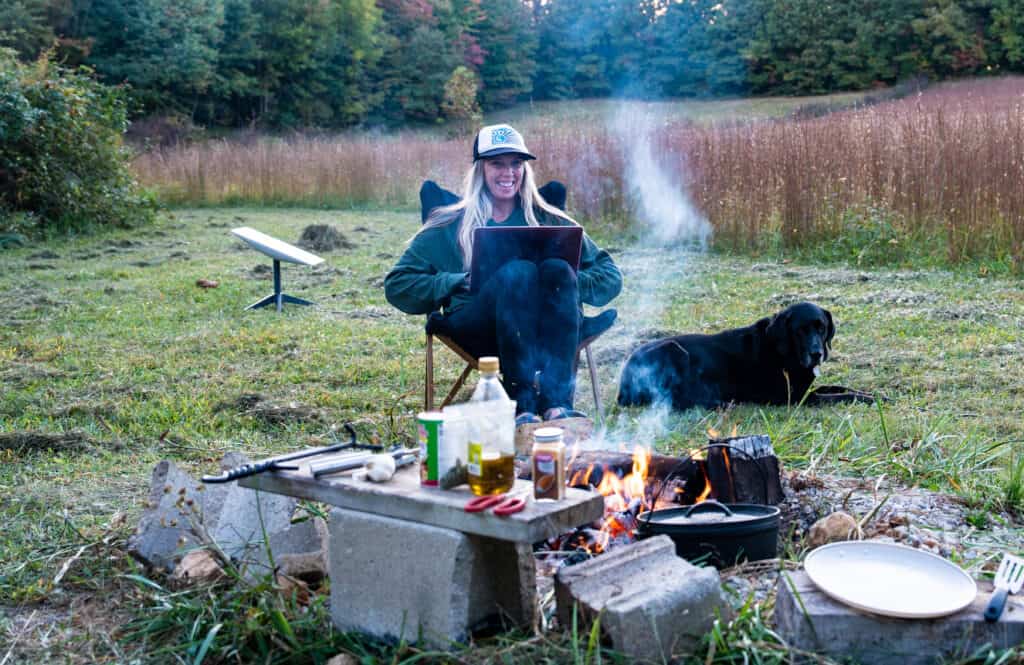 Starlink For RV Plans & Satellite Internet Cost
***Starlink Mobile Plans Updated 2023*** For The Latest Info Go HERE
Starlink has 3 plan available but only 2 of those allow you to change locations. Let's have a look at the 2 best plans for RV's and Campervans.
**UPDATE** Starlink has done away with the portability option and has renamed RV to "Roam." Roam now covers mobile service that starts at $150 per month.
| | | | |
| --- | --- | --- | --- |
| Plan | Monthly Fee | Hardware(one-time fee) | Plan Details |
| Residential | $110 | $599 | Residential with prioritized service |
| Roam(formerly RV) | $150 | $599 | Option to pause plan when not using, no prioritized service |
| Roam(optional upgrade) | $150 | $2,500 | Flat mount dish that's designed to be used in motion. All other equipment and plan remains the same |
Starlink Mobile Internet RV Plans
Is The Starlink RV or Portability The Best Plan For RV and Van Life?
Well that depends…let's have a look at these two plans in greater detail because there are some differences that are not that obvious.
RV Plan
The RV plan for $135/month lets you pause the account on a monthly basis without terminating it. So month by month you can choose whether to have it active or not. If you chose to not activate it for the month you will not be charged anything.
The RV plan is available immediately without a wait list
The RV plan does not have prioritized service ever. That means that if you use it in an area that is busy with other Starlink users, the residential plans will have priority over you RV plan. You'll still get service but your speeds may be slower.
Residential With Portability
Residential plans are $110/month plus $25/month portability charge if you wish to change service locations.
$25 portability charge can be turned off and on if you plan to stay put for a while.
You will have prioritized service over other RV plans in your area.
You do not have the option to pause your service
The residential plan might not be available in your area or wait listed **There is a way around this I'll mention below**
Starlink RV Vs. Residential With Portability
So what's best for you will depend on how you plan to use it. If you want to only use Starlink for part of the year or individual trips then clearly the RV plan is the way to go. For those that are full time or plan to use their Starlink year round, the Residential plan is better in my opinion due to the prioritized service.
Our Favorite Starlink Accessories and mounting options for RV's, Campervans, and Overland Trucks
What If Starlink Residential Isn't Available At My Location?
The RV plan is always available but as you may have found out, the Residential may not be available depending in where you live or the service address you chose. But here's the deal, you can put in whatever address you want into the Starlink system and then use a different address for billing and shipping.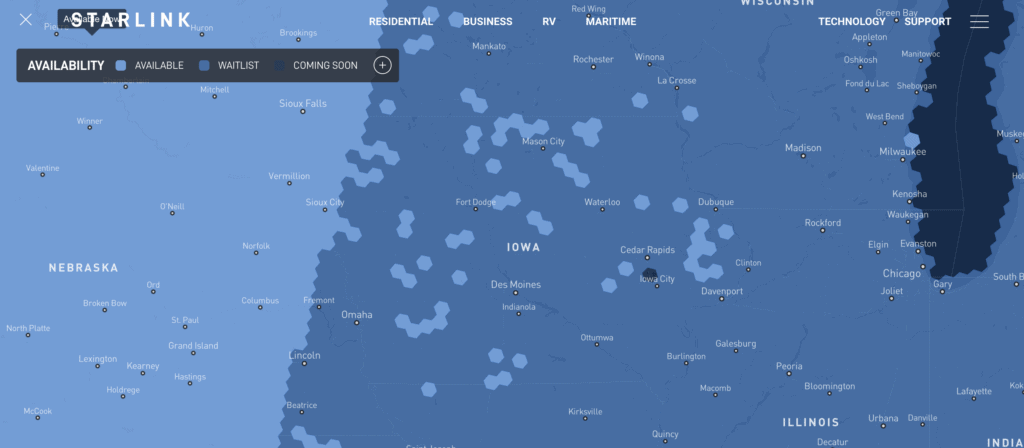 Once you put in an address at starlink.com you'll see this availability map pictured above. It shows you the areas where Starlink is currently available, light blue areas. You can then zoom in and find an open area. Now go to google maps and look up an address in that open area for an existing business of some sort. Grab that address and then use that address to start the process.
Like I mentioned, you'll be able to select a different shipping address and billing address from the service address. Since you'll be adding portability, the service address doesn't really matter and if you wanted to you can update that later in the Starlink app once you have your system up and running. This was how we got our Starlink despite being in a wait listed area.
Interested in running your Starlink off 12 volt or 24 volt power? Here's how we did it…How To Run Starlink on 12 Volt Power
Should You Get Cellular or Satellite Internet for Van Life?
For full time RVers and Vanlifers having both ways to connect to the internet is ideal. If you are working remotely from the road having both may be essential if you plan to move around a lot or work in remote areas. Let's have a quick look at some of the pros for each.
Pros of Cellular Internet for RV and Vanlife
Cellular internet data plans are still one of the best ways to stay connected. There's virtually no setup needed and the internet is instantly available assuming you have service
If you already have a smartphone there's no reason not to take advantage of your mobile hotspot
The equipment is small and compact making it a great option for vanlife internet where space is precious
Works in areas without a clear view of the sky like camping in the trees
Can use while driving
Pros of Starlink Internet For RV's and Vanlife
Faster speeds and no data limits
Works in remote areas without cell service
Monthly fees are generally less expensive than cellular data only plans
Using Free Public Internet in Your RV or Camper Van
There are a few ways to find and use free public WiFi internet. City centers, parks, and libraries often have free WiFi available that you can even pick up in your parked campervan. Many businesses like coffee shops and restaurants offer free WiFi to their customers. I've even seen some gyms like Planet Fitness that are offering free WiFi. The OpenSignal app (Android or iPhone) is a great way to find free WiFi while traveling.
These are all great options for checking emails or getting some quick work done while working on the road. Connection quality and speeds can vary but for light use these are usually sufficient.
In Summary Mobile Internet For RV and Campervans
As you can see this is a big subject and likely more complicated than you first realized. As the cellular data plans become more restricted and expensive the rising star right now is Starlink…haha. But seriously, Starlink is awesome for full-time travel RVing or whatever rig you chose for your home.
The real key to having good internet on the road for remote work is redundancy. Having a combination of both cellular, whether tethering hotpsot or data only, along with satellite internet really is the cat's meow. So never miss another viral cat TikToc or Instagram video while traveling full-time on the road.
FAQ About Mobile Internet For RVs and Campervans
How much does Starlink RV cost?
The Starlink RV plan costs $135 per month after the one-time $599 equipment purchase
What's the difference between Starlink RV and Residential with Portability?
Starlink RV lets you pause your service when you're not using it. That will save you money if you don't need to use Starlink year round.
Does Starlink have data caps?
Currently Starlink does not have any data limits
How fast is Starlink?
Speeds will vary by location but we typically see between 30mbps – 120mbps
How much does the new Starlink flat mount dish for in motion use cost?
The flat mount dish is $2500 and expected to start shipping in December of 2022.