Mountain biking in Florida? We said no way! I'll believe it when I see it. Well, we did find it and it slapped us across the face because it was actually pretty good.
Santos Florida is home to over 80+ miles of single-track biking for beginners as well as expert-level trails that will challenge even the most elite riders.
Thanks to the Ocala Mountain Bike Association Santos is a premier bike destination. With numerous wood features and the Vortex Freeride area you'll quickly forget that Florida is flat.
General Information
Mileage: 80+ miles of single track, jump parks, freeride, and a campground.
Difficulty: Beginner to advanced trails
Hours: 8am to sunset, no entrance fee
SANTOS BIKE TRAILHEAD
The trailhead offers free parking, bathrooms, and even a bike wash station. There is no overnight parking allowed but there is a campground just next door. Head HERE to book your campsite.
There is one primary trailhead for the bulk of the riding at Santos but if you look at the map you'll see that trails extend for a long way down the valley with additional parking areas out that way.
From the trailhead you'll first be riding Pine Tree in either a clockwise or counterclockwise direction. You'll shortly come to some additional trail junctions with numerous intermediate ride options.
We would suggest a build your own adventure here and just link as many of those blue intermediates as you can. They all offer some different styles and the scenary was a trip, well at least for us from the West.
Ferns, swamps, and if you get lucky you might even spot an alligator. Between the waterfall of sweat pouring over our eyes we would take every chance we could to take in this bizarre landscape.
The closest bike shop is Santos Bike Shop and they even have a trail that goes right to them from the Santos trails.
SANTOS MOUNTAIN BIKE TRAILS
Like we mentioned earlier we recommend just piecing together a bunch of the intermediate stuff to get some miles in.
From there we would recommend the Vortex trail. This advanced trail follows the outer edge of the Vortex freeride park and offers numerous views of some massive drops.
The Vortex trail is a roller coaster of steep ups and downs that circles this vast abandoned rock quarry. Parts of the trail flow pretty well and have some amazing wood features that should not be missed.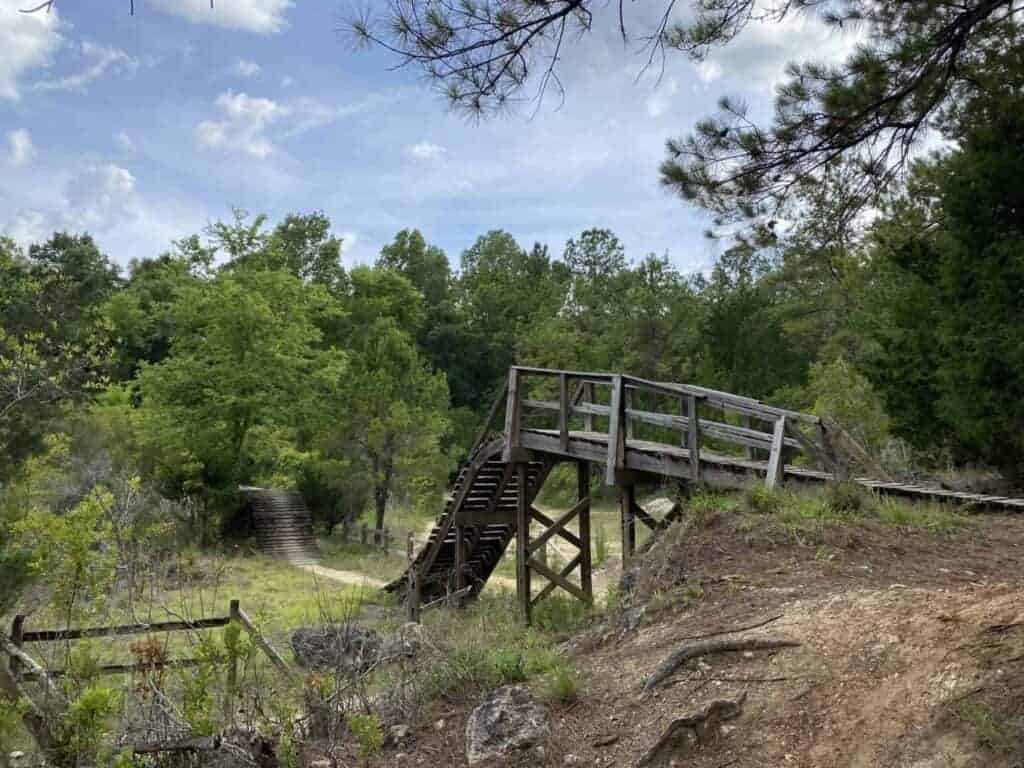 The jump park had anintermediate line that I was able to ride and really enjoyed. Beyond that they just got bigger and bigger.
Santos
on
Trailforks.com
SANTOS MOUNTAIN BIKE TRAILS FINAL VERDICT
I have to admit they did a great job with what they had to work with. It's just so darn flat here. The only thing you've got here are these short and steep ups and downs that at times just get frustrating.
It sure tests your dropper post and shifting mastery.
Now as far as jump lines and freeride go they did an amazing job. The rollercoaster of wood features was a blast and really well built.
We loved being able to crank out a bunch of miles but you won't find a ton variation here especially amongst the intermediate blue trails. And the Vortex trail itself felt chunky and lacked flow.
Overall though, they've done a great job with what little they have to work with and we really enjoyed our time here.