Where are the best mountain views in colorado? You don't have to look far to find spectacular views in this great state.
Colorado is one of the most beautiful states in the country. With its breathtaking mountain views, it's no wonder that people are always looking for new places to explore. What better way to see Colorado than from a scenic overlook with beautiful mountain views?
What Are Some Things That Make Colorado Unique?
A couple of things that make Colorado a fantastic place to visit are the rivers, lakes, trails, and mountains that tower higher than two miles into the sky.
Whether you're driving through the Rockies or looking out your window in Denver, there's always something beautiful to see. The colors are constantly changing with the seasons, making each view unique and incomparable.
If you're looking for breathtaking views and some of the best activities for nature lovers, be sure to check out Colorado's mountains!
What's the Weather Like in Colorado?
COLORADO WEATHER
Colorado Scenery Map
A Colorado Scenery Map is a valuable resource for finding the best views in Colorado. The map will provide you with the best places to see mountains, lakes, and other natural wonders from Colorado.
What is The Mile High City?
Denver is a very friendly city situated in the Rocky Mountains that is known as a mile-high city because it's located at exactly one mile high.
Best Mountain Towns Near Denver
Some of the best mountain towns in Colorado are located a short distance from Denver. You'll find cities like Golden, Breckenridge, Aspen, Estes Park, Aspen, and many more that offer beautiful mountain views. 
Locals and visitors enjoy world-class skiing, snowboarding, and hiking within these mountain towns.
What 1 Town (or 3) Has the Best Views in Colorado?
This is a hard question to answer because the mountain views in Colorado are stunning throughout the whole state.
However, if I had to give you my three favorite places, I'd have to say they'd be Telluride, Ouray, and Silverton. However, the truth is that the list could go on and on.
The views of towering mountains are absolutely stunning everywhere in the state; that's why I can't wait to share some of the best mountain views in Colorado.
What is the Best Part of Colorado?
As I mentioned above Colorado is filled with many towns worth visiting. However, there are some particular areas within Colorado that will literally take your breath away.
My absolute favorite area for the best views is SW Colorado. I can't get enough of the charming mountain towns of Ouray, Silverton, Telluride, Ridgway, and Crested Butte.
What is the Prettiest Mountain in Colorado?
The state of Colorado is known for its "14ers." Colorado has the most 14,000-foot (or higher) mountain peaks in the United States (58). Outdoor enthusiasts of all skill levels come to Colorado to explore the state's landscape, wildlife, and rugged beauty.
It's pretty challenging to say which mountain is the prettiest in Colorado because I honestly love so many of them.
However, after doing some research, I found that outdoor lovers searching for the best mountain views in Colorado favor Capital Peak, Crestone Needle, Maroon Bells, Pikes Peak, and Longs Peak as the prettiest mountains in Colorado.
What is The Prettiest Town in Colorado?
Many towns in Colorado offer some of the best scenery I've ever seen, but Telluride is the top contender for being the prettiest town in Colorado. Telluride offers beautiful views, a fabulous downtown corridor, and numerous outdoor activities. It's also close to popular areas like the Million Dollar Highway, Durango, and Silverton during a weekend getaway.
What is the most scenic part of Colorado?
The San Juan Skyway Loop in SW Colorado is a bucket list adventure that takes you through many little mountain towns, along creeks and rivers, over stunning mountain ranges. 
The Million Dollar Highway stretch between Silverton and Ouray is made up of both the most challenging driving and some of the best views on the trip. The Million Dollar Highway has been called one of the best drives in America, and I definitely recommend checking it out.
12 Places to Go for the Most Beautiful Mountain Views in Colorado
Telluride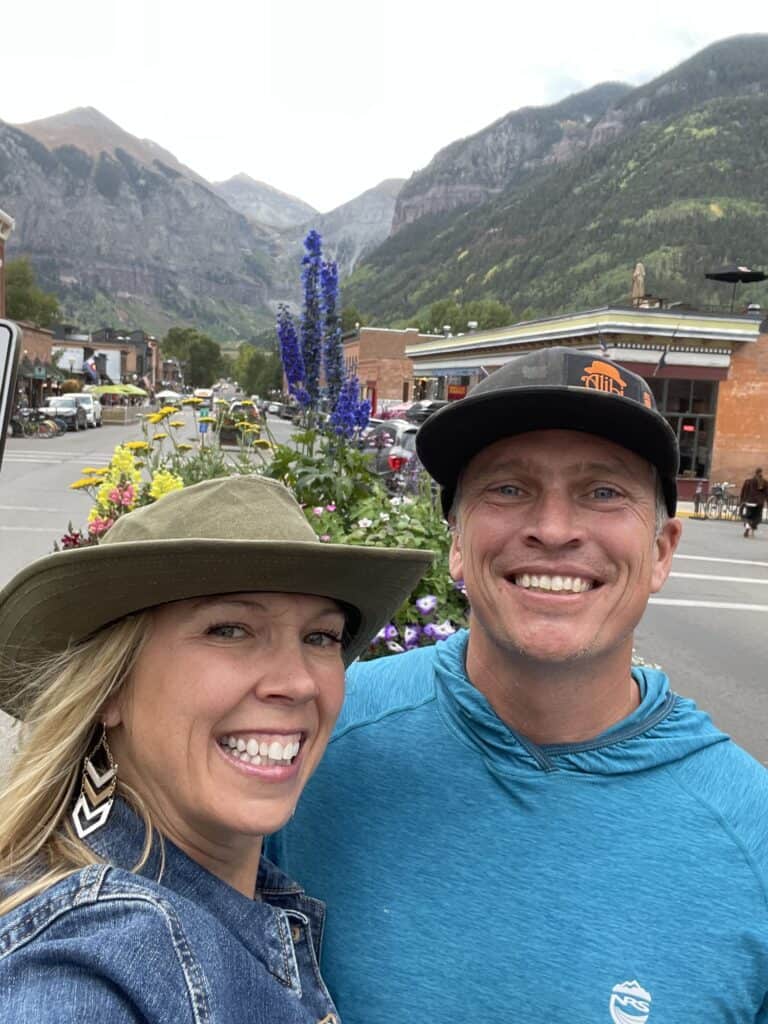 If you are looking for a haven in the Colorado Mountains, look no further than Telluride. You'll find this beautiful alpine town tucked deep in the heart of the San Juan Mountains. Telluride offers everything a mountain lover could ever dream of, including beautiful peaks, rivers, hikes, and waterfalls.
If you're looking for some of the best mountain views that'll take your breath away, this is the place to be!
The scenery of Telluride is complemented by the stunning Bridal Veil Falls that is within walking distance from town.
What to Do in Telluride
There are fantastic hiking, biking, climbing, and four-wheeling trails nearby. There really isn't anything that Telluride doesn't offer other than pure joy (and exhaustion) from being outside all day long.
Via Ferrata in Telluride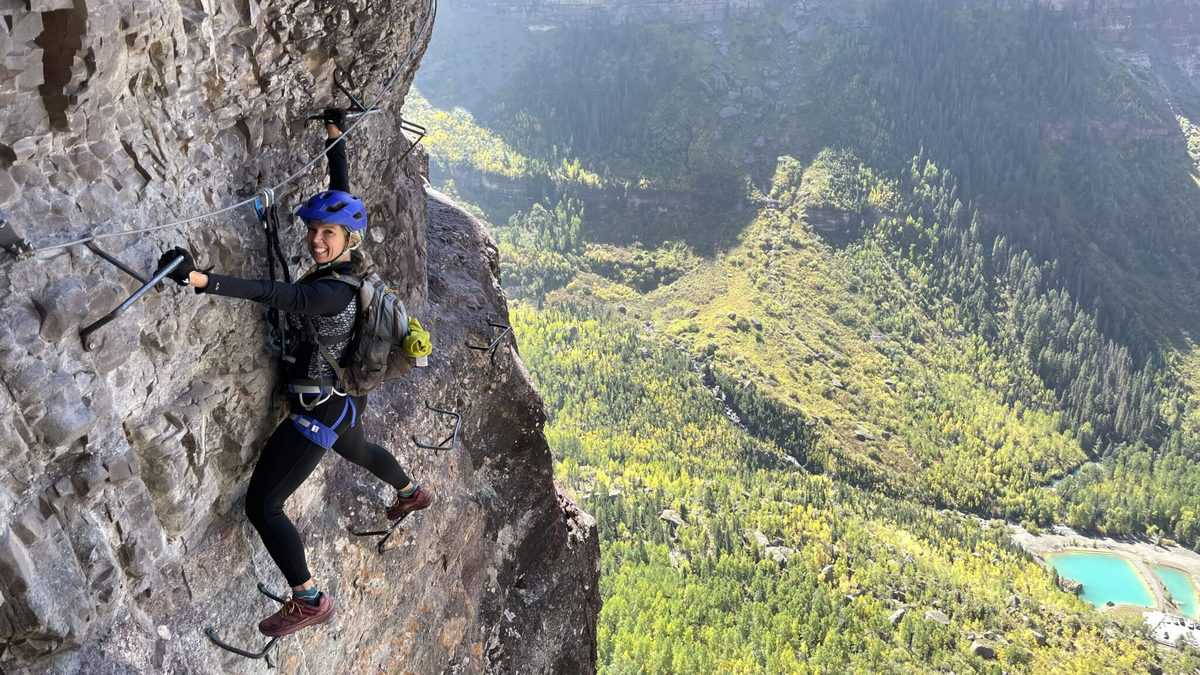 One of the most exhilarating adventures you can do in Telluride, Colorado, is a Via Ferrata. It's an intense hiking + climbing combo high up on the mountain where participants use cables and harnesses to navigate steep cliffs with beautiful views around every corner!
This experience will make your heart pound due to the adrenaline that'll be flowing through your body. The Via Ferrata route takes about 3 hours and is an experience that adrenaline seekers will surely enjoy.
The views from the top are worth it! You'll be harnessed and hooked up to cables as you make your way across cliffs. It's an adventure that requires a lot of heart, but in return, brings out beautiful scenery around every turn.
To learn more about our experience with the Telluride Via Ferrata click here!
Hiking in Telluride
If you're not into adrenaline activities, there are plenty of hiking trails around town. A popular hike close to town is the Bridal Veil Falls hike, or take the gondola to access hundreds of trails on the mountain.
Don't Miss the Free Gondola In Telluride
While visiting Telluride, don't miss the opportunity to ride the free gondola. The Telluride resort gondola was opened in 1996 and is the first and only free public transportation of its kind in the US.
The great thing about this Telluride experience is it's entirely free to commuters and sightseers. There's nothing better than to see the mountain views in Colorado with a gondola ride that caps out at 10,540 feet above sea level.
Rocky Mountain National Park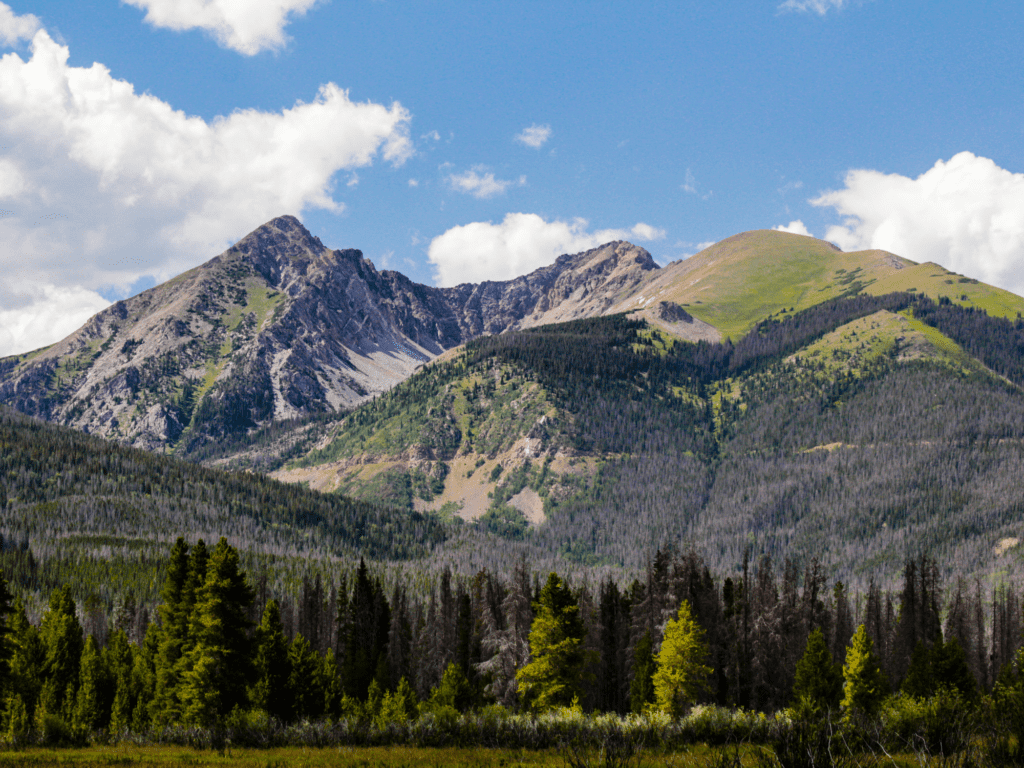 Quite possibly, Colorado's most famous national park, Rocky Mountain, is home to some of the most alluring alpine views in the entire country.
Rocky Mountain National Park is a hidden gem in the Colorado Rockies. With over 110 hiking trails, crystal-clear alpine lakes, and rugged ridgelines, it's no wonder this national park made its way onto our list!
Take a Scenic Drive Through Rocky Mountain National Park
I can't think of a better way to spend your time in Colorado than taking a scenic drive in the mountains. Choose from the Peak to Peak Highway or the well-known Trail Ridge road (or heck, why not do both).
The Trail Ridge Road is one of the highest continuous paved roads in North America, and it's definitely a drive you don't want to miss while in Colorado. This route offers stunning views of the Continental Divide and Rocky Mountain National Park!
Take a Hike in Rocky Mountain National Park
Are you wondering the best way to explore the scenic wonders in Rocky Mountain National Park? My simple answer is to Hike! There are plenty of trails available for all levels of hikers.
People visiting the area for the first time enjoy the famous hiking trails around the Emerald Lake area, Alberta Falls, and Glacier Gorge.
 Bridal Veil Falls, Lake Helene, and Two Rivers Lake route are fantastic alternatives if you're feeling up for something less touristy. 
The Sky Pond via Glacier Gorge Trail is a challenging 9.4 mile out and back route that takes you high up into the mountains and over spans of ice (hence the name). If you're looking for a real test, this might be the trail for you!
The park is open year-round, but the best time to visit is during the summer and fall when the wildflowers bloom, and the leaves have changed color. If you're looking for an unforgettable mountain experience, look no further than Rocky Mountain National Park!
Boulder
Stretching up from the foot of Colorado's Front Range, Boulder is a quaint college town with an endless supply of adventures. The views are worth seeing for themselves, but it also offers some delicious food and retail therapy in addition!
When you're ready to take your adventure outside, head over into the nearby foothills, where there are epic hiking trails just on the outskirts of Boulder.
Take a Hike Around the Boulder Area
The breathtaking views in this area will have you feeling like pinching yourself to make sure that it's not just a dream. There are over 200 miles of trails with amazing scenery, so grab your hiking shoes and explore!
Some great options include The Chautauqua Trail, which has incredible mountain views. Green Mountain West trail may be up your alley if you're hoping for a good nature experience, and Bear Peak Summit Hike offers excellent panoramic valley vistas.
I hope this information helps when planning our vacation next year–we're definitely going out there again!!
Crested Butte
Cute. There's no other way to describe the adorable little town of Crested Butte, Colorado! A former coal-mining area that is now a mountain paradise with plenty for everyone. Whether you want relaxing activities or adventurous feats –this place will have something special waiting around every corner.
Explore Crested Buttes Main Street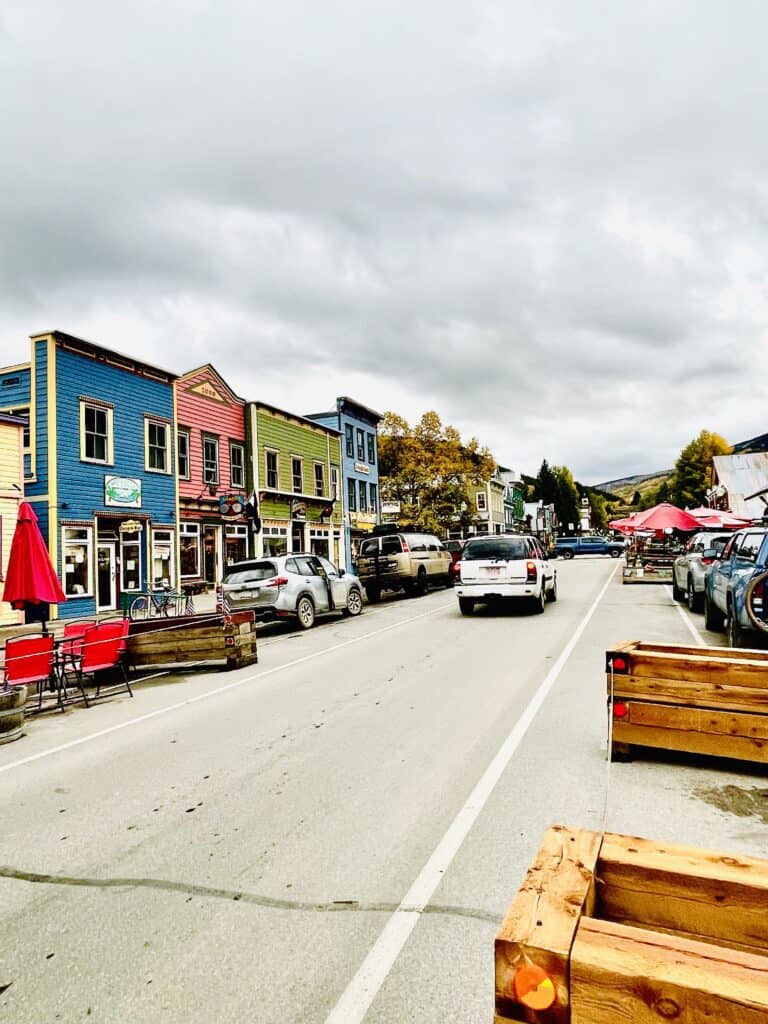 The charming main street of Crested Butte, which is lined with restaurants and unique shops, is a perfect place to unwind. While the town is primarily known for its world-class skiing, there's much more to keep you hanging around.
Take in One of the Many Outdoor Activities Crested Butte Offers
Aside from winter sports, there are several other things to do in Crested Butte, including hiking, biking, white water rafting, kayaking, four-wheeling, and visiting Crested Butte Ski Resort's adventure center.
If you visit during the summer, keep your eyes open for the blooms because Crested Butte is known as Colorado's "wildflower capital."
A fascinating detail about Crested Butte is that it's one of the places where people say mountain biking was invented. If you're interested, you'll have plenty of opportunities to take in one of the many mountain bike trails around the area.
Salida
Salida, Colorado, is a hidden gem for those who want to get away from it all. With unparalleled views of the Sawatch Mountains and easy access points to one of America's most famous rivers (The Arkansas), there are plenty of activities in Salida to keep you busy!
Salida is the perfect spot if adventure is calling because there are plenty of activities like hiking, biking, kayaking or rafting, which all come highly recommended by locals who know their stuff – I tried them myself last time around, so trust me when we say these things don't disappoint
The waterpark in the heart of downtown Salida is a must-see during the summer; you'll see all ages of people trying to catch some waves on the river. For those who are looking to explore outside of Salida, you can take advantage of the back country dirt roads and head out four-wheeling to some of the remote ghost towns.
Relax in One of Salida's Hotsprings
What else makes Salida so unique? The fact is that it has several natural hot springs to relax your muscles after a day of adventure (or simply enjoying the scenery).
The hot springs around the Salida area are known as some of the hottest and best smelling hot springs in Colorado. The geothermal water bubbles out of the ground at a whopping 140 degrees F, and the springs are non-sulfurous, creating an odor-free mineral water experience.
Leadville
Leadville may be the highest city in America. Still, it's not just its elevation that makes this little mountain town so unique—situated between two of the highest peaks in Colorado, Mount Elbert and Mount Massive tower above this unique and fascinating town.
Leadville has a rich history dating back to the 1800s, when it was founded as a mining town. The city became known for its harsh winters and high altitude. However, these same two things created some of the most beautiful scenery in the world.
Leadville is also home to many outdoor adventures, including hiking, trail running, and mountain biking. If you're adventurous enough – or just have an insatiable craving for adrenaline-pumping activities – there is also white water rafting on the Arkansas River and four-wheeling trails through ghost towns.
Leadville is recognized for its fantastic mountain bike routes if you're feeling energetic and daring. Furthermore, Colorado's biggest glacial lakes are located nearby, both of which you can hike to if you want to spend a day in the woods.
A lot goes down at 10k+ feet…but only if you're willing to take on some adventure.
Ouray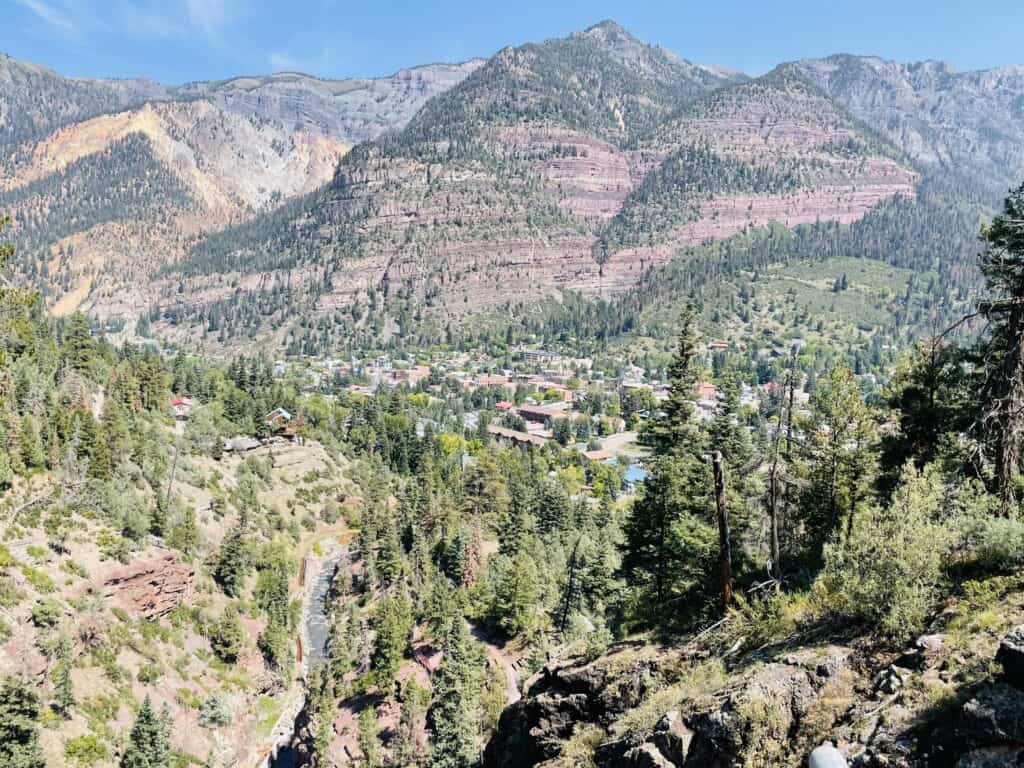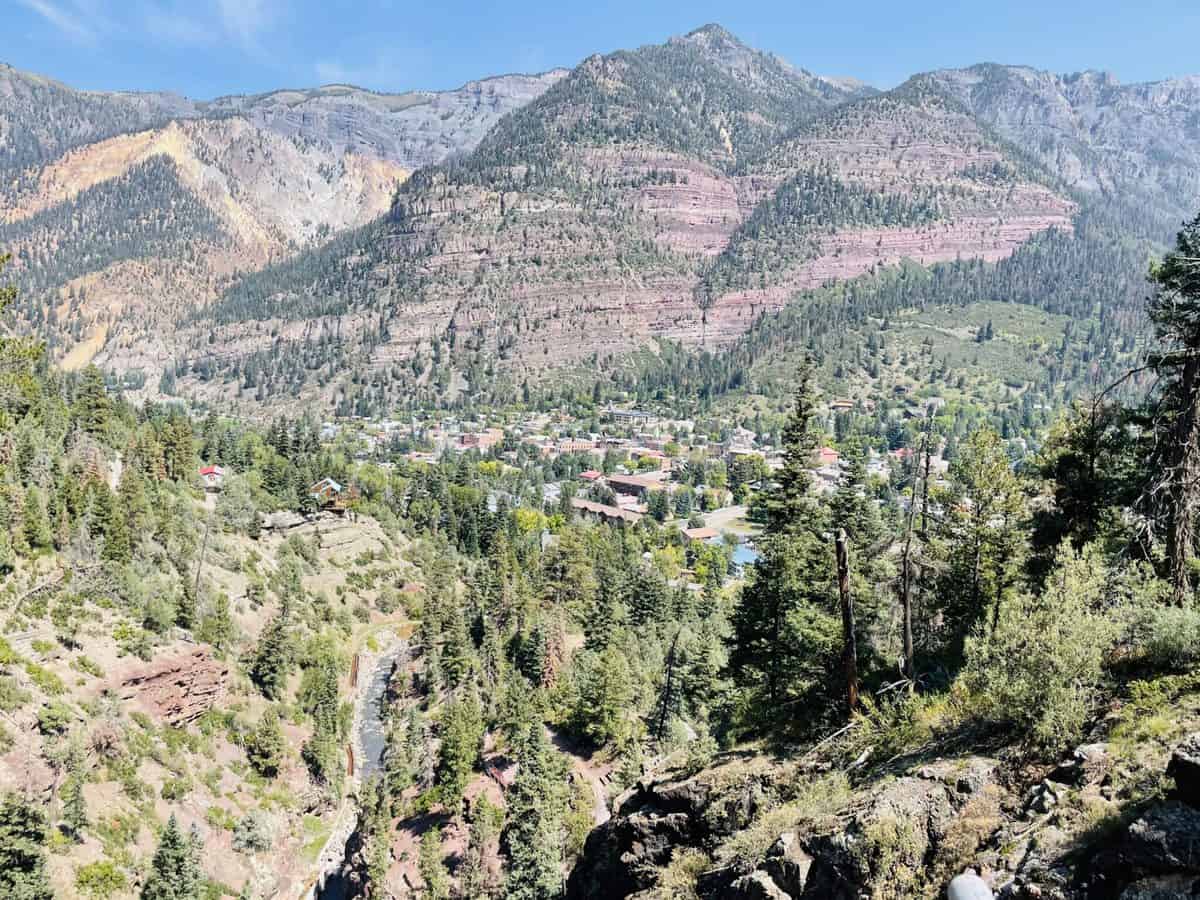 Ouray is a must-visit Colorado mountain town in any season; it's known for its hot springs, mountain peaks, architecture, and Switzerland of America sign. It has spectacular views, natural attractions, and activities for visitors of all ages and interests.
Ouray sits on the edge of the Uncompahgre Plateau, providing visitors with unparalleled views of high mountain peaks and deep canyons.
Ouray is not only one of the most scenic places in Colorado, but it has a ton to offer. In addition to being a fantastic place for mountains views, you can also enjoy hiking, climbing, visiting ghost towns, waterfalls, and hot springs during different seasons.
Winter in Ouray
Ouray is the perfect place to see Colorado's best scenery in all four seasons. During the winter in Ouray, the town turns into a climbing center, with hundreds of people descending on Ouray for ice-climbing trips. If you're lucky enough to visit Ouray during the winter don't miss checking out the ice park.
Summer in Ouray
In the summertime, Ouray is a popular destination for hiking, fishing, seeing waterfalls, biking (the RAT Trails in Ridgway), doing the Via Feratta, and cruising ATV trails. Don't miss seeing Box Canyon waterfalls during your visit to Ouray.
If you want to see the best scenery in Colorado, then visiting Ouray will not disappoint!
Aspen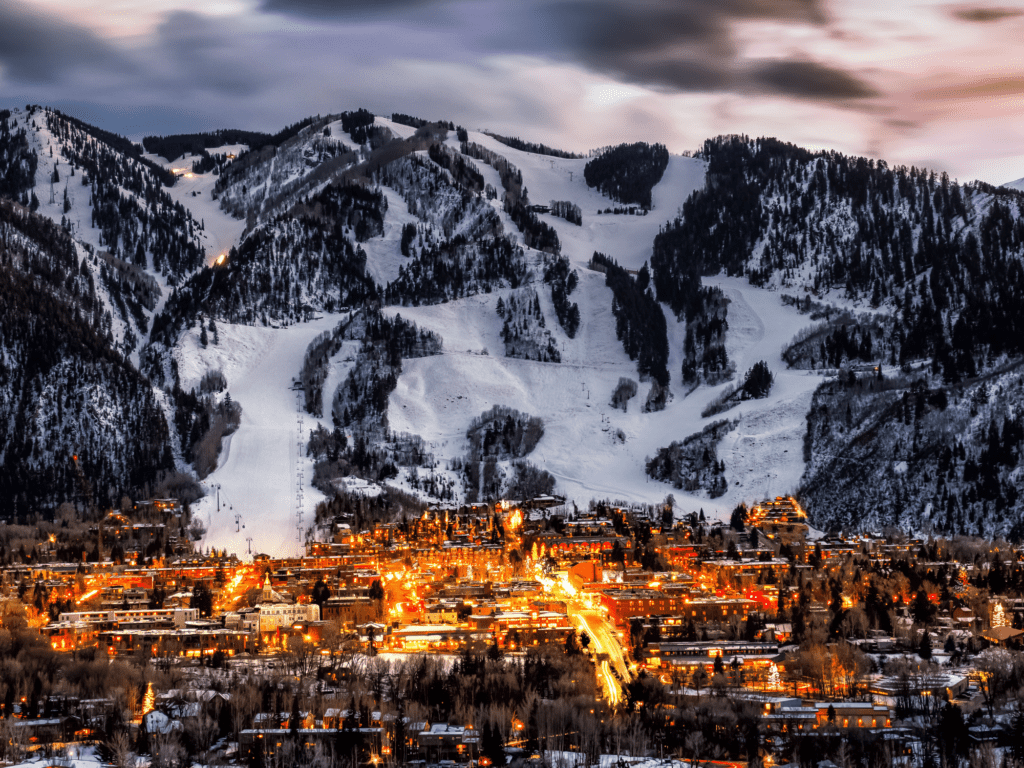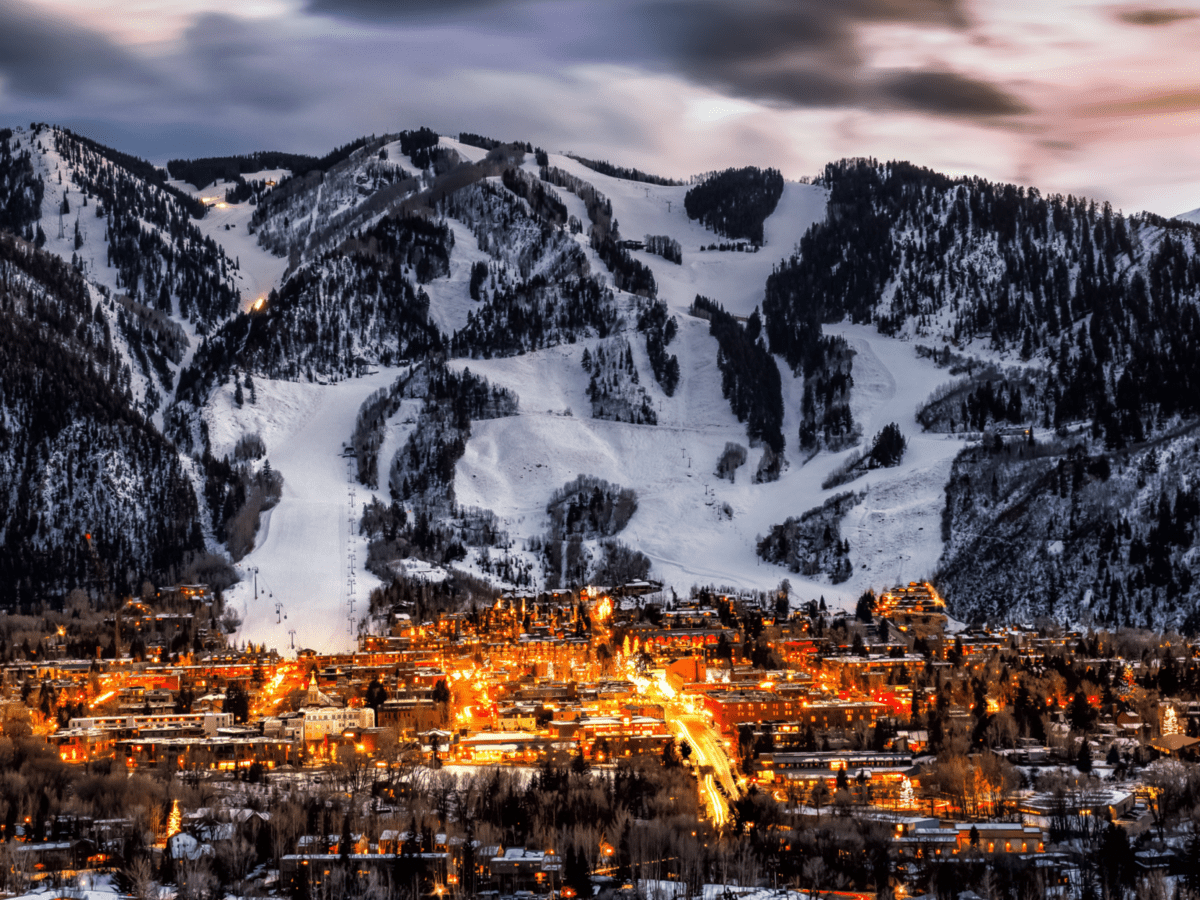 Aspen is a mountain town with a luxury experience that offers fantastic views of Colorado. The city offers impressive experiences to visitors with unique cultural and social atmospheres. The emphasis in this town is on skiing and snowboarding with fancy hotels, a ski resort, and other attractions that are perfect for those looking for the best high-end experiences in Colorado.
Some of the best mountain views in Colorado can be found here, including Maroon Peak, Pyramid Peak, Castle Peak, and Conundrum Peak.
While in Aspen, don't miss visiting the Maroon Bells, the most photographed mountains in North America. The Maroon Bells are a group of 14,000-foot tall bell-shaped wine-colored peaks looming over the pristine Maroon Creek Valley.
Plus, this is one of the most popular hiking spots in Colorado because it's only 37 miles away from Aspen, which makes for an easy day trip as well as a quick getaway when needed!
Vail
If you're looking for another mountain ski town that offers some of the best scenic views in Colorado, Vail is a perfect place to visit. It's famous for its ski resort and other activities available throughout the year, but it also offers some of Colorado's most beautiful scenery.
Vail is the quintessential Colorado mountain destination with European-inspired architecture and plenty of fun activities all year round. Whether you are looking for an adventure or just want to relax, Vail has it all!
Vail has diverse terrain, including mountains and lakes with easy access from I-70 or US 40, making it an excellent weekend getaway destination. If you're lucky enough not to hit traffic on I-70, you can get into Vail from Denver in two hours or less!
This charming town has many cool shops and restaurants, including a brewery in Vail Village where you can enjoy tasty brews with your views.
If you want great food, try Slope Room at Gravity Haus or Root and Flower if your preference leans towards drinks over food.
Black Canyon of the Gunnison (near Montrose)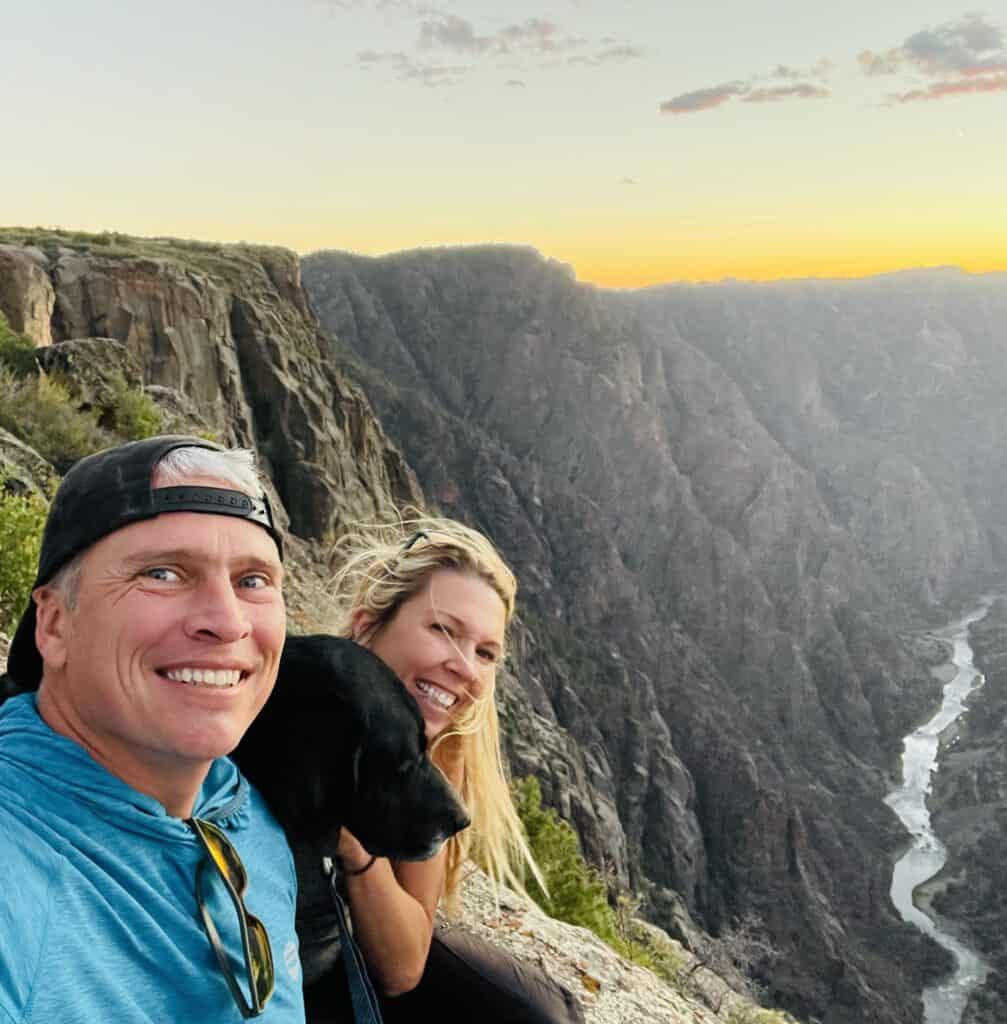 The Black Canyon of the Gunnison is a deep river valley with towering dark rock walls as high as 2,250 feet above the rushing waters below. It's located near Montrose and offers some really stunning views of Colorado's best scenery.
The "Painted Wall" in this area is not only breathtaking, but it also marks part of the third-highest cliff in all American states with its 5400-foot elevation.
Black Canyon of the Gunnison boasts some of Colorado's best views, and it is also home to some fascinating geological and anthropological history.
Pikes Peak
Pikes Peak is Colorado's most iconic mountain, and it's also one of the highest mountains in North America. It has a peak that reaches 14,115 feet above sea level and is located near Colorado Springs. The summit has been considered one of America's "Seven Natural Wonders."
Pikes Peak can be seen from as far away as Denver and offers breathtaking views. The area is incredibly popular for the Pikes Peak Hill climb and the 13.5 miles hike with a gain of 7,400+ feet. 
Your options for getting to the top of Pikes Peak are driving your car, taking a guided tour, riding your bike, or taking the world's highest cog railway. Once you're at the top, you'll have views for days. The alpine views stretch in all directions; you'll see views of Garden of the Gods, summits of shorter peaks, the continental divide, plus the cities of Woodland Park, Manitou Springs, and Colorado Springs. 
Silverton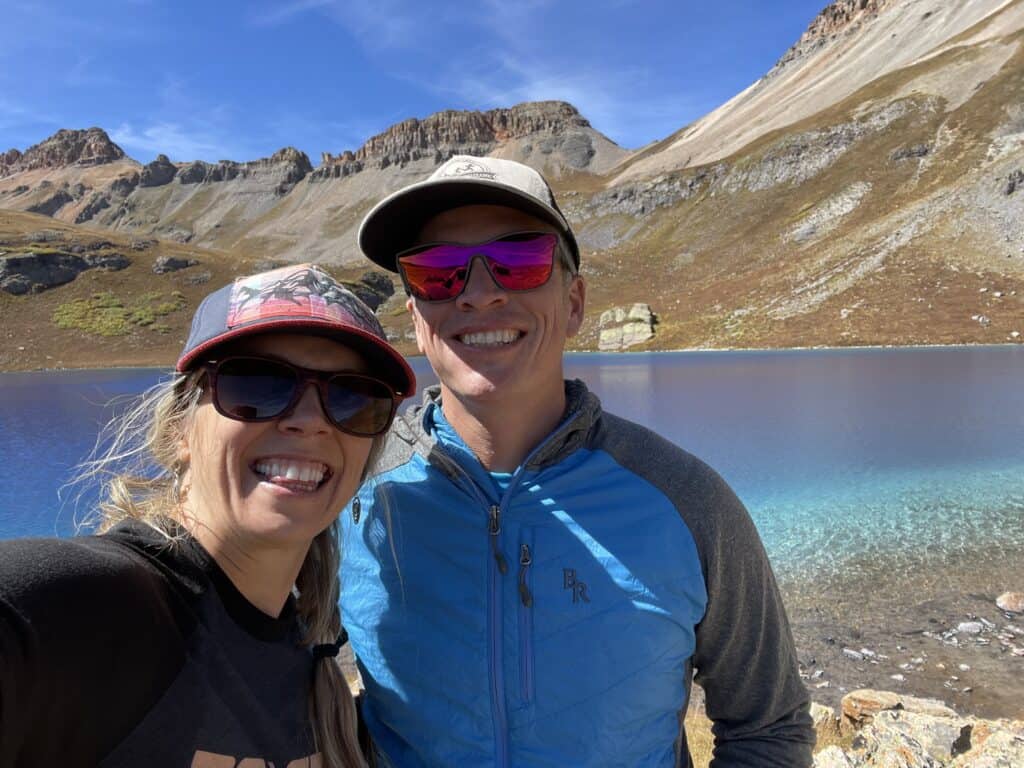 Silverton is a small mountain town in the heart of SW Colorado. For many years, the area has attracted tourists due to its natural beauty and nearby outdoor attractions. Silverton is located along the Million Dollar Highway, which offers breathtaking views of mountains and valleys.
Silverton provides a great jumping-off point for adventures. It offers spectacular views of the San Juan Mountains, and it's also close to many things like Purgatory Ski Area and hiking trails.
Silverton packs an impressive punch with its charm. It has beautiful views of the San Juan National Forest and other local attractions like fishing and rafting on the Crystal River.
The views from the top of Silverton Mountain Ski Area are some of the best in Colorado. There is a wide variety of trails for all skill levels, and ATV rentals are available near Silverton Mountain during the summer months.
In Silverton, CO, there are plenty of scenic views to choose from. Some incredible scenery can be seen at the Mining Heritage Center and Old Hundred Gold Mine. If you're looking for a ghost town with no tourists, go check out Animas Forks!
Many scenic drives in Colorado provide impressive views. One of the best is Silverton, which has a lot to offer for outdoor enthusiasts and anyone who loves nature. The Alpine Loop leads visitors through alpine meadows on a mountain bike or along footpaths with views down into the valley below and up towards Mount Massive – one of the most popular hikes in America's Rocky Mountains region.
Get Out and Explore
I hope this list of the best mountain views in Colorado will help you to get out and explore the beautiful landscapes that Colorado has to offer. The views in Colorado are absolutely breathtaking! Have you been?
What's the spot with the most jaw-dropping scenery that has ever crossed your path? Let us know all about in the comments below.
If you're looking to do some road trips soon don't miss our favorite road trip apps to help you along your way.