Nature in Seattle can be a beautiful place to explore; from beautiful snow capped mountain tops to the waters of the Puget Sound there are plenty of things to see and do.
The great thing about Seattle is you don't have to travel too far to experience some of the best outdoor areas with unique landscapes. Less than an hour from the city you can easily get to Snoqualmie Pass, Bainbridge Island and, many other places where you'll be able to relax explore and enjoy the Seattle outdoors.
Let's Dive in and Find Things to Do in Nature in Seattle
But first things first, you may be wondering if there are any particular things you need to enjoy the outdoors; and the great thing is you really don't anything special. I'd recommend bringing along an extra layer or two and some good shoes to keep you adventuring.
Looking for Other Great Things To Do in Washington?
Mount Rainier, Washington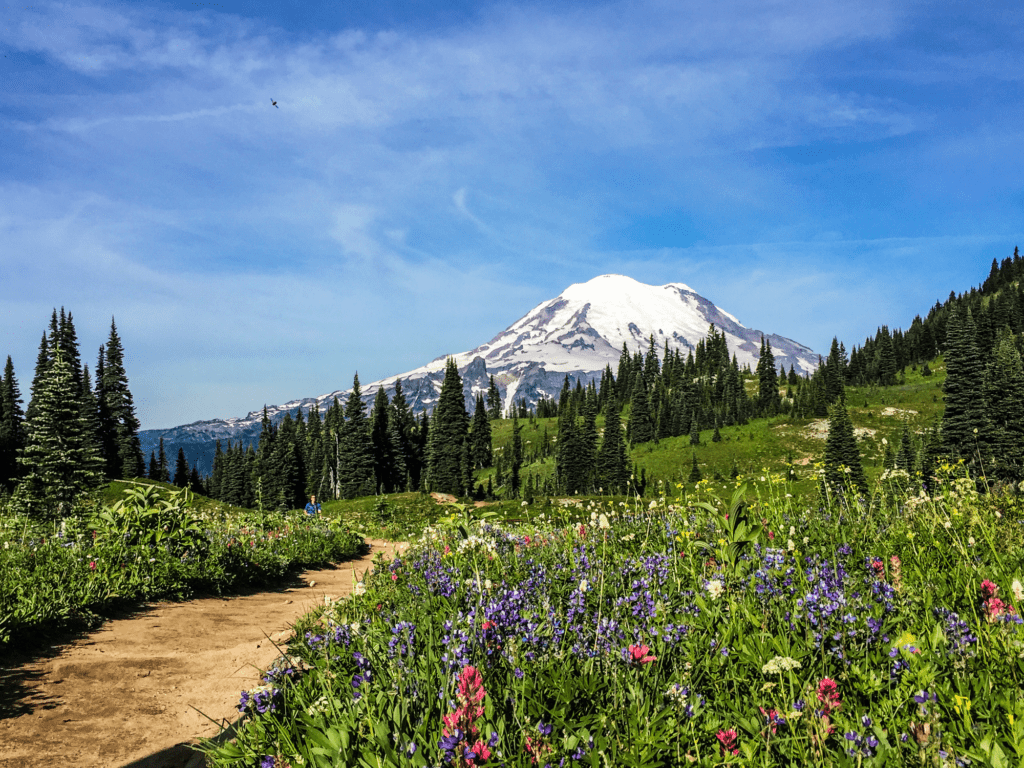 Mount Rainier is considered an active volcano and is one of America's most popular National Parks. It has hundreds of thousands of visitors every year who come from all over the world to see what it offers.
The park is home to various activities, including hiking, camping, climbing, and skiing, making it a popular tourist destination for people who want to see nature in Washington state.
The Skyline Trail, is a highly recommended trail that gets you to a fantastic scenic overlook. The overlook is is only about 2 to 3 miles up the trail making it doable for many people.
However, if you're looking for a bigger adventure, the trail continues meandering around Mt Rainier for about 20 miles.
Blake Island Marine State Park
Blake Island Marine State Park is a secluded, undeveloped gem in Puget Sound that is accessible only by boat. It offers 475-acres of marine camping with five miles of saltwater beach shoreline and is home to the Tillicum Village.
The Blake Island Marine State Park is known for its calm beaches, Native American heritage, and million-dollar views of the city of Seattle, Mount Rainier, Olympic Mountains, Vashon Island, and unforgettable views of the sunset over the water.
Blake Island is a great place to explore nature and get away from it all! Camping, swimming, hiking, fishing are just some of the activities you can do while staying at the campground.
Bellingham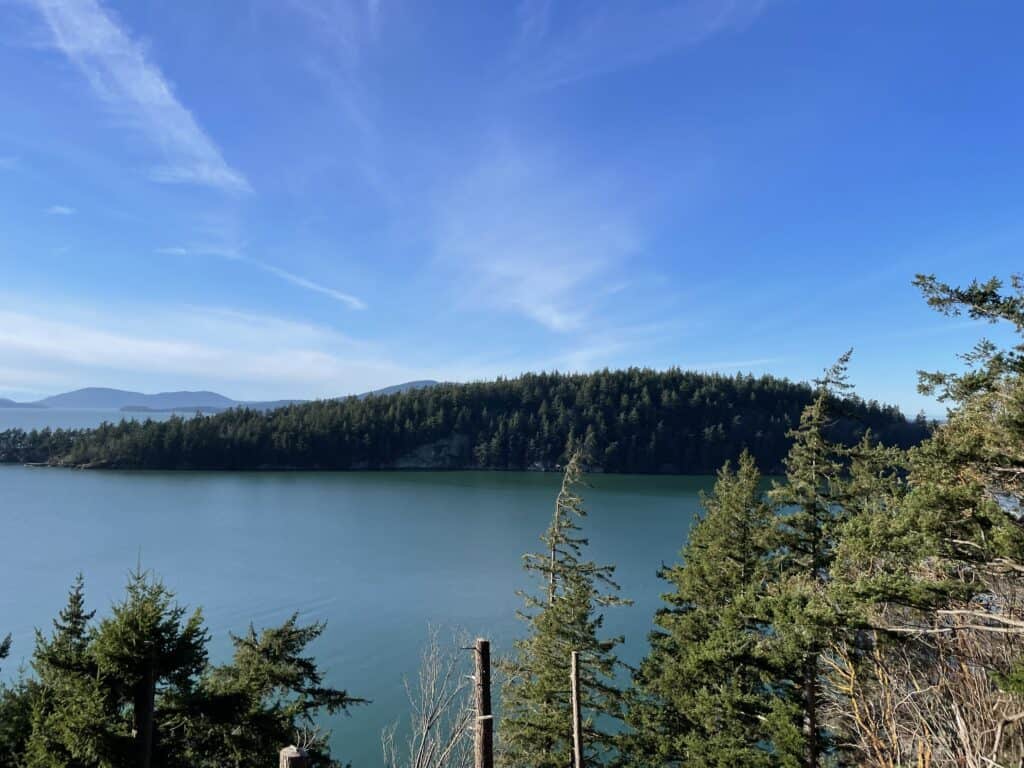 The city of Bellingham, WA, is a coastal town that's home to Chuckanut Mountain Drive. If you're interested in nature activities, there are plenty of options for you here. The most popular is the Whatcom Falls Trail, where visitors can hike up to see the waterfall.
Bellingham has a lot of other nature activities that are available for everyone too. Take advantage of hiking, biking, visiting one of the many parks, or strolling along the bay. The South Bay Trail, located between Fairhaven and downtown Bellingham is a great area to explore or consider soaking up some sunshine at Boulevard Park. To learn more about all the great things to do in Bellingham click here.
North Bend
North Bend is a small town within the Cascade Mountains forty minutes away from Seattle and twenty miles west of the Summit of Snoqualmie. The area is known for its variety of activities such as fishing, kayaking, hiking and biking.
North Bend has been called the "Gateway to Mount Si" because of its proximity to this trailhead. Mt Si trail is one of the most popular hikes outside of Seattle and is a must if you're into hiking.
What I love most about North Bend is the area offers all the staples we love about bigger cities. You'll find wineries, breweries, a creative arts community, and the bonus is it's close to lots of hiking and biking trails.
Sailing in the Sound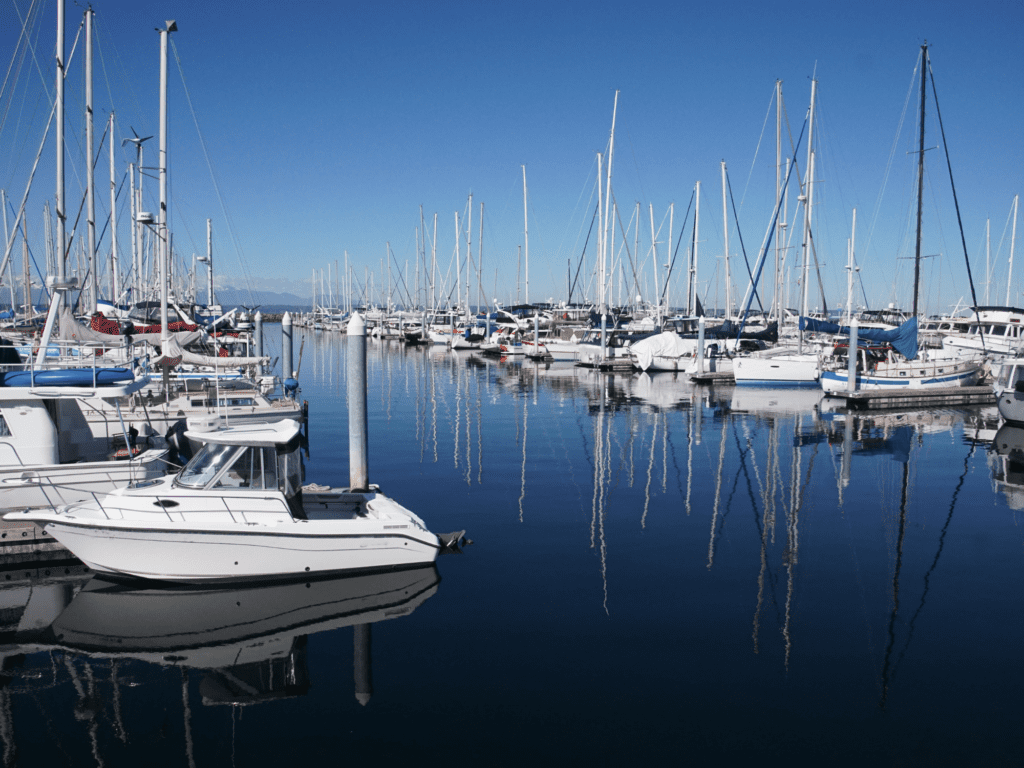 Sailing is one of the most beautiful activities in the area. With water all around Seattle, there are many opportunities for sailing on Lake Washington and Puget Sound. If you're able, I'd recommend a sunset sail where you can enjoy the beauty of the Seattle Skyline during your sunset adventure.
Wooden Boats in Lake Union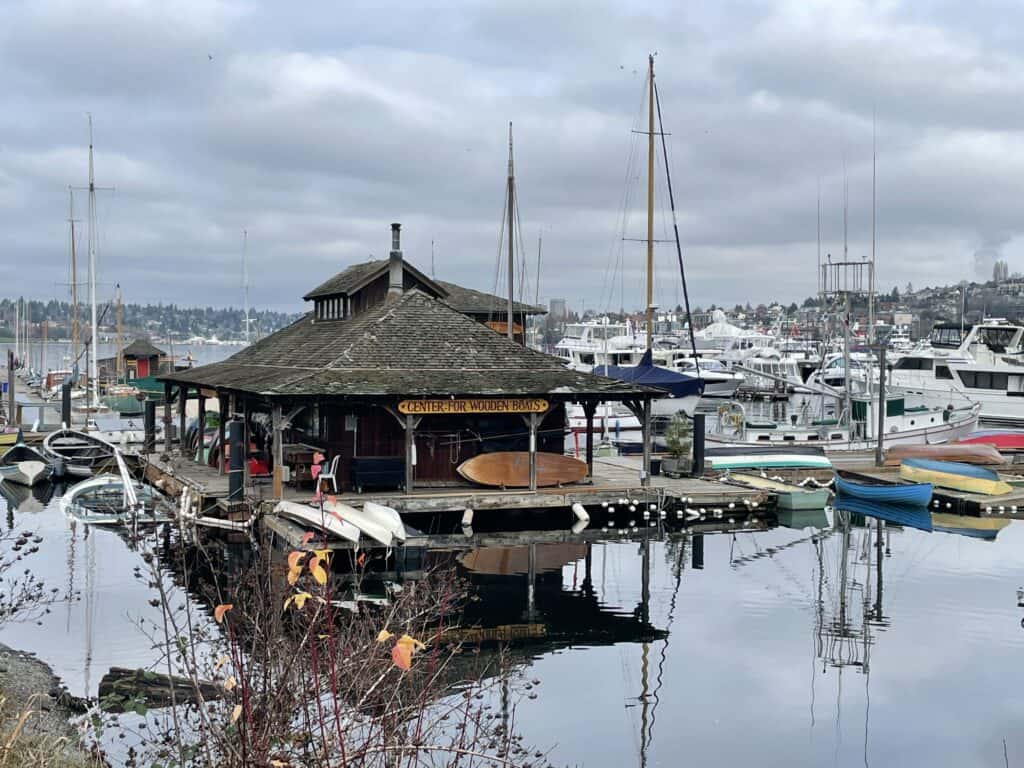 If an actual sailing excursion isn't in your budget, the Center for Wooden Boats in South Lake Union offers free boating excursions on Sundays. For anybody who loves sailing or wooden vessels, this is a must-see attraction.
The Center for Wooden Boats provides a perfect way to get out on the water in Seattle and enjoy the fresh air. While you're out exploring the area, don't miss seeing the houseboats of Seattle. Houseboats are a really unique and fun thing to see while in the area, and you may even be able to find the Sleepless in Seattle houseboat.
North Cascades National Park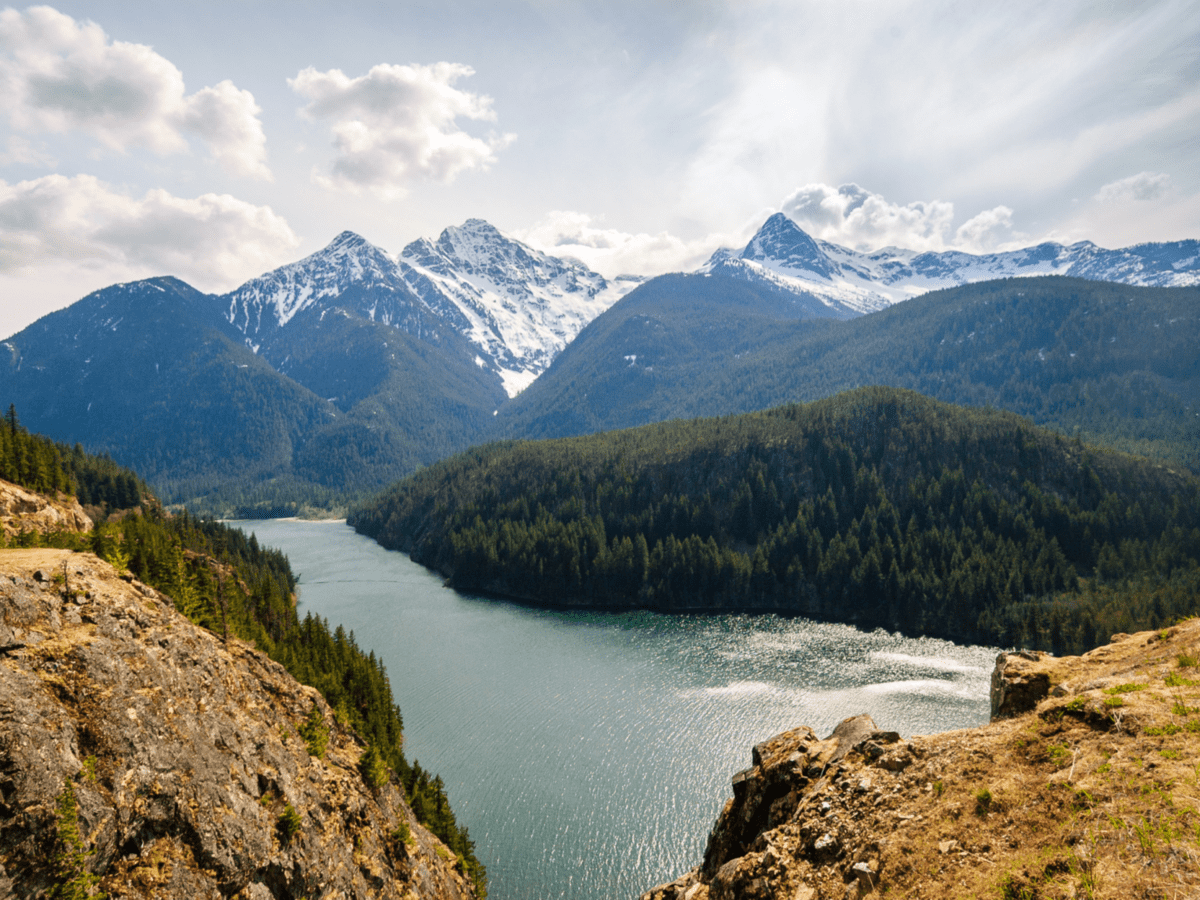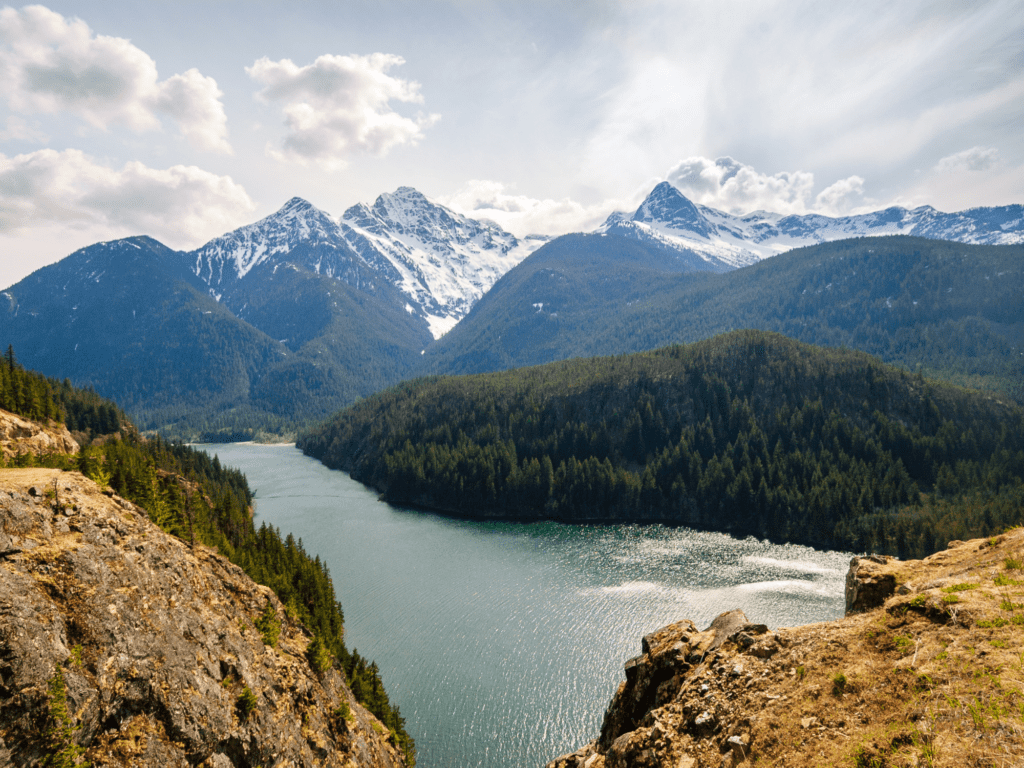 North Cascades National Park is one of Washington's most popular nature destinations. It has numerous activities to do, such as hiking and camping. Aside from these two options, it also features scenic views that are breathtakingly beautiful and an opportunity for you to get some fresh air and exercise.
There are plenty of hiking trails in North Cascades, which provide an opportunity for hikers to explore the park's beautiful scenery while getting outdoors and breathing in the fresh air. Many wildlife sightings such as deer, birds, fish, eagles and even grizzly bears make this area unique.
North Cascades National Park is a great place to escape the hustle and bustle of urban life. It offers crystal-clear water for rafting, fishing, swimming, and other outdoor activities.
Ross Lake National Recreation Area is a very popular area for visitors to see it's also one of the most accessible areas to get to. Ross Lake offers some of the most popular activities, including hiking, rock climbing, boating, camping, and very cold water for swimming.
Visit the Beautiful San Juan Islands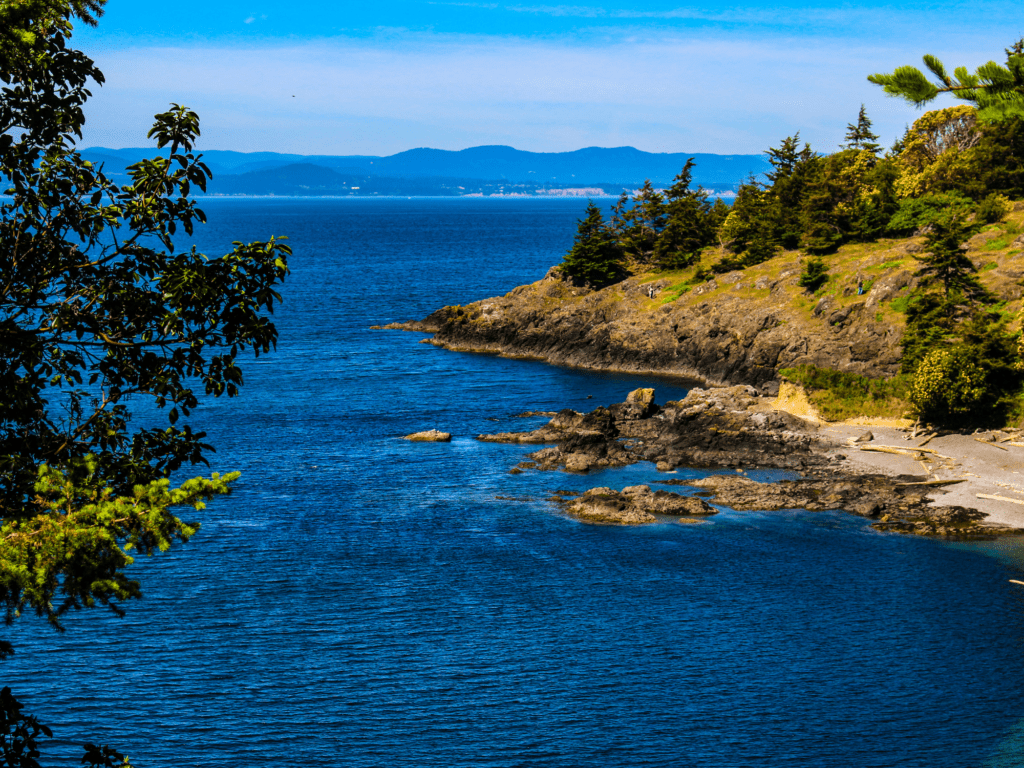 The San Juan Islands are a cluster of islands located in Washington that offer a recreational getaway and many fun natural places to explore. The most populous island is San Juan Island which features a variety of activities such as visiting Lime Kiln State Park or Moran State Park on Orcas Island.
Friday Harbor, located on the San Juan Islands, provides visitors with the perfect jumping-off point to explore the rest of the islands.
If you're looking for a getaway that can offer recreational activities on the water, the San Juan Islands have sea kayaking and whale watching seasonally.
If you're looking to get out and get some exercise, a good activity is to hike up Mount Constitution, which offers some fantastic views of the San Juan Islands. The trail starts on a steep incline and goes for about 1/2 mile before ending at the summit, where there is an observation deck with 360-degree views from around 3 miles above sea level.
Mount St. Helens An Active Volcano
Mount St. Helens is a volcano located in Washington State in the Pacific Northwest. It has been active since 1915 and became a national monument in 1980. The Mount St. Helens National Volcanic Monument was designated to protect the site and preserve its history, ecology, and natural resources for future generations.
There are several activities to do at Mount St. Helens, including checking out the beautiful lakes, visiting the observatory, scaling an active volcano, hiking, and camping.
Some of the most popular hikes and trails around Mount St Helens are Boundary Trail, Harry's Ridge Trail, and the trails along Coldwater lake.
Visitors to the Mount St. Helens National Volcanic Monument can still see the significant impacts of its massive eruption in 1980. The aftermath is visible in various forms, such as debris from its eruption scattered throughout the region and ongoing volcanic activity that happens with minor eruptions every few years.
Experience Nature in Seattle With the Biking Trails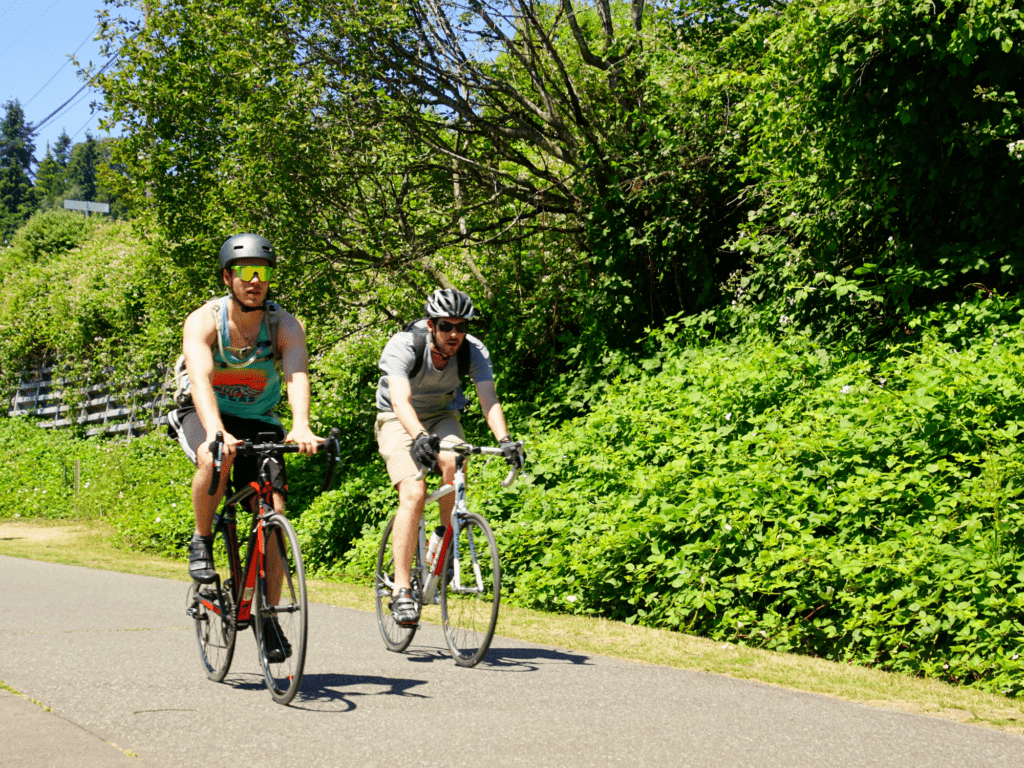 Seattle is a city that offers excellent biking trails with views of the water and the beautiful mountains. Bicycling is one the best ways to explore Seattle's natural beauty, as well as the city's cultural diversity.
The city has more than 66 trails providing 4506 miles of multi-use trails. With trails covering this large of area there are many places to bike, walk and hike around Seattle's beautiful lakes, parks.
Some of the most popular areas for biking or enjoying nature in Seattle is the Burke Gilman trail that extends 19 miles from Bothell to Seattle, Alki Beach area, the Lake Union Loop, or the Northern Interurban Trail. To learn more about top biking trails in Seattle, click here.
Nature Walks in Seattle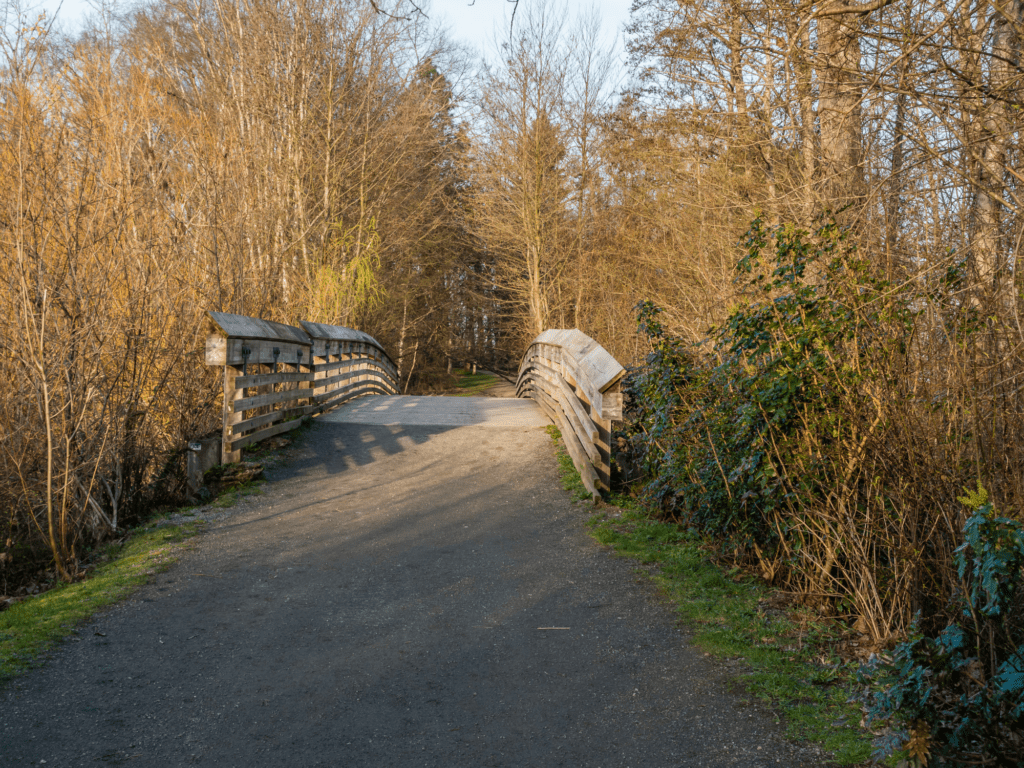 The Seattle Walking Map was created to assist residents and visitors of Seattle in selecting a walking route that matches their interests and fitness level.
The pathways shown on the map come from various sources, including Feet First, King County, and the City of Seattle Department of Transportation. The Seattle walking map paths range from sidewalks to quiet streets to park trails.
To assist you in planning your route, each of the walks on the map has been labeled with a rough estimate (in minutes) of how long it will take to stroll each part based on its length. These predictions do not consider the street's steepness, so some routes may take longer or less time than expected.
Experience Nature in Seattle By Visiting The Beautiful Parks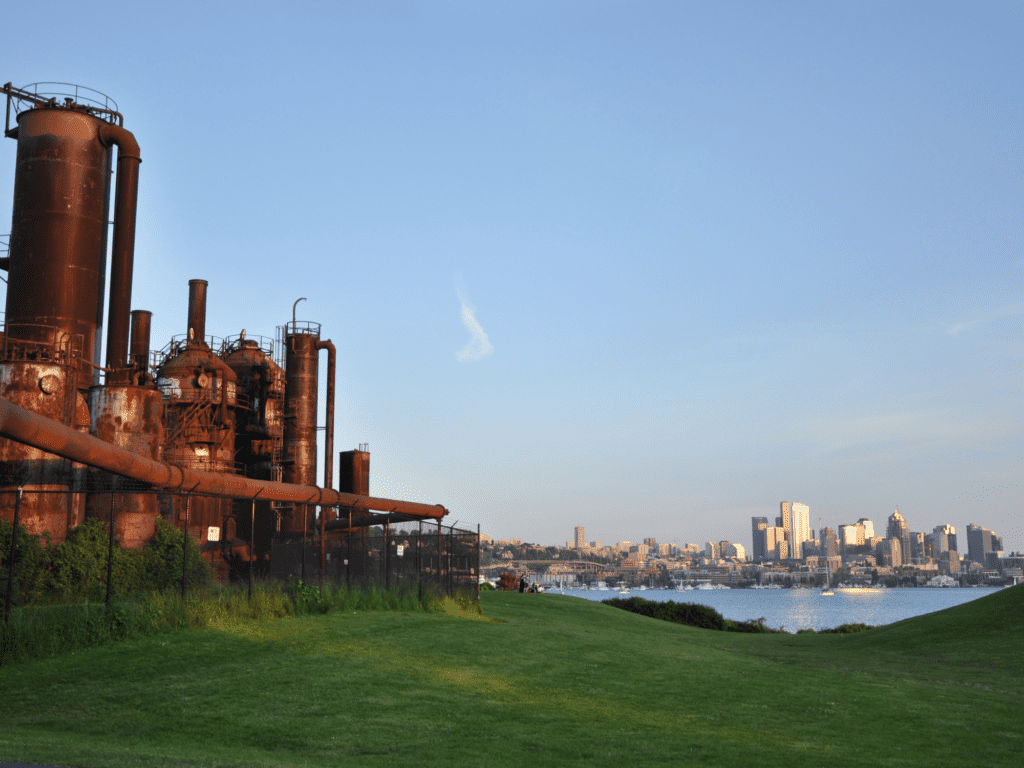 Seattle is known for its beautiful parks, and there are many different things to do in these parks. For example, you can rent a bike and take it on scenic trails that wind around or go on an adventure with your family by exploring some of the waterfront trails.
It's easy to get around because there are many interconnecting pathways that link all these areas together.
Gas Works Park is one of the largest parks in Seattle and has lots to offer, including paved trails for walking or biking. The park also includes a children's play area, picnic shelters with barbecue grills, and plenty of open space.
Another popular park is Kerry Park which has an abundance of trails for walking or running. It's also home to some of the best sunsets in Seattle.
Other top places for first-time visitors include Discovery Park, with its many opportunities for viewing wildlife and hiking, Woodland Park Zoo, Seward Community Garden, and Green Lake.
If you're looking for something less active, check out one of the many playgrounds within the parks; they tend to be areas where people can enjoy their nature experience without having to worry about getting too far away.
Bainbridge Island A Short Ferry Ride To Experience Nature in Seattle
Bainbridge Island is a beautiful place to visit and offers many opportunities for nature-based recreation.
For example, if you are interested in biking there are bike rentals are available on the island that makes it possible to explore the area on two wheels. While you're out and about exploring, make sure you check out Harbor Waterfront Park and the Waterfront Trail.
Bainbridge Island has plenty of nature activity options you can do on the water, too, like kayaking, renting a boat, or sailing adventures.
The island's natural beauty will leave you breathless as it is home to sea otters, bald eagles, salmon spawning grounds, lush forests, and more!
Leavenworth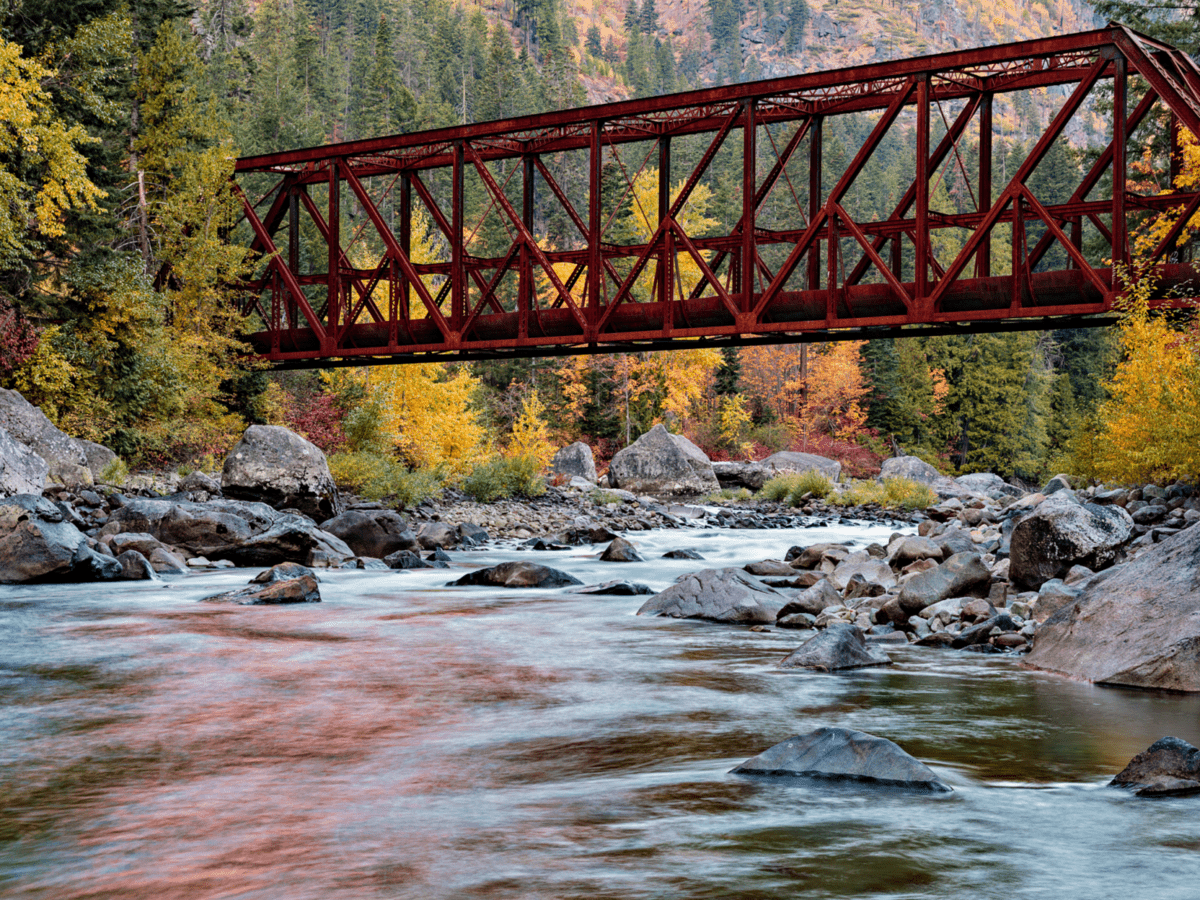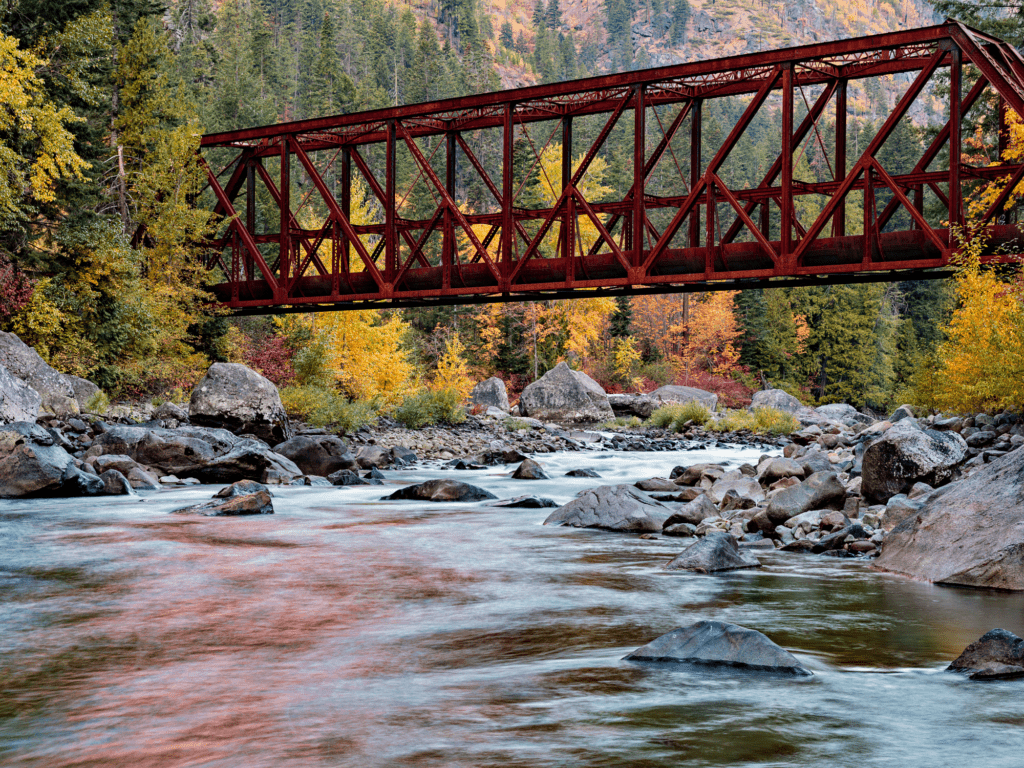 Leavenworth is a Bavarian town in the Cascades, and it is home to many outdoor activities. You can do lots of things in this town, including mountain biking along Icicle Creek Road, hiking or snowshoeing around Lake Wenatchee State Park, rock climbing, river rafting and skiing.
Leavenworth sits near the confluence of Icicle Creek and the Wenatchee River and has beautiful mountain views. If you'd like to learn more about the best things to do in Leavenworth click here.
Olympic National Park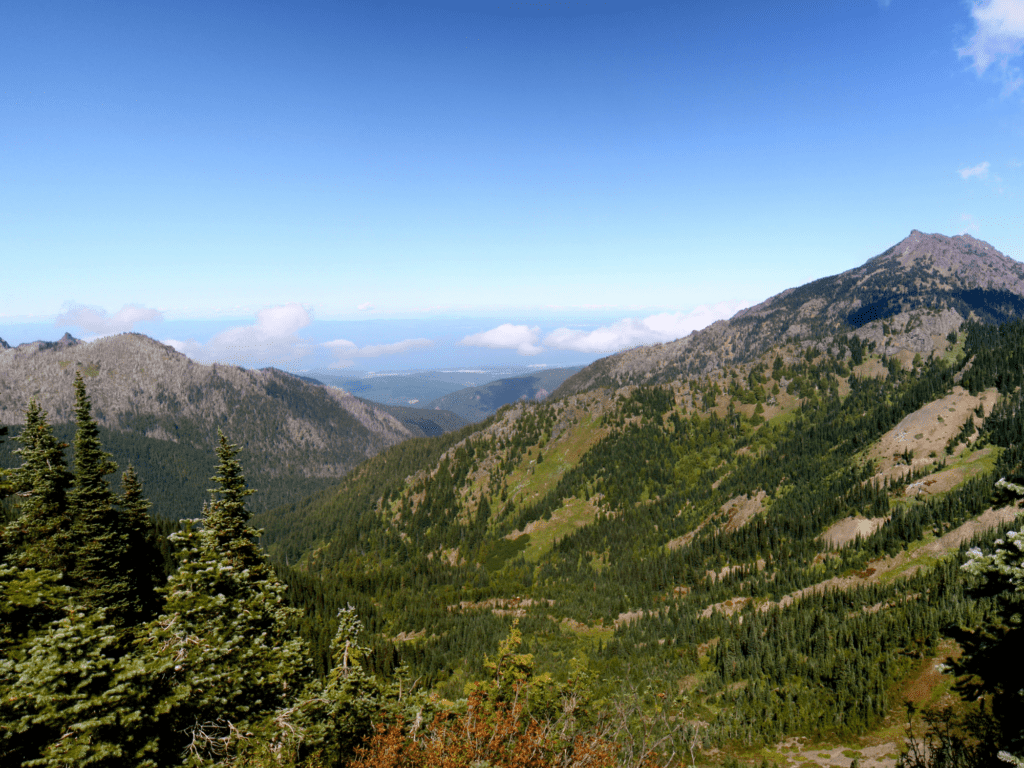 Olympic National Park is a beautiful, natural place to explore. The Olympic Peninsula has one of the largest temperate rainforests in the country, and visitors enjoy hiking and camping in the area. There are numerous hiking trails in the park to experience nature while breathing in the fresh mountain air.
The most popular attraction in the Olympic National Park is Hurricane Ridge, which has views of Mt. Olympus, the tallest and most prominent mountain in the Olympics.
The majority of Olympic National Park (876,669 acres) is designated as wilderness, which encompasses and safeguards one of the largest wild areas in the United States and allows visitors to enjoy the park's great variety in its natural and unaltered condition.
Take Advantage of Playing In the Snow Around Seattle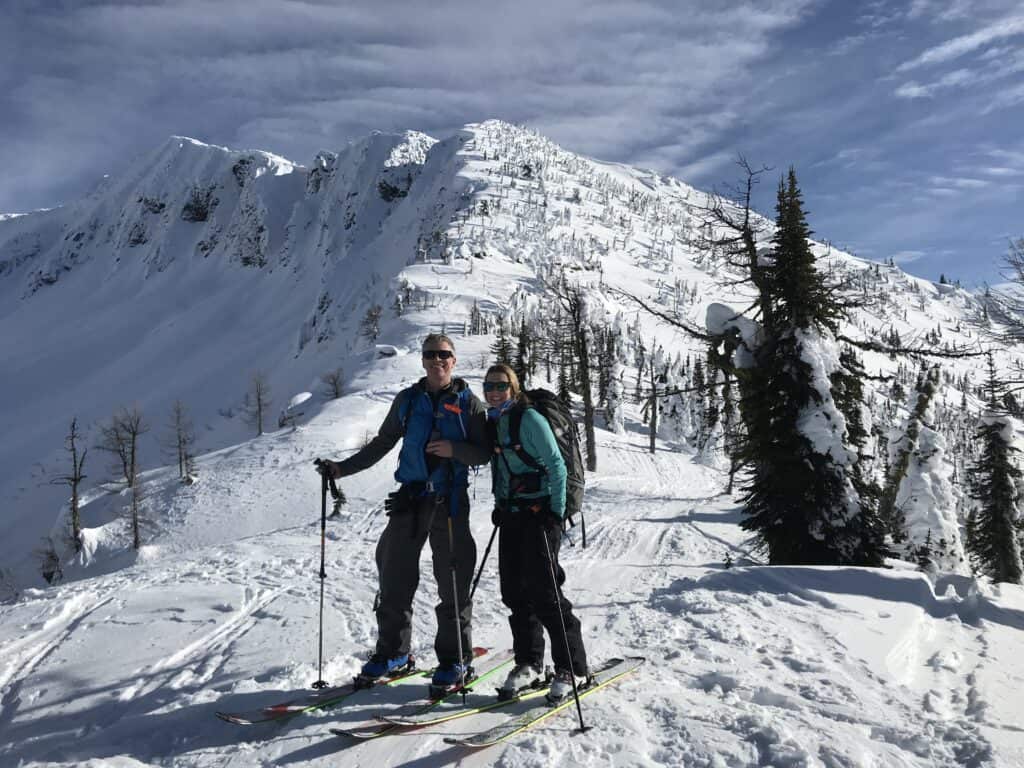 Stevens Pass
Steven's Pass is located on Highway 2 and has 1,125 acres of skiable terrain. It is known for its high-quality skiing and snowboarding conditions. Stevens Pass provides visitors with a wide range of activities to choose from, like downhill skiing, cross country skiing, and summer hiking trails through old-growth forests.
Snoqualmie Summit skiing and snowshoeing
The Snoqualmie Summit is a ski resort in Washington that offers skiing and snowshoeing experiences. It's just 40 minutes away from Seattle, but it's worth the drive to see the Emerald City mountainside.
Snoqualmie Falls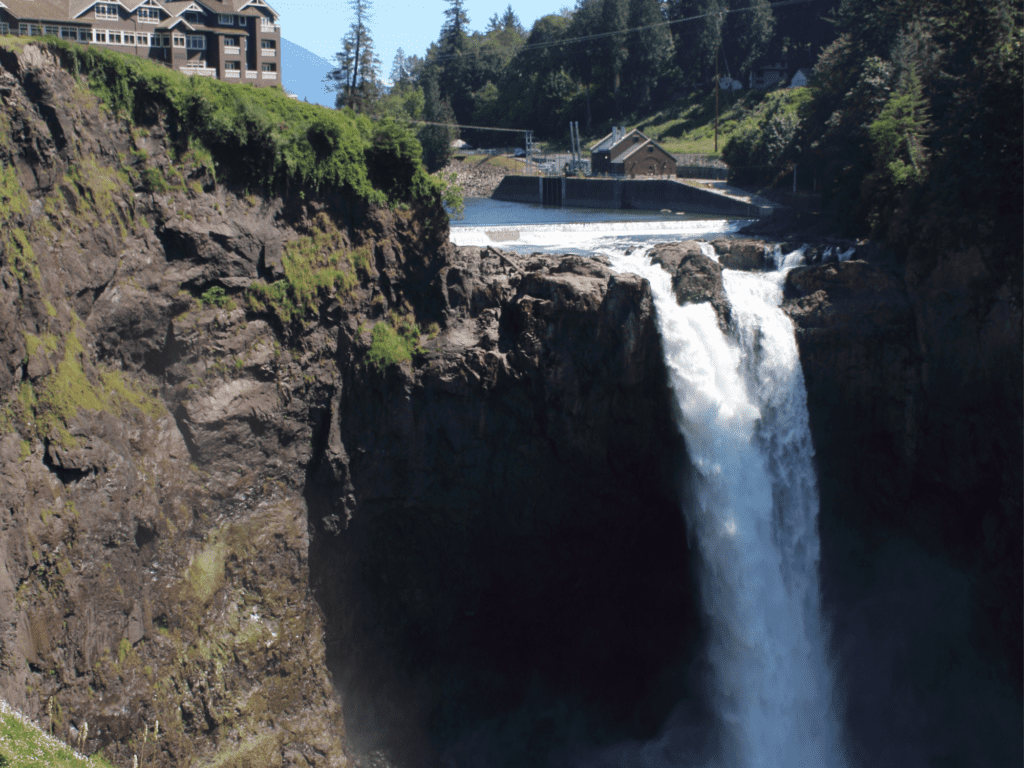 Snoqualmie Falls is a waterfall along the Snoqualmie River in Washington. The waterfall is named after the Snoqualmie Tribe, and it flows 270 feet down into a gorge on the valley floor. There are many activities to do near the falls, including hiking, skiing, snowshoeing, swimming, and fishing.
Whale Watching: Nature Sightseeing in Seattle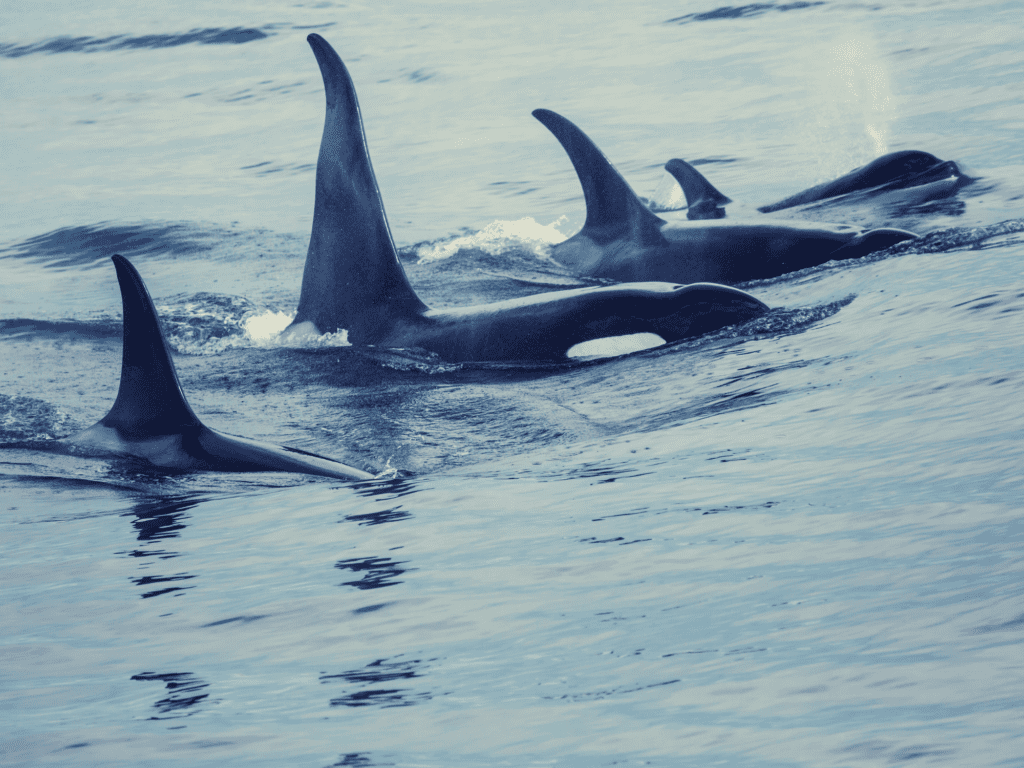 Try whale watching from the beach at Alki Beach in West Seattle, which is a short drive or water taxi ride from downtown. The beach is a popular resting location for seals and their pups, making it an attractive draw for Orcas as well. During the fall and winter months, you're more likely to see Orcas here, although other whales can be seen here year round.
You can also sign up for a tour departing from Edmonds, that includes a boat ride and an expert guide who will teach you about all of the different types of whales spotted offshore.
A whale watch tour is typically a half-day affair that starts early in the morning. It's an excellent way to see whales and other marine life while spending time with family or friends on vacation.
Walk Around Greenlake Park
A walk or run around the lake at Greenlake Park in the Greenlake neighborhood of Seattle is one of my favorite ways to spend time outside in Seattle.
Greenlake is an area where people come to walk, run, bike, play, kayak, and bask in the sun. Greenlake offers an inner loop (2.8 miles) for recreating or an outer loop (3.1 miles). There's also plenty of space to read, slack line, or enjoy a nice picnic on the beautiful green grass.
Bremerton & Poulsbo
Nestled on a peninsula in Kitsap County, just north of Seattle, Poulsbo is a small city that's surrounded by nature.
Poulsbo, Washington, is a small seacoast town with plenty of things to do. In the summertime, visitors can enjoy outdoor activities, including hiking, biking, and kayaking in nearby areas. There are restaurants that offer everything from casual seafood dishes to fancy champagne dinners.
Poulsbo also offers easy access to Bremerton, featuring more attractions like the Puget Sound Naval Shipyard Museum and the launching ground to get to Olympic National Park.
Bremerton is a small town just across the water from Seattle with plenty of outdoor adventures. It has three different beaches making it great for nature activities like swimming and boating. It also includes a large marina with lots of yachts and other boats.
Visit the Arboretum in Seattle
The Washington Park Arboretum is open every day dawn to 8pm, free of charge. The Arboretum on the banks of Lake Washington has a lot of green space, and the beautiful flora will amaze you.
Some of the plants you'll see at the Arboretum are unique to the Northwest and aren't found anywhere else in the region.
Make sure to explore the Arboretum's most famous walk, a 3/4-mile path with azaleas, magnolias, dogwoods, and blooming cherries against a backdrop of evergreen trees.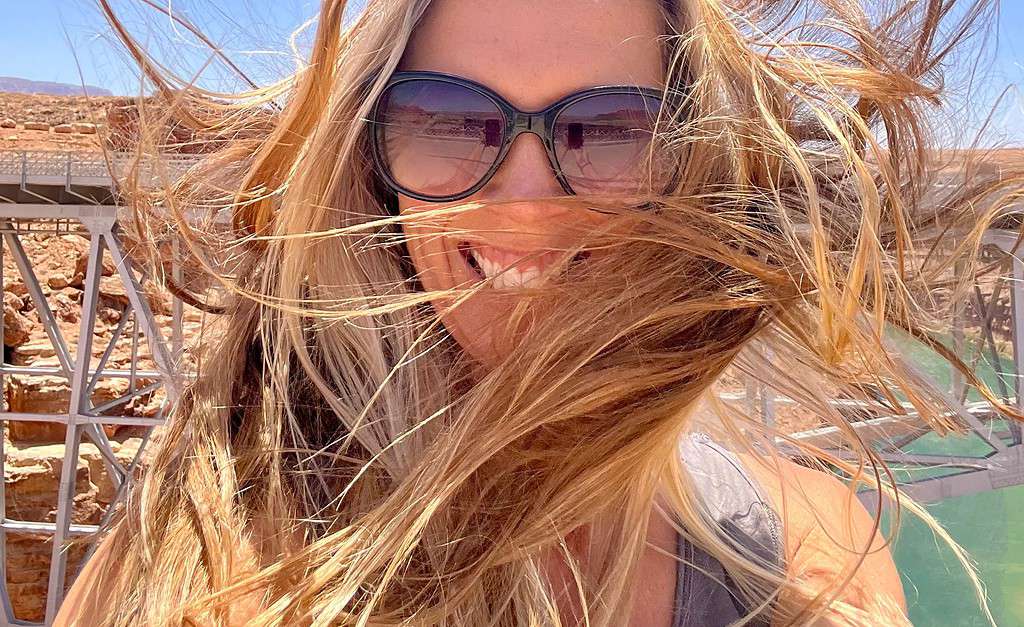 FAQ About Nature Spots in Seattle
What is the land like in Washington?
Washington sits on mostly temperate rainforest and mountain ranges, with some desert at its edges. It contains Mount Rainier, the tallest mountain in the state, and is home to many other mountains, including Mount St. Helens, which is famous for its volcanic eruption.
What mountains are near Seattle?
The Cascade Mountains are located near Seattle; and are a group of volcanoes and associated mountain chains located in the Pacific Northwest. The Cascades stretch from southern British Columbia to northern California.
What is unique to Seattle?
Seattle is one of the most culturally diverse cities in the United States. It features a mix of world-class restaurants, thriving art communities, and vibrant neighborhoods. Seattle has a diverse population of cultures that all reside within the city.
How far are the mountains from Seattle?
The distance to the mountains from Seattle is about 100 miles.
What makes Seattle unique?
Seattle has a lot of great things going for it. It's the largest city in Washington and is home to companies like Amazon, Starbucks, Microsoft, and Boeing. Seattle and its surrounding areas, collectively known as King County, are home to about 3.7 million people, with over 8.1 million in the surrounding metro area, making it one of the most populous in North America and the 9th-largest in the United States.
Is there nature near Seattle?
There are many nature areas to visit around Seattle. A couple of the most popular areas to visit to get a dose of nature are Gasworks Park, Woodland Park Zoo, The Chittenden Locks & Carl English Botanical Gardens, Magnuson Park, and Green Lake Park
If you're looking for something a bit further outside of Seattle The North Cascades National Park is an excellent place for hiking and camping, and the San Juan Islands are popular destinations for bird and whale watching.
Is Seattle an Outdoor City?
It absolutely is, with so many outdoor activities close to the city it's hard not to dive into your favorite way to enjoy the outdoors. Many people hike, bike, swim, raft, fish, rock climb around the city.