Indulge in a symphony of flavors and captivating views with our exploration of the finest dinner cruises that grace the iconic waters surrounding New York City. As the sun dips below the city's skyline, a new kind of magic emerges aboard these floating culinary experiences.
Whether you're seeking a romantic evening with a loved one, a celebratory gathering with friends, or simply a unique way to savor the city's breathtaking panoramas, New York's dinner cruises offer an unforgettable blend of gastronomy and sightseeing.
Join us as we navigate through the best NYC dinner cruises, each promising an enchanting voyage through taste and time against the backdrop of the city that never sleeps.
If you don't want to read the entire article, below are our
top picks for New York City Dinner Cruises
New York City Sunset Cruise
New York offers a dinner cruise experience that's in a league of its own for several captivating reasons:
Iconic Skyline: The New York City skyline is world-famous, showcasing landmarks like the Statue of Liberty, Empire State Building, and Brooklyn Bridge. A dinner cruise provides an unparalleled vantage point to witness these architectural marvels illuminated against the night sky.
Waterfront Beauty: The city's harbor and rivers are integral to its history and charm. Cruising along the Hudson and East Rivers offers a different perspective of Manhattan's bustling streets and offers an escape from the urban hustle.
Culinary Diversity: New York is renowned for its diverse culinary scene. A dinner cruise captures this essence by often offering an array of gourmet dishes, from local specialties to international flavors, catering to a wide range of tastes.
Vibrant Atmosphere: The energy of New York is palpable, and this energy extends to the water. The lively atmosphere onboard a dinner cruise mirrors the city's vibrancy, combining music, entertainment, and a lively ambiance.
Cultural Fusion: New York is a melting pot of cultures and backgrounds. Many dinner cruises reflect this cultural diversity through themed events, entertainment, and menus that celebrate the city's eclectic population.
Romantic Charm: With its dazzling lights and stunning views, a dinner cruise in New York is inherently romantic. It's a popular choice for couples seeking a memorable and enchanting evening together.
Unforgettable Memories: Whether it's celebrating a special occasion or simply making the most of a trip, a dinner cruise in New York promises a unique and unforgettable experience, creating lasting memories against the backdrop of an iconic city.
Local Entertainment: Many New York dinner cruises feature live entertainment, such as jazz bands or DJs, adding a local touch to the experience and enhancing the overall enjoyment.
In short, New York's dinner cruises offer a blend of remarkable sights, diverse flavors, and an electric atmosphere, making them an extraordinary way to absorb the essence of the city while indulging in a unique dining adventure.
Top Picks – New York City Dinner Cruise
⭐️RATING: 4.8 out of 5 Stars (1,067+ Reviews) ⎸ ⏳TOUR LENGTH: 2-3 hours
Why choose this tour? Most 5-star reviews
Get ready for an epic sightseeing escapade starting from the lively Chelsea Piers in Manhattan! Brace yourself for mind-blowing views of the NYC skyline that'll knock your socks off. Imagine being on a boat that's practically made of glass – the walls, the ceilings, everything – offering you an insane 180-degree view that's like living in an action movie!
Your adventure kicks off the moment you step onto the boat at Chelsea Piers. You'll be cruising along the super cool Hudson and East rivers, all while soaking in the dazzling Manhattan skyline. Oh, and keep your eyes peeled for the Freedom Tower and the rockstar of skyscrapers, the Empire State Building. But wait, it gets even better – you'll practically be high-fiving the iconic Manhattan and Brooklyn bridges as you sail right under them!
And don't you dare forget your camera, because you're gonna want to snap pics of the rad Ellis Island and the superstar of symbols, the Statue of Liberty. Psst, for the ultimate Insta-worthy shots, head to the open-air decks for front-row views that will blow your mind.
And while you're busy taking in all this awesomeness, the boat's got you covered with a seriously elegant vibe and top-notch service. Feast like a champ on some seriously delicious brunch, lunch, or dinner whipped up by the boat's rockstar chef. Get ready to set sail on the ride of a lifetime – NYC style!
Embark on an unforgettable journey through New York Harbor aboard a sleek all-glass dining vessel
Delight in a delectable culinary experience, accompanied by live musical performances and impeccable service
Immerse yourself in the melodies of the onboard jazz pianist and seize the chance to sway to the rhythm
Marvel at the iconic sights of New York City, encompassing the Empire State Building, Brooklyn Bridge, and Statue of Liberty.
What's included in this tour:
Cruise
3-course meal
Live entertainment
Live narration
Unlimited mimosas (if brunch option selected)
Unlimited coffee, tea, iced tea, juices
⭐️RATING: 4.5 out of 5 Stars (1,137+ Reviews) ⎸ ⏳TOUR LENGTH: 2-3 hours
Why choose this tour? Spacious boat with outdoor viewing decks
Experience New York like never before with an exhilarating twist: hop aboard an exciting dinner cruise that gracefully navigates New York Harbor and the glittering Manhattan skyline.
Prepare to be awe-inspired by the jaw-dropping vistas of the city's most renowned landmarks, from the majestic Statue of Liberty to the iconic Brooklyn Bridge and the ever-soaring Empire State Building.
Treat your taste buds to a sumptuous buffet dinner that will have you craving seconds, all while grooving to the electrifying beats spun by the onboard DJ. Elevate your New York adventure by including this dinner cruise in your itinerary today!
Buffet dinner that will satisfy the biggest of appetites
Onboard entertainment with DJ music, access to shared spaces and interactive games
Marvel at the iconic sights of New York City, encompassing the Empire State Building, Brooklyn Bridge, and Statue of Liberty.
What's included in this tour:
Set sail on a thrilling two-and-a-half-hour expedition along the Hudson and East Rivers.
Indulge in a delectable dinner buffet, personally served by attentive staff, featuring freshly crafted entrees, salads, and desserts.
Groove to the tunes with lively DJ entertainment.
Immerse yourself in awe-inspiring skyline vistas from both the cozy interior dining decks and the expansive outside lounge deck.
Stay hydrated and energized with bottomless offerings of coffee, hot tea, iced tea, and water.
⭐️RATING: 4.8 out of 5 Stars (14+ Reviews) ⎸ ⏳TOUR LENGTH: 2 hours | New Tour
Why choose this tour? A unique experience on a historic sail boat
Get ready to rock the waves in style right here in the heart of the Big Apple! Picture yourself gliding through the city's waters on the coolest floating landmark in town – yep, that's right, the only one of its kind! And guess what? It's not just any ride – it's a wine and cheese extravaganza that'll make your taste buds do the happy dance.
As you bob along in the New York City Harbor, you won't just be taking in the sights – you'll be treating your palate to the finest wines and the most delish local cheeses. Sip, savor, repeat – that's the name of the game! And the best part? You'll be cruising alongside absolute legends like the Statue of Liberty, Ellis Island, Battery Park, and the ultra-chic Brooklyn Heights. Oh, and let's not forget the jaw-dropping New York City skylines that'll have you saying, "Is this real life?"
So, imagine yourself kicking back, glass of wine in hand, surrounded by iconic landmarks, all while soaking up the sun and living your best life. It's not just a tour – it's a ticket to relaxation, a front-row seat to the city's finest, and the ultimate excuse to clink glasses while saying, "Cheers to New York!"
Get ready for a wine-tasting voyage like no other, right here in the heart of New York City!
Treat your taste buds to a whirlwind of flavors as you sip on the finest wines and nibble on scrumptious local cheese.
Step aboard a classic sailboat that doubles as the one and only floating landmark in the entire NYC! It's time to cruise the iconic New York Harbor.
Prepare for a front-row seat to the best of NYC's attractions, including must-sees like Ellis Island and the iconic Statue of Liberty.
What's included in this tour:
2-hour sail
4 complementary wines selected for a thrilling tasting line-up
Tasting with wine expert
Restroom on board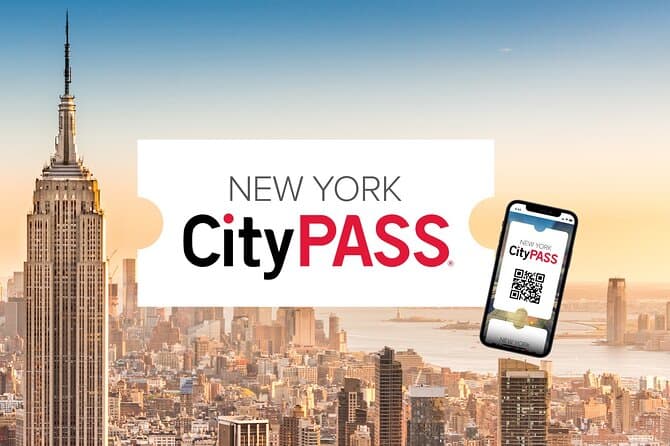 Have you heard of CityPass?
CityPass is a great way to lock in discounts on all the must-see attractions in cities all over the world!
Grab the New York CityPASS and unlock awesome discounts at the hottest spots in the Big Apple. Your CityPASS mobile tickets are your golden ticket for 9 days, starting from the first time you use them. The magic starts with access to The Empire State Building and the American Museum of Natural History.
But wait, there's more! You get to choose 3 more attractions from this fantastic lineup of 6: Feel on top of the world at the Top of the Rock™ Observation Deck, hop on the ferry to explore the Statue of Liberty & Ellis Island, pay your respects at the 9/11 Memorial & Museum, catch breathtaking views on the Circle Line Sightseeing Cruise, dive into history at the Intrepid Sea, Air & Space Museum, or immerse yourself in art at the Guggenheim Museum. It's your NYC adventure, your way!
What do you wear on a dinner cruise?
When the sun sets, the perfect onboard attire leans towards elegant casual vibes across most ship venues. Fellas, consider opting for trousers and collared shirts (though ties and jackets can add flair if you're up for it). Ladies, think along the lines of dresses, skirts, or slacks paired with cozy sweaters or chic blouses – all set to make your evenings on board as stylish as they are comfortable.
Do you tip waiter on a dinner cruise?
Just like when you grab a drink, when you indulge in a specialty restaurant dinner, you might notice a 15 to 20% service charge tacked on by the cruise line. These spots usually offer a more intimate and upscale service, so it's common to go the extra mile with tips here, too – typically around 15 to 20 percent.