No-Cook Camping Meals For Your Next Adventure
Aren't you excited about summer camping adventures yet? As the weather gets warmer and the days get longer, there's nothing quite like escaping into nature for a while. But what about food? You don't want to spend your whole trip cooking over a hot campfire, do you? No way! We have you covered with this ultimate list of no-cook camping recipes!
From simple snacks to hearty main courses, there's something for everyone on our list. So, get ready to explore everything that nature has to offer—and do it all with a full stomach. Here is a list of some of the best no-cook camping meals that will make your trip hassle-free and delicious:
No-Cook Breakfast Meal Ideas
Whether you're going for a morning excursion or just want to spend the day sightseeing, breakfast is an essential part of your day. Here are some quick camping breakfasts that don't need any preparation.
Overnight Oats
Overnight oats are a great way to start your day. The best part about them is, you can make the night before and sleep in for once! Simply mix together milk (or any other liquid), oats, a sweetener and your favorite toppings. Overnight oats are gluten-free, vegan friendly, and so easy!
Make-Ahead Quiches
There's no need to forgo your favorite comfort foods just because you're roughing it in the great outdoors. Quiche is the perfect make-ahead camping meal, as you can easily reheat it over a campfire or stove.
Quiche is also incredibly versatile, so you can customize it to your liking with whatever vegetables, meats, and cheeses you have on hand. And best of all, quiche can be enjoyed hot or cold, making it a perfect picnic food. So, pack a few quiches in your cooler and make your trip all the more enjoyable.
If you're looking for a good recipe for make-ahead quiches check this out.
Fruit Bowl or Fruit Salad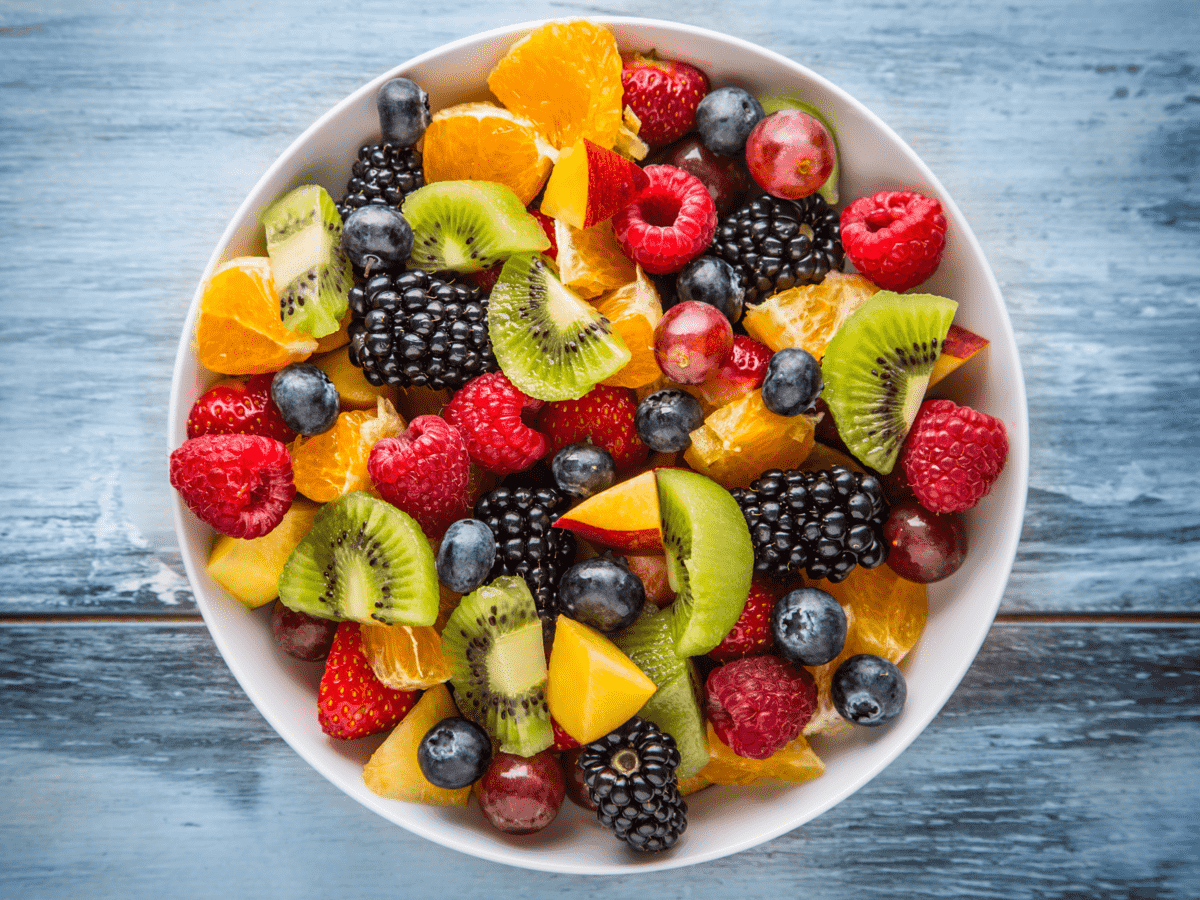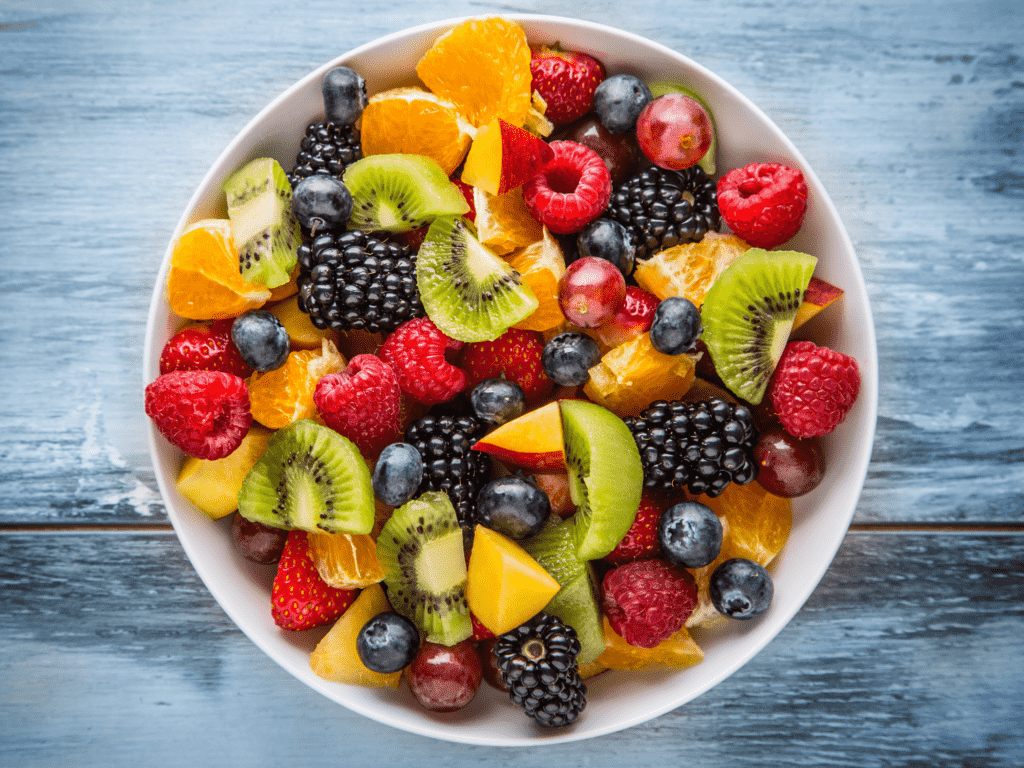 A fruit salad is a great easy no-cook camping meal idea. Fruit salads are made from fresh fruits and may also contain dried fruits, nuts or other sweet ingredients such as honey, sugar or syrup.
Fruit salad can be served as a side dish, dessert or even breakfast food.
Dry Cereal and Milk
It's just so satisfying to start your day with a big bowl of cereal and milk, especially when you're out in the great outdoors. Camping is the perfect time to enjoy this classic no-cook meal since it's quick, easy, and requires no special equipment or ingredients.
Plus, dry cereal and milk are both lightweight and packed with nutrients, making them an ideal choice for a hike or a long day of exploring. Best of all, this meal is delicious – even when you're eating it around a campfire.
Bagels and Cream Cheese
Bagels and cream cheese make for an easy and delicious camping breakfast or snack. Not only are they easy to transport, but they don't require any cooking – add some cream cheese to your bagel and enjoy. Bagels are also a great source of complex carbohydrates, which will give you sustained energy throughout the day.
What's more, cream cheese is a good source of protein and calcium, both of which are important for keeping your body strong and healthy. So don't forget to include some bagels and cream cheese in your camping essentials – you'll be glad you did!
Camping Breakfast Burritos
Camping breakfast burritos are a great way to start your day. They work well for camping because you can make these ahead of time , wrap them up, and put them in your cooler. Pre-made breakfast Burritos are an excellent meal because they don't require a lot of kitchen time the day of serving them. This means that you can heat and serve quickly allowing you to get on the trail.
No Cook Lunch Camping Meal Ideas
Tomato, Basil, Mozzarella Salad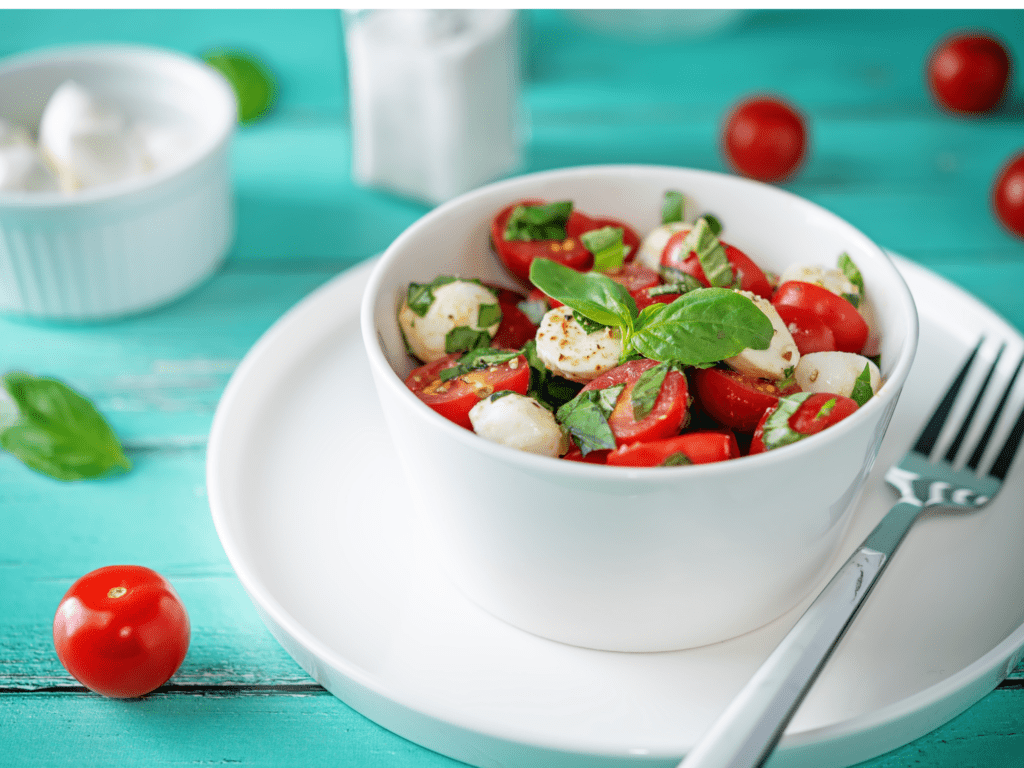 This is a simple, no cook lunch idea for your next trip!
Ingredients:
Tomatoes (peeled and chopped), Basil Leaves (chopped finely), Mozzarella Cheese Cubes
Dressing: Balsamic Vinegar, Extra Virgin Olive Oil, Garlic (chopped finely), Salt and Pepper to taste.
Instructions: Mix the chopped tomatoes with the basil
-Tomato, Basil, Mozzarella Salad: Layer ingredients in a jar or bowl. Let the salad sit for about 10 minutes to allow flavors to blend before serving.
Lox Bagel Sandwich
I don't know about you but around here we love lox bagel sandwiches. They're so quick and easy to make, and are a great breakfast or lunch option for camping trips!
Ingredients: Bagels (toasted) Cream Cheese Lox Salt Pepper
Instructions:
-Spread cream cheese and lox on toasted bagels. Add salt and pepper to taste.
Salad Kits
A salad kit is a great idea for a no cook camping meal. It will save you time and energy, plus it is perfect if you are in the mood to have a healthy meal without putting much effort into it.
Peanut Butter and Jelly Sandwiches
Peanut butter and jelly sandwiches are a classic camping lunch option for a reason – they're quick and easy to make, and don't require any cooking. Just spread some peanut butter and jelly on bread, and you're good to go.
Plus, they're portable and easy to eat on the go. If you're looking for a more substantial meal, you can add some sliced bananas or chocolate chips to your sandwich. For a savory twist, try adding some bacon or ham. And if you're feeling adventurous, you can even grill your sandwich over the campfire for a unique flavor (if the campfire is available).
No matter how you choose to enjoy them, peanut butter and jelly sandwiches are a delicious and convenient option for your next camping trip.
Cheese and Crackers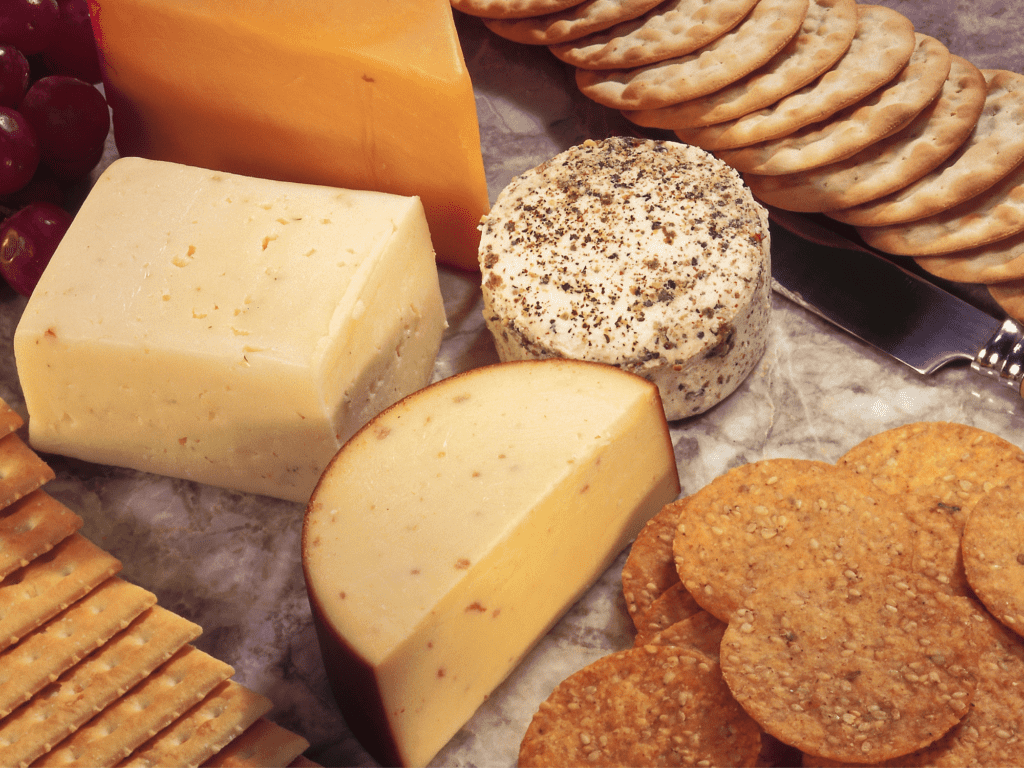 Crackers and cheese are ideal for campers because: they're easy to pack, don't need to be refrigerated, and are satisfyingly salty and filling. Also, there are endless variations to keep things interesting.
For example, you could try whole-grain crackers with sharp cheddar or graham crackers with cream cheese and jelly.
Crackers and cheese make a great portable snack to munch on during a hike or canoe trip, and you can also add them to a more substantial meal by adding deli meats or nuts. If you want to have a comfort snack right there in the woods, include this savory classic duo on your camping menu!
Cold Cuts and Bread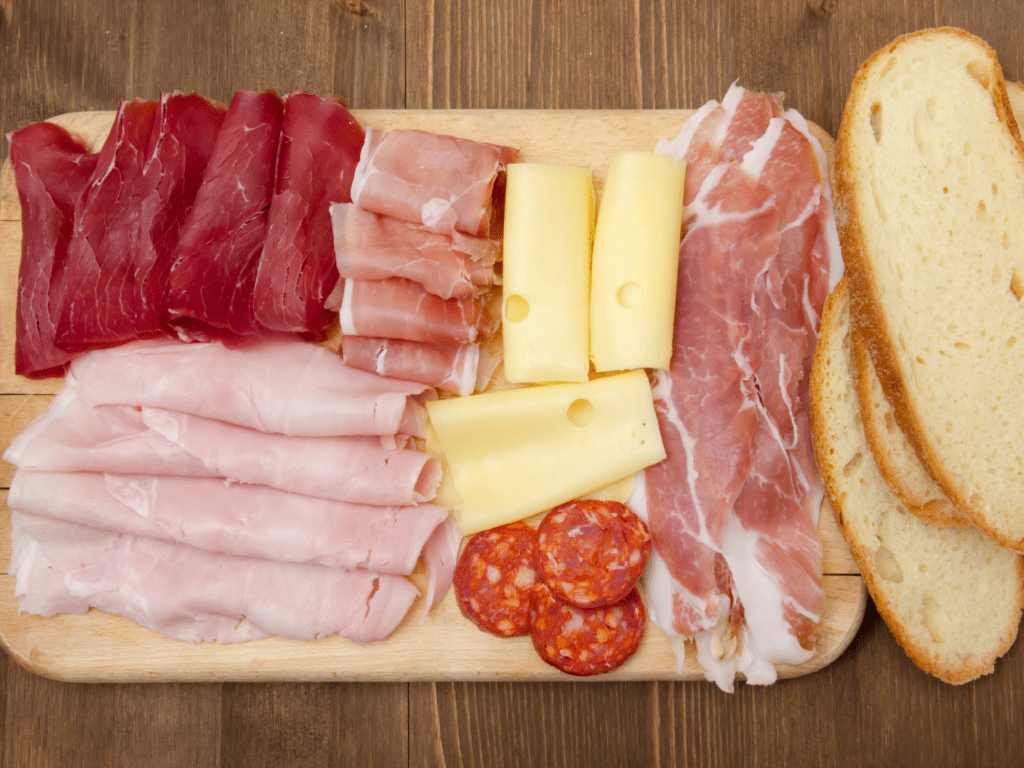 There's no need to spend hours over a campfire cooking complicated meals when camping – cold cuts and bread make for the perfect no-cook meal. All you need is a cooler to keep your meat and cheese chilled and a loaf of bread.
You can enjoy your sandwiches plain or add some condiments from home to spice them up. If you're feeling adventurous, try packing different cold cuts – salami, ham, turkey, and roast beef all make great camping sandwiches.
And don't forget the bread! A baguette is perfect for filling with meats and cheeses, but sliced bread works just as well. Enjoy your no-cook camping meal around the campfire with friends and family.
Canned Tuna
Canned tuna is a great option for no-cook camping meals. All you need to do is open the can and enjoy. Canned tuna is a good source of protein and omega-3 fatty acids, making it a healthy option for camping meals.
Plus, it's quick and easy to prepare, so you can spend more time enjoying the great outdoors. There are many different ways to enjoy canned tuna while camping. Here are a few of our favorite recipes:
Tuna Salad: Mix canned tuna with mayonnaise, diced celery, and seasonings of your choice. Serve on crackers or bread.
Tuna Pasta: Cook pasta according to package directions. Drain and mix with canned tuna, olive oil, and seasonings of your choice. Serve warm or cold.
Tuna Rice: Cook rice according to package directions. Stir in canned tuna, peas, and corn. Season with soy sauce or other seasonings of your choice. Serve warm or cold.
With these easy recipes, you can enjoy delicious and healthy canned tuna meals on your next camping trip.
Prepared Hummus
Hummus is a delicious, nutritious, and versatile food that is perfect for camping. It is high in protein and fiber and can be used as a dip, spread, or ingredient in no-cook meals.
Hummus is also easy to make ahead of time and transport, making it a heavenly option for campers who want to eat healthy, delicious food without spending hours cooking over a campfire.
Add hummus to whole grain wraps or pita bread for a quick and satisfying meal, or use it as a dip for vegetables and crackers. Mix hummus with cooked quinoa or couscous for a heartier meal, and add your favorite toppings such as grilled vegetables, feta cheese, or olives. No matter how you enjoy it, hummus is a delicious and convenient way to fuel your camping adventures.
No Cook Camping Snacks
Beef Jerky
Beef jerky is the perfect camping food – it's easy to transport and doesn't require cooking. Just open up a package and enjoy beef jerky's delicious, savory flavor. What's more, beef jerky is extremely versatile and can be added to various camping meals. For
instance, you can throw some beef jerky into your trail mix for a hearty snack or add it to your morning oatmeal for a protein boost. You can add this yum jerky to oatmeal or rice dishes to add flavor and protein. Beef jerky is truly versatile and convenient food that should be a staple of any camper's diet, especially when you're camping during cold months.
Tortilla Chips and Dip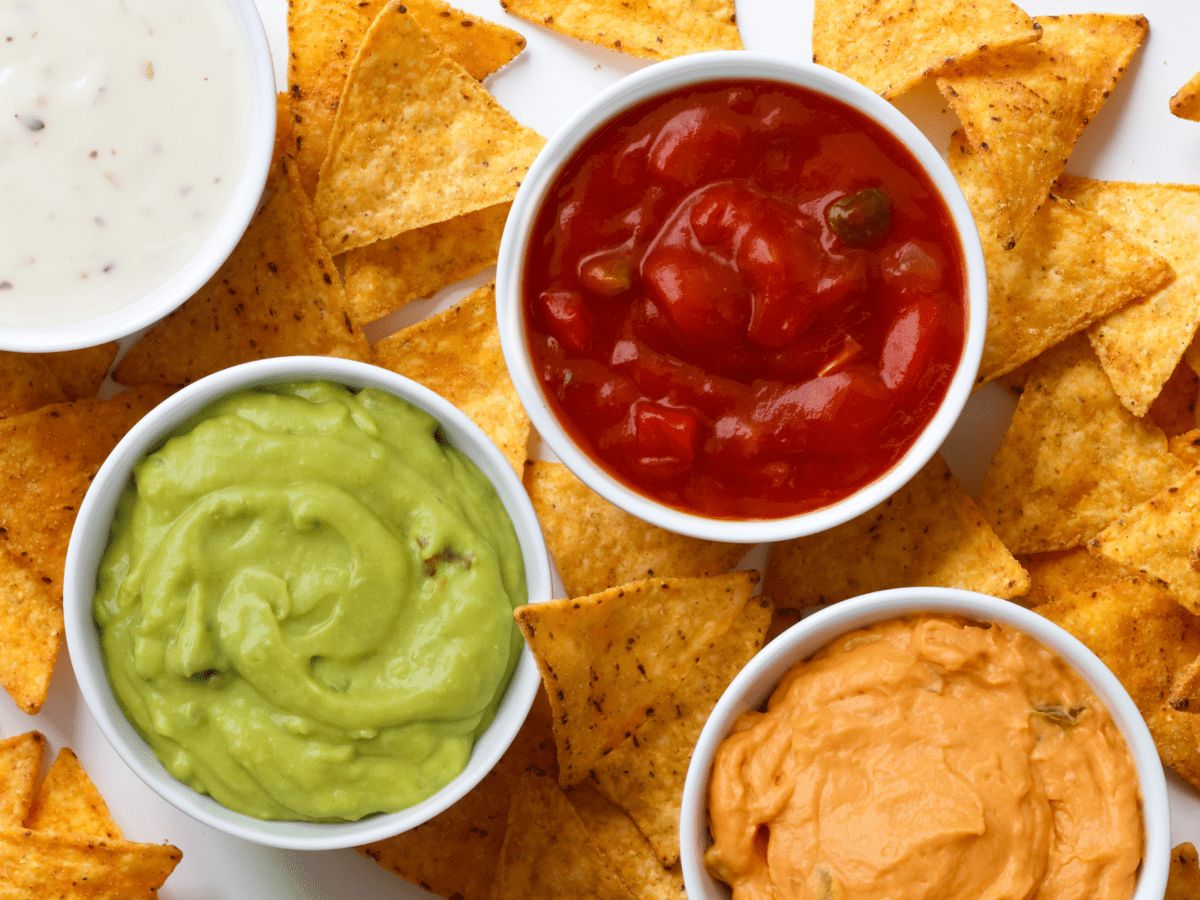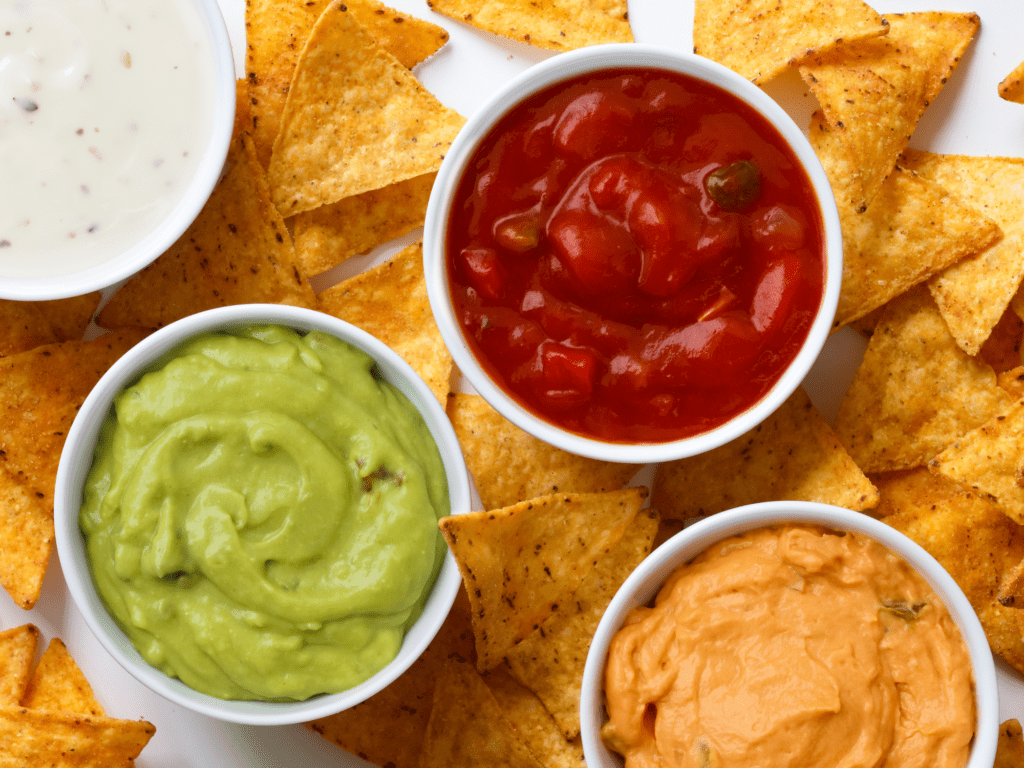 If you're looking for a delicious and easy no-cook camping meal, look no further than tortilla chips and dip. This savory combo is perfect for any camping trip; nothing can beat its convenience.
Simply pack a bag of tortilla chips and your favorite dip (we recommend salsa or guacamole) in your cooler, and you're good to go. No cooking or cleanup is required! Not to mention, tortilla chips and dip are the perfect portable snack. They're lightweight and easy to store, so you can take them wherever you go. Remember that tortilla chips and dip are must-haves for your camping love.
Summer Sausage, Mustard Pretzels and Sliced Avocado
Summer Sausage is a great no cook snack to take on your next camping adventure. Summer sausage is easy to pack and can be paired with a variety of snacks. We like to bring a couple different mustard varieties to pair with the summer sausage.
Dried Fruit and Nuts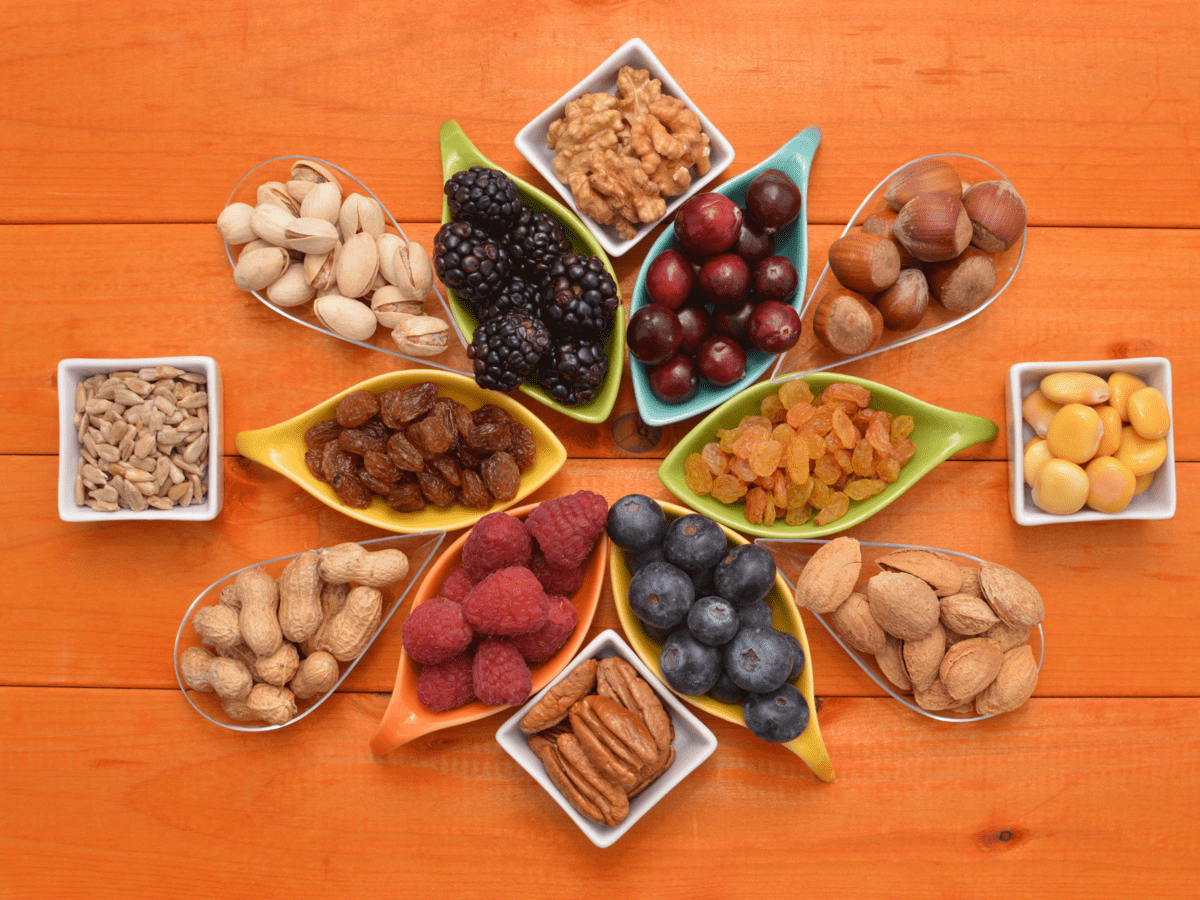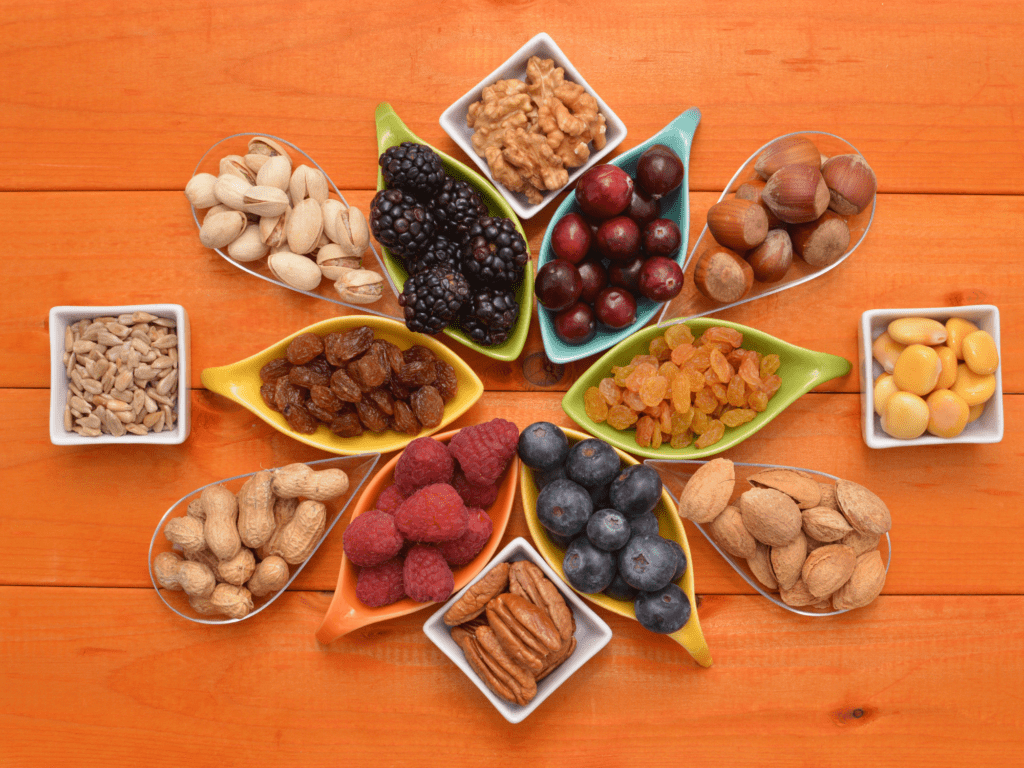 Dried fruits and nuts are the perfect camping foods for those who want to avoid cooking over an open flame. They are lightweight and easy to pack, and they provide essential nutrients that can help you stay energized during your trip. Most dried fruits and nuts contain high levels of fiber, vitamins, and minerals, making them a healthy addition to any diet.
Additionally, they are a great source of essential fatty acids, which are essential for proper cell function. You can enjoy dried fruits and nuts as a snack or add them to other dishes to create hearty meals.
For example, you can add dried fruit to oatmeal or granola for a nutritious breakfast or use them to top off a salad or veggie wrap. When you next hit the trail, pack some dried fruit and nuts for a healthy and delicious no-cook meal.
Honey Graham Crackers with Yogurt or Peanut Butter
These are a great way to satisfy your sweet tooth. They are also easy to make and will not take up much room in your cooler. Spread peanut butter or yogurt on a few honey graham crackers and enjoy. You can also try adding some granola, dried fruit, or chocolate chips to make it more interesting.
Chocolates and Energy Bars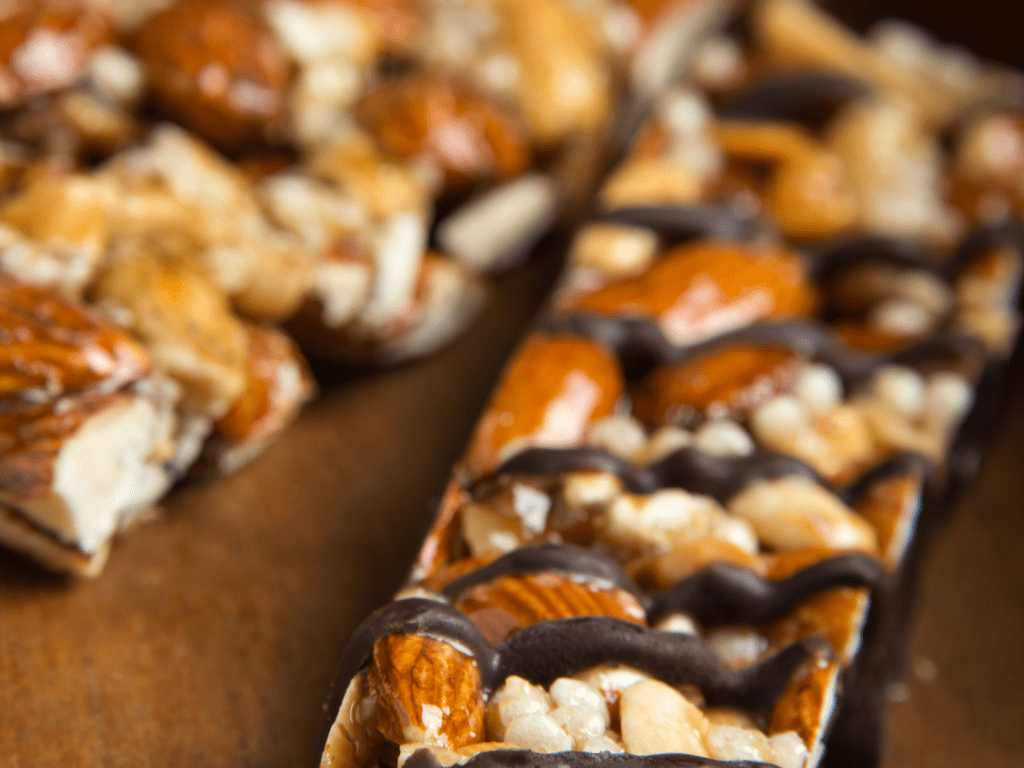 If you're looking for no-cook camping meals that are both delicious and nutritious, chocolate and energy bars are great. Not only do they provide a quick and easy source of energy, but they also contain various essential nutrients that can help you stay healthy while camping.
Many chocolate and energy bars are fortified with vitamins and minerals, such as iron and calcium. In addition, they contain fiber and protein, which can help keep you feeling full and satisfied.
Best of all, chocolate and energy bars are easy to pack and transport, making them a great addition to any camper's luggage. If you avoid processed sugars, organic energy bites are also a good option.
Peanut Butter Stackers With Dark Chocolate and Maple Syrup
Ingredients:
1/2 cup peanut butter
3 tablespoons honey or maple syrup (or a combination of the two)
4 slices whole wheat bread, toasted and cut in half diagonally
1/2 cup dark chocolate chips
Directions:
Mix the peanut butter and honey (or maple syrup) together in a small bowl. Spread on one side of each piece of bread. Arrange the chocolate chips on top of the peanut butter, then sandwich together with another piece of bread.
Nut Butter Tortilla
If you're looking for a quick no cook snack or even a camping lunch meal try out a nut butter tortilla. These are super simple to make and require zero prep. The great thing about these is they require no refrigeration and can be eaten right away.
To make a nut butter tortilla, spread some almond or peanut butter on the inside of two large flour tortillas. Add sliced banana and roll up like a wrap.
No Cook Dinner Ideas
Corn and Bean Salsa
You can use this salsa as a topping for fish, chicken, or even beef. It's also great on its own with chips. This salsa is perfect for camping trips or days at the beach. It's delicious, and it can be served with tortilla chips, veggies or as a side dish
Ingredients:
1 cup frozen corn kernels, thawed
1 (15-ounce) can black beans, rinsed and drained
½ cup chopped red onion
¼ cup chopped fresh cilantro leaves
2 tablespoons lime juice
Red Pepper
Charcuterie Board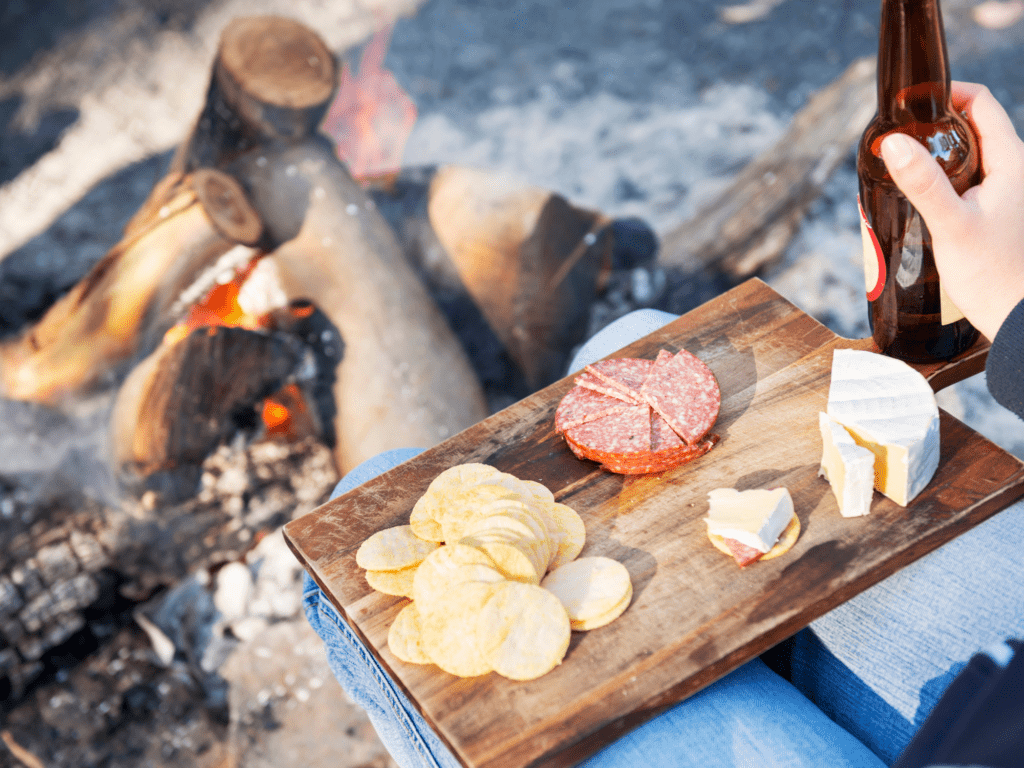 Charcuterie boards are a delicious way to prepare and serve meat. They consist of various cured meats, cheeses and condiments that you can cut up at your leisure. This makes them ideal for campers who are looking to prepare a meal without the use of an oven.
Salads or Salad Bar
Salads are a refreshing and nutritious option for camping meals, and there are many different ways to prepare them. If you're shortlisting no-cook camping meals, be sure to pack a variety of salad ingredients so you can enjoy different flavors and textures.
Canned tuna, sardines, and beans make great protein-packed additions to salads, while veggies like tomatoes, cucumbers, and onions add freshness and crunch.
For a heartier salad, add some beef jerky or shredded chicken. Don't forget the dressing – a simple vinaigrette made with olive oil and vinegar is all you need to elevate your salad to the next level. With a little planning, you can enjoy delicious and healthy salads on your next camping trip.
Ramen or Cup Noodles
Ramen and cup-o-noodles are two of the easiest no-cook camping meals you can enjoy. Both are instant meals that only require hot water to prepare, making them ideal for camping trips. Plus, they're both delicious and can be customized to your liking.
You can add vegetables, meats, or spices to the noodles to create a more filling and flavorful meal. Because they're so easy to make, you can enjoy a hot and satisfying meal right in your campervan without worrying about cooking over a campfire.
Find some flavor variations of these cup noodles and add them to your camping luggage this time for hearty dinner times.
Canned Beans on Bread
Canned beans are another versatile and nutritious option to pack for your camping meals. Beans are high in protein and fiber and can be used in various recipes. For a quick, no-cook meal, spread some beans on a slice of bread.
Add some veggies or salsa for extra flavor and nutrition. You can also use canned beans to make chili or baked beans if you have a campfire. Just add some water and heat until the beans are heated through.
Canned beans are a convenient and tasty way to fuel your plain salads and meat bowls.
Pita Bread Sandwiches
Pita bread and wraps are a delicious and easy way to enjoy a no-cook meal while camping. To make sure you have a variety of flavors and textures, pack a mix of different sandwich toppings, such as meats, cheeses, spreads, and vegetables.
For the bread, choose between pita pockets, tortillas, or flatbreads. Pita pockets are ideal if you want to fill them with many toppings, while tortillas are more versatile and can be used for wraps or rolled-up sandwiches.
Flatbreads are the most versatile option, as you can use them for everything from open-faced sandwiches to pizzas.
Smoked Chicken or Canned Chicken
When planning your next camping trip, pack some canned smoked chicken. This versatile ingredient can be used to prepare various no-cook meals, including wraps, salads, and sandwiches.
Simply combine shredded chicken with your favorite barbecue sauce and diced vegetables for a quick and easy wrap. If you're looking for something a bit more substantial, try adding chicken to a hearty vegetable salad.
For a tasty sandwich, mix chicken with mayonnaise and diced celery. No matter how you use it, canned smoked chicken is a great way to add flavor and nutrition to your next camping trip.
Cold-Smoked Sausages
Cold smoked sausages are a great option for campers who want to enjoy a variety of no-cook meals. These sausages can be easily sliced and used in wraps or sandwiches.
For a quick and delicious wrap, spread some mayonnaise on a tortilla, add sliced sausage and your favorite vegetables, and roll it up.
Try grilling the sausage and serving it on a bun with mustard and sauerkraut for a heartier sandwich. Cold smoked sausages are also convenient because they do not need to be refrigerated. Pack them in a cooler with ice packs and enjoy them for up to two weeks.
Sardine Fish Wraps
Sardine fish wraps are another great option for your no-cooking camping meals list. These wraps require no cooking, and you can make them with just a few simple ingredients. All you need is a can of sardines, some tortillas, and your favorite toppings.
To prepare the wraps, simply drain the sardines and lay them out on the tortillas. Then, add your desired toppings and roll up the tortillas. You can then store the wraps in a cooler or picnic basket until you're ready to eat. Without a doubt, sardine fish wraps are a nutritious and delicious option for your next camping trip.
Veggie Wraps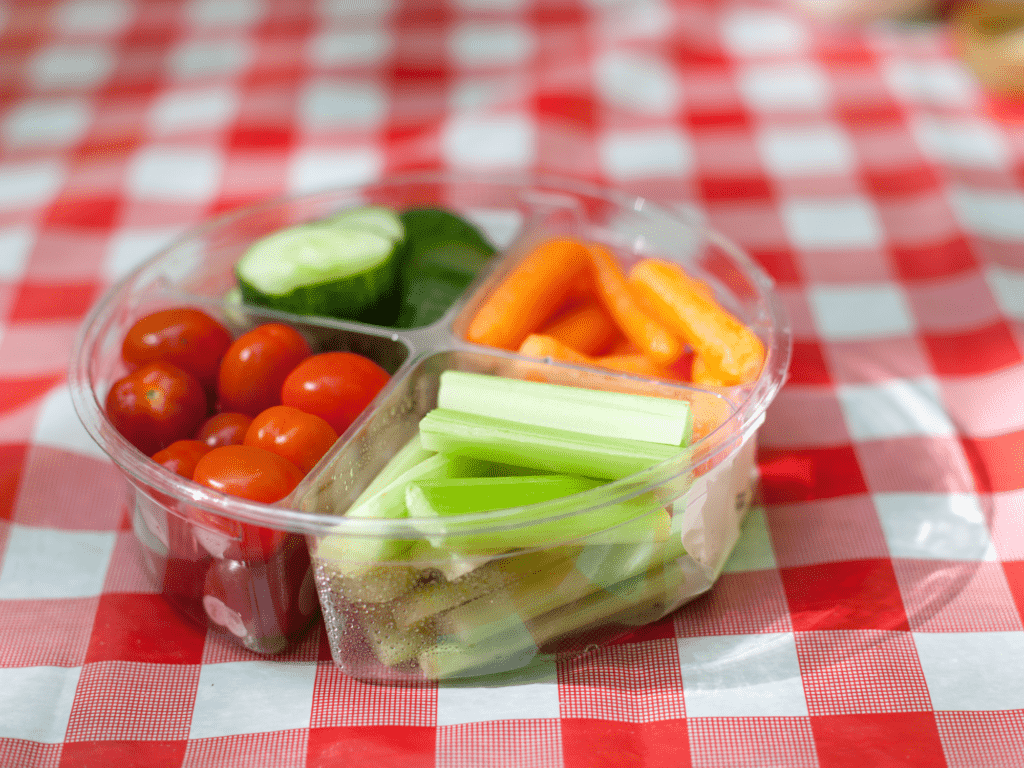 Take a flavored wrap (such as spinach or sun-dried tomato), spread it with hummus, and top it with feta cheese and fresh veggies for easy camping food that doesn't require cooking.
Veggie Sandwich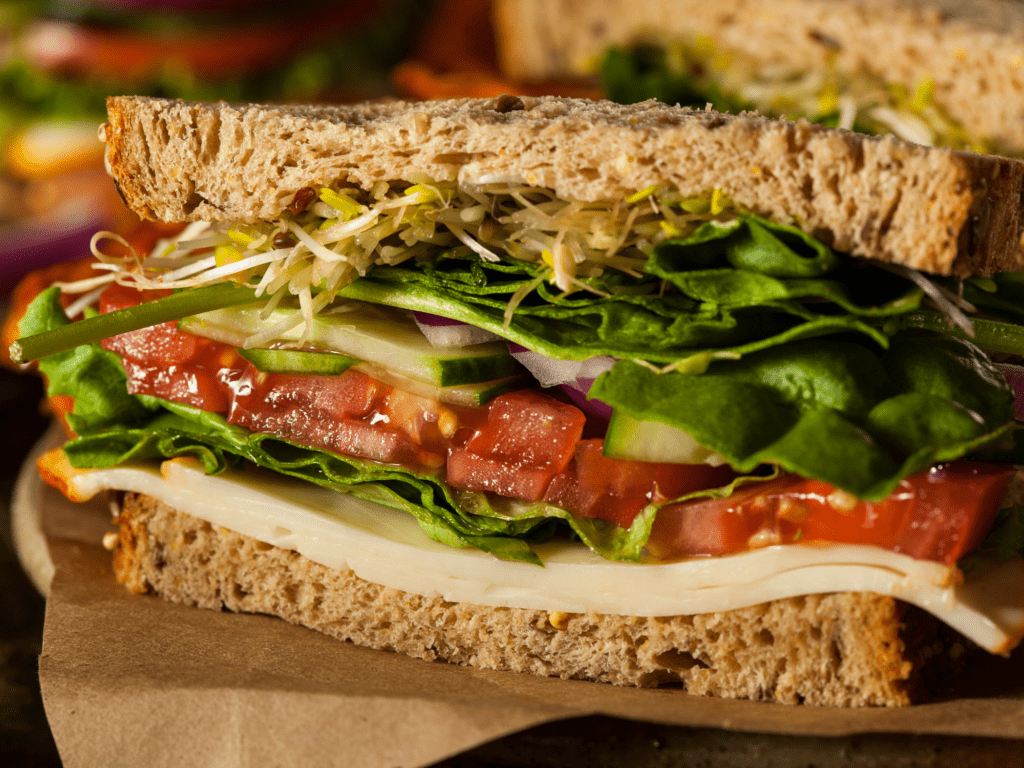 Pack a veggie sandwich for your next camping trip. You can use any type of bread, but whole wheat is recommended because it provides more fiber than white bread. Spread the bread with hummus or other healthy spreads. Then, add your favorite veggies and a small amount of cheese.
Veggie Tacos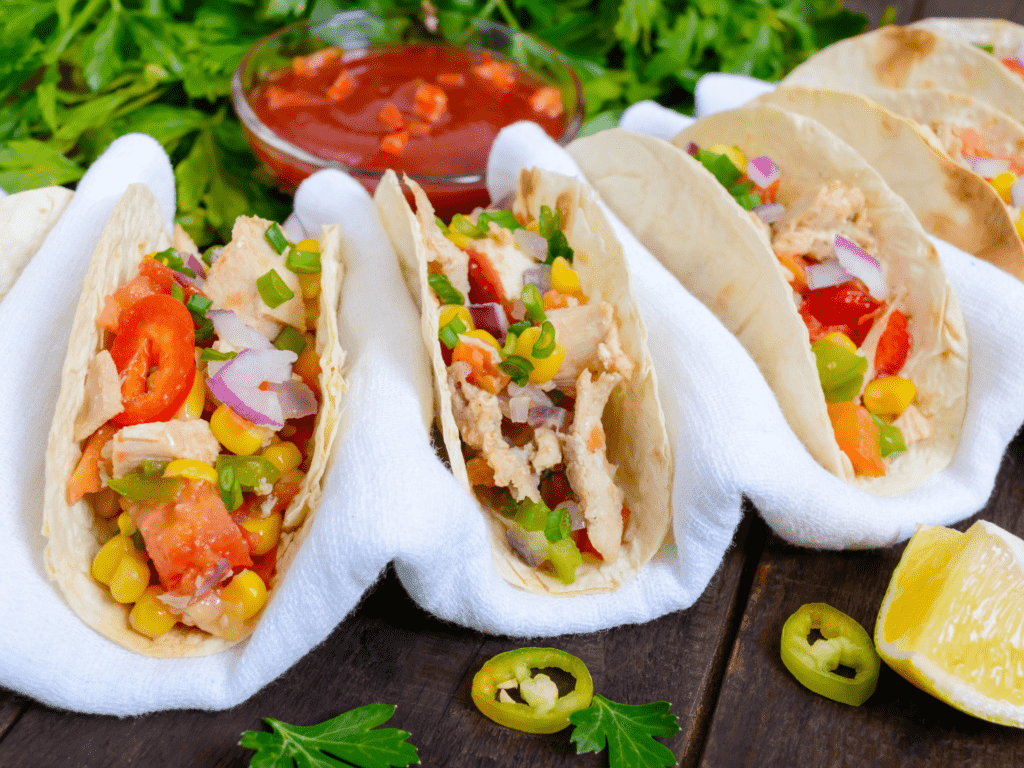 Make veggie tacos for your next camping trip. Use whole wheat tortillas, and fill them with veggies like lettuce, tomatoes, mushrooms, onions, or peppers. You can add a small amount of shredded cheese, or your favorite salsa.
Canned Spaghetti
When it comes to camping, convenience is key. No one wants to spend hours over a hot stove when they could be exploring the great outdoors. Canned spaghetti is the perfect solution for those who want a hot, satisfying meal without any hassle.
Open a can and heat it up over your campfire for a hearty meal that will fill you up after a long day of adventuring. Plus, tinned spaghetti is highly versatile and can be customized to suit your taste. Add some diced tomatoes, chopped onions, or even a bit of pepperoni for a flavor-packed meal that will make your campsite feel like home.
Time to Explore These No Cook Camping Recipes
No-cook meals are easy to make and don't require any cooking equipment or a campfire. They're perfect for when you're camping in extreme weather conditions, or you don't have access to a campfire. Some no-
cook meal ideas include PB&Js, cold pasta salads, fruit salad, veggie wraps, and trail mix. To make these meals, you must gather the ingredients before you head out on your camping trip.
That way, when it's time to eat, all you have to do is assemble the ingredients and enjoy your meal. So next time you're planning a camping trip, don't forget to pack some no-cook meals. They'll surely come in handy.