If you haven't heard of Outdoorsy, it's basically the Airbnb of RV's and campervans. Van and RV owners can put up their camper for rent giving you a great option to try van life on for size.
It sounds perfect right? You've got people that spend a ton of money on campers which sit dormant for most of the year. At the same time you've got people that would love the camper experience but there's no way they have the need or want to buy one.
Best of all the costs are very reasonable, often costing about the same as a moderate hotel. So stop making excuses and skip the hotel for a much better experience in an RV or Campervan rental.
When it comes to renting a campervan, trailer, or RV, Outdoorsy makes it easy. Every type of camper is available, from mega land yachts to a simple pop-top trailer. This really is the ultimate way to give #vanlife or RV life a try.
DO I NEED A SPECIAL LICENSE TO RENT A CAMPERVAN OR RV?
The short answer is no. Generally, if the RV is 45-feet long or less, and you aren't towing something over 10,000 pounds, then you usually don't need a special license. (This requirement varies by state).
If there are additional license requirements those will show once you register and pick the RV or van you're interested in.
FINDING THE RIGHT RV OR CAMPERVAN RENTAL
To get started you simply enter your pickup location, dates, and the type of RV or campervan you're looking for. Up comes a list of possible options in that area.
You can then filter the list based on particulars you might want like air conditioning or solar if you plan to camp off the grid.
From minivans to the biggest of big they have every option imaginable.
When you click on a particular camper you'll see any specifics that the owner lists. Such as daily mileage limits or perhaps additional costs for things like bedding. A lot of the campers will have bundles available for purchase. These may include things like paddle boards or camp chairs.
You'll see a lot of variability in what's included so check out multiple listings to find the one that's right for you. The beauty of this platform is you can direct message the owner if you have any particular questions or needs.
Once you select your Campervan or RV the owner will be notified that you're interested and has 24 hours to reply.
OUTDOORSY INSURANCE OPTIONS
When it comes to insurance Outdoorsy RV provides plenty of options which can be tailored to fit your needs. It's important to start with your own insurance to see what kind of coverage for rental cars you already have.
From there Outdoorsy can provide supplemental insurance to fill any gaps as needed.
Outdoorsy's three tiers of protection packages for renters:
RISK TAKER
Insurance Protection: State Minimum
Support: 24×7 Customer Support
Property Damage Protection: Up to $15K
Motorized Deductible: $2,500 per loss; Trailer Deductible: $2,000 per loss
ESSENTIAL
Insurance Protection: State Minimum
Support: 24×7 Customer Support
Assistance: 24×7 Roadside Assistance
Property Damage Protection: Up to $150K
Motorized Deductible: $2,000 per loss; Trailer Deductible: $1,500 per loss
PEACE OF MIND
Support: 24×7 Customer Support
Support: Concierge Services
Protection: Windshield Coverage
Assistance: 24×7 Roadside Assistance
Insurance Protection: $1M Liability Coverage
Property Damage Protection: Up to $500K
Interior Damage Protection:Hassle Free Claims
Motorized Deductible: $1,500 per loss; Trailer Deductible $1,000 per loss
You'll find that many of the rentals require you to get at a minimum the Risk Taker package.
PICKING OUT YOUR RV OR VAN RENTAL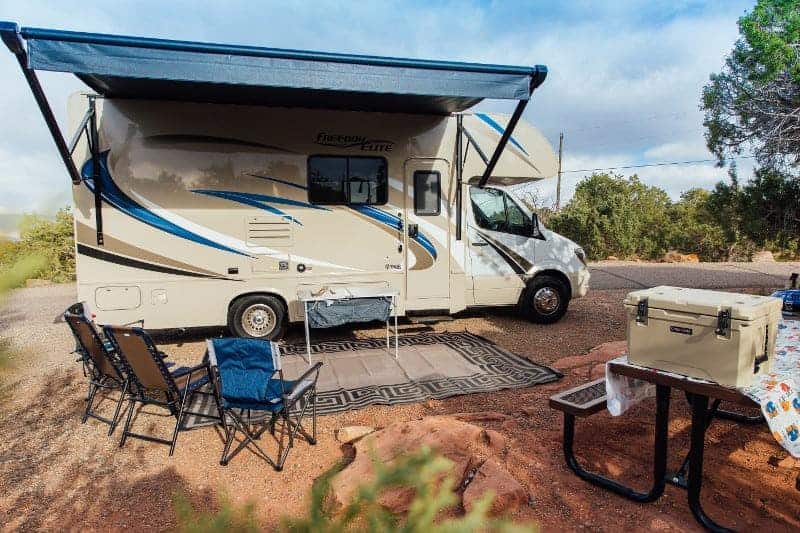 Once you select your RV or Van the owner will get a notification that you're interested in renting. They have 24 hours to respond. Once they respond you will need to make the necessary deposit to finalize the reservation. You can pay the rental fee entirely upfront or at a later time as long as you make the deposit.
Next step is to arrange a time and place for pick up. This is also the time that the owner will show you everything that you need to know about the RV or van.
They will cover things like setting up the awning, using the stove or running the generator. This will largely depend on what type of RV or Campervan you rent.
Some owners even offer the option of dropping off and setting up the camper for you at your chosen location.
OUTDOORSY RENTAL OPTIONS
There are a couple optional programs that Outdoorsy offers. The Coach-net Vacation Care Plan and their Trip Insurance.
The Coach-Net Care Plan is basically a robust roadside assistance plan. You'll have access to 24/7 technical support should you have a question about operating the RV in addition to numerous other perks like lock-outs or a dead battery help.
The Trip Insurance covers you for things you'd expect from any Travel Insurance company like World Nomads. Their coverage will protect you against trip cancellations and medical emergencies while on vacation.
Just like everything be sure to ask questions and read the fine print so you clear what is covered and what is not.
If you're new to Travel Insurance I recommend reading How To Navigate Travel Insurance and Not Get Ripped Off
PICKING UP YOUR CAMPERVAN OR RV
When it's time to meet up with the owner there's a lot to cover so here are a few essentials.
Step 1: Damage Walkthrough

The purpose of this walkthrough is to set an agreed upon condition baseline of the RV or travel trailer with the owner. You should do a comprehensive review of the entire interior and exterior, including the undercarriage and the roof. Point out all pre-existing damage and record it here on the Departure Form.
It's always a good idea to take pictures of any damage.

Step 2: Training Walkthrough

The purpose of the Training Walkthrough is to educate you on the elements and nuances of operating the RV or travel trailer. Be thorough and ask plenty of questions.
This is also a good place to snap some photos or even videos so you can reference them later should you need to.

Step 4: Driving Lesson

You will now take a quick drive to ensure you are comfortable driving the vehicle and to ask any final questions.
Outdoorsy provides all the necessary paperwork and forms for documenting everything which the owner will have on hand. Just be sure to get copies of everything you sign.
Throw in your next destination below to see what Outdoorsy has to offer.