Overland Camping For Beginners! Are You Itching for an Adventure? Here's Your Complete To Get You Started.
Do you have an itch for outdoor adventure and fresh air away from the four walls of your home or office? If so, consider the soul-soothing experience of overland camping.
Taking a cross-country trip with no boundaries, exploring nature's beauty, and making unforgettable memories is just what you need.
If you're new to this adventure, don't worry – we've got you covered with a guide to help you hit the unknown paths.
Let's explore together and get you started on your off-roading, overlanding camping adventure.
What is Overlanding?
Overlanding is a style of recreational vehicle-based expedition travel that can involve long-haul driving routes on unmaintained dirt roads and trails.
The focus of overlanding is on exploration, as opposed to reaching a specific destination as in a traditional road trip, and it involves camping outdoors rather than staying in hotels.
It is a self-reliant adventure, and the journey is the primary goal.
The technicality of the roads is not the defining characteristic of overlanding, which can take the form of both week-long excursions or shorter weekend trips. It is not the same as off-roading or "four-wheeling," though you may encounter these obstacles along the way.
Overlanding Basics To Get You Started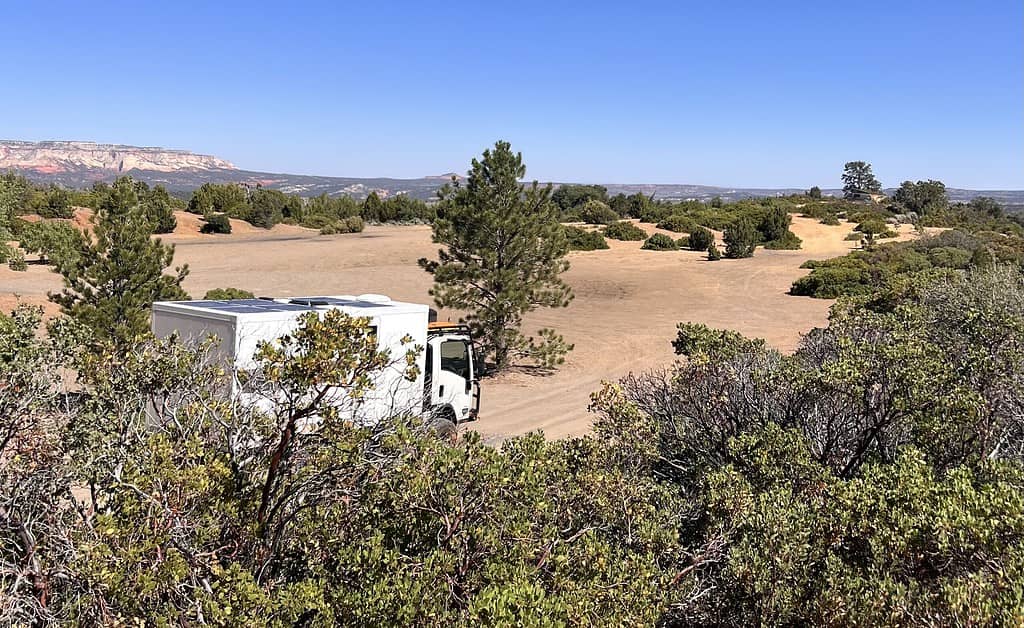 1. Start with a plan
When you plan, you'll have time to think through all the details and devise a plan for every step of the way. Make sure that you research your destination and plan out your route before you leave home so that you know what kind of terrain and weather conditions you'll be facing along the way.
2. Be Flexible and Calm
Overland camping trips are full of surprises, so it's important to remain flexible and open to changes in plans or circumstances.
Adapting quickly can help ensure a smooth trip even if things don't go as planned. If something unexpected happens like a flat tire or dead battery, take a deep breath and focus on problem-solving instead of worrying.
Above all else, remember that keeping a cool head is key when dealing with unexpected situations during an overland camping trip.
It can be tempting to panic or stress out when something doesn't go as expected, but staying calm under pressure is one of the most important skills for any camper.
Planning Your Overland Trips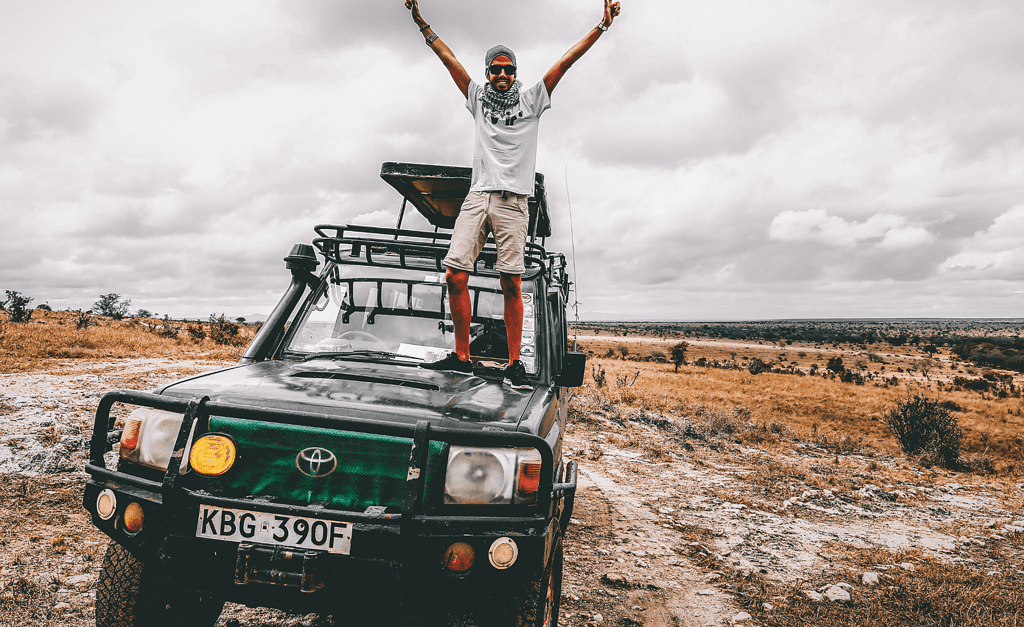 1. The first step in researching your overland camping route is to understand the terrain you will be dealing with. Are there snow-covered peaks, rugged hillsides, or vast deserts?
Knowing what type of landforms and features you will encounter can help determine what supplies and equipment you should bring.
You should also research if there are any laws or regulations that could impact your trip depending on where you're going.
Knowing these restrictions can help ensure your overland camping trip goes smoothly without any unexpected issues.
2. The next step in researching your route is to determine how long it will take to get from point A to point B and plan accordingly.
You'll want to ensure that you have enough supplies and food for your trip so that it doesn't run short before reaching its destination. Also, consider how much time will be spent driving versus camping and factor in rest stops if needed.
You May Also Enjoy
Budget For Your Overlanding Expedition
Overland camping can be an exciting way to explore without being tied down by a strict itinerary, but it's important not to forget about the financial side of things.
To start, figure out how much you're comfortable spending on the trip based on factors like the size of your group and your desired destination.
Then, create a budget for each category, including transportation, lodging, meals, and activities, and don't forget to account for additional costs like insurance and permits.
Look for campsites that fit within your budget and are near activities or attractions that interest you.
When selecting equipment, consider both cost and quality, as higher-end items may be more expensive but last longer.
Choosing The Right Vehicle For Overlanding Travel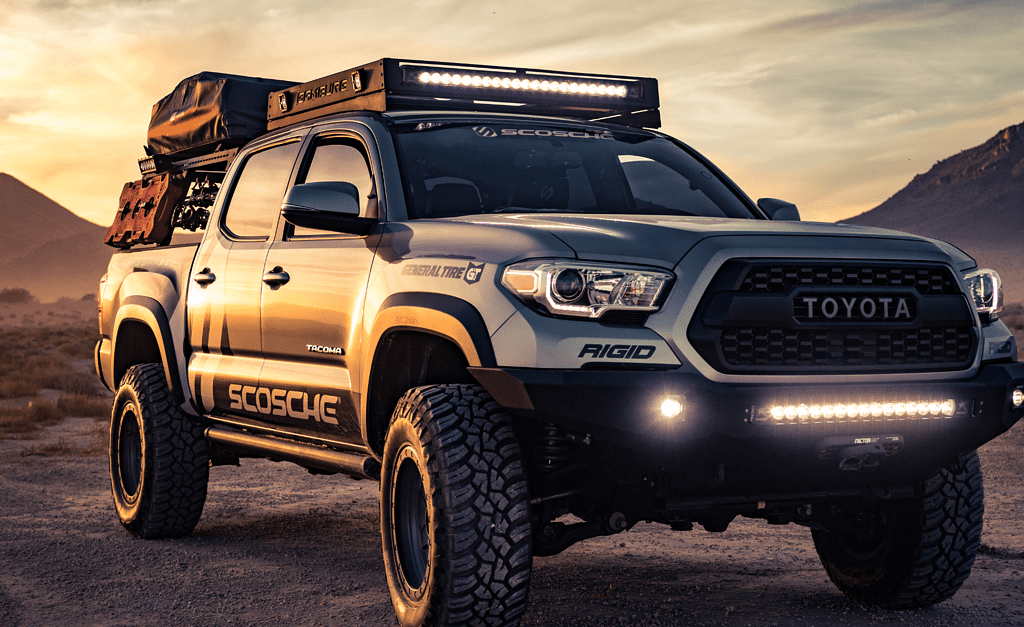 When selecting an overlanding vehicle, it's important to consider the passenger to gear ratio, as well as your personal preferences.
Pickup trucks are a great option for those who need to haul a lot of gear but not many passengers.
On the other hand, SUVs are extremely popular for overlanding because they offer plenty of interior and exterior storage, as well as other off-roading features.
Wagons, like the Subaru Outback, are also a viable option, although they don't offer the same ground clearance as SUVs.
As for vans, they are an excellent option, but require more money and work to make them off-road ready.
Best Budget Overland Vehicle
If you're looking to get into overlanding but don't have a big budget, then you're in luck. There are plenty of vehicles on the market that are perfect for overlanding, and they don't break the bank.
For example, some of the best budget overland vehicles include the Toyota 4Runner, FJ Cruiser, Tacoma, and Tundra, as well as the Ford Expedition and Jeep Wrangler.
It's also important to factor in your personal preference when selecting a budget-friendly vehicle for overlanding. Some people prefer trucks, while others may prefer a more family-friendly SUV.
The King Of King For Overlanding Travels
When it comes to overlanding, the price range for vehicles can vary greatly. There are several overland vehicles that are known for their high price tags due to their advanced features and capabilities.
EarthRoamer is a luxury, off-road RV. This vehicle comes with high-end amenities like a full kitchen, bathroom, and comfortable sleeping arrangements, making it a popular choice among those who want to travel in style.
Earth Cruiser is another well known high end expedition vehicle. If you're looking for the capabilities of the Earth Cruiser in a budget friendly model you can also check out their CORE vehicles (which is the one we currently have and DIY'd on our own).
The Global Expedition Vehicles' (GXV) is a brand that will definitely catch your eye. Watch out for these vehicles if you're in the market for an expensive overland rig. GXV's vehicles are custom-built and offer a luxurious and comfortable experience for overlanders who want to explore in style.
Overlanding Camping Setup
When planning an overland camping trip, it is important to be prepared for anything. The best way to do this is to create a detailed checklist of supplies (you'll find a checklist below).
It can be easy to overthink the gear you need for an overland trip, so it's important to stick to the basics and acquire more advanced equipment over time.
As you gain experience, you'll be able to better understand what works best for you and your vehicle.
Ground Tents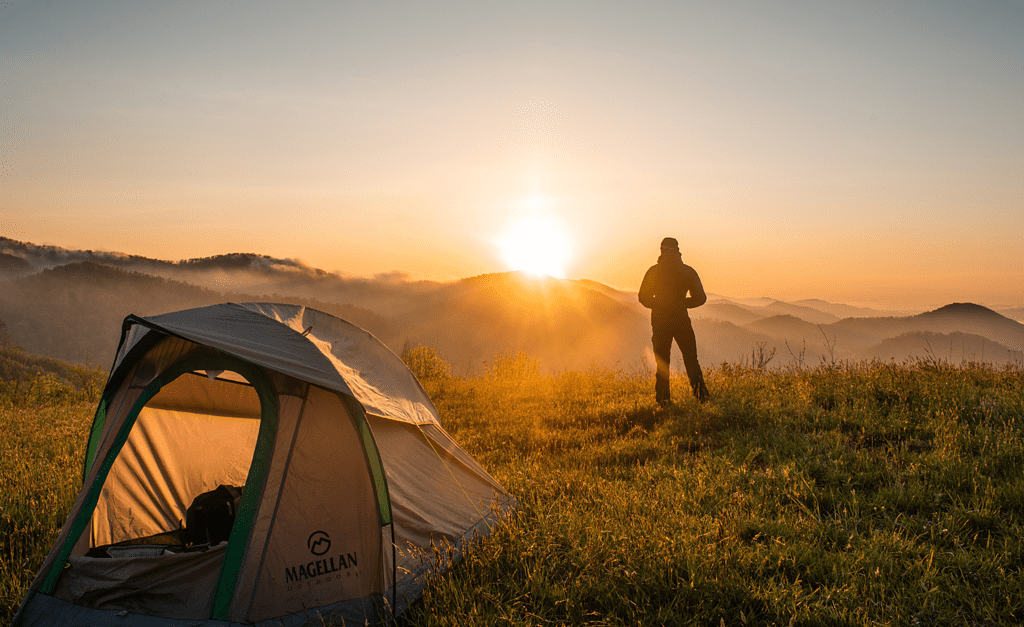 Tents are a great option for those looking for a traditional camping experience. They offer a great way to get away from nosy critters and provide a comfortable place to rest after a long day on the road.
Blackout tents are a great option for those who need some extra privacy while camping. Not only do they block out the sun, they also block out light from the outside, making them ideal for those who need to sleep in during the day.
Rooftop Tents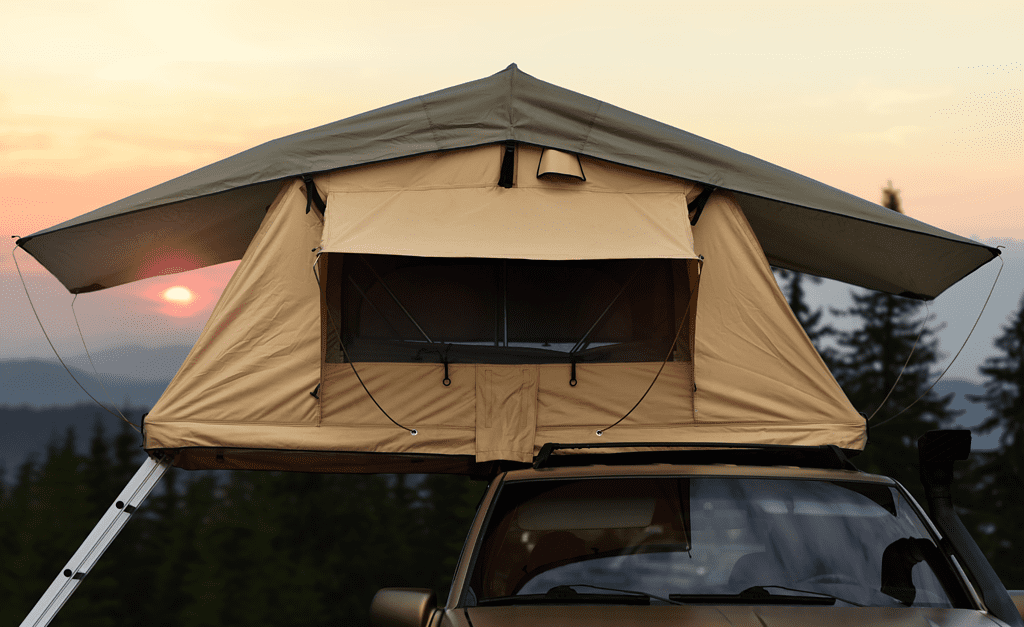 Rooftop tents are a popular option among overlanders as they provide a comfortable and secure sleeping space, while eliminating the need to search for a flat piece of land free of rocks.
Keep in mind rooftop tents are usually quite heavy, weighing around 150lbs, and can decrease fuel economy.
Sleeping Bags
Pick a sleeping bag rated for the temperature you'll be dealing with. If it's too cold outside, you'll want something rated for chillier nights, and if it's hot, a lightweight summer bag might work better.
A sleeping pad can also come in handy, as it provides extra insulation between your body and the ground, so you stay comfortable all night.
Camping Chairs
Bringing a camping chair on your overlanding trip can make a huge difference in your experience. Not only can you enjoy having a comfortable place to relax during your trip, but you can also take in the breathtaking views of the landscape.
Portable Shower Kit
For those who are looking for a bit of extra comfort, a portable shower kit is a great addition to the overlanding kit. Not only does it provide a way to keep clean while out in the wilderness, but it also ensures a more enjoyable and memorable camping experience.
Head Lamp Or Flashlights (With Fresh Batteries)
Lighting is crucial for overlanding adventures, so be sure to include a headlamp or flashlight in your kit. These tools help you navigate difficult trails, explore new areas, and stay safe.
Headlamps provide hands-free lighting for tasks like working on your vehicle or reading maps, while flashlights offer a more focused beam for lighting up tight spaces.
Overlanding Gear For Cooking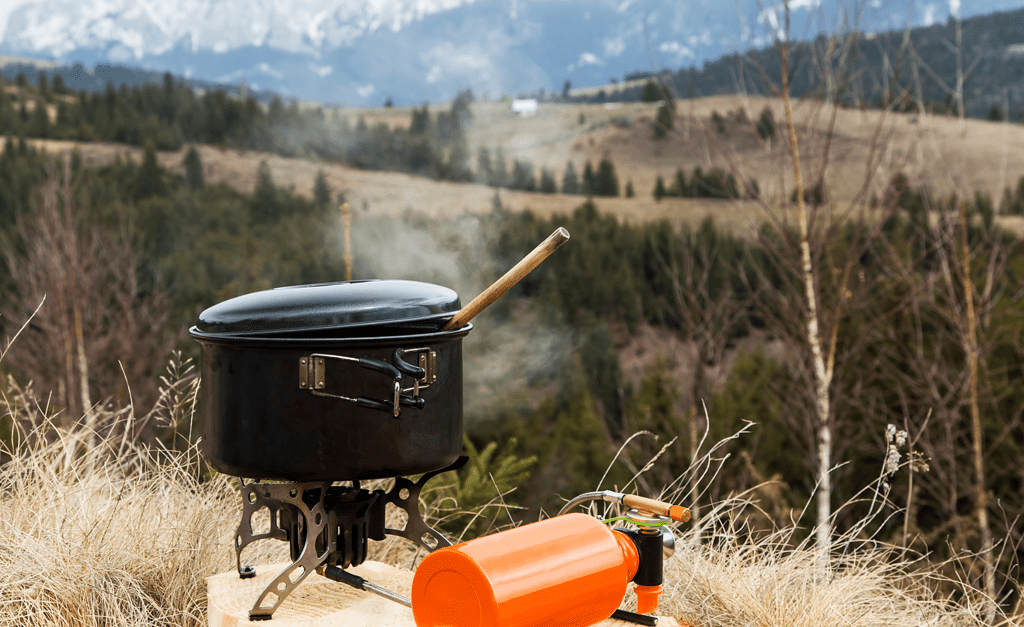 Cooking is a crucial part of overlanding, and the right gear is essential for success. To prepare for your trip, invest in quality cooking tools like a camp cooking set with utensils, dinnerware, and a propane grill.
You'll also need a compact stove, propane, lighting, insect repellent, and other essentials like a first aid kit and toilet paper. When packing, consider weight capacity and weather conditions.
Cooking Utensils
Cooking utensils are an essential part of any overlanding trip. Having the proper tools for prepping, cooking, and eating meals will make your journey much more enjoyable.
The GSI Pinnacle Camper Kit is a great option for a pre-packaged set that includes pots, pans, plates, and cups.
Other items like a thin plastic cutting board, paper towels, aluminum foil, a bottle/can opener, and a knife set are also essential.
Food
When overlanding, it's essential to bring the right food for a successful adventure. Packing one-pot recipes, foil packet recipes, or no-cook camping foods can be a great way to enjoy a delicious meal while keeping cleanup simple.
It's also important to bring enough food for the duration of the journey. Stock up on healthy snacks to fuel your body, and make sure your packing list includes a variety of fruits, vegetables, and proteins.
Water
When it comes to overlanding, having enough water is essential. The amount of water required for overlanding depends on the number of people in the group, but it is generally advised to pack at least 2L of water per day, per person.
Water Filtration Systems
It might sound too fancy, but having it can make exploring safer. Access to clean drinking water is essential when overland camping in remote areas where potable water sources may not be available or accessible.
In these cases, having a portable water filtration system can come in handy—it allows you to filter out contaminants from natural sources like rivers and streams to have safe drinking water.
Camping Stoves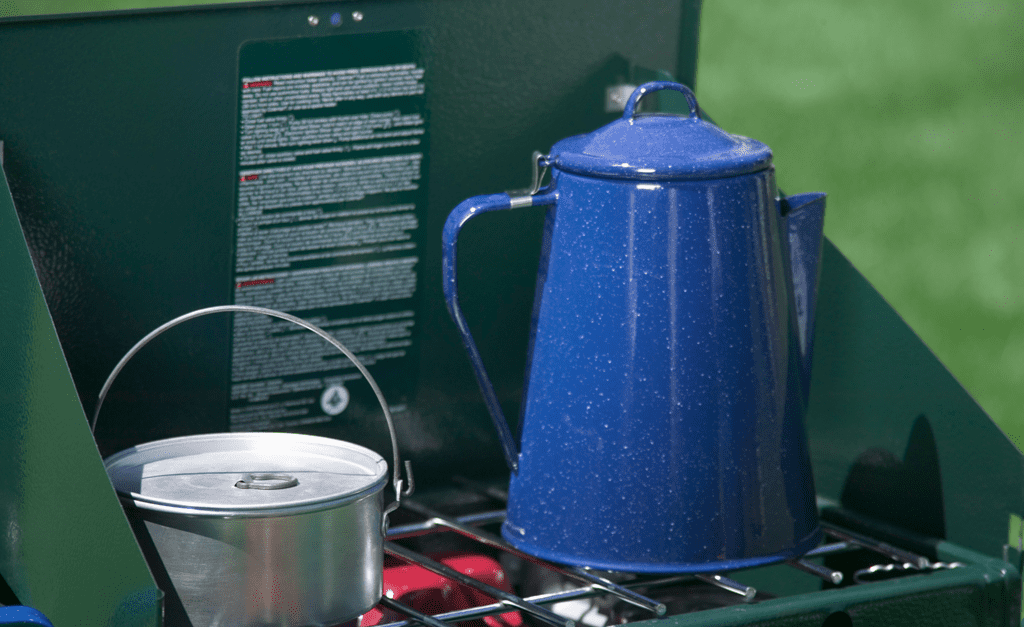 When choosing a stove, think about your cooking needs and preferences. For example, if you're planning to cook more elaborate meals, a two-burner stove may be a better choice than a single-burner stove.
Finally, don't forget to pack a lighter or matches to start your fire, and consider bringing a windscreen to protect your flame from the elements.
Keeping Food Cold While Overlanding
When Overlanding, a good fridge or cooler is essential for keeping food cold.
EUHOMY 12 Volt Refrigerator, is a great option as it functions as both a fridge and freezer. With a durable outer shell and a 45L/48QT capacity, it is perfect for long expeditions. It also has a 12V socket for powering it on the go.
Alternatively, if you don't want to invest in a 12V cooler, you can pack backpacking meals that don't need refrigeration or pack perishable food for just the first day or two.
For those serious about their food while on an overlanding adventure, investing in a bigger fridge-freezer setup with a 110V plug in is a great way to keep food cold for weeks away from civilization.
Adult Beverages
Nothing says a successful overland camping trip like some fun cocktails to enjoy under the stars. With a little planning and preparation, you can elevate your outdoor experience with some tasty and creative drinks.
Pack some basic ingredients like vodka, gin, or tequila, and some mixers like soda, juice, and tonic water.
Gear You'll Need For Your Overlanding Rig
For an overlanding adventure, it is essential to have the right vehicle essentials, navigation essentials,and the necessary tools for maintenance and repairs, such as a tire repair kit, spare parts, and a toolkit.
Supplies for Repairs
When embarking on an overlanding expedition, it is important to bring supplies to cover any potential repairs that may be encountered.
Zip ties, duct tape, and J-B Weld can help temporarily fix issues. Additionally, it is good to have a shop manual downloaded on your phone, and practice changing a tire at home.
Spare Tire
Having a spare tire while overlanding is essential. It might be the one thing that saves you in an emergency. Whether you are in the middle of a mountain pass or stuck in the mud, a spare tire can get you back on the road.
Tools Kits
Keep an emergency tool kit handy containing things like:
pliers
screwdrivers
wrenches
socket sets
clamps
spare parts like spark plugs
duct tape
rope
zip ties
Traction Boards
Having traction boards for your overlanding vehicle is essential for off-roading.
Traction boards such as MaxTrax or similar recovery boards are great if you get stuck in sand, mud, or snow, as they provide your tires with additional traction.
They can also be used to even out large rocks or create a portable boat ramp.
Air Compressor For Adjusting Tire Pressure
When overlanding, having an air compressor is an essential tool to have in your kit. Not only does it make it easier to air down your tires for improved traction, but it also makes it much easier to air them back up when you're hitting the open road.
Additional Exterior Lights
Having additional exterior lights can be extremely helpful. Not only do they allow you to travel safer through the dark, but they also provide an abundance of extra light to help you set up camp or perform repairs.
Having lights installed on the outside of your overlander will make navigating at night a lot easier and safer. And if you need to perform repairs at camp after dark, then having extra lights will definitely come in handy.
Extra Fuel Tanks
When traveling remotely, it is important to be prepared for the worst case scenario. This means packing extra fuel tanks in case you run out of fuel in the middle of your journey.
Having a full jerry can or two as an emergency reserve can save your life in the event of an emergency. You should also invest in an automotive fire extinguisher, just in case.
Shovel
Having a shovel for your overlanding adventure is essential. Not only is it great for digging out dirt and rocks, but it can also be used to cut through roots, ice, and mud if you get stuck while out in the backcountry.
This is a popular overlanding shovels because of its durability and versatility. It even has a special blade that is designed to cut through roots, ice, and mud. It can be a lifesaver if you get stuck in sand, mud, or snow and your tires need extra traction.
Satellite Communication
Another important item to bring is a satellite communicator like the Garmin InReach Mini. This will ensure that you can call for help if you run into trouble that you cannot fix.
Fire Extinguisher
When packing for your overlanding trip, one essential piece of safety gear is a fire extinguisher. Make sure to purchase one that is rated for automotive fires, as these are made for cars and trucks.
While a fire extinguisher won't save a vehicle that is engulfed in flames, it can help prevent a small accident from escalating.
Tow Strap
When overlanding, it's important to have a tow strap on hand as you may encounter situations where your vehicle gets stuck.
Make sure to choose a tow strap that is rated for the weight of your vehicle and never use it to tow a loaded vehicle.
Personal Safety Items You'll Need For Overlanding
Personal safety is paramount when it comes to overlanding. When embarking on an off-roading adventure, it's important to bring along essential items to ensure everyone's safety.
Emergency Kit
A first aid kit is essential for any outdoor activity and should include items such as gauze, bandages, wound cleaning agents, an emergency blanket, a splint, and anything else necessary to account for allergies and any other medical needs.
Additionally, you may want to consider some of the below items
multi-tool and pocket knife should be included to handle various tasks
A fire starting kit
various sized tarps as they help provide light and shelter when needed.
Rescue signals such as flares
Paper Map
It is recommended for all overlanding enthusiasts, and especially for newbies, to bring a paper map when traveling out into nature and back into civilization.
Paper maps are an essential backup in case your digital navigator fails, as technology can be unreliable when traveling off the beaten path.
Additional Items You May Want To Consider For Overlanding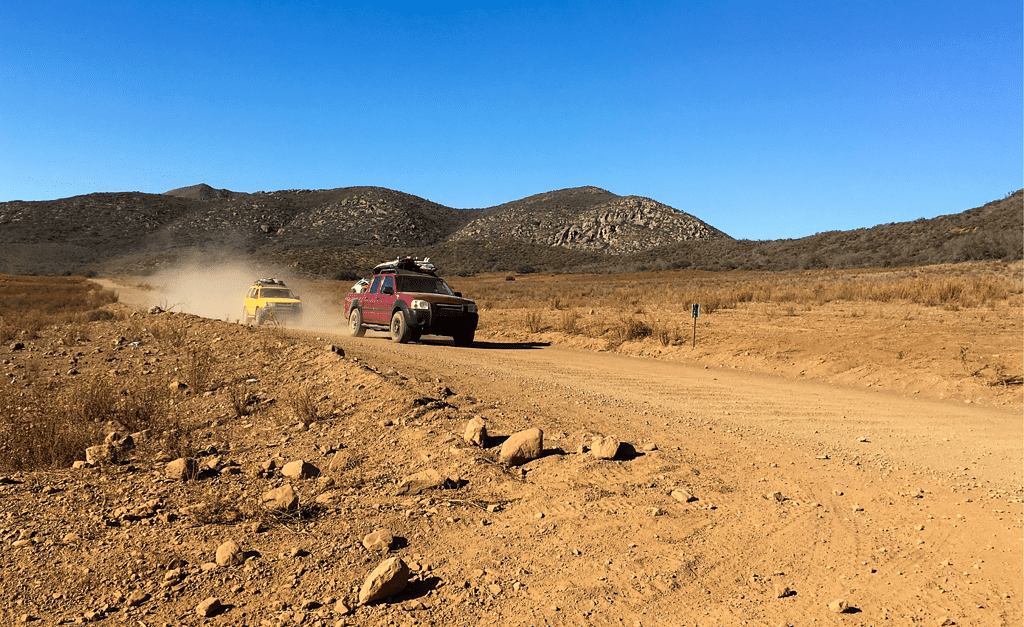 Navigation Systems
Navigation systems are essential when going off-roading or overland camping because they help keep track of your location at all times.
You can use them to find campsites or other points of interest near your destination without having to rely on paper maps or guesswork.
Most GPS devices offer topographic maps, route planning capabilities, waypoint tracking, route avoidance options, and more—all of which can help ensure your adventure goes smoothly from start to finish.
Cash
Additionally, it is wise to bring cash with you, divided between multiple hiding places in your vehicle.
Spare Key
You should also have a spare key, either secured externally in a lockbox or carried on the person of another traveler at all times.
Is Your Vehicle in Tip-Top Shape?
Here comes the most crucial aspect of your weeks or months-long overland trips – your four-wheeler. If you want to avoid any unexpected hiccups on the way, you should ensure your vehicle is in tip-top shape before you head out.
Here are a few tips on how you can prepare your vehicle for an overland camping adventure:
Check the Vehicle Fluids
Before you set out on your adventure, all your fluids should be topped off and up-to-date. This includes oil, coolant/antifreeze, windshield wiper fluid, brake fluid, power steering fluid, and transmission fluid.
It's also important to check all hoses and filters connected to these fluids to ensure they are in good condition. This will help avoid any potential breakdowns while on the road.
Test Your Battery
Your battery is essential when it comes to powering all of the electronics in your car. Make sure that it's in good working condition by having its terminals cleaned and checking its voltage level with a voltmeter or at a repair shop.
If necessary, replace it with a new one so that you have no problems during your journey.
Additionally, if possible, bring along some jumper cables just in case.
Check Tires Pressure & Alignment
The tires are another important component of your vehicle that needs to be checked before embarking on an overland camping trip.
Make sure that each tire is filled properly with the right amount of air pressure according to the manufacturer's recommendation for optimal performance.
Additionally, inspect them for any wear & tear and check their alignment since this could affect how well your car handles different roads and terrains.
Check Lights & Electronics
Make sure all lights are working properly, including headlights, tail lights, etc., so that other drivers can see you clearly at night or during bad weather conditions such as fog or rain.
Also, double-check all electronic components like windows & locks and see if they're working properly before leaving – this will save time if something doesn't work while on the road.
Research Local Laws & Regulations
It's always smart to research local laws and regulations when going on an overland camping trip – this includes researching what type of permits may be required for crossing certain borders or accessing certain areas.
Practice Driving In Varied Terrains
For beginners in overlanding, it's important to practice driving in a variety of terrains. Understanding your vehicle's clearance and tire rotation is crucial.
Start with easier off-road trails and stay within your comfort zone, driving a vehicle you are familiar with. It's recommended to have a buddy with you in case of emergencies, especially if you're going off-road.
Picking Your Overlanding Camping Sites
When you're picking a camping site, prioritize safety and convenience. Look for sites that provide easy access to water and shelter. If possible, pick a location that is visible from the road, so you feel more secure at night. You should also look for flat land, with shade, and a clear view of the horizon and sky.
Overlanding Resources To Help You Adventure
Overland Expo is an outdoor event held in various locations throughout the United States.
Gaia GPS is a mapping service that allows you to navigate using
iOverlander is a helpful app for finding remote campsites, including national forest land and urban stealth camping spots.
GasBuddy helps you find the cheapest gas along your route
Get Out And Explore Overland Camping
Overland camping is an unparalleled experience that offers a unique sense of connection with nature. It allows us to appreciate our small yet significant place in the world while inspiring us to push our limits and embrace the spirit of adventure.
FAQ
What vehicles are best for overland camping?
The best vehicles for overland camping are the Toyota Landcruiser and Land Rover Defender, though they can be cost-prohibitive. Alternatives include the Land Rover Discovery II, Toyota 4Runner, FJ Cruiser, Sequoia, Tacoma, Tundra, Ford Expedition, and Jeep Wrangler.
How do I find the right campsite for overland camping?
When searching for a campsite, utilize social media, overlanding forums, and local gear shops for advice.
YouTube, Facebook, and Reddit offer great tips on vehicle build-outs, and the Overland Journal provides professional insights.
Local resources like gear shops and mechanics can offer valuable camping gear and vehicle maintenance advice. Remember to research your route, weather, road conditions, local wildlife, and available camping sites before you set out.
What safety precautions should I take when overland camping?
Ensure a safe and enjoyable overlanding trip by planning ahead and taking precautions. Research the route, weather, road conditions, meals, wildlife, and camping sites. Upgrade, maintain, and pack your rig with necessary supplies and gear, including emergency equipment. Reliable communication and recovery gear provide peace of mind. Understand your vehicle's limits and wildlife safety. If uncertain, make the safe decision to turn back. By following these precautions, you can explore the great outdoors with peace of mind.
What type of terrain is best for overland camping?
The best terrain for overland camping depends on your vehicle. All-terrain vehicles with four-wheel drive are ideal for exploring rugged terrain with mud, rocks, sand, and water. Trails vary in difficulty, with some being challenging and others more forgiving. Beginners should stick to trails that match their skill and vehicle capabilities, with basic obstacles like rocks and sand. As you gain experience, you can explore more difficult overlanding trails with challenging obstacles like steep hills and tight turns.