Are you prepping to head out on your next overland trip but looking for the best camp kitchen setup? If so, we're here for you!
Life on the road is an adventure
– there's no telling what you'll see or where you'll end up. But there's one thing you can always count on: delicious food cooked at the campsite after a long day of exploration.
But! Overland cooking isn't always so simple, and you must follow a practical approach. Sure, you can purchase a big setup, load it in your rig, and get going.
As long as you have the proper gear and know some basics about cooking outdoors, you can enjoy fresh meals no matter where you are.
In this quick guide, I'll share the most practical advice you need to make amazing meals while traveling. Whether you're cooking for yourself or a group, these tips will help make your campsite mealtime a success.
So get ready to fire up that stove and cook up something tasty!
What is an Overland Cooking Setup?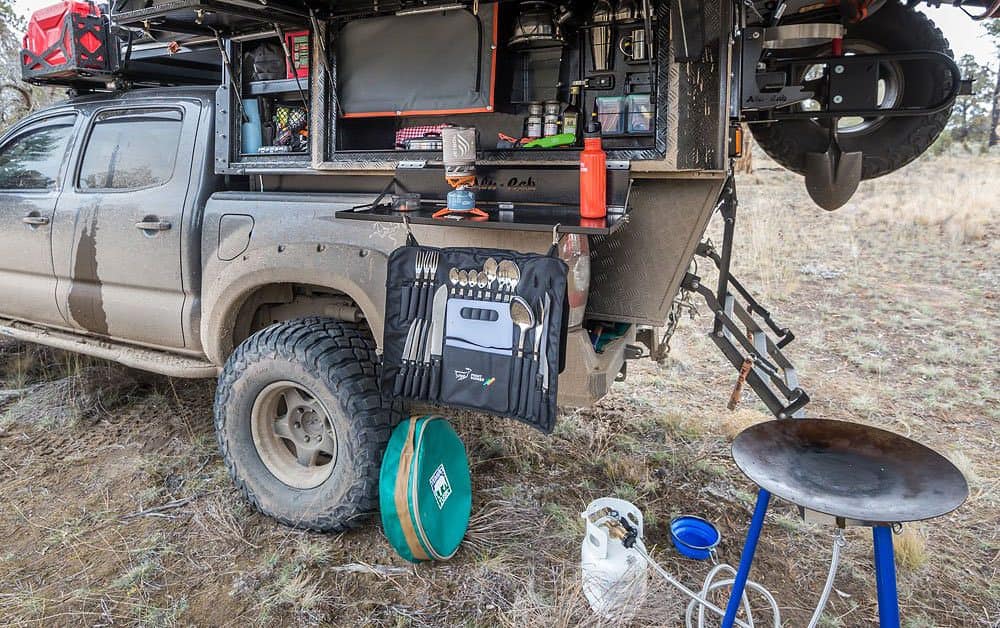 With overland cooking, you can make tasty and healthy meals while exploring the outdoors. It doesn't matter if there's no kitchen where you're going; as long as you have the right gear, you can cook anywhere.
From having good food, portable stoves, cast iron skillets, and Dutch ovens, enjoying all your favorite dishes in nature is possible with a little planning and preparation!
How is an Overland Kitchen Different From a Traditional Camp Kitchen?
An overland kitchen is designed to be more efficient and convenient with space-saving features that normal camp kitchens don't have.
Overland kitchens are usually built out of lightweight materials like aluminum, which makes them easier to transport and set up in your campsite.
They also feature foldable surfaces, shelves, and drawers to help you keep all your cooking supplies neat and organized.
Related Info What Is Overlanding? The Best Tips For Your Next Adventure
Things To Consider For Your Overlanding Camp Kitchen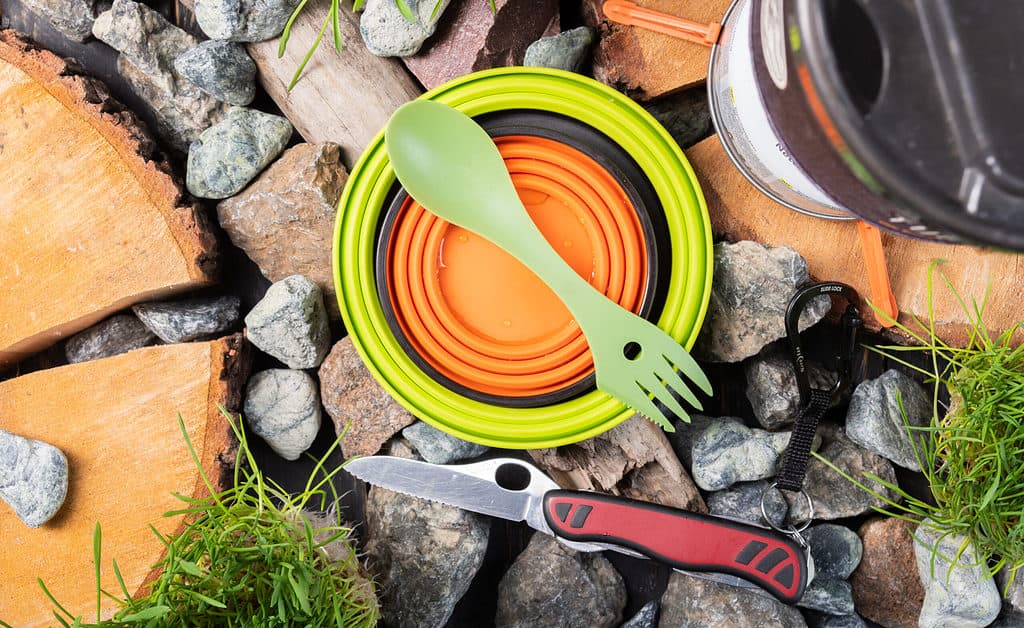 1. No matter where your journey takes you, an overlanding kitchen should be easy to set up and take down.
2. Use food storage methods that allow you to store the most amount of food in the least amount of space.
3. Store your dishes and utensils in a way that doesn't use up too much space. We recommend using foldable or collapsible dishes and kitchen utensil rolls to keep things organized and minimize clutter.
4. Weatherproofing (and animal proofing) may be necessary for some Overlanding kitchens, depending on the climate and wildlife.
You May Also Enjoy:
Food Storage While Overlanding (What You'll Need)
The first important thing for your overland cooking haul is food storage. After all, you can't cook what you don't have!
But what do you need to store food for overland cooking, and how can you safely keep it until it's time to cook?
A Storage Container for Dry Goods
First, you need a storage container that doesn't take up much space for your dry goods like spices, flour, oil, and other shelf-stable items.
This will make transporting these items from home to the campground easier and keep them safe from bugs or moisture.
Your overland dry goods container can be anything from a simple Tupperware container to more durable plastic or metal containers.
Cold Storage Cooler Bags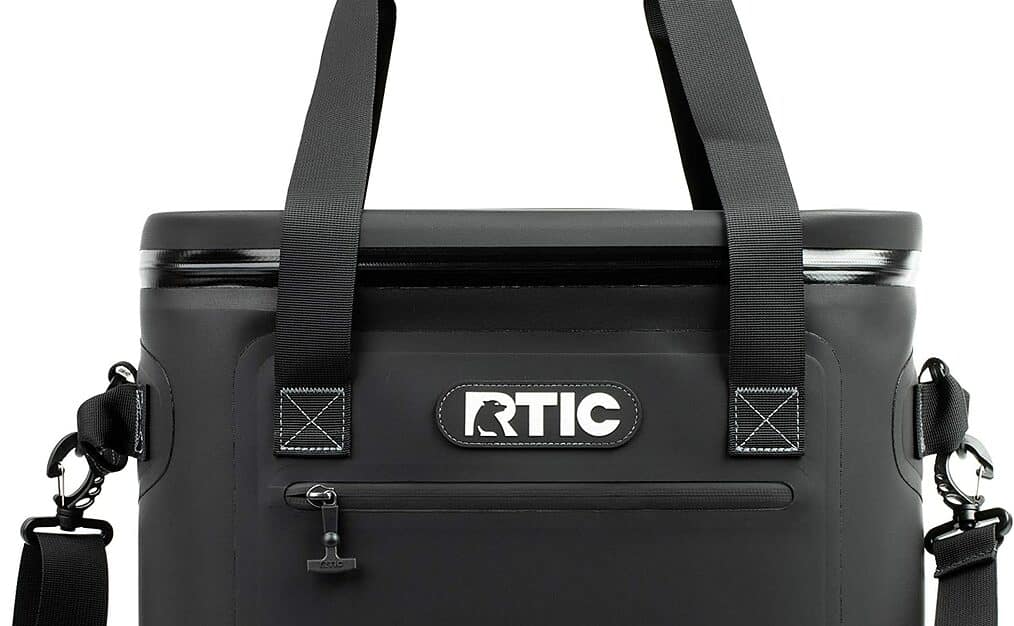 Depending on the duration of your trip and the type of food you're packing, you can get a variety of storage containers. Cold bags/cooler bags are insulated; they keep cold food cold and warm food warm for a limited time.
Hardshell Cooler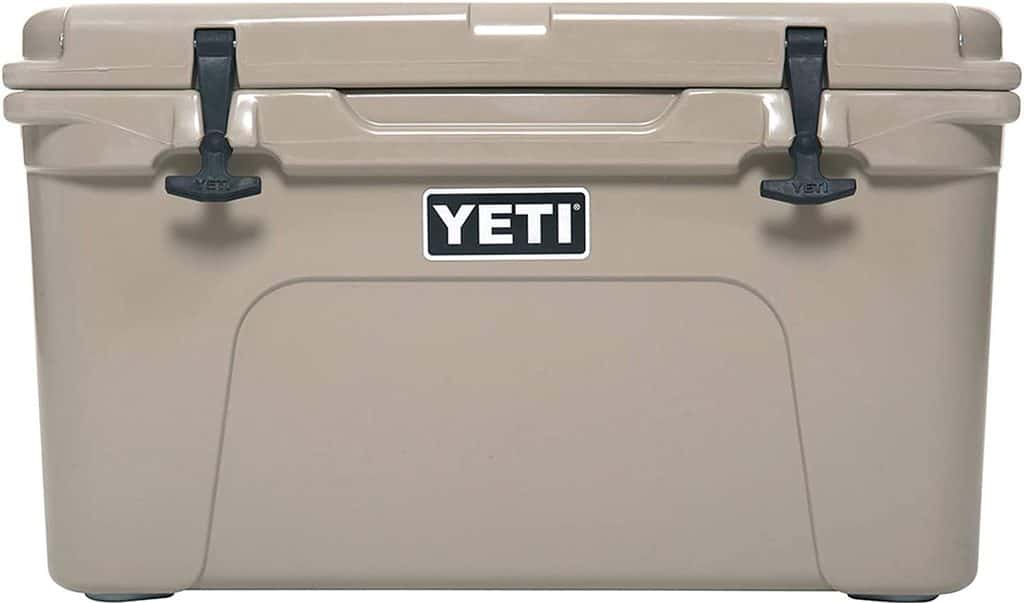 A hardshell cooler is a must-have item for any overland cooking setup. It's essential for keeping your food and drinks cold and will typically be the first item you pack for an outdoor adventure.
Not only do hardshell coolers keep things cold, but they also double purpose as a seat or a handy workspace!
A Compact Refrigerator
A small refrigerator is a key component of an overland cooking setup. Sure, you can use a hardshell cooler, but you must re-stock with ice.
If you're going to be gone for an extended period, a fridge is where it's at. It's a great way to keep food cold and safe from spoiling during extended trips and provides a place to store all your ingredients for easy access.
A refrigerator also allows you to make meals requiring refrigerated items such as dairy, butter, and meat. Once again, sure, you can use a hardshell cooler, but the reliability of a fridge can't be beaten.
Storage For Produce And Veggies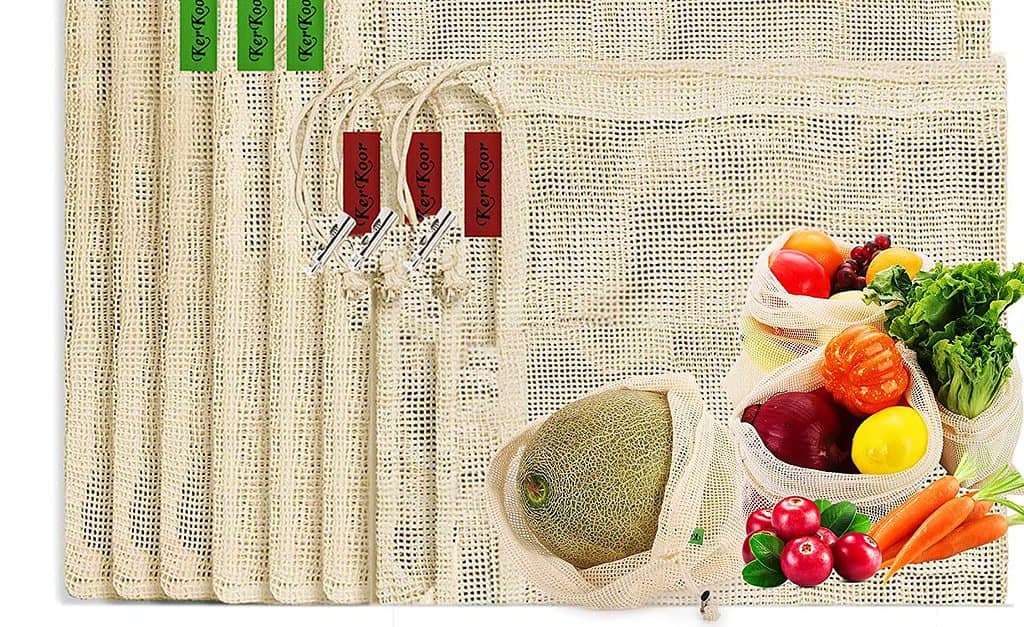 If you store How to Safely Store Food In A Cooler

Once you have all the necessary items, it's time to learn how to safely store food for overland cooking. Here are some quick tips you can follow:
Make sure your cooler is clean and free of debris before putting any food inside. Wrap your food tightly in plastic wrap or aluminum foil before putting it in the cooler. This will help keep your food fresh and prevent it from drying out or leaking.
Put heavier items on the bottom of the cooler and lighter items on top to prevent your cooler from tipping over and spilling all your food out onto the ground.
Bear And Animal Proof Your Food
Another important consideration for food storage is protecting your food from animals. If you're camping in an area where bears or other large animals are present, store your food in a safe place where animals can't get to it.

The best option is a bear-proof container specifically designed to keep animals out. If you don't have a bear-proof container, you can hang your food up high in a tree or protect it by keeping it in your vehicle.
Water Storage For Overlanding
Overland travelers need to be able to store water in their vehicles to have a potable water supply for cooking and drinking. Various water storage systems are available, from collapsible containers to permanent tanks.

Those who will be out for an extended amount of time may also have to consider an onboard water filtration system. If you're a seasoned overlander, you may even consider pulling water from natural sources,
Camp Kitchen Essentials You Need For Your Overland Cooking Kitchen
First things first, there are a few items you must have for successful overland cooking.
Overland Cooking Stove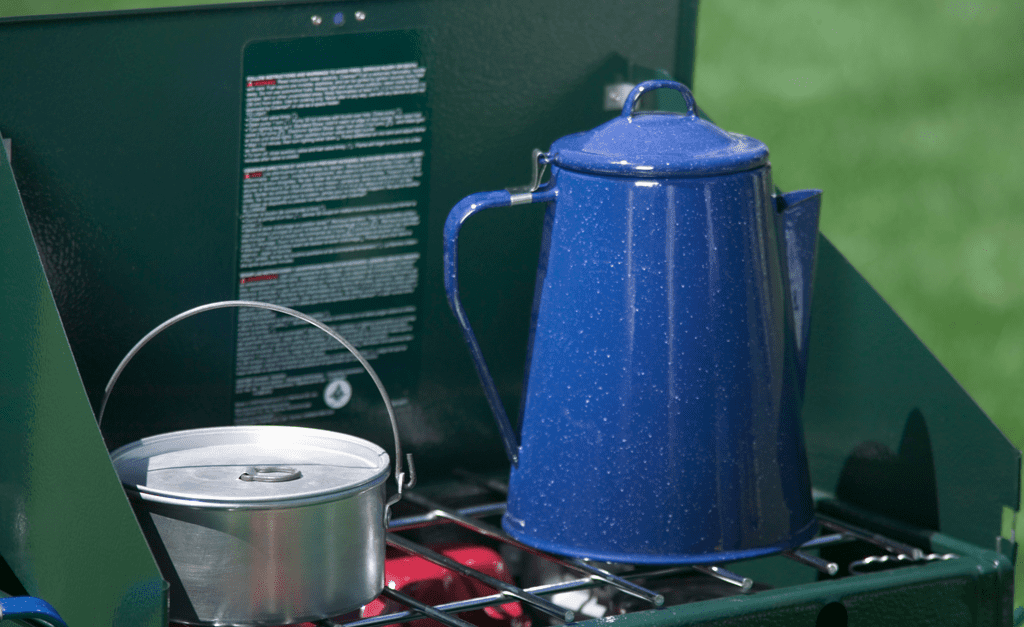 The first and most important piece of equipment for overland cooking is a portable stove; this is the heart of your overlanding kitchen.

A good stove will allow you to cook delicious meals no matter where you are, whether it be in the wilderness or at a campsite.

Various options are available for different fuel sources, including propane, white gas, or isobutane-propane canisters. There are many types of wood-burning stoves on the market, so choose one that best suits your needs.
Cast Iron Skillet Or Other Pots and Pans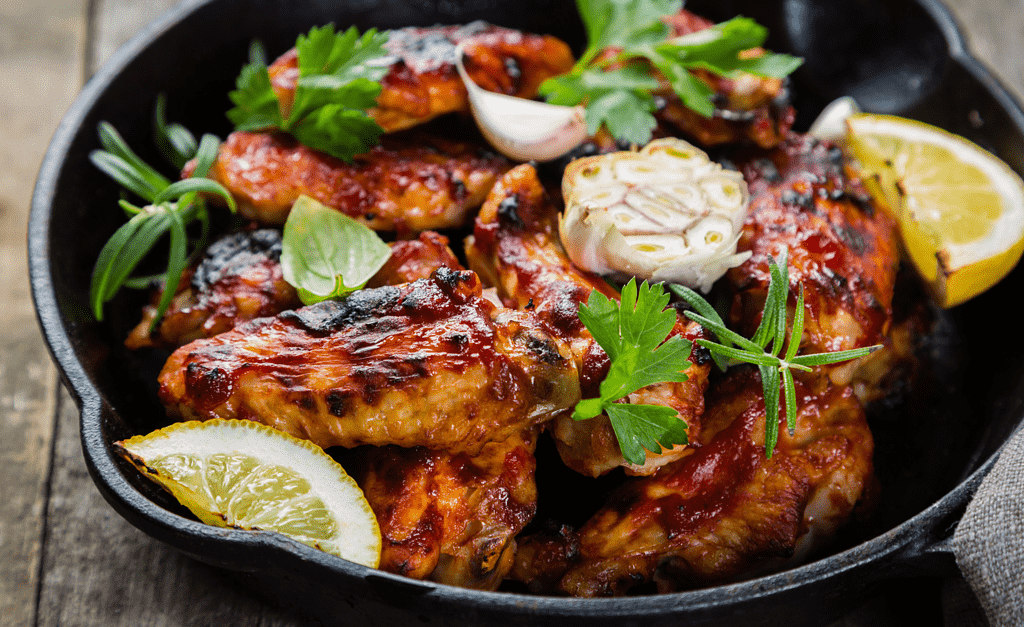 When it comes to pots and pans, there are two schools of thought among overlanders. Some overlanders prefer cast iron skillets and pots and pans because they're durable and hold heat well.

Others prefer to use aluminum pots and pans because they're lighter and easier to clean. I like the latter because it gives me more freedom at the packing stage, and I can easily haul them around.

No matter which type of pot or pan you choose, make sure it's big enough to accommodate whatever meal you're planning on cooking.
Good Quality Knife
A sharp knife will make all the difference when it comes time to prep your food, so make sure to invest in a high-quality option that will last long.
Cutting Mat
You should also have something to chop your vegetables on. A cutting board might seem an obvious choice, but we recommend a cutting mat instead.

Cutting mats are lightweight and easy to clean, making them perfect for a campsite kitchen.
Storage Containers
Some storage containers to transport or store leftovers in. I recommend using airtight containers such as mason jars so your food stays fresh and you don't end up with a mess.
Can Opener
A can opener for quick and easy access to canned goods.
Utensils
You'll want a few utensils, like spoons and forks, and a spatula and ladle to help you cook.
Plates And Cups
You will need plates and cups to eat your meals. Make sure you have enough for everyone in your party, and consider investing in some of the more durable, reusable varieties to make your life easier.
Aluminum Foil, Ziplocs, and Plastic Wrap
And finally, don't forget about bringing along some aluminum foil, zip locks, or plastic wrap – they'll come in handy for wrapping up leftovers or prepping meals ahead of time.
Fire Starting Materials (Fuel Source)
Last but not least, you'll need some way to start a fire. If you're using a campfire grill, you'll need some charcoal or wood. If you're using a camp stove, you'll need some propane or another type of fuel.

Regardless of which type of stove or burner you choose, make sure you have plenty of fire-starting materials on hand to get your fire going quickly and easily.
Food Prep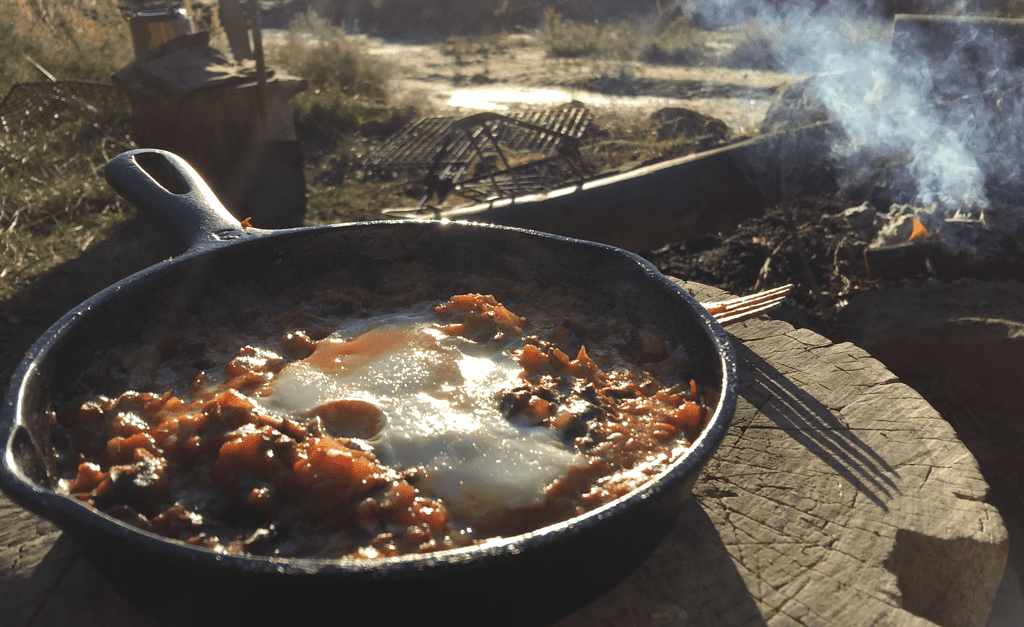 One of the main reasons why food prep is a good idea for overland cooking is because it helps you save time and effort when you're trying to cook on-site.

When you're camping in a remote location, the last thing you want to do is spend hours chopping vegetables or hunting down firewood.

Doing some of the work in advance allows you to relax and enjoy your trip, knowing that all the cooking tasks are taken care of.

Another reason to think about food prep is that it lets you be more flexible with your menu.

When you're prepping food in advance, you can bring along all the ingredients you need for your favorite dishes.

That way, even if your plans change or you find yourself in a remote location with limited resources, you'll still be able to make the meals you love.

Related Info: The Best Road Trip Foods To Keep You Satisfied On Long Drive Days
Prepping Food for Overland Camping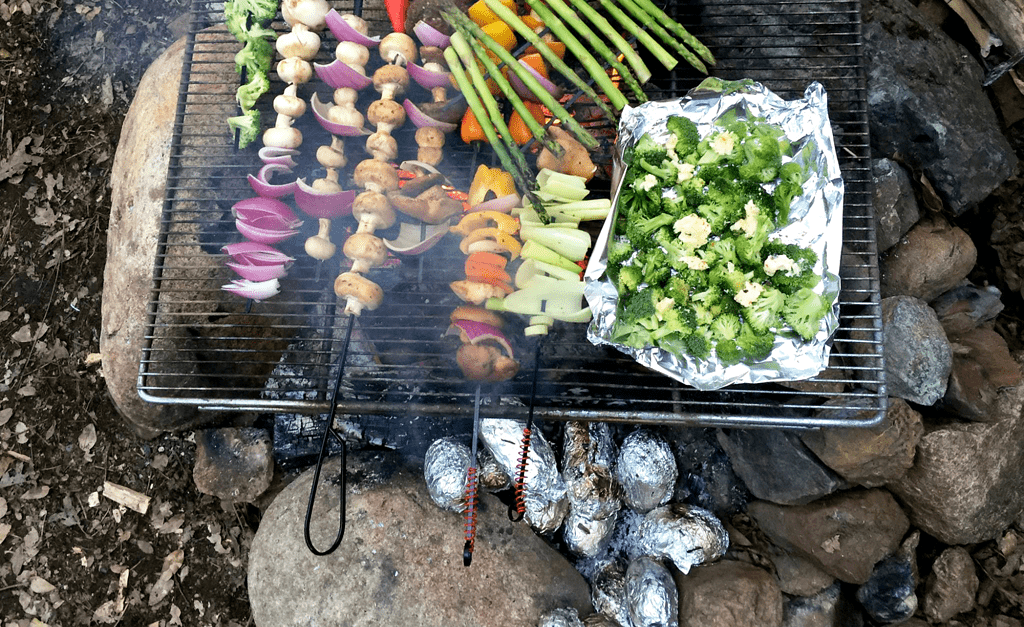 Now that we've gone over why food prepping is beneficial let's look at how to actually do it.

One of the simplest (and tastiest) things you can do is marinate your meat ahead of time. This will not only save you time at the campsite but will also result in juicier, more flavorful meat when it's time to cook.

Just throw your favorite cuts of meat into a resealable bag with some olive oil, vinegar, and spices, then place it in the fridge until you're ready to hit the road.

Another way to save time (and dishes) while camping is by preparing meals ahead of time and then storing them in the freezer until they're needed.

One dish that freezes particularly well is chili – cook up a big batch at home, then portion it into individual serving sizes before freezing it flat on parchment paper inside zip-top bags.

When it's time to eat, thaw the chili overnight, then reheat it on the stovetop or over an open fire pit.

Trust us – your future self will thank you!
Best Camp Stoves For Overlanding
There are multiple types of stoves and burners that are popular among overlanders. The most popular type is the campfire grill.

This stove is suitable because it allows you to use your campfire for cooking food. All you need is a grill grate and some charcoal or wood, and you're good to go.

Another popular stove is the camp stove.

You might come across these stoves in different sizes, but they all have one thing in common: they use propane or other fuel for cooking your food.

Camp stoves are great because they're relatively easy to use.
Additional (Not Necessary) But Helpful Products To Have For Overland Cooking
Tembo Tusk Adventure Skottle Kit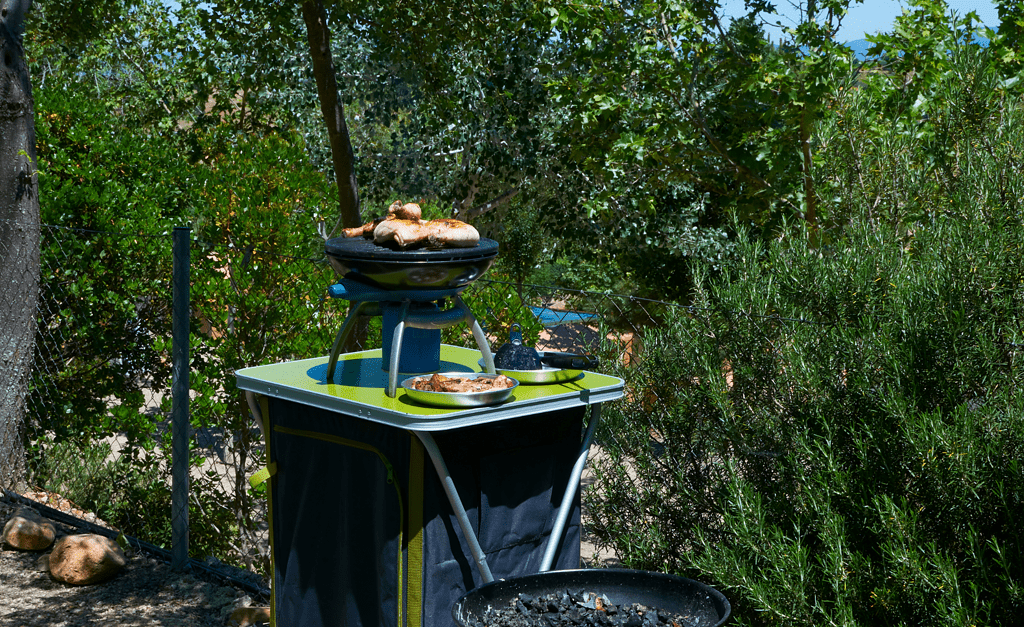 The Tembo Tusk Adventure Skottle Grill Kit includes a cooking pan, carry bag, and burner, making it the perfect setup for those who want to enjoy delicious meals without any complications.

The pan is made from durable stainless steel, while the legs are adjustable to ensure even cooking across all sides of the pan.

Thanks to its affordable price tag and easy-to-use design, the Tembo Tusk Adventure Skottle Grill Kit is perfect for anyone who wants a quality barbecue grill without any fuss.
Camping Kitchen Utensil Roll Organizer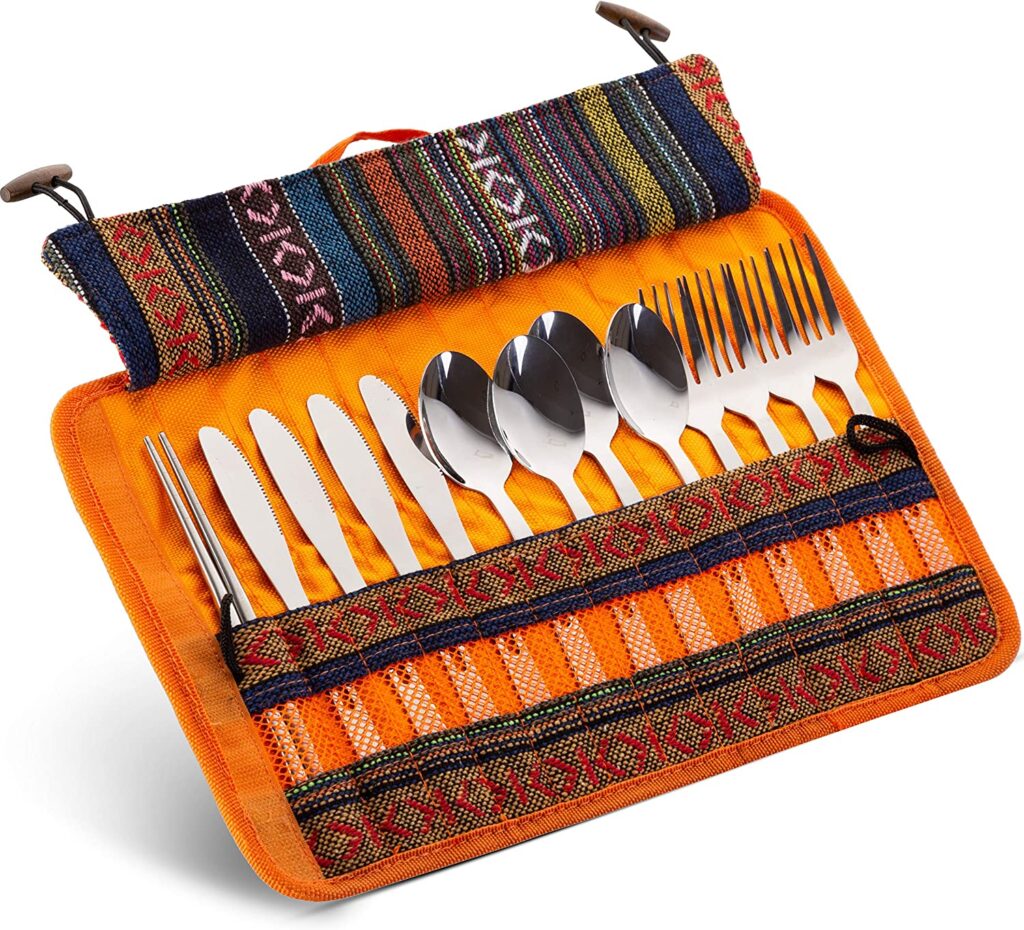 This Camping Kitchen Utensil Roll Organizer is the perfect way to keep all your kitchen supplies neat and organized while you're camping.

The durable canvas pouch features pockets for storing silverware, utensils, and other cooking items. The roll-up design makes it easy to store in a backpack or camping gear bag
Hanging Camp Kitchen Organizer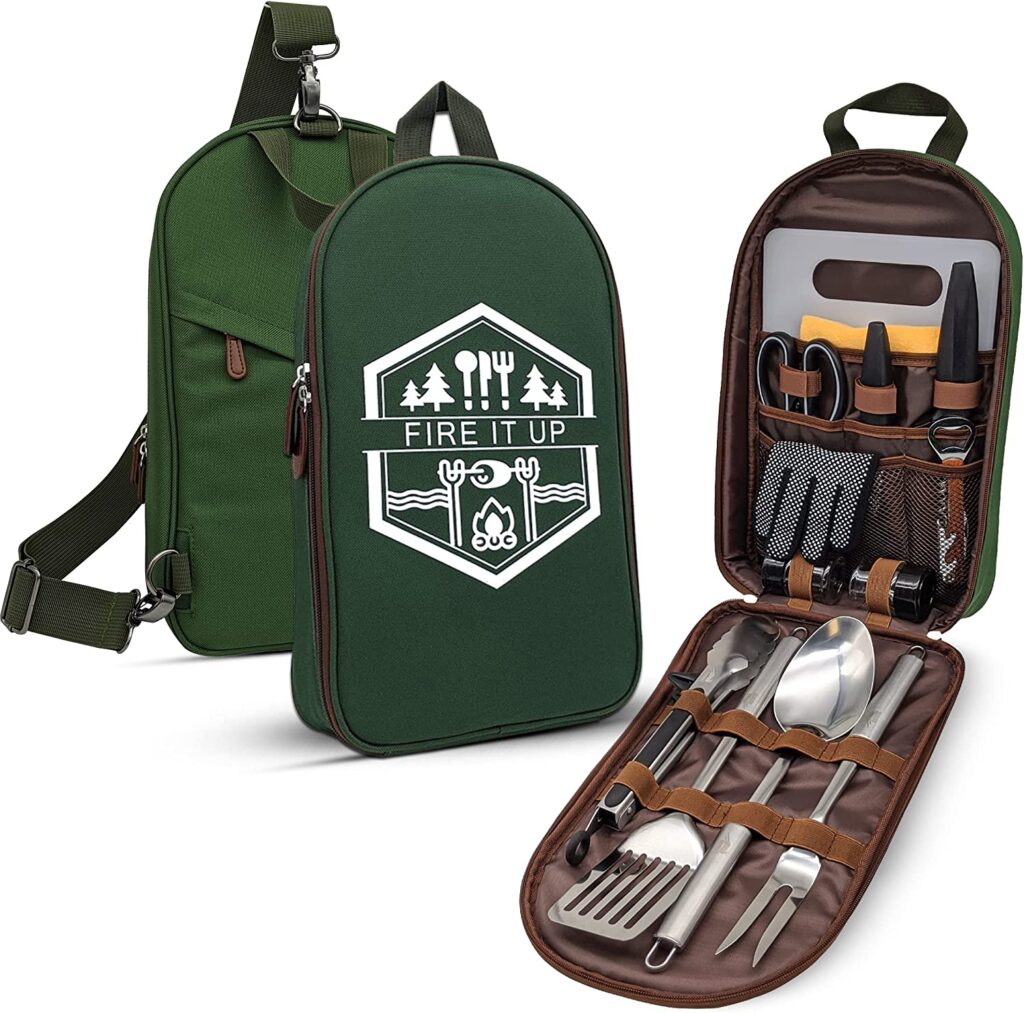 This hanging kitchen organizer is the perfect way to keep your utensils and other camping items organized. It features multiple pockets of various sizes that can hold all sorts of items, from spoons and forks to knives, scissors, spatulas, and more.

The zip-up feature makes it easy to pack up and transport without taking up too much space
Camp Table
The Coleman camp table is the perfect addition to any Overlanding setup. Its sleek design and easy-to-use functionality make it a great choice for dining or working surfaced.

With its durable construction and compact size, the Coleman Camp Table is a must-have for any camper.

Related Info:
Camp Meals
Are you looking for some meal ideas for your overland trip? Here are some easy and tasty recipes that require minimal time and effort: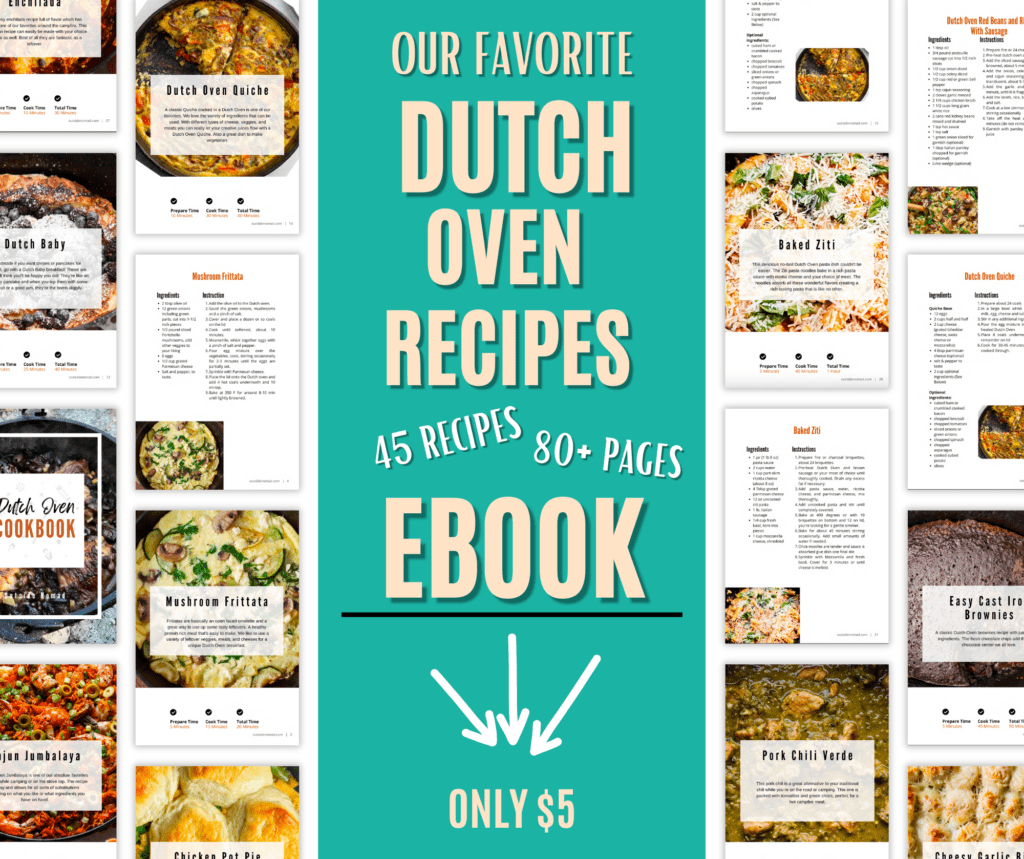 Are you looking for some meal ideas for your overland trip? Here are some easy and tasty recipes that require minimal time and effort:

• Dutch Oven Jambalaya: A healthy one pot dutch oven meal full of cajun flavor, fire roasted tomatoes, rice, and beans.

• BBQ Pulled Chicken Sandwich: The classic handheld BBQ Pulled Chicken Sandwich is great in a Dutch Oven. Topped with crisp veggies this savory classic is a personal favorite. To take it up a notch try using some pickled veggies for the topping or spice it up with some jalapeño slices.

• Dutch Oven Enchiladas: A cheesy enchilada recipe full of flavor which has become one of our favorites around the campfire.

• Beef Stroganoff: The tender beef and creamy rich sauce of Beef Stroganoff only get's better when prepared in a Dutch Oven over a wood fire.

No matter what type of meal you're cooking up, with the right gear, overland cooking can be an enjoyable and delicious experience!

Don't Miss… Our Favorite Dutch Oven Recipes
Camping Cleanup
After a long day of exploring, the last thing you want to do is deal with a messy campsite. But with a little planning, you can make cleanup a breeze.

Here's what you need to know about doing the dishes during overland cooking:
Gather your supplies. You'll need biodegradable soap, a scrub brush, and a clean towel. If you're short on space, you can use baby wipes or sanitizing wipes to clean your dishes.
Find a water source. A river, lake, or stream will work perfectly. If you're using baby wipes or sanitizing wipes, you can use water from your water bottle.
Scrub your dishes clean with biodegradable soap and a scrub brush. If you're using baby wipes or sanitizing wipes, make sure to wipe down your dishes thoroughly.
Rinse your dishes with clean water.
Dry your dishes with a clean towel.
Enjoy your clean campsite!
If you plan well, cleanup after overland cooking doesn't have to be a pain. By gathering the right supplies and finding the perfect spot to wash your dishes, you can keep your campsite tidy.
Pro Tips From Overlander Adventurers Themselves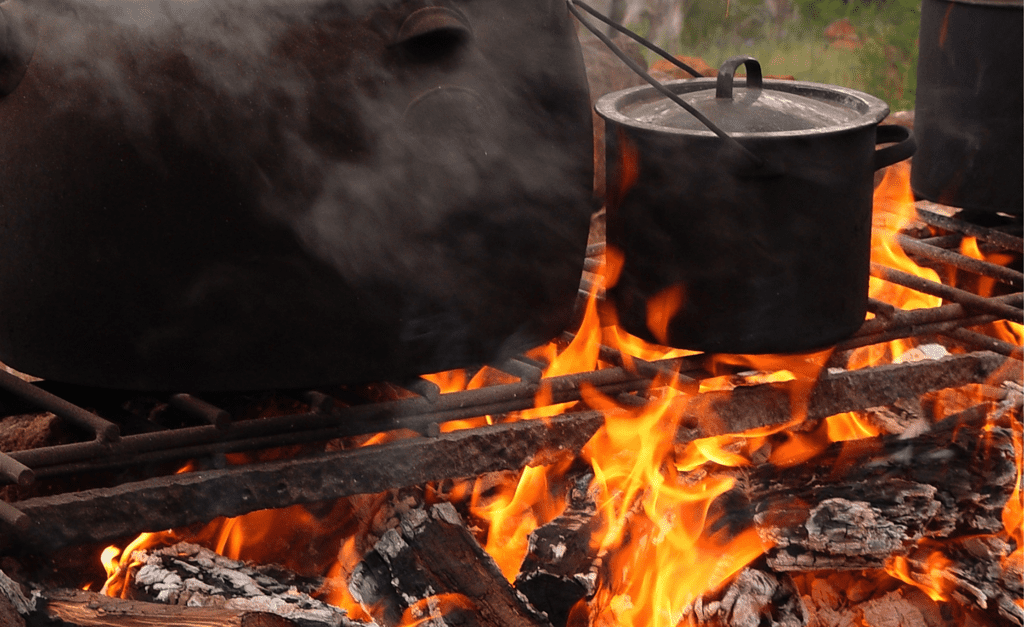 Have an overland kitchen box ready to go at all times with all your kitchen supplies; that way, you can grab and go when you're ready for your next adventure!
Make sure your vehicle is well stocked with a first aid kit, emergency supplies, extra water, fuel cans, spare parts, repair tools, and maps.
Be prepared to be self-sufficient – bring spare parts and know-how to fix any mechanical issues that may arise while traveling
Get Out And Explore With Some Overland Cooking And Amazing Views
Overland cooking doesn't have to be tough if your setup is smart and you know how to stay minimal while camping.

And remember, less is definitely more when it comes to overland cooking. By keeping your setup simple and your ingredients minimal, you can focus on enjoying the great outdoors instead of struggling to put a meal together.

So start exploring, and don't forget to enjoy some s'mores along the way. It's going to be fun!