Passive income. Freedom to travel. Creating multiple streams of income. Do any of these sound appealing to you?
Thanks to the internet it's never been easier than it is today to begin earning money online.
If you're looking for something that allows you the ability to travel full time while making money the opportunities are endless. People these days are killing it with all of their online business ideas. Online businesses include just about anything you can think of, blogs, digital products, youtube, virtual appointments, physical products the list could go on and on. The point is you really can do anything you put your mind to.
We're going to share with you some ways to make money through passive streams of income.
Passive income means you do a large amount of work upfront during its infancy stage but over time you make consistent income off your original work. You essentially get paid over and over again for work that you did once.
Passive income isn't something that happens overnight you have to be patient and realize it takes time for those steams to mature.
Are you craving a life with a bit more flexibility? Have thought about quitting your job? Perhaps you'd like to travel fulltime?
By thinking outside the box and identifying areas you can create some side hustles you are allowing yourself to pay off debt, build wealth, and create the freedom to travel.
PASSIVE INCOME STRATEGIES FOR TRAVELING FULL TIME
1. AFFILIATE MARKETING– BEST PASSIVE INCOME IDEA (IN MY OPINION)
A fantastic way to make money online is through affiliate marketing. Michelle from Making Sense of Cents is an absolute pro at this, she makes over $50,000 every month with affiliate marketing! Yes, $50,000 a month that was not a typo!
Affiliate marketing is a source of passive income we use in this blog. If you don't know what it's all about it's when you promote products that you love and believe will add a great deal of value to your audience. If a person clicks on your link and makes a purchase you earn a commission at no extra cost to your audience.
Blogging income through affiliate marketing is one of those passive income sources that's a ton of effort up front but all the content you create will allow you to make affiliate sales as time goes on.
For example, the largest affiliate program in the world is Amazon's Associates Program. You can link to any product on Amazon and if your readers click the link and make a purchase, you get a percentage of the sale.
Don't worry, clicking on a person's link does not cost you any additional money. As a matter of fact, it doesn't cost anyone any money its simply a way for Amazon to market their products through bloggers.
If you are interested in starting a blog you HAVE to read this article. If we can do this blogging affiliate thing and make money, you can too!
2. CREATE AN ONLINE COURSE
Online courses can be a fabulous source of online passive income. Have you ever taken some time to think about what you are really good at and could teach others? I'm sure you have at least one skill you're passionate about and could educate others.
It's never been easier than now to share information through online websites. The demand for online teaching platforms is growing rapidly and there are plenty of people who make full-time salaries from selling online courses through these platforms. You can create e-books, checklists, emails, and audio files to supplement the lessons you are teaching.
The best part about creating courses is that it's truly passive income where you can earn money while you're traveling– you have a lot of hard work upfront but once the course is created you can sell it over and over again without having to do anything more.
A couple of our favorite platforms for creating courses that people pay to do are:
3. WRITE A BOOK
Yes, you can write a book, publish it, and make money! Writing an E-book requires a bit of time investment up front, but it can be an amazing source of passive income month after month.
Writing a book is one of those easy ways to create passive income with no money.
And with platforms like Amazon's Kindle Direct Publishing platform, it makes it extremely easy for anyone to become an author and get a book in front of thousands of people.
You can write an eBook on just about any topic. If you have a passion for something like gardening, organization, saving money, blogging, pet training, writing an 80-100 page ebook won't be too difficult.
Every time someone purchases your book you will generate passive income.
4. LICENSE YOUR PHOTOS OR VIDEOS FOR PASSIVE INCOME ON THE INTERNET
If you enjoy photography you most likely have a massive library of valuable photos sitting on a hard drive somewhere. There are a number of stock photography websites that would love to have you post your photos on their site to offer them to their customers.
Most websites pay you based on the number of downloads. For example, you get paid a percentage every time someone downloads one of your pictures.
Shutterstock is one of the best sites to make money with your photos. Since 2003, Shutterstock has paid over $500 million to its photo contributors.
Since everyone has a phone with a camera these days licensing your photos is a great passive income source regardless of your photo-taking experience.
5. CREATE A BLOG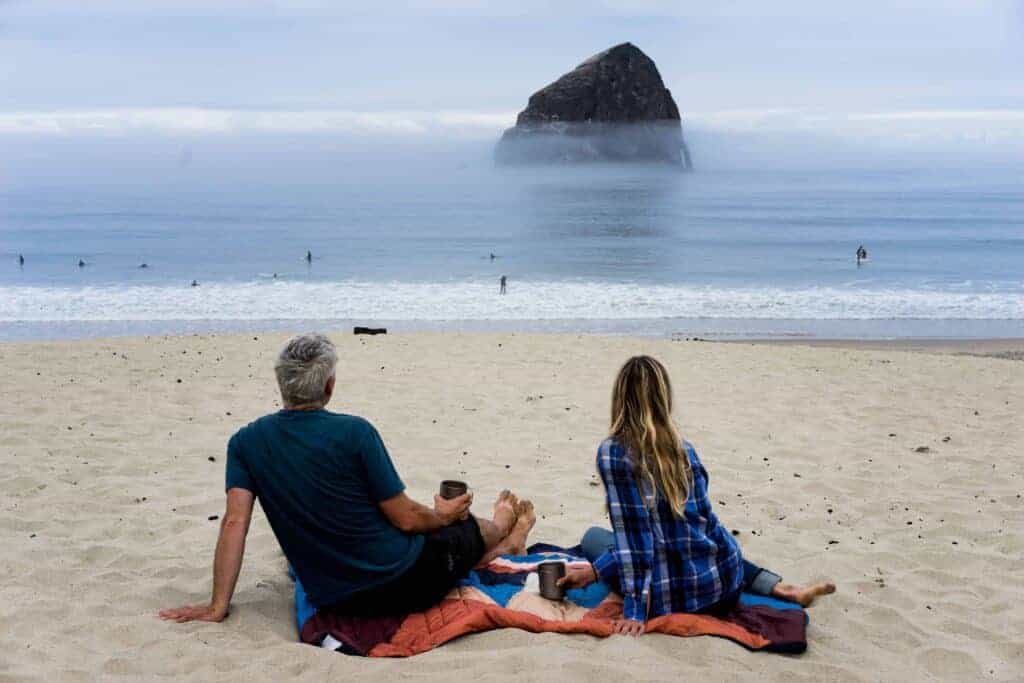 Remember I said, in the beginning, there's a lot of upfront work that goes into creating a passive income?
Well building a blog takes a ton of upfront effort. It's definitely not a get rich quick thing. For most blogs, it takes about 6 months to a year before they even begin creating any sort of income.
However, if you think of your blog as a buisness you can build a successful site and diversify your income streams.
Blogs create passive income through:
Affiliate marketing– Above we gave you a detailed description above about affiliate marketing and how Michelle is a pro at this. If you have a blog it's a great way to recommend products and services to your readers. If they click on your link and purchase something that you recommend you get a little commission out of their click. If you want to learn more about affiliate marketing you can read this.
On-page advertising– This is one of the most common ways that bloggers make money. Once a blog has shown itself to be a valuable site and is receiving 25,000+ visits per month you can turn on "in content" adds and earn a decent amount of income.
Direct advertising– If your blog is receiving a decent amount of traffic you may consider direct advertising. This is when companies contact you and pay you to link to their website from your blog. This can be a solid way to bring in a few hundred to a thousand dollars each month.
Product sales– The sky's the limit here. You can create and sell your own ebook, E-courses, PDF's anything that you think will bring value to your readers. The amount you make from product sales will depend on how much traffic you have and how desireable your products are. Many successful bloggers make $5000+/month on their products.
Membership sales– If you have an online program or course that is updated regularly you can sell monthly memberships rather than a one-time flat fee.
Memberships sites can be quite lucrative because if you charge $5 a month to your 1000 member tribe will make you $5000 per month in revenue.
6. START A YOUTUBE CHANNEL
People love watching videos, and I don't see this changing in the near future. Youtube is a very popular way to make money. However, you can't just shoot a video, upload it, and expect to start making money. Your account has to have 10,000 total views before you can start monetizing your channel.
If you invest the time by creating useful content you can grow a following of people who you can call your "tribe"
By developing a following, you have the upper hand when it comes to monetizing your channel. Youtubers Nate and Kara are living proof you can become very successful by posting videos on Youtube. They have collected content from all over the world and are a ton of fun to watch, check them out!
This isn't something that happens overnight so if you think this is something you may be interested in start posting videos now. And remember you have to be consistent and don't' give up.
7. SELL DIGITAL PRODUCTS
Digital passive income is a good idea because digital products are easily sold on the internet.
There are hundreds of thousands of digital products for sale on the internet today. The reason digital products are popular for buyers is they can instantly purchase, download and print the file however they need to and as many times as they need to.
The great thing for the seller is that you make something once and sell it over and over bringing in consistent passive income.
When brainstorming what kind of product to sell think outside of the box. There are eBooks, stock photos, clip art, unique fonts, printable art supplies, digital cards, games and apps, and even sound effects or music.
8. MAKE PASSIVE INCOME THROUGH THE STOCK MARKET
I know you're probably thinking whoooaa hey wait a minute here, stock market.. um sounds scary! But first, let me do a bit of explaining.
Automated Stock Market Investing is when you use what is known as a "robo-advisor" to automatically put your money into a variety of stocks.
While we haven't done this ourselves, because we do our own investing there is a popular robo-advisor tool called Betterment which offers an online service that's specifically designed to automate and manage your investment portfolio. It's fairly quick to set up and requires very little work on your end
Robo-advisors use computer algorithms with a definable set of rules that make appropriate investment decisions based on your specific needs. With the recent proliferation of robo-advisors, it's almost 'old school' to have a human manage your investment.
Betterment is a clear leader when it comes to robo-advisors. With over 300,000 clients, $11 billion in assets under management, low minimum account balances and one of the lowest annual fees. It's truly a great option!
Their new account setup is intuitive and easy. Through a series of questions Betterment will build you a portfolio based on your timeline and needs. This is a perfect option for those just starting out and who are new to investing.
Blooom is very similar to Betterment but specifically for your 401k plan. What I like most about Blooom is they will give you a free analysis of your current employer-sponsored retirement plan.
Did you know that if your current 401(k) isn't managed properly you could end up having a conservative savings goal when you were hoping to be aggressive?
Unfortunately, it happens all too often where people don't have the right "basket" of stocks and bonds in their 401(k) accounts. By being too conservative you may not have the amount of money you were hoping to have by retirement.
Get your FREE analysis in under 5 minutes!
9. RENT YOUR CAR
Do you have a car that isn't being used? Most of the 250 million cars in the U.S. sit idle 22 hours a day. Why not use Getaround to earn you some passive income when you aren't using your car.
Cars lose money as soon as you drive them off the lot. Rather than letting your car depreciate, share it on Getaround.
You can choose the length of time you want to rent your car, maybe it's only a couple of hours or perhaps you want to make good money by renting it out for a whole week. The average annual cost of owning a car is almost $9,000.
Those who use Getaround to rent their cars are able to cover the cost of their car payments. The earning potential varies by car and location, but standard vehicles typically rent for $30 to $65 per day.
You can sign up for this passive income right here.
10. RENT OUT A SPARE ROOM IN YOUR HOUSE
Can you think of anything better than earning passive income from home? How about earning passive income from your home! If you have a spare room in your house why not rent it out to earn some income while they (your guest) sleeps!
Our long term goal is to use our house to make money while we are away. What I mean by this is renting out our house when we leave to go on vacation.
We absolutely love travel and seeing the world and we're hoping to eventually take a year-long trip to Asia. One way we plan to pay for this trip is to rent our home while we are away.
Renting our home through Airbnb or a local property management company will allow us to earn passive income easily.
We could rent our home for approximately $2000 a month and get a fantastic apartment in Asia for only a couple hundred dollars a month. If we rent our house and travel abroad to less expensive countries we can make a profit from renting out our home to help with day to day living expenses while we travel.
To learn more about renting out your home with Airbnb, go here.
11. USE CREDIT CARD REWARDS TO GENERATE PASSIVE INCOME
Having a credit card you pay off in full on a monthly basis is an easy way to earn free money.
With a couple of simple modifications of the way you use credit cards, you can make your credit cards work for you not against you.
We've saved thousands of dollars in flights and have flown to Thailand, Hawaii, Peru, New York, and Nepal all on credit card miles. This year we are flying to Ireland and Scotland all for free!
We earn these flights every single day just by making ordinary purchases. It's the ultimate passive income. This requires no extra time and effort on your part and you can easily earn cashback or redeem your points for airline miles which equal hundreds of dollars of free money each year!
If you have the discipline to put a rewards credit card on automatic payment in full, this is a fantastic way to earn extra cash, travel points or various other perks. Please only consider this as a way to earn passive income if you are extremely responsible about paying your credit card off in full each month.
One of my favorite, easy ways to make money is through credit card bonuses. Many credit cards offer sign-up bonuses to entice you to open a credit account with them. They will give you a bonus just for signing up and for making a minimum amount of purchases on the card during an introductory period.
Important Things To Consider Before Signing Up With a Rewards Card
It's critical that you avoid credit card debt by paying your bill in full each and every month.
If you don't think you have the discipline to have a credit card or pay your balance in full this is not a good money-making opportunity for you
Consider your credit score and don't go overboard with opening accounts. Opening too many new credit accounts in a short period of time can hurt your ability to get credit when you really need it.
Head here for a beginners guide to Travel Credit Cards
12. OPEN A HIGH-YIELD SAVINGS ACCOUNT TO MAKE PASSIVE INCOME
Did you know that some banks will pay a good amount in interest just for opening a savings account with them?
I bet you're probably thinking to yourself what the heck is she saying how is a savings account passive income?
Let me explain
If you have money sitting around in a traditional bank the interest you're getting paid is probably close to nothing. Why not put it to work where it can earn a decent amount of interest?
The average bank interest rate for checking accounts in the United States is 0.06%; the average bank savings rate is currently 0.09%.
Check out Cit Bank where you can earn up to 2.20%. Yes, if you have the money to open a new account with a $100 minimum deposit and deposit $100 into the account monthly you can make great interest on your money. Think of all the adventures you can go on by making money off of your money!
This won't make you crazy rich but it's still free money.
FINAL THOUGHTS ON PASSIVE INCOME IDEAS
As you've probably realized passive income doesn't necessarily mean you can sit around doing nothing and expect to have money coming in from all directions. For some of the ideas listed above, you'll have to put in a significant amount of time and energy before you reap the benefits of passive income. But get this! The one thing that all of these have in common is that you can do them from anywhere!