Best Places to Visit in March in the USA: These Places are Sure Please
Spring is a breath of fresh air after the winter cold spell kept some of us cooped up inside. Now that the snow has started melting and you've finally gathered the energy to head out adventuring, why not make your time worth it?
Summer is indeed a good time to explore the US, but spring is equally great. If you can't wait for summer to knock a few places off your bucket list, March is the ideal time to explore the US and feel the refreshing spring breeze.
Since March is not a full-blown tourist season, you're likely to see fewer crowds and more peace wherever you go.
So, if you're in the mood for a March getaway, we have some great places for you to go. From sunny beaches to mountain biking and sweat-breaking hikes, you can enjoy everything during your March excursion. Ready to decide where to go next? Stick around to learn about some of our favorite places.
San Francisco, California
Want some color and vibrance in your life? Head to San Fran and get ready to fall in love. This vibrant Bay Area city is welcoming, entertaining, and culturally diverse – a package you'd never want to miss.
You'll see an excellent blend of natural and urban beauty in San Francisco because this is one of the most tourist-friendly cities in the US. Tourists flock to this city the summer and love the attractions they experience here.
But if you plan your San Francisco tour a little early, you can avoid these crazy crowds and enjoy sightseeing more peacefully.
If you want to see some of the city's main attractions, head to the majestic Golden Gate Bridge and see how a narrow straight connects the entire city to the Pacific. The Pacific's fiery blue water makes you love nature even more and makes the weather a little chilly even in March-April.
You can walk, drive, or bike across the Golden Gate Bridge for a relaxing day near Baker Beach. Book yourself an Alcatraz tour to see the historic prison and military facilities if you have a thing for history.
This small island won't take your entire day, and you can hop on a ferry to get on the shore whenever you feel like it. Oh, and don't forget the infamous Lombard Street (known as the crookedest street in the US.)
Grand Canyon, Arizona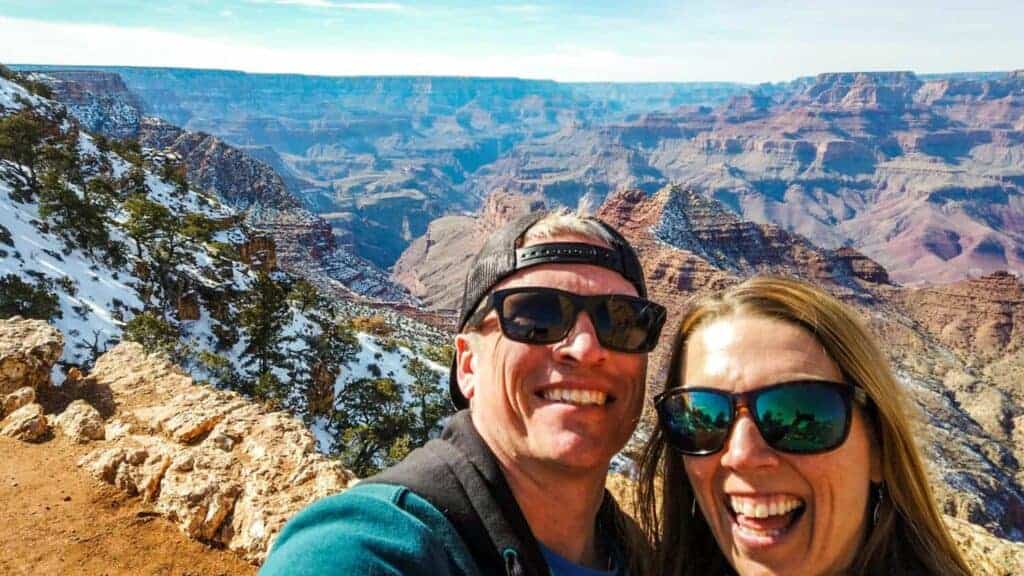 If the Grand Canyon Skywalk has long been on your bucket list, March is the ideal month to check it. This not-so-hot month will let you explore the canyon's beauty up close and hike those rugged terrains without facing the scorching sun.
Arizona's arid weather is mild in March, and you can spend a restful weekend around the Grand Canyon. Whether you fancy a helicopter ride above the Grand Canyon or exploring its raw beauty by foot, go get it because this weather will only make things better.
You'll find the Grand Canyon's spectacular viewpoints on the South Rim, where you'll also see some breathtaking sunsets. On the western side, you'll find the oh-so-hyped Grand Canyon Skywalk that might challenge your inner adventurer to go up there and experience it.
But if you're up for a sightseeing adventure without the work, a helicopter ride is the closest you can get to it. Besides the views from above canyon, you can also enjoy some challenging hikes that'll fire up those muscles.
If you happen to be visiting the Grand Canyon during the winter months don't miss our full write up here. For those of you who prefer to avoid the crowds and hike during the winter. Here's our full guide for hiking the Grand Canyon in the winter
Oahu, Hawaii
Gorgeous beaches, high-end resorts, rich history, and food so delicious you fall in love – everything feels right about an Oahu spring break. The great thing about visiting in March is you'll experience less crowds. Less crowds equals More Hawaii for you!!!
Whether you need a lazy break or some adventure, Oahu has it all. We can never stop praising Oahu, from breathtaking beaches and bright blue water to city life and shopping Oahu has a little bit of something for everyone.
While in Oahu don't miss the opportunity to learn to surf, head out snorkeling, or spend a day diving. The great thing about Oahu is there are plenty of hikes like Diamond Head if you're looking to break a sweat.
If you're looking for a bit of history head over to Pearl Harbor where you can spend at least a couple of hours. Another fun activity is to take a drive and head over to North Shore and the Dole Plantation.
If chilling is more your thing head to the beach with your favorite cocktail. Since Oahu is the most populated island in Hawaii, it offers the perfect blend of foreign and local culture.
From educational tours to outdoor adventures and unique restaurants, Oahu leaves no stone unturned to make your break worth it. The best thing about a Spring Oahu visit is the weather – it won't be as rainy as the winters, and humidity will also be bearable, so you'll enjoy the best of both worlds.
If you're simply tired from the everyday grind and need some relaxing days by the water, book a flight to Oahu and treat yourself just right! If you're planning a pocket-friendly vacation, a weekend in Hawaii during the off-season can be just what you need!
Las Vegas, Nevada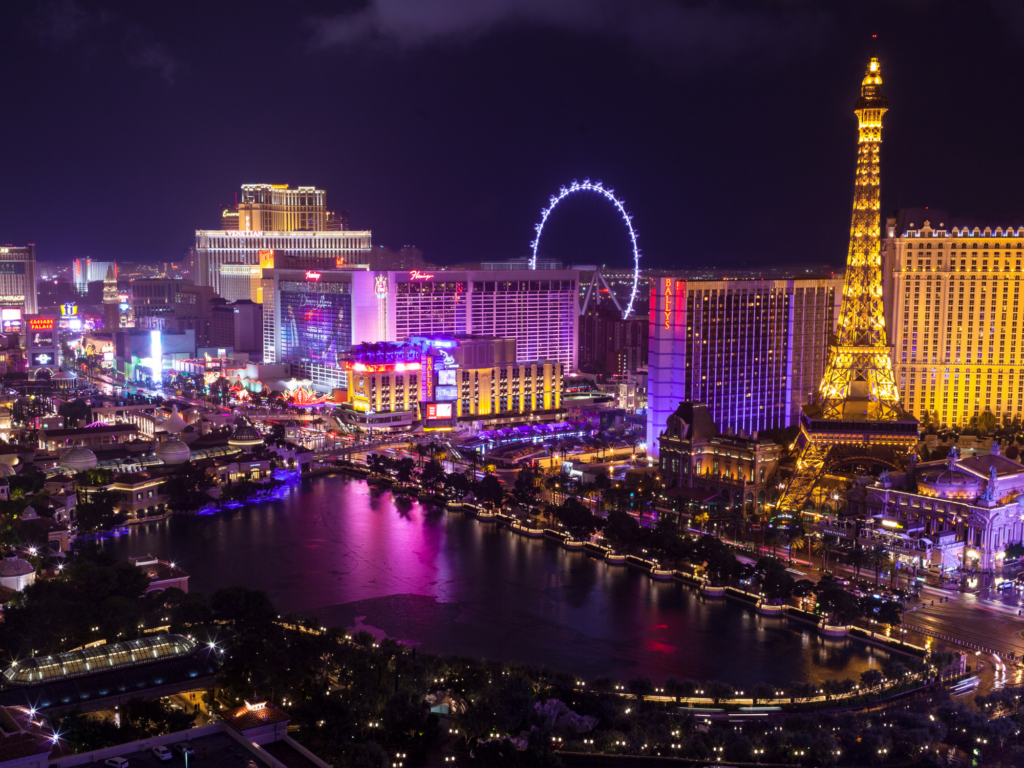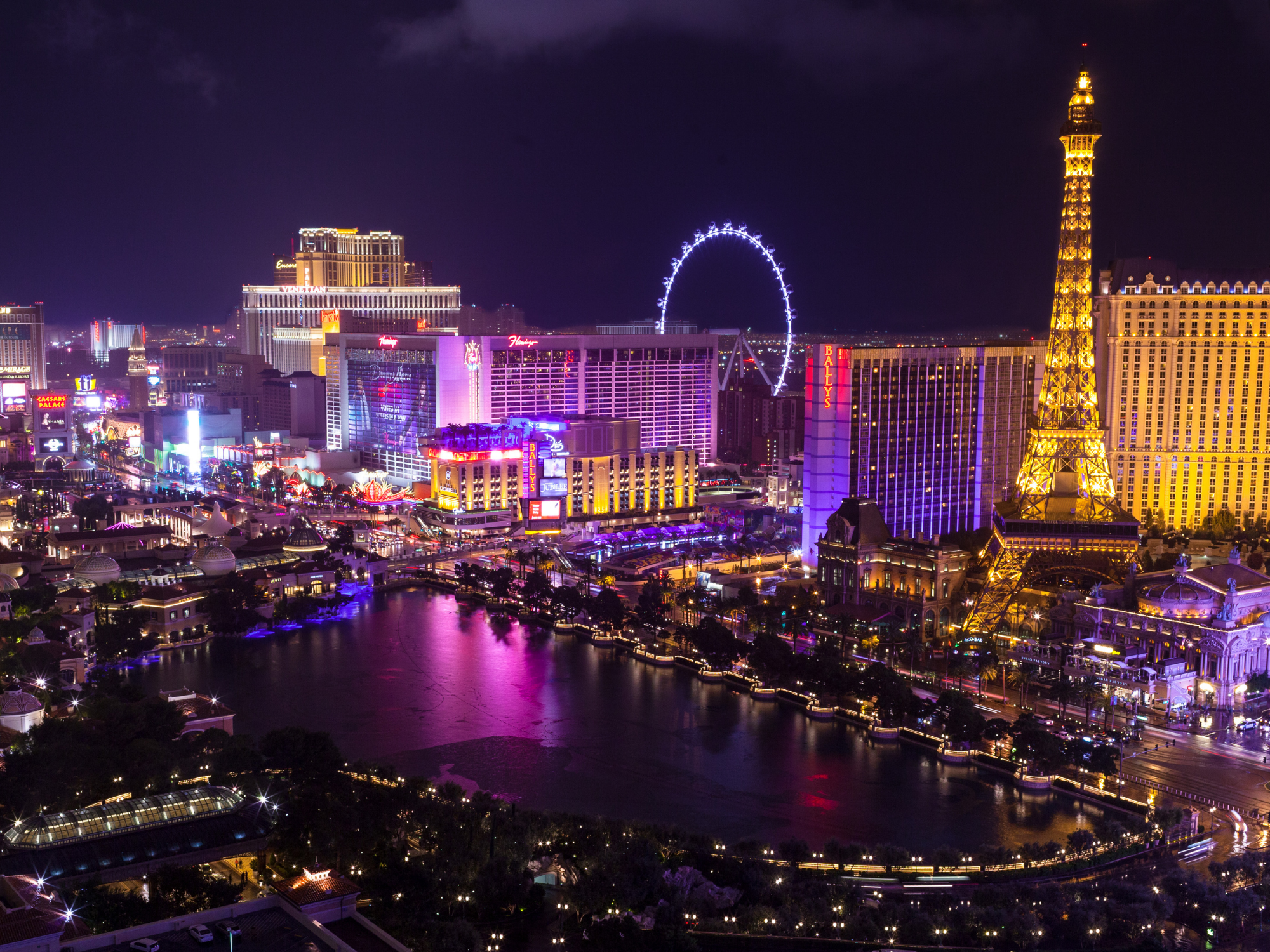 Las Vegas is a complete entertainment package from hip nightlife to high-end resorts and casinos. When you get tired of the stressful work life and need a quick getaway, LV will welcome you with open arms.
During the day, you can take the hop on hop off bus tour, head over to Hoover dam, head up to the Stratosphere Observation deck or relax by the pool. And at night, there's obviously loads of fun to be had, this is in fact Vegas. Las Vegas's nightlife is not to be missed, from world-famous casinos to clubs and shows there's so much to see and do.
If you're in Las Vegas for more than a week, you can take the 4.5 hour drive to Antelope Canyon and Horseshoe Bend or better yet, sign up for a tour. The Grand Canyon is also not very far from here, so you can extend or shorten your vacation accordingly. Since the average Spring temperature of LV is 50-70F, you'll love the calming evening breeze here.
You can also grab some budget-friendly deals in March because it's not the peak tourist season in Vegas.
Outer Banks, North Carolina
Outer Banks is an archipelago of islands off the coast of North Carolina, proving to be a scintillating travel destination for locals and travelers. If you want to see North Carolina's marine life up close, Outer Banks awaits you.
This is where wide sandy beaches, water, and immersive adventures come together to make your break worth remembering. The OBX (short for Outer Banks) lets you experience island life without compromising comfort. From world-class resorts to goosebump-inducing water sports, this line of islands is truly unmatchable.
The Outer Banks islands' open-sea beaches, state parks, and shipwreck diving make them an excellent holiday destination. Now that the cold spell is over, this is the perfect time to feel the warm water against your skin and get that tan!
If you're craving some water fun, head to OBX this March to fulfill your romance for water and shores. This archipelago's natural beauty and pristine beaches are bound to make an exceptional spring break for you and the family.
You can enjoy long, relaxing walks by the beach, climb some historic lighthouses, and plop on the sand dunes to experience a calming breeze. The Bodies Lighthouse, Currituck Beach Lighthouse, and Cape Hatteras Lighthouse are popular places to visit in OBX.
Also, you can visit the Wright Brothers' memorial and see where the first-ever flight was designed.
Florida Keys (Key West)
When it comes to spectacular beaches and incredible water activities, Florida Keys always stand in the first row. This is where you experience the deep blue water's full glory and see some unforgettable sunsets while you're at it.
Whether kayaking or marine life adventures are on your bucket list, Florida Keys is the place to be this spring. You can enjoy eco-tours, feed the sharks, go snorkeling, and relax on a boat deck while it sails away from the shoreline.
An excellent thing about the Florida Keys is the availability of tourist activities; whether you're seeking some lazy fun or crazy water sports you can do it all in the Florida Keys.
If you want to experience a unique town with scenic views and entertaining nightlife, spend a day in Key West. This is where you can visit the historic Ernest Hemingway house, take some spectacular pictures on the Mallory Square, and eat freshly caught fish right by the water.
Key West's restaurants, beach bars and entertainment are sure to keep you hooked. You can snorkel, sail, surf, dive, and fish in the Florida Keys, all while soaking the glorious sunlight. If the doom and gloom of work life has taken a toll on you, refresh yourself by visiting the Florida Keys and seeing the Atlantic Ocean's fierceness.
Charleston, South Carolina
It's time to immerse in nature and breathe! If you're seeking a relaxing travel destination for your upcoming break, Charleston might be it. This breezy, tourist-friendly, and historic town leaves no stone unturned to make your excursion worth the money.
Start your Charleston break by taking a famous carriage tour that'll make you feel like royalty and see this city's beauty. Head over to Rainbow Row (a row of pastel-colored historic homes located on East Bay Street, just along the Battery).
Visit one of the waterfront parks, or shop in the City Market – you're spoiled for choices in Charleston.
After appreciating Charleston's spectacular beauty, it's time to treat your tastebuds. This city has some of the best restaurants in the southeast hands down. From mouthwatering shrimp and grits, to seafood po-boys and refined wines, Charleston is bound to satiate your tastebuds.
No matter if you're on a weekend trip or wish to extend this break, you won't run out of options in Charleston.
Maui, Hawaii
If swimming with the turtles and whale watching is on your list, look no further than Maui, Hawaii. This is where the North Pacific Ocean hits with full force and spreads the splashing sound across the entire island.
When you want a mix of everything entertaining, nothing can be better than Maui, where culture, history, and hip nightlife come together. Whether you're traveling solo or in a group, you can find unique activities during spring and have a great time in Maui.
This beauty by the water offers excellent adventures, sightseeing opportunities, and high-end restaurants to keep everyone entertained.
If you visit Maui in March, you can enjoy whale watching because that's when these amazing creatures are swimming through. To make the most out of your break, you can enjoy snorkeling, kayaking, canoeing, diving, and many other water sports in Maui.
The Haleakala National Park in Maui is one of the most stunning places you'll encounter. Here you can see the sunrise from the top of a volcano, immerse in this region's volcanic beauty, and spend the weekend hiking around a volcano.
Adventure buffs this is your place to play with plenty of of things to do.
Southern California San Diego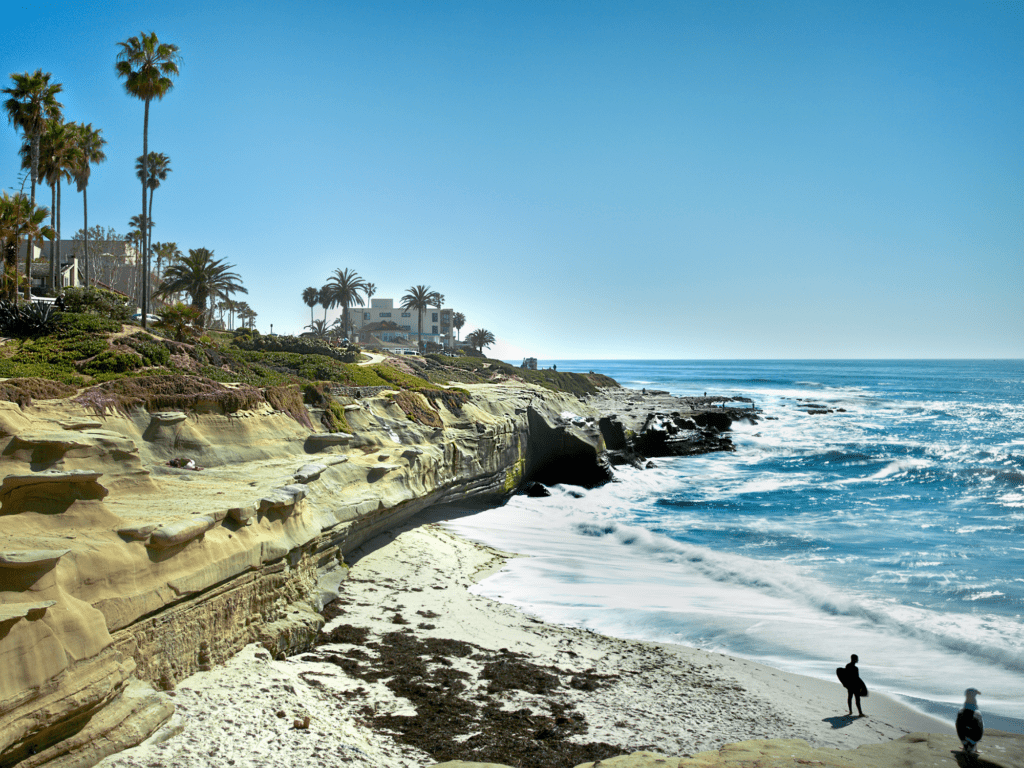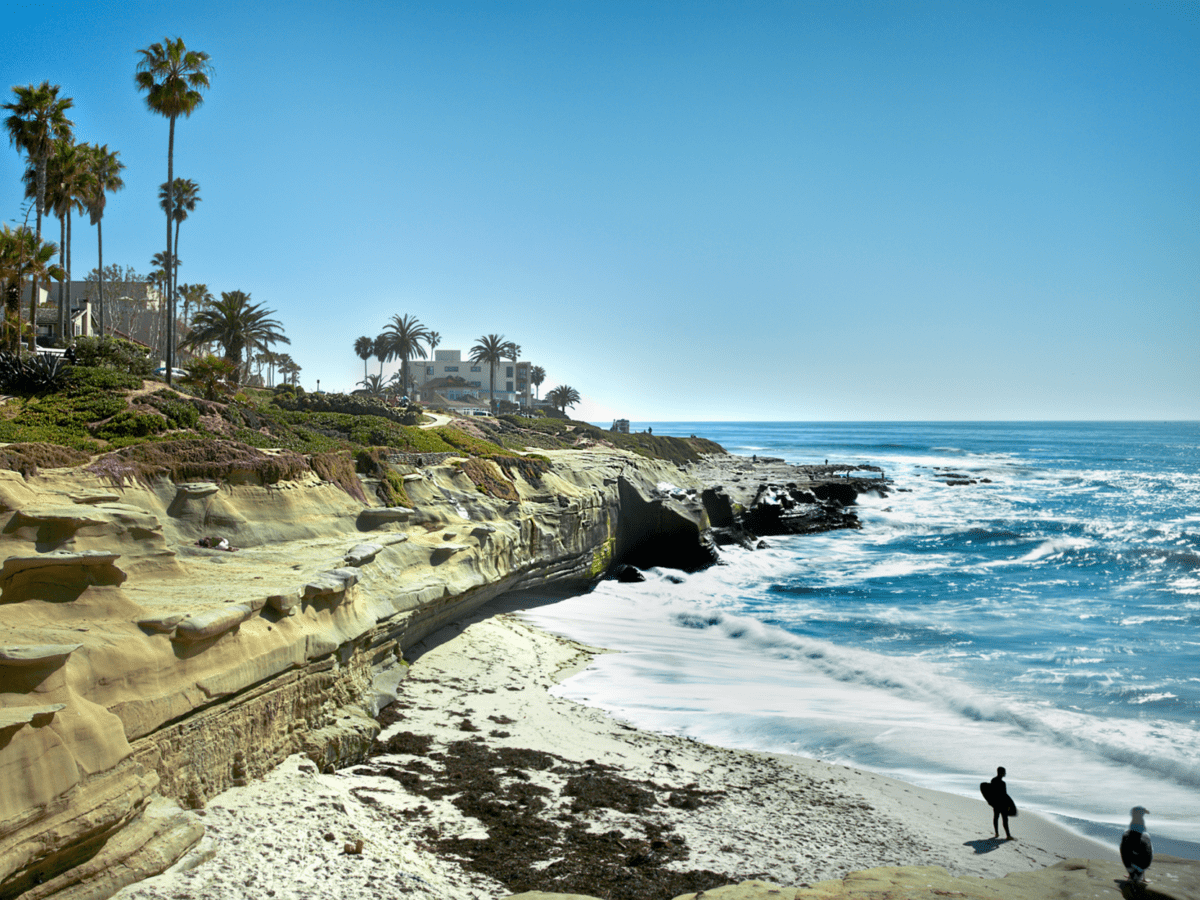 After spending a winter in the snow or cold temperatures, San Diego is the perfect place to escape for some much-needed sunshine. March is one of the most popular months to visit San Diego. The weather is mild, and there are plenty of events and activities to keep you busy.
Some of the top activities include hiking, biking, and exploring different beaches and parks. One of the most popular parks to visit in San Diego is Balboa Park. Balboa Park is home to many different gardens, museums, and the San Diego Zoo.
If you are looking for a more active day out, you can head to Mission Beach for some surfing or bodyboarding or take a walk on the beach. The Seaport Village is also a fun place to visit, with plenty of restaurants and shopping options.
There are also several events and festivals happening in March. The biggest event is the St. Patrick's Day parade, which takes place on the 17th. There are also several other festivals and events, including the San Diego Beer Week, a 10-day celebration of all things beer (obviously one of our more favorite things to do.)
Gulf Shores in March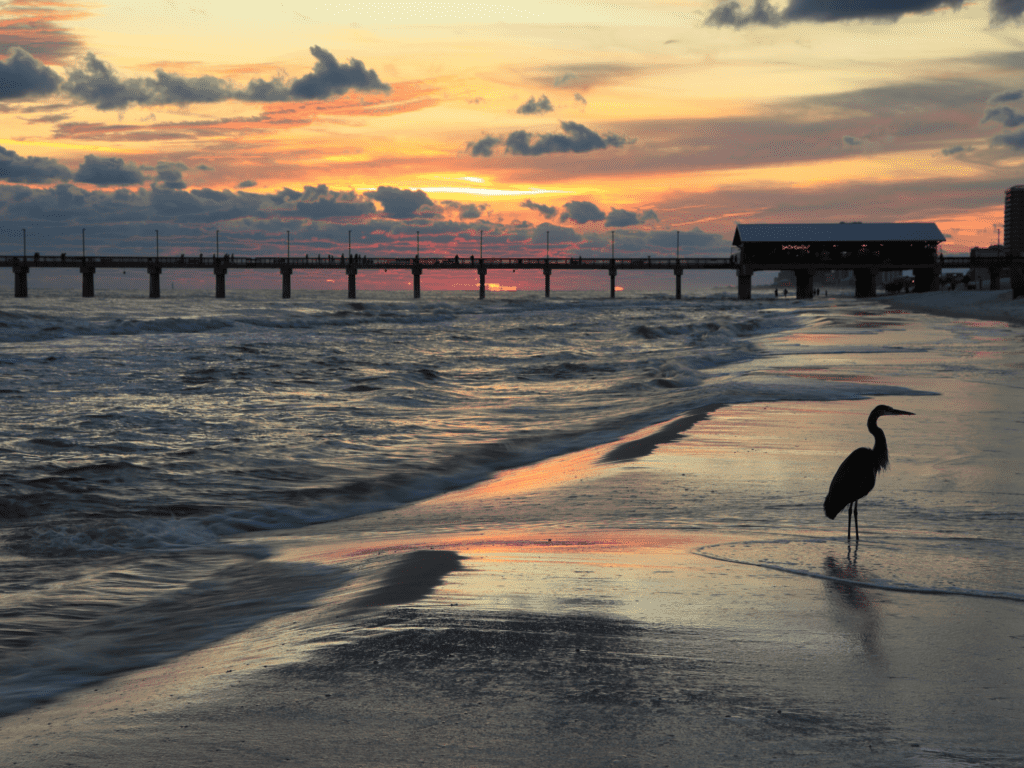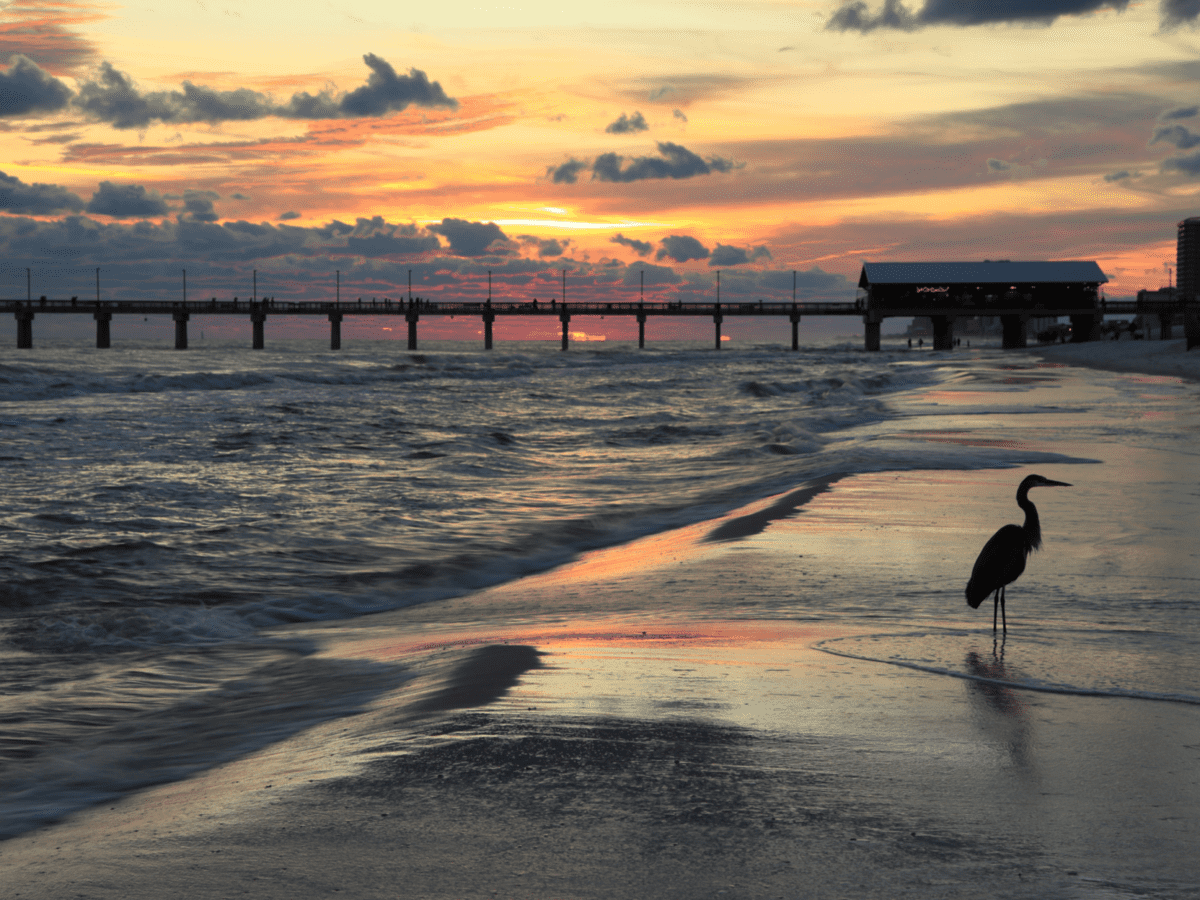 I really hate to admit this, but I never knew that Alabama had such great places to visit. I always associated it with the southern heat and humidity. But my friends, I must say there are some really great places to visit in Alabama, and Gulf Shores is one of them.
If you are looking for a place to go that is not too hot, the flowers are in bloom, the beaches are beautiful, and the weather is perfect for swimming, sunbathing, fishing, and kayaking look no further than Gulf Shores.
While visiting Gulf Shores, be sure to check out the Gulf Shores Wharf, where you'll find plenty of great restaurants and shops.
If you're a nature lover, you'll also enjoy the Gulf State Park, located just minutes away from the beach. The park offers hiking and biking trails and a nature center where you can learn about the local wildlife.
It's no wonder that Gulf Shores is one of Alabama's most popular vacation destinations. So if you're looking for a place to go in March that has beautiful beaches, great food, and plenty of things to do, then Gulf Shores should be at the top of your list.
Here's our Gulf Shores guide to help you navigate your vacation in this fun beach town. While you're visiting Gulf Shores I recommend heading a bit North and visiting Foley Alabama too. Here's our guide for Foley Alabama.
Saguaro National Park- Outside Tucson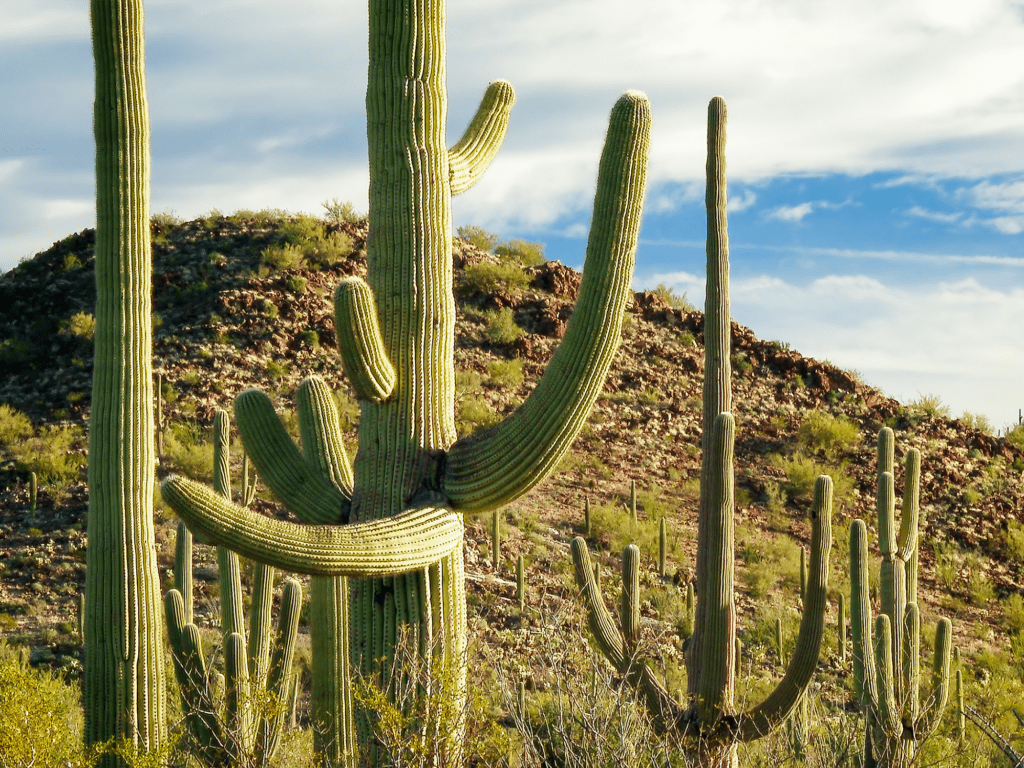 Being that Arizona can get pretty darn hot in the summer months, March is a popular time to visit Saguaro National Park. The average high temperature in Tucson during March is a pleasant 83 degrees.
Visiting Saguaro National Park in March is perfect if you want to see the cacti in bloom. The desert's Saguaro cacti come out of hibernation in late February and bloom through March.
Saguaro National Park offers visitors plenty of things to do, such as hiking, biking, and bird watching.
There are two districts in the park, the Tucson Mountain District and the Rincon Mountain District. The Tucson Mountain District is open all year round, while the Rincon Mountain District is closed from May to September.
Visit Moab in March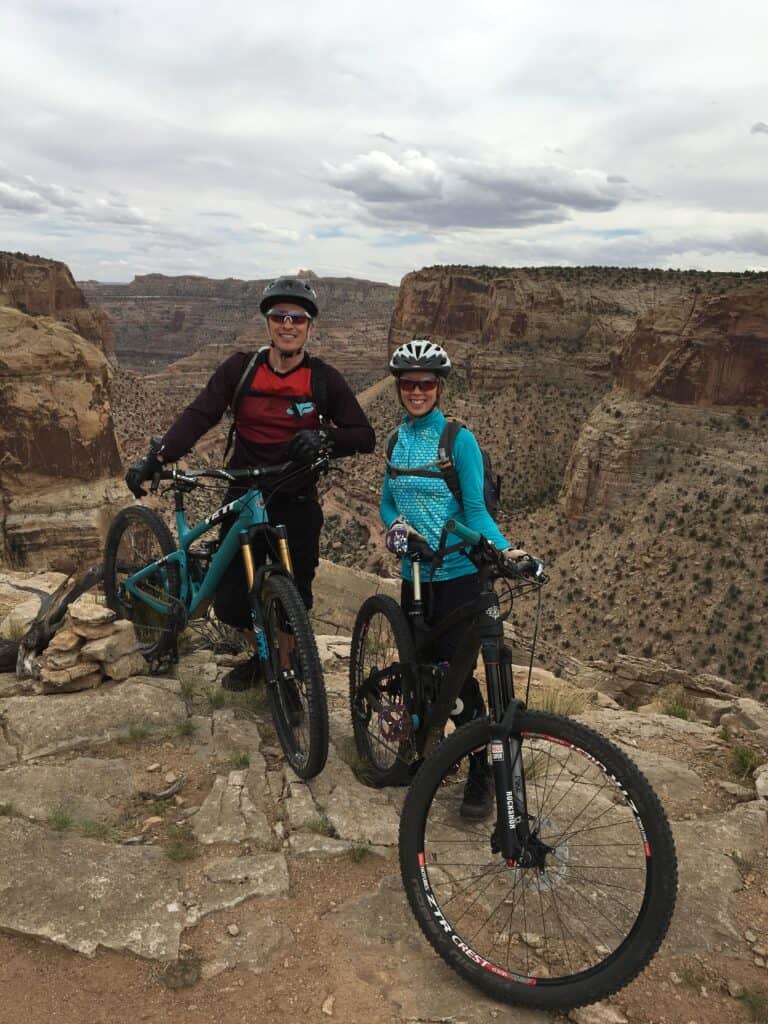 Visiting Moab in March is one of the best decisions you can make. You'll get to experience all the wonders of Moab while the weather is cool and the crowds haven't hit yet. Plus, with all of the springtime events going on in Moab, you're sure to have a great time!
March weather in Moab is beautiful. The days are getting warmer, and the nights are cool, making for perfect hiking and biking weather. The temperatures will start to heat up in April, so take advantage of the milder weather while you can!
Moab is home to some of the most beautiful scenery in the world. In March, you'll be able to see all the colors of the desert in bloom. The red rocks and cliffs will stand against the green brush, making for an unforgettable landscape.
There's no shortage of things to do in Moab. In March, you can enjoy all the activities that Moab is famous for, such as hiking, biking, and river rafting. You can also explore some lesser-known attractions, such as the dinosaur tracks at Moab Giants or the Negro Bill Canyon Trail.
If you're looking for a place to stay in Moab, we recommend the Gonzo Inn. This funky hotel is located right in the heart of downtown and is close to all the action.
No matter what you choose to do in Moab, you're sure to have a great time. So what are you waiting for? Plan your trip for March and experience everything Moab has to offer!
Don't miss our extensive guide for the best things to do in Moab here. If it's your first time in Moab you've got to visit Arches National Park; here's some of our favorite hikes in Arches.
New Orleans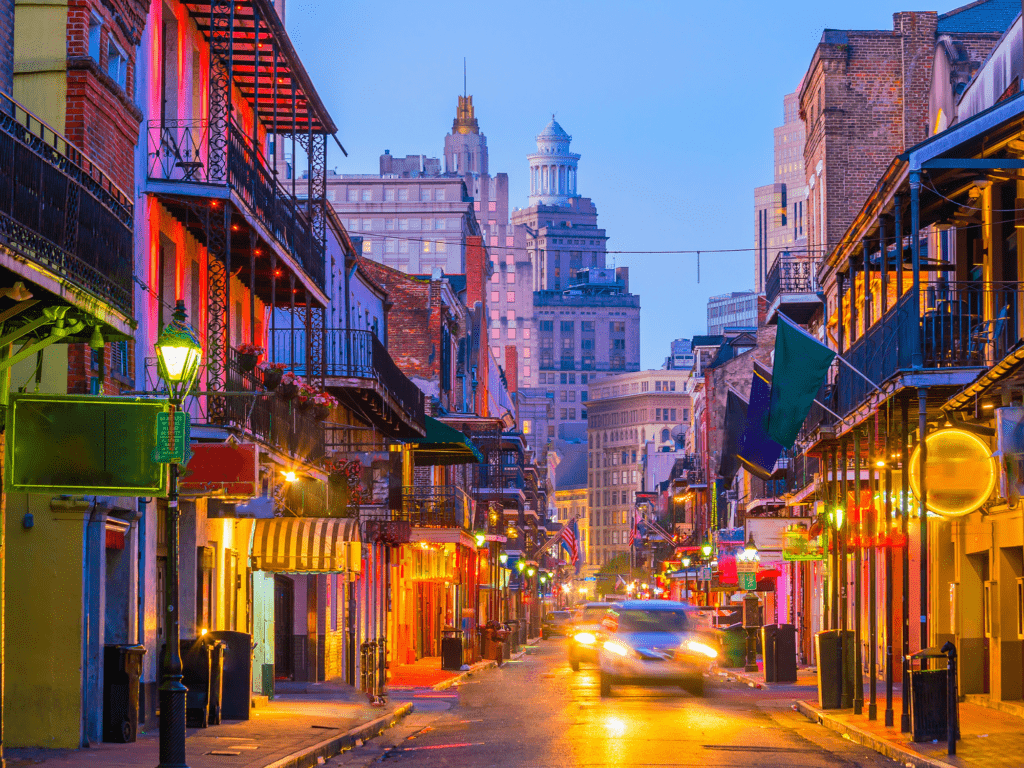 I love New Orleans, and I'm not alone. The city has a special energy that draws people back year after year. There is always something new to do in the Big Easy, and March is no exception. Depending on your arrival Mardi Gras may have come and gone, but that doesn't mean the party has to end.
New Orleans is an incredible city full of history, fantastic restaurants, and mild temperatures in March. The city hosts various festivals and events making it the perfect time to visit.
The French Quarter is one of the most popular areas to visit during your visit to New Orleans in March. The area is full of nightlife, shops, and restaurants and offers a variety of activities to enjoy.
Another popular spot for visitors is the Garden District. The Garden District is located just outside the French Quarter and contains beautiful mansions and an array of unique shops and restaurants.
New Orleans is also an excellent city for jazz lovers. You'll find music EVERYWHERE you turn, but some of the best spots to hear jazz music are Preservation Hall, The Spotted Cat, and Snug Harbor.
The city hosts various jazz festivals throughout the year, but the New Orleans Jazz and Heritage Festival is the most popular. This festival takes place over two weekends in April and features some of the best jazz musicians in the world.
Savannah, Georgia
Savannah, Georgia, is one of the most beautiful cities in the United States in March. The city has a lovely charm and is a brilliant display of color in March as the azaleas bloom. These gorgeous blooms may be seen in city squares, Bonaventure Cemetery, Forsyth Park, and other locations around town.
March weather in Savannah is beautiful, averaging highs of 75 degrees and lows of 54 degrees. The weather is perfect for a walking tour of the city or a visit to one of Savannah's many parks. The squares that make up the historic district of Savannah are filled with beautiful gardens, fountains, and monuments.
Forsyth Park, located in the heart of Savannah's Historic District, is one of the largest public parks in the city. The park features a large fountain and playgrounds, tennis courts, and a running track.
The Savannah Music Festival takes place in late March and features performances by top musicians from around the world. The festival is held at venues throughout the city, including the Savannah Civic Center, Lucas Theatre for the Arts, and the Trustees Garden.
The St. Patrick's Day Parade is a must-see event in Savannah in March. The parade begins at 10:00 a.m. on Saturday, March 16th, and travels through the historic district of Savannah.
Sedona
Sedona, Arizona, is known for its stunning red rock formations, making it the ideal place to go in March. Sedona has a desert climate, which means that March offers the optimal weather conditions to enjoy everything Sedona offers, from outdoor adventure, visiting vortexes or doing a bit of shopping.
You can't visit Sedona without spending some time admiring the stunning sandstone that surrounds the town. The Pink Jeep Tours is a simple way to see many major sites with someone else in control but to really immerse yourself in the red rocks, we recommend biking (our favorite way to get around).
If biking isn't your thing, not to worry because there are TONS of amazing hikes too.
You can also visit the vortexes, (places where it is believed that the earth's energy is powerful) to get a taste of Sedona's unique energy. You won't forget your adventures in Sedona this spring!
Asheville North Carolina
The mountains of Western North Carolina are a lovely location to visit all year, from the lush greens of summer to the brilliant hues of autumn leaves and the sweeping whites of winter snow. On the other hand, spring is arguably one of Asheville's finest months.
The month of March has an infinite number of activities to do in Asheville, which is ideal for nature lovers. The weather is still chilly, with average highs of about 59F, which is fantastic for hiking, mountain biking, or canoeing without getting burned by the South's hot and humid heat.
This is an outdoor adventurers' paradise, with attractions such as DuPont State Forest, Pisgah National Forest, and the Linville Gorge Wilderness, all within an hour's drive of the city.
There are also several magnificent waterfalls to visit, including Bridal Veil Falls (DuPont), Catawba Falls (Pisgah), Rainbow Falls (Highlands), and Triple Falls (Brevard).
Feel the Breeze and Enjoy the Outdoors this March
Spring is approaching, and the snow is melting – this is an excellent time to put on your trainers and go exploring. March is the ideal time to travel to most US states because the weather overall is welcoming and breezy.
From water adventures in the Florida Keys to nerve-wracking hikes in the Grand Canyon, you can enjoy everything in this pleasant weather and recharge your energies. Whether you avoid crowded places or this is the only time you'll get off from work, your travel choices are limitless.
We put together this quick travel itinerary to ease your decision and list the options you can explore. So, where are you headed?