Who says you can only plan your vacation in the summer?
With falling leaves, picturesque views, and beautiful weather: October is a great month to travel in the United States. As everything turns a crisp shade of gold, the views you get in the autumn season are mesmerizing and truly breathtaking.
Plus, planning a trip in the fall means you get to take advantage of cheaper accommodations and fewer crowds.
So, without further ado, here are the seven places to visit in October in the USA that are sure to make you want to plan that fall getaway.
Best Places to Visit in October in the USA
The stunning red and orange-hued foliage and magical landscapes are an absolute treat for the eyes. Let's dive in and find the best places to visit.
Eastern Sierra Nevada, California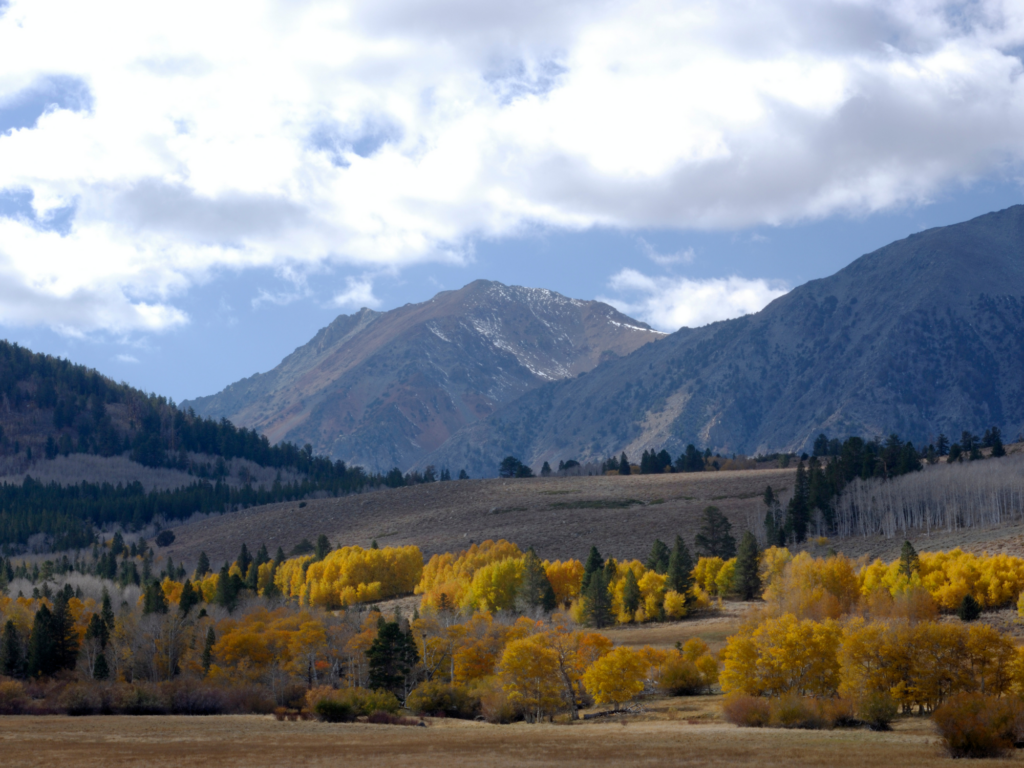 Although California, in general, is beautiful in October, Eastern Sierra Nevada, in particular, is simply spectacular. The gorgeous colors of fall are most vibrant in this area in October.
The Sierra Nevada has three major must-see destinations: Mono Lake, Mammoth (home of Mammoth Mountain Ski Area), and Bodie State Historic Park. Mono Lake is a large freshwater lake with an unreal landscape thanks to its saline water and limestone tufa towers.
Eastern Sierra is well-known for its fantastic alpine lakes, especially the June Lake area. If you're looking for more adventures, don't miss hiking, boating, and taking in the beautiful fall foliage in this area.
What to do in Eastern Sierra Nevada in October
Visit Mono Lake
Visit June Lake area
Visit Bodie State Historic Park
Yellowstone National Park
If you're an adventurer at heart, you can't miss visiting Yellowstone National Park in October. Covering 2.2 million acres, the park stretches into the three states of Wyoming, Montana, and Idaho.
The fiery colors of autumn paint the park in red, orange, and yellow, which greatly compliments the fantastically colored swirls encircling hot springs. The area offers you a variety of options to explore.
From Yellowstone Lake to the West Thumb Geyser Basin and Dogshead Loop, there are numerous trails and plenty of opportunities to observe wildlife no matter which way you turn.
What to do In Yellowstone National Park
See Old Faithful
Hike around the Upper Geyser Basin and Geyser Hill area
See Grand Prismatic Spring and Midway Geyser Basin- the most colorful and vibrant hot spring in the park
If you're planning on driving to some of amazing places don't miss our favorite road trip tips to make your trip easy breazy. Here are some additional fall road trip ideas to keep you adventuring
Pictured Rocks National Lakeshore, Michigan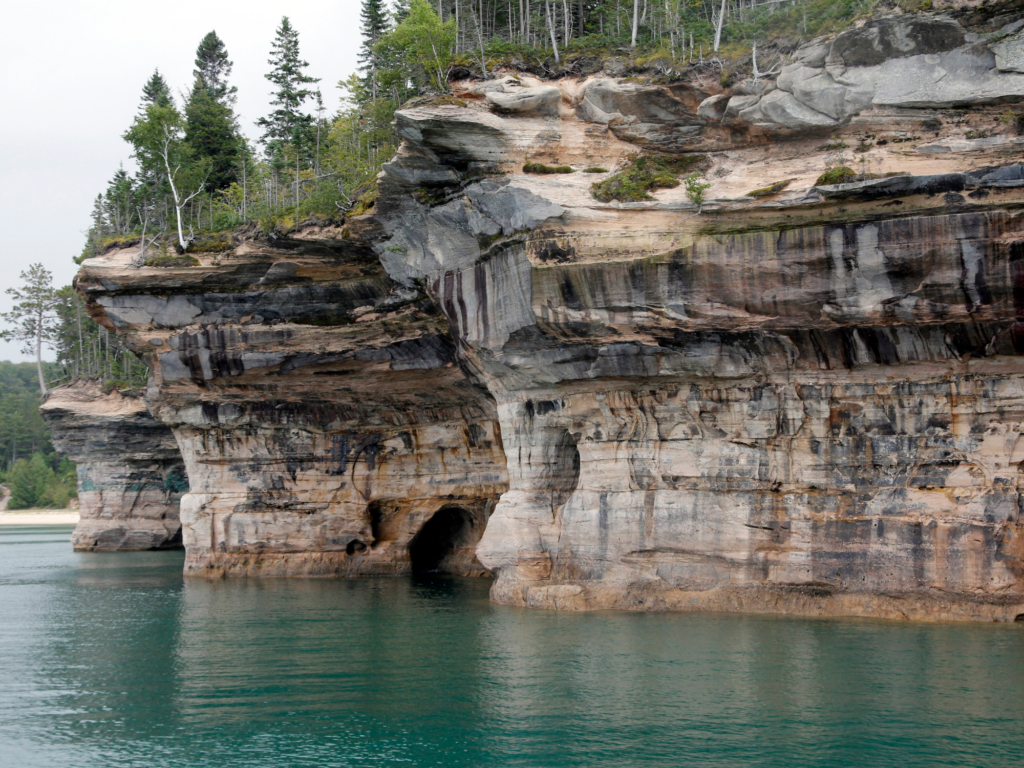 You can't talk about the best places to visit in October without mentioning Pictured Rocks National Lakeshore. The area is filled with fantastic scenery throughout the year. However, the colors of fall add spice to the landscape, making it look out of this world!
Experience kayaking along the craggy shoreline as you enjoy looking at the colorful sandstone cliffs. Go hiking on the National Scenic Trail or take memorable photographs of Pictured Rocks as you drive on the H-58 Michigan county highway.
Things to do Pictured Rocks National Lakeshore, Michigan
Go to Grant Portal Point- For some of the best views in the park
Kayak to Lovers leap
See Miners Castle
Kauai, Hawaii
If your vacation isn't complete without a visit to the beach, Kauai is the place to go for you. With blue skies, dreamy sunsets, and gorgeous sandy beaches, the oldest island in Hawaii is a sight to behold during the fall season.
But don't forget to pack your hiking boots because the island is pretty small, and you can drive from one side to the other in a few hours—but there is plenty to keep you occupied.
Start your journey at the fantastic north shore, staying in Princeville or Hanalei. Make your way to Poipu to see the black volcanic rock lining the beaches, or visit Waimea Canyon to see beachy sights and scenes you'll remember for a lifetime.
What to do in Kauai
Drive the Waimea Canyon for Stunning Views
Hike in Kokeʻe State Park
See the Turtles and Seals on Poipu Beach
Acadia National Park, Maine
Love a bit of adventure and hiking? Then don't miss the opportunity to visit Acadia National Park before winter sets in. Along with incredible sights, lakes, and hiking trails, you can see the leaves changing into beautifully rich shades of red and gold.
If you can't make time to visit the place during summer, you can still visit in autumn to have a great time, without all the sweating. As October sees cool weather in Maine, hiking and climbing are easier and certainly more fun.
Hike along the exciting Precipice or Beehive Trails to satisfy the adventurer inside you. Gaze over the Gulf of Maine to see the beautiful lakes and stunning shades of autumn covering the mountains. Or take a moment to soak in the outstanding views as you summit Cadillac Mountain.
Things to do in Acadia National Park
Hike Cadillac Mountain- best views in the park
Hike Precipice Trail, Jordan Cliffs, or Beech Cliff Ladder trail to experience hiking on metal rungs and beach cliffs
Drive the 27 mile Park Loop Trail
Yosemite National Park, California
You can't go wrong with planning a trip to one of the United States' largest national parks in the fall. Just outside San Francisco lies Yosemite, one of the most iconic national parks.
The area is well-known for being absolutely breathtaking, so it's not surprising that it gets crowded during summers. However, you can visit in October as the place sees fewer visitors and great weather. So, head out to see the giant sequoia trees and hike along the waterfalls that ring Yosemite Valley. Walk the trails in Glacier Point or hike to Sentinel Dome and Taft Point.
If you have time, make sure to have a hearty meal at Curry Village, which is surrounded by mountains and rivers that cascade down from above.
Things to do in Yosemite National Park
Enjoy the Tunnel View viewpoint
See the iconic Half dome rock
Visit Yosemite Falls
New York City, New York
Want to have an exhilarating October? New York City is the place to go! The city provides you with a wide variety of things to do; from attending live events to enjoying delicious food, NY has got it all.
Thanks to the pleasantly warm weather, you can take the opportunity to explore shops and markets, visit its famous museums such as the Museum of Modern Art, or stroll through Central Park while appreciating the vibrant foliage.
What to do in New York City in October
Visit Central Park
Take a fall foliage cruise
Take photos of the famous Pumpkins Arch at Pier 17
See The Village Halloween Parade in New York City (October 31st)
Shenandoah National Park
About 75 miles from Washington, DC, Shenandoah National Park is overflowing with tumbling waterfalls, beautiful vistas, and wildflowers everywhere. With its stunning mountain views and lush forests, the Park is a one-of-a-kind natural wonder. Is your favorite season autumn?
If so, you must go to the Shenandoah National Park. The park comes alive with vibrant trees, red sunsets, and golden rolling hills during the fall months.
Discover the lush beauty of Shenandoah National Park with over 200,000 acres of protected lands providing a home to deer, songbirds, and black bears.
Things to do in Shenandoah National Park
Drive Skyline Drive
HIke Dark Hollow Falls
Napa Valley
Napa Valley has been a well-known wine-producing region for over 100 years. It is no surprise that Napa Valley is one of California's most popular travel destinations.
This October, head to the Napa Valley for an exhilarating experience. Venture through the vineyards and visit local wineries, where you will be guided by knowledgeable staff who provide insight into the production process and share their expertise on pairing wines with cheeses and other quality dishes. If you are not an enthusiast of wine, there is no need to worry.
There are many different things to do in Napa Valley this October. Enjoy a thrilling hot air balloon ride while taking in the beautiful scenery surrounding you, or go kayaking on the iconic Napa River.
Best Things to do in Napa Valley
Visit hot springs in Calistoga
Hike to the top of Mt. Saint Helena
Ride the Napa Valley Wine Train
Zion National Park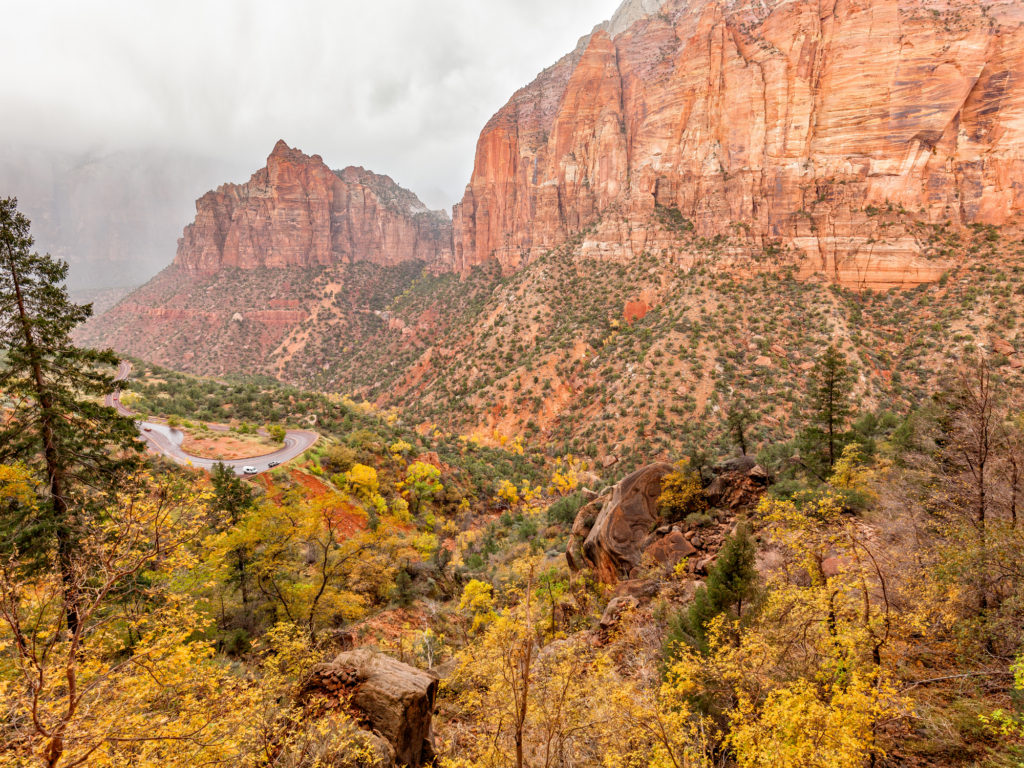 Zion National Park is a must-visit during the fall months of October and November. The park, located in Springdale, Utah, has been deemed one of America's most beautiful national parks thanks to its tall sandstone cliffs that reach for the sky.
These tall sandstone rocks create stunning canyons that fill up with beautiful foliage of red, orange, and yellow leaves during the month of October.
Things to do in Zion National Park in October
Hike Angels Landing
Drive Zion Canyon Scenic Drive
See Checkerboard Mesa
Do the Riverside Walk
Rocky Mountain National Park
Visiting Rocky Mountain National Park in October is a real treat as the park comes alive with hundreds of different kinds of colorful foliage.
In autumn, Rocky Mountain National Park transforms from a lush green forest filled with pine trees to a blanket of colorful foliage that stretches across the land. All of this beauty is made even more spectacular with the backdrop of the Colorado Rockies.
The biggest advantage of visiting Rocky Mountain National Park in October is that visitors are considerably lower than during other months. In reality, they are less than half of what they are in September—averaging about 300,000 people per day. In October, a trip to Rocky Mountain National Park allows you to explore parts of the park typically packed throughout the year.
The biggest disadvantage of visiting Rocky Mountain National Park in October is the possibility of road closures. Beginning in mid-October at Many Parks Curve, Trail Ridge Road is generally closed. In late September or early October, Old Fall River Road closes. It's important to keep this in mind when planning your trip.
If you plan on visiting RMNP in October, you will find that there are plenty of activities to do; you'll still be able to do day hikes overnight backpacking trips to do, and the best part is you'll be able to get further on a bike than you would if you had a car. As mentioned above, the Trail Ride Road closes to cars around mid-October, but you'll still be able to bike that area until November 30th
Zion's rivers run through these canyons and create some of the most popular swimming holes in the park. If you visit Zion National Park this October, prepare to be amazed by how colorful everything looks as the area comes alive with color from the autumn leaves.
What to do in Rocky Mountain National Park in Fall
Drive Trail Ridge Road
Hike to Gem lake
See Alberta Falls
Looking for some of the best hikes in Rocky Mountain National Park check this out
Mammoth Lakes
October is one of the best times to visit Mammoth Lakes. In October, you'll experience cool and comfortable fall weather, stunning fall colors, and plenty of things to do.
Mammoth Lakes is located in the Sierra Nevadas, which means it's surrounded by mountains that offer great hiking trails throughout October. You can also take a day trip into Yosemite National Park and explore some of the other amazing sights it has to offer, like Yosemite Falls and Half Dome.
Or, if you're looking for something more low-key, Mammoth Lakes offers its own series of stunning hiking trails for you to choose from. Plus, when you've done your daily hike or two, head back to town and visit one (or all) of Mammoth Lakes' hot springs for an even more, relaxing experience.
The fall season in the Eastern Sierra isn't just known for its terrain and hues. When temperatures at high elevations start to drop late in September, the season begins early. The chilly weather spreads throughout October and November as leaves at higher elevations change colors as a result of the cold air. The result is a wave of fall colors that spreads throughout the region instead of a splash of colors like most places get.
What to do in Mammoth Lakes
Visit Devils Postpile National Monument
Hike to Rainbow Falls
Catch a sunset at Minaret Vista
Siesta Key
If it's getting a bit chilly where you are in October, Siesta Key could be your perfect escape with its warmer weather. Enjoy Siesta Key and its white sandy beaches, crystal clear water, and stunning sunsets.
Siesta Key is located on Florida's Gulf Coast, between Sarasota and Fort Myers.
It is known for its beautiful beaches like Crescent Beach (with its perfect half-moon shape), Siesta Beach (with its striking white sand), Turtle Beach (where you can spot the endangered sea turtles), and Blind Pass Beach (which separates Little Sarasota Bay from Big Sarasota Bay).
The best time to visit Siesta Key in October is during the weekdays when fewer tourists are around. The weather still allows you to enjoy outdoor activities like kayaking or stand-up paddleboarding. If you'd rather stay on the beach, pack your towel, sunscreen and umbrella—it doesn't get too hot nor too cold in October.
Siesta Key has many restaurants, bars, and shops to check out during your visit, making it a great small town for tourists to relax in.
What to do in Siesta Key
Visit Siesta Key Beach
Visit Siesta Key Village
Visit Beer Can Island
New Hampshire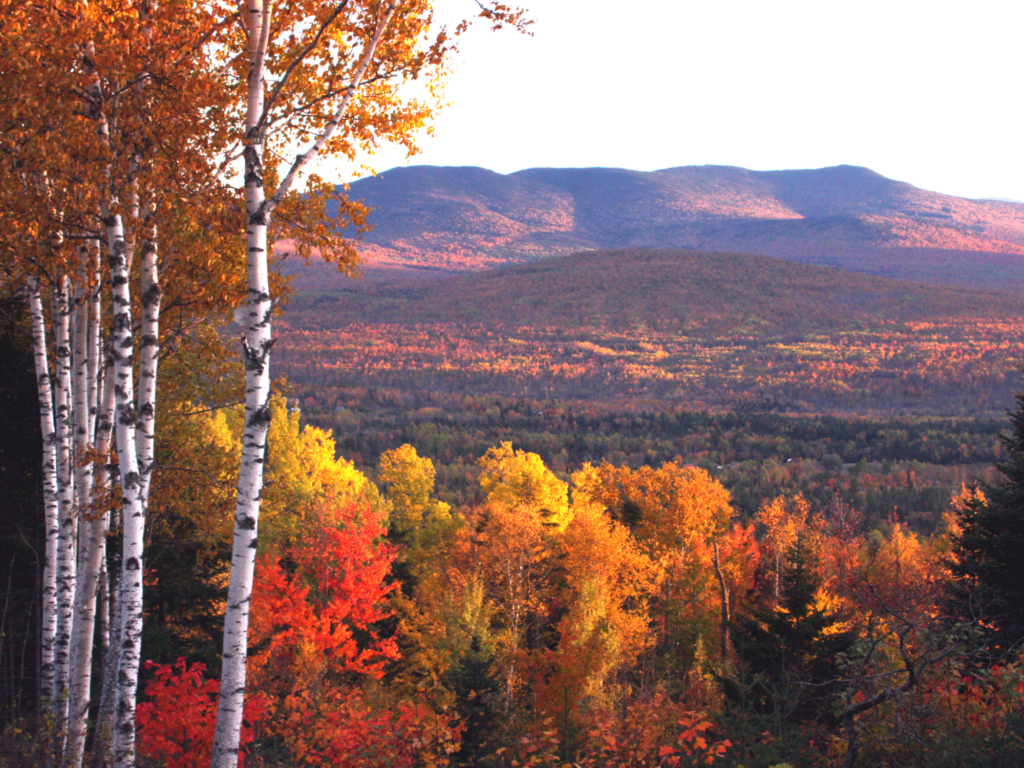 Fall in New Hampshire is a foliage lover's paradise. The leaves on trees begin to change colors and make for some spectacular colors. You'll be able to enjoy the unrivaled views that fall offers no matter where you go, whether it's a drive through the White Mountains or a hike with the sounds of crunching leaves under your feet.
October is by far the best month to visit New England. It's the month when trees throughout the area burst with deep hues of crimson, amber, gold, and orange. Timing the peak fall foliage in New Hampshire requires some luck and planning. However, you're almost sure to witness stunning scenery and vibrant colors no matter where you travel in October.
What's fall in New Hampshire without classic autumn activities like gathering your own apples or choosing the perfect pumpkin to take home? Pack your flannel since the weather is cooler from September through early December.
What to Do in New Hampshire in October
Take the Conway Scenic train in the fall
Take a drive along the Kancamagus Highway
Go Apple picking at Alyson's Orchard
Mount Rainier National Park
October is the perfect time to visit US National Parks; the tourist season has come to an end, and the weather is getting colder, but it's still perfect for a hike and the best time to spot wildlife. While most tourists go south towards warmer places, planning your trip around October is a great idea! At Mount Rainier, you'll see the beautiful autumn colors of the park the blooming rhododendrons, and you'll find some excellent hiking trails.
Mount Rainier National Park can be visited throughout the year, and there isn't a wrong time to go. However, if you want to avoid the crowds during the summer season, visit between October and May when it's best to do some winter sports in the park-like snowshoeing or cross-country skiing.
What to do at Mt Rainier in October
Hike the Skyline trail
Visit Myrtle Falls
Visit the Paradise area of Mt Rainier for plenty of hiking and sightseeing
Bryce Canyon National Park- Utah
If you are dreaming of spending October somewhere magical, why not take a trip to one of America's most beautiful desert parks Bryce Canyon? While it may be cold coming from warmer climates like Florida or Texas, this park will still give you the whole experience with its fall colors that paint the canyon walls orange, red, and purple hues, creating an epic backdrop to any photo.
Bryce Canyon National Park is known for its fantastic rock formations called hoodoos. These tall pinnacles of rock rise out of the ground, giving an eerie appearance like something straight out of a scary movie. The rock's resistance to erosion is what causes these fascinating shapes of hoodoos.
What to do at Bryce Canyon in October
Hike Queens Garden Trail
Visit Sunset/Sunrise Point
Go to Inspiration Point to see the Hoodoos
New Orleans- Great Place to Celebrate Halloween
New Orleans can get downright hot in the summer, so why not take a vacation to New Orleans in October?
Festivals are happening in New Orleans all year round, but there is something special about the fall.
When you visit in October, you will see the colorful glowing leaves, vibrant foliage, and crisp air create a picturesque scene throughout the city. From live music to Halloween-themed activities, there is plenty to do when visiting NOLA in October.
If you're unsure where to check out, first consider Voodoo Fest, which happens over two weekends during October. This music festival draws top talent from across the world with its eclectic mix of rock, indie, punk, and alternative music. It gets bigger by the year, so be sure not to miss it!
Another event in New Orleans this month is Oak Street Po-boy Festival. This one-day festival only happens once a year and features delicious food, live performances, and more. There's nothing like an affordable, tasty meal, so why not check it out!
New Orleans hosts many restaurants that take advantage of the fall season, offering pumpkin-flavored dishes like muffulettas (pork sandwich with olive salad) and beignets (a French pastry usually dusted with powdered sugar), and even peppermint hot chocolate—yum!
What to Do in New Orleans in October
Take a steamboat cruise
Explore Frenchmen Street
Stop By The Mardi Gras Museum Of Costumes And Culture
Las Vegas
If you've never had the opportunity to go to Vegas, it's quite an experience, and October is a great time to check it off your bucket list. Experiencing Las Vegas in October is an entirely different experience from the rest of the year as the dry heat turns into a comfortable mild climate that's great for exploring or simply sitting back and letting your hair down.
There are plenty of events scheduled throughout October, including The Life is Beautiful festival taking place over two weekends in downtown to Oktoberfest and Halloween-themed parties at clubs; there will never be a dull moment when visiting Sin City.
It's not all about wild parties either—there's much more to do when visiting Vegas in October, like heading over to Hoover Dam or the Seven Magic Mountains to get away from the hustle and bustle of the strip.
Visitors can also go to Fremont Street Experience, which features a light show every night set to music, the Bellagio Fountains, or Madame Tussauds wax museum—there are tons of amazing things to do in October; in Vegas!
What to Do in Las Vegas in October
Explore the Strip
Explore Fremont Street
See a Cirque du Soleil show
Explore Red Rock Canyon National Conservation Area
Take in the Fall Foliage in West Virginia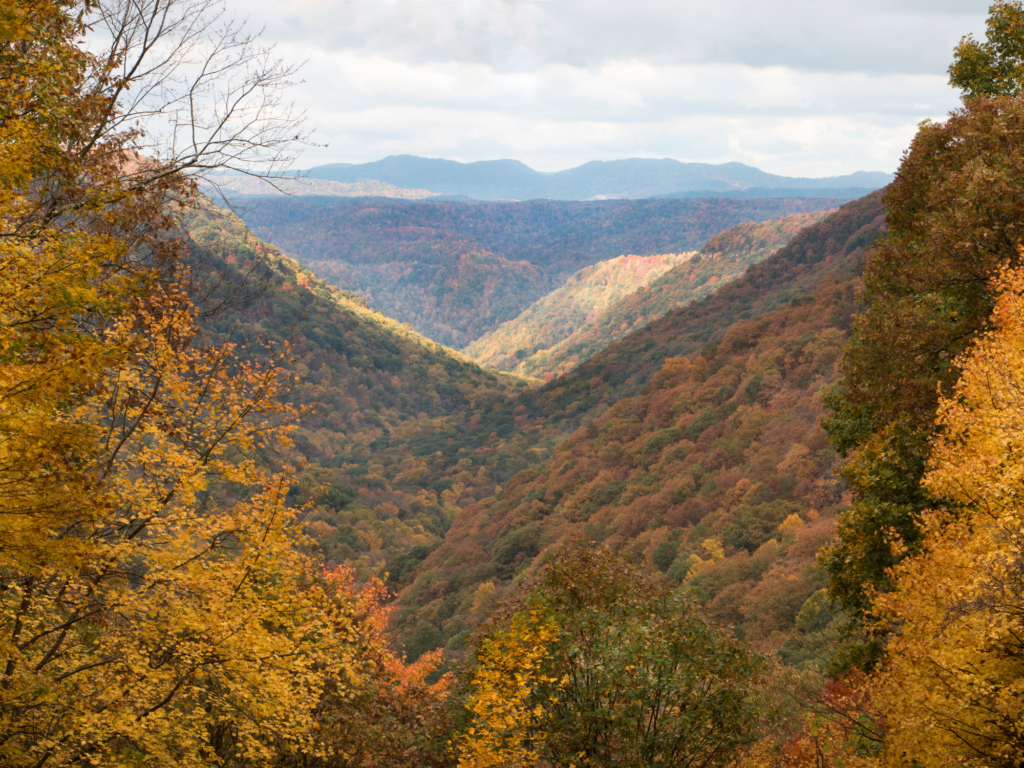 Have you had the chance to head to the East coast and take in the fall colors?
If not, West Virginia is a great place to start. Fall in West Virginia offers visitors breathtaking views of the fall foliage as far as the eye can see. This is because West Virginia has some of the most diverse topography in terms of plant life, making it an ideal destination for those looking to experience all things fall!
Visitors should check out Canaan Valley, where they'll find the Autumn Glory Festival taking place during October, offering plenty of family-friendly activities, including hayrides, arts and crafts, and pumpkin painting.
For more adult-friendly activities, check out Mountain State Art & Craft Fair, offering shopping opportunities galore for one weekend only at Davis & Elkins College campus.
What to do in West Virginia in October
Visit Blackwater Falls State Park
Go see The Pumpkin House in Kenova
Visit Coopers Rock State Forest
Stowe Vermont
Stowe has grown to be a popular destination in the Northeast because of its many charming attractions and festivals. October is no exception when it comes to enjoying all things fall. The annual Stowe Arts Festival features over 130 artists, Apple Harvest Weekend, and of course, Halloween on Halloween night: a celebration at Trapp Family Lodge.
The fall colors in Vermont are simply glorious in October, so make sure to head up to the mountains when you visit. Fall in Vermont isn't complete without stopping at Ben & Jerry's factory for some free ice cream samples and a fun factory tour!
What to do in Stowe Vermont
Enjoy the infamous white church amongst the fall foliage
Take The Gondola SkyRide
Drive The Auto Toll Road To Mount Mansfield Peak
Lake Tahoe
Lake Tahoe is one of the most picturesque destinations in Northern California and Nevada, where something exciting is always happening throughout all four seasons of the year.
As colder autumn nights roll around, it's time to head up north for some fall fun at Lake Tahoe. The region has undergone several changes lately with new nightlife venues, more activities during the winter months, and new restaurants popping up everywhere! Now is the best time to see the beauty of Lake Tahoe as the area is now filled with color as the leaves turn during autumn.
What to do in Lake Tahoe in October
Hike a section of the Tahoe Rim trail
Visit Emerald Bay
Visit Donner Memorial State Park
Blue Ridge Parkway
The Blue Ridge Parkway is one of America's most visited areas and is dubbed "America's favorite drive." The 469-mile stretch links the Great Smoky Mountains National Park in North Carolina to the Shenandoah National Park in Virginia.
Along with the overlooks, the Blue Ridge Parkway also features breathtaking views of the Blue Ridge mountains, woodlands, and rural settings, as well as numerous hiking trails, picnic areas, campsites, and interpretive signs.
What to do in Blue Ridge Parkway in October
Experience two National Parks Shenandoah National Park located in Virginia and the Great Smoky Mountains National Park in North Carolina.
Explore Mount Mitchell, the highest mountain on the east coast
See Biltmore Estate the largest privately-owned home in the United States
Adventure Is Calling Head Out and See the Best Places in October in The USA
October is the time of brilliant reds, yellows, and oranges, as leaves change colors across the USA; the sights and scenes you get to witness this month are like no other. With our list of the best places to visit, we hope you've found your next fall vacation destination.
Got some favorites? Let us know in the comments section below!