At some point, whether you're on a road trip for just a couple of days or you're actually living in your van you're going to get to a point where it's time to take a shower.
If you're traveling during the summer months showers are pretty easy to come by but if you're traveling in colder weather you may be wondering where are all the public showers at?
Van life offers so many great things I don't even know where to start. What we love most is being self-contained and ready to roll at a moments notice. Some people have the luxury of having a shower hookup or an actual shower in their van but for those who don't, it's not a problem because there are several options for you to shower and feel fresh and clean while living or taking a road trip in your van.
FINDING A PUBLIC SHOWER TO FRESHEN UP AT DOESN'T HAVE TO BE DIFFICULT IF YOU HAVE THESE SHOWER TIPS BELOW
I hope these tips for how to shower when living in a van or camper will help you to find the best public shower option for wherever you happen to be.
1. GET A GYM MEMBERSHIP FOR YOUR SHOWERING (AND WORKOUT) NEEDS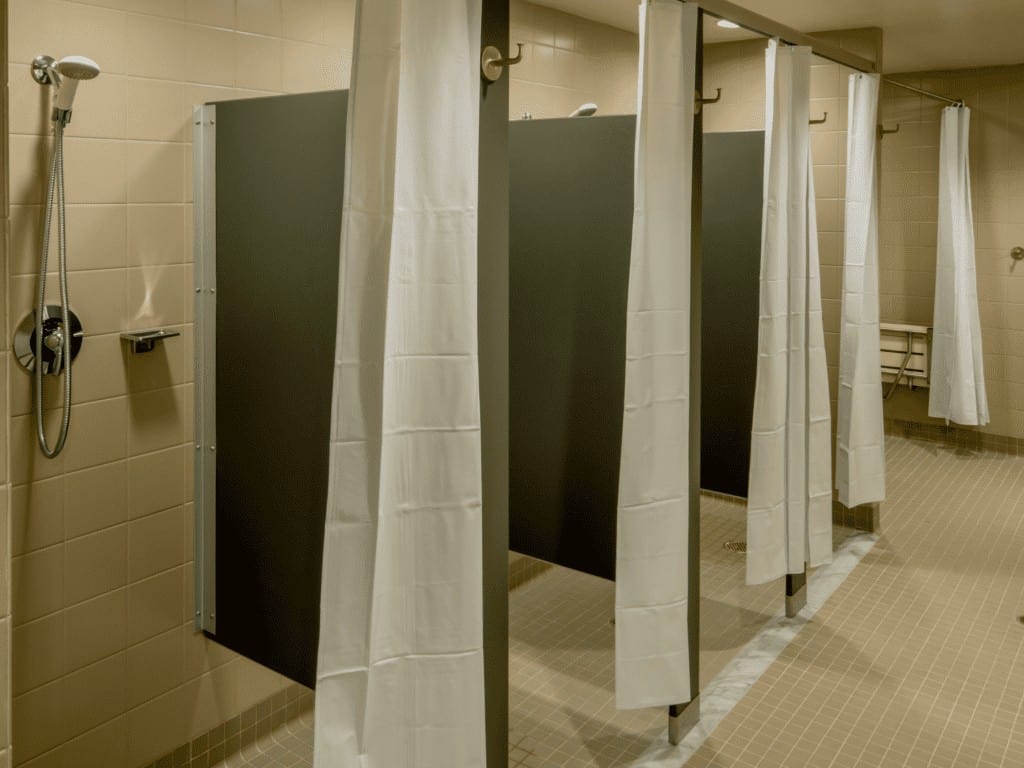 If you are going to be traveling the states there are several gyms that have locations throughout the whole country. The great thing about showering at gyms is many of them are open 24 hours.
If you aren't able to find a gym that's open 24 hrs I guarantee you most of them stay open fairly late and open really early. Many of the chain memberships are very affordable and a great way to dip your toes into the public showering experience.
My only advice with the chain gym is make sure they don't have any limitations such as only using gyms in a specified radius of your "home gym."
MOST POPULAR GYMS WITH SHOWERING FACILITIES
24 Hour Fitness
Anytime Fitness
Planet Fitness
SHOWER AT A 24 HOUR FITNESS
As the name implies it is open 24 hours. 24 Hour Fitness has fewer locations than the other two that I'll be mentioning but it still has a whopping 420 locations. Most of the locations are on the East and West coasts but they have a couple of gyms sprinkled in other states such as Nevada, Utah, Colorado, and Texas. The best part of 24 hour fitness is you can take a shower at anytime even in the middle of the night!
Make sure you do some googling to find out if the 24 hour Fitness has a location where you'll be traveling.
Most of the memberships range from $30-70 a month with a one-time initiation fee upon signing up.
PRO-TIP If you are planning to get a membership you'll want to check the specifics because they have some limitations on what gyms you can use depending on your home gym location.
ANYTIME FITNESS
As the name implies you really can work out anytime (or in our case take a public showers at any time). Anytime Fitness is unique from the others in that it offers you a keycode to access the building.
They have over 3,000 locations with gyms in just about every state. If you want to check for yourself click here to see if they have a facility close to you!
Anytime Fitness membership fees and contracts vary depending on the kind of membership you apply for and the location of the gym. But the average cost is around $30 to $44/month.
PLANET FITNESS FOR A PUBLIC SHOWER
With 1800 locations (tons of locations on the East and West coast) Planet fitness is a very affordable and popular choice for public shows and a workout. You can get a membership for as little as $10 a month.
If you intend to use multiple locations you'll want to make sure you purchase the black card. The black card is only about $20 a month but does require a year contract.
A bonus with Planet Fitness is you get a guest pass when you sign up so you and another person can split the cost.
2. SHOWERING AT REC CENTERS ARE GREAT PUBLIC SHOWER OPTIONS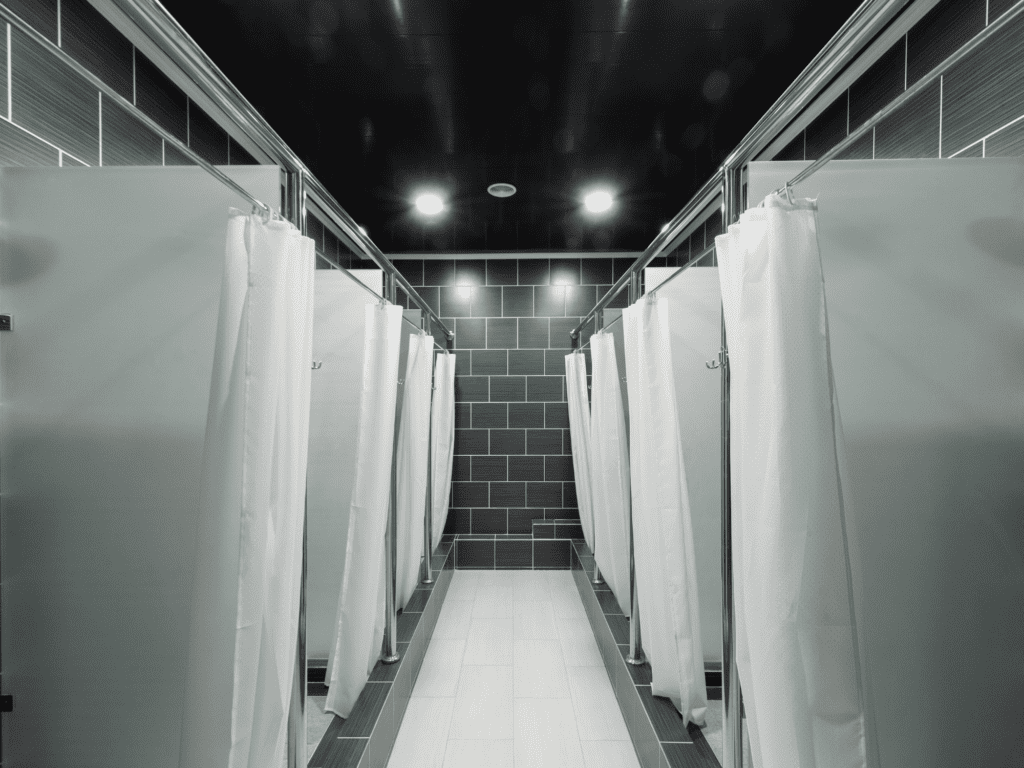 We've had a lot of success with paying day fees at Rec Centers and YMCA's to use their workout equipment and take a shower. Most of the time we pay around $8 per person. The great thing about REC Centers is you can squeeze in a workout and even take a dip in the hot tub if they have one.
3. FREE PUBLIC SHOWERS IN ALMOST EVERY STATE
I know this may come as a shocker but yes there are free public showers all over the country. All you need to do is a quick search for The Public Showers Directory and you'll be given a list of free and paid public showers for the area you searched. Another good option you can try is to google map search for "public showers near me, or "free showers near me". If the area you're in has public shower options they'll show up on the map.
When you're looking for a shower- National parks are a great option! Don't miss our National Parks Bucket List Sheet Below
4. PUBLIC SHOWERS AT STATE AND NATIONAL PARKS
Showering facilities may be used for a small charge or for free if you stay at their designated camping sites in most State Parks. What's not to like about a clean, warm (hopefully), and beautiful location?
Showers are generally available at large national parks, although they operate on a timed, quarter-operated system. Smaller national parks are unlikely to have these services, so do your homework.
We were traveling in Arizona in February and found a couple of campgrounds that had shower facilities open but don't get your heart set on it because they were FEW and FAR between.
We had luck at the Grand Canyon but of course, this is a large and VERY popular National Park.
You'll also want to know that many of the showers are coin-operated and timed especially if you want any hot water. So before heading down the path to the shower make sure you have some quarters in your pocket. It's no fun to run out of quarters with a bunch of conditioner still in your hair.
4. HOSTELS
Hostels are a great place to get a much-needed hot shower for about $5-$10. While we were skiing and stealth camping several days at Jackson Hole Resort we got to a point where it was time for a legit and proper shower.
We called up the hostel at the resort and asked if we could pay for a shower and they happily accommodated our request. They even gave us a fresh bar of soap and some lotion, how nice of them!
---
If you want to learn about which ski areas let you camp overnight, we've done the leg work for you.
5. PUBLIC SHOWER AT THE CAMPGROUND
Paid campground showers are the perfect way to clean up after a couple of long days without showering. We do this all the time when we are spending time in Moab.
If you find yourself in Moab there are a couple of campgrounds in town that offer showers for $5-6 even if you aren't staying at the campground.
Keep in mind if it's the winter season you may have difficulty finding any campground shower facilities that are open. Many campgrounds shut things down over winter.
---
6. TRUCK STOPS OFFER PUBLIC SHOWERS
Did you know that you too can take a shower at a truck stop? Yes, truck stop shower facilities aren't just for truckers. Truck stops cater to those on the road regardless if you are van lifer or a truck driver.
Many have even rebranded themselves in recent years to the friendlier "travel plazas". Have you realized everything these truck stops have? The list of amenities at truck stops in continuing to grow, I've seen some with gyms, hair salons, laundering facilities, and even massage therapists!
What I love best about the truck stops is shopping! Yes, they have the best 12 volt van life appliances around!
Truckstop showering facilities have come along way, really they have! They're usually nicer than the ones you'll find at RV parks. You'll pay $10-12 to get a super clean, private room with your own key.
Honestly, it's a bit expensive in my opinion but when you're desperate for a shower it's an option!
POPULAR TRUCK STOPS WITH PUBLIC SHOWERING FACILITIES
Flying J
Loves Truck Stops
Pilot Travel Center
Travel Centers of America
7. BOAT MARINAS MAY BE AN OPTION FOR A PUBLIC SHOWER
I know that boat marinas have some pretty decent security but if you can make friends with the locals or boat owners they may give you access to the keypad entrance. I can't think of a better way to shower, than in a luxury boat marina with some well kept amenities. Oh and I bet the views will be pretty nice as well.
8. JUMP IN THE RIVER OR A LAKE
Hey if it's summertime there's nothing better than freshening up with some cold river water. But make sure you leave the soap in the van. Even the most "environmentally friendly" soaps can damage the delicate ecosystem of a lake or stream. Be prepared if it's not the heat of the summer this could be a chilly experience.
9. FIND SOME HOT SPRINGS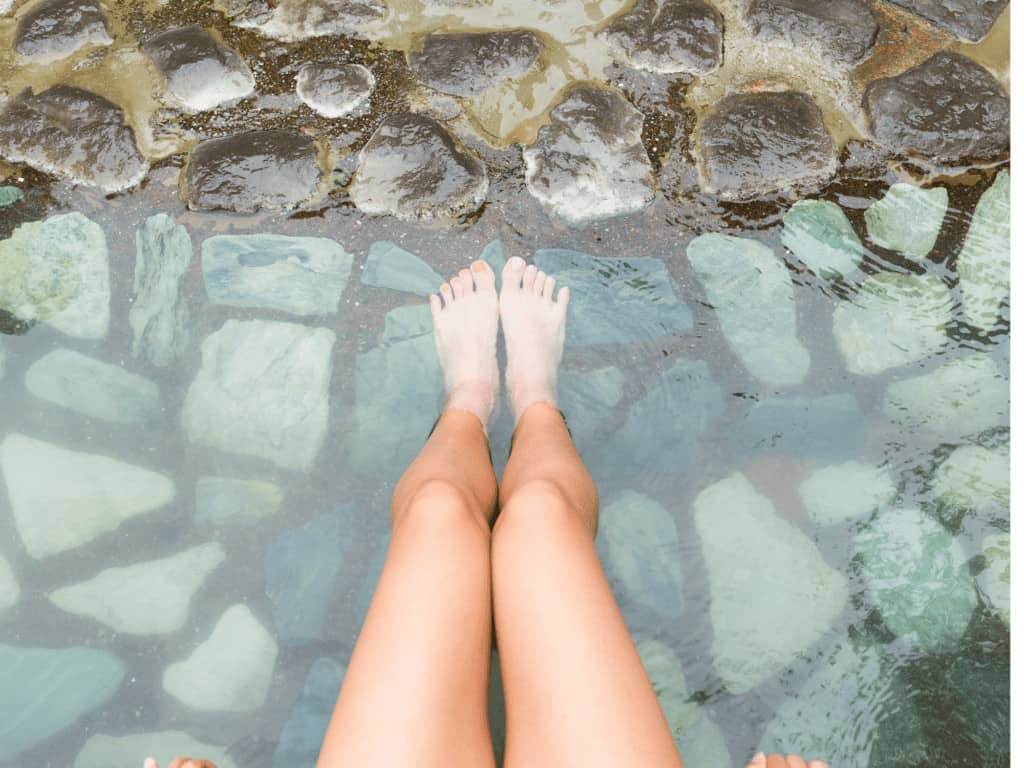 There's no better way to warm up in the winter months than finding a nice toasty hot spring. These are a great way to freshen up after a big day, of skiing or playing in the outdoors.
Some hot springs shower facilities are free to use while others charge a modest fee to get cleaned up after your dip in the springs.
10. GET A DAY PASS TO A HOTEL SWIMMING POOL
This isn't always possible because some hotels reserve the pool for guests only but I know some hotels gladly accept outside guests for a small fee. We've paid about $8 a person to use the hotel pool, hot tub, and private clean showering facilities.
This often includes the use of their gym as well. It never hurts to check if a hotel has day passes, especially if it is recognized for its pool.
11. FIND A PUBLIC SHOWER AT THE BEACH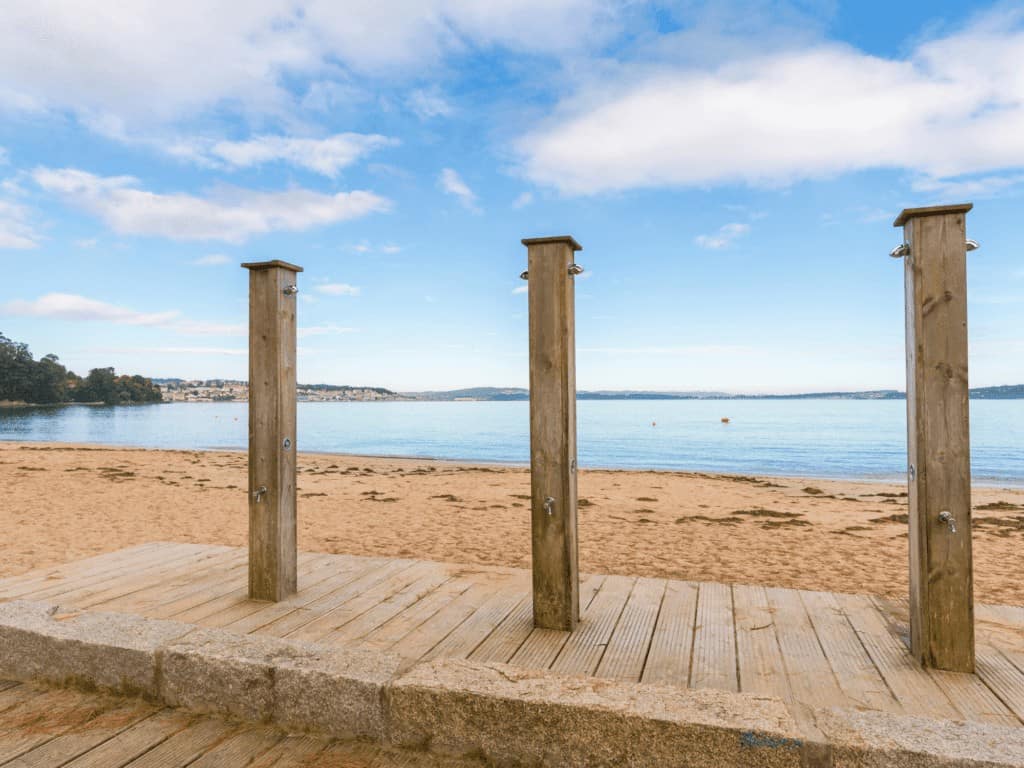 There are plenty of public showers at the beach, which makes it easy to rinse off the sand and salt water or everyday grime. Just look for the sign that says "Public Shower" and do your thing. We showered at the beach several times during our time in Florida and it worked just fine. If you're in a beachy area you may want to try and google "beach showers near me" and see what options you get for public showers near you.
12. COMMUNITY SWIMMING POOLS ARE GREAT PUBLIC SHOWERS
The great thing about using the local community swimming pool is you can even get some exercise with a swimming workout. Most showers have both hot and cold water, so you can get cleaned up no matter what the temperature is outside.
And if you're worried about privacy, don't be – most showers have curtains that provide some degree of separation. So go ahead and take a shower at the community pool – it's a great way to cool off and get clean all at the same time!
PORTABLE SHOWER OPTIONS OF YOUR OWN
TAKE A SOLAR SHOWER
When it's hot outside the perfect shower is a solar shower! I love taking solar showers in the "wild" because the views are incredible. It's such a treat to hang my solar shower bag on some rocks and come back after a long day of biking to a hot shower ready to go.
The great thing about solar showers is they are perfect for people who have limited space. You can easily roll up your solar shower and stuff it away to use again another day.
PVC PIPE ROOF SHOWER
I love PVC pipe showers, a friend of ours has one on their van and it was a perfect way to shower after a long mountain bike ride.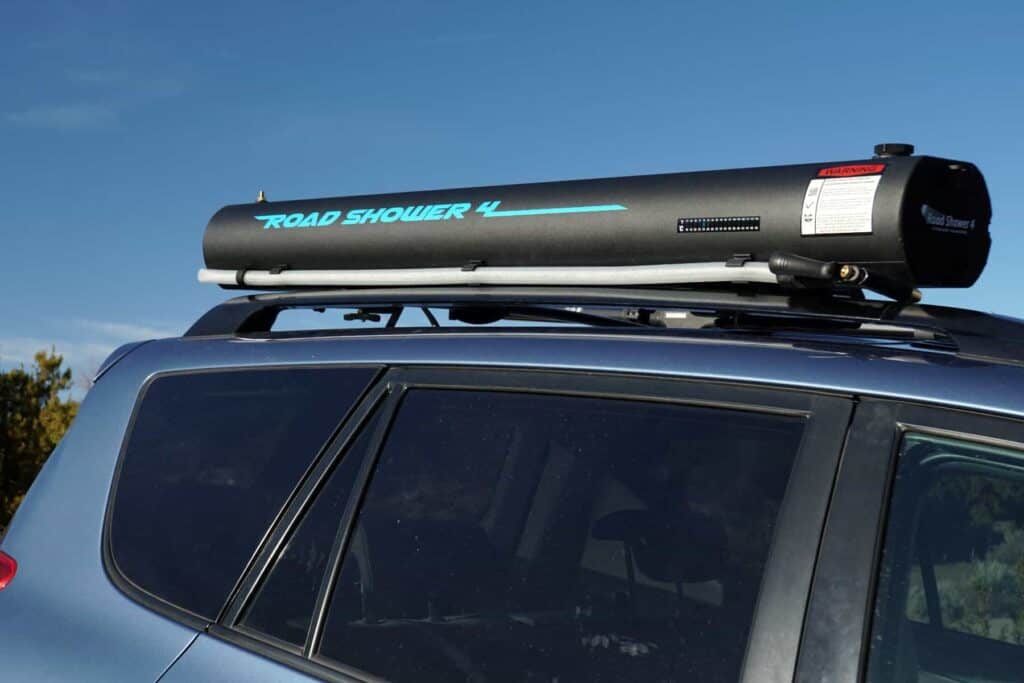 Not familiar with what this is? It's a DIY gravity-fed showering system using 6 inch schedule 40 PVC pipe. If you're not a DIY'er you can buy one too. Check out Road Shower for options.
TIRED OF INDOOR PUBLIC SHOWERS? BUILD A VAN SHOWER
You're probably wondering how the heck is a shower inside your van considered a public shower, isn't this an article about public showering?
Yes, as a matter of fact, it is but if you have an inside water source you can easily attach tubing and a shower head to your faucet and hang your shower nozzle from your sliding door. Now you have an outdoor public shower!
We've showered inside and out of our van many times with our shower tubing and a simple shower nozzle.
August created a great makeshift showering area inside our van. The drain pan for our shower doubles as our ski rack and boot holder allowing the water and snow to drain without getting our van floor all wet.
OUR FORD TRANSIT 2.0 BUILD VAN SHOWER
Looking towards the back of the van you can see the shower curtain hanging with the bed flipped up to the left.
For water we ran a hose from the sink faucet to the shower. Nothing fancy but it worked great.
WET WIPE SHOWER
When all else fails and you're not able to find a public shower make sure you always have some body wipes on hand. Oh and for the ladies throw in some dry shampoo to absorb that shine! It's just shine, right?
I love using these wipes or making my own DIY wipes with the following recipe.
Viva Paper Towels
Cut toilet paper roll in half
Remove cardboard center
2 C Hot Water
1 Tbs Dr. Bronners
1 Tbs Witch Hazel
2 Tbs oil (almond, avocado)
Several drops of tea tree oil
MUST HAVE SHOWER ACCESSORIES TO MAKE YOUR PUBLIC SHOWERS A SUCCESS
Microfiber towel– Microfiber towels are perfect because they're compact and they dry quickly
Flip Flops– I don't know about you but I prefer having a buffer between my feet and a public bathroom and shower.
Shower Tote– This shower tote is super useful because it's made of mesh so you don't have to worry about it drying if it gets a little bit wet. I like that it has all of the different pockets for your shampoos and soaps.
A FEW ADDITIONAL TIPS FOR TAKING PUBLIC SHOWERS WHILE TRAVELING
Make sure you have plenty of quarters so you can feed the shower meter
Plan accordingly and go with the flow if a shower isn't in your cards for the day. Sometimes you may just strike out on finding a public shower that suits your needs. If it's too cold out you may have to wash your hair in the sink and do a wet wipe bath for the day.
Prepare yourself for cold showers
Find yourself a nice toiletry and accessory bag for all of your belongings to make the shower process streamlined
FAQ ABOUT PUBLIC SHOWERS
Are you wondering why you should sandals in public showers?
It's just cleaner that way, it's pretty unlikely you'd get sick from a foot infection you got from public showers but they are pretty germy places
How much are public showers?
The cost of a public shower really does range, it depends where you're showering and what state you are in. I'd say you should plan on a shower costing you any where from a couple of dollars up to $15 for a plush shower facility.
How to use public showers?
Most showers require you to pay your fee up front. These days most shower facilities offer you your own private stall for showering, sometimes you'll be required to change in a large open changing room but it really depends on the facility you're showering at.
Please let us know if you have some additional shower options you think people may find helpful. We would love to add some more free shower options to this post. Thanks for exploring with us