Thanks to the wonderful world of technology there are some super helpful road trip apps that exist to help you travel. Whether you're planning a coast to coast adventure or just a couple hour drive these smartphone apps are guaranteed to help you with your travels.
Here's a list of my 10 personal favorites, they're all a bit different so you may consider getting all of them!
1. GAS BUDDY
GasBuddy is a travel app for people who want to save money on gas. And, really who doesn't want to save a bit of money? It works by telling you the cheapest gas in your area and rewards you when you enter in new gas prices along your route.
Sure you may have to drive a mile or 2 off the freeway to get to the specific gas station but if you can walk away with saving $5-$10 per fill-up I think it's worth the extra mile or two.
2. ALLSTAYS
If you're a fellow van lifer this is one of our favorite road trip apps. It's a great place to look for just about everything you might need while traveling.
For example, you can find campgrounds, truck stops, rest areas, propane stations, and RV dumps. You can even locate Walmarts that allow you to overnight park.
All you do is click on the top right corner of the app to apply filters. (Walmart, Cabellas etc). It then displays all of those particular businesses anywhere in the country so you can plan where to sleep.
They even have directions, and phone numbers in case you need to call ahead.
Sorry Apple Only!
3. ROADTRIPPERS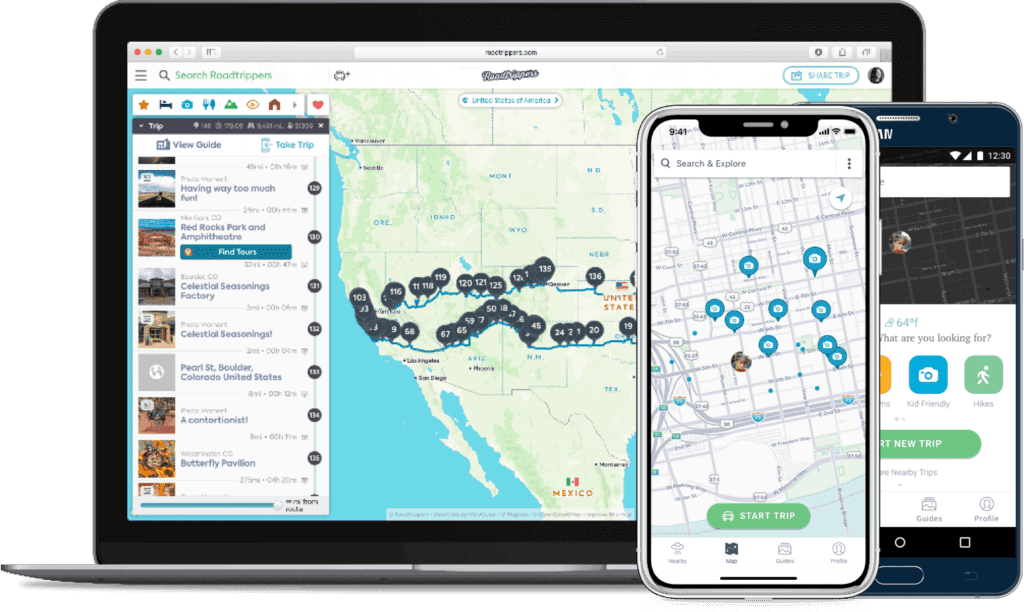 This app comes in super handy when I'm trying to add in some fun stops to break up a long drive.
Once you download Roadtrippers you'll find tons of things like local diners, roadside attractions, National parks and other scenic points of interest.
Users can plan out trips in the app or on desktop, by giving it a start and endpoint and it will ask you what your interests are and then provide you with things to do.
You can save trip routes, share them with travel friends, sync across multiple devices and even edit on the go.
4. GO SKYWATCH
Starlight star bright the first star I see tonight. Ok, I'll stop there 😉 With this app, you have the infinite universe in your hands. We love using this app while camping to see what planets are visible and to learn about constellations and stars.
It's also fun to scroll through dates and times to see what will be visible on certain days and times.
Not available on Android
5. ROADSIDE AMERICA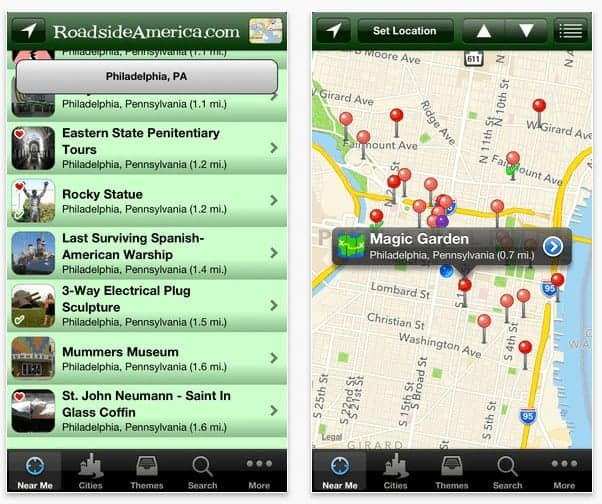 We have this app running every time we travel. What's a road trip without stops at historical landmarks and quirky attractions along the way?
Roadside America's app uses your phone's GPS to locate weird, odd and quirky places along your route but also lets you search and plan your visit to the places of your choice.
People often ask us how we find such cool stuff along our trip and it's because of this app. It lets us explore the map, search by geographic proximity, name, or by theme.
Not available on Android
6. TOLLSMART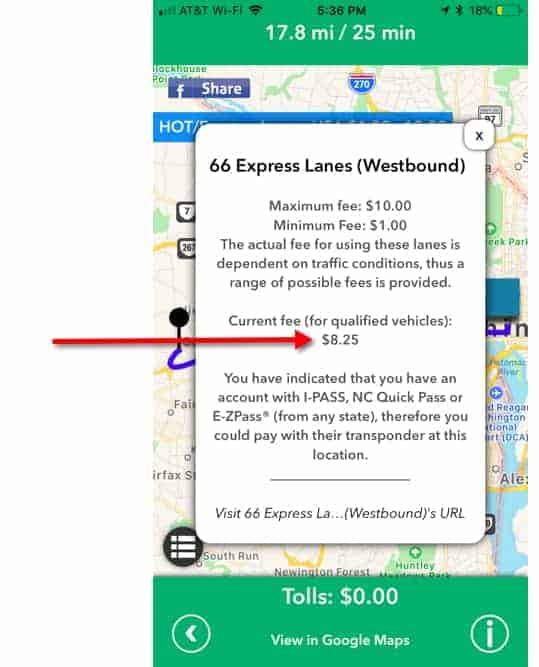 Nobody wants to pay money for taking a toll road when they can be avoided. Let me introduce you to the TollSmart app which is an app that calculates tolls costs for any routes across the US.
7. PARK ME
There's nothing more frustrating than circling a city in a big ole camper van trying to find a parking space.
ParkMe is an app which helps you search for the nearest and cheapest parking options with the help of your GPS location on your phone.
You can get directions to the nearest lot entrance, check out parking rates, including street parking (where available), set a parking timer so you'll never forget to refill the meter.
You can even find out parking space availability and reserve and pay for a parking slot with your phone.
8. FLUSH TOILET FINDER
I know what you're thinking "come on"? Really you have a toilet finder app. You bet I do!
Flush Toilet Finder is an app that uses your GPS location and checks its database of more than 200,000 public and paid toilets and then maps out all the toilets for you.
It even tells you information such as if the toilet requires a fee or key or includes handicapped access.
9. I EXIT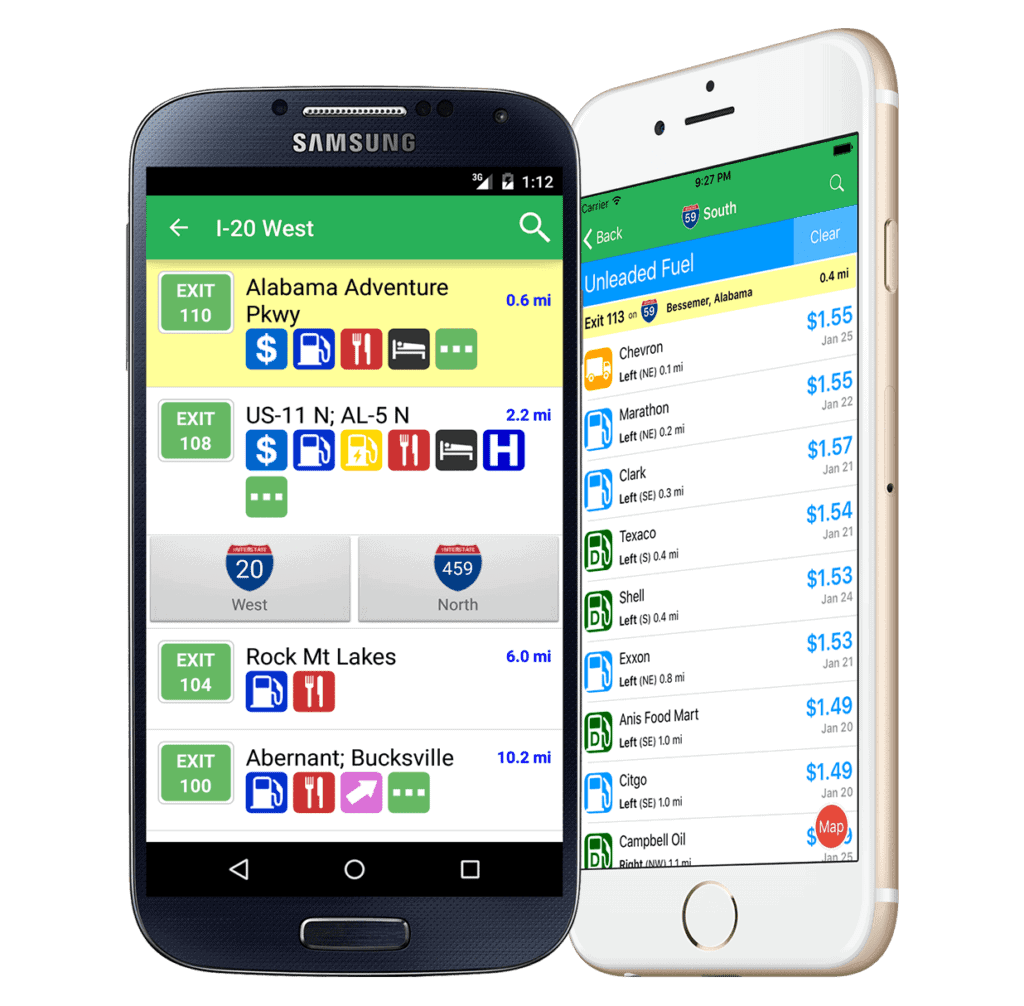 When we're traveling in the van August is typically the driver and I'm the co-pilot. It's my job to discover the things to do in the areas we are traveling to.
By using the iExit app it makes my co-piloting a breeze. This app uses your GPS signal to find where you're at along the interstate and then creates a list of all the upcoming exits along with everything at each exit (gas stations, restaurants, rest stops, etc.).
What I like most about this app is that it tells me how far each exit is from each other this helps in determining when we "really" need to stop to fill up our tank.
10. THE OUTBOUND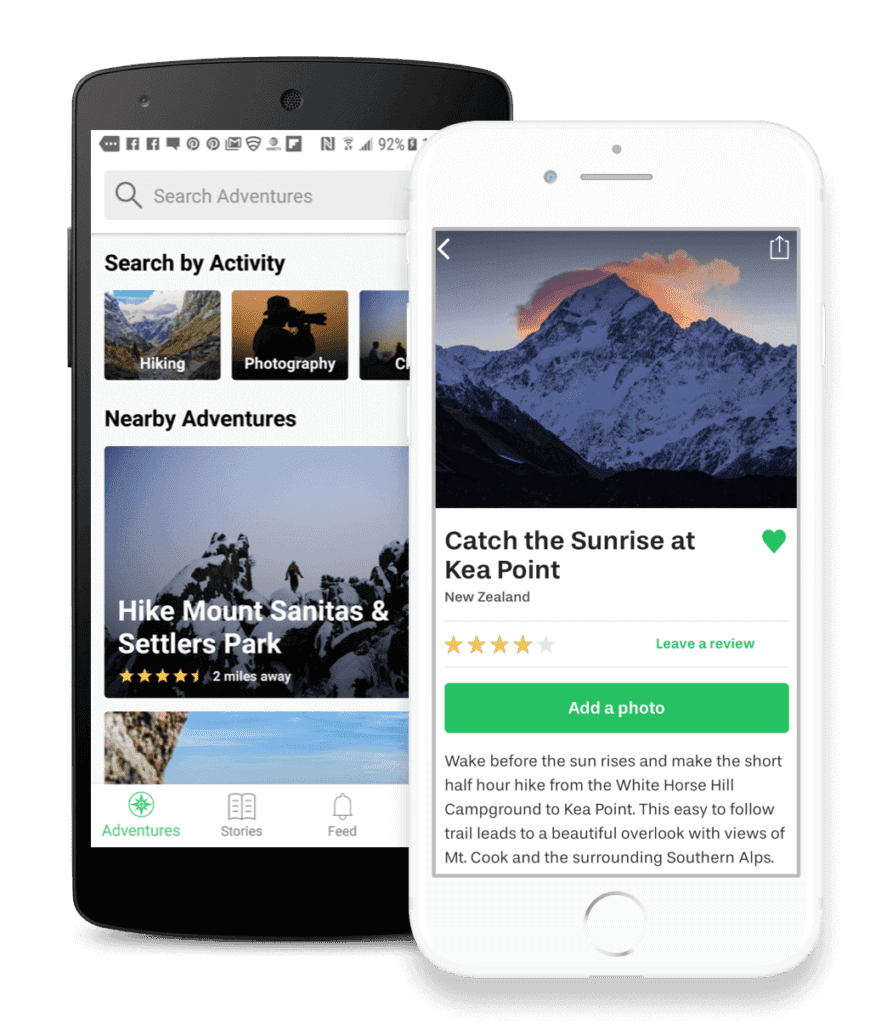 The Outbound focuses on finding outdoor adventures wherever you are. Simply enter your location and interests when you create your account, and this app will come up with outdoor activities you might like nearby.
They have everything from hiking, camping, and fishing to photography and chillin. The app even has a social aspect where you can follow other adventurers to get inspiration.
When you've been stuck in the car all day and itching for a hike, bike or a swim, look to The Outbound app for ideas and locations.
FINAL THOUGHTS ON THESE ROAD TRIP APPS
As mentioned before I recommend downloading a couple of different road trip apps from the list above to help with your travels and adventures. Everyone has a different style of travel and I'm pretty sure you can gain a thing or two from one of these apps.