Nothing trumps the feeling of hitting the open road and driving away from all the chaos. With the wind in your hair and the sun in your face, it's a pleasant escape from the chaos of everyday life.
Whatever traveling season you prefer, it always makes you feel alive, free, and happy.
And whether you're hitting the open road for a weekend getaway or embarking on a weeks-long cross-country journey, snacks and meals are key to keeping your energy and moods high.
But what about when you get hungry and don't have the option for quick takeout? Do you survive on chips, or is there a smarter way to stay fueled (and healthy) no matter where you travel? If you vote for the second option, we hear you.
Today, we're here with the best list of road trip food ideas to keep you well-fed on the go.
From snacks to full meals, we've gathered everything to make your journey a delicious one.
So pull out your map and get ready to explore some new territory – with your stomach full of good food, of course. Let's Go!
Our Favorite Road Trip Snack Ideas
Here are some of our favorite road trip snacks that are sure to keep you satisfied during your journey:
String Cheese- Quick And Easy Road Trip Food
You're never too old to enjoy string cheese, especially when you know how nutritious it is. For a balanced snack, pair your string cheese with some apple slices.
This combination provides healthy fats, good protein and complex carbohydrates. With this trio of nutrients, you'll feel full and energized for hours!
Homemade Pickled Veggies
If you love pickled cucumbers, then you'll love making your own version of pickled veggies at home.
You can use any type of vegetable that you want, but some of the best include carrots, radishes, and peppers. Simply slice up your veggies, add them to a jar with vinegar, water, sugar.
Olives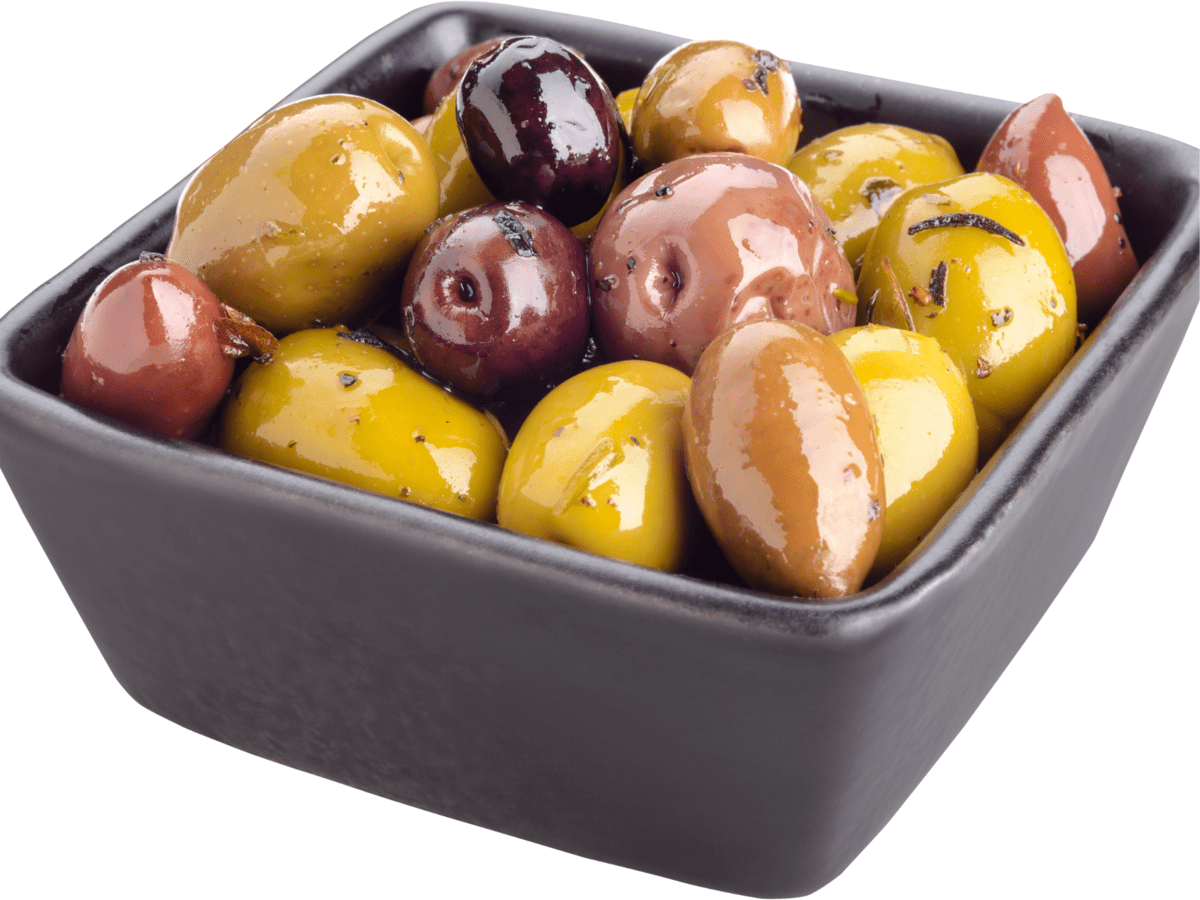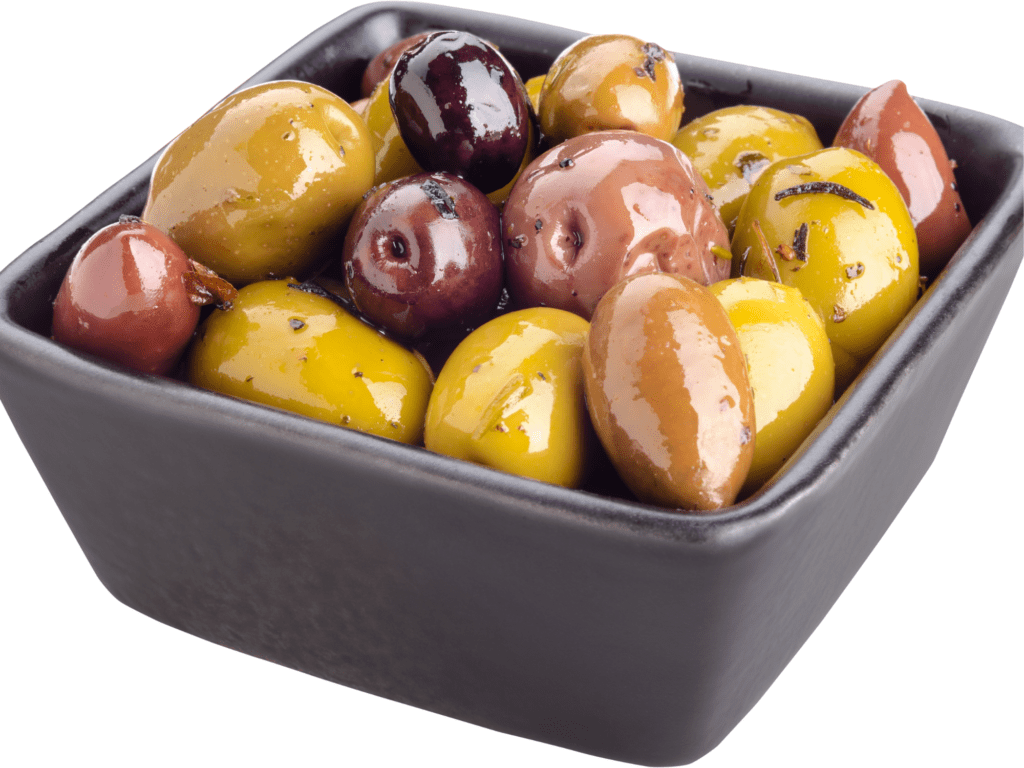 For a savory snack, olives are a fantastic option. Pitted or not, they're perfect for munching on while you're driving. Plus, they're high in healthy fats and antioxidants.
Fruit and Vegetables (Fresh Cut And Packed)
What's better than fresh fruit on a hot day? It may seem odd, but fruit and vegetables are some of the best foods to eat while on a road trip.
They're packed full of vitamins and minerals that will help keep your body healthy, and they're also very easy to eat while driving.
To prepare fruit and vegetables for your trip, wash them before you leave, so they're ready to eat.
Cutting up some fruit before you hit the road is a great way to stay well-nourished while also satisfying your sweet tooth.
Packing fruit in reusable containers or bags is also an environmentally friendly way to enjoy a healthy snack. Our personal favorites are apples, grapes, pears, strawberries and watermelon, – but feel free to pack your favorites!
Baby Carrots
Staying stocked up with baby carrots is a great way to make sure you have healthy snacks on hand, and can help prevent you from mindlessly eating unhealthy foods when you're bored.
Plus, they're packed with fiber and vitamin A!
Cottage Cheese And Crackers- This Can Be A Messy Road Trip Food
Cottage cheese and crackers is a simple, yet delicious snack that can be enjoyed by people of all ages. Cottage cheese is a great source of protein and calcium, while crackers provide a crunchy, savory contrast.
This combination can be enjoyed as-is, or you can add your own favorite toppings to customize the flavor. Try adding a sprinkle of herbs or spices, a drizzle of honey or jam, or even some chopped nuts or fruit.
Not only is this snack easy to make, but it's also versatile and can be tailored to your own personal preferences. So go ahead and give cottage cheese and crackers a try.
Dips (Hummus, Guacamole, Salsa, Etc.)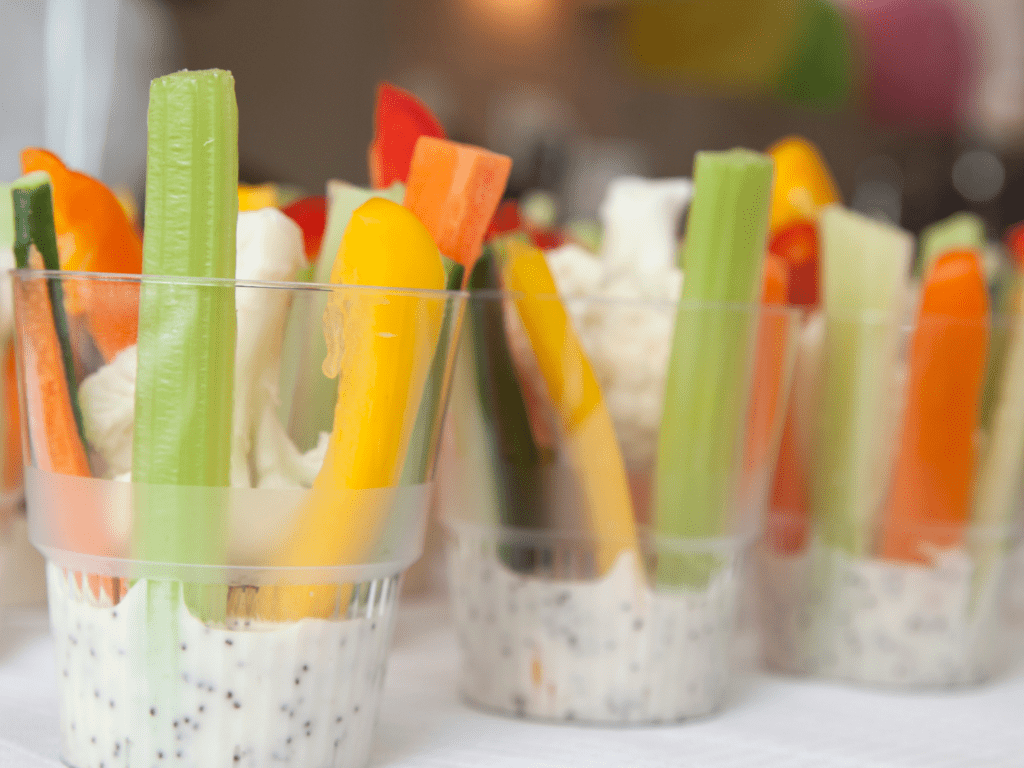 Ah, dips. The versatile snack that can be eaten with literally anything. Chips, crackers, carrots, celery—you name it, dips can make it better.
And what's even better than dips? Homemade dips. Whether you're making hummus from scratch or whipping up quick guacamole, there's nothing quite like road-tripping with a home-cooked dip.
Not only will it save you money, but it'll also taste a million times better than anything you could buy at a gas station. These dips will also make your daily serving of vegetables yummier (yes, even if you're eating them with chips).
Hard-Boiled Eggs- Healthy And Satisfying Road Trip Food
Eggs are not only easy to prepare, but they are also easy to store and easy to eat on the go. They're fairly mess-free, and packed full of protein that your body will need while traveling.
For some extra crunch and complex carbs, add some whole wheat crackers to your egg snack for the perfect pick-me-up.
Edamame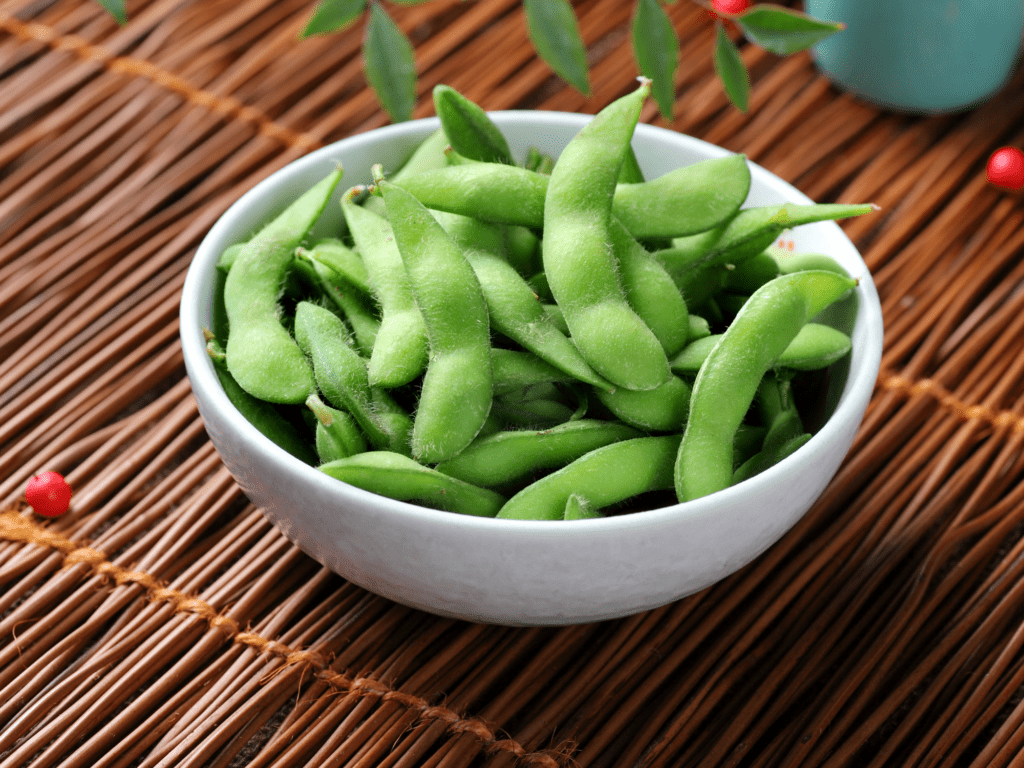 Edamame is a nutrient powerhouse that's perfect for snacking. These little soybeans are not only a good source of protein, but they're also high in fiber. You can either buy them pre-packaged, or cook them yourself. If you opt to cook them, simply boil for 3-5 minutes.
Cheese And Crackers
A classic road trip food, cheese, and crackers are a great way to stay well-nourished on the go. Cheese is a good source of calcium and protein, essential for keeping your body healthy.
Crackers are an excellent source of complex carbohydrates, giving you sustained energy throughout the day.
Also, whether you're driving across the country or just taking a day trip to the beach, packing some Babybels will satiate your cheese cravings. These little guys are easy to pack and full of nutrients that will help you stay energized for the long haul. Plus, they're just so darn cute! (And delicious.)
Grapes
Grapes are the perfect on-the-go fruit since they're not messy and don't require any utensils. However, too many grapes can cause a sugar high, so eat in moderation.
Sliced Peppers And Guacamole
Sliced peppers and guacamole is a healthy and flavorful snack. Peppers are a great source of vitamins A and C, and guacamole is packed with healthy fats. To make this snack even more nutritious, try making your own guacamole at home using avocado, tomato, onion, lime juice, and cilantro.
Road Trip Snacks Non Refrigerated
There are plenty of road trip snacks that don't need to be kept in the fridge, so you can pack them up and enjoy them on your journey. Here are some of our favorites:
Trail Mix 
Want to munch on healthy snacks? Trail mix it is, then! This mix contains essential nutrients and is pretty flavorful. What's more, you can eat trail mix as is or make a nutritious yogurt bowl with it and fruit chunks to nourish yourself.
Also, trail mix is a go-to road trip food because it won't leave your hands feeling sticky or dirty and tastes superb. It is packed with energy-boosting nutrients like protein and healthy fats, so you can maintain your health wherever you are.
To avoid making too much of a mess, portion your trail mix into individual zip-top bags before you hit the road. That way, you can grab a bag and go instead of having to dig through a big container every time you get a bit hungry.
Apple Chips
Although potatoes reign in the chip category, they aren't that healthy. My personal favorite alternative are apple chips. They maintain the same level of crispiness and crunchiness but without making you feel guilty after indulging in an entire bag.
Salted and Roasted Sunflower Seeds
Sunflower seeds make the perfect travel snack because they're not only a good source of vitamin E, but they're also tasty and easy to eat.
Juice Boxes Or Pouches
When it comes to road trip foods, there are two camps: those who love them and those who think they're overrated. While opinions may vary, there's one thing that everyone can agree on: juice boxes and pouches are a great way to stay hydrated while on the go.
Since a long journey can be tiring, you must stay hydrated, and these pouches do just that.
Pack a cooler with juice boxes or pouches, and make sure to stop for regular bathroom breaks to avoid making too many unscheduled pit stops.
If you're worried about leaking, place the juice boxes or pouches in a sealable plastic bag before putting them in the cooler. This way, even if they spring a leak, all the liquid will be contained.
Dried Mangoes
If you're looking for a quick, easy snack for your road trip, try dried mangoes. They're delicious and will satisfy your sweet tooth. For an even tastier experience, go for the organic thin cut version!
Fruit Leather
Fruit leather is a fun, chewy alternative to fresh fruit that's easy to store and transport. You can find fruit leather at most supermarkets or health food stores, or make your own at home with a dehydrator or by oven-baking thinly sliced fruit on a lightly oiled baking sheet.
Pro tip: cut the fruit leather into strips or bite-sized pieces before packing, so it's easy to eat on the go.
Pistachios
Pistachios are a good source of protein, fiber, and healthy fats. They're also one of the lowest calorie nuts, so they're a great snack for people watching their weight.
Granola Bars
Granola bars are a healthy mix of sweet and savory, and they're an ideal road trip snack because they're easy to eat and don't make a mess.
You can find granola bars at most convenience stores, but we recommend making your own at home to control the ingredients. Homemade granola bars will also taste fresher and be more satisfying than their store-bought counterparts.
Baked Chickpeas
Baked chickpeas are super easy to make and are a great source of fiber. Simply drain and dry a can of chickpeas, toss them in some olive oil, season with salt and other spices, then bake for 30 to 40 minutes at 450°F.
Bagel Chips
If you have leftover bagels, then don't let them go to waste–turn them into chips! You can season them with anything you have on hand, and they make a great alternative to potato chips.
Coconut Chips
Another scrumptious option for chips are coconuts! They offer a delightful sweet and nutty flavor that is further amplified by their irresistible crunch.
Moreover, these chips are not only healthy but provide a nice contrast of sweet and salty flavors from the seasoning.
Dried Snap Peas
Dried snap peas are a healthy and delicious alternative to chips or other unhealthy snacks. They're full of protein and fiber, and make a great on-the-go snack.If you want something a little sweeter, try the honey roasted variety.
Chocolate Covered Almonds
Chocolate-covered almonds are my kryptonite! They're the ideal mixture of crunchy, nutty, and sweet — I can never have just one. You can either purchase them in large quantities or make them at home.
Peanut Butter Chia Seed Balls- My Favorite Non-Refrigerated Road Trip Snack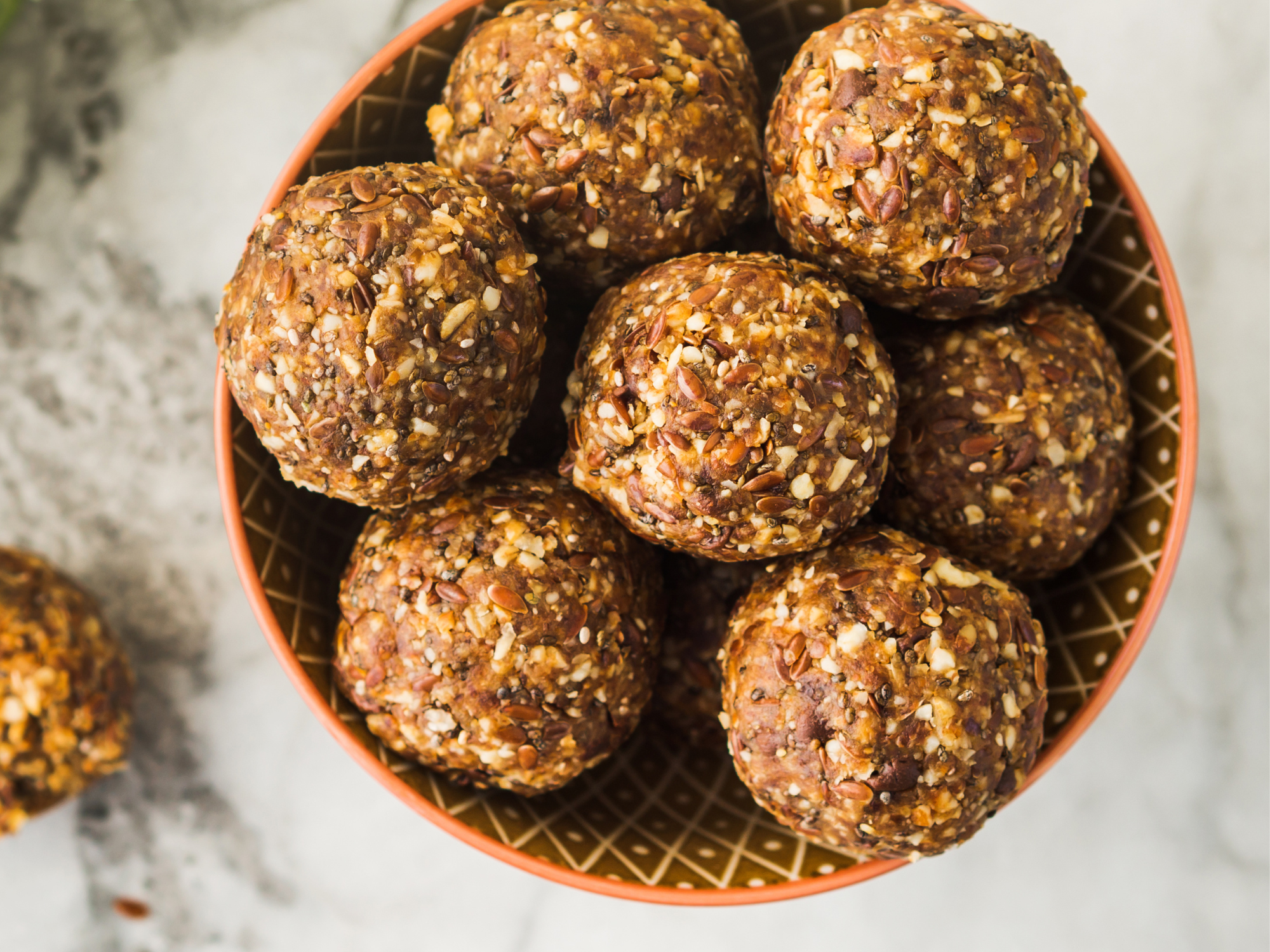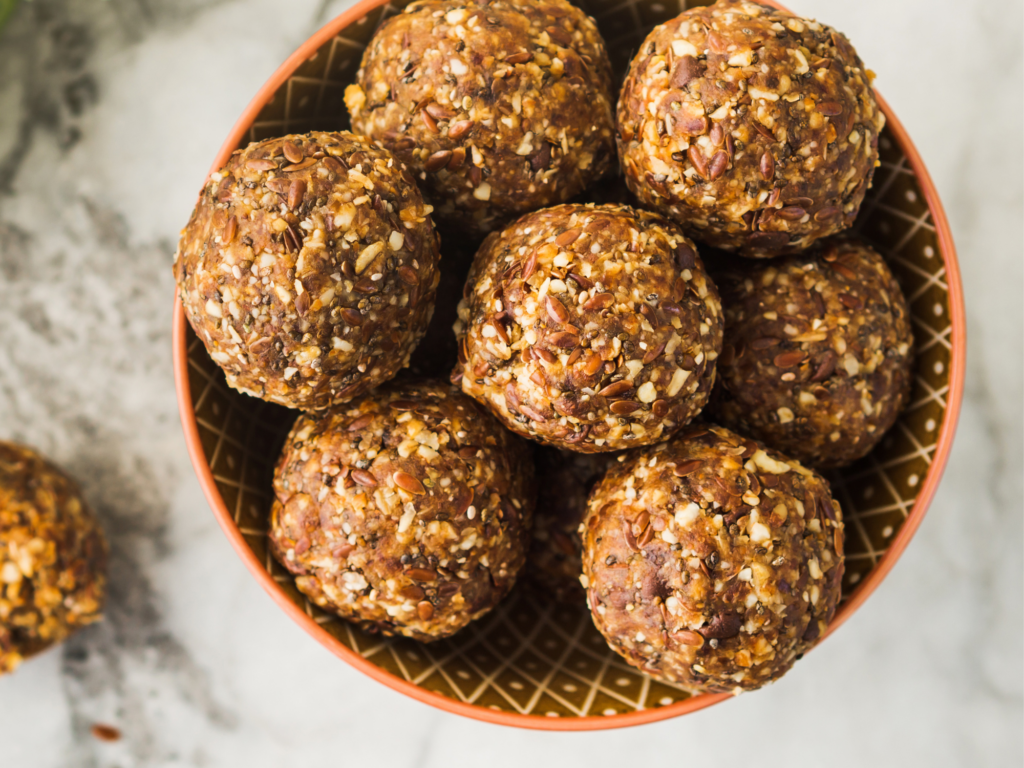 Peanut Butter Chia Seed Balls are a healthy and delicious snack that is perfect for on the go.They are made with just a few simple ingredients, including peanut butter, chia seeds, oats, honey, vanilla extract and cocoa powder.
Peanut Butter Chia Seed Balls are a great source of protein and fiber. They are also low in sugar and calories, making them a healthy snack option.
Chips (Kettle-Cooked Chips)
Potato chips are a classic road trip snack food for a reason—they're delicious! But not all potato chips are created equal. For road trips (or any time spent traveling), we recommend choosing kettle-cooked chips over their mass-produced counterparts.
Kettle-cooked chips are cooked in small batches using traditional methods, giving them a great crunch and rich flavor that you can't get from regular potato chips.
They come in lots of delicious flavors like sea salt & vinegar, sour cream & onion, and barbeque—so you can find the perfect chips for everyone in your group.
Just remember to pack an extra bag for The Snack Attack Monster that always seems to rear its ugly head when you're on the go.
Roasted Seaweed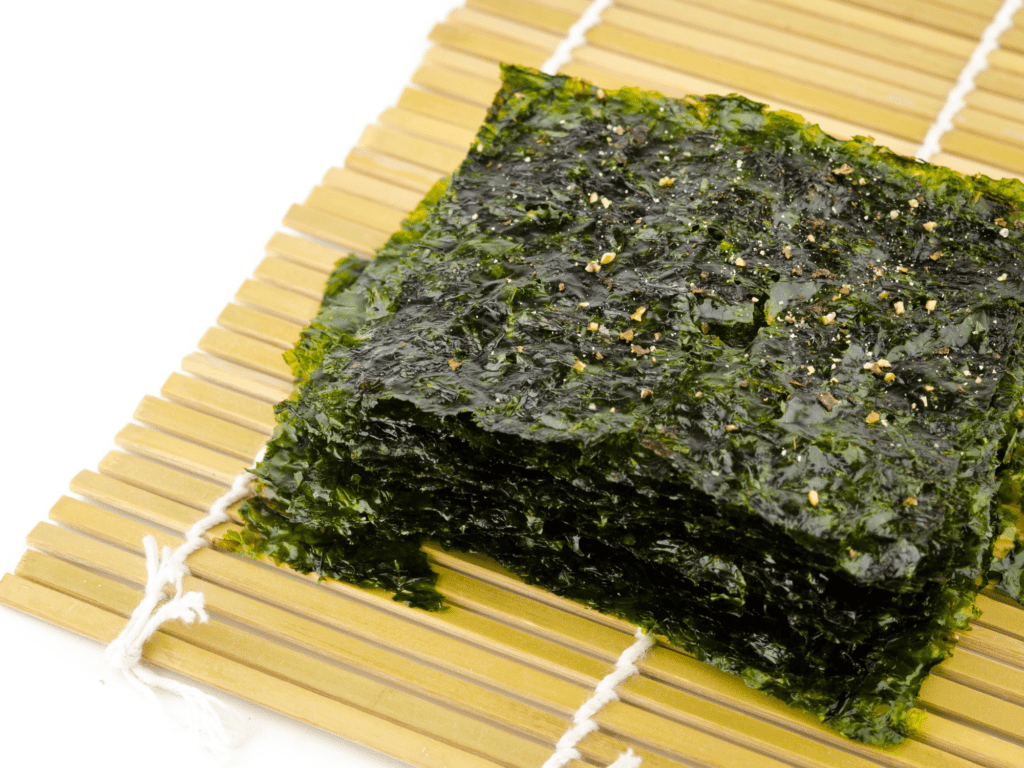 You don't have to stick to sushi and salads when it comes to seaweed. You can find roasted, salted options at any Asian grocery store for a healthy snack on-the-go.
Beef Jerky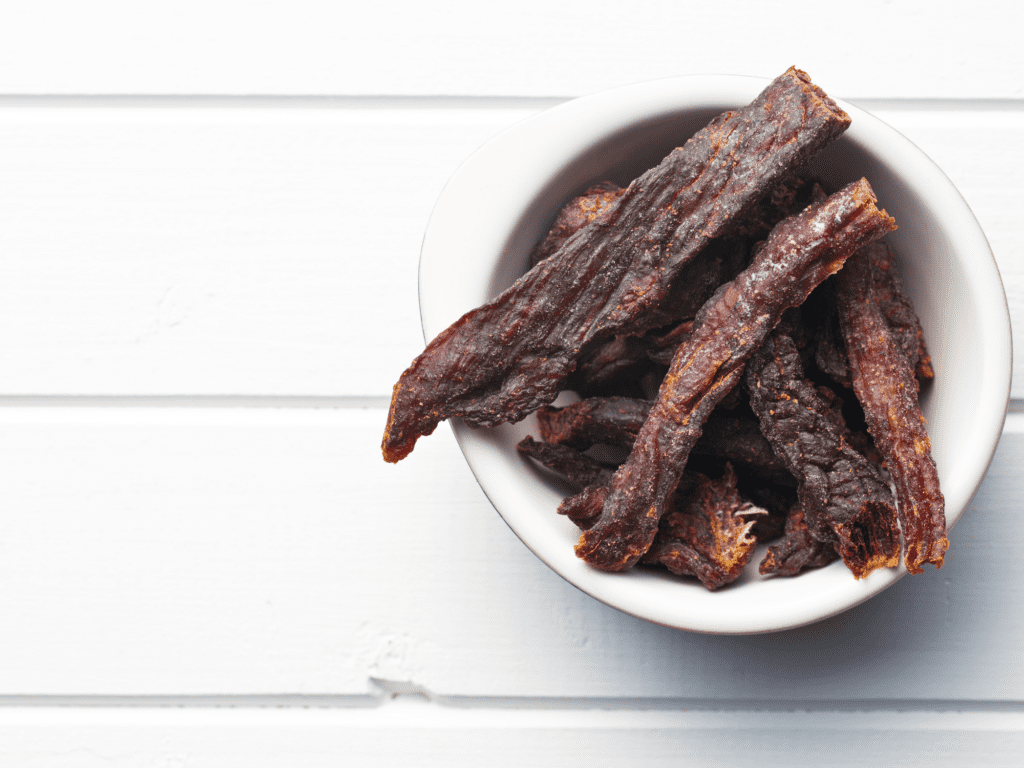 When you're on the go, there's nothing like good old-fashioned beef jerky to keep you going. Beef jerky is a high-protein, low-fat food that is perfect for snacking.
It's also easy to prepare. Slice your beef into thin strips, season with your favorite spices, and then dry in a dehydrator or oven. Beef jerky will keep you feeling energetic and alert while you're on the road.
Pretzels
On long car rides, it's important to have snacks that will fill you up without making you uncomfortable. Pretzels are the perfect road trip food because they're packed with complex carbohydrates and fiber, which will help keep you feeling fuller for longer. They're easy to eat while driving and won't make a mess.
Pretzels are portable, have a long shelf life, and are a healthy snack option that will help keep you nourished on the go.
When packing pretzels for your road trip, put them in a resealable bag or container, so they don't get crumbs everywhere. To prepare pretzels for a road trip, buy them in individual bags or pack them in a container. If you're packing them in a container, make sure to put a layer of wax paper between the pretzels, so they don't get soggy.
Baked Chick-Peas
If you're looking for an easy, healthy snack, look no further than baked chickpeas. This recipe is simple: start with a can of drained and dried chickpeas, then add some olive oil and your desired seasonings.
Bake at 450°F for 30 to 40 minutes, et voila! You can also find pre-made organic options at most health food stores.
Cookies And Muffins
Who doesn't love a good cookie or muffin? When you want something different than the usual snacks, reach out for your muffin container and enjoy a feast on the road.
If you bake, be creative with the different flavors and textures of these snacks to ensure your on-the-road cookie box has variety. And if you're buying cookies and muffins, go for variety because eating the same thing can get boring.
These sweet treasures are easy to eat on the go and help keep your energy levels up during long drives.
As with pretzels, it's best to pack cookies and muffins in resealable bags or containers to avoid crumbs. Also, you can layer muffins and cupcakes with wax paper, so they don't get squished and hard.
Vegetable Chips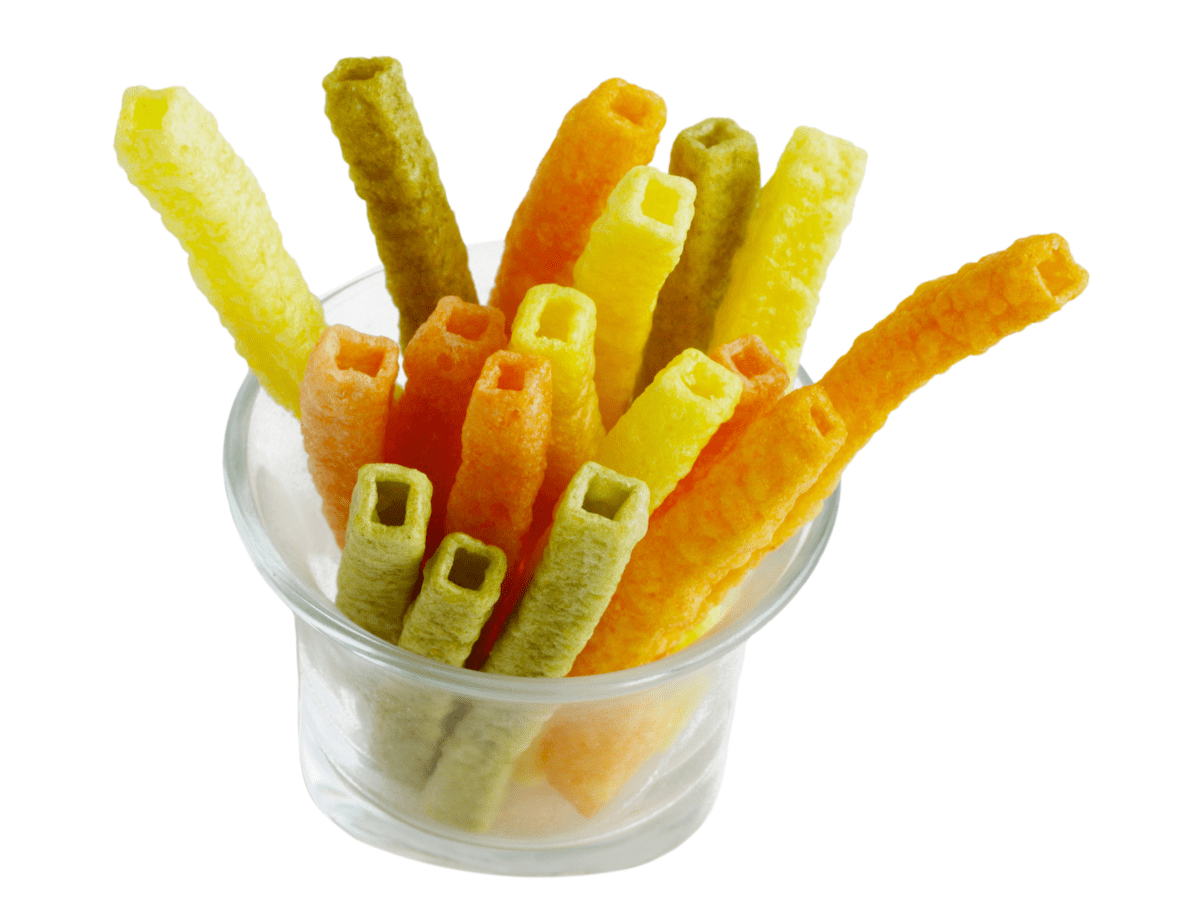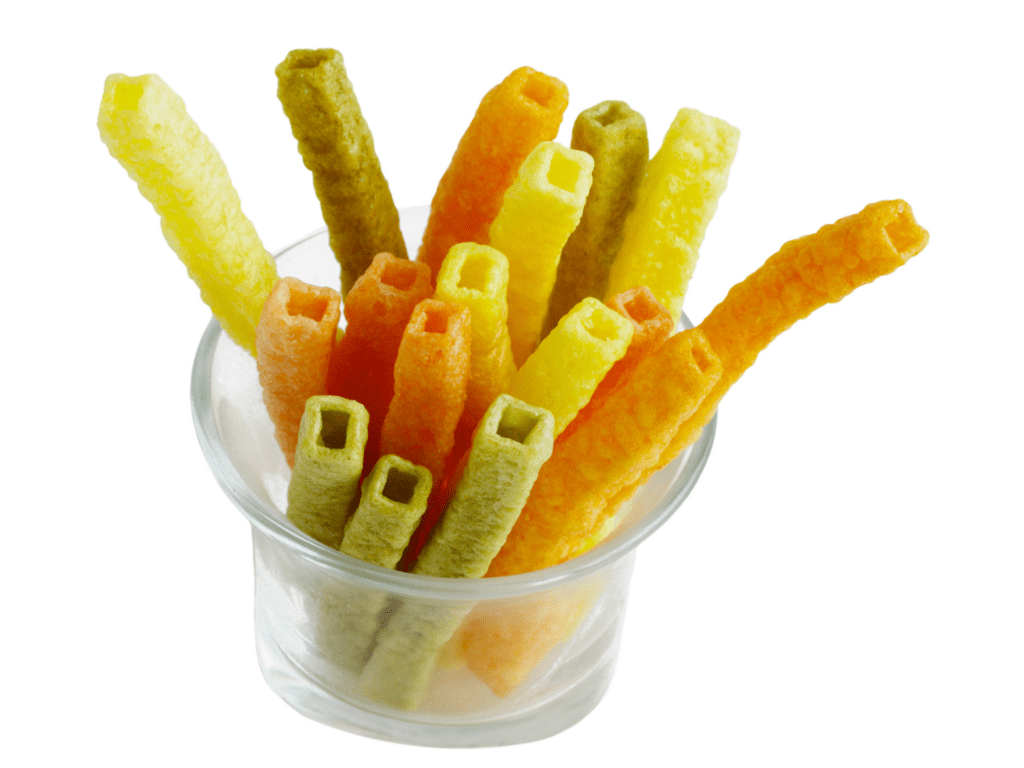 Potato chips are delicious, but let's be honest… they're not exactly healthy. If you're looking for a healthier alternative that is still packed with flavor, look no further than vegetable chips! Vegetable chips are made from real vegetables like carrots, sweet potatoes, and beets—and they're absolutely delicious.
Besides, they have all the crunch and satisfying salty flavors of traditional potato chips without all the unhealthy fats and empty calories.
When packing vegetable chips for your road trip, we recommend using a resealable bag to keep them fresh (and crumb-free). And if you want to kick things up a notch, try dipping your veggie chips in your favorite dips or sauces. From guacamole to ranch dressing, there's no wrong way to enjoy veggie chips!
Rice Cakes
Rice cakes are a healthy and versatile snack that can be customized to your liking. You can top them with anything from peanut butter and jelly to hummus and veggies.
Popcorn
Popcorn is a great source of fiber and complex carbs that will help your body stay regular, and provide you with energy while on the go.
Did you know that many popular brands of microwave popcorn are loaded with unhealthy chemicals? Next time you're at the store, be sure to pick up a bag from the natural foods section that only has corn, salt, and oil listed as ingredients. Your body will thank you!
For an even better experience, cook the popcorn at home using olive oil or butter and add salt to taste. That way, you'll know exactly what's in your snack.
Road Trip Breakfast Ideas
When you're on a road trip, you'll want to maximize your time by enjoying the scenery and not sitting in a fast food place.
Quick breakfast options are perfect for this! You can make them ahead of time so that all you have to do is grab and go. Plus, eating healthy foods will help offset the fact that you won't be as active some days while traveling.
Breakfast Egg Muffins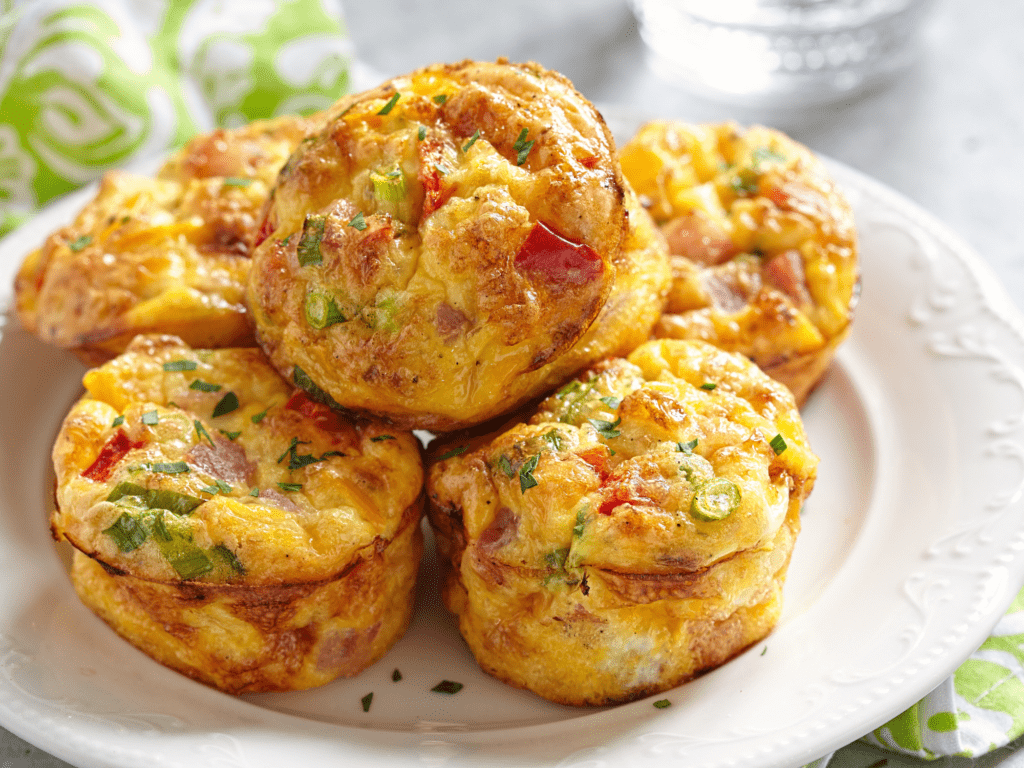 Breakfast egg muffins are a great way to start your day. They're easy to make and can be customized with your favorite toppings. Some of my favorites include ham, cheese, and loads of veggies.
Overnight Oats
Overnight oats are a lifesaver when you're on the road. Simply mix together some rolled oats, milk, yogurt, and fruit the night before, then grab them from the fridge in the morning and enjoy.
Breakfast Burrito
A breakfast burrito is another great option for an on-the-go breakfast.Fill a whole wheat tortilla with eggs, cheese, and veggies, then roll it up and enjoy. You can even make them ahead of time and reheat them later.
Breakfast Sandwich
A breakfast sandwich is the perfect option if you're looking for something that's filling and satisfying. I typically make mine with eggs, cheese, avocado, and bacon on a whole wheat English muffin.
Fruit And Yogurt Parfait
A fruit and yogurt parfait is a great way to start your day. Simply layer some yogurt, fruit, and granola in a jar or cup, and you're good to go.
Smoothie
A smoothie is a refreshing and healthy option for breakfast or a snack. Simply blend together your favorite fruits, veggies, and liquids, and you're good to go. You can even make them ahead of time and freeze them for later.
Protein Shake
If you're looking for a quick and easy way to get some protein, try a protein shake. Simply blend together milk, yogurt, protein powder, and fruit, and you're good to go. You can also buy them premade at most convenience stores or gas stations.
Bagels With Cream Cheese Spread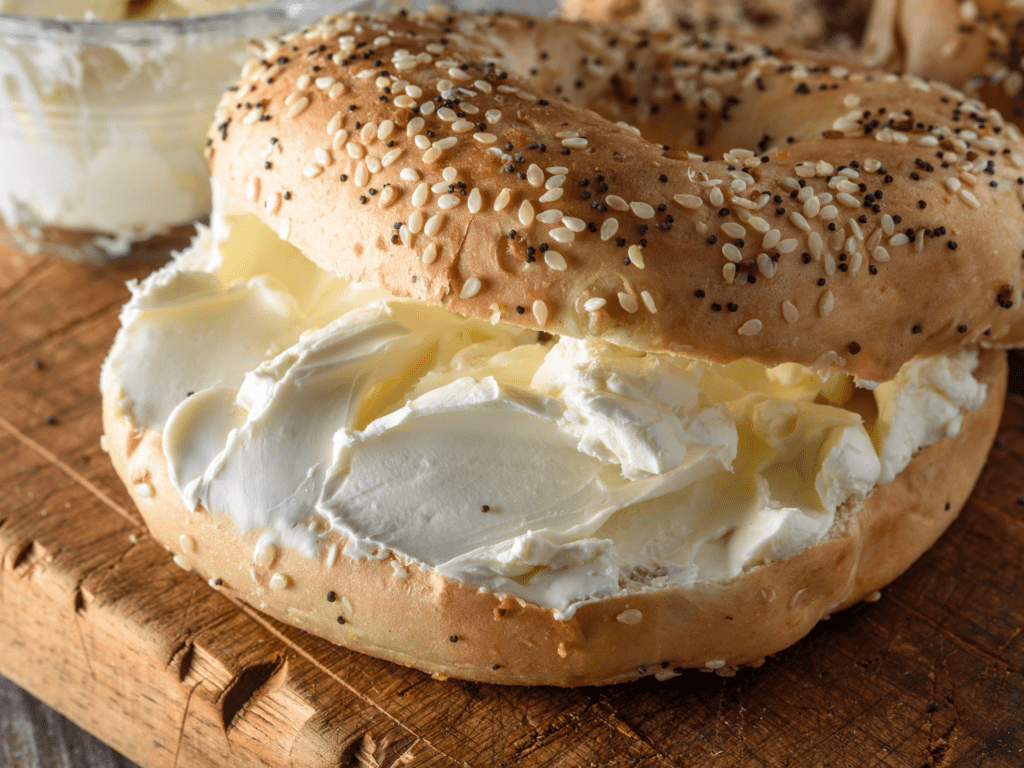 Bagels with cream cheese spread is a delicious and easy breakfast or snack. Simply toast a bagel, spread on some cream cheese, and add your favorite toppings.
If you're feeling adventurous, you can even top your bagel with some smoked salmon.
Road Trip Lunch Ideas
Sometimes you need something more substantial than a snack to get you through your journey. If you're looking for road trip lunch ideas, I've got you covered!
Jarred Salads
jar salads are a healthy , filling and satisfying option for a road trip lunch. You can make your own at home and include some of your favourite salad ingredients. Simply layer the ingredients in a jar, starting with the dressing at the bottom. To keep everything fresh, add moist ingredients like cucumber and tomatoes last.
Tuna And Crackers
Tuna and crackers is a classic snack that provides plenty of protein and healthy fats.
Tuna is a great source of omega-3 fatty acids, which are beneficial for heart health. Crackers provide complex carbs and fiber to help keep you satisfied.
To make this snack even healthier, opt for whole grain crackers and look for tuna packed in olive water rather than oil.
Antipasto Pasta Salad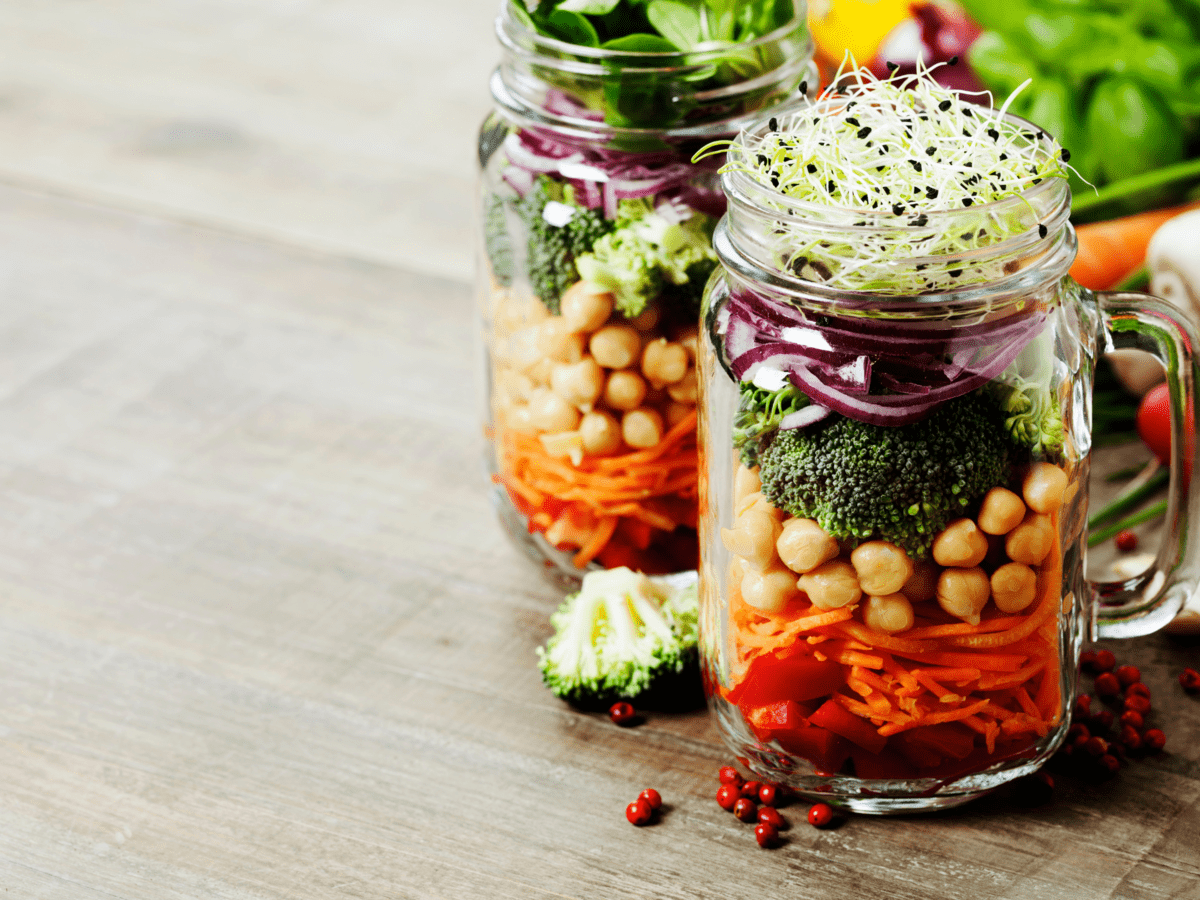 This delicious antipasto pasta salad combines salami, parmesan, and fresh veggies for a tasty meal or side dish. You can enjoy it on its own or serve it with a sandwich or wrap.
For a vegetarian option, omit the salami. Just keep it chilled until you're ready to hit the road!
Grilled Chicken Or Turkey Breast Filets
Grilled chicken breast is one of the healthiest—and tastiest—road trip foods out there. It's packed with protein and low in fat, so it'll give you the energy you need to power through your travels.
Best of all, preparing grilled chicken is incredibly easy.
Simply season your chicken breast with salt, pepper, and your favorite spices, then cook on a grill pan over medium heat until both sides are evenly browned and cooked through.
Once your chicken is cooked, let it cool slightly before slicing it into thin strips or cubes – then enjoy!
Sandwiches
Let's start with a hearty snack that offers tons of customization options. From a classic PB&J to grilled chicken fillings, sandwiches taste delicious all ways, and you're free to prepare them according to whatever is available.
For example, peanut butter and jelly is a quintessential road trip food because it's inexpensive, doesn't need to be refrigerated, and is easy to make.
Just slap some peanut butter and jelly between two slices of bread, and you're good to go. For extra protein (and flavor), throw a few pieces of banana or a handful of chopped nuts. If you're feeling adventurous, ditch the bread and make yourself a PB&J sandwich on a stick.
Spicy Peanut Sesame Noodles
With these cold spicy peanut sesame noodles, you can ditch the old road-trip standby lunch for something new and exciting. These noodles come together quickly and are best eaten chilled, which makes them ideal for travel.
You can make them as spicy (or not) as you like, and substitute cashew butter if you prefer.
Wraps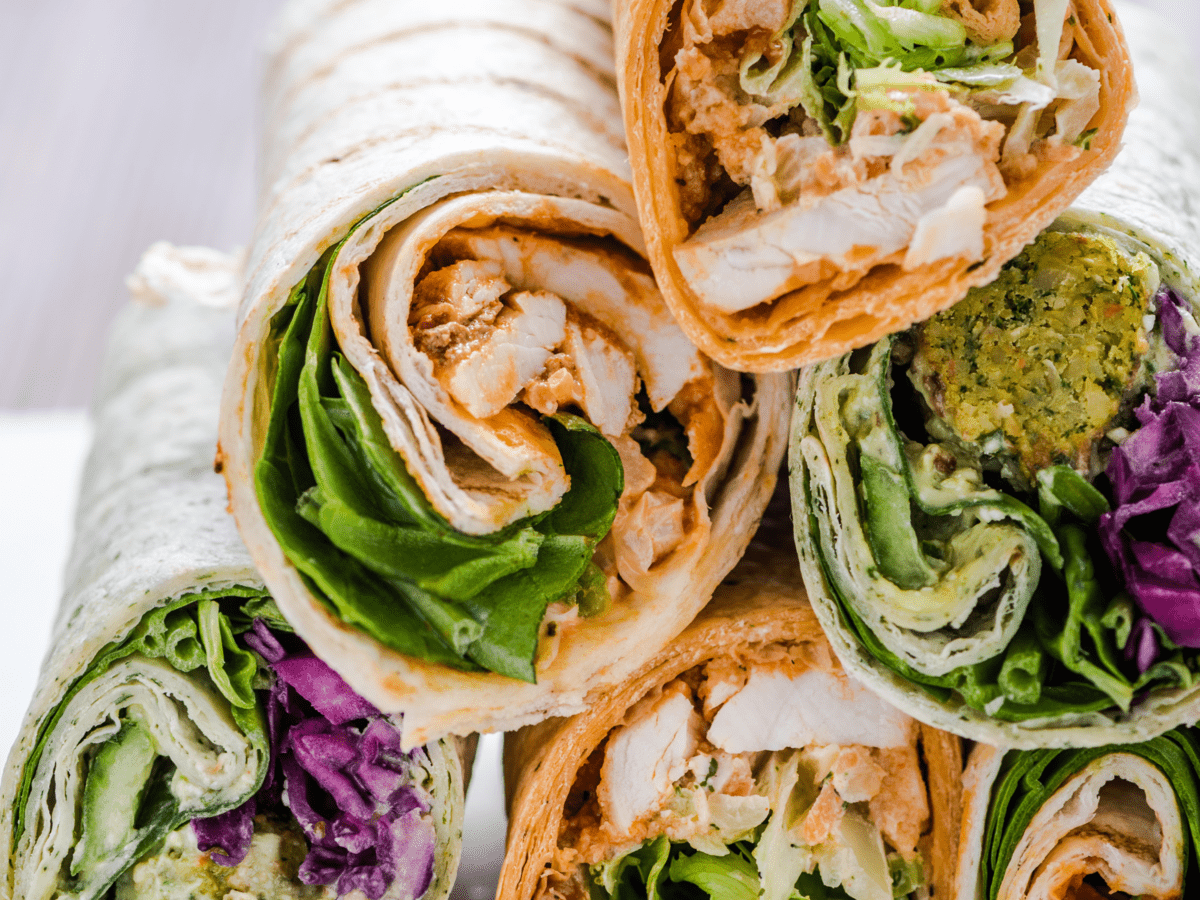 A turkey club wrap is the perfect blend of comfort and convenience. It's packed with protein-rich turkey breast, bacon, lettuce, tomato, and mayo, all wrapped up in a tidy little package that's easy to eat on the go. Making wraps doesn't require utensils or plates—unpack and enjoy.
If you're making turkey club wraps at home, use high-quality ingredients for the best flavor.
And if you're short on time, you can always stop by your local deli or sandwich shop and pick one up before hitting the road.
Get Out and Explore Life On The Road With Our Favorite Road Trip Foods
One of the best parts of summer is packing up the car and hitting the open road for a good old-fashioned road trip.
But if you're spending hours behind the wheel, you need to ensure you're nourished—otherwise, you'll feel cranky and exhausted long before you reach your final destination. Food is fuel, and there's nothing more important on a road trip than ensuring you're well-fed for the journey ahead.
That's why we enlisted these amazing food options to make your next trip heartier. If you don't want to eat the same thing repeatedly, meal prep before you leave.
Also, make sure you have multiple snack/food choices in your R.V. or camper van, so you don't have to worry about what to eat next. Good luck with your excursions!