There are plenty of great things to do in the Pacific Northwest, but sometimes you just need a break from the big cities and all the people. Taking one of the many day trips from Seattle is a great way to get out of town and explore.
Don't get me wrong, touring the Pike Place Market, The Space Needle, Puget Sound, and downtown Seattle are all great attractions to see in Seattle. However, when you're looking for things to do outside of Seattle, there are some great options too.
When we lived in Seattle, we made it a habit to find the best places to visit near Seattle. It was almost a game for us to check off our bucket list of day trips in Washington. Every weekend we'd load up the Subaru and head out for an adventure searching for some of the best things to do in the area.

Because of our deep desire to explore the areas around Seattle and get out of the city regularly, we wound up with a great list of our favorite Seattle day trips.
If you live in Seattle or are just visiting, these Seattle Day Trips are ones you should definitely consider doing.
One of the great things about Seattle is that there is somewhere fantastic to visit within two and a half hours in nearly any direction.
The number of places to go and things to see is almost endless. Even better, if you extend your travel time by a couple of hours, you can even have some fantastic weekend getaways from Seattle.
ARE YOU LOOKING FOR OTHER FUN THINGS TO DO IN SEATTLE? WE GOT YOU, FIND SOME IDEAS BELOW!
TIPS FOR THE HAVING THE BEST SEATTLE DAY TRIP
Get a good night sleep the night before
Get up early to begin your Seattle adventure before the traffic gets congested
Don't forget to stop for a cup of coffee from one of the best coffee shops in Seattle
Pack some healthy snacks
Don't forget your water
Plan your music playlist. Do you need to download anything for your drive?
WINTER TIPS FOR THE BEST DAY TRIPS FROM SEATTLE
Fill your tank with fuel before leaving for your destination
Be aware of winter storm warnings
Pack chains for your tires
Bring a raincoat and a nice warm down coat
Bring gloves
Bring Sunglasses (Yes, in the winter too)
WHEN IS THE BEST TIME TO ROAD TRIP IN SEATTLE?
Anytime you are able to see the attractions outside of the city is the right time to go. Don't let the weather rule your world; sometimes, the best time to take a drive to see things outside of Seattle is on a rainy day when there is nothing else to do.
Some of these Seattle day trips require decent weather to explore the outdoors. But if you have a good quality rain jacket and some boots, you can explore these places all year long.
Hiking, skiing, and snowboarding are all possible activities for people looking for quick day trips out of Seattle in the winter months. During the summer, you'll find plenty of hiking, biking, rafting, and fishing not far from Seattle.
DAY TRIPS FROM SEATTLE WITH THE CLOSEST DISTANCE FIRST
We have organized these day trips in order from shortest traveling time from Seattle to longest traveling time from Seattle. A handful of these Seattle road trips have a ferry involved in getting to the location, so be sure to factor that into your planning.
Remember, part of the adventure of travel is getting to the destination. I hope you find that some of these ideas will help you get out and explore.
SNOQUALMIE FALLS AND SNOQUALMIE PASS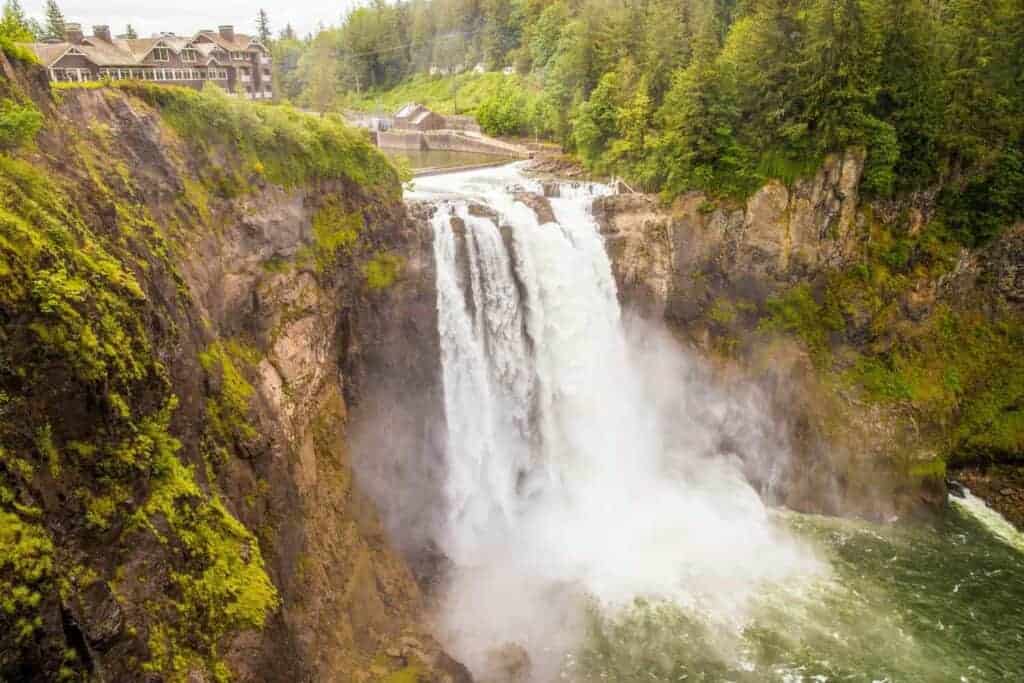 At over 270 ft high, the sound alone will leave a mark in your memory. The falls are absolutely stunning and perhaps one of the best in America.
The lush forest in the background completes this picturesque scene. Located only 40 minutes from Seattle, making this an ideal Seattle day trip.
The falls can be viewed from one of the viewing decks of the Salish Lodge. This simple yet elegant lodge serves up terrific food and will add a touch of luxury to your day trip from Seattle.
I'm not sure there's a more perfect mix of location and natural beauty than a day trip to Snoqualmie Pass. In our ideal day excursion, we combine physical activity (usually a hike, bike, or ski), natural beauty, and some wonderful food and drink opportunities. Snoqualmie Falls Brewery or The Lounge at The Attic at Salish Lodge are good choices for getting a beverage.
TRAVEL TIME:
40 Minutes
BEST TIME TO VISIT:
Summer is ideal for hiking; winter is great for skiing. Spring and early summer are great for seeing Snoqualmie Falls.
DIRECTIONS:
From downtown Seattle, take I5 South to 1-90 East, take exit 25 for WA-18 West toward Snoqualmie Pkwy. Turn left onto WA-18 East (signs for Snoqualmie Pkwy), then turn left onto Railroad Ave. 6501 Railroad Ave, Snoqualmie, WA 98065
BOEING FACTORY TOUR
The world's largest aerospace company Boeing has a 'supersize 'factory tour. The building alone that can house an assembly line of the world's largest airplanes is quite a sight.
But once inside, you'll be ah struck at this massive assembly line that churns out airplanes. You'll learn about the history of air travel and how on earth such a massive undertaking happens.
It does sell out, so buy your tickets in advance. The tour typically lasts about 2 hours and finishes at the Future Of Flight Aviation Center. Visiting the Boeing Factory is a great day trip from Seattle in the winter because you're inside and don't have to deal with the winter elements.
TRAVEL TIME
35 minutes
BEST TIME TO VISIT:
On a rainy day in Seattle or in the winter is when I'd do this indoor activity.
DIRECTIONS:
The Boeing Everett Facility is just North of Seattle, less than 30-miles.
BAINBRIDGE ISLAND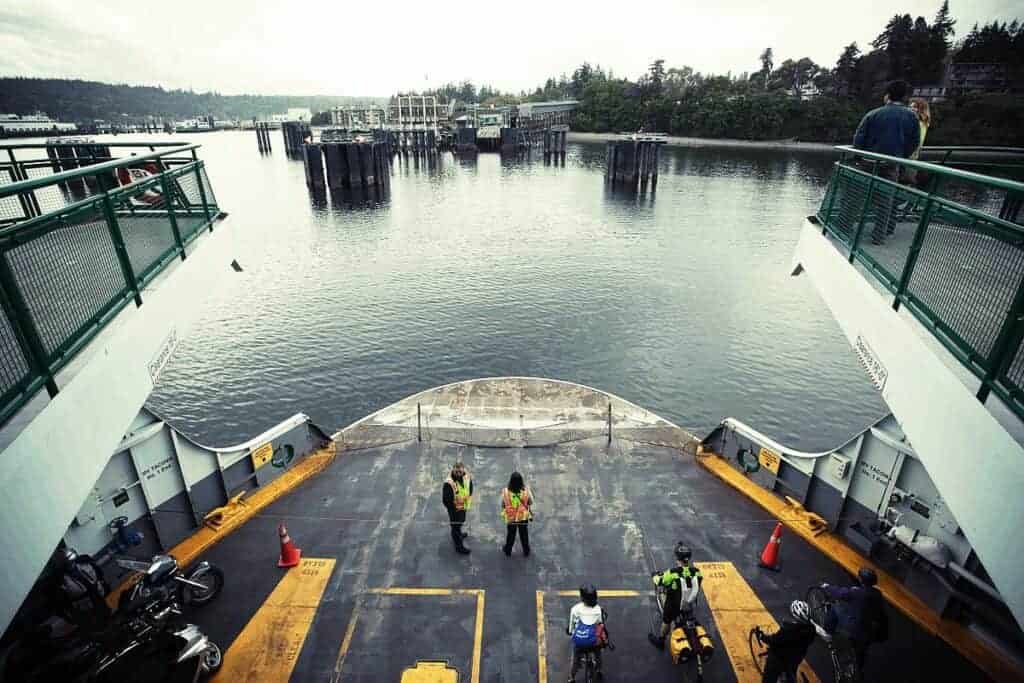 Bainbridge Island, located west of downtown Seattle is an ideal day trip. Just down from the Pike's Place Market on Pier 52, you can hop on for a quick ferry ride to Bainbridge Island. Don't bother taking a car as you can easily explore the island on foot using its new transit system, BiRide.
The 30-minute ferry ride will go quickly as you take in some of the best views of downtown Seattle across Elliot Bay with Mount Rainier in the background.
FAVORITE THINGS TO DO ON OUR DAY TRIPS FROM SEATTLE TO BAINBRIDGE
If the weather is right take a short walk from the ferry terminal to Back of Beyond where you can rent kayaks, canoes, or paddle boards. If staying on solid ground is more your thing pick up a bike rental at Bike Barn Rentals.
From there head to the Bloedel Reserve, a 150 acres wildlife sanctuary with Japanese Garden, rhododendron glen and the popular frog rock.
I just scratched the surface of what you can do on Bainbridge Island. Don't miss this easy Seattle day trip.
TRAVEL TIME:
35 minutes (Ferry Involved)
WHEN TO VISIT:
Any time of the year
DIRECTIONS:
Head to Pier 52 smack dab in the middle of Seattle's iconic waterfront to catch the ferry. Don't bother taking a car as the ferry can get really busy, and you won't need it once on the island.
TAKE PART IN THE TILLICUM VILLAGE SALMON DINNER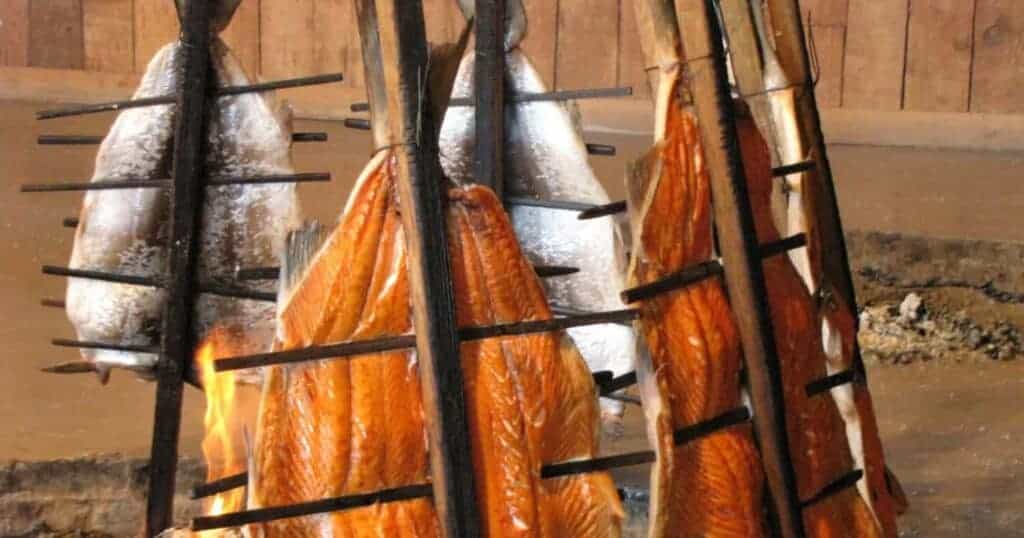 Blake Island was the birthplace of Chief Sealth in 1786, for whom Seattle was named. Today the island offers a unique opportunity filled with coastal Native American history and some terrific food.
The island, which is reached by a short cruise from Pier 55 in downtown Seattle, is home to Tillicum Village. Here you can watch traditional Native American dance, live wood carving, and learn about the rich local history.
While enjoying the show, your Salmon dinner is prepared over a traditional open-pit cedar fire. Argosy Cruises offers daily Tillicum Village trips.
TRAVEL TIME
30-40 Minutes Depending on Boat Transportation
BEST TIME TO VISIT:
Summer, this is a great day trip from Seattle when the weather is nice, and you can sit outside and enjoy the views.
DIRECTIONS:
Blake Island is located 8 miles west of downtown Seattle via a short ferry ride. Argosy Cruises offers daily trips from Pier 55 in downtown Seattle.
The island can also be reached by private boat or sea kayak.
DAY TRIP FROM SEATTLE TO WHIDBEY ISLAND
Having spent a lot of time on Whidbey Island, I've really grown to like it. While it has seen its fair share of development over the years, I actually think it's improved the island.
The once quiet island is now filled with wineries, terrific restaurants, and just the right amount of tourism. Compared to the San Juans, which I find a little too touristy, Whidbey is just right.
The island is divided into several distinct seaside towns that all have their own character and charm. You'll find several well-known wineries throughout the island with ample opportunities to stop for a taste. There are numerous places to take in both a long or short hike in addition to the miles of beach to stroll. Don't miss Fort Casey and its decommissioned bunkers and large cannons that once protected the Puget Sound.
Whidbey Island is unique in that on one end is a ferry terminal while the other end has the famous Deception Pass bridge. This makes for a great round trip with Deception Pass, landing you back on the mainland. If you're looking for a fairly quick day trip from Seattle with little stress Whidbey Island is a great option.
TRAVEL TIME:
1 hour and 10 minutes (Ferry Involved)
BEST TIME TO VISIT:
Any time of the year!
SEATTLE TO WHIDBEY ISLAND DIRECTIONS:
Whidbey is only 35 miles from Seattle. To get there, head to the Mukilteo ferry terminal about 30 minutes north of Seattle. The ferry is a quick 25-minute ride.
TAKE A DAY TRIP TO LACONNER WASHINGTON
Consistently voted one of Washington's best weekend getaways is Laconner Washington, located about an hour north of Seattle.
This charming waterfront town has a seasonal variety of things to do – like attending the Arts Alive! event in November, a holiday boat parade and Classic Boat and Car Show in August, or the famous La Conner Daffodil Festival and Skagit Valley Tulip Festival in spring.
In addition to its numerous festivals, you've got a great town full of shopping, outstanding restaurants, bars, culture, and art to keep you happily entertained for just the day or, better yet, a weekend.
TRAVEL TIME:
1 hour and 15 minutes
BEST TIME TO VISIT:
Any time of the year. La Conner is a great place to visit near Seattle.
DIRECTIONS:
LaConner is just over an hour north of Seattle and can be easily reached via I-5. Follow I-5 north to Conway and take Exit 221 to La Conner.
BELLINGHAM
Bellingham is an excellent location to get away from it all. It's about an hour and a half by car from Seattle, making it a simple day trip from Seattle that doesn't require much time or money. The city has a variety of outdoor activities, so make the most of them while you're there!
Bellingham has an old-timey feel with a younger vibe. It is much more laid back than Seattle, and the waterfront has an interesting mix of shops, restaurants, bars, galleries, coffee spots, and B&Bs.
One of the best things to do in Bellingham is bike riding! The city's flat terrain makes cycling around town a real treat. Other activities include visiting Whatcom Falls Park, driving along Chuckanut Drive, or heading towards Mt Baker for skiing, boarding, or hiking.
If you're looking for additional things to do in Bellingham, check this out!
TRAVEL TIME
1 hour and 30 minutes
BEST TIME TO VISIT:
Any time of the year. It's great to visit in the winter, so you can head up to Mt Baker for some skiing. However, in the summer, the waterfront offers plenty of activities, and there are lots of nice parks in the area.
SEATTLE TO BELLINGHAM DIRECTIONS:
Bellingham, Wa, is about 90 miles north of Seattle if you drive I-5 freeway north towards Vancouver, Canada.
You can also take the Amtrak Cascades train from Seattle to Bellingham, which would be a fun adventure.
DAY TRIP FROM SEATTLE TO MOUNT RAINIER NATIONAL PARK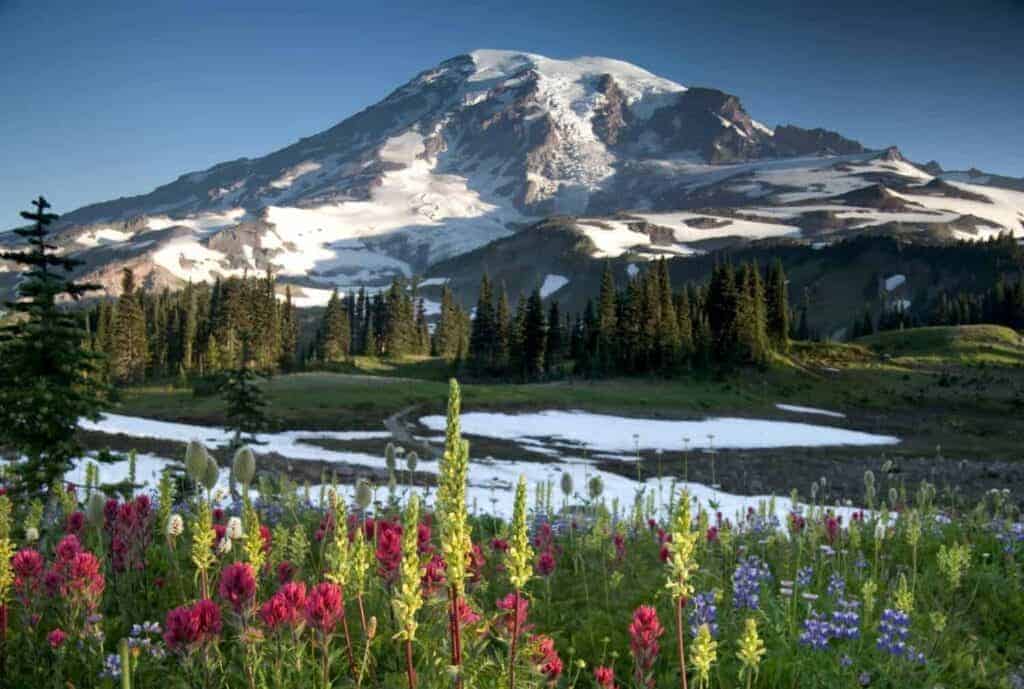 No trip to Seattle would be complete without a visit to Mount Rainier. This stunning mountain can be seen from all over Seattle, but the real magic happens when you get up close and personal.
Standing a mighty 14,410 ft above sea level, this active volcano will leave you pondering life itself. It's a powerful and humbling experience to stand amongst this giant.
The park offers endless amounts of hiking, from leisurely to more strenuous epics. After taking in the fresh air, be sure to check out Paradise Lodge.
If you'd prefer not to drive to Mt Rainier, some tours buses can pick you up from your hotel and take you to Mt Rainier on a guided tour. To learn more about the Mt Rainier tours from Seattle, click here for info.
TRAVEL TIME:
1 hour and 40 minutes
BEST TIME TO VISIT:
Summer and early fall (July to September)
DIRECTIONS SEATTLE TO MOUNT RAINIER:
Mount Rainier National Park is located 81 miles from Seattle in west-central Washington state. Take note that parking at Paradise, Sunrise, Grove of the Patriarchs, and other trailhead locations between Longmire and Paradise can be difficult or impossible on weekends. Your best bet is to try and time your Seattle to Mount Rainier day trip on a weekday or as early in the morning as possible to avoid the crowds.
The park has 5 different entrances, and during the winter, several are closed.
From Seattle, the Nisqually entrance is your best bet, 39000 WA-706, Ashford, WA 98304
Additional reading: The Best Free Things To Do In Seattle
NORTH CASCADES NATIONAL PARK
This is hands down one of my favorite places to visit in Washington. North Cascades National Park is a stunning location in the United States, featuring massive coniferous forests, glacial peaks, and crystal-clear lakes.
The attractions are fantastic, and the scenery is beautiful. It's a terrific destination for day excursions from Seattle, but staying longer gives you more to see and do. Plan a lovely little weekend getaway in Winthrop.
TRAVEL TIME
2 Hours
BEST TIME TO VISIT:
The best time of year to visit the park is from mid-June through mid-September.
DIRECTIONS:
From Seattle — Getting to North Cascades National Park from Seattle is simple. Head north on I-5 to Sedro-Woolley (exit 232) and head east on Highway 20 until you reach the park.
TAKE A DAY TRIP TO PORT TOWNSEND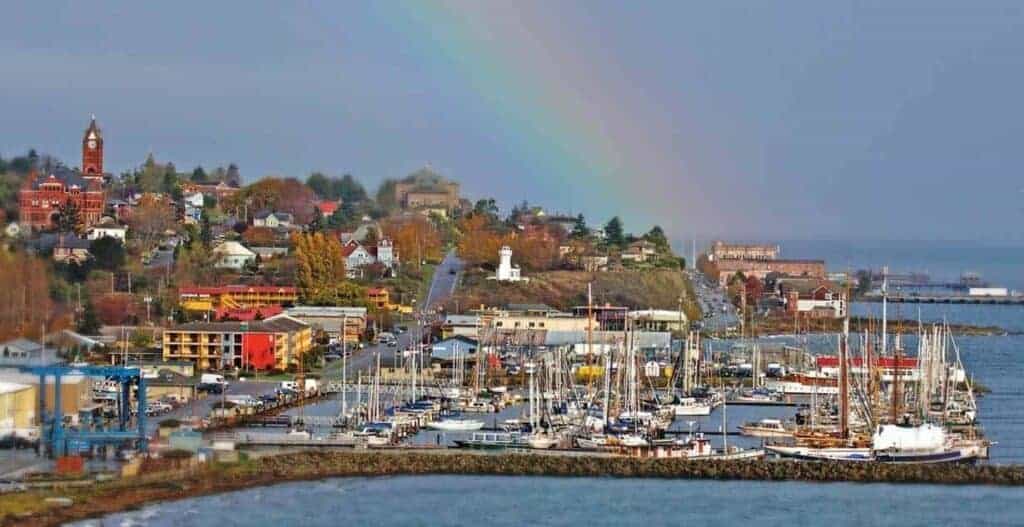 Having made my list of Favorite Small Towns Of The West, Port Townsend is a worthy day trip from Seattle.
This Victorian Paradise perched along the Strait of Juan De Fuca is a dreamy coastal town. Don't miss the massive Fort Warden State Park and its decommissioned military fortress.
In town, you'll have plenty of shopping and an assortment of excellent restaurants for a bite to eat. At the end of town, the Marine Science Center and Wooden Boat Center will get you acquainted with the sea life of Port Townsend.
TRAVEL TIME
2 hours and 12 minutes
BEST TIME TO VISIT:
This is a year-round destination, but I prefer it during the summer when the weather is warm.
DIRECTIONS:
Port Townsend is about a 2-hour commute from Seattle, depending on ferry schedules. There are several ways of getting there, with a couple of different ferry options to get you across.
My choice would be to take the Bainbridge Island ferry and then drive through the island to the peninsula. You can also drive north from Seattle to the Kingston ferry and get across that way as well.
LEAVENWORTH
The once struggling logging town tucked away in the Cascade Mountains has made quite a name for itself. This insanely popular and fun Bavarian town will leave you wondering if you're still in the states.
Sitting amongst some of the best country in Washington, there is no shortage of outdoor activities.
The window-shopping scene here is stellar, to say the least. You can easily kill a day or two here with all sorts of unique shops, restaurants, and German pubs. Leavenworth is one of the best day trips from Seattle in the winter because it offers so much holiday spirit and festivities for the whole family.
If you're looking for some of the best things to do in Leavenworth, check this out.
TRAVEL TIME:
2 hours and 20 Minutes
BEST TIME TO VISIT:
Any time of the year, but my favorite is Christmas, Winter, during Octoberfest, and Summer ( Which pretty much covers the whole year)
SEATTLE TO LEAVENWORTH DIRECTIONS:
The best and fastest way from Seattle is to go I-5 to Hwy 2. It is a straight shot. The scenery on Hwy 2 is also much nicer than any other route.
Accommodations can be found here.
Seattle
Seattle, Washington is an interesting city, and is home to the Space Needle, Pike's Marketplace, and Starbucks Coffee. Because of its close proximity to the ocean and majestic mountains, Seattle…
Additional reading: 11 Funky And Unique Seattle Restaurants You Don't Want To Miss.
OLYMPIC NATIONAL PARK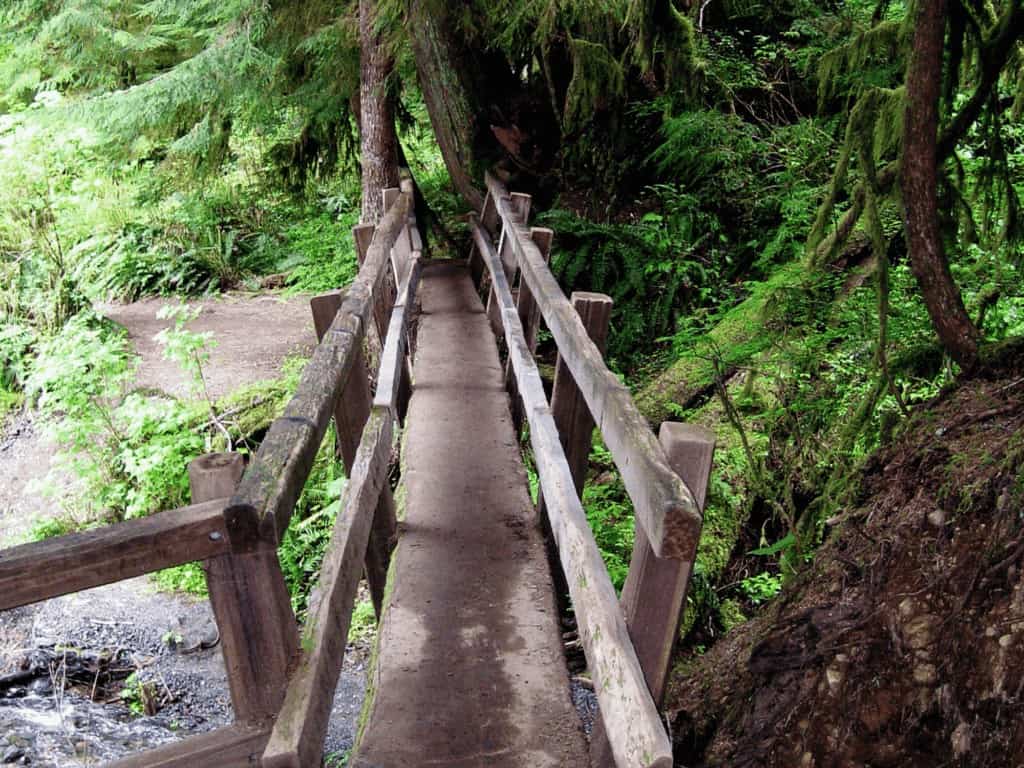 The Olympic National park is a vast, mostly unspoiled, and very safe wilderness that tourists can spend weeks exploring. For a one-day excursion, Hurricane Ridge, Sol Duc Falls, or a short walk in the Hoh Rain Forest are excellent choices. This is one of the longer day trips from Seattle, but if you get up early and make a big long day out of visiting the area, I think you'll be happy you did.
TRAVEL TIME:
Driving- 2 hours and 25 minutes. Ferry- approximately 3 hours
BEST TIME TO VISIT:
Fall and winter are the best times of year to avoid the crowds, and summer is, by far, the busiest season. The best time for sightseeing is spring through fall, after the area has received large amounts of rain, making the rainforest lush and alive. The mountains can be covered in snow during the winter, and most of it has melted from the high country by late spring, allowing you to enjoy stunning views of the Olympic Range.
DIRECTIONS:
The shortest route from Seattle to Olympic National Park requires taking a ferry. However, it may not be the fastest route.
From Seattle, take the Seattle-Bainbridge Island or Seattle-Bremerton ferries. From North Seattle, take the Edmonds-Kingston ferry.
All ferries provide multiple crossings per day and take about 35 minutes. When comparing ferry times with driving times, remember to consider the ferry schedule, boarding time, and sailing time. You can check the ferry schedule here.
After disembarking the ferry, it'll take you 1 hour and 40 minutes to drive to Port Angeles. Once in Port Angles, it'll take an additional 45 minutes to drive to Hurricane Ridge, the park's closest attraction.
MT. ST HELENS
Are you a volcano enthusiast? Do you enjoy nature? If so, you must do a Mt. St Helens day trip if you're in Seattle. On May 18, 1980, Loowit (Mt St. Helens) erupted with incredible strength, enough to desolate miles of forest and produced an enormous mudslide that destroyed part of Interstate 5.
It sent an ash cloud miles into the air that covered the sun for much of the west and sent ash flying all over the world.
Mt. St Helens is an interesting destination to learn about the devastation of the 1980 volcanic eruption and how life recovers.
You can go on hikes, enjoy spectacular views, and learn about the science of volcanoes and how ecosystems change and recover after such events. It's a once-in-a-lifetime opportunity that you won't find anywhere else in the world!
TRAVEL TIME:
2 hours and 45 minutes
BEST TIME TO VISIT:
The most popular time to visit Mt. St. Helens is during the summer when you can access the whole area. The Spirit Lake Highway, which connects I-5 with Johnston Ridge, is only open from mid-May through October.
DIRECTIONS:
Mt. St Helens is a long drive- it's about 125 miles from Seattle to the Mount St Helens Visitor's Center, then another 47 miles from the Visitor's Center to Johnston Ridge. It should take around an hour unless you stop to take a ton of photos as we did.
Start by heading south on I-5 past Chehalis. South of Chehalis, take Exit 68 for US Highway 12.
VICTORIA, BC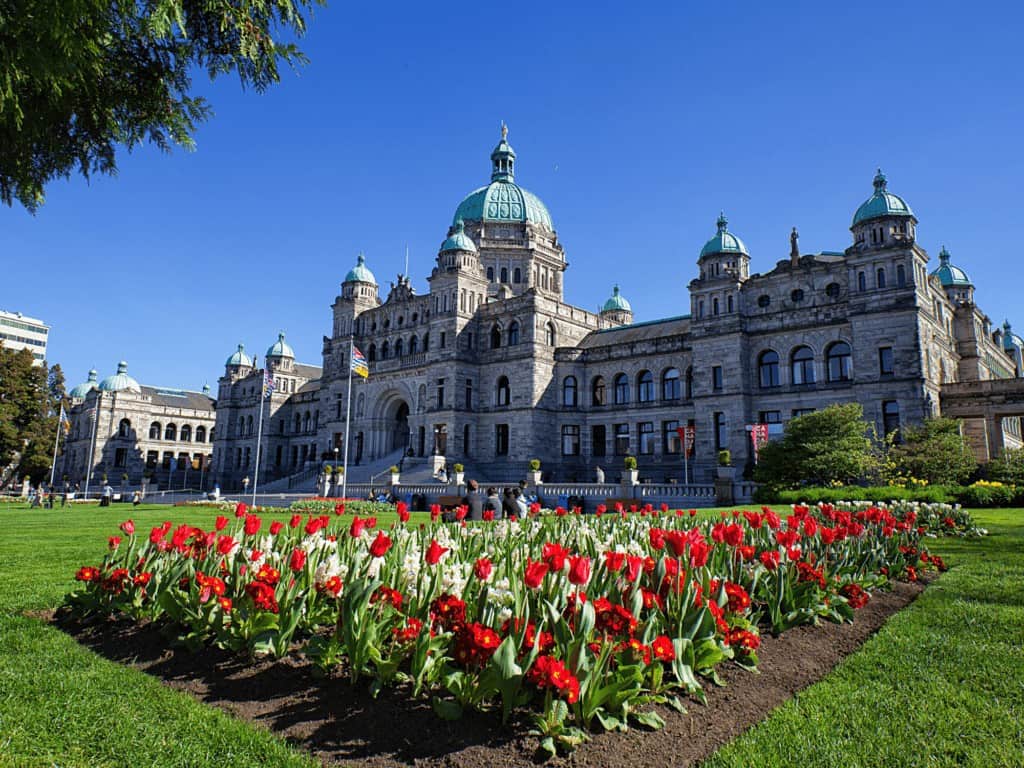 Victoria, British Columbia, is one of the most popular weekend excursions from Seattle. This destination will provide you with an unforgettable experience with some excellent restaurants, charming boutiques, as well as lovely gardens that make for a great way to get away from the bustle of Seattle.
For a close-to-home urban vacation, it's hard to beat a day trip from Seattle to Victoria.
TRAVEL TIME
Victoria Clipper 3 Hours. Driving 4 hours and 30 minutes
BEST TIME TO VISIT:
Victoria is enjoyable any time of the year, but the closer you come to the tourist season, the more ferry choices you will have, and more tourist attractions and activities will be open.
In my opinion, the best time to visit Victoria is July, August or September. Yes, it's busier, but the chances of good weather are better, and Butchart Gardens will be in full color and beauty.
DIRECTIONS:
It's a straight shot north on Interstate 5 to the U.S.-Canada border at the Peace Arch in Blaine and then onward to Vancouver on Highway 99. Driving time is about three hours, more if the border is congested (as it typically is on weekends).
Victoria Clipper: This passenger-only high-speed ferry travels between downtown Seattle and downtown Victoria. It takes about three hours each way.
SAN JUAN ISLANDS- ONE OF THE BEST DAY TRIPS FROM SEATTLE
Located just 90 miles north of Seattle, the town of Friday Harbor on San Juan Island is an easy day-trip adventure from downtown Seattle. Getting there is half the fun!
There are so many lovely islands to visit around the Seattle area. Some are worth just a quick day trip, while others deserve a whole weekend. I'm definitely a fan of spending at least a weekend on the San Juan Islands, but if you're short on time or looking for something to do on the outskirts of Seattle, this is a great thing to do.
There are a lot of things to do on San Juan island, including kayaking, hiking, and eating. For people who live in Seattle, I feel like they can't really say they're a true "Seattleite" until they've visited a nearby island or two.
TRAVEL TIME:
3 hours 15 minutes
BEST TIME TO VISIT:
The best time to visit the San Juan Islands is summer, especially in July and August, since it is the mildest, driest and sunniest period of the year.
If you're heading to San Juan Island from Seattle to see the Orcas, peak season is mid-June through early September.
DIRECTIONS:
The city of Anacortes is the gateway to the San Juan Islands. If you are driving from downtown Seattle to get to Friday Harbor on San Juan Island, you'll catch a ferry in Anacortes.
Driving Directions From Seattle: Allow at least 2 hours of driving time.
Take Interstate 5 north to the Burlington exit, #230. Turn west (left) on Highway 20 until you reach Anacortes.
Once in downtown Anacortes, follow the signs (San Juan Island Ferries) to the ferry landing. Ride the ferry from Anacortes to Friday Harbor, San Juan Island.
OUR FAVORITE WINTER DAY TRIPS FROM SEATTLE
LEAVENWORTH
BELLINGHAM AND MT BAKER
NORTH CASCADES AND WINTRHOP
FAQ ABOUT DAY TRIPS AROUND SEATTLE
What are some of the best scenic day trips near Seattle?
If you ask me, any day trip from Seattle is scenic. The massive mountains, the islands, and the water make Seattle a beautiful area. I think one of the most unique day trips from Seattle would be exploring the San Juan Islands. The San Juans are great because you may have the opportunity to see some Orca whales, which is a pretty neat experience.
Can you do a Seattle Fishing Trip as a day trip around the Seattle area?
At any time of year, there are plenty of great fishing possibilities along the saltwater fringes of Seattle, Washington. In Puget Sound, King Salmon and Coho Salmon are the most popular sportfish. However, in some regions, keeping Salmon is not permitted.
What's the best way to get from Seattle to Olympic National Park?
The Bainbridge ferry will get you to Bainbridge Island, which takes about 35 minutes. From Bainbridge Island, you'll drive 1 hour and 40 minutes to Port Angeles, the gateway town to the northern half of the park.

The closest part of Olympic National Park to Port Angeles is Hurricane Ridge. It takes about 45 minutes to drive from downtown Port Angeles to the summit of Hurricane Ridge.