Here's our favorite Seattle Dive Bars that are guaranteed to get you started off on the wrong foot.
Check out these unique, cranky, and downright mean dive bars. Stiff drinks and cheap happy hours are the name of the game here.
Best of all, these are a great way to get a taste of the locals and don't worry they don't bite. Well, unless provoked of course.
You can't speak dive bar without starting in Seattle's iconic Capitol Hill neighborhood. This place just oozes day drinking and is home to a ton of great drinking holes.
LOOKING FOR OTHER FUN THINGS TO DO IN SEATTLE
1. MONTANA BAR
When you think of a dive bar this place fits the bill. It's dark, the music is rough, and it's covered in grafitti.
They have great drink specials and a good happy hour. There's no better way to start than with a Rainier and a shot for $5.
The only thing we don't like about this dive bar is that it doesn't open till 4. WTF!!! That's not very dive bar like if you ask me.
2. LINDA'S
Another classic Capitol Hill Dive Bar is Linda's. This kind-of cowboy-themed bar is a favorite amongst the locals. The drinks are stiff, the music is loud, but unfortunately, the bartenders are actually quite friendly.
They also sport a great menu and the food is really good. This is one of Jill and I's first dates so no doubt this place rocks.
3. COMET TAVERN
The Comet Lounge promises a good time. Right in the heart of Capitol Hill this place gets packed. Stiff pours and cheap canned beer that you'd expect from a proper dive bar.
Hungry? Check out these Unique Seattle Restaurants
DOWNTOWN SEATTLE DIVE BARS
4. THE 5 POINT CAFE
The 5 Point is just straight up legit. This place has been overserving and keeping people loose for a very long time. And best of all they're open 24 hours!
You won't feel bad at all grabbing a drink at 9 in the morning here. When Jill and I worked night shift at the nearby hospital this was our go-to spot after work in the mornings.
In addition to strong drinks they throw down some great food which you'll need the following morning for your hangover.
5. SPECKLED & DRAKE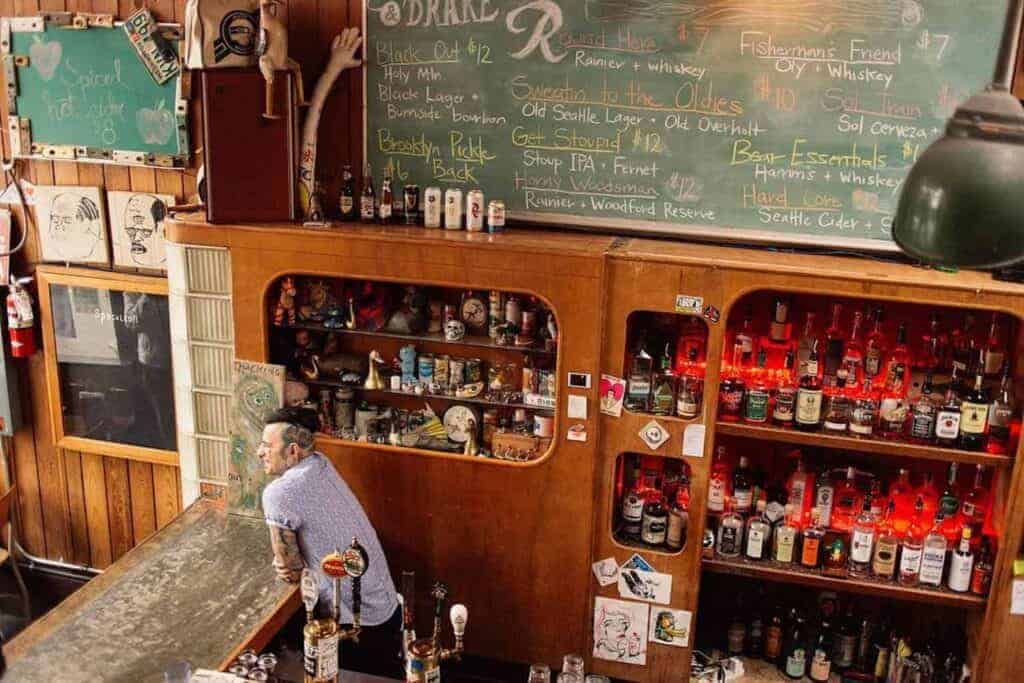 Speckled & Drake offers perfectly paired shots and beer combos. Try the Horny Woodsman(Rainier & Woodford Reserve) or the local favorite Round Here(Rainier & Whiskey).
6. STREAMLINE TAVERN
Despite having to move down the street from its original location, Streamline Tavern has not lost its punk attitude. With its die-hard local talent you'll be guaranteed to feel like an outsider.
BALLARD/FREEMONT DIVE BARS
7. WATERWHEEL LOUNGE
As long as the building is still standing this is a great spot that is off the beaten path. You can expect a real local following here.
The Waterwheel Lounge hosts some great trivia nights as well as Karaoke.
If you're in the mood for a cocktail with a view, check out our favorite Seattle Rooftop Bars.
8. LOCKSPOT CAFE
If you've visited the Ballard Locks and had the famous Fish N' Chips you've already had a taste of this historical Seattle Dive Bar.
Recently this place has caught some fame by way of the Deadliest Catch. This is the bar that they often visit in the show. Did I mention the fish n' chips? They're awesome!
9. SLOOP TAVERN
The Sloop has a great happy hour with cheap pitchers and plenty of pool tables to keep you going for hours. They also have good food and people say their fish n' chips are great, however I have not tried them.
THE MORNING AFTER
What are your favorite Seattle Dive Bars? There are far too many to mention and some that I will never mention :). But these dive bars should get you well on your way to a solid hangover. Cheers!