There's no better way to celebrate Seattle than to enjoy a craft cocktail and delicious meal from one of Seattle's Rooftop Bars.
Perched high above the city skyline you'll be taking in these amazing views one sip at a time.
Whether you're in the mood for a classy rooftop bar, or if you want to dance your night away on a club crawl through Seattle, this city has an option that is perfect for any group.
Because the city is so gorgeous, you'd think there would be a plethora of rooftop bars in Seattle.
However, when compared to other cities (we're always on the lookout for new rooftop bars and rooftop restaurants), the number of outdoor Seattle bars is rather limited.
But lucky for us, the city makes up for it by offering breathtaking views that you won't find anywhere else.
LOOKING FOR OTHER GREAT THINGS TO DO IN SEATTLE
Let's dive in and find the best rooftop bars in Seattle that offer views you won't forget.
MBAR – SWANKY ROOFTOP PERCH, SOUTH LAKE UNION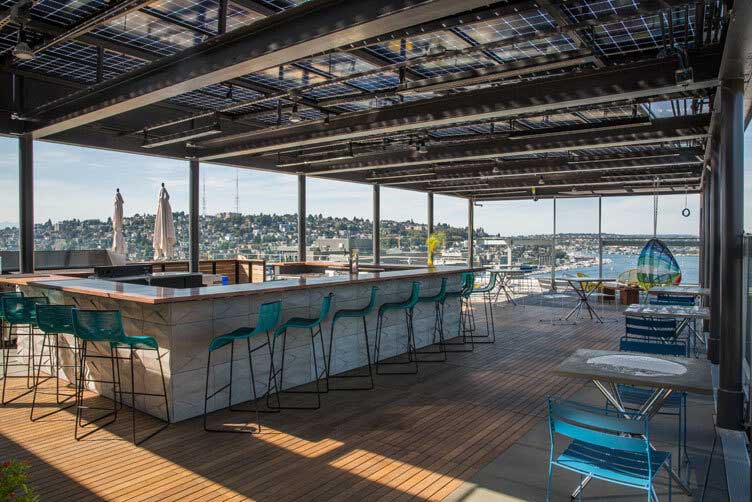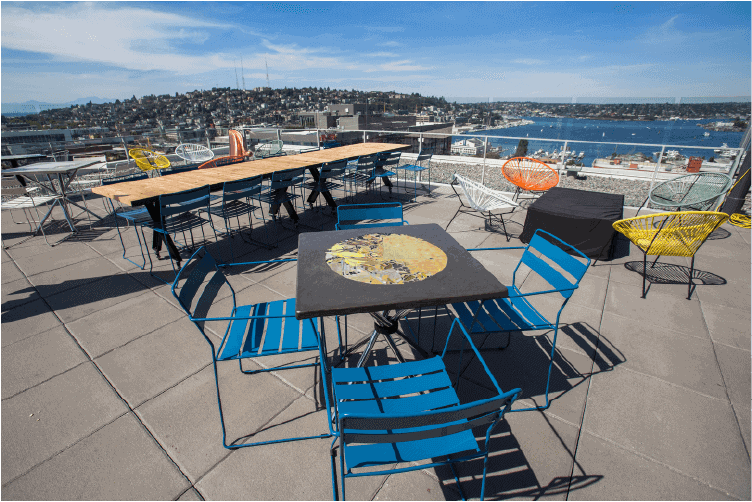 This swanky 14th story rooftop bar is part of the Mamnoon family of Seattle restaurants. MBar offers sweeping views of the whole city of Seattle, you'll see the Seattle Center including MoPop and the iconic Space Needle, Queen Anne, Capitol Hill, and South Lake Union.
The former "Top Chef" contender Jason Stratton serves up a full menu of Spanish and Middle Eastern flavors. This is another great option for people who are looking for a Seattle waterfront bar because you'll get the views of the water, the whole city and a stellar happy hour in a fun atmosphere.
Check out the Mbar website here.
Our favorites
Daily Special $11 – Their daily small plate special is always a good bet
Happy Hour – Sun & Mon all day- Tues-Sat 4-6pm at the interior bar & patio
ROOFTOP BREWING COMPANY, QUEEN ANNE (ONE OF OUR FAVORITE ROOFTOP DRINKING SPOTS)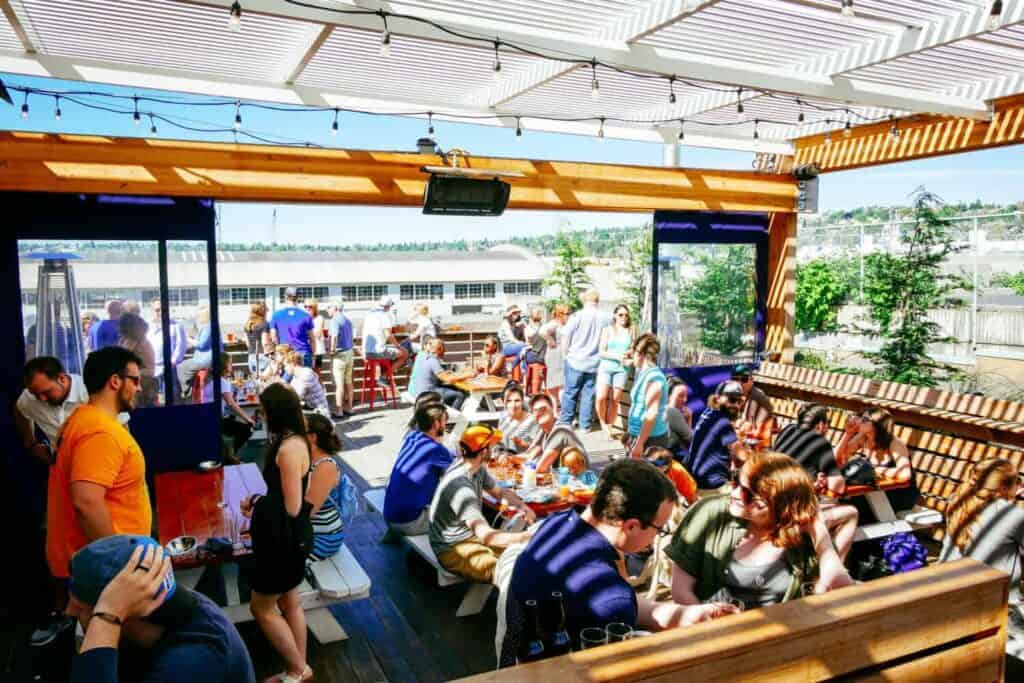 As you know we LOOOOVE our breweries AND rooftops restaurants so it's no surprise that Rooftop Brewing is on our list of Seattle Rooftop Bars.
Rooftop Brewing offers some of Seattle's finest small-batch craft brews.The dog-friendly patio is made even better with a rotating selection of the northwest's finest food trucks.
Running a brewery in the Northwest is competitive as heck and these guys offer a unique style and setting that separate them from the rest.
This is a great option if you're looking for a rooftop brewery with a fun vibe in the lower Queen Anne area of Seattle along the Fremont Cut next to the Ballard Bridge.
Check out the Rooftop Brew Co menu here.
Nitro Tap – Be sure to try one of their rotating Nitro tap selections
Food Trucks – They rock! What else can I say.
Hours – Mon-Fri 3 – 10pm, Sat – Sun 1-10pm
FROLIK KITCHEN + COCKTAILS, DOWNTOWN SEATTLE
Frolik is a way of life, a playful energy and vitality that transcends into each moment of the day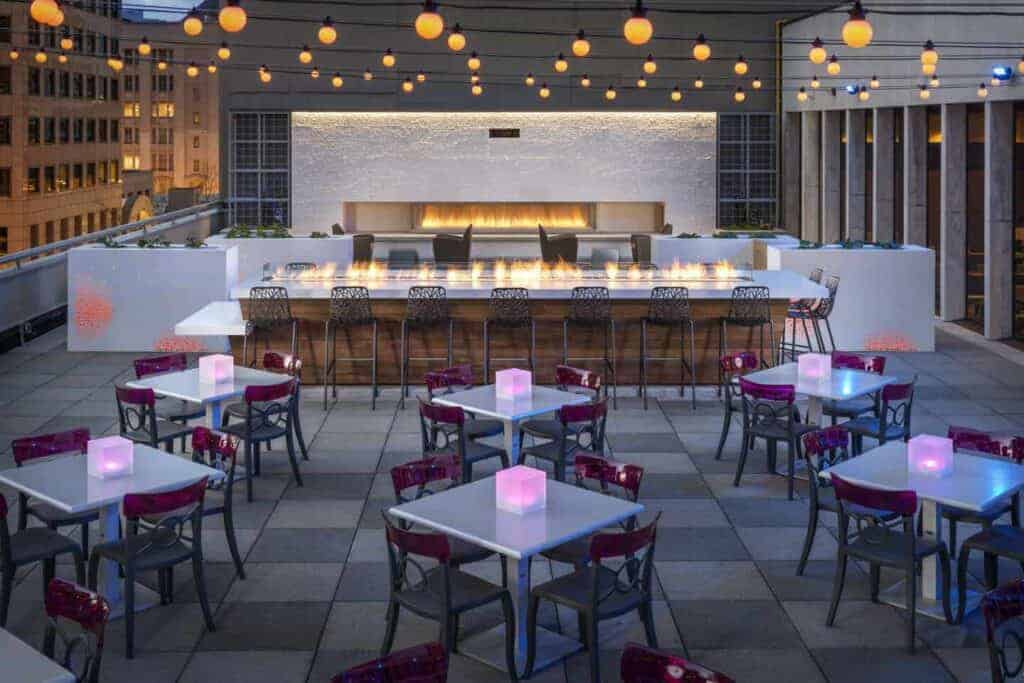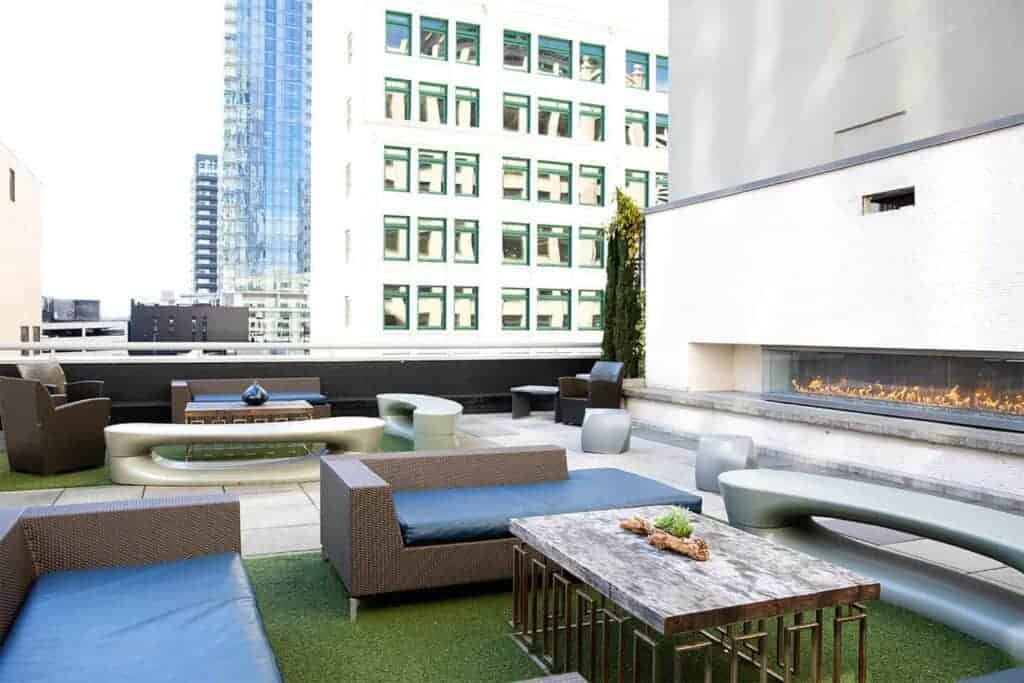 The edgy yet stylish Frolik is all about maximizing your social experience.
By adding a touch of Pacific Northwest Flair to both their cocktails and entrees you're sure to please the senses. With an assortment of fireplace options you'll have no problem staying cozy on a crisp Seattle evening at this Instagram worthy restaurant.
If you're searching for a relaxing atmosphere with waterfront views, this may be the finest rooftop lounge in Seattle. Frolik's outdoor dining is a great place to come for happy hour Tuesday-Thursday from 4-6, don't miss the happy hour truffle fries.
Check out the Frolik menu here.
Our Favorites:
Mercer Island Iced Tea – grey goose, bombay sapphire, bacardi, cazadores, patron citronge, sour, soda, cola
Motif Burger – 6oz grass-fed beef, american cheese, pickles, caramelized onions, arugula, garlic aioli, macrina sodo bun, fries
Happy Hour – 4:00pm – 6:00pm – Tuesday – Thursday
---
---
---
MONSOON VIETNAMESE, ROOFTOP BAR CAPITOL HILL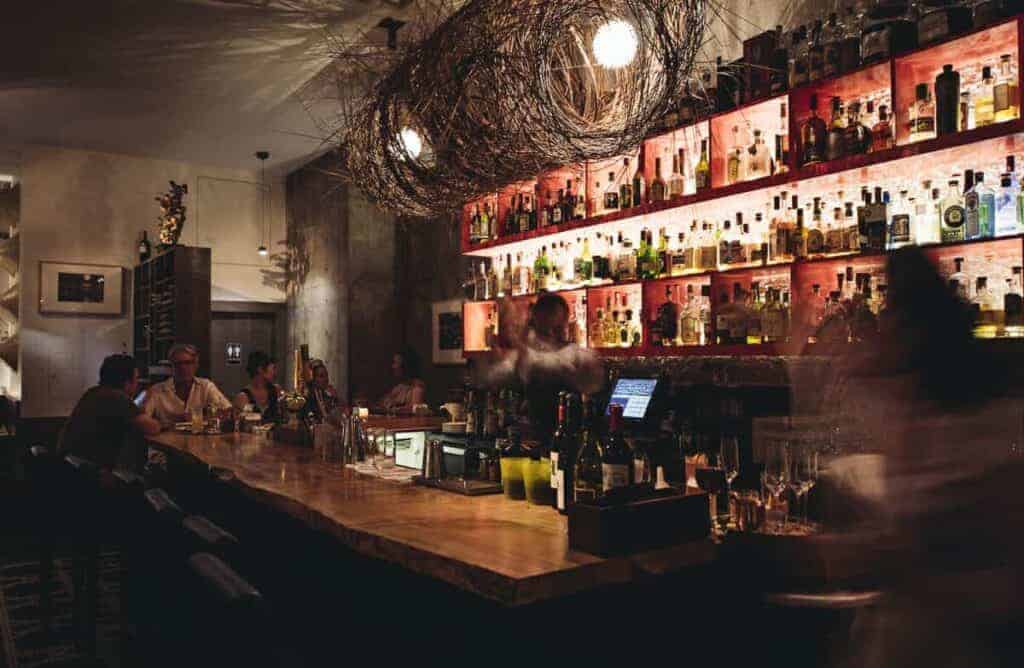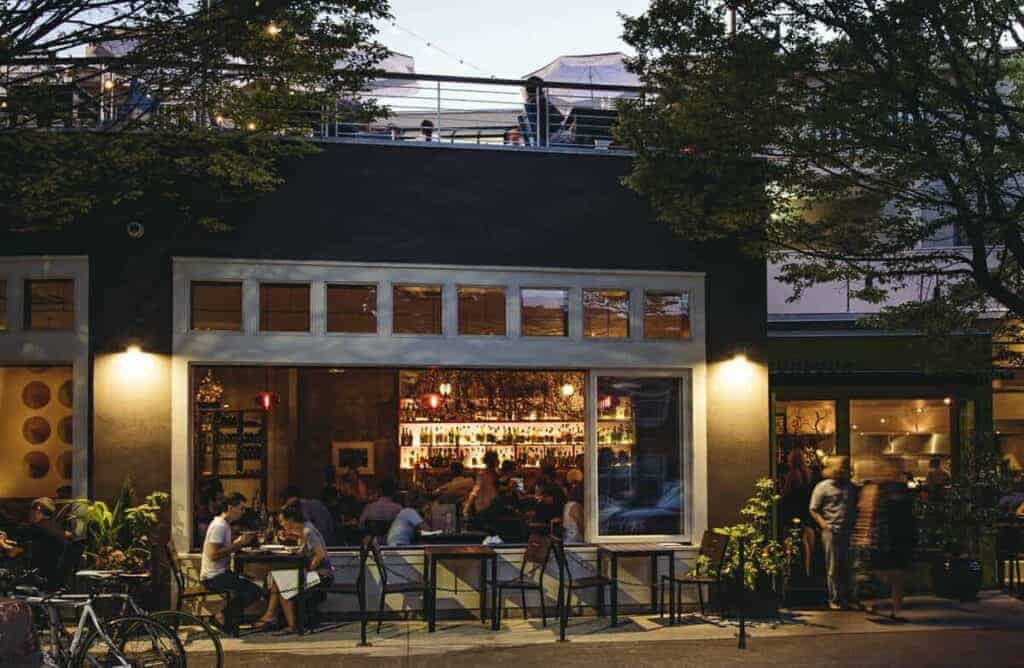 Whenever we get out of our small town there are two foods that we crave, Thai and Vietnamese. Monsoon checks all the boxes for great Vietnamese food and a really fun vibe.
Oh and it has a rooftop patio, Bam! The original Monsoon is located on the other side of the water in Bellevue while each restaurant has their own unique vibe they both nail it when it comes to amazing food.
You can certainly get a bowl of Pho or Banh Mi, but Monsoon offers a ton more including their rotating Ocean Bar, and Dim Sum their diverse menu is impressive to say the least.
But we're particular fans of their Happy Hour, where you can get discounted snacks like tamarind chicken skewers, shrimp chips, imperial rolls, and sausage sliders with hoisin aioli.
Don't miss out on this bar's warm lounge atmosphere, where you can get a Saigon Mule while catching up with your friends.
Check out the Monsoon menu here. The Rooftop Restaurant menu here
Our Favorites:
Dim Sum– They have a great menu
Caramelized Idaho Catfish Claypot – fresh coconut juice, green onion
Asian Eggplant- Asian eggplant, green onion, spicy coconut milk, shrimp sauce.
Weekday Lunch MON – FRI : 11:30AM – 3PM
DAILY 3PM – CLOSE
Dim Sum SAT & ; SUN 11:00AM – 3PM
TERRA PLATA, CAPITOL HILL/FIRST HILL

With their four seasons "earth to plate" concept you're blessed with the freshest of ingredients all locally sourced. In addition to their seasonally inspired meals they're doing the same thing with their cocktail menu. Expect some creative, wholesome, and delicious cocktails out of these guys.
Our Favorites:
Cinder & Smoke $13 – dewar's scotch, chareau, orgeat, peychaud's bitters, lemon, caraway-mezcal float
Mediterranean Mussels Coconut Curry $19 – pickled chilis, fried chickpeas
DINNER NIGHTLY 5PM – LATE
LUNCH TUESDAY – FRIDAY 11AM – 2:30PM
BRUNCH SATURDAY & SUNDAY 9:30AM – 2:30PM
APERITIVO TUESDAY – SUNDAY 2:30PM – 5PM
THE PINK DOOR, PIKE PLACE MARKET DOWNTOWN
"My food is built around the Italian classics: simple, fresh and seasonal."
—JACKIE ROBERTS, OWNER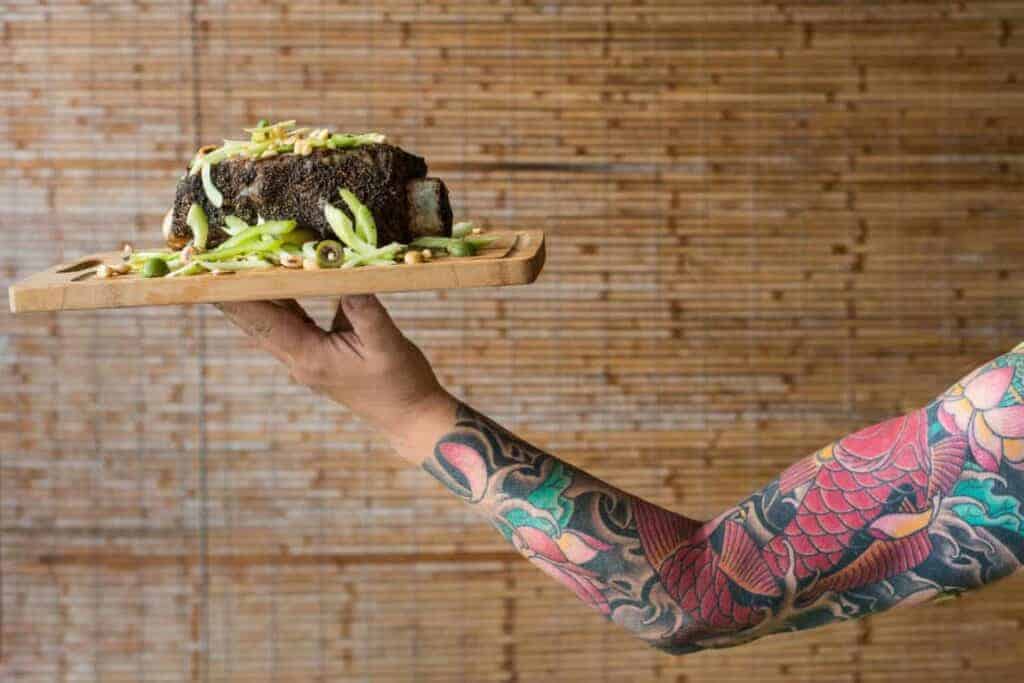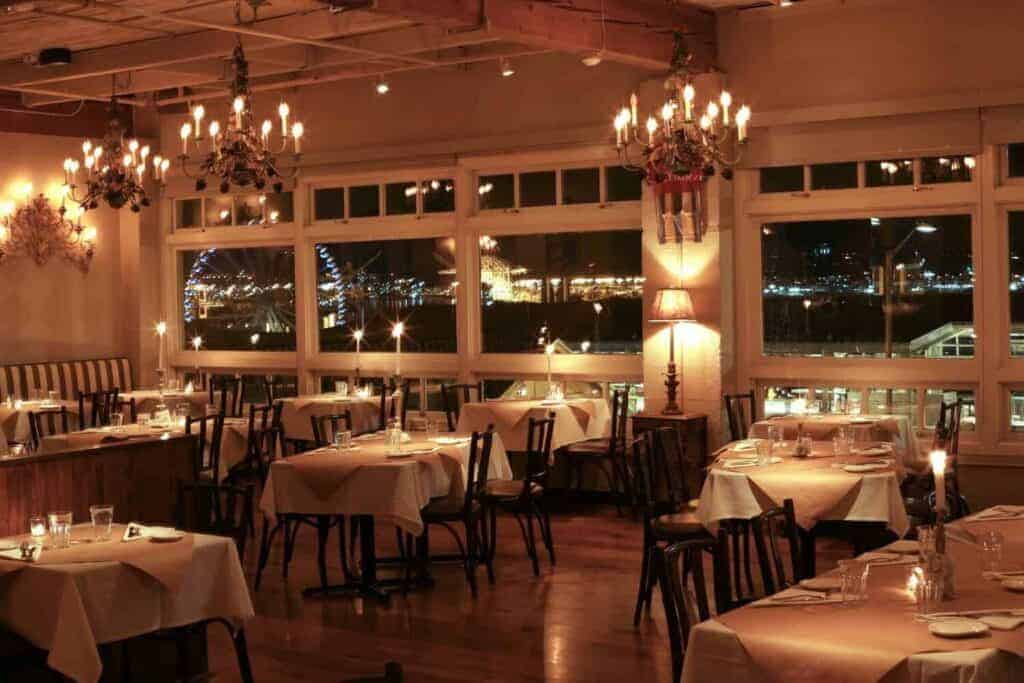 Located in the famous Post Alley of the Pike's Place Market, The Pink Door is spitting distance from the legendary Gum Wall.
The food is terrific, the service is awesome, and the atmosphere can't be beat whether you're inside or out taking in the views on the patio.
This truly unique Seattle restaurant blends terrific food with some out of this world entertainment. While the food is terrific this is also one of our favorite cocktail and chill spots.
How about a trapeze performance above you while you eat? Be sure to check out one of their shows.
Check out the Pink Door menu here.
Our Favorites:
Cioppino Pink Door $27 – prawns, mussels, clams and calamari in a spicy tomato and white wine broth
Lasagna Pink Door- fresh spinach pasta layered with besciamella, pesto and topped with marinara sauce$20.
Lunch & Dinner Wednesday through Sunday
MESCALERIA OAXACA, CAPITOL HILL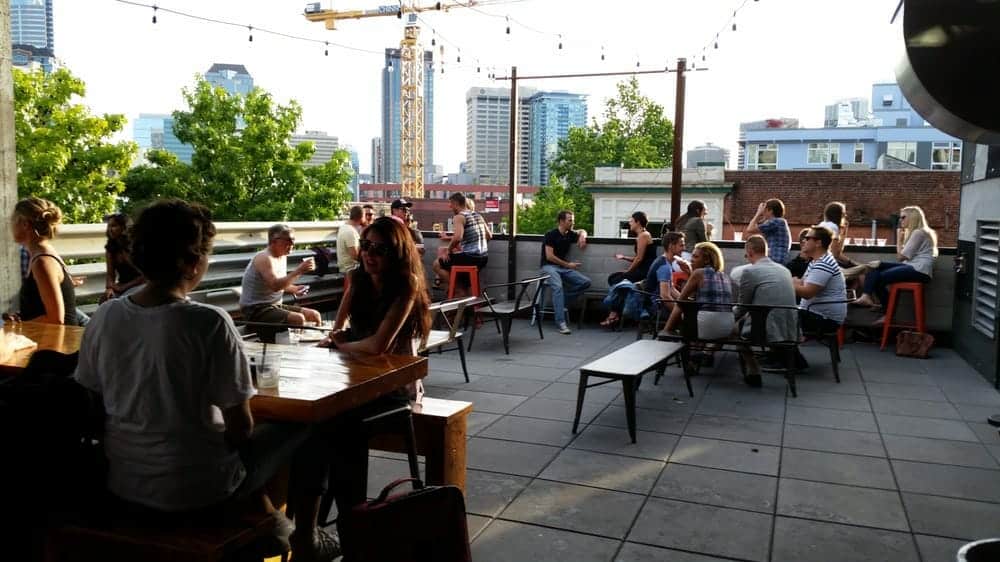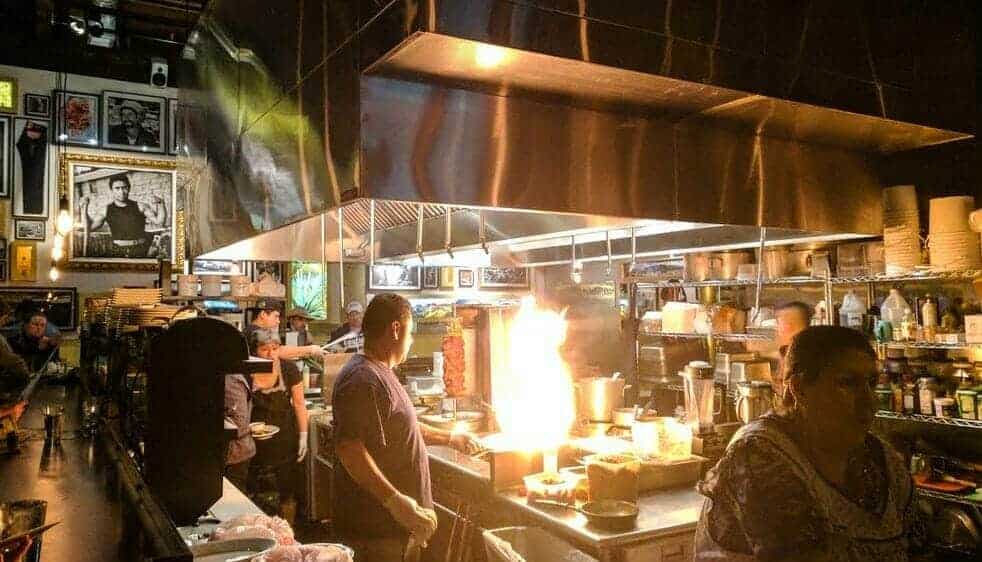 Their classic yet well prepared Mexican dishes paired with their Mezcal is a real treat. The only catch is you can't get the full menu up top at the outdoor bar. So grab a bite below and work your way up for an evening of cocktail bliss.
Our Favorites:
Chica Fresa – A happy marriage of Hibiscus and Strawberry
with the subtle smoke of Mezcal and a creamy egg white finish.
Molotes – A popular Oaxacan street antojito consisting of a rich Chorizo and potato filling that's wrapped in corn masa and fried.
Happy Hour – Monday – Saturday until 6 pm
PATIO CIELO, CAPITOL HILL
Head to Capitol Hill, and you'll find this jewel of a bar located outside in this upbeat part of Seattle. The Rooftop bar Patio Cielo is above Mercado Luna and offers up a great ambiance and some bumping music.
Mercado Luna is a restaurant serving authentic Mexican food, and well-crafted cocktails with a great vibe. Their birria are some of the best we've found.
Don't miss out on their spicy margaritas, or their micheladas… you'll be wanting more.
Our Favorites:
Birria tacos
Chilaquiles Verdes
Michelada- made with secret spicy salsa, and lime
Mezcal Margarita
MAXIMILIEN, PIKE PLACE MARKET
Interested in rooftop dining in Seattle overlooking the beautiful waterfront? The charming French restaurant Maximilian is only a short walk from Pike Place Market and is a perfect spot for brunch or dinner. Take in dazzling views of Seattle's waterfront while enjoying incredible French cuisine and tasty cocktails.
Maximilien has a beautiful rooftop terrace that offers panoramic views of the Puget Sound, mountains, and skyline. Combine a beautiful sunset with some amazing food, and you'll see why Maximilien is well worth a visit.
The terrace was formerly a summer-only hotspot, but it is now open all year thanks to the cozy rooftop igloos. I guess that one good thing Covid created is more rooftop restaurants and outdoor bars yay!
Explore Maximilien's full menu here.
Our Favorites:
Pike Place Kilt Lifter
Pike Place Market Salad Niçoise with Tuna $32
Alaskan Halibut $38
Monday – Thursday: 4pm to 9pm
Friday – Sunday: 11:30am – 9pm
HARD ROCK CAFE, DOWNTOWN SEATTLE
We're not big on chain restaurants we'd much rather support smaller mom and pop establishments than huge chains. However, with hesitation here I go. Hard Rock Café DOES have a rooftop bar in Seattle and it IS downtown and SOME people love this touristy vibe.
The Seattle Hard Rock Café is comparable to other Hard Rock Cafés throughout the world in many respects, but Hard Rock Cafe Seattle also comes with a relaxing spacious rooftop terrace.
I have to be honest August LOOOVES rooftop bars so we do try out as many of them as we can. We were pleasantly surprised when we got a drink at this Seattle rooftop bar. Its a great choice for laid-back, unassuming, sunny (or cloudy) cocktail amongst the Seattle skyline. The terrace has cabanas, a fire pit, and lots of lounge seats. And lets be real the view of the Pike Place Market sign with Elliott Bay in the background is pretty cool!
Explore Hard Rock Cafe's full menu here!
The view and that it's an outdoor bar in Seattle!
GRILLED NORWEGIAN SALMON-Grilled salmon with herb butter and house-made barbecue sauce, served with fresh vegetables.
BEN PARIS, DOWNTOWN
If you like creative cocktails and a contemporary spin on traditional American cuisine, you'll enjoy your time at Ben Paris. Ben Paris is a fun, lively restaurant just steps from Pike Place Market located at 2nd & Pike.
The sleek rooftop terrace overlooking Pike Place Market and downtown Seattle has been operating on a full time basis in response to Covid-19 restrictions. Once again the new emphasis on outdoor dining is making rooftop restaurants a year around trend.
Explore the Ben Paris full menu here.
Our Favorites:
Penn cove mussels & clams- $27
Happy Hour Double Tavern Burger- $10
Happy Hour 4-5
SMITH TOWER, PIONEER SQUARE
Seattle's iconic Smith Tower, the city's first skyscraper, once the tallest building west of the Mississippi is one of our favorite rooftop bars in Seattle.
In fact visiting the Smith Tower is on our list of top things to do in Seattle. If you're looking for some of the best views of the the Space Needle, Pike Place Market, Bainbridge Island, and more the Observation Deck on the 35th floor is where it's at.
When you reach the observation deck, you'll discover a cozy dark bar with speakeasy vibes from the prohibition era tucked away in the corner. Light bites inspired by the Roaring Twenties, and the tower's Asian influence include banh mi sandwiches, Chinese dumplings, a raw oyster bar, and craft cocktails.
Insider Tip: The Smith Tower was once the tallest building on the West Coast and had man operated elevators.
There are two options to reach the observation deck and rooftop bar: Pay for the 40-minute Legends of Smith Tower tour, which includes several interactive exhibits, or pay for a "Straight Up" ticket for an elevator trip to the 35th floor.
The tour runs $19.14 for adults, Straight Up ticket is $10. Buy your tickets for the Smith Tower observation deck here.
Our Favorites:
Gin Rickey
Side Car
Happy Hour: Weekdays 3-6
$10 daily cocktail special
$2 off all beer, wine, and well drinks
$12 Bento box for two
OLD STOVE BREWING, DOWNTOWN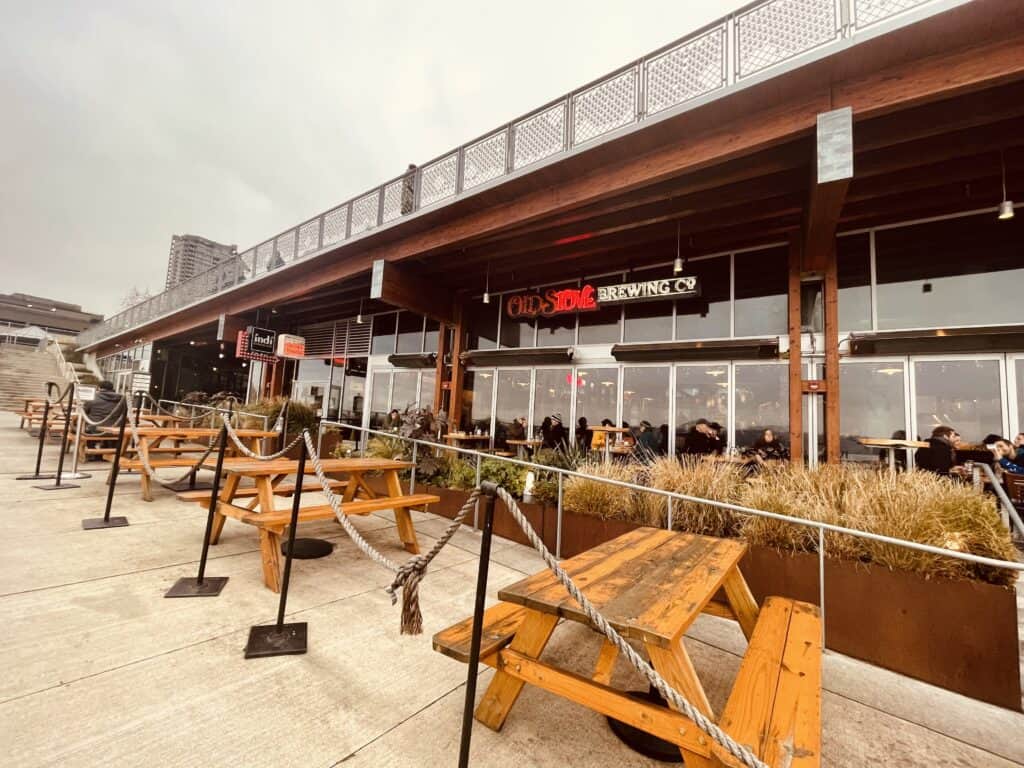 Seattle has some really great breweries, and you know we can't resist a good brewery especially one that has some rooftop seating.
The Old Stove Brewing has fantastic views of the water, the iconic Seattle Wheel and it's a great place to unwind while watching the activity on the pier below.
Even if you don't score a seat outside don't you worry because the indoor seating is just as fabulous. The entire 80-foot western window wall opens up to views of Elliot Bay, the Olympic Mountains, and the maritime traffic. We think this is the best rooftop brewery Seattle has to offer because of the incredible views and amazing service.
Old Stove Brewing has cocktail options along with the beer offerings and a pretty solid food menu as well.
Explore the Old Stove Brewing full menu here.
Our Favorites:
Mussels and Clams-Hama Hama clams, Penn Cove mussels- $23
Salmon BLT- King Salmon, Cherrywood bacon, arugula,- $22
Streaker Citra Pale Ale
West Coast IPA
Sun-Thur: 11-9
Fri-Sat; 11-10
SEATTLE HOTELS WITH ROOFTOP BARS
There's nothing quite like taking in the city views from a rooftop bar, and Seattle is full of them. Here are a few of the top-rated hotels with rooftop bars in Seattle.
THE NEST ROOFTOP BAR SEATTLE, DOWNTOWN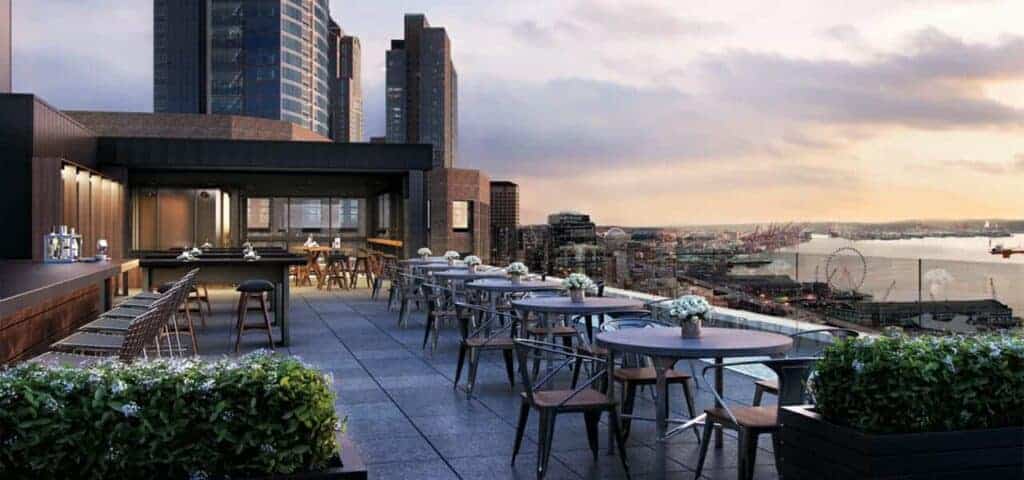 With stunning views of Elliot Bay, this rooftop bar on the 12th floor of the Seattle Thompson Hotel should not be missed. With a tasty selection of craft beer and their unique cocktails, you'll have a hard time deciding which is better, the view or the drinks.
If you're looking for one of the best outdoor bars Seattle has to offer this may be one of our top picks because Seattle waterfront bars are the absolute the best.
Once your thirst is quenched they have an assortment of unique small-plate snacks that are just as tasty as the views. Don't miss their late-night happy hour for drink and food specials!
Check out the Nest menu here.
Our Favorites:
Smoked Salmon $8 – lemon panna cotta, crispy shallot, fennel slaw
Marble Hill $10 – rittenhouse rye whiskey, carpano antica vermouth, rhubarb bitters, zucca, averna amaro
Rainier Beer $2 – For the budget traveler and those who like to keep it classy
Happy Hour – Thursday – Sunday 9:30pm-11:30pm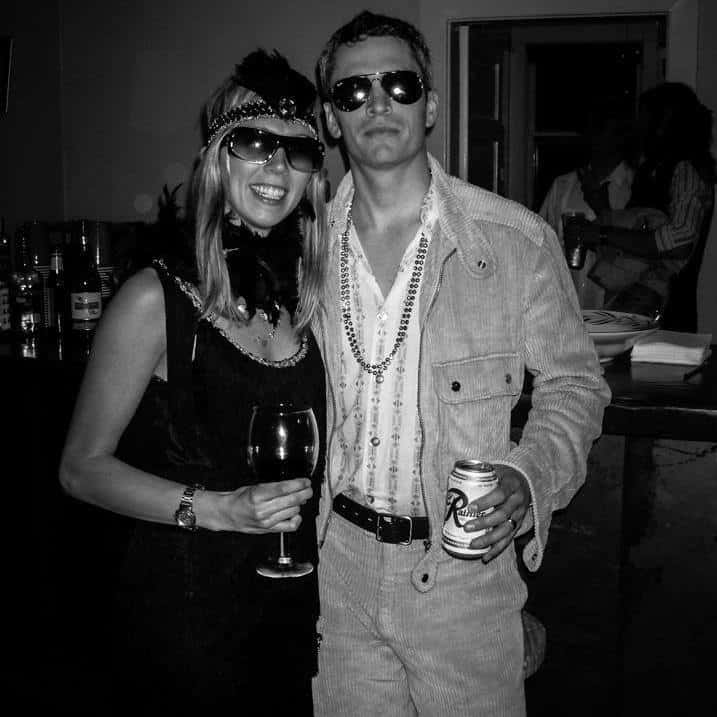 FOG ROOM SKY LOUNGE, TOP OF CHARTER HOTEL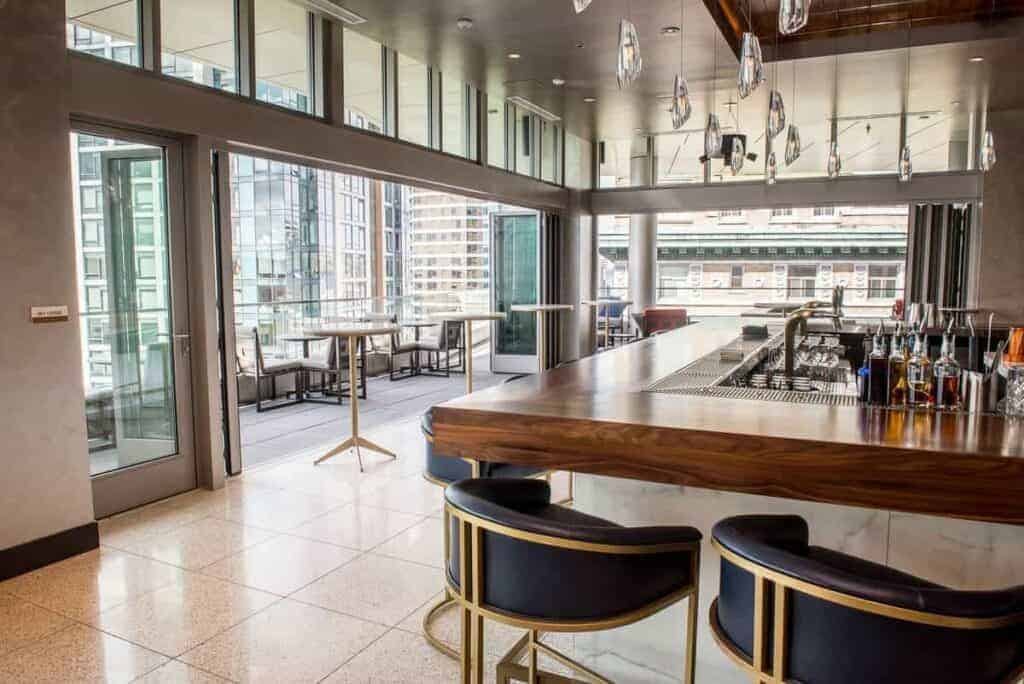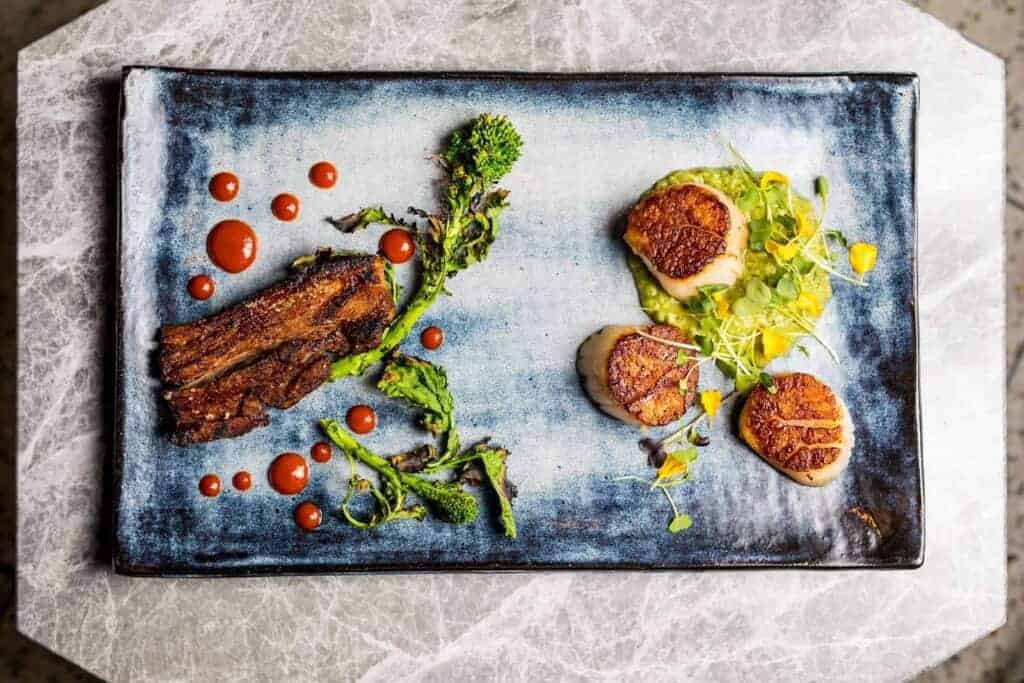 Elevate your evening to new heights at the Fog Room Sky Lounge & Terrace, one of the finest Seattle rooftop bars.
Centrally located downtown on 2nd Ave, this 16th story view is just blocks from the Pike's Place Market. Sip drinks while taking in the breathtaking views as the Fog Room blends indoor and outdoor seating in their fully covered lounge.
For a one-of-a-kind rooftop environment, Fog Room combines an alluring ambience with a modern-chic setting making this the ideal place for your night to begin or end. Enjoy delicious small-plate entrees, with stunning views of Puget Sound, the Seattle waterfront and The Great Wheel.
Check out the Fog Room menu here.
Our Favorites:
BANK STATEMENT – vodka, blanc vermouth, lemon, lychee rose tea, sparkling rose
DEVILED EGG $12 – smoked salmon, ikura, dill
HOURS – 3:00 PM – 12:00 AM
THE MOUNTAINEERING CLUB, U-DISTRICT (ONE OF OUR FAVORITE ROOFTOP DECKS)
I had to do a bit of research on this hotel and restaurant because I was unfamiliar with it so if you are too here's the down low. Graduate Hotel chain has several hotels near University campuses across the US, they all have pretty cool themes that are unique to the area.
After going to this hotel and the rooftop bar and seeing how cool it is I think I'd like to attempt to visit all of the different Graduate Hotels throughout the US. I hope they all have rooftop bars or rooftop restaurants like this one does!
Try a seafood dish washed down with a delicious cocktail while dining at The Mountaineering Club. For example, oysters on the half-shell paired with 'Stonewall Was A Riot' cocktail made with vodka, lemon, mint, bitters, and some edible Glitter!
Explore The Mountaineering Club's full menu here
Our Favorites:
Zuchhinni sandwich $14
Wagyu & Dungeness Dog $18.50
We want to hear from you! Do you have a favorite rooftop restaurant in Seattle that we missed? What do you think the best Rooftop bar is in Seattle? Rooftop bars and lounges are becoming more and more popular and a growing trend in Seattle let us know if a new restaurant pops up that we should add to our list!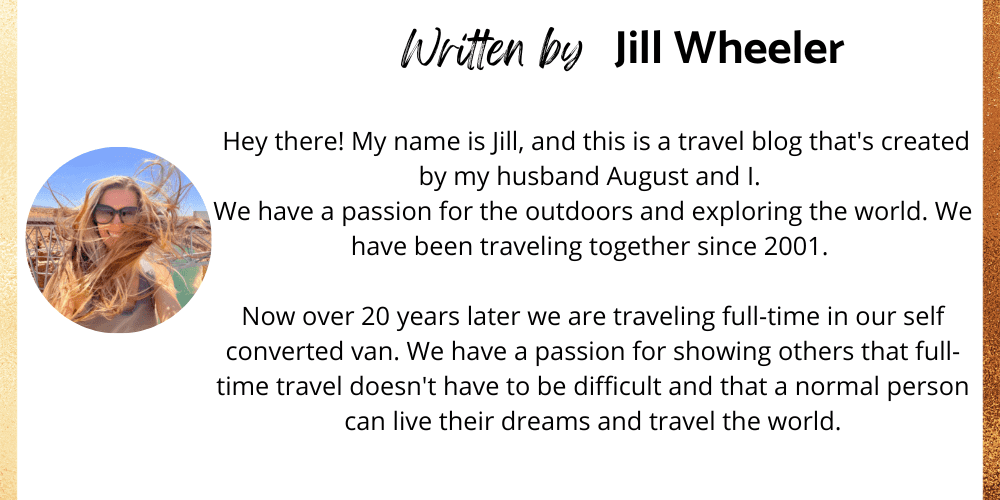 FAQ ABOUT SEATTLE ROOFTOP BARS
WHAT'S THE BEST AREA IN SEATTLE TO EXPERIENCE ROOFTOP BARS?
Downtown Seattle offers up the most rooftop bars so if you are looking to do some bar hopping this is your best option.
IS THERE A RESTAURANT THAT OFFERS ROOFTOP BRUNCH IN SEATTLE?
Terra Plata, Monsoon, The Pink Door and Maximilien are good options for a rooftop brunch.
IS THERE A GOOD ROOFTOP BAR IN BELLEVUE?
One of the most popular places with a buzzing atmosphere is the Living Room Bar and The Porch at the W Bellevue. They offer uniquely crafted cocktails and some of the best NW beers around.
WHICH IS THE VERY BEST ROOFTOP BAR IN SEATTLE?
This is a difficult one to answer because each of the restaurants listed above offer up their own unique atmosphere. It really depends if you're looking for chic vibe or a laid back chill feel where anything goes. If you're looking for the place for classy cocktails I say Frolik is your place. If you're a beer drinker looking for a good PNW brew then hit up Old Stove Brewing, if you're looking for something in between you can't go wrong with the Mountaineering Club.
LOOKING FOR SOME TRULY UNIQUE SEATTLE RESTAURANTS?
DON'T LET YOUR BUDGET HOLD YOU BACK