Ready to level up your Sedona adventure? Say hello to Sedona helicopter tours! Imagine this: you're soaring over jaw-dropping red rock formations, snapping epic selfies with Cathedral Rock, Bell Rock, and all those mind-bending vortexes.
No cramped tour buses or dusty hiking trails—just you, the wide open sky, and a bird's eye view of the most stunning spots in Arizona. It's not just sightseeing, it's a full-on, thrill-a-minute aerial extravaganza that'll make you see Sedona like never before. Trust us, once you've gone airborne, you'll never want to explore any other way!
The 3 Best Sedona Helicopter Tours
⭐️RATING: 5 out of 5 Stars (140+ Reviews) ⎸ ⏳TOUR LENGTH: 30 minutes
Why choose this tour? Most 5-star reviews
There's no better way to witness Arizona's incredible desert beauty than from the above. Get an eagle's eye view during this helicopters tour of some of Sedona's most famous red rock formations, including the ancient Anasazi cliff dwellings.
Begin by heading south towards the renowned Cathedral Rock, a sight to behold. Proceed to the Chapel of the Holy Cross, a majestic sanctuary etched into the rock itself.
Then, sweep over the fascinating formations of Bell Rock and Courthouse Butte. Keep your eyes peeled for the whimsical Snoopy Rock! Traverse the expansive Oak Creek Canyon before soaring towards the intimidating Devil's Bridge. Your adventure continues as you head for the hidden depths of Secret Canyon, ascending up to the breathtaking Mogollon Rim.
Your flight culminates with a sweep over Boynton Canyon, where you'll glimpse the ancient Anasazi cliff dwellings—a fascinating finale to your tour!
Beverages
Live commentary
Headsets for listening and communicating with pilot
Choose a morning, afternoon or sunset adventure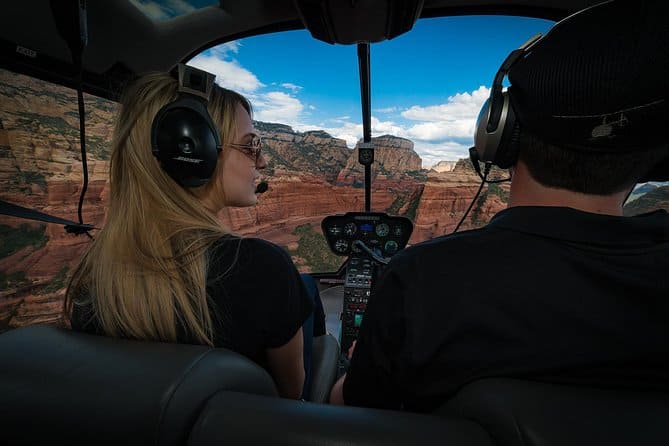 ⭐️RATING: 5 out of 5 Stars (117+ Reviews) ⎸ ⏳TOUR LENGTH: 25 minutes
Why choose this tour? Best deal!
Sedona is loaded with cool stuff to do, but the ultimate thrill? A chopper ride over the ancient Anasazi cliff dwellings—no contest. Buckle up for a 20-minute whirl in the sky, where you'll cruise over structures that are a whopping 700 years old!
These were the digs of the Anasazi peeps, who mysteriously ghosted the place around 1300. Now, their rock-carved homes are like eerie reminders of a buzzing neighborhood from centuries past.
Get ready to explore Sedona's desert like a boss, starting with Devil's Bridge. Yep, it's as cool as it sounds—a giant natural rock bridge stretching between two mega cliffs. Next, it's time to play "I spy with my little eye" with Secret Canyon's popular hiking trails. And who knows? You might even spot some wildlife as you zip up to the Mogollon Rim.
Last but definitely not least, your ride will loop through Boynton Canyon, closing in on those amazing cliff dwellings. The best part? You get to skip the scorching desert heat and dodging crowds on foot. Instead, you're chilling in a helicopter, scoring the best views in town without breaking a sweat. Now that's what we call traveling in style!
Beverages
Live commentary
Headsets for listening and communicating with pilot
Choose a morning, afternoon or sunset adventure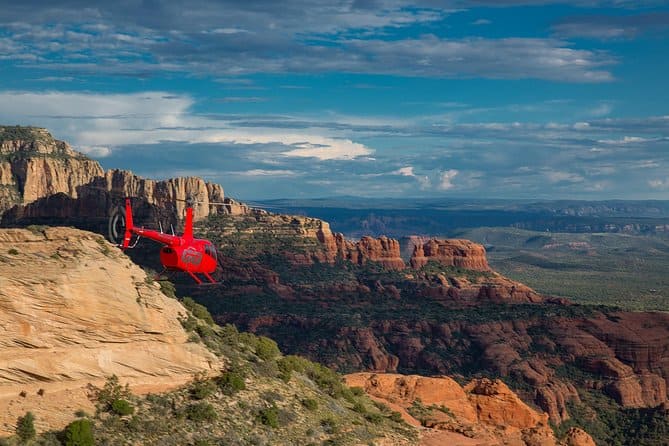 ⭐️RATING: 5 out of 5 Stars (25+ Reviews) ⎸ ⏳TOUR LENGTH: 55 minutes
Why choose this tour? Longest tour!
Ready for the inside scoop on Sedona's landscapes? Your super-knowledgeable pilot will be your guide as your squad takes off towards the whopping 8,000-foot Mt. Mingus. Next stop? Sycamore Canyon.
As you zoom over Red Rock Country's second largest canyon, keep your eyes peeled for a sneak peek of the Verde River. Then, brace yourself for an eyeful of the gorgeous Sedona desert's panorama.
Ever heard of Robber's Roost? You'll get to see the old hidey-hole of infamous outlaws Butch Cassidy and the Sundance Kid. Then, it's time to jet off to the real showstopper: Mingus Mountain! As it looms on the horizon, glance to the side and you'll spot the historic mining town of Jerome.
Your ride is not just any old chopper, but a roomy, super comfy bird with huge windows—perfect for soaking up the sights. So charge up your camera and get ready for takeoff. Trust us, the view's even better from the top!
What's included in this tour:
Beverages
Live commentary
Headsets for listening and communicating with pilot
Choose a morning, afternoon or sunset adventure
What To Wear On A Helicopter Tour
While most helicopters are climate controlled, it's best to dress in layers so you can easily add or remove clothing as needed.
What To Bring On A Helicopter Tour In Sedona
Sun glasses
Sun block
Fully charged camera
Binoculars
Are Helicopter Tours Worth The Money
Wondering if splurging on a Sedona helicopter tour is worth the bucks? Well, let's break it down:
Epic Views: Let's face it, ground-level views have got nothing on the bird's eye spectacle from a chopper! Wanna see the big picture? Go aerial.
Beat the Clock: Short on time but big on adventure? You can peep all the sights without spending hours on the road. It's like a highlight reel of the best bits.
The Thrill Factor: The chopper ride alone is a rollercoaster of fun. If you've never been in a helicopter, you're in for a real treat!
Snap-Happy: Love photography? Your Instagram is about to get a major upgrade. We're talking next-level, #NoFilterNeeded shots.
Cash Factor: Sure, it's not pocket change, but think about the bang for your buck! Just consider it an investment in unforgettable memories.
Easy-Peasy: If hiking isn't your thing or you just want to kick back, why sweat it out on a trail when you can chill in a comfy helicopter seat?
Just remember, what's one person's splurge is another person's must-do. Check out some reviews, see what previous sky-trotters have to say, and decide if it's a 'yay' or 'nay' for you!