Starlink satellite internet has revolutionized the internet landscape by providing high-speed, low-latency connectivity to even the most remote areas of the globe, perfect for our nomadic travel lifestyle. If you've decided to join the growing number of users who have opted for this new internet solution, this article will walk you through the step by step process of a new Starlink setup.
If you're still on the fence about Starlink check out our review on the new mobile Roam Starlink plans.
Getting Your Starlink – The Dreaded Waitlist
If you've already got your Starlink in hand then you can skip ahead to the next section. But for those that haven't ordered theirs yet I wanted to cover the basic steps of this and explain the various options.
Step 1
The first step in obtaining Starlink satellite internet is to head to www.starlink.com. Along the top of the page you'll see the following options, Residential, Business, Roam, Maritime, and Aviation.

You'll simply click on the best option for how you plan to use your Starlink. Note, the RV and Portability plans have been replaced by the "Roam" option. If you plan to use your Starlink in different areas or in an RV for example you'll want to select "Roam."
Step 2
Next you will input your address in the field. For Residential or Business plans this will be the service address. While the other plans which are mobile, this address will be the shipping address.
For residential and business plans after putting in your address it will either allow you to move forward or return that there are no available plans for that area. Starlink has limits on how many devices it allows in certain areas so it's possible that your area is already full.
Below the field where you put in your address you can also click the "View Availability Map" where you can see what areas are accepting new plans. For the mobile plans of Roam, Aviation, or Maritime they are always available regardless of where you call home.
The mobile plans are however more expensive than the basic residential. In addition the mobile plans give you the option of purchasing the high performance dish which is designed to be mounted flat and used while in motion. For residential all you'll need is the basic dish version.
Starlink Install and Setup Guide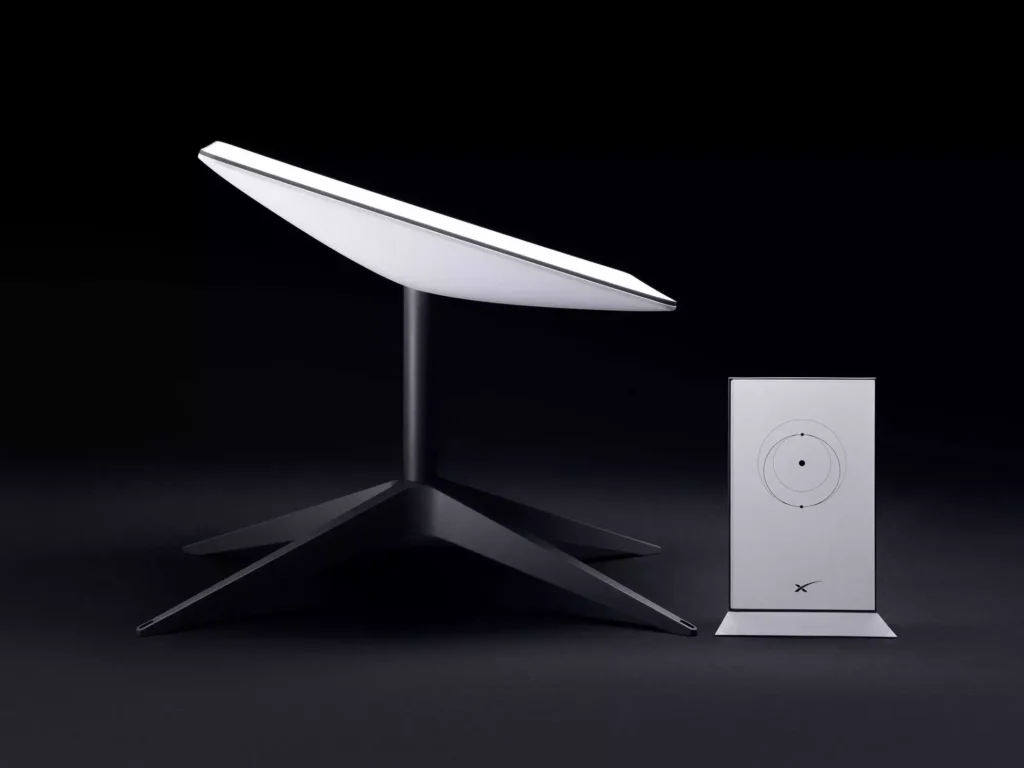 The setup process is actually quite simple and is almost entirely done using the Starlink app which is available on Android and IOS devices. You can also set up Starlink from a computer without the app by going to, http://dishy.starlink.com/ or http://192.168.100.1/ on your browser.
Simply search for Starlink in your app store or click the links below
Starlink App – Apple Devices
Starlink App – Android Devices
Starlink Setup and Unboxing
Now's the fun part, time to unbox and start your Starlink install. Inside the box you'll find the following pieces.
1. Starlink Dish
The rectangular dish or "dishy" as everyone calls it is what will be placed outside and is doing the actual communication with the satellite. The cable(which is removable) will come attached to the dish pedestal. This cable is what will be run inside to the Starlink router.
2. Starlink Router/Power Supply
Next we have the router and power supply. This is what provides the WiFi signal for internet and what get's plugged in to the outlet which powers the entire system.
3. Starlink Dish Stand
The x-shaped stand is what holds the Starlink dish or "dishy." The dish will actually turn and tilt on its own to find the best signal so it's important that it is free from obstructions. More on this in a bit. The included x-stand is great for mobile or temporary setups but for permanent or residential uses I'd recommend having a look at these Starlink accessories for mounting options.
Best Location For Starlink Dish

Finding the best Starlink dish mounting location is an important step and varies greatly based on your particular needs or setup. But here are a couple things to consider.
The Starlink dish needs an unobstructed view of the sky. For residential installations this is often at the peak of the roof and there are numerous roof mount accessories to help with mounting your dishy. It's also worth noting that in the Northern hemisphere Starlink generally prefers to point north.
The Starlink app includes a really handy feature to help with this. Open the app and click on the Visibility icon. Follow the instructions and by simply panning your phone around at the dish location the app will tell you if that is a suitable location for the dish.
The other thing to consider with the dish location is that the cord from the dish will have to run inside and connect to the router. The included cord is 75 feet and they offer a 150 foot cord as an option.
Now that you have your dish mounted let's get the Starlink internet setup.
Initial Starlink Setup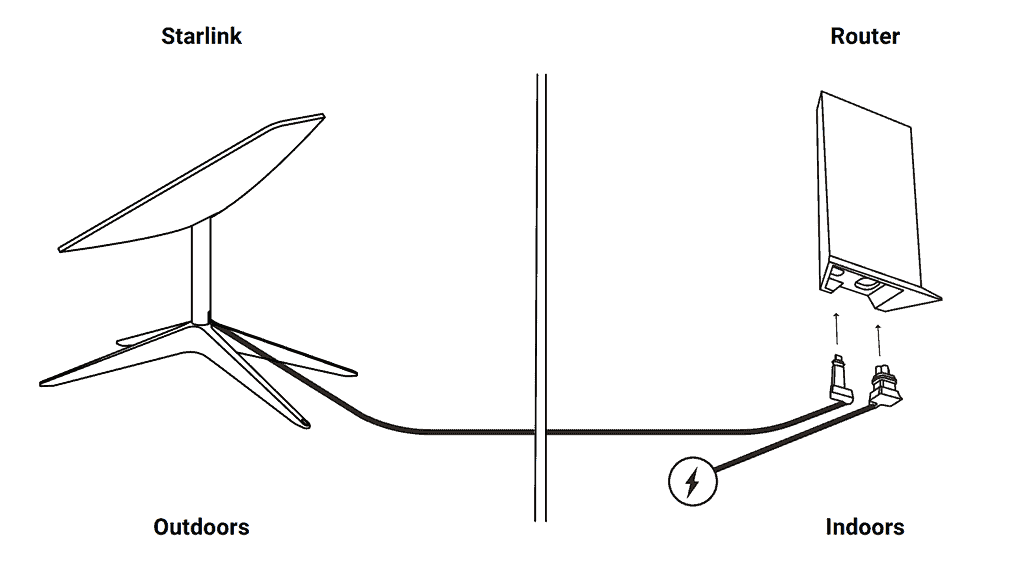 At the base of the router you'll plug in your power supply and the cable coming from the dish. The power supply cable is angled and the dish cable is straight. Make sure the dish is free to spin and move about, now plug in the power cord.
Starlink can also be powered by 12 volt DC which is great for RV's or off-grid uses. You can read more about the conversion at, How To Power Starlink on 12 Volts DC.
Connecting To Starlink Router
After plugging everything in the Starlink router will boot up, this initialization takes a couple minutes. After a couple minutes, open the WiFi settings on your phone and connect to the wireless network called STINKY.
Once connected a new window will open, asking you to configure a new network name and password. Once saved, you are now connected to your Starlink system.
Now go back into your Wifi settings and connect to your new Starlink network with the password you just created.
Connecting To The Starlink App
Now you can open your Starlink app, log in, and you should see the following screen showing the status of your Starlink internet connection.
If all is well you will see the Online along with the green circle indicating everything is connected properly. Keep in mind it can take up to 10 minutes for Starlink to search and connect to the satellites.
If Starlink is still searching it will say Offline and Searching so give it some more time. If it shows Disconnected or Offline after 20 minutes double check that your connections are all securely plugged in.
If you are having problems you can always tap Support to get help.
Check Out These Other DIY Build Topics
Using The Starlink App
The Starlink app has a variety of tools to monitor the performance of your internet connection and speed.
Visibility Page
The Visibility page shows you a representation of any obstructions that may be preventing good satellite communication. This page will take up to 12 hours before it's available since it needs time to gather data.
Statistics Page
The Statistics page of the Starlink app gives information on network bandwidth, latency, and outages. This is the goto page if your internet stops working where you can check for outages. This page can also take some time to gather data before it's ready.
Starlink Speed Page
The Starlink speed page has its own built speed tester that can give you real-time internet speed numbers for your service.
How To Get Starlink Support
Setup usually goes well and it's unlikely you'll need support. But if you do you can find help in the Starlink app. Open the app or website(make sure you're logged in) and visit the support page. You can search for issues and browse support topics.
If you can't find what you're looking for head to a support topic and click the "thumbs down" icon where it says "Did this answer your question?" at the bottom of the article. You'll then be redirected to a contact page where you can open a support ticket with Starlink for help.
Is Starlink Worth It?
Starlink has been an absolute game changer for us. As full time travelers Starlink has given us the opportunity to work remotely from just about anywhere. We just returned from 3 months down in Baja Mexico and stayed well connected the entire time.
For our nomadic lifestyle there's nothing better than Starlink for internet. Our dish is permanently mounted to the roof of our Overland Camper and despite years of hard use along the bumpiest of roads it just keeps working.
How much does starlink internet cost?
Starlink internet starts at $110 per month for residential and $150 per month for "Roam" or mobile uses. There is an initial equipment cost starting at $599.
Can I get Starlink internet now?
The mobile plans also called "Roam" are available regardless of where you live. For residential plans you can check availability at Starlink.com where you can input your address or check the availability map.
Is Starlink data unlimited?
Residential Starlink customers can use 1TB of high-speed data each month. Once the cap is exceeded, subscribers will need to pay $0.25 per GB to keep receiving the highest Starlink speeds.
How to set up Starlink?
Starlink is very easy to set up. Once all the equipment is connected you can simply connect to it via the Starlink app which will walk you through the setup process.
How do I install my Starlink?
The most important part of installing Starlink is finding a suitable dish location that is free from obstructions with a clear view of the sky. The rest of the process is easy using the Starlink app which guides you through the installation process.