The allure of being a modern traveler is being able to wander to the farthest corners of the earth without entirely cutting ties to your roots. Staying connected is no longer just about maintaining contact; it's about ensuring a seamless blend of work and leisure, productivity and exploration.
In this guide, we'll walk you through the essentials of staying connected while traveling, wherever your journeys take you.
We've got an in depth article on everything you need to know about staying connected. From international SIM cards to Starlink satellite internet you can find everything right HERE.
But real quick let's cover some of the basics…
SIM Cards For Travel
SIM cards are cellular based internet connections which can be found in the common cell phone or a dedicated mobile hot spot.
SIM cards for travel can vary from country specific plans to world wide or multi-country plans. World SIM is the undisputed champ when it comes to SIM cards and is definitely worth checking out.
While SIM cards are a good option for casual use they often have pretty strict data use limits and will quickly be depleted doing any heavy work load on them. But for the occasional email or posting to your travel blog these are a great option.
You can find more details on various SIM cards here.
Starlink and Satelite Internet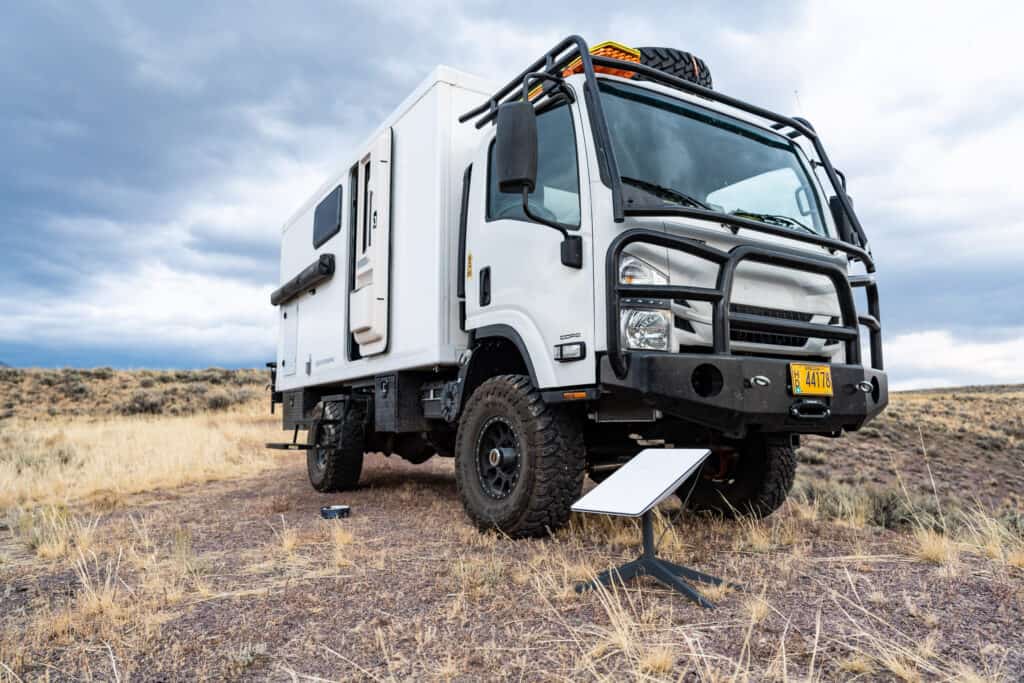 Starlink satelite internet now works in over 32 countries and offers fast internet in even the most remote areas of the world. This is our primary way to stay connected while traveling in North America.
The only thing to keep in mind is you will need a clear view of the sky. Camping in the dense Redwood forest of California isn't gonna get you much of a signal.
Starlink is also bulky and would not serve as a good option for backpacking types of travel. Starlink is best for the vanlife crowd.
Learn more about Starlink here and check out all of the different regional and world-wide plans available.
Cafes and Co-Working Spaces
We love working in co-working spaces and have met some awesome people from all over the world. What is a co-working space?
Co-working spaces are simply a comfortable and quiet place to work while traveling that provide high speed internet. The majority of these places cost money to use and can vary from basic to rather luxurious.
They have computers that you can use or just hook up to WiFi and many even have meeting rooms should you need to collaborate with other folks or hop on a Zoom meeting.
A simple google search will likely land any co-working spaces in your area. We find these far better than your typically coffee shop where it's easy to get distracted. When we need to crank out some hours co-working spots are ideal.
Nomadic Lifestyle Must Have Apps
iOverlander
iOverlander is our go to when traveling about in our overland truck and is a great way to find free places to stay the night.
Harvest Host
Harvest Host will run you about $100 bucks a year but gets you access to wineries and breweries all over the country where you can camp for the night in your self contained camper or RV.
HipCamp
HipCamp is another subscription based service that gives you access to all sorts of camping options. The majority of these are private property or even just a driveway that you can rent for the night.
Google Maps and Maps.me
Both Google Maps and Maps.me offer offline maps that can be downloaded. This gives you access to maps while traveling in countries or areas where you don't have service. It takes a little planning but well worth the work and can save you on expensive roaming charges while traveling.
VPN(Virtual Private Network)
A VPN is not only handy for privacy but will help you in countries that block certain content or social media channels. For instance, without a VPN you will not be able to access Facebook in China.
There are several free VPN's but most do have a monthly subscription running around $5-10 per month. There are a ton of different options and a quick google search will bring up dozens.
I recommend NordVPN as it is affordable and well respected in the field.
Google Translate
Ideally we would all learn the languages of the countries we wish to travel. But for those times when that word just escapes your memory there's Google Translate.
We have used it a ton and it has literally save our bacon. It's easy to use and will even speak what you're trying to say to help communicate. Simply hand your phone over to the person you're speaking with and they can even type a response in their native language.
Digital Nomad Equipment
Equipment is a very personal choice and I'm not going to go down the rabbit hole of Mac Vs. PC. But I do want to mention the importance of backing up your files.
When traveling or living a nomadic lifestyle your chances of losing or damaging your computer are significantly higher. For that reason it's imperative to have some sort of backup for your files, pictures, etc…
We've been using BackBlaze for many years and can't recommend them enough. And yes unfortunately we've had to use them for a stolen computer.
The backups occur seamlessly over the internet and you won't even know it's happening. The only tricky part is the very first backup which will take several days and require good internet.
Keeping In Touch With Friends and Family
There's no shortage of different social media platforms that when coupled with a good VPN will work just about anywhere in the world.
Digital Post Cards
But a more fun and old school way of saying hi to friends and family is the good old snail mail. Well actually a blend of the two.
Touchnote is a fun way for just $2 to turn your latest picture into a postcard that you can customize and have sent via mail to that special someone.
Shared Photo Albums
Shared photo albums are another great way to stay in contact with friends and family. Since we use Apple products we share everything via iPhoto but regardless of what system you use there are plenty of options for sharing photos.
Friends and family can even leave comments on the photos which is a great way to stay in contact.
Final Thoughts On Staying Connected While Traveling
The importance of keeping in touch and having a since of community while living full-time on the road is important. We are social creatures and in general need some social interaction to stay healthy.
What's important is to stay in touch with friends and family and how you do that doesn't really matter. While we often enjoy our alone and quite time we've always made a conscious effort to keep in touch with friends because time can fly by.
Wishing you all safe and happy travels…