If you're a nomad who likes to camp, and you have a camper van, you may be wondering if it's possible to stealth camp in your vehicle.
The answer is yes, it is definitely possible to stealth camp in a camper van, but there are some things you need to know before you do. We're going to discuss the basics of stealth camping, as well as some tips for making it as comfortable and safe as possible.
One of the best things about camping in a van is that you can pretty much go anywhere you want. However, this can also be a bit of a downside, as it can be difficult to find a place to stay that isn't too crowded or noisy.
With a bit of planning and common sense, it's easy to stay stealthy while sleeping in a van.
Just remember to choose your parking space carefully, be mindful of noise, and clean up after yourself, and you'll be able to enjoy all the benefits of van life without worry.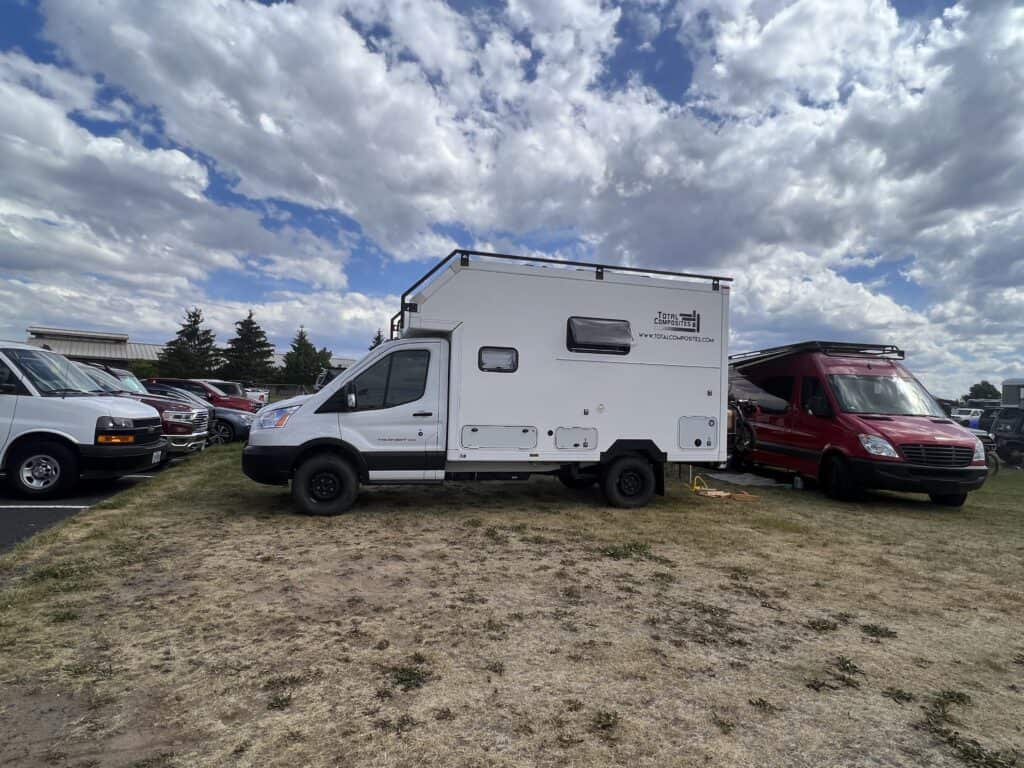 Stealth Camping Rules
There are a few general rules that you should follow when stealth camping in the city:
Park away from residential areas
Don't park in the same spot for more than one night
Keep your van clean and tidy
Don't make too much noise
Be respectful of your surroundings
Leave no trace of your presence
Change Locations Often
Following these simple rules, you should be able to find legal street parking without any trouble. And if you do get caught, just act like you're making a delivery and move along!
Here Are Some Safety Tips For Avoiding Safety Issues
When Parking Overnight:
Park in a well-lit area
Park close to a security camera if possible
Keep your valuables out of sight
Don't leave any evidence of your presence in the van
Be aware of your surroundings at all times
Trust your gut instincts
Don't Draw Attention To Yourself In Your Parking Spot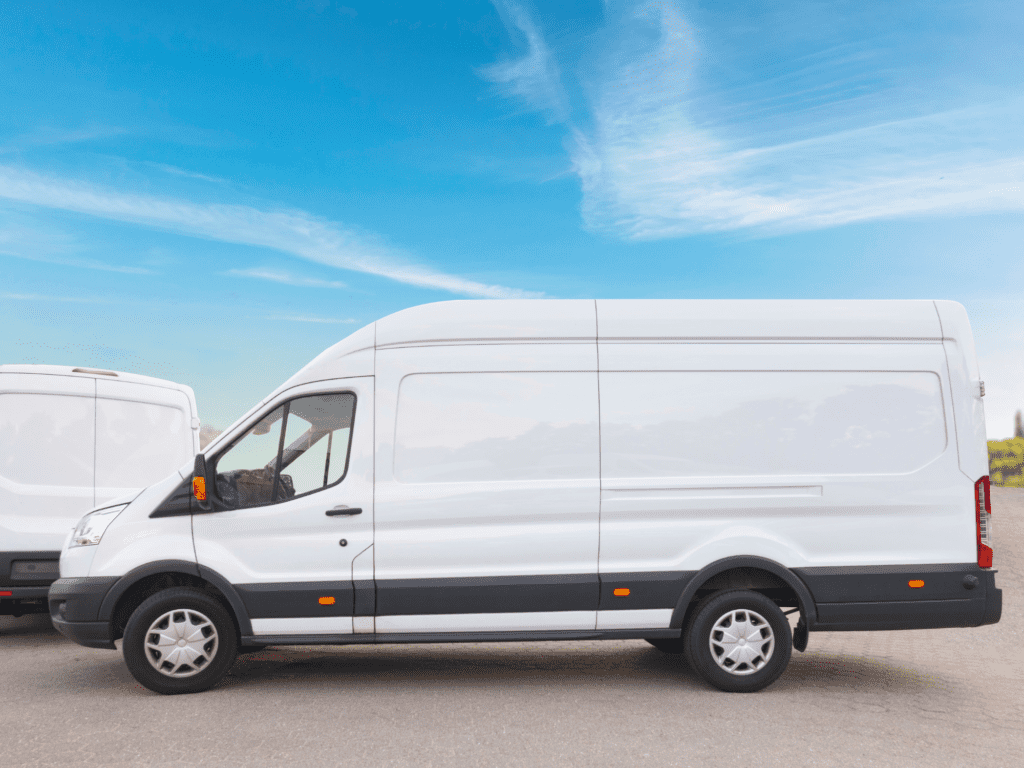 One of the sure ways to tell others you are a camper van boondocking is to advertise. You may not realize it, but the bicycles on the back or front of your van are a dead giveaway. While parking, think about parking your van nose first if the bikes are on a front hitch, or back it in if you mount them on the back.
If you are running ventilation fans, try not run them on their highest settings to keep the noise down and avoid any run ins with upset local residents or police officers.
Black Out Your Windows With Window Covers or Sunshades
When stealth camping at night, one of the best ways to tell others you are sleeping in your van is to have lights on in the inside of your van. People are going to be naturally curious if you do this.
By using blackout curtains, for your front and side windows you can eliminate signaling to others there are people inside of the van. You can have lights on, just be sure to dim them or use a red tinted windows to keep the light from escaping cracks or crevices in your window shades.
Keep Music and Sounds Low
Another way to stay stealthy is to be mindful of your noise level. Make sure you're not making too much noise when you're setting up camp or moving around inside your van.
If you are like us, you love to listen to music or watch a movie or show on one of the streaming services. People walking past your van while you are listening or watching something on your computer are likely to hear you.
This may alert them, cause them to be suspicious, and report you to local authorities.
Find Van Parking Close To Other Vehicles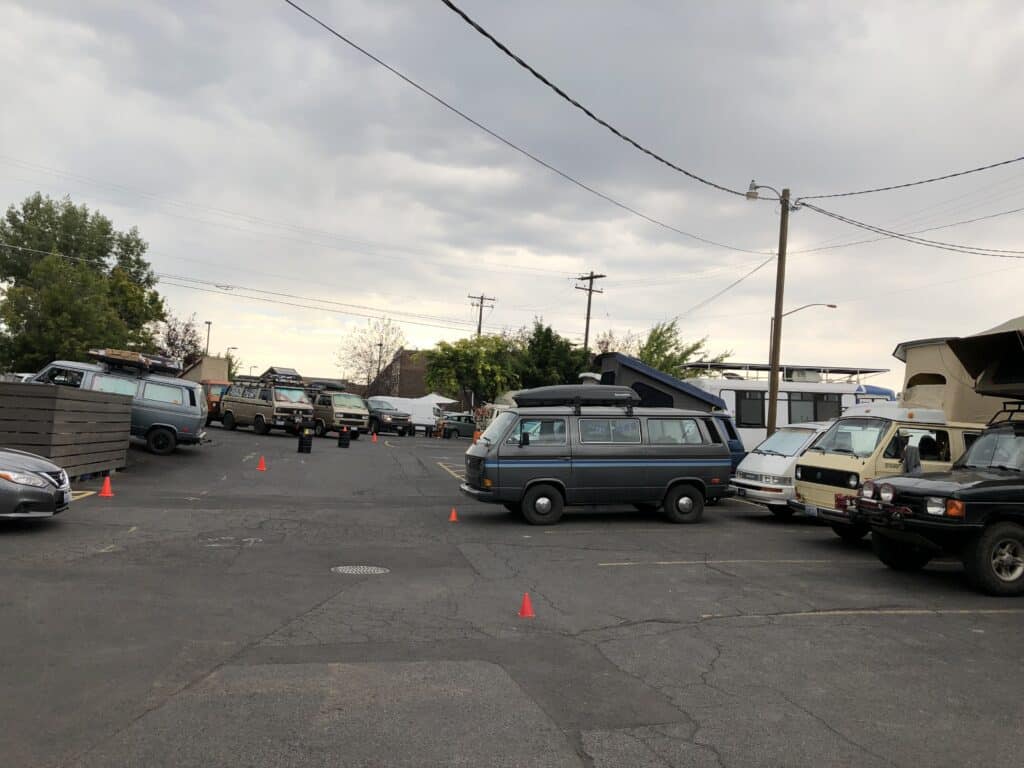 When stealth camping in urban areas, you may think that isolating yourself is a good strategy for staying stealthy. However, all you are doing is setting yourself apart and drawing even more attention to yourself.
Park around other vehicles in parking lots or along the street so you blend in easier. By keeping the noise to a minimum, blacking out your windows, and not drawing attention to yourself, you are much more likely to be overlooked as just another parked vehicle.
Put Your Earplugs In and Find Van Parking Close To Train Tracks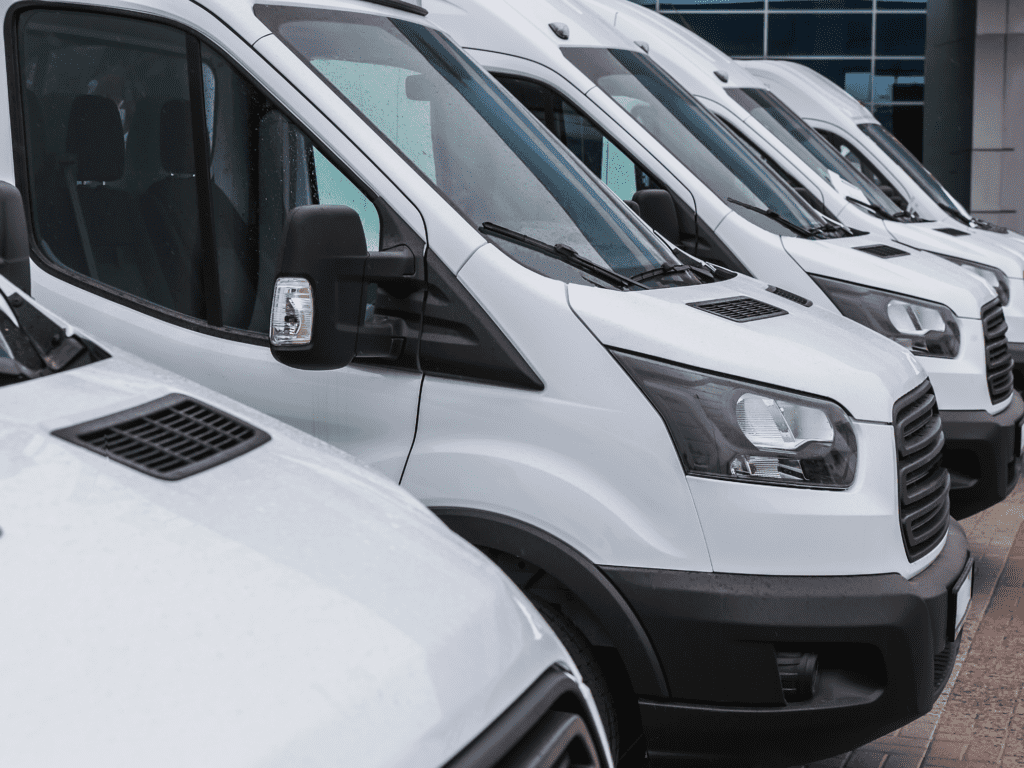 I know this doesn't sound ideal but if you're in an area where you're not able to find any legal street parking finding some train tracks may be a good place to park your vehicle for the night.
I know the thought of doing this doesn't sound very appealing but the good thing is that you'll most likely be able to find plenty of space and most of the time you'll avoid "the knock" from law enforcement.
Just make sure to put your earplugs in, so you're not disturbed by the sound of the trains passing through throughout the night.
Pay Attention to Parking Signs, Snow Plow, And Street Cleaning Schedules
If you're parking on the street, make sure to read all of the signs before you park. You don't want to get towed or ticketed!
Also, be aware of when street cleaning is scheduled in the area where you're parked. Most cities have specific days and times when they clean the streets, so you'll need to move your vehicle before then.
If you're not sure where you can park overnight, there are a few resources that can help you out.
Apps like ParkMe and SpotAngels show you where you can park for free or for a fee. You can also check the website of your city's transportation department for more information.
Another key note about parking signs and winter parking is that many areas that get a lot of snow require you to move your vehicle every so often to allow the plows to clear the streets.
This is usually done in 12 or 24 hour increments, so make sure you're aware of the rules in your area.
Stay Low on Social Media For Vehicle Stealth Camping (Parking)
If you are active on social media channels, chances are, you have a following. Whether the following is 100 people or 100,000 people, people are watching you. Advertising your social media tags on the outside of your van is inviting people to see where you are and what you are up to.
When trying to be stealthy, keep the social media posts at a minimum and definitely keep your location and activities a secret.
Park In Safe Parking Spaces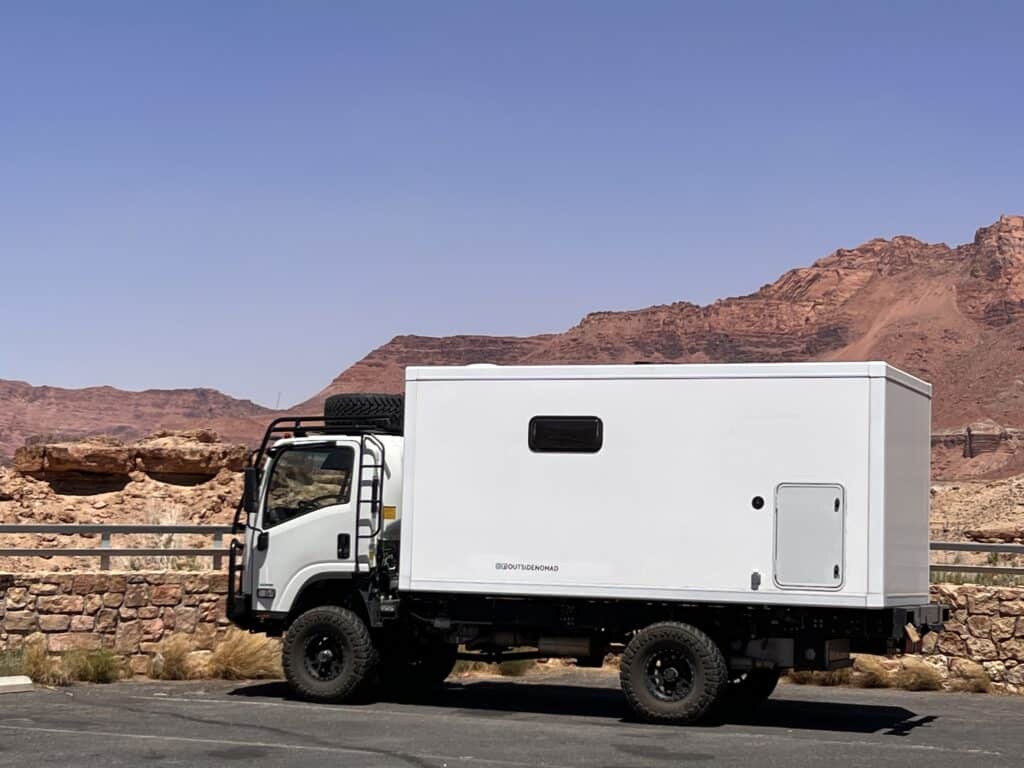 One of the most important aspects of being stealthy while camping in a van is to park where you are going to be safe.
One way to stay stealthy and safe while camping in a van is to choose your overnight parking wisely. Look for places that are off the beaten path, where you won't have to worry about being disturbed by others but not too isolated where you are all alone.
When stealth camping in an urban area, be aware of crowds, homeless people, and a general idea of the local crime statistics.
Keep Your Camper Van Parking Space Clean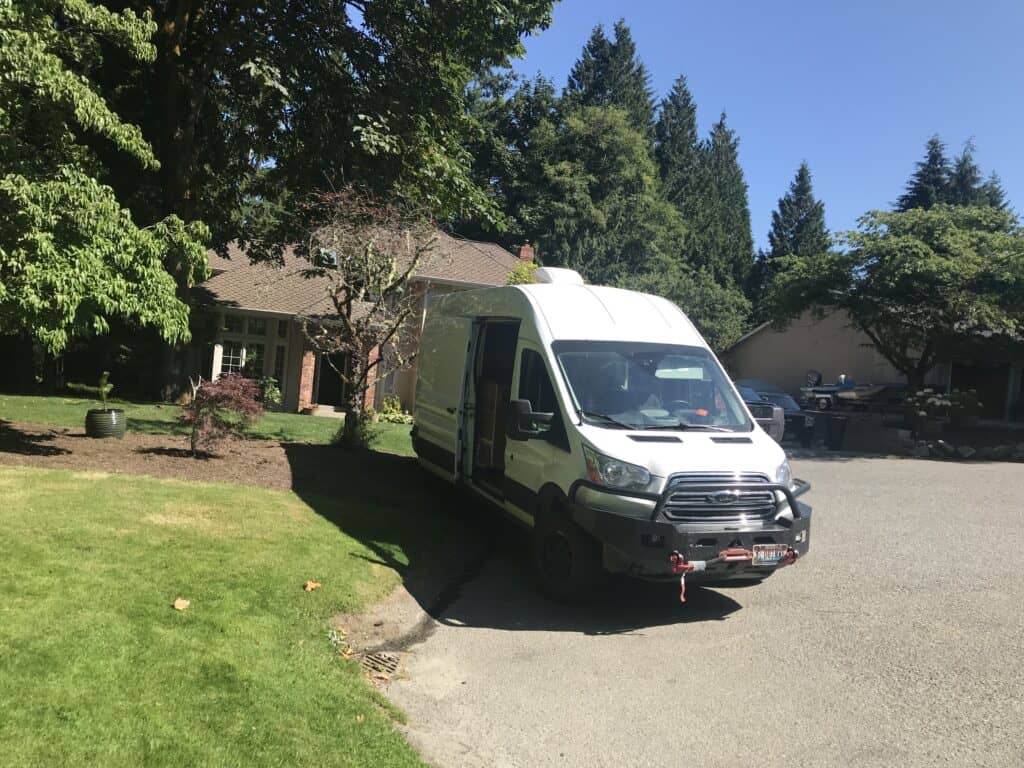 Don't forget to clean up after yourself before you leave! Leaving no trace is always a good rule of thumb when parking on the street, but it's especially important if you're trying to be stealthy.
If there are doggie poop bags, trash, or anything else that screams that someone is living in your van, then being stealthy is next to impossible.
Besides, everyone who lives and travels in any kind of vehicle is an ambassador for the nomadic life.
How To Deal With Bathroom Issues While Parked In Business Parking Lots or Side Streets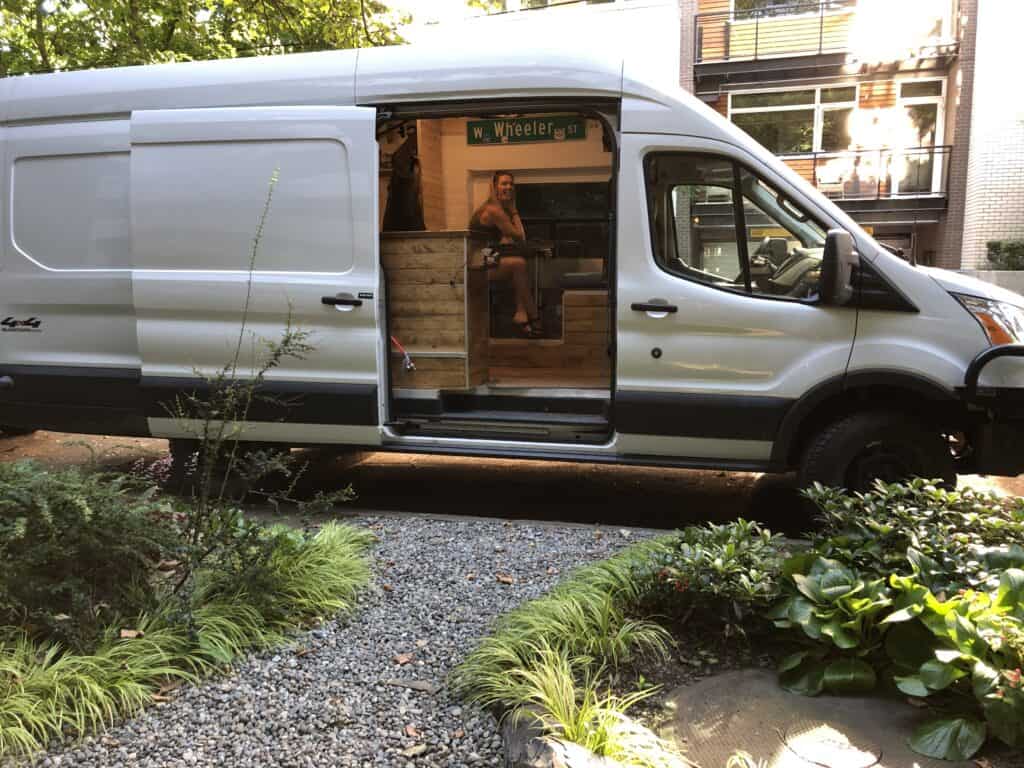 If you're parked on the side of the street or in a business parking lot, you'll need to be extra careful about where you go to the bathroom. You don't want to leave any trace of your presence, so make sure to use a portable toilet or take care of your business before you park.
I know there are many vanlifers who don't have bathroom setups. So in this case be sure to have a pee bottle or something similar handy to use in the middle of the night.
For number 2, I would recommend using a Poop Bag. This is a bag that you can use to do your business in and then throw away. No one will be able to tell that you were ever there!
Some Stealth Vans Models Perfect For Sleeping And Parking In The City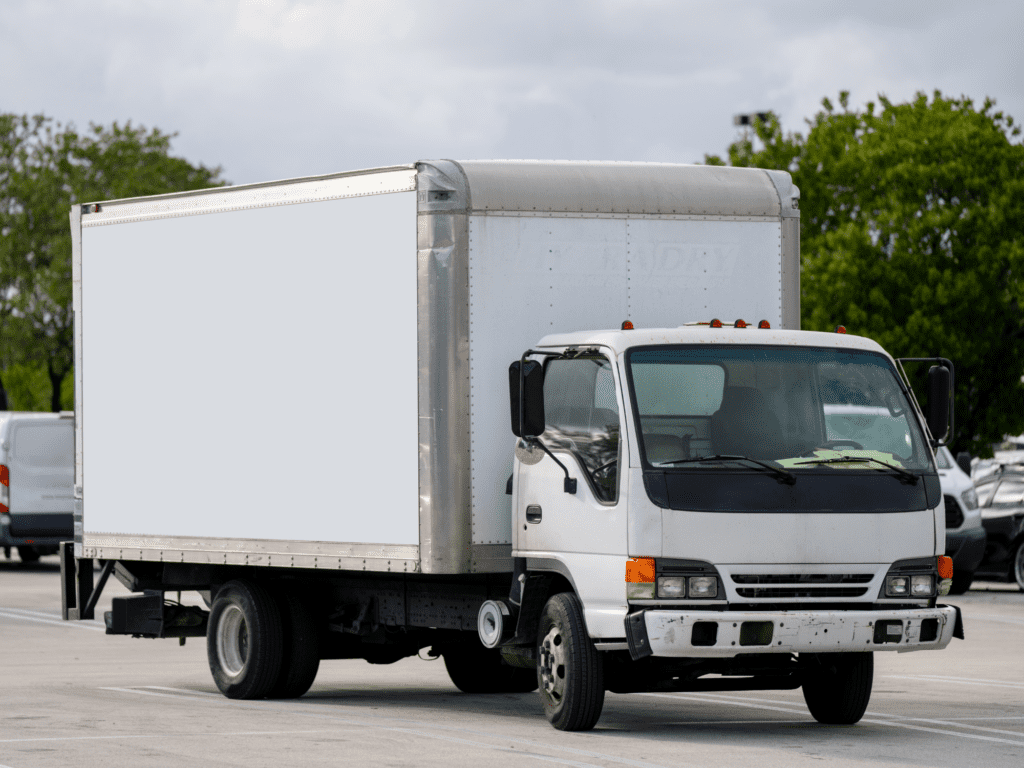 First of all the easiest way to stay stealthy is to keep your van looking like a delivery van or box truck. That way you can park on the side of the street without raising any eyebrows. But if you want to go even further and make it harder for people to tell that you're living in your van, here are some models that are perfect for sleeping and parking in the city:
Van-Type Vehicles For Stealth Parking
Classic Cargo Vans
Panel Vans: Sprinter/Ford Transit/ProMaster That Remain "Delivery Van" Style
Small Conversion Vans like the Ford Transit Connect or Nissan NV200
Minivans like Chevrolet City Express
Chevy Astro
Work trucks
Hospital Parking Structures
Hospitals usually have big parking lots with a lot of space, and they're usually well lit. Another bonus is they often times have security guards patrolling the area, so you'll be less likely to get broken into.
If you're looking for a safe place to park your van overnight, you might want to try parking in a hospital parking lot.
Just make sure to park in a spot that's not too close to the hospital itself, as you don't want to disturb the patients and staff. Also, be sure not to park in a handicap spot or you may get towed!
Churches
Churches are another great option for finding free overnight parking. They're typically located in safe neighborhoods and they're usually pretty quiet at night.
Just be sure to call ahead and get permission from the church before you park there. Most churches are happy to help out travelers in need!
Big Box Stores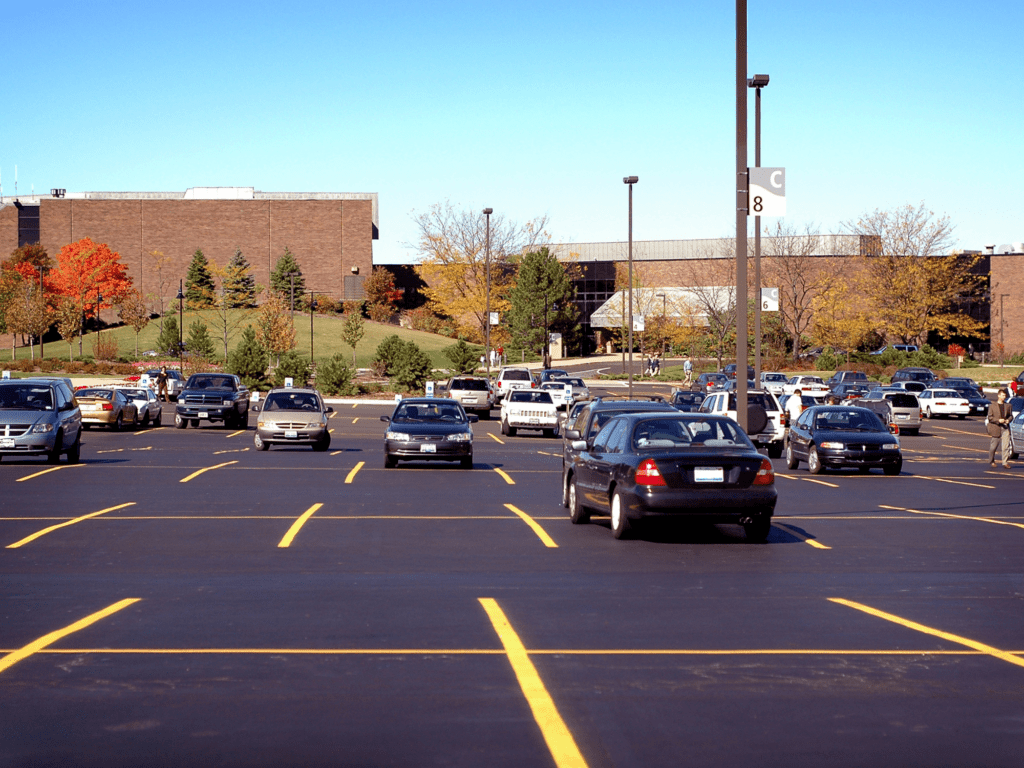 Big box stores like Walmart, Target, and Home Depot are always a good option for finding free parking.
They're typically located in safe areas and they have plenty of security to keep your van safe overnight. Just be sure to obey the posted signs and don't park in handicap spots!
Restaurant Parking Lots
Restaurant parking lots can be a great place to park your van overnight. Just make sure to choose one that's not too busy and that you're not blocking any entrances or exits.
Cracker Barrel is a great option and many of their locations encourage RVers and Vanlifers to stop in, get a bite to eat, and get a restful night sleep in their parking lots.
Trailhead Parking Lots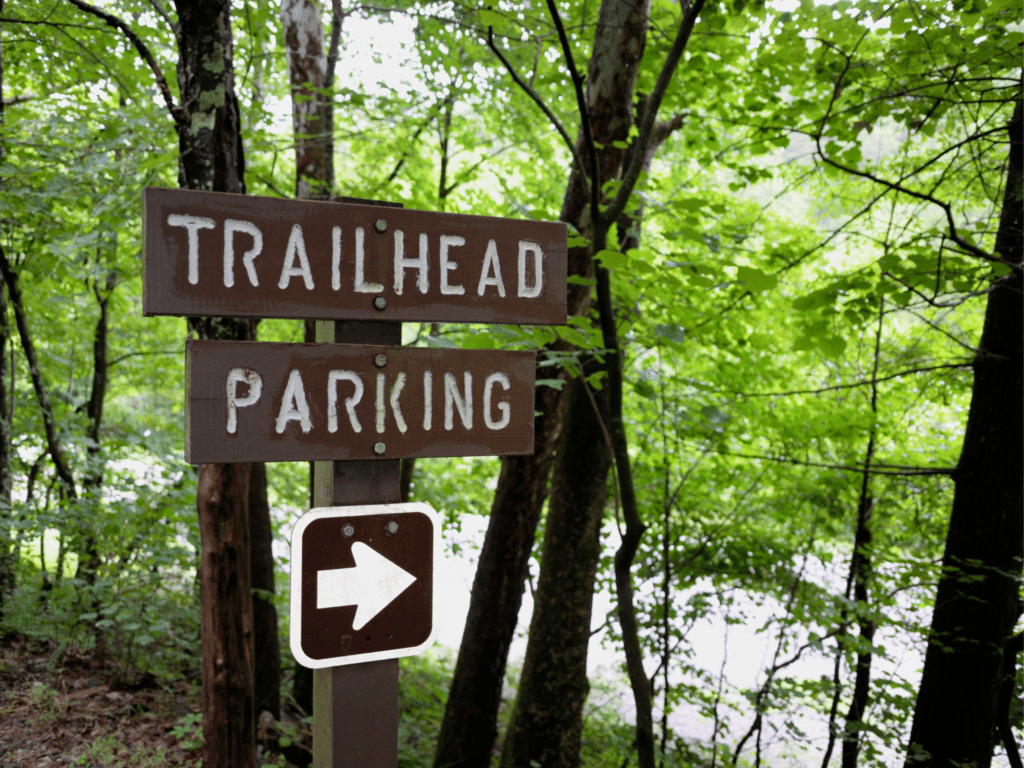 Trailhead parking lots are another great option for finding overnight parking. Just make sure to choose a trail that's not too popular and that you're not blocking any entrances or exits.
And as always, be respectful of your surroundings and leave no trace of your presence!
Boondockers Welcome and Harvest Host Are Options To Avoid Having to Stealth Camp
Have you heard of either Boondockers Welcome or Harvest before? If not, they're both websites that you can use to find free overnight parking once signing up for the membership.
Boondockers Welcome is a website that connects RVers with hosts who are willing to let them stay overnight in their driveway or yard. This is a great option if you want to meet some new people and see some different parts of the country!
If you sign up for either of these programs, you'll be able to find a host in almost any location across the country. And as long as you follow the rules and are respectful of your surroundings, you should be able to stay for free!
Van Rental Company For One of Our Evening Stopovers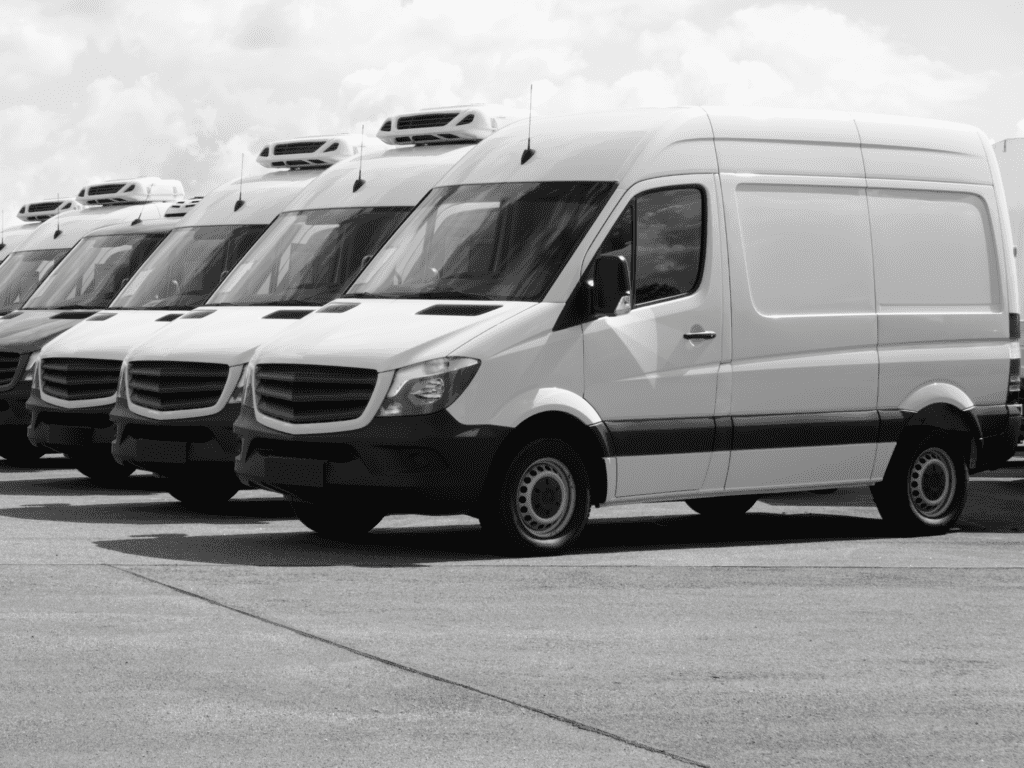 Yep, we've done it! We've pulled up next to a fleet of white cargo vans and spent the night. We generally look for a van rental company like Budget, Penske, or U-Haul and try to find one that's not too close to any residential areas.
Just park in an out-of-the-way spot, and you should be good to go. The only downside is that there may be a lot of traffic noise if the business is near a highway. But other than that, it's a decent relatively safe option for overnight parking
Chain Hotels And Hotel Parking Lots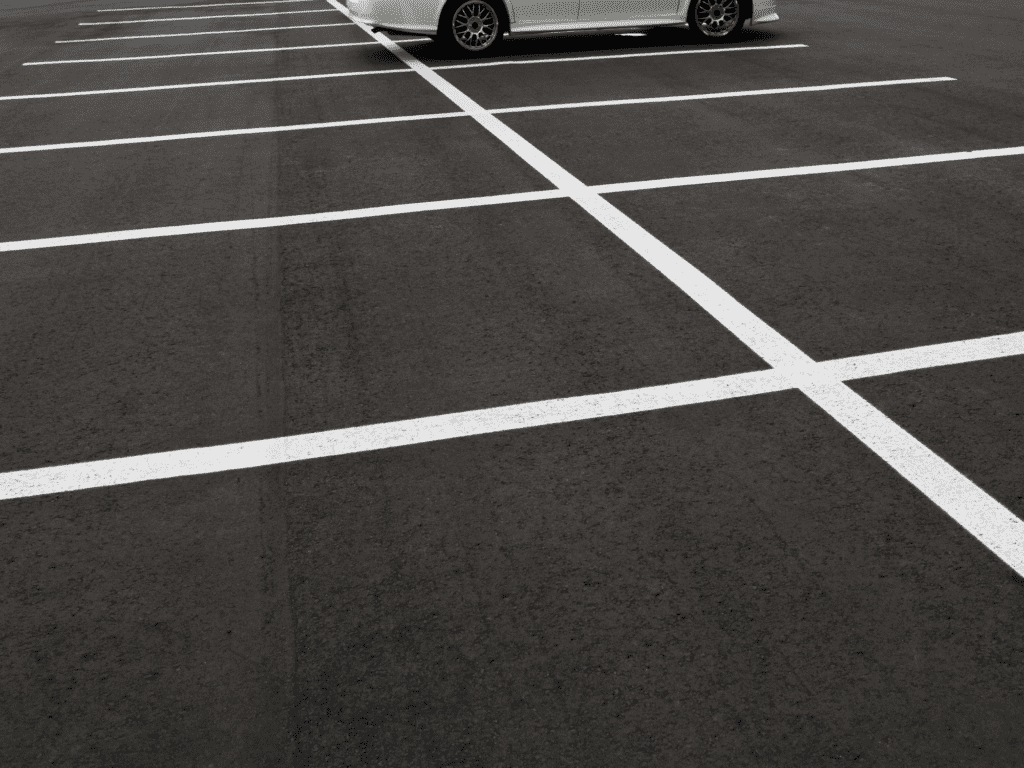 This can be a bit of a risky option if you're looking for something for free. But if you're in a bind and need to find a place to park overnight, you could try your luck at a chain hotel.
Most hotels have strict policies against this, but if you can find one that's not too busy, you might be able to sneak in for the night
Or even better go in and ask if you can park….
Oftentimes, these hotels will let you park in their lot overnight for a small fee. And since they're usually located near highways, they make it easy to get in and out without having to drive through crowded city streets.
Gym Memberships at 24 Hour Fitness Centers
If you have a gym membership at a 24 hour fitness center, then you technically have access to their parking lot overnight.
Of course, we don't recommend just randomly parked in the middle of the parking lot as that would probably get you towed. But if you can find a spot near the perimeter of the property, you should be good to go.
The main downside of this option is that you'll need to pay for a gym membership. But if you were planning on getting one anyway, then it's not a bad option!
Just remember to be respectful and follow the rules of the fitness center, and you should be able to stay overnight without any problems.
Remember The Tips We Have Shared With You As Well As a Few More Here:
– Don't park in areas where overnight camping is not allowed. This will only attract attention to your van and could get you in trouble.
– Try to find stealth camping spots that are off the beaten path. The more remote the location, the less likely it is that you'll be found.
– Don't make too much noise. If you're playing music or watching TV, keep the volume down so as not to draw attention to yourself.
– Keep a low profile. If you're drawing attention to your van, you're more likely to be found out. So, try to blend in as much as possible.
– Be prepared to move if necessary. If you think you might be getting too much attention, pack up and move to another location.
Following these tips will help you stay stealthy while camping in a van, and ensure that you have a safe and enjoyable trip.
Get Out and Explore Vanlife And See if Stealth Camping Is For You!
Camper vans are a great way to explore the outdoors and get away from it all. If you're considering buying or renting one, make sure you know how to stealth camp so you can stay safe and avoid getting into trouble with the law.
One of the great things about van life is that it gives you the opportunity to stealth camp in some of the most beautiful locations.
When you stealth camp, you're essentially hiding your van so that you don't draw attention to yourself. This can be a great way to save money on accommodation and really experience nature.
However, stealth camping is not without its risks. If you're not careful, you could end up getting caught by the authorities or even worse, being robbed. That's why it's important to be as stealthy as possible when traveling in a van.