Updated March 2019
The SteriPen Ultra has been my go-to water purification system for the past 6 years. From purifying your glass of water in Mexico to pulling water from a lake, you can rest assured your vacation won't be cut short due to water-borne illness.
But just how durable are these devices and can they hold up to the heavy use of full-time travel?
In this SteriPen review we cover not only how these pens work but why they are now an essential tool for any travel or camping endeavor.
I first became aware of SteriPen when I was planning my first trek in Nepal. Traditional cartridge style water filter systems do a good job with bacteria and protozoa but do not protect against viruses.
The primary concern in foreign travel is generally viruses. The Steripen takes care of not only bacteria and protozoa but virus as well making it an ideal companion for travel.
Because SteriPens are so small they not only join me on backpacking trips but any foreign travel. In many countries even the drinking water at a restaurant can't be trusted. But with a quick swirl of the SteriPen you can rest assured your water is safe to drink.
UV WATER PURIFIER
A SteriPen is simply a UV(ultraviolet) light bulb that you place in your water. The UV light is absorbed into the DNA/RNA of virus and bacteria, effectively killing the organism. The UV light destroys 99.99% of the bad stuff including, Giardia, Cryptosporidia, bacteria, and viruses. You can read up more on the technology here.
The downside to UV purification is that it won't work with murky or sediment filled water. Keep in mind that cartridge systems also don't do well with this water as it quickly clogs the filter. In all my travels I've never had this be an issue but it is worth mentioning.
If you were forced to drink from a sediment filled water source you could always run the water through a shirt to remove sediment. I would then run the SteriPen twice just to play it safe.
STERIPEN EFFECTIVENESS
Steripens have proven themselves effective when used correctly. In addition they are one of your only options for protection against water-borne Virus which is often a problem while traveling.
The journal of Travel Medicine and Infectious Disease completed an independent study with the Steripen and found it 99.9% effective when used correctly.
STERIPEN ULTRA INSTRUCTIONS
The size, weight and ease of use is what makes these so great. There is no excuse to not have one with you camping or on your next international travel vacation.
THE STERIPEN WORKS LIKE THIS,
Press power button once to purify 1 liter or twice to purify 1/2 liter. This controls the timer and how long the Pen runs in order to sterilize that amount of water.
Place the Pen into the water and gently swirl it in the water. The light will come on once it senses contact with water.
A countdown timer will start on the display, 90 seconds for 1L and 45 seconds for 1/2L.
When the time is up you will see a smiley face indicating that your water is safe to drink.
Pretty easy right! You may be thinking, if it has a smiley face it must have a sad face as well. In fact it does. The device senses when it is in the water. If at any time during the countdown it senses that the light came out of the water, you will get a sad face instead. That only means you didn't keep the bulb submerged in the water for the entire time. Just repeat the process and you are good to go.
Put your SteriPen to use and hike to the bottom of the mighty Grand Canyon
How To Visit The Grand Canyon In Winter
The Ultimate Packing List For Hiking The Grand Canyon
STERIPEN ULTRA REVIEW
The SteriPen Ultra has a rubber, cone-shaped end that will fit in a variety of smaller bottle openings such as a disposable water bottle. This allows you to invert the bottle and agitate without any spillage. It also fits tightly in the narrow opening Nalgene bottles as seen in the photo below.
I found this really handy while traveling as it allowed the Steripen to be used in a variety of different sized bottle openings. The other Steripen models, as well as other UV Water Purifiers, did not offer this simple but essential feature.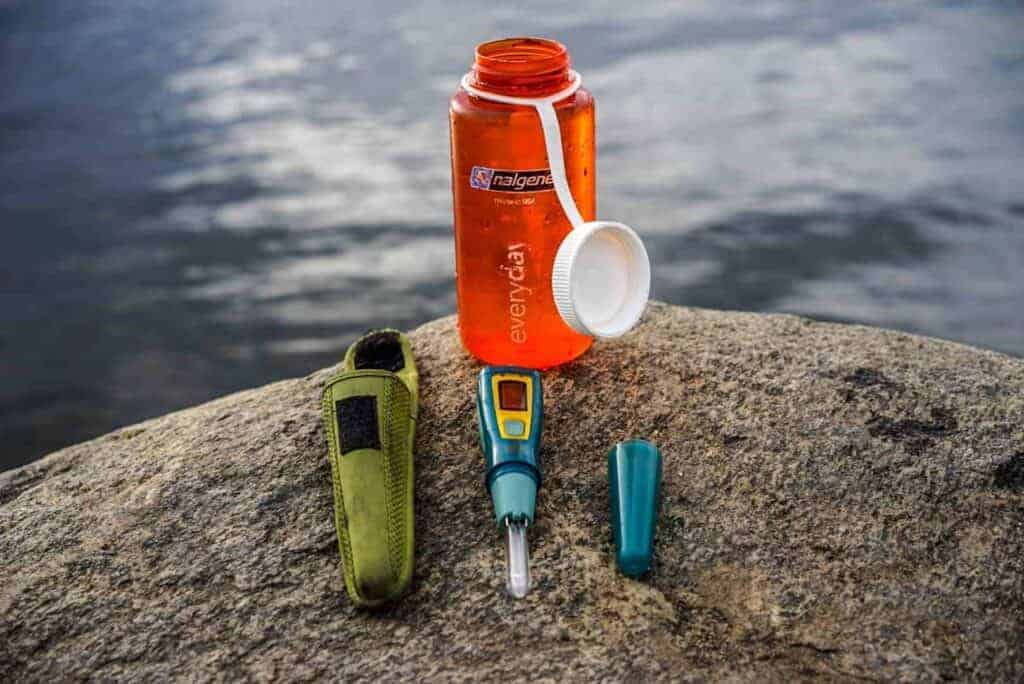 PRICE
When compared to most cartridge filter systems the SteriPen is significantly less expensive. Now there are some systems such as the Sawyer which will cost a bit less. However, the Sawyer is for short duration or emergency use. I do recommend the Sawyer as a backup system and will talk more about that in a bit.
There are a few different Steripen models to choose from but the Ultra is the way to go in my opinion. Check prices below.
WEIGHT
At just under 5 ounces it is light enough to take anywhere. Traditional cartridge filter systems can easily weigh twice as much. Even chemical purification tablets will weigh a few ounces.
SIZE
At just 1.3 x 1.65 x 7.3 inches, there is no excuse to not have this little guy with you. It's easy to stash just about anywhere.
LAMP LIFE
The SteriPen Ultra is rated for 8,000 treatments before it burns out. At 4 liters per day that will last you about 5 years. That's a really long time! The Ultra model even has a warning indicator when the lamp is reaching its limit.
I wish I could say I've used up a bulb on this thing but unfortunately, I haven't.  But for those of you that are lucky enough to get out that much, SteriPen will replace your bulb for FREE.
STERIPEN BATTERIES
The Ultra model uses internal Lithium-ion batteries and will purify 50 liters on a full charge. I actually think it's more than that but that's a safe number to count on. It charges via a standard mini-usb connection that is common to many other devices such as a cell phone.
The Ultra charges great from solar panels or other portable battery chargers. I've used mine extensively with the Goal Zero Nomad 7 solar panel. On our most recent trip to Nepal we were purifying 10 liters a day for our group and did that for 21 days in cloudy weather without any problems.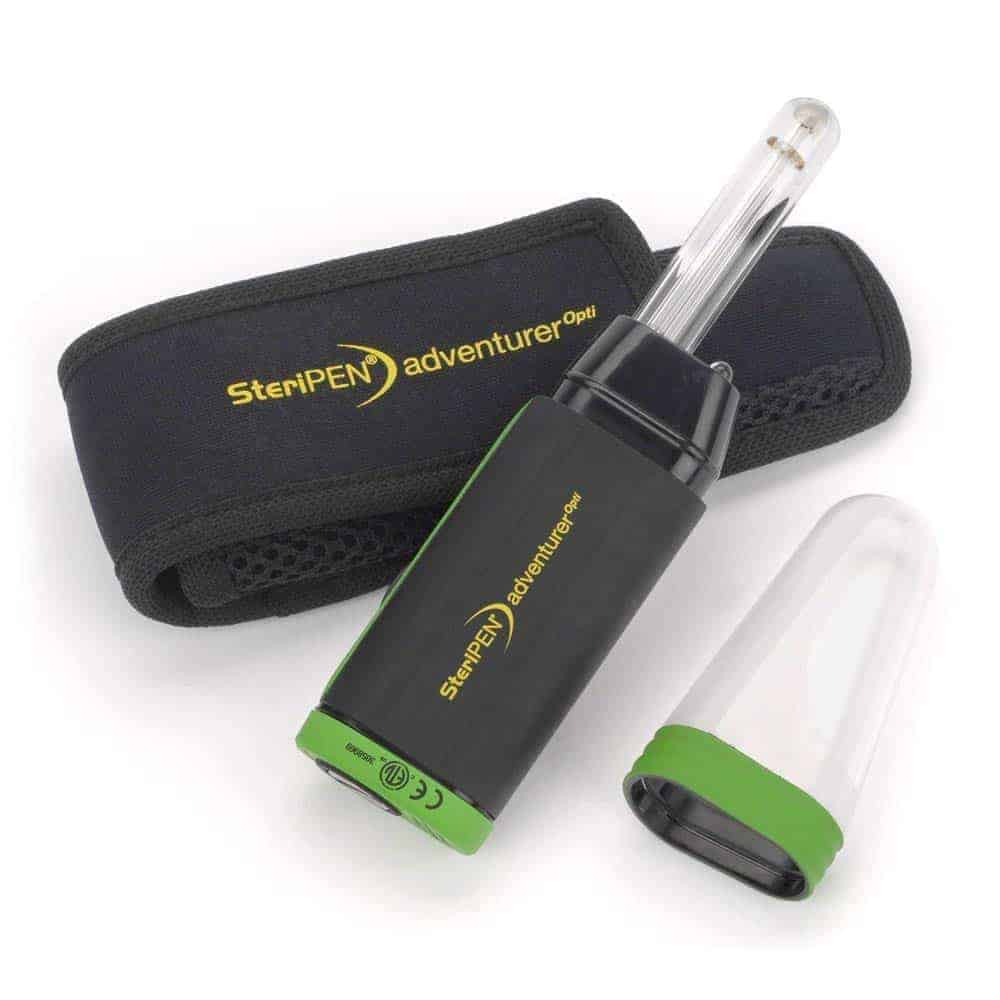 For those that prefer batteries over a rechargeable system, the SteriPen Adventurer would be an ideal choice.
STERIPEN DURABILITY
By now you must be saying, "how durable can this thing be?" "I have light bulbs in the house that go out all the time!" I get it, I had the same concerns.
I've used mine for over 6 years, all over the world. From backpacking, mountain biking, and bouncing around in my aluminum motorcycle panniers, I have yet to kill mine. I have many friends that use them as well and all are still going strong.
The SteriPen Ultra does come with a sturdy neoprene case as well as a guard that goes over the bulb. Like any device do your best to take care of it but I have been VERY impressed at how durable this little guy is.
HOW I USE THE STERIPEN ULTRA
Whether it's a good thing or not, electronics have slowly crept their way into our off-grid excursions. With that comes risk, the risk of stuff breaking. We are relying on our phones instead of a compass and map. And now water purification!
Like any electronic device it's a good idea to have a backup plan. The most logical would be to carry some chemical water treatment tablets. They are small, light and you most likely won't need them.
Another good option is something from Sawyer. I prefer the Sawyer Mini but the Sawyer Squeeze is a popular choice as well. Both are very small and light and will provide that extra piece of mind. When I travel in third-world countries I don't typically take the Sawyer as I can usually buy water if needed.
OUR STERIPEN REVIEW CONCLUSION
The SteriPen Ultra has been nothing but great for us. The size, weight, and durability allow us to take it anywhere. For anyone that travels or camps it really is a game changer. From purifying your glass of water in Mexico to pulling water from a lake, you can rest assured your vacation won't be cut short due to water-borne illness.
I can confidently give this product a big thumbs up!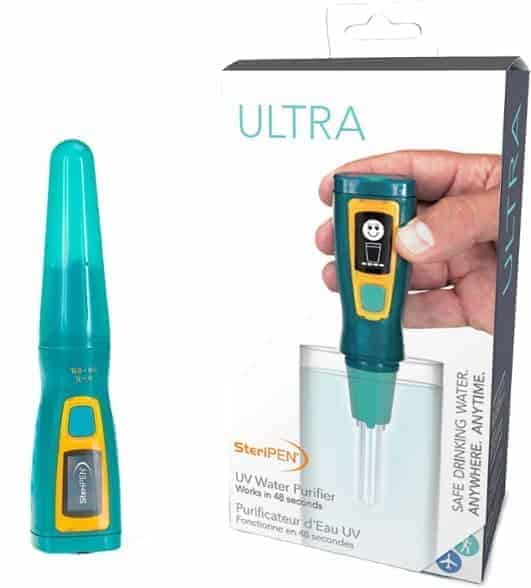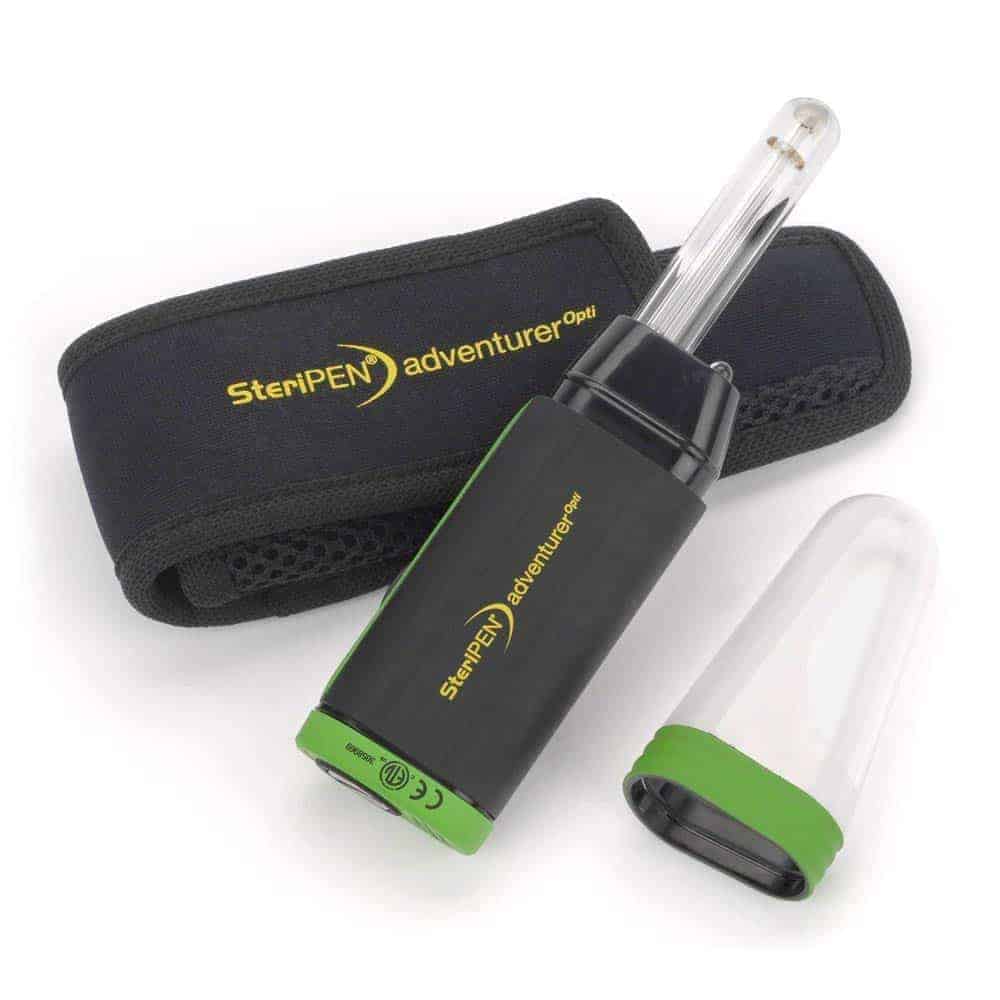 If you enjoyed the article be sure to hit your favorite sharing option to the left.
Thanks and happy travels!
Let's put your new Steripen to use
How about trekking in Nepal!

The Annapurna Circuit Trek is shrinking so now is the time to do it