What if you could make $22 hour teaching English from anywhere in the world all from the comfort of your laptop. Could this help you travel longer?
When we talk to fellow full-time travelers, teaching English comes up a lot. And for the right person, this is a great gig.
Who's the right person? Someone who loves working with kids and wants complete control of their working schedule.
Sound good? Let's have a look at what's involved teaching English online with VIPKid.
VIPKid is an online English teaching program for children in China. Ages range from 4-12 and the curriculum uses a flipped-classroom approach to foster creativity and critical thinking skills.
All classes are one-on-one and conducted through the VIPKid portal which is similar to Skype or Facetime.
The company is based out of Beijing but has an office in San Francisco. While there are other online English teaching programs, VIPKid ranks at the top. We took a look on Indeed and they are well-reviewed with consistent 4/5 stars.
TEACHING ENGLISH ONLINE WHAT'S REQUIRED
As with all reputable online teaching programs, VIPKid requires a bachelors degree. The degree does not however need to be in English. Any degree will do.
Previous teaching experience is preferred but not required. What's most important is that you are good with kids and genuinely enjoy teaching.
HOW DO YOU APPLY FOR VIPKIDS?
The application process goes like this,
Basic Info: Fill in an online application form, where they will screen for basic requirements and teaching experience.
1-1 Interview or Recorded Interview: You'll have the option of a 30-min live session to showcase your teaching skills OR record your demo lesson on your own time so that a VIPKid recruiter can evaluate you.
Introduction to Teaching: Watch videos to learn about the VIPKid technology, standards and curriculum.
Mock class: Practice teaching a full-length class with one of the VIPKid teachers.
Sign your contract, upload docs & complete background check
Full-fledged VIPKid teacher: Put your time slots on your portal so that VIPKid students can start booking you. Get ready to teach!
It's worth noting that you do not need to create any of the curricula. The lesson plans are made for you and they are simply looking for people that can effectively teach them.
Once you get the hang of the program there's no need to spend any additional time outside of teaching sessions, making this an ideal and flexible source of income.
VIPKID TEACHING SESSIONS
Here's a video of an actual teaching session to give you an idea of what this program is all about. Looks pretty fun if you ask me!
Teaching sessions are 25 minutes long allowing for 2 sessions per hour.
There is no need to communicate directly with the parents as that is all handled by VIPkid. You just simply log in and teach.
You will be provided with an online lesson to do with each kid based on their level and once you go through a few you won't need to prep for sessions.
The people we've talked to about it say it's really easy once you get the hang of it.

SETTING UP YOUR ONLINE TEACHING SCHEDULE
Although you do have to plan ahead a bit the actually scheduling is really flexible.
It's recommended to enter your weekly availability one month in advance. Teachers' weekly schedules are sent out to students each Saturday at 10AM Beijing time (sometimes Saturday in the US depending on where you live).
Teachers can be booked for classes during the week, no less than 24 hours in advance.
You won't necessarily teach the same child every time as parents can simply pick time slots that work best for them. But parents can also book with specific teachers should they choose.You have to option to make yourself available for just one session or the entire day. When picking time slots here are some tips.
The following tends to be the most requested time periods in Beijing time: Monday-Friday 6-10pm, and Saturday-Sunday 9am–10pm. China is 15 hours ahead of PST.
The more you make yourself available the more likely you are to be booked.
WHAT DOES VIPKID PAY?
VIPKid pays between $7-9 per 25-minute session PLUS incentives. The incentives include things like starting on time and if you teach over 45 classes a month.
Most people report making $20 per hour and you are paid once a month.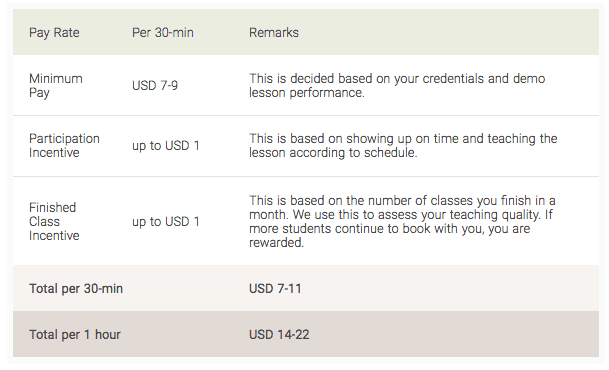 HOW MUCH DO YOU HAVE TO TEACH?
One of the reasons we really like VIPKid is that you are in complete control over how much you work.
Once you complete the screening process you will sign a 6-month contract but you are free to work as much or as little as you want.
TECHNOLOGY REQUIREMENTS
You will need a fast and reliable internet connection. Lots of people have reported using cell-phone hot spots with good success.
A headset with mic will help make the experience more enjoyable and can free you up to stand should you want to demonstrate or draw something on a whiteboard.
But know you can also simply use your built-in mic on your computer.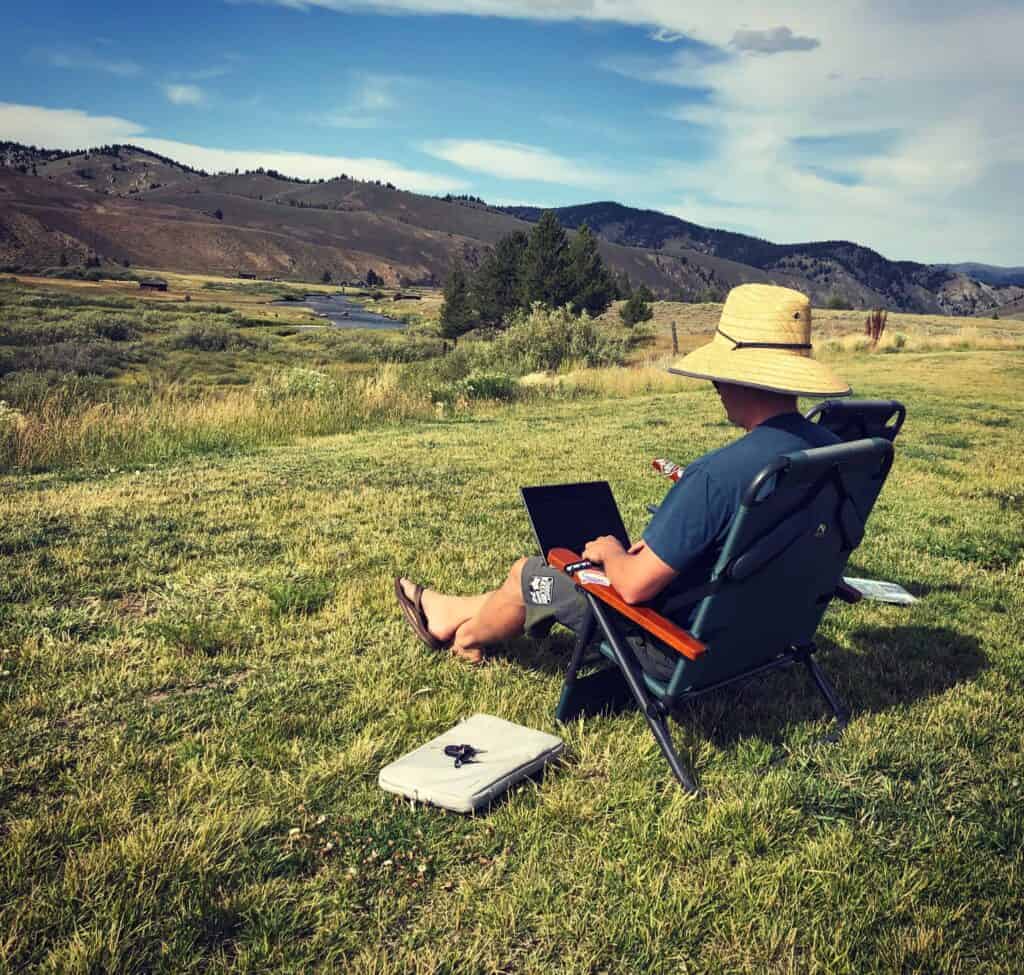 ADVICE FOR THE MOCK LESSON
While there are a lot of Youtube videos showing examples of mock lessons I would recommend sticking with the videos produced by VIPKid. Here's their official VIPKid Youtube Channel.
They have a ton of videos worth checking out should you be interested in this great side hustle.
IS VIPKID RIGHT FOR YOU?
Teaching English online is a great way to make some extra cash, on your own schedule, and with very little commitment. Best of all you get to help kids learn which you can be proud of.
The people I've talked to that have done this say it's really fun to see how the kids progress over time and they find it very rewarding.
If you're thinking about full-time travel or just a way to extend that beach vacation this is a great option.
Click here for more details or to sign up for VIPKid!
Have you had experience teaching English online? If so, we'd love to hear about it and so would our readers. Don't be shy…
TEACHING ENGLISH ONLINE FAQ
CAN YOU TEACH ENGLISH ONLINE WITHOUT A DEGREE?
The majority of programs do require a bachelors degree. But they do not require the degree to be in English.
HOW MUCH DO ONLINE ENGLISH TEACHERS MAKE?
Anywhere from $15-22 an hour depending on the company and how long you've been teaching with them.
WHICH ONLINE TEACHING COMPANY PAYS THE MOST?
VIPKid is one of the highest paying and most flexible in terms of working schedule.
HOW MANY HOURS PER WEEK DO I HAVE TO WORK WITH VIPKID?
It is recommended to work at least 7.5 hours during the peak busy times and there is no limit on how many hours you can work