Welcome to the thrilling world of the Telluride Via Ferrata, an unforgettable adventure nestled in the stunning San Juan Mountains of Colorado.
As you traverse this exhilarating route, you'll find yourself suspended high above the picturesque town of Telluride, navigating sheer cliffs, and marveling at breathtaking vistas.
This incredible journey will challenge your physical and mental fortitude while rewarding you with an unmatched sense of accomplishment. Join us as we guide you through the ins and outs of this unique mountain experience, offering expert advice, safety tips, and stories that will inspire you to embrace the adventure that awaits along the Telluride Via Ferrata.
WHY YOU NEED A VIA FERRATA IN YOUR LIFE
The Via Ferrata in Telluride is perched high above the town, giving you incredible panoramic views of the valley including Bridal Veil Falls. You'll be able to see all the way to where the mountains meet the desert in Utah over 90 miles away!
Not only will your muscles get plenty of use while hiking and climbing along the Via Ferrata but your mind will get a healthy dose of adrenaline at the same time.
WHAT IS A VIA FERRATA?
A Via Ferrata route is a climb or exposed trail protected with fixed cables, ladders and bridges. This allows you to explore the mountains safely in an area that would otherwise not be possible.
If you're a hiker who's been wanting to try some rocking climbing, a via ferrata is the perfect way to get a taste. A Via Ferrata is a mix between hiking and climbing where you wear climbing equipment and are clipped into a series of cables that are bolted to the rock face for protection should you fall.
You then use metal rungs, ladders, suspension bridges and occasionally a natural rock hold to safely "climb" and traverse your way along a cliff that would otherwise be impossible to most of us .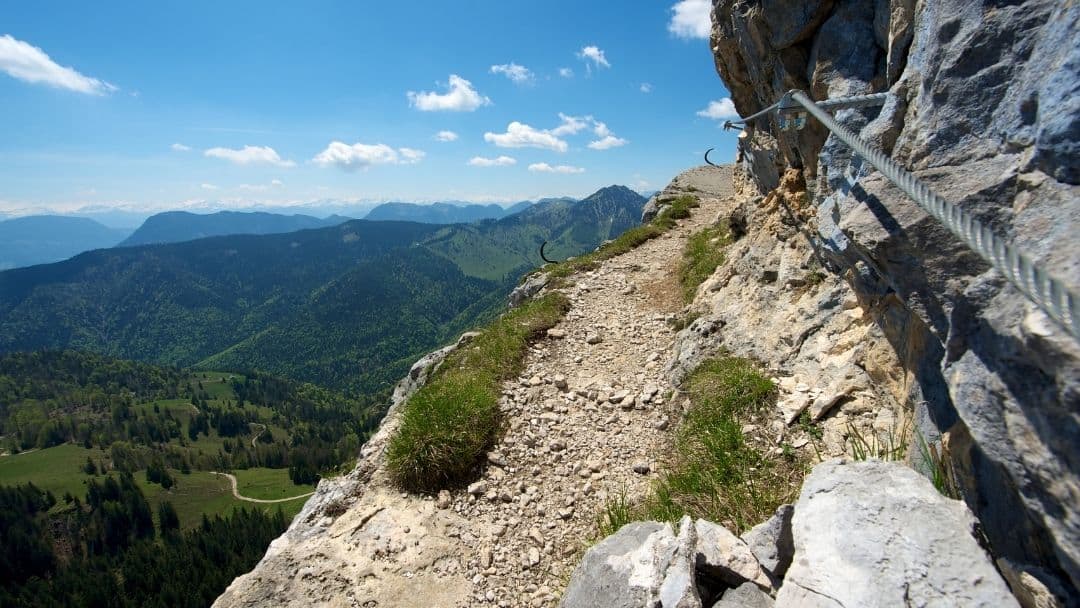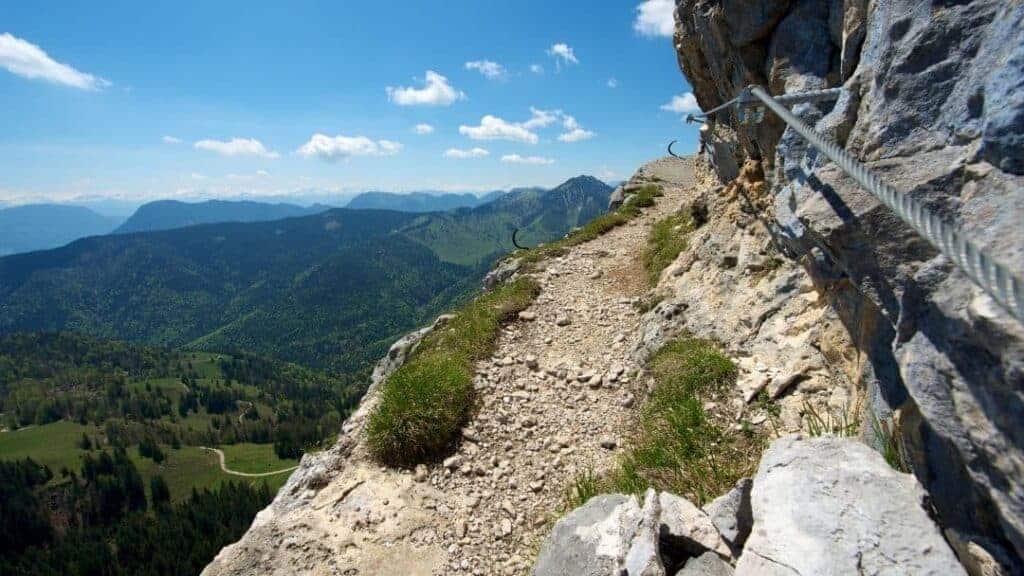 WHERE DID VIA FERRATA ORIGINATE?
The Via Ferrata was originally developed in the Italian mountain range of the Dolomites. The name literally means "Iron Way" because many stretches of this trail are supported by metal rungs, rails, or cables.
Via Ferratas have become a popular activity for outdoor adventurers! They are mostly found in Italy and France but they are popping up all over the US in cities like Jackson Hole WY, Squaw Valley CA, Telluride CO, Taos NM, Cañon City CO, Ogden UT, Campton Kentucky, and Circleville WV.
DO I NEED TO HIRE A GUIDE FOR THE VIA FERRATA?
Hiring a guide is a great idea for those who are brand new to Via Ferratas. A guide can show you how to safely use the gear, give you some pointers on climbing techniques, and it makes for a more enjoyable experience overall. If you have any doubts about your comfort level we highly recommend hiring a guide.
If you are an avid rock climber, then you probably don't need a guide. Just keep in mind that Via Ferratas require specialized equipment that is not standard with traditional rock climbing. Many areas will check your equipment before you can enter the route and DIY Via Ferrata gear will likely not pass inspection. We will talk more about the gear here in a bit.
For a guided trip in Telluride head to San Juan Mountain Guides.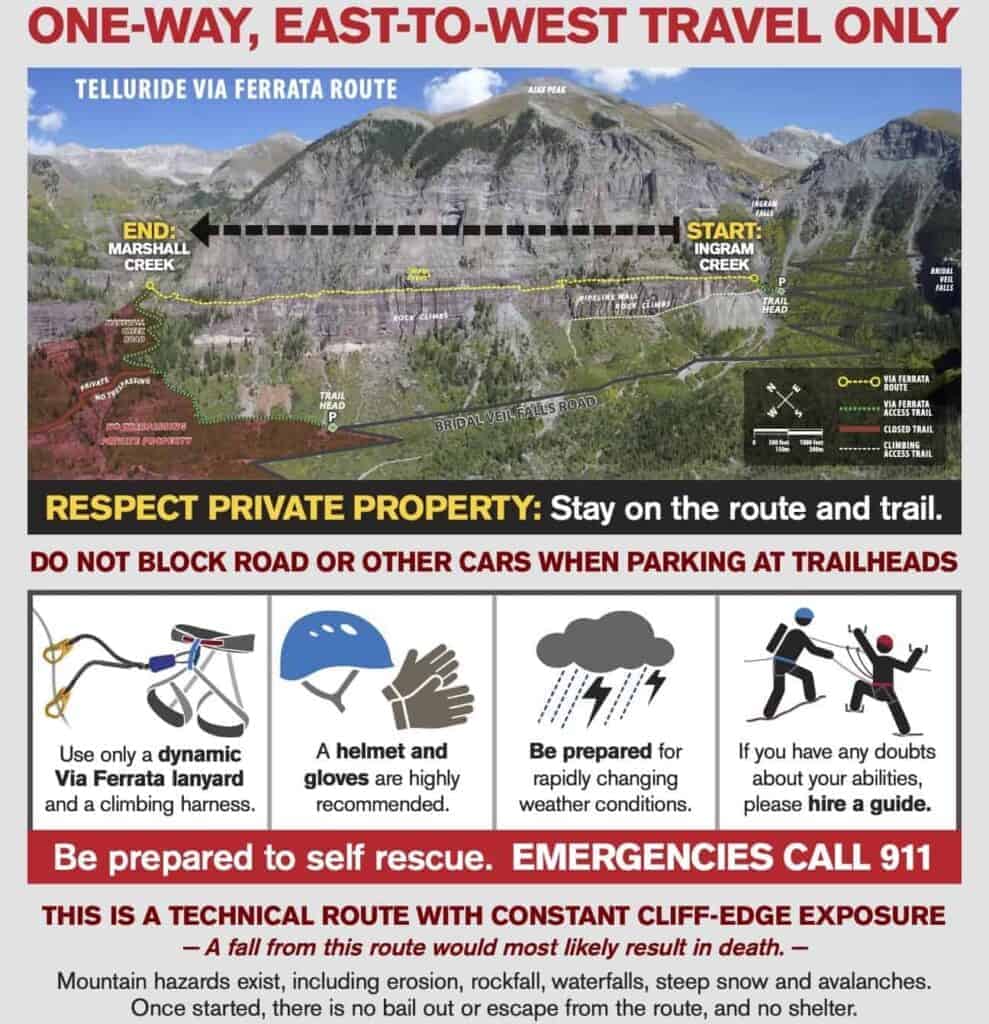 HOW TO PREPARE FOR A VIA FERRATA TOUR
First things first, if you are using your own gear check that your equipment is in good working order.
Be sure to check the weather. Getting stuck on the side of a cliff in a lightening storm could be deadly.
Before you go, check out the course map online and head to Jagged Edge Mountain Gear on main street and chat with the locals about the route. Remember, this is a serious undertaking and if you have any doubts about your ability hire a guide.
WHAT GEAR DO I NEED FOR THE VIA FERRATA?
Having the right gear is essential and don't be tempted to rig your own DIY tethers as those will NOT pass inspection as they lack the necessary shock absorption to not cause injury to you or damage to the route.
CLIMBING HARNESS
Any standard climbing harness will work great for a Via Ferrata. We prefer harnesses that have adjustable leg loops so you can wear them over pants if needed.
The Petzyl Corax is what we use and has plenty of adjustability to fit over clothing.
HELMET
Any standard climbing helmet will do just fine.
The Black Diamond Half Dome is the most popular and a great choice. Comfortable fit and easily adjustable.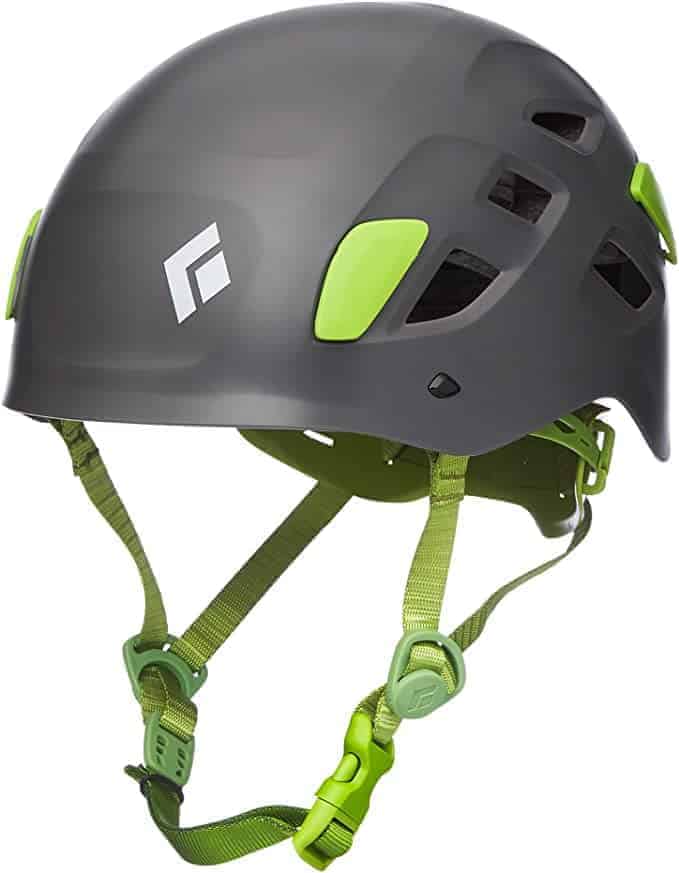 VIA FERRATA TETHERS
This important piece of equipment is what you will use to connect to the cables along the route. Should you fall these will absorb the energy from the fall keeping you safe.
We really like the Salewa Ergo Core Via Ferrata Set as they are easy to use even when your hands and grip strength get tired.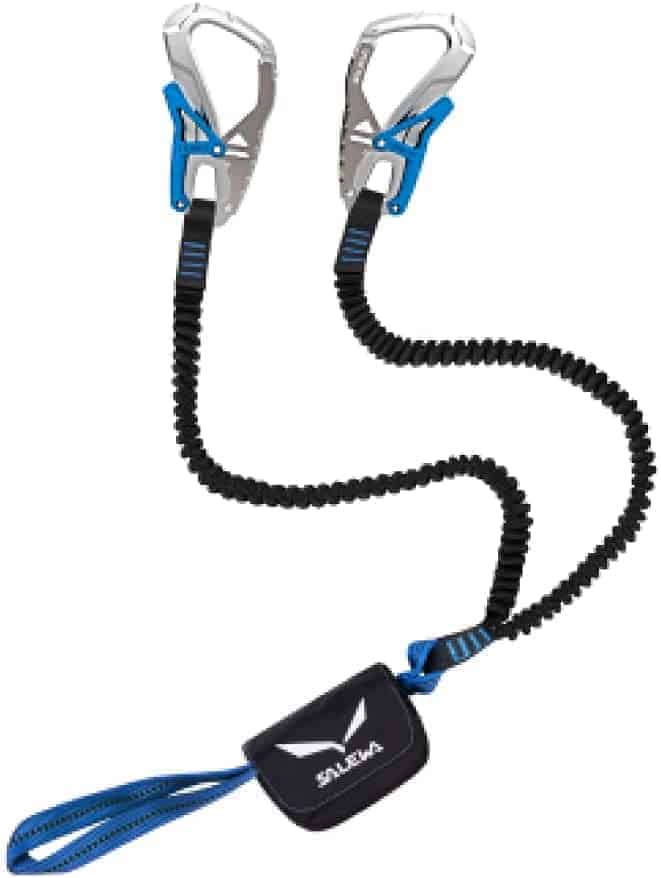 WHAT CLOTHING SHOULD I WEAR FOR THE VIA FERRATA?
The key here is to be prepared for any type of weather mother nature may throw at you. Use layers so you can adjust your temperature as needed and be sure to pick clothing that doesn't restrict your movement. The last thing you'll want to do is have to adjust your clothing to make a difficult move.
STURDY SHOES
You'll want to make sure you have sturdy shoes with good grip. Climbing approach shoes are ideal but any mid weight hiking shoe will be fine.
GLOVES
Many people like to use gloves since the metal rungs and cables can be tough on your hands. In cool weather the rungs can also get quite cold. Go with gloves that are thin and tight fitting.
SMALL BACKPACK
You'll need a small backpack to carry extra clothing, food, and water. Nothing too big just a simple day pack will do.
WHAT SHOULD I TAKE WITH ME ON A VIA FERRATA TOUR?
The usual 10 essentials is always a good place to start. Sunglasses and plenty of sunscreen are a must since there will be very little shade.
Don't forget a camera because you're going to want to document this amazing adventure. We use a 360 camera which allows you to frame and edit your shots later. The Insta 360 One X2 is what we used to film the Telluride Via Ferrata video.
WHERE SHOULD I PARK FOR THE TELLURIDE VIA FERATTA?
The best place to park is at the Bridal Veil Falls trailhead. This is a very popular hike in the summer so make sure you arrive early to snag a parking spot since the lot is rather small.
VIA FERRATA TRAILHEAD
The Via Ferrata trailhead starts about 2.5 miles up the Bridal Veil Falls trail. You'll come to an obvious viewing area at the base of the falls and a road junction. You will continue up the road till the first big right hand switch back. To your left you'll see the Telluride Via Ferrata trailhead sign. The trail starts behind the sign and climbs up a steep eroded slope.
TELLURIDE VIA FERRATA GUIDED TOUR
A guided tour is a safe and great way to experience this unique adventure. You will gain a thurough understanding of the equipment, climbing technique, and gain the insight of a local's knowledge of the area.
To book a guided trip head to the San Juan Mountain Guides.
TELLURIDE VIA FERRATA MAIN EVENT
I've always been an outdoorsy person but never experienced anything quite like this! When you experience the Via Ferrata main event, (the most spectacular part of this adventure) you'll need to muster the courage to step out on to a small metal rung that's over 600 feet up with nothing below you.
You will then transfer from one rung to the next until you finish scaling the vertical cliff face. It really is an amazing experience.
Don't miss our video shot using a 360 camera to get the best idea of what the Telluride Via Ferrata is all about.
HOW MUCH DOES THE TELLURIDE VIA FERRATA COST?
The Telluride Via Ferrata is free for those who have their own gear and choose to tackle this adventure on their own. For those who want to hire a guide and don't have their own equipment the cost varies depending on how many people are in your group.
HOW LONG IT TAKES TO DO THE TELLURIDE VIA FERRATA
It typically takes 3-4 hours depending on your experience level. The beginning of the Via Ferrata starts with a 2 mile hike up the Bridal Veil Falls trail and culminates with the epic climb across the cliff band. Once you complete the climb you then have a short hike down the gravel road back to the parking lot.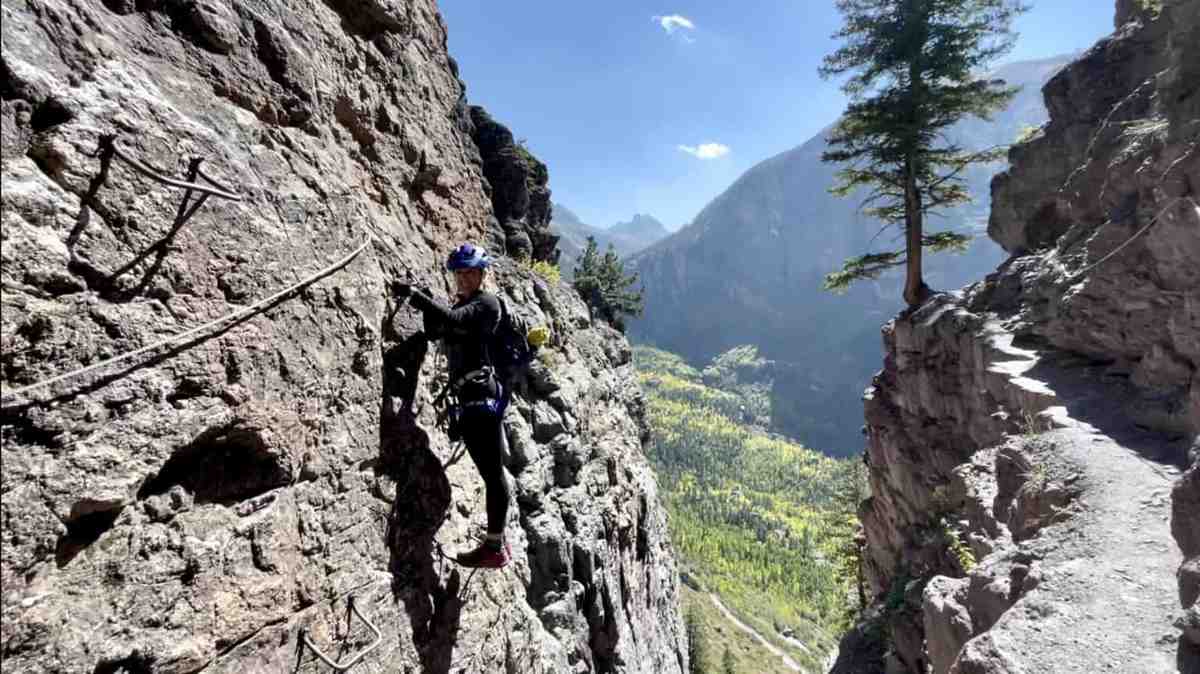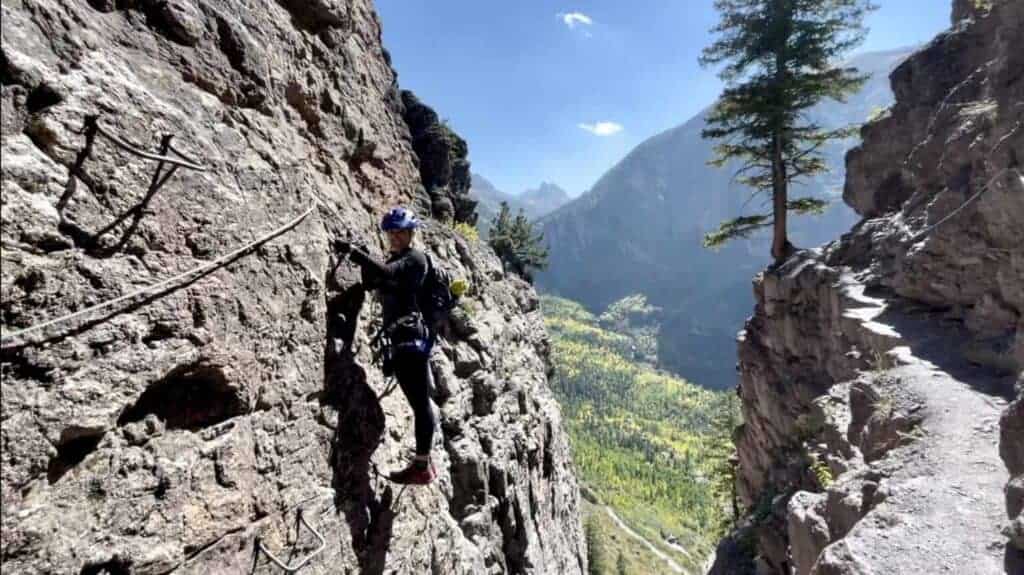 HOW DIFFICULT IS IT TO CLIMB THE VIA FERRATA IN TELLURIDE?
It can be challenging for both beginner and experienced climbers. You must have a good level of physical fitness and be comfortable on steep, exposed terrain. It's okay to be scared as that is natural but you wouldn't want to freeze up on the route.
While this may not be for everyone the mental challenges and overcoming your fear of heights makes this such a special experience. Oh, and lets not forget about the rediculous views.
DO I NEED CLIMBING EXPERIENCE PRIOR TO DOING THE VIA FERRATA?
No, you do not need to have any climbing experience before doing the Via Ferrata but we would strongly encourage you to hire a guide if you are new to climbing. There are areas with very exposed cliff edges so it's not for the faint of heart or those with a strong fear of heights. When in doubt hire a guide.
THAT'S A WRAP FOR THE TELLURIDE COLORADO VIA FERRATA
We hope that this article answered any questions you have about this adrenaline pumping adventure. We have a 360 Youtube video we made if you'd like to sit back and enjoy our adventure from your couch. Check out our Youtube video here!