If you're planning a trip to Thailand you'll be hard pressed to not hear about the massive Full Moon Party on Haad Rin beach. Every month on a full moon night, over 30,000 party goers gather on the beach for a night of drinking, dancing, and complete debauchery.
With the legendary status this party now holds it's surprising that its roots aren't well understood. The origins of this party have become a contintious issue with some saying it started in the early 80's while others swear it wasn't till the 90's.
Despite the uncertainty in the date, it's agreed that the Full Moon Party phenomenon started with just a group of travelers throwing down for a full moon beach party. Through word of mouth, this became a monthly occurrence growing over the years to the massive party it is today. Once the guidebooks got ahold of it in the late 90's the party whent off the charts.
Today the beach at Haad Rin is lined with bars, hostels, restaurants, all boosting the monthly Full Moon Party. The music is varied, anything from techno, house, reggae, or a simple drum circle. But it's only during the full moon that this place really kicks off.
SEX DRUGS AND ROCK 'N ROLL TECHNO
As you cruise down the beach you will see endless bars selling buckets. Remember those plastic buckets you built sand castles with as a kid, well these are the adult versions. Complete with a bottle of alcohol and mixer of your choice. When you buy one they fill the bucket with ice and leave the mixing to you. It's a sure fire way to get hammered fast. Buckets run 200-300 baht depending on the alcohol.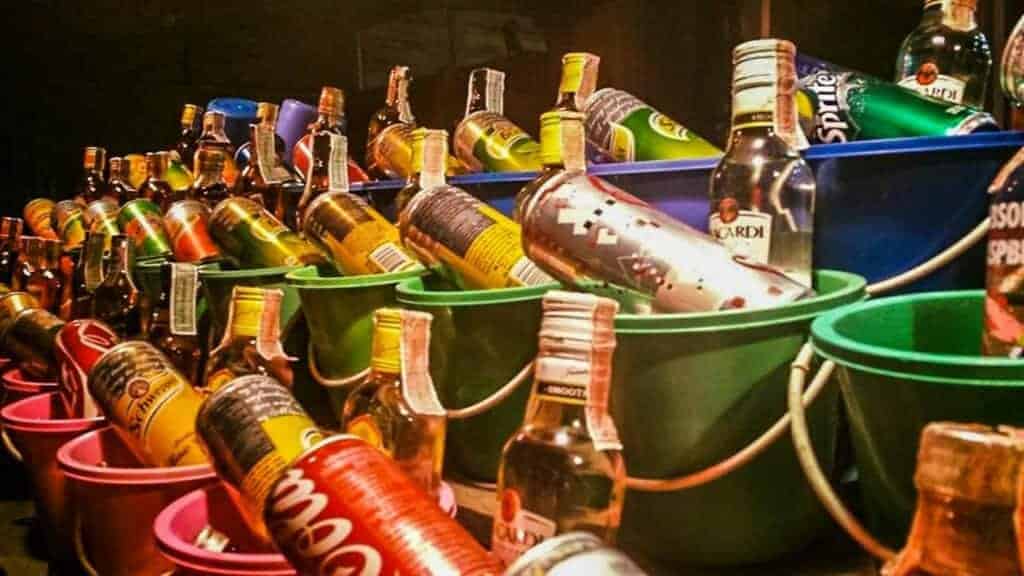 Now there is beer available and pretty much any drug you can imagine but keep in mind all drugs are illegal in Thailand. To score the best deal on drinks head in a block or two from the beach where the prices are a little more reasonable.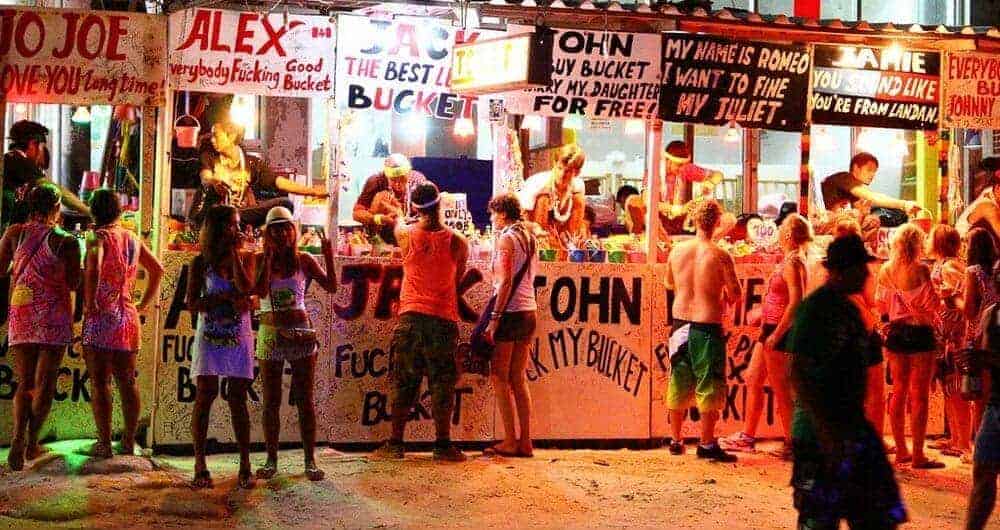 As you walk the beach each bungalow will have it's own DJ blasting music. If you don't like the music just keep walking because just about every genre of music is represented at the Full Moon Party.
WHAT TO DO
The Full Moon Party is a people watching mecca and is all about neon colors and skin paint.
There's no shortage of food so be sure to grab some grub to soak up that bucket of booze. Meals will run between 100-200 baht with snacks on the beach for as little as 50 baht.
If getting a little exercise sounds like a good idea don't miss the fire jump roping. Or perhaps diving through a ring of fire is more your thing. Either way, anything goes at the Full Moon Party.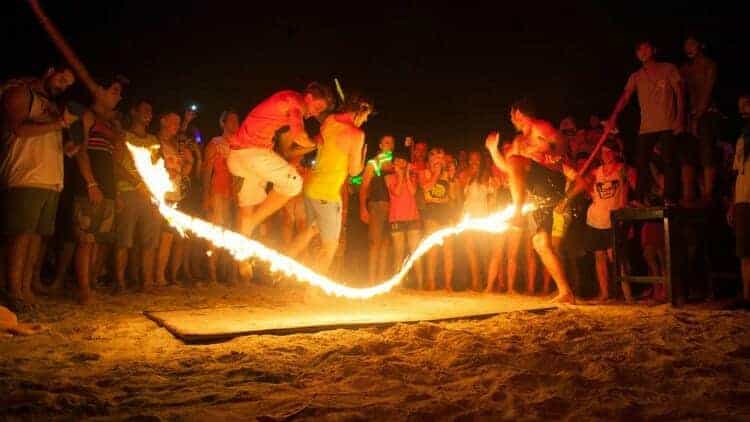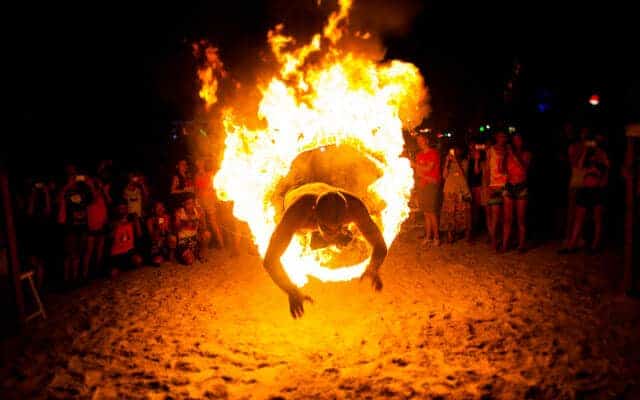 If fire isn't your thing don't worry because you will be exhausted dancing the entire night away.
FULL MOON PARTY SURVIVAL TIPS
FULL MOON PARTY DRUGS
If drugs are your thing you might be better of scoring those before hand. While you will see drugs being sold everywhere I'd be very cautious as I've heard rumors of undercover police busting people.
BATHROOMS
Bathrooms are a bit of a pain and will cost 5-10 baht so it's a good idea to keep some change on hand. The more popular option is to wade out into the ocean. Keep in mind with the amount of people here you'll be shoulder to shoulder with someone else as you wade out.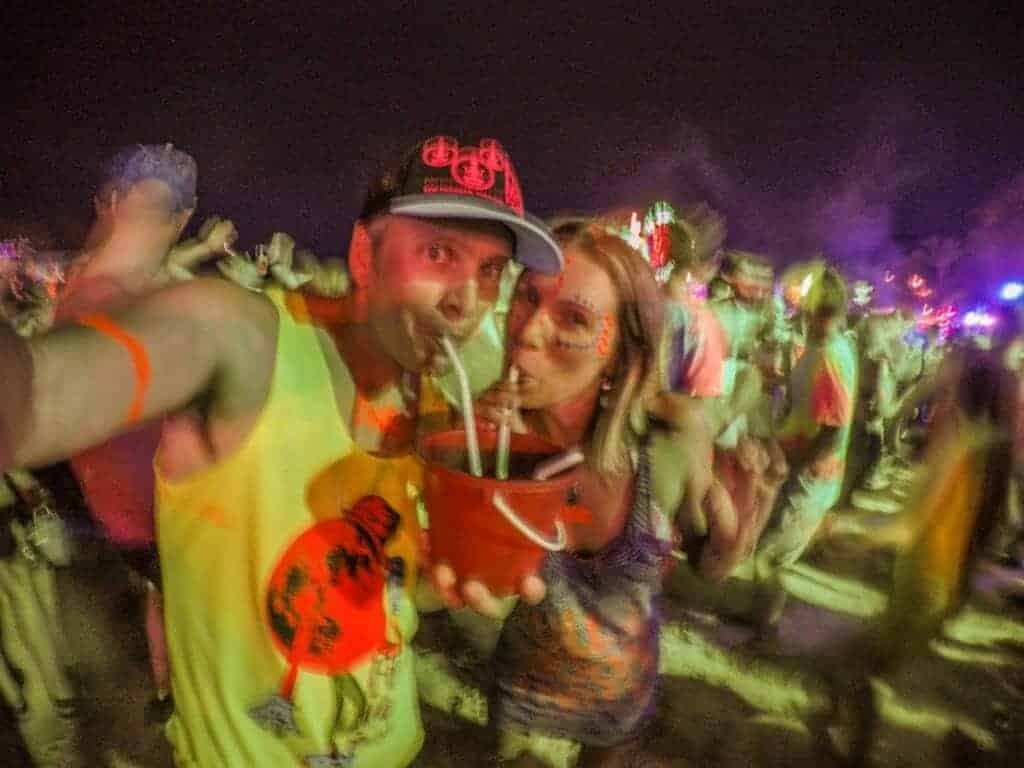 VALUABLES
Don't even think about bringing a bag or purse. If you leave anything out for even a second it will likely get stolen. Just bring a wallet and wear it in a front pocket or some other secure spot.
WATCH THOSE FEET
While the thought of partying all night on the beach in your bare feet sounds like a good idea, the beach is full of broken glass. It's common to see plenty of people with some nasty cuts.
HAVE A PLAN

The party is located on the Haad Rin beach on the island of Koh Phangan. There is no airport so everyone must come by ferry. The most common way to get there is to take a short flight to Koh Sumui and then catch a ferry.
The ferry from Koh Samui costs around 200 baht and leaves from the Big Buddha Pier. During the full moon boats from Koh Samui to Haad Rin run every hour.
From Bangkok there's even the option of an overnight bus to Surat Thani where you can then hop on a ferry. Costs around 500-600 baht with ferry included. While this makes for a long night it is a lot less expensive then flying which will run about 2,000 baht.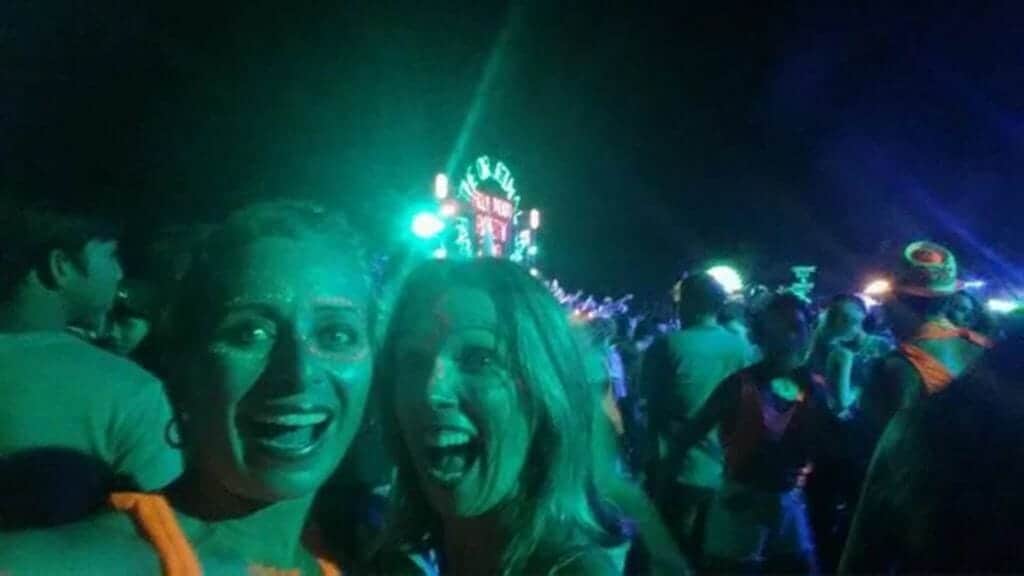 ACCOMMODATION
The island has plenty of accommodations with the majority of people opting to stay where the action is in Haad Rin.  Keep in mind there are numerous shuttles and taxis throughout the island so getting to the party from other areas is easy.  We opted to stay in another part of the island as it was less expensive and transport to the party itself was easy.
If you want to stay at Haad Rin near full moon plan to stay 4 nights ahead as many of the places won't hold reservations so getting there early is the only sure thing.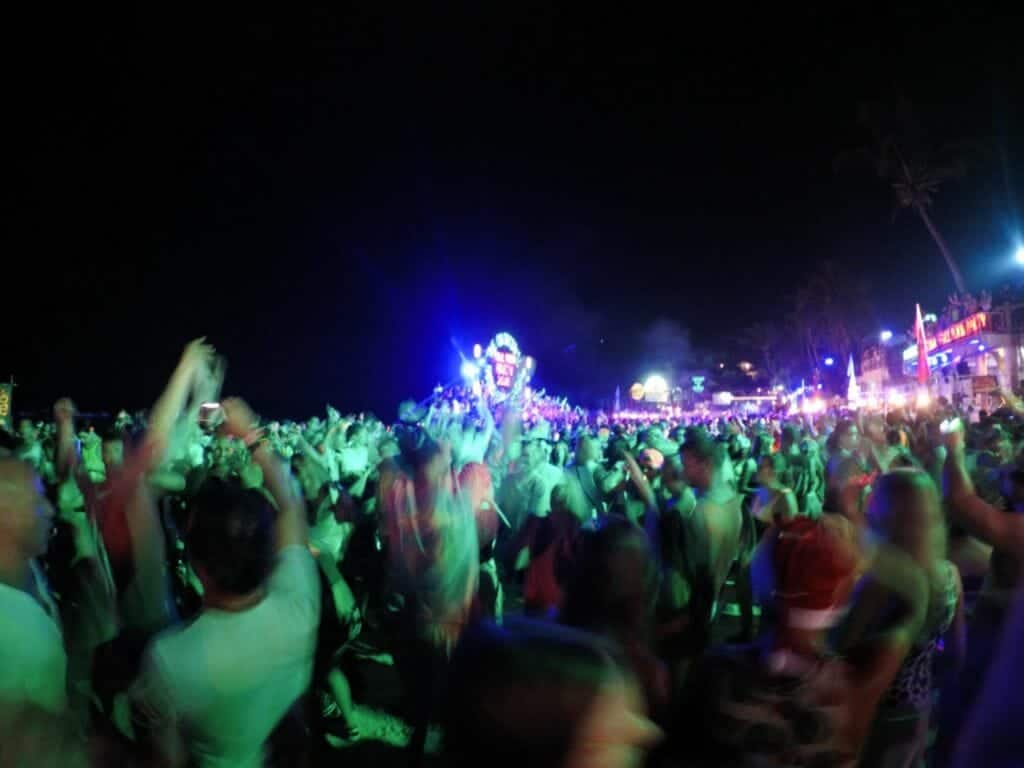 Accommodation costs will vary greatly depending on location. Dorm style rooms will cost around 300 baht while a moderate private room will be around 1000 baht. To secure a good deal on a room you must arrive at least 4 days before the party as most places do not take reservations. Arriving just a day or two before you will be paying easily double.
PREPARING FOR THE PARTY
First of all keep in mind all the safety tips I mentioned earlier. As the party night approaches you will start seeing numerous t-shirt shops open up displaying the classic neon colored Full Moon Party apparel.
On the evening of the full moon all of the bars will start passing out body paint and glitter so you can get all done up for the big night.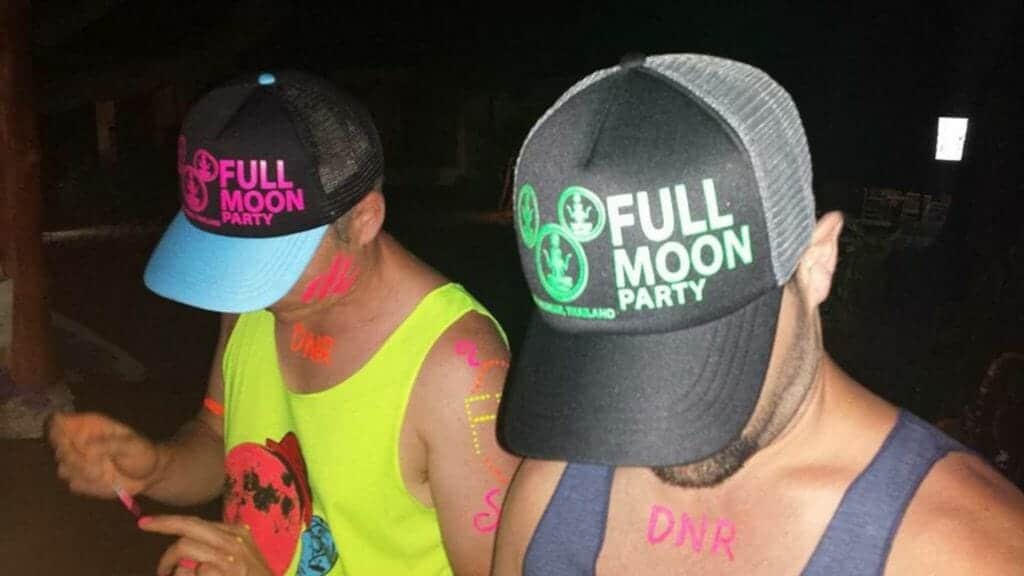 My number one piece of advice is to hold off on hitting the drinks too early. This thing doesn't get rocking till midnight and it's best to think of it as a marathon and not a race. You can grab a beer or two early on but hitting the bucket too early will just put you to bed before the festivities even begin.