This challenging yet straightforward hike in the Albanian Alps will wind you through some of the most picturesque country you've ever seen.
Hiking Theth Albania to Valbona takes you over a magnificent mountain pass, through some stunning mountains and connects two amazing small mountain villages.
The hike can be completed as a loop in either direction and even includes a ferry ride on the great Komani Lake which is in itself is worth a visit.
Read on for the ultimate hiking guide on the iconic Theth to Valbona trek.
Distance: 11 miles
Time: 8 hours
Elevation: Starting at around 2,400 feet, max at 5,800 and then finish at 3,200.
Season: The pass sees heavy snow and is closed for a good part of the year. We completed our trek at the end of May and had a few small spots of snow to navigate. June is typically when the pass opens but this can change based on snowpack.
Accommodation: Guesthouses are available in Theth and Valbona. Be sure to book ahead because the good places will fill up. We were surprised that even in the off-season places were filling up. Below are our recommendations.
THETH & VALBONA WEATHER
On average, the warmest month(s) are July and August
On average, the coolest month is January
The average annual maximum temperature is: 69.8° Fahrenheit (21.0° Celsius)
The average annual minimum temperature is: 55.4° Fahrenheit (13.0° Celsius)
Click HERE for current weather conditions
Have you heard that getting around Albania can be tricky???
Don't miss our Albania Transportation Guide and how best to get around
THETH TO VALBONA HIKE
While the hike itself takes just a day you'll need about 5 days to complete the entire round-trip. I'll go into more details below but here is the general itinerary.
You'll start in the town of Shkoder. Here you can arrange to leave things you won't need for the trip at your hotel or Hostel. In Shkoder you'll arrange a 4×4 transport to the town of Theth.
After spending the night in Theth you'll begin the hike the following morning and arrive in Valbona.
After a night in Valbona you'll arrange another drive to the ferry terminal on Komani Lake. After a 3 hour cruise on the lake and then another shuttle you'll arrive back in Shkoder.
At a minimum you'll need at least one night in both Theth and Valbona but adding an additional night to either place is highly recommended. They both offer a bunch of additional hiking opportunities but we preferred Theth over Valbona.
Don't Miss Our BEST tips for Traveling Albania. Check out the signup form below
WHAT TO PACK FOR THE ROUNDTRIP TREK
Packing is relatively straightforward for this hike and thankfully they extra gear you don't need can be left in Shkoder.
Jill and I opted to leave one of our bags in Shkoder and bring our favorite 40-liter Osprey Pack as well as a camera bag that just had our photographic equipment.
This was plenty of space for the two of us.
WHAT TO BRING FOR A NIGHT IN THETH AND VALBONA
You can expect to have bedding so there's no need to bring sleeping bags or anything like that. Also no need to bring cooking gear as there are plenty of places to grab a hot meal.
Now there are camping and tent sites available should you want but I won't go into detail about those.
I would bring cash since not everyone can take credit cards. But other than that just bring what you would need for a night at a hotel.
TREKKING PACKING LIST
If you aren't familiar with packing for long hikes or treks check out our Trekking Packing List.  It's a more thorough list and includes links to the actual stuff we use and like.
3 pair socks
Lightweight hiking or trail shoes
Quick-dry hiking pants(HERE's my favorite pair)
Synthetic long underwear
Shorts
Synthetic shirts in multiple weights for layering
Down or synthetic puffy
Rain jacket
Rain cover or poncho for bag
Trekking poles
SteriPen – we ended up just drinking out of the streams without any problems
Sun glasses and sunscreen
Hat
Water bottle – There's plenty of water along the way so no need to pack more than a liter.
Camera
SHKODER HOTELS & ACCOMMODATIONS
Shkoder is fun town and deserves a night or two to check out. We stayed for 3 nights but two would have been about right.
Remember that you'll have the opportunity to stay a night when you return after the trek.
We stayed at a couple different hotels but really liked Promenade Hotel. Great location, super clean and modern rooms, and one of the better free breakfasts.
In the MapsMe app just search for Promenade Hotel and it will take you right there.
SHKODER TO THETH
From Shkoder you'll arrange a 4×4 ride to Theth through your hotel or hostel. Expect to pay about $20 per person.
The ride is about 3 hours long and they typically leave around 7 or 8am. They will stop several times at little tea houses where you can grab a snack and use the restroom. You can plan on getting to Theth by noon which allows ample time to explore this amazing little town.
Theth Albania is a narrow valley walled in by massive green cliffs with waterfalls just about everywhere you look. It reminded us of trekking in Nepal but even more spectacular.
There are numerous places to hike that your hotel can get you lined out on. The town itself is quite small with one very basic store that has a few necessities. Definitely plan on bringing everything you need.
THETH ALBANIA ACCOMMODATIONS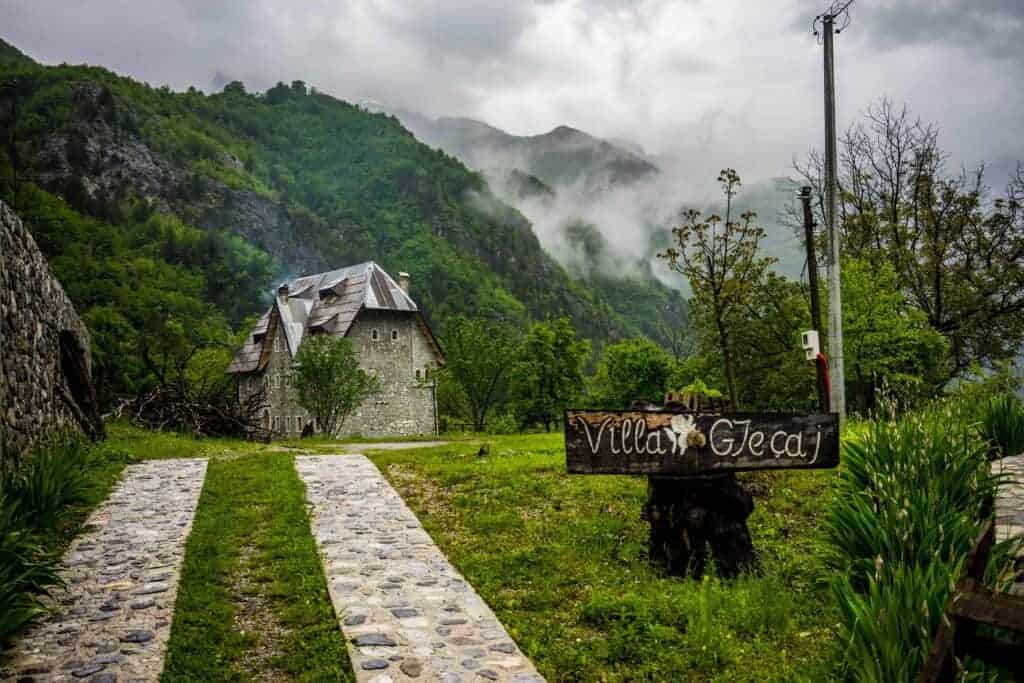 We absolutely loved our stay in Theth. Villa Gjeçaj was this beautiful stone building perched up on a hill overlooking town.
The accommodations were very modern and clean. There's a separate guest house in addition to the main lodge. The staff were friendly and spoke great English.
Breakfast was included and a set menu dinner could be purchased which we really enjoyed.
After a long day of hiking and cozying up to the fire with a bottle of wine made us never want to leave this place.
HIKING THE ALBANIAN ALPS
After a day or two of hiking to countless waterfalls and enjoying the rugged yet relaxing mountain town of Theth, it was finally time to make the journey up and over Valbona Pass.
We were sad to leave but excited for what's to come.
The hike to Valbone is about 11 miles with a little over 3,000 feet of climbing and roughly the same descending.
We had a hard time finding the start of the trail as our MapsMe app kept trying to route us through private property. In hindsight, we should have asked at our hotel how to find the trailhead.
But eventually we found our way and started up the steep slopes of Theth on our way to Valbona.
The forest was lush and as green as green can be. Don't forget to stop and take a look back at the amazing views of town.
Just in front of Jill's head in the above picture you can see the trail markers painted on the tree. It's a white/red/white stripe.
As you work your way up there were some great open areas to catch a quick break and take in the views.
At about 3 miles you'll come to your first tea house. There are several along the trail. All offering an assortment of snacks, drinks, and a warm fire.
There are plenty of streams and springs that are all safe to drink from so topping off water bottles was no problem.
We did carry a Steripen never did use it.
This little gem of a tea house was even cozier than expected. They actually had a pretty extensive food selection and an assortment of hot and cold drinks.
Oh, they had a fricken amazing view as well.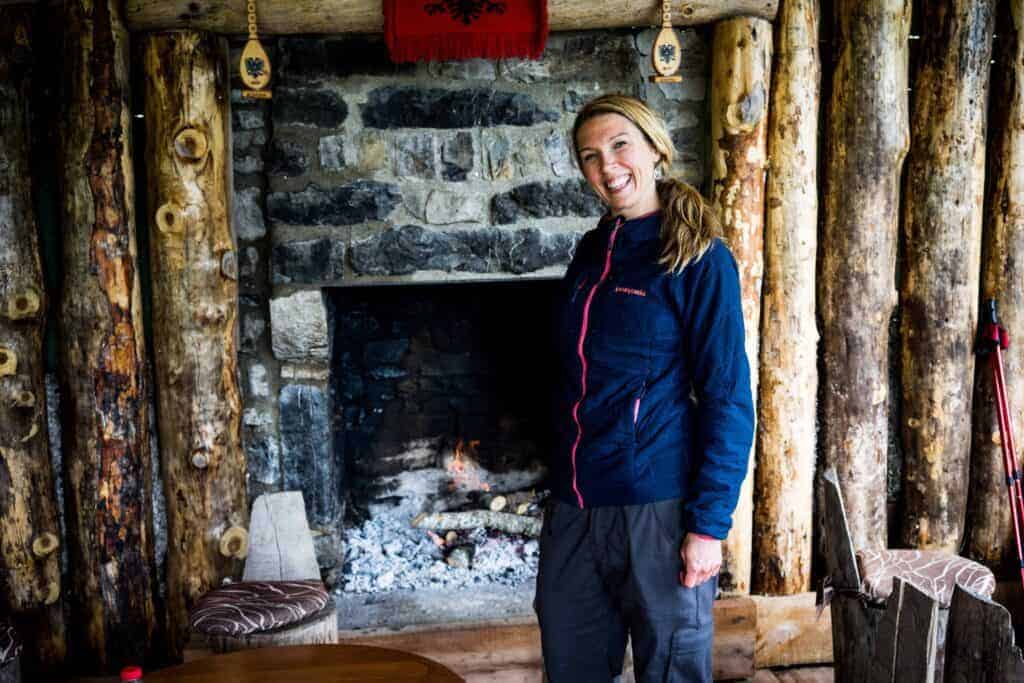 After a snack and drying out our sweaty shirts we continued up the climb. From here we could start to see a bit more as we got closer to the tree line where the views would really open up.
Once you hit to the top you're rewarded with 360-degree views to both sides of the pass. It was rather amazing.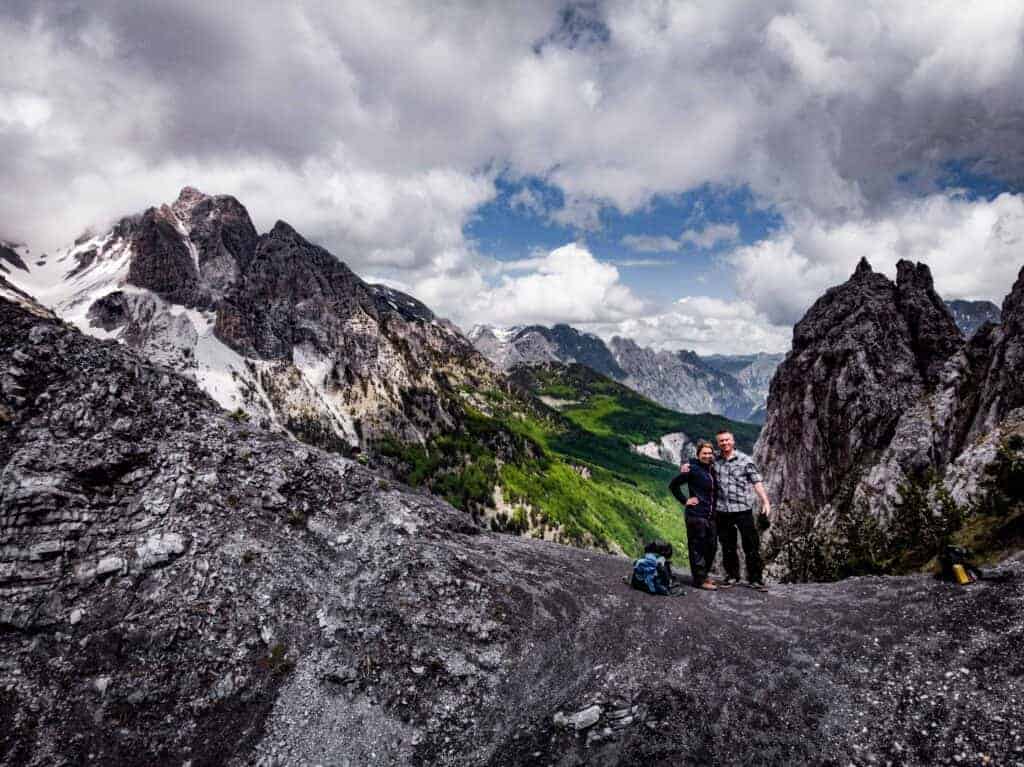 From here the trail gets a bit more rocky and loose as there were very few trees on the Valbona side of the pass.
We thought this side was a bit steeper than the Theth side and it definitely had its fair share of loose sections. We even encountered some snowy sections that made things a tad sporty.
From here things remained pretty rocky with a few sparse trees here and there. At the base of the canyon was the river that we would eventually be walking along for the final few miles to Valbona.
This was the home of the family that ran one of the tea houses on the Valbona side. From here things got relatively flat as we followed the river down valley.
We had several creek crossings to negotiate as we worked our way down river. And yes they were cold. Very cold!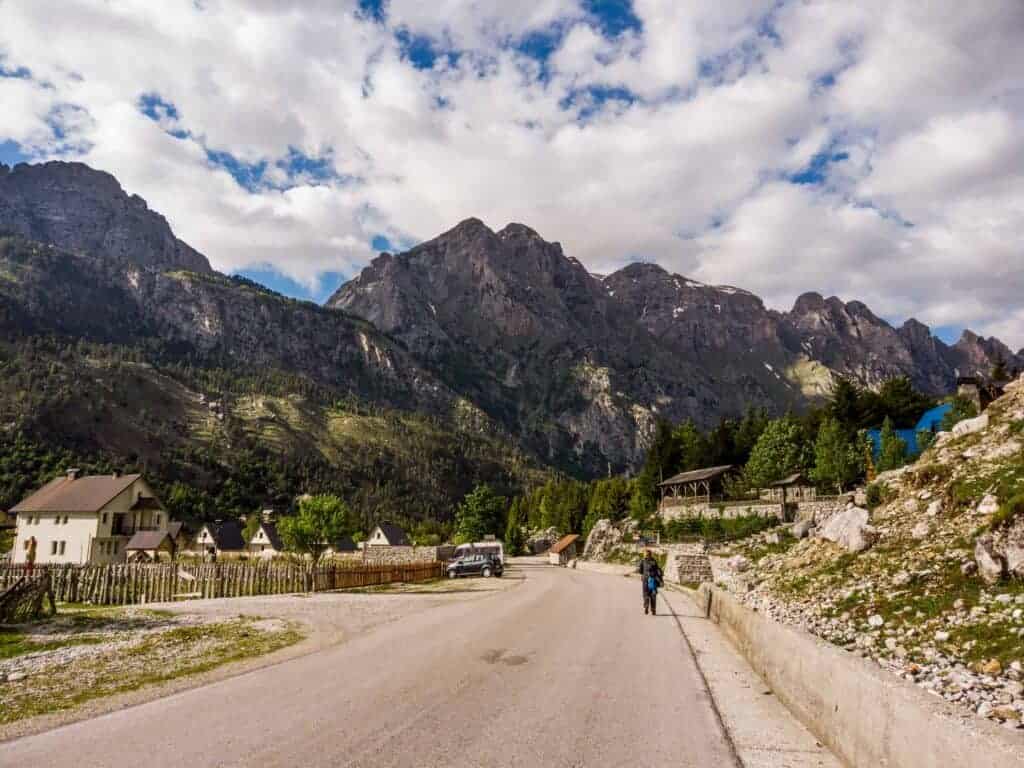 Once we arrived in Valbona we had an accommodation mishap so we had to walk town for a bit to find an open room. Turns out we lucked out and found an amazing place.
VALBONA ACCOMMODATIONS
A popular spot that is on the edge of town is Hotel Margjeka. It's a good choice because it will save you about a mile of walking on the road before getting to the other places in Valbona.
We didn't stay here but we did poke our heads in and it looked really nice. It's one of the first to book up so plan accordingly.
Where we ended up staying was on the opposite end of town at Bujtina Valbonë. We absolutely loved it. The family was originally from the area but spent about 10 years in New York before returning home and starting this guest house.
The accommodations were very nice and far exceeded our expectations. The staff was awesome and the food was terrific. You absolutely can't go wrong here.
Here are a few shots from Bujtina.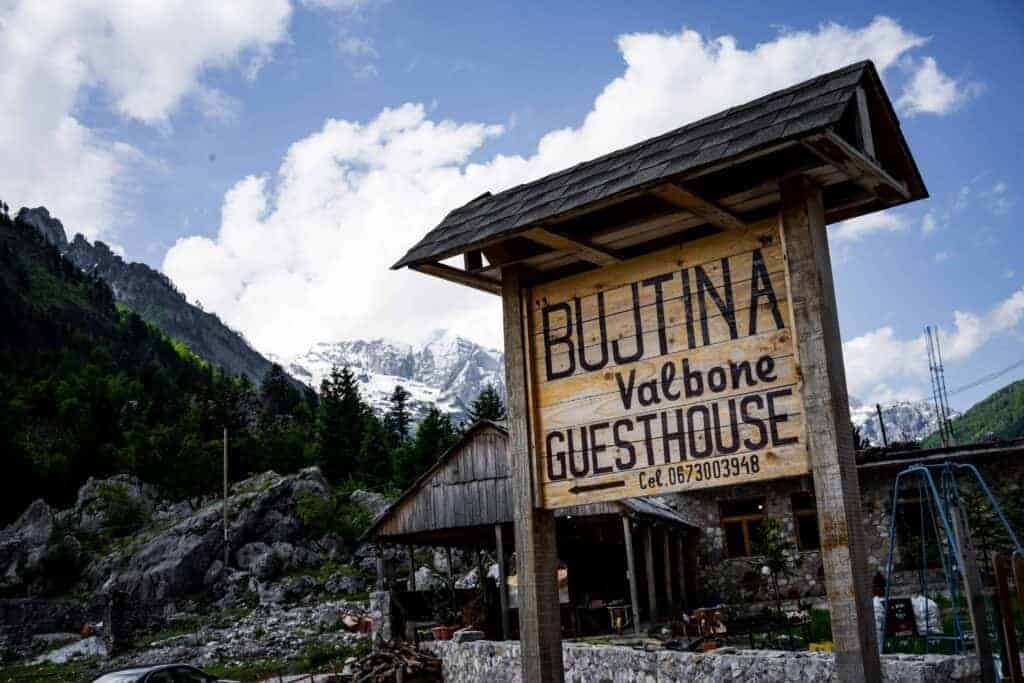 Tirana far exceeded our expectations.  Check out what we did and saw in Tirana Albania that made it so fun.
VALBONA TO KOMANI LAKE FERRY
From here it's time to arrange a shuttle either back to Shkoder or a much better option would be a ferry ride down Komani Lake.
Throwing in the Ferry ride only adds a couple hours and is a great way to break up the long car ride.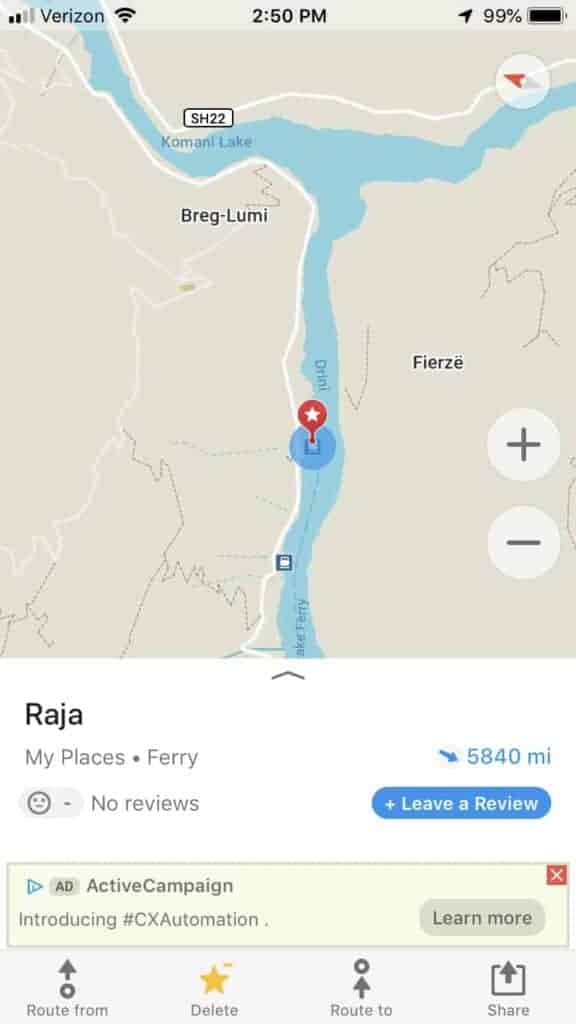 You'll catch the ferry at Fierza or type in "Raja" in the MapsMe app. Your hotel in Valbona will be able to arrange a ride to Fierza or better yet you can book a ride online.
We booked through our hotel while some friends booked through the ferry service and they ended up paying a bit less than us since the shuttle included the ferry ticket.
Head to Berisha Ferry to book online. This will include the ride from Valbona to the ferry, the ferry ride, and also the final shuttle back to Skoder.
The ferry leaves at 1pm from Fierza and is about a 3 hour ferry ride. There are bathrooms and a small snack bar onboard.
FREE PRINTABLE- YOUR ALL-IN-ONE GUIDE FOR ALBANIA TRAVEL TIPS TO HELP YOU TRAVEL WITH EASE
Get ACCESS to our FREE resource library full of great info that includes OUR BEST ALBANIA TRAVEL TIPS by signing up below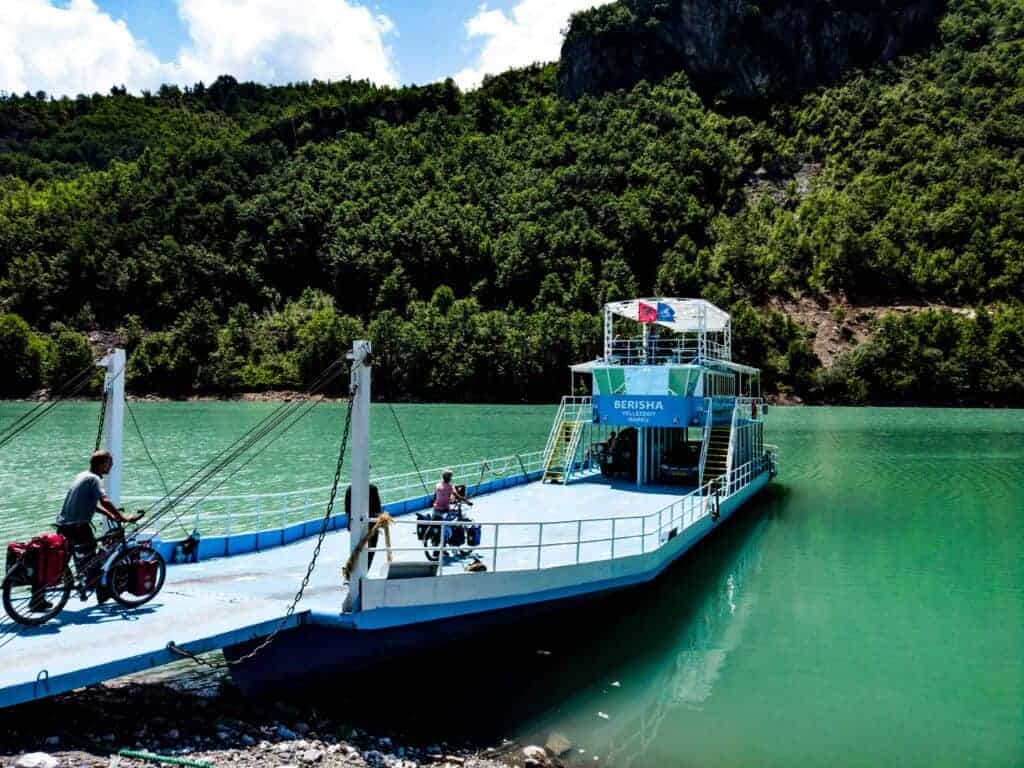 The ride is down the dammed-up Komani river which is an impressive and steep canyon. The ride was rather smooth and we didn't notice much rocking of the boat.
While it is a long ferry ride it was also very scenic.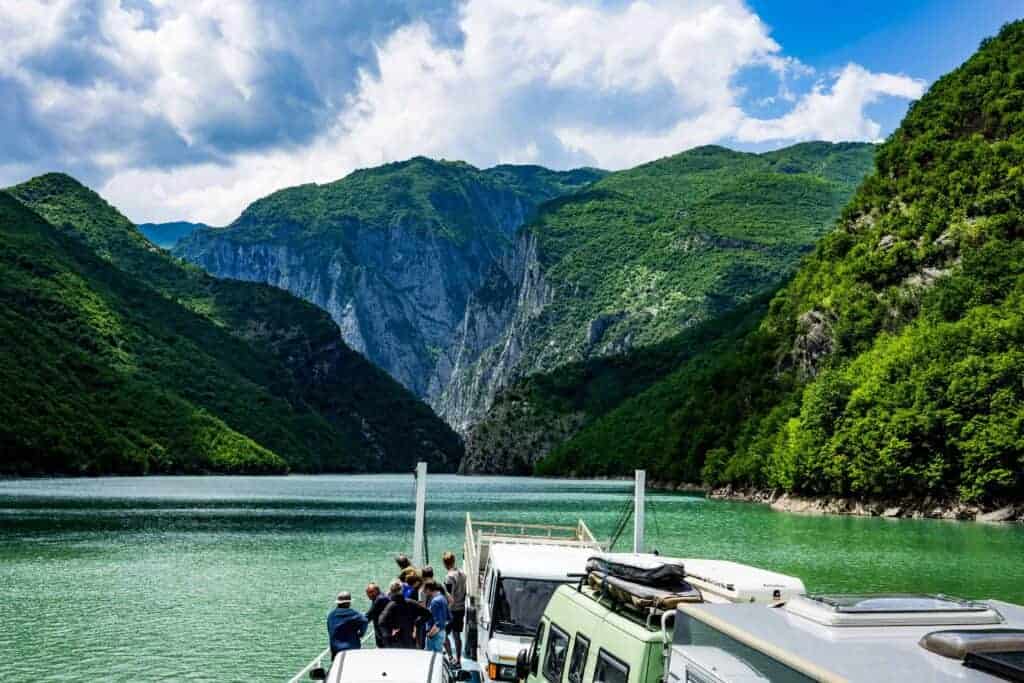 The ferry stops right at the dam where you will then board another shuttle to get you back to Shkoder.
Despite being only 40 miles from Shkoder the ride takes about 2 hours. The road is really rough and slow going.
FINAL THOUGHTS
Albania is a fantastic place to visit for so many reasons. But their epic mountains that don't yet see the traffic they deserve is a real treat.
Theth Albania and this bucket list trek should not be missed.  The Theth to Valbona trek holds a special place in our hearts right up there with the treks of Nepal such as Annapurna Trek.
Please reach out if you have any questions and we wish you the best.