Things To Do In Bardstown Kentucky
Bardstown is a city in the southwest corner of Kentucky located 50 minutes from Louisville. Bardstown is a great place to visit if you're looking for a mix of culture and history.
The city is home to several bourbon distilleries, making it a perfect destination for whiskey lovers. In addition to its many distilleries, Bardstown also offers many shopping, dining, and entertainment options.
Visitors can also explore the nearby Mammoth Cave National Park or take a stroll by the beautiful Spalding Hall. Spalding Hall is a building listed on the National Register of Historic Places in Bardstown, Kentucky.
Enjoy The Area History In Bardstown Kentucky Historic District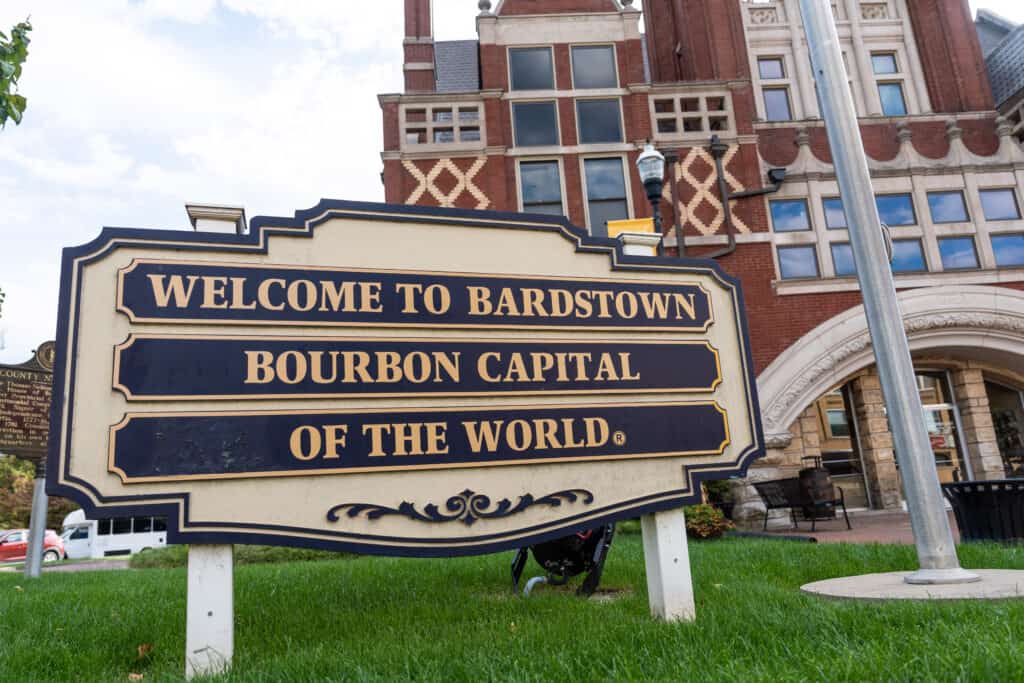 The Bardstown Historic District is a great place to visit if you're interested in history. The district is concentrated around Court Square and extends north along 3rd St for several blocks.
There are many historic buildings and landmarks that you can explore in the area.
The Nelson County Courthouse, located in the heart of Bardstown's Historic District, is now home to the Bardstown Visitor Center.
The center offers visitors a wealth of information about what to see and do while in town. From the interactive touchscreen displays to the knowledgeable staff, the visitor center has everything you need to make the most of your time in Bardstown.
My Old Kentucky Home State Park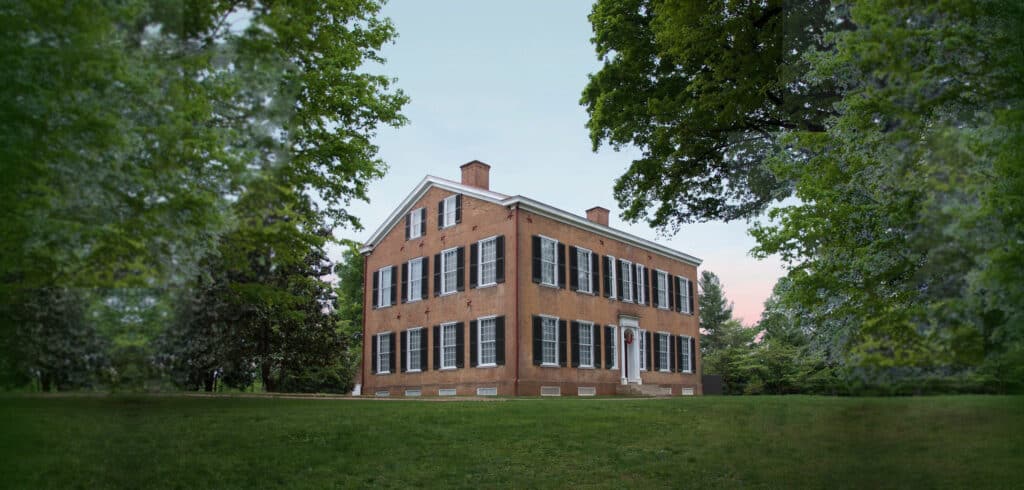 My Old Kentucky Home State Park is a historic property in Bardstown, Kentucky. The park grounds are well maintained and offer a peaceful, tranquil atmosphere perfect for reflection.
The park is also the inspiration for Kentucky's state song. "My Old Kentucky Home," The tune was officially adopted as the state song in 1928 and has been played at the Kentucky Derby and other sporting and public events since then.
My Old Kentucky Home State Park offers four attractions in one. Tour a mansion, play golf, camp, or enjoy productions at the amphitheater.
Tour A Mansion And See A Musical At My Old Kentucky Home State Park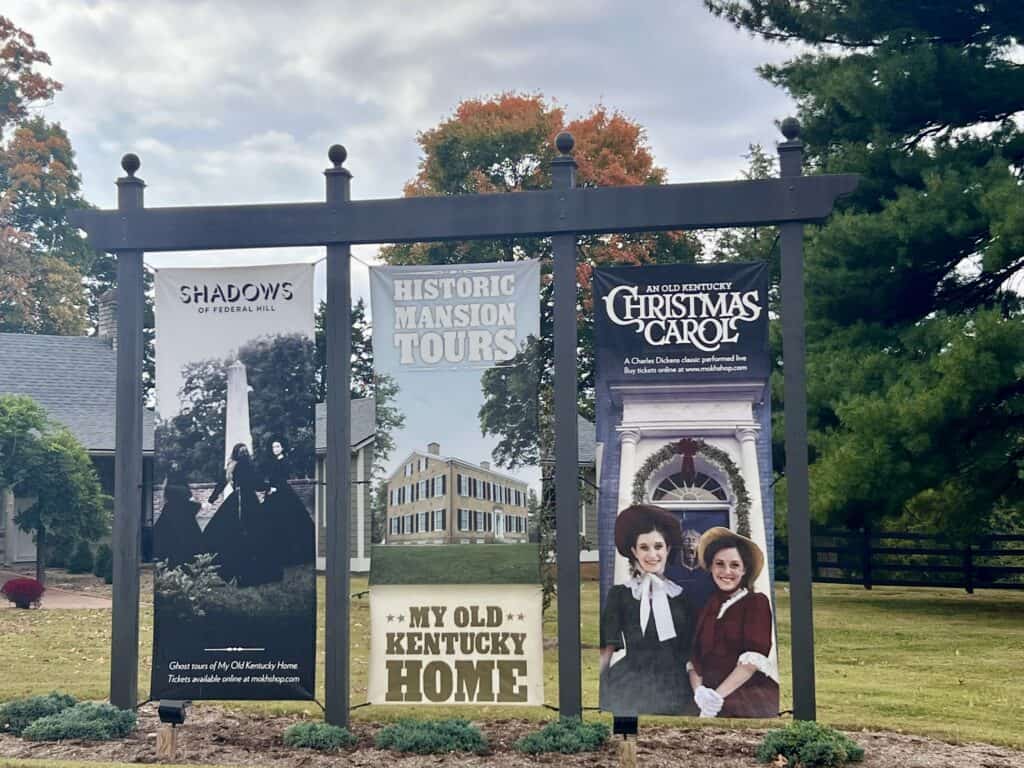 The park is home to a beautiful mansion (a paid tour) and a gift shop that guests can visit.
If you're looking for something free to do at Old Kentucky Home State Park, I recommend packing a picnic and walking the grounds, where you can find plenty of birds to watch.
The park also has an amphitheater; what's not to enjoy about seeing musical shows under the stars on a summer night?
The amphitheater at My Old Kentucky Home is a one-of-a-kind experience that has been part of the American family tradition for hundreds of years.
Camp At Old Kentucky Home State Park
There's plenty to do at Old Kentucky Home State Park, but one of the best things to do is camp out under the stars. The park offers both primitive and RV camping, so there's something for everyone.
The rustic-style campground, nestled in southwestern Kentucky's rolling hills and woods, is charming, soothing, and inviting.
Golf At Old Kentucky Home State Park
The park also features an 18-hole golf course perfect for a game with friends or family. My Old Kentucky Home State Park's PGA Professional 18-hole course, opened in 1933, is a beautiful and popular spot for golfers.
It features 6,351 yards of golf from the longest tees with a par of 71 located among peaceful rolling hills.
Visit Spalding Hall
Spalding Hall is a building listed on the National Register of Historic Places in Bardstown, Kentucky. The historic building is over 200 years old and houses two museums, the Oscar Getz Whiskey Museum and the Bardstown Museum of history.
You'll also find the Rickhouse restaurant and lounge in the basement that offers what appears to be a unique dining experience (we didn't get a chance to visit this restaurant on our visit to Bardstown).
Visit Oscar Getz Museum of Whiskey At Spalding Hall
The Oscar Getz Museum of Whiskey History is a great place to visit for history buffs and anyone who loves learning about whiskey.
The museum has an extensive collection of liquor memorabilia from the 1700s to today. The museum offers a tour of the history of whiskey, emphasizing the history of bourbon. If you're interested in taking a tour, be sure to book in advance to ensure a spot.
Stop By The Old Talbott Tavern During Your Bourbon Trail Tour in Bardstown
Visit the Old Talbott Tavern to enjoy food, drink, and entertainment! The tavern has been a staple in Bardstown since the late 1700s, providing shelter, food, and drink to travelers from all over Kentucky.
The tavern has been visited by famous figures over the years and is home to the oldest bourbon bar in the world!
Visit Museum Row In Bardstown – A Fun Thing To Do For History Buffs
Museum Row in Bardstown is a great place to visit for history buffs. Bardstown is known for its rich history, and Museum Row is home to 4 different museums that tell the stories of the past.
The great part is the four museums, Old Bardstown Village, Civil War Museum, Museum of Women in the Civil war, and the Military museum can be visited with one low price ticket.
Take in Some Civil War History At The Bardstown Civil War Museum On Museum Row
To purchase a ticket for all four museums, you'll head to the gift shop in the Civil War Museum to buy your admission for all four museums. Be sure to keep your receipt, so you have proof of purchase for the other museums.
The Civil War Museum in Bardstown, Kentucky, covers various topics related to the Civil War. The museum serves as an eye-opener and provides information that you may not have known about the Civil War. The museum is worth the visit for anyone interested in learning more about the Civil War.
Visit The Log Buildings (Old Bardstown Village) On Museum Row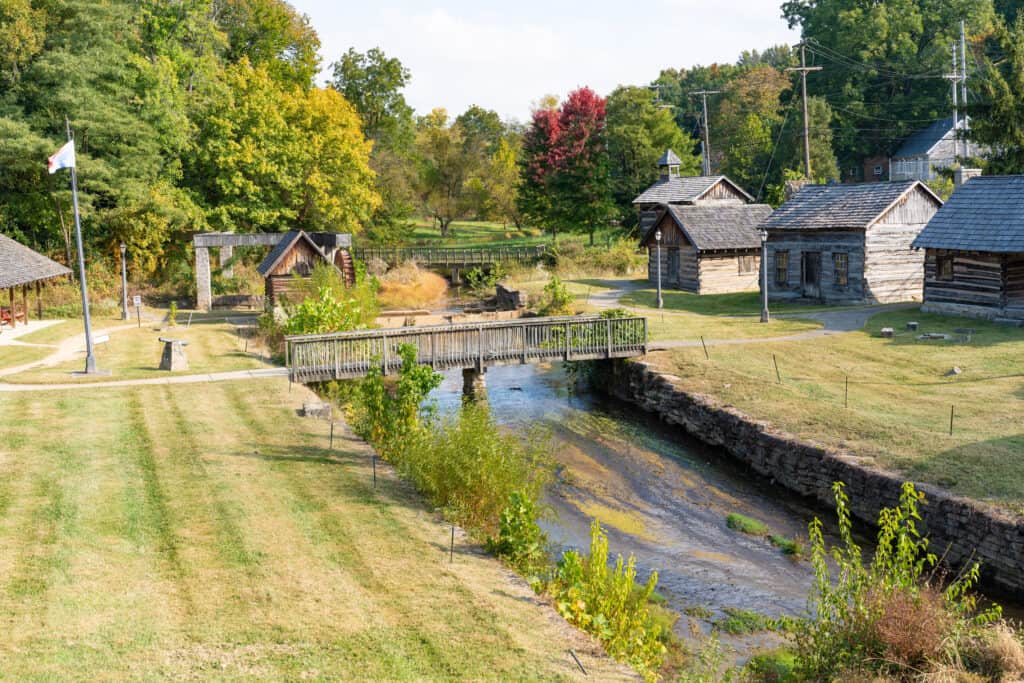 After you have your ticket in hand, we recommend heading to the Old Bardstown Village and walking down a few stairs, where you'll see ten original 18th and 19th-century log cabins. This is a great area to walk around, enjoy the peacefulness, and learn about Bardstown's history.
Women's Civil War Museum on Museum Row
The Women's Civil War Museum is located on Museum Row in Bardstown, Kentucky. The museum is dedicated to telling the stories of the women who lived through the Civil War. The museum features a variety of exhibits that showcase the roles that women played during the war.
Hal Moore Military Museum In Bardstown KY
The Hal Moor Military Museum in Bardstown, Kentucky, is a small museum that is dedicated to preserving the history of the United States military and native Lt. General Hal Moore, U.S Army, Vietnam, and Korean War hero.
This museum holds artifacts from all of the US wars, starting with the Revolutionary War. The museum is centered around many Kentuckians who served n the war.
Visit Bardstown During The Kentucky Bourbon Festival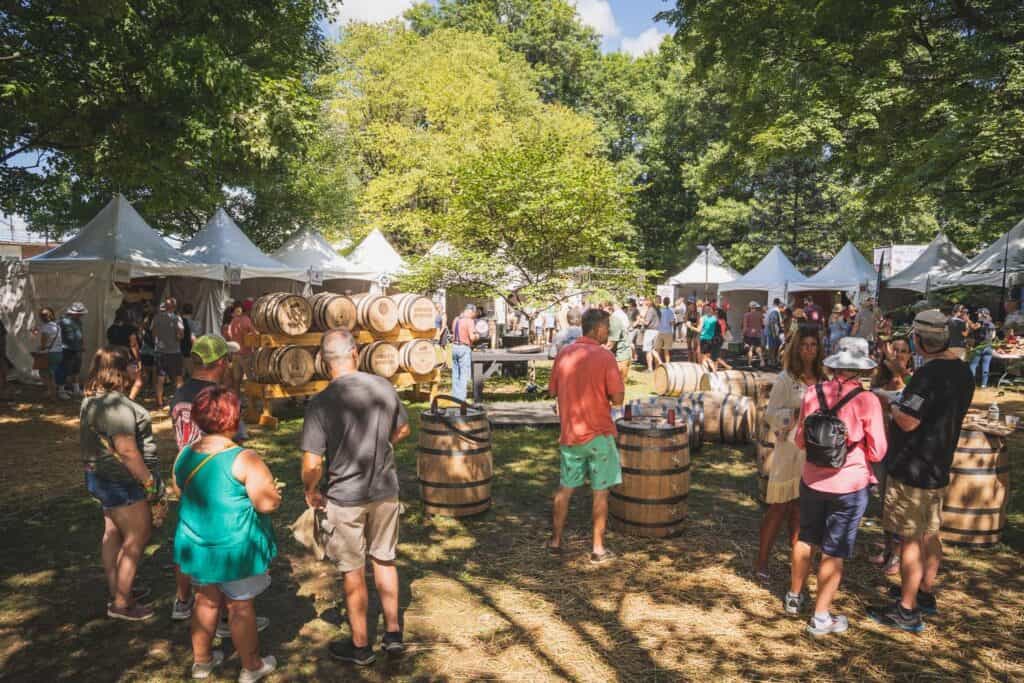 The Kentucky Bourbon Festival is a 3-day festival celebrating bourbon and whiskey distillation. Some of the exciting things to do there include bourbon and whiskey tastings, attending concerts, browsing through food and craft vendors, and more.
The Kentucky Bourbon Festival was created to honor the state's art and history of bourbon and whiskey distillation.
Thus, it is a great opportunity to learn about bourbon and whiskey if you are interested in doing so. The Kentucky Bourbon Festival is typically held in September. Check the website here for more information.
My Old Kentucky Dinner Train-Fun Thing To Do For Couples
My Old Kentucky Dinner Train offers an amazing tasting experience for those wanting something fun and exciting to do around the area of Bardstown!
This two-hour tour offers an amazing experience with dishes like pan-seared pork sirloin, prime rib, grilled chicken marsala, pan-seared salmon fillet, and summer vegan vegetables. This makes it perfect for couples or family members looking for something fun to do in Bardstown.
Be sure to check their website because they offer lunch and dinner rides along with seasonal and holiday excursions.
Historic Cobblestone Path- Free Bardstown Attraction
The Cobblestone Path is located across the street from the Civil War Museum. This is a fantastic display of history in Kentucky.
This path is one of Kentucky's oldest "paved" roads and has a decent gradient with uneven cobblestones. It's difficult to picture it was once the primary road in and out of Bardstown.
Walk up the path, and it'll take you to Flaget St, where you can continue straight to 3rd street and visit all the amazing shops or keep walking straight and see Spalding Hall.
Experience McIntyre's Winery Tasting
When visiting McIntyre's Winery in Bardstown, Kentucky, you can expect to find a wide variety of fruit wines with unique flavors and aromas. The winery offers tours and tastings for both novices and experts, so you can learn about the art and science of winemaking while sampling McIntyre's handcrafted fruit wines.
Take a Walk at the Bernheim Arboretum and Research Forest
Bernheim is recognized as Kentucky's Official State Arboretum and features 16,000 acres of nature preserve which the public can explore.
The visitor center's clean design incorporates recent "green" construction techniques. Bernheim offers many opportunities to enjoy and learn about nature indoors and outdoors. Some of the exhibits include the forest Giants, canopy tree walk, scent and sound mazes, and new trails and walkways.
Tour Around the Town Carriage Ride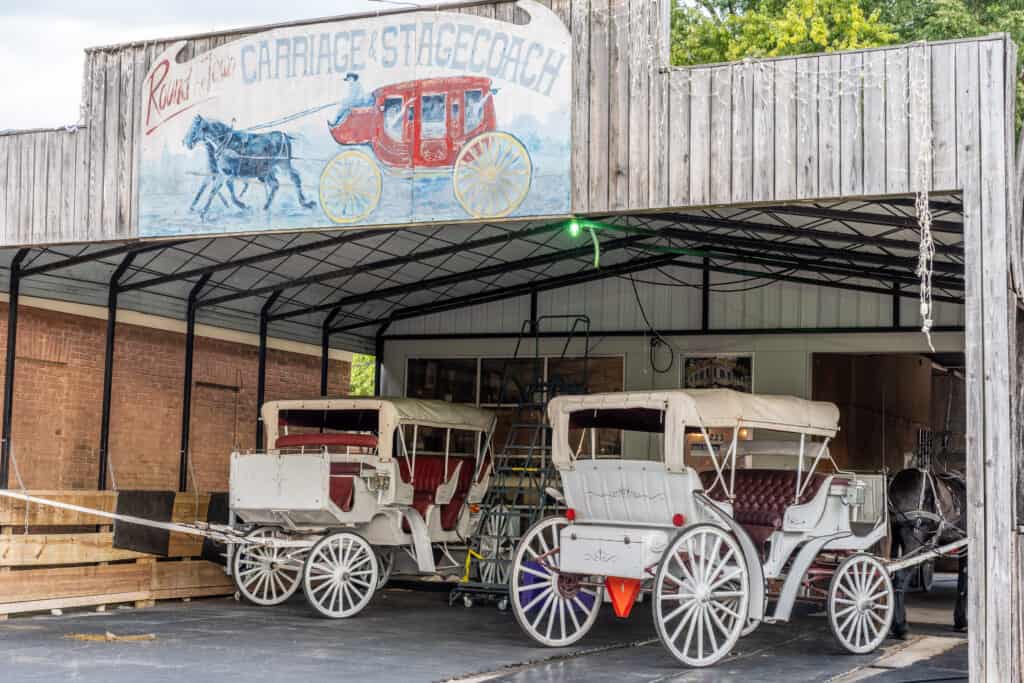 The Around the Town Carriage Ride is a guided tour of Bardstown, KY's attractions. The carriage ride is a popular tourist attraction in Bardstown, KY.
The Around the Town Carriage Ride is a pleasant way to explore Bardstown, KY's attractions. The Kentucky Tourist Carriage Ride offers rides for weddings and other events. The carriage ride is perfect for romantic couples and families.
The Blind Pig Bourbon Market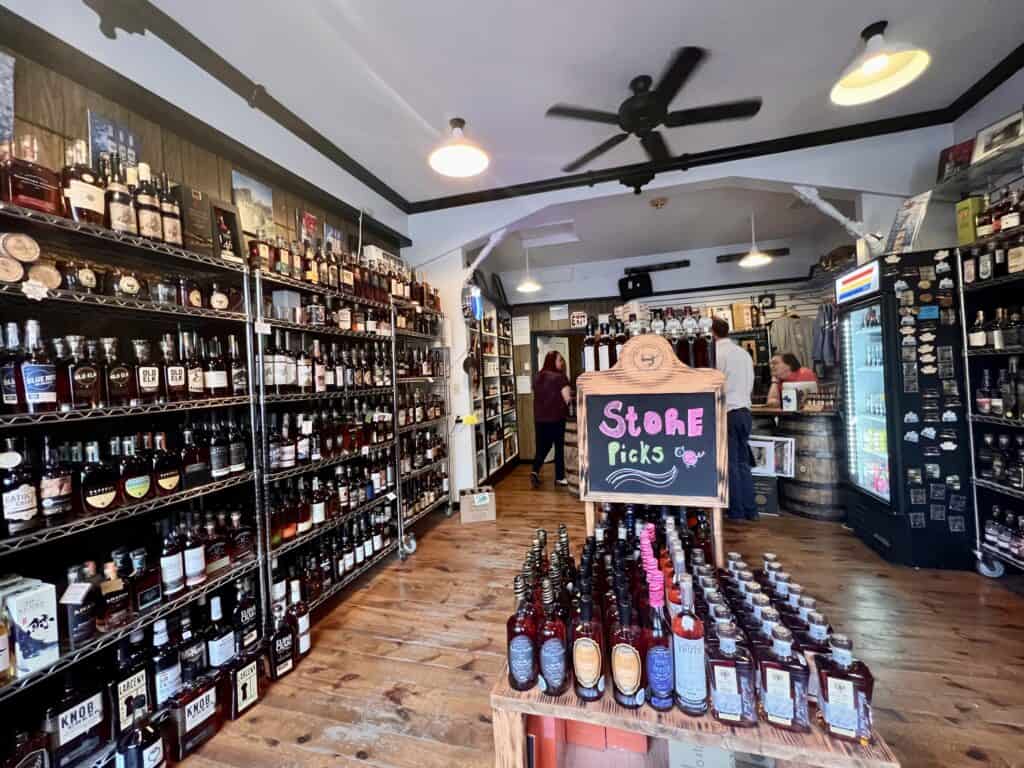 The Blind Pig Bourbon Market is a great place to buy bourbon and other bourbon-related items. The store is located in beautiful historic downtown Bardstown and specializes in bourbon.
The staff is extremely knowledgeable about all of the products, making it a great place to stop on any trip to Bardstown. In addition to a great selection of bourbon, the store also offers tastings and other merchandise.
Our friend told us a little secret about the Blind Pig and a Speakeasy nestled in the back of the store, but unfortunately, it is no longer open. I recommend doing a bit of digging when you visit because I was told they have plans to reopen at some point.
On their website, it reads that another speakeasy may be in the not-too-distant future
Shopping At The Blind Boar Shanty
The owners of the popular Blind Pig Bourbon Market recently opened up a super fun men's store, "The Blind Boar Shanty."
The store carries trendy barware, barrel furniture, spices, sauces, and men's clothing. We had a ton of fun browsing the store, and they really have a bit of everything for the bourbon lover in your life.
Cactus Annie's Shopping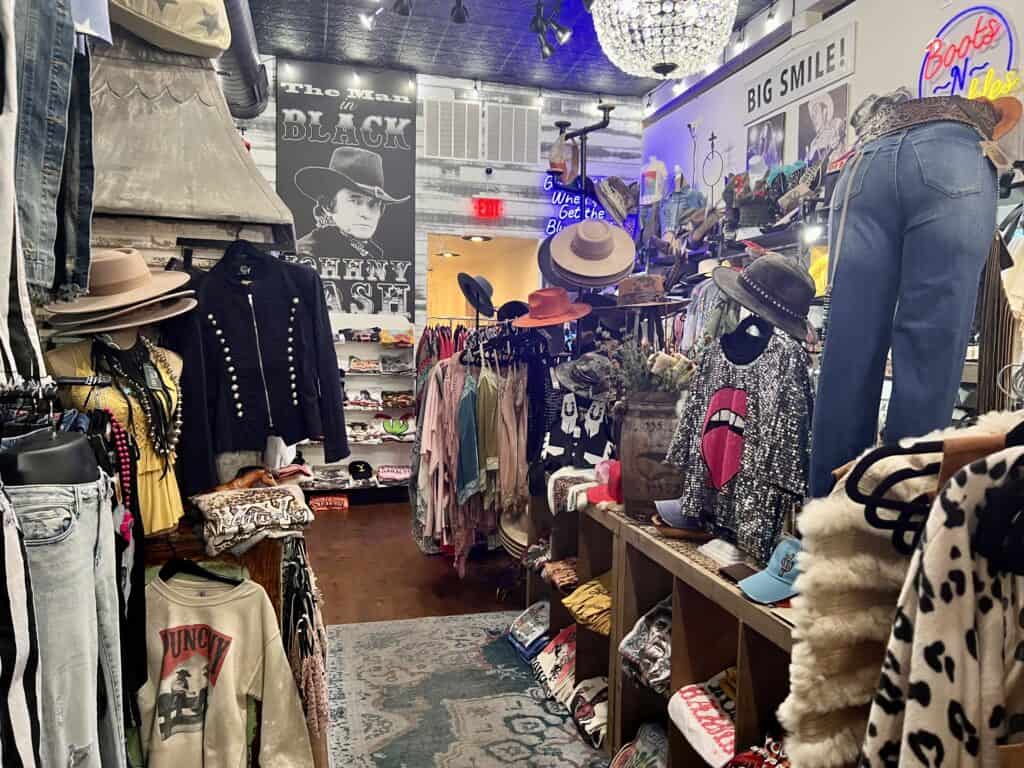 Right next to the Shanty Pig, you'll find Cactus Annie's. This place is another great place to stop and shop. It's an eclectic store with a bit of everything.
You'll find clothing, jewelry, cowboy hats, boots, and more. This place is definitely a unique shopping experience.
Bardstown Art Gallery
This gallery, founded in 1971, maybe the oldest private art gallery still in operation in Kentucky. Most of the works are original oil and watercolor paintings by Jim Cantrell, a well-known artist.
His work is preserved in nine museums, including the Speed Museum & Owensboro Museum of Fine Art in Kentucky, the Columbus Art Museum in Ohio, & the Albrecht-Kemper Museum of Art in St. Joseph, Missouri, to name a few.
Distillers Around Bardstown and The Kentucky Bourbon Trail
There are eleven distinct bourbon distillery experiences are located within 16 miles of downtown Bardstown, attracting visitors worldwide. In Bardstown, bourbon is a way of life.
Bardstown is a place where you can drink many world-famous bourbons and learn about the culture surrounding this alcoholic beverage.
Every distillery has its own history, and every bottle of bourbon has a specific purpose. In Bardstown, you get to explore all of that!
Experience The Taste of Authentic Bourbon At These Distillers
Bardstown Bourbon Company
Barton 1792 Distillery
Heaven Hill Distillery
James B. Beam
Lux row
Log Still Distillery
Four Roses Bourbon
Makers Mark
Preservation Distillery and Farms
Old Steelhouse Distillery
Willet Distilling
Lux Row Distillers
Lux Row Distillers is a great place to visit if you're a fan of bourbon and wine. The distillery offers a 45-minute tour where visitors can learn about how beverages are made.
A variety of cocktails are available, including Rebel Bourbon, Ezra Brooks, and Blood Oath. Tasting is available at the end of the tour in a nice bar area. Lux Row Distillers is open from 9:30 a.m. to 4:30 p.m., Tuesday through Saturday.
Preservation Distillery
The Preservation Distillery is a bourbon distillery that pot distills. They produce bourbon in very small batches and are the only distillery in Nelson County, Kentucky, that pot distills bourbon.
The company produces bourbon and other spirits. The products are sold around the world. The products are hand selected and have a big, rich flavor.
Barton 1792 Distillery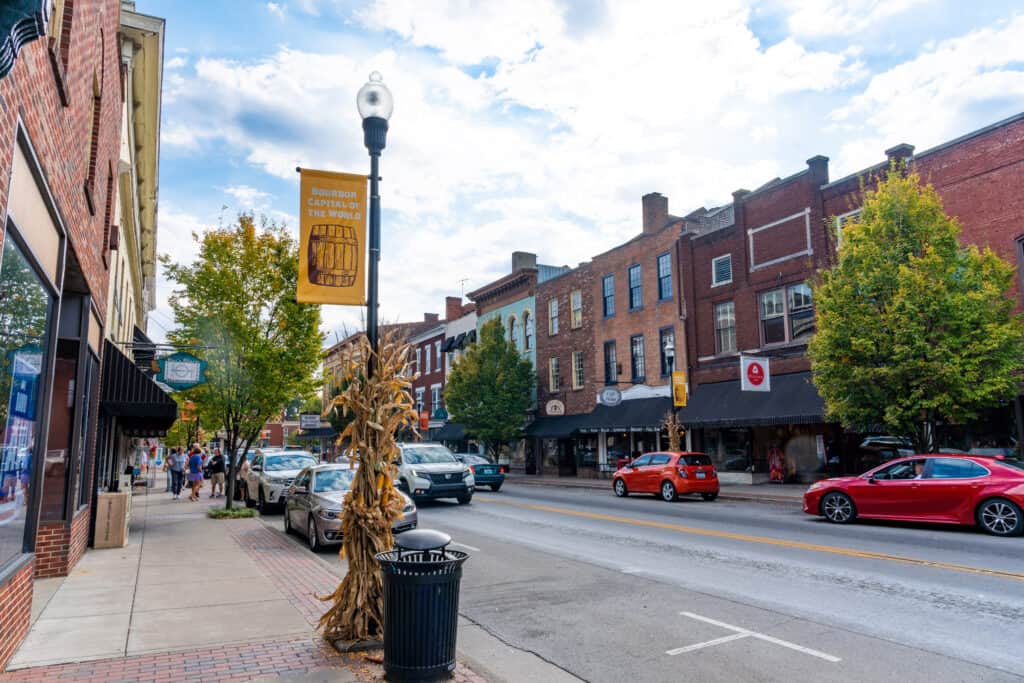 The Barton 1792 Distillery is a great place to visit if you're in the area. The distillery has 29 barrel aging warehouses and 22 other buildings.
The distillery offers three tours: the barton Tradition Tour, the Bushel to Bottle Tour, and the 1792 Estate Tour. The bourbon is made with chocolate and cream, making it a delicious treat. Barton 1792 Distillery is especially great if you're visiting with Kyle.
Willett Distilling Company-Great Place With Some Old History
Descendants of Thompson Willett are still producing Kentucky Bourbon and Kentucky Rye Whiskey at the location where Thompson and his family began operations more than 80 years ago today.
In fall of 2011, the Willett family opened a public visitor center and customer tasting room on their estate. Here, you will find some of the most rare single barrel and small batch bourbons and rye whiskeys available. The visitor center also offers tours daily.
Stop By The Farmers Market
The Original Bardstown Road Farmers' Market has hosted almost 30 vendors every week, offering a diverse, high-quality selection of locally-grown, locally-made products. Their mission is not only to provide a fun and diverse place to shop, but to also support local agriculture through awareness and consumer education.
Tired Of Bourbon? Try out Scout and Scholar Brewery
If you're looking for something other than bourbon in Bardstown, I recommend checking out Scout and Scholar Brewery. This place has a great atmosphere, and the beer is delicious.
They have a rotating list of beers on tap, so there's always something new to try. The great thing about this place is its cozy outdoor patio, where you can enjoy a beer and relax.
Our Favorite Places To Eat in Bardstown
Mammy's Kitchen and Bar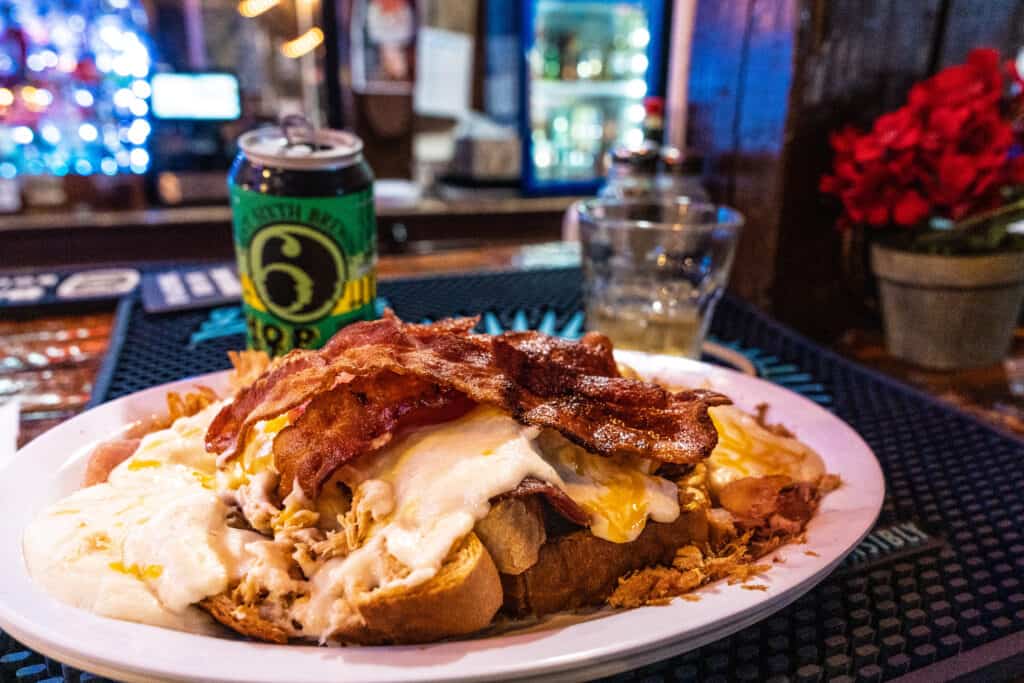 We were told we couldn't leave Kentucky without trying a Hot Brown sandwich, and Mammys Kitchen was the perfect place to do it. This is an open-faced turkey sandwich smothered in cheese sauce and bacon.
It was delicious! They are known for their Hot Brown sandwiches, but they also have a great selection of other food.
Things to Do At Night in Bardstown
There's plenty to do at night in Bardstown KY, from live music and entertainment, to great restaurants and bars. Here are some of our top picks for things to do after dark in Bardstown.
Get a Drink And Listen To Live Music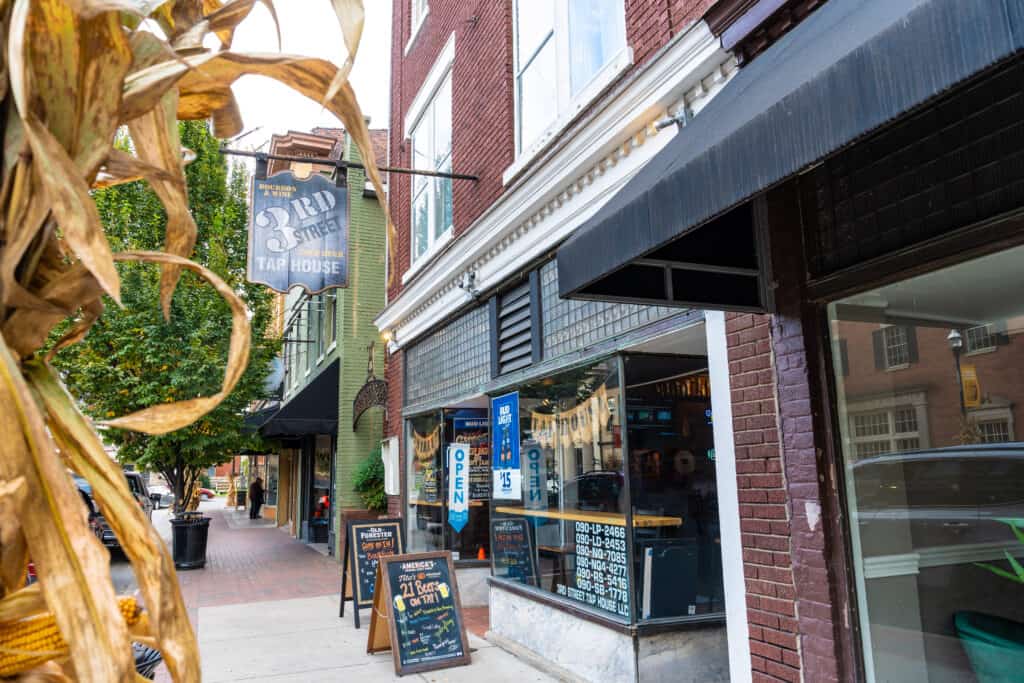 Bardstown is Kentucky's second-oldest city and has its fair share of live music.
Mammy's Kitchen and Bar
3rd Street Taphouse, and
Talbot Tavern
Ghost Tours
Did you know that Bardstown, KY, is not only the Bourbon Capital of the World but also home to a wealth of Haunted History?
Bardstown, Kentucky's second-oldest town, is home to some truly spooky sites and legends. With haunted mansions, abandoned jailhouses, and more, Bardstown is rich in history but may not be ideal for the faint of heart.
There are a few different ways to experience Bardstown's haunted history. You can take a self-guided tour of the sites, guiding you to some of the most popular (and most haunted) locations in town. Or, you can join one of the many ghost tours that are offered throughout the year.
Day Trips From Bardstown Worth Seeing

There are plenty of great places to visit within a day's drive of Bardstown. Here are some of our favorites.
Abraham Lincoln's Birthplace
If you're looking for a quick day trip from Bardstown, I recommend visiting Hodgenville, where you can visit You'll find a museum and National park where you can see Lincoln's birthplace unit and boyhood home unit. The site also offers ranger-led programs and hikes.
Mammoth Cave National Park
Another great day trip is Mammoth Cave National Park. This is the world's largest cave system and an amazing place to explore. You can take tours of the cave and see all kinds of amazing rock formations.
Related Posts: 9 Best National Parks On The East Coast (Plus An Honorable Mention)
FAQ About Bardstown
Why is Bardstown famous?
Bourbon enthusiasts rejoice- Bardstown, Kentucky is the place for you. With 11 distilleries within 16 miles of downtown, all your bourbon dreams can come true here in Bardstown – known as the Bourbon Capital of The World. It also has various historical monuments and museums for you to visit.
How many distilleries are in Bardstown Kentucky?
Are you a bourbon lover looking to add to your collection? Look no further than Bardstown, Kentucky – the Bourbon Capital of the World. With 11 distilleries in and around our charming town, you'll be spoiled for choice. Explore the rich history of Kentucky bourbon as you taste aged varieties from some of the most unique distilleries in existence today.