Rain or shine Bellingham is an outdoor lover's dream with extensive park and trail systems; you'll never fall short when you're looking for the things to do in Bellingham. Downtown Bellingham, the urban hub of the area, is located right on the bay and has the perfect combination of oddity and charm.
Picture your day in Bellingham. You wake up, go for a stroll along the waterfront, grab a cup of locally roasted coffee before heading out to explore. Your day may consist of waterfalls, parks, trails, or better yet, kayak on Bellingham Bay. The choices are endless! After your busy day of exploring, you find yourself back downtown for a cold craft beer (or cider) and dinner in the evening.
ARE YOU LOOKING FOR OTHER ACTIVITIES TO DO IN WASHINGTON STATE?
WHATCOM FALLS PARK IN BELLINGHAM
Located conveniently between Lake Whatcom and Downtown Bellingham, Whatcom Falls Park is a longtime Bellingham favorite because of its proximity to downtown. Not only is this area known for its beautiful scenery and waterfall, but the park offers 5 miles of meandering trails, a fish hatchery, a derby pond, playing fields, playground, BBQs, and a tennis court.
After a short 5 minute walk to the waterfall, a person could easily spend an hour or two exploring the rest of the area. You'll discover everything from peaceful forested paths, historic railway, and train relics to a 100-year-old railway trestle spanning the Whatcom Creek.
The fish hatchery is located north of the park, along Whatcom Creek. Trout are raised here to feed Washington state lakes, streams, and ponds — including the nearby Derby Pond. You can check out a map here.
There are two main entrances to Whatcom Falls Park:
To access the sports field and upper playground – use the entrance at 1401 Electric Avenue.
To access the picnic shelters, fish hatchery, lower playground, creek bridge, and derby pond – use the entrance on Silver Beach Road off Lakeway Drive.
Click here for a map of the park.
NOOKSACK FALLS IN BELLINGHAM
Nooksack Falls are located a half-mile off Mount Baker Highway, and they are a must-see for waterfall lovers. This is an excellent stop on your way to or from another hike out the Mount Baker Hwy. The waterfall cascades 88 feet into a deep rocky river canyon down the North Fork of the Nooksack River. Though the waterfalls are best viewed during winter and spring, Nooksack Falls is accessible year-round.
To reach the falls, it's a short walk after crossing the street from the big parking lot. You'll have lots of views of the falls at various points along the signed trail. Be sure to check out the sign near the parking lot that provides you some historical background about Nooksack Falls and its hydroelectric power plant, built-in 1906. You'll also see some black and white photographs recounting the colorful and amusing history of the plant's ownership.
BELLINGHAM FARMERS MARKET
The Bellingham Farmers Market located in the downtown area is the most lively in all of Bellingham. It's a great place to buy fresh produce and crafts, as well as delicious food from local vendors and restaurants. With almost 100 different vendors selling everything from flowers to cheese, there are plenty of options for shoppers.
It's also one-stop shopping for organic enthusiasts who want to support local farmers. The market creates an opportunity for people to find fresh, locally grown produce at reasonable prices.
CHUCKANUT DRIVE- ONE OF THE BEST THINGS TO SEE IN WASHINGTON STATE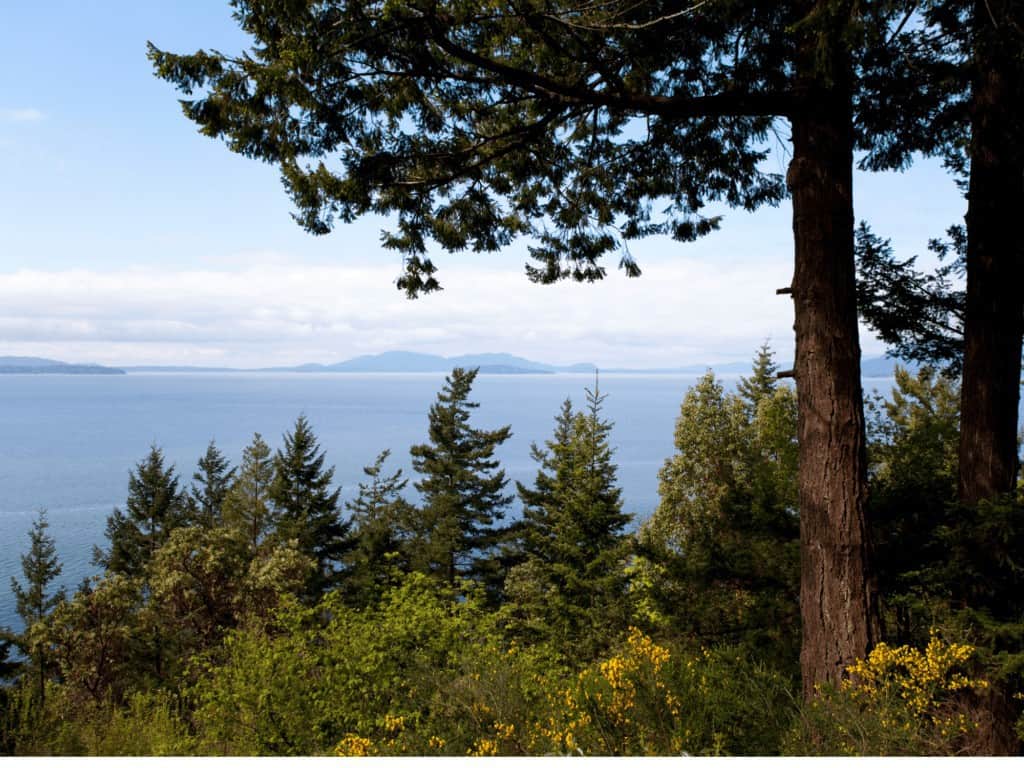 If you have the option to take Chuckanut Drive or I5 into Bellingham, you should definitely opt for taking Chuckanut Drive. It's one of the best views in all of Western Washington, where you'll see Samish Bay and the San Juan Islands.
Chuckanut Drive, also known as Washington State Route 11, is a 21-mile scenic drive that begins in Burlington (just South of Bellingham) and continues 20 miles to Bellingham, Washington. The route goes through the forests of the Northwest, allowing visitors to see some beautiful views while driving on one of Washington's most scenic roads.
Be sure to stop at Larabee State Park just off of Chuckanut Drive (the next thing to do in Bellingham on our list). You'll see the Olympic Mountain Range and Puget Sound from the shoreline at the Park.
Pro Tip: If you need lunch, don't miss stopping at The Oyster Bar along Chuckanut Drive.
LARRABEE STATE PARK- ONE OF THE BEST THINGS TO DO IN BELLINGHAM
Washington states first-ever state park is located just a short drive from Bellingham. Larrabee Park offers visitors pristine views, secluded lakes, rocky ridges, and old-growth forests. The 20-mile scenic drive to Larrabee Park skirts along the Puget Sound, allowing visitors to discover the charm and flavor of the PNW. Larrabee is known for its picturesque views as its set on the seaward side of Chuckanut Mountain and provides views of Samish Bay and the San Juan Islands.
The Park itself has a lot to offer visitors both on land and in the water. Those looking to enjoy the 8,100 feet of saltwater shoreline can boat, paddle, fish, dive, play in tide pools, or harvest shellfish. People looking for exercise can bike, hike, trail run, and ride horses inside this enormous 2700 acre park.
Because this is the first-ever state park in the state of Washington, it can't just be mediocre. Nope, Trainspotting is also part of the whole Larrabee experience. Yes, it is. The Burlington Northern Santa Fe Railroad and Amtrak operate trains 16 times a day (including late at night) on the Burlington Northern track adjacent to the beach. Train fans and youngsters will enjoy this noisy experience light sleepers probably not so much.
Automated pay station: This Park is equipped with automated pay stations for visitors to purchase a one-day or annual Discover Pass.
To book sites for camping, click here to learn more about the trails, and for recreational activities, click here.
FAIRHAVEN HISTORIC DISTRICT IS A UNIQUE THING TO DO IN BELLINGHAM
Fairhaven Historic District is a historic district in Bellingham. You won't find any chain stores or fast-food restaurants in Fairhaven. Still, shopaholics will enjoy the opportunity to wander through unique gift shops, bookstores, and boutiques. Art lovers can take in the work of local and regional artists at Fairhaven's many galleries. Everyone will find a coffee shop or restaurant that appeals to their taste, from steak and seafood to ethnic and vegetarian fare.
SOUTH BAY TRAIL
Between Fairhaven Inn and downtown Bellingham, the South Bay Trail is a fantastic summer destination for locals and tourists. During the day, the trail offers breathtaking views of the bay and makes for a lovely walk or run. However, it's also fun to go there at night since it's only a stone's throw from downtown Bellingham.
The South Bay Trail is a scenic, urban pathway that passes a handful of city landmarks including viewpoints, and interpretive signs. You'll find Boulevard park (listed as our next best thing to do in Bellingham) at the trail halfway point, which is a great place to hang out. Boulevard park has a big grassy area for playing, lounging, or picnicking.
---
BOULEVARD PARK
Boulevard Park is a relaxing city park located on the shores of Bellingham Bay, and is a favorite among locals for sunsets (and sunrises!), strolls, and beautiful photographs. Boulevard Park includes a playground, picnic tables, barbecues, an outstanding performance stage, trails, and a paved walkway leading to Taylor Dock. Taylor Dock is a 1/4-mile boardwalk that extends out into the water to create the sensation that you're walking on water.
From this waterfront park, you can walk on the Interurban trail that will take you all the way downtown & right to Boundary Bay Brewery! Reward yourself with a pint or two after a day in the Park.
ZUANICH POINT PARK- GREAT FOR BELLINGHAM ACTIVITIES
Sometimes it's the simple things in life that end up being some of the best. If you're looking for things to do in Bellingham with amazing views, including mountains, fishing vessels, yachts, and the ocean, take a kite out to Zuanich Point Park and let it fly.
The 4.4-acre Zuanich Point Park, overlooking Squalicum Harbor, is a site of community gatherings, boat parties, picnics, and spectacular kite flying. It even has a downtown waterfront bike park. Zuanich Point Park is well known as the launch point for the kayak portion of the annual Ski to Sea race, a fun event that brings out the whole community of Bellingham.
You can start out at Boulevard Park, which is beautiful, take an easy trail along the water, and end up at Zuanich Park. The Squalicum Promenade is a paved path perfect for jogging and roller-blading. It connects Squalicum Harbor and Zuanich Point Park to the Bellwether on the Bay development.
If you're lucky, if you're timing of your visiting, you can buy crab, bay shrimp, and salmon off the boats!
GO ON A BELLINGHAM BREWERY CRAWL
No visit to Bellingham would be complete without hitting up a couple of Bellingham breweries. There are over 15 breweries in Bellingham. Many can be visited on foot, by bike, or short drives from each other. You can obtain a brewery trail passport and collect stamps from each location to earn swag.
Many people go to well-known breweries such as Aslan Brewing, Boundary Bay, or Chuckanut Brewing. Our favorites are the less crowded ones. For example, Kulshan Brewing's second location, K2, is located outside of downtown Bellingham and draws fewer visitors. They frequently have food trucks and plenty of outside sitting space.
Wander Brewery and Menace Brewing are a couple of our other favorites. Menace is on a busier road outside downtown Bellingham and serves funky beers with fun and unique flavors.
SCENIC MOUNT BAKER HIGHWAY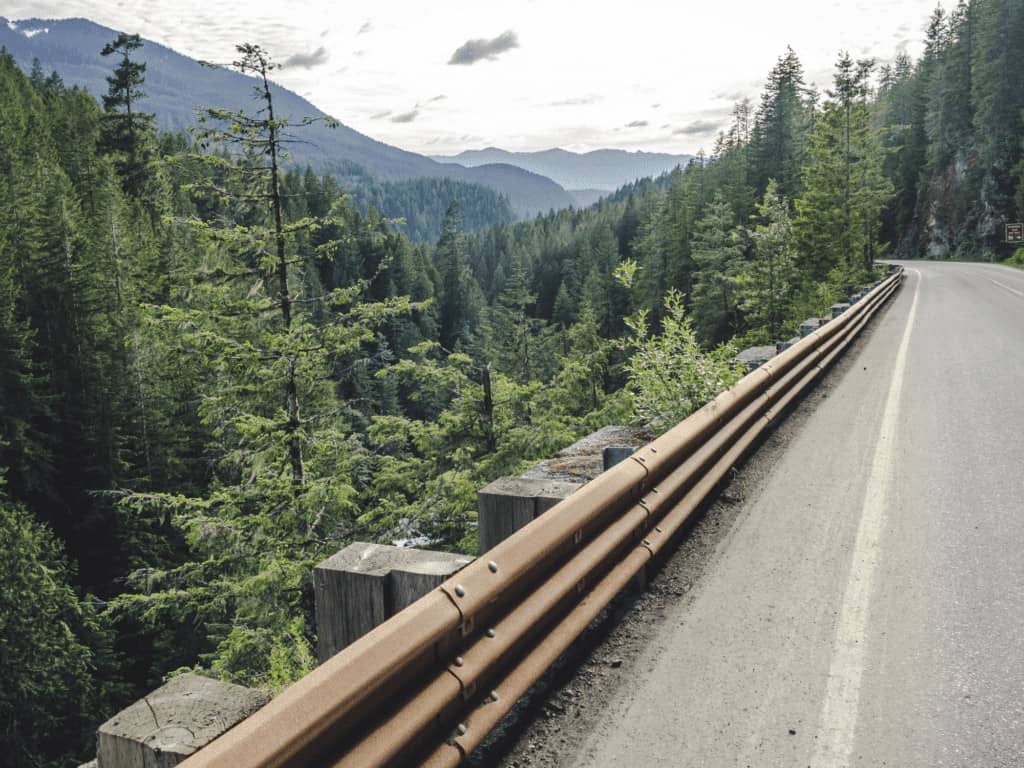 The scenic Mt. Baker Highway state route 542 is a beautiful drive that stretches from East Bellingham towards the snow-capped Mt. Baker. As you drive out Mt Baker Hwy, the city's hustle and bustle begins to fade, giving way to alpine mountains and rivers.
Between mileposts 10 to 34, you'll find Nugent's Corner, Deming, Kendall, Maple Falls, and Glacier. Glacier is the most popular and known to outdoor enthusiasts as the gateway to recreational activities opportunities. You'll see plenty of river rafters, hikers, bikers, skiers, and snowmobilers all coming to this area because of the close proximity to North Cascades National Park and Mt. Baker.
In the winter months, the road ends at milepost 55, which is where you'll find Mount Baker Ski Resort- Baker is known to hold the world record for snowfall in one single season. The road continues a little farther in the summer months, ending at milepost 58, which offers hikers access to Artist Point and its stunning views of Mt. Baker's 10,781-foot peak.
Are you looking for other things to explore in Washington? Don't miss our 9 Unique And Stunning Day Trips From Seattle.
HISTORIC BELLINGHAM ATTRACTIONS- MOUNT BAKER THEATER
Mount Baker Theatre is your place if you enjoy plays, concerts, ballet, opera performances, or other events throughout the year! The theatre is the largest performing arts venue north of Seattle that provides entertainment for people of all ages in Bellingham, Washington. The theatre has been operating since 1927 and continues to be an instrumental piece within Bellingham's culture because of its dedication to providing high-quality entertainment. When the theatre isn't hosting performances or concerts, you'll find them playing your favorite movies!
THINGS TO DO NEAR BELLINGHAM WA- MT. BAKER SKI AREA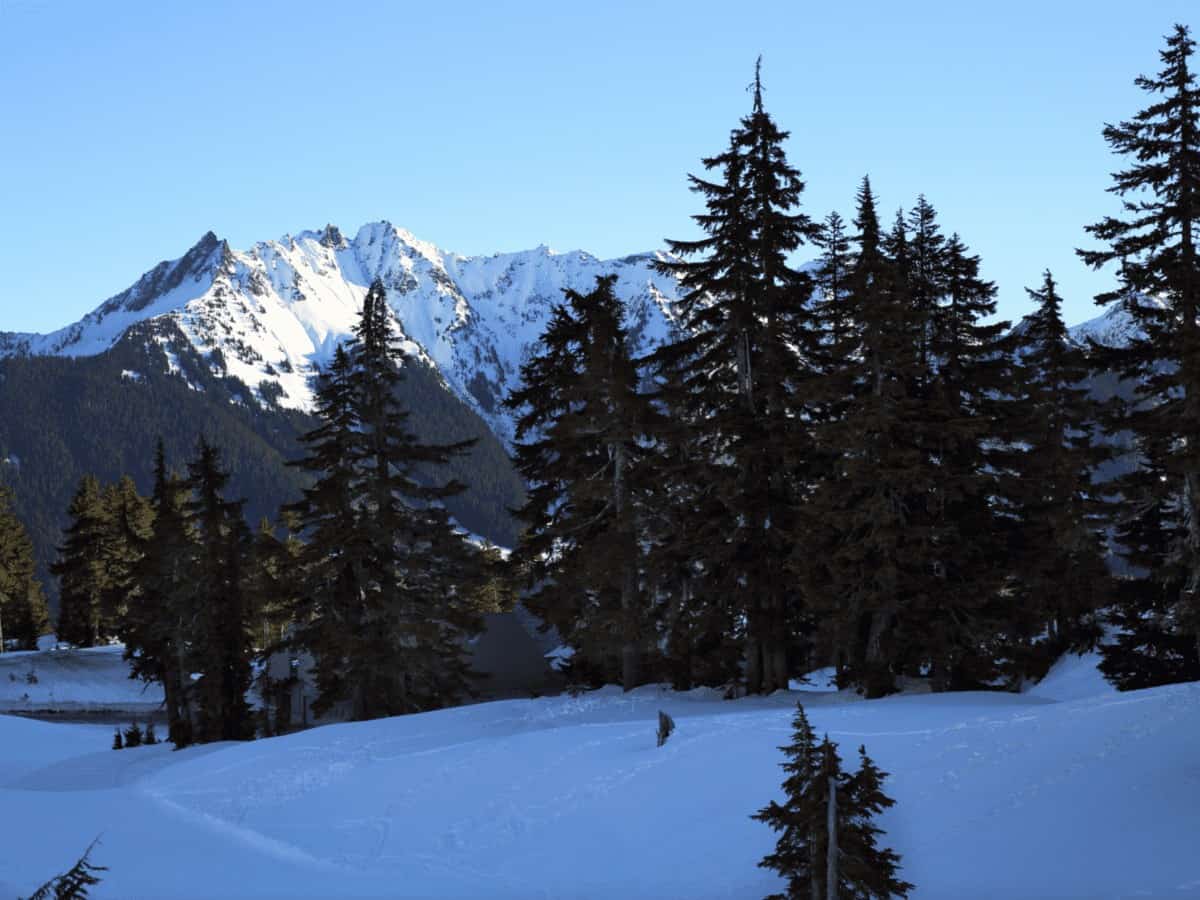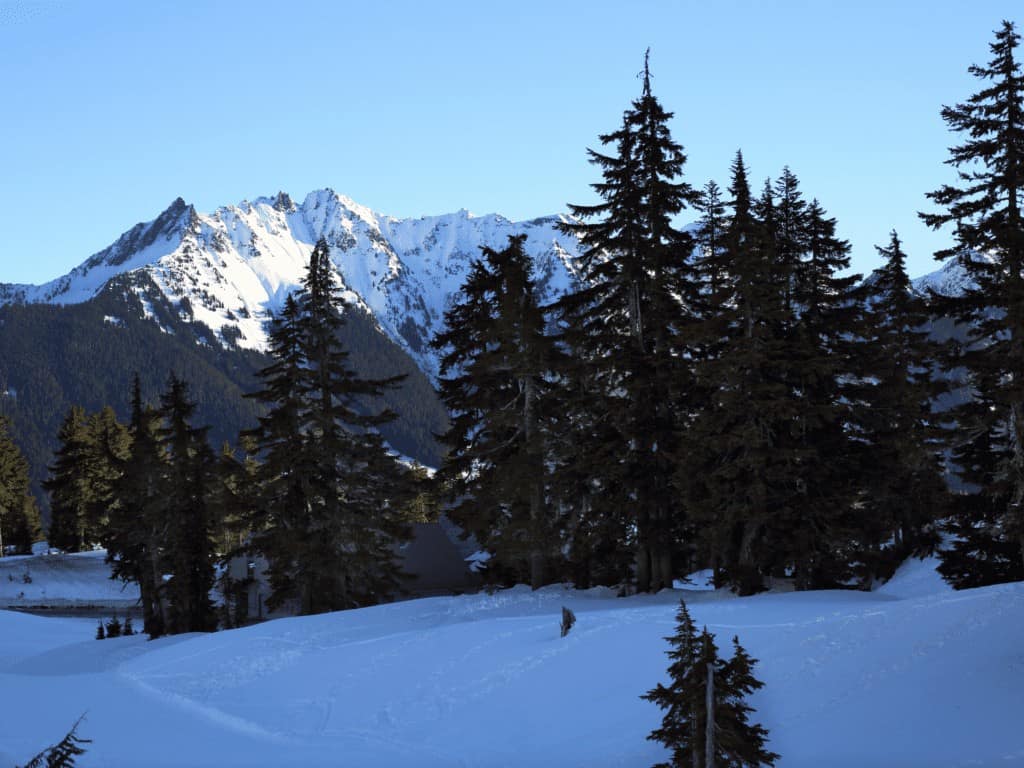 With 16 ski resorts located in Washington, Mt. Baker is a bucket list ski resort for many people. Locals call this a skier's paradise. It has a reputation for being a ski resort with extreme terrain and legendary snowfall. Mount Baker is approximately 50 miles East of Bellingham and has a wide variety of terrain to suit all levels. You'll also find a terrain park for skiers and boarders to practice their jumps and skills.
Whether you're a skier or not, visiting Mount Baker is one of the most fun things to do in Bellingham. I think you'll agree that Mount Baker's annual snowfall of nearly 600 inches is breathtaking. In addition to deep powder, Mount Baker has 1000 acres of terrain for you to explore.
BIG ROCK GARDEN
The Big Rock Garden in Bellingham's Silver Beach neighborhood close to Lake Whatcom may be one of the best things to do in Bellingham. It's almost like a hidden treasure amongst the city. This city park has one-of-a-kind sculptures in a 2.5-acre garden with a serene environment combining nature and art.
Once you walk thru the wooden gate, you'll be pleasantly surprised at the beauty and treasures in this forested area. There are over 30 sculptures scattered throughout the Park created by many notable artists. A network of winding pathways allows visitors to view the artwork from many different angles.
If you're looking for a Bellingham trail guide to help you get to the best places and discover all the best things to do in Bellingham, click here.
SEHOME HILL ARBORETUM
Nestled next to Western Washington University is Sehome Hill Arboretum, a little pocket of nature in the heart of Bellingham. This is not your typical Arboretum. It's a slice of nature where outdoor lovers explore the area's beauty while discovering surprises like hidden paintings, moss designs, and lovely murals.
While visiting the Arboretum, we were pleasantly surprised to find a wooden observation lookout that gave way to the city landscape. We climbed to the top of the tower and had an excellent time, but be sure to be there when the leaves have fallen from the trees, as we were. Otherwise, I'm sure the tower would be surrounded by trees obstructing the lovely view that we could see.
While you're there, make sure you don't miss the tunnel. From the tower, the trail takes a side trip along the Tunnel Ridge Trail and goes through the tunnel blasted from the area's signature sandstone in 1923.
SPARK MUSEUM OF ELECTRICAL INVENTION
The SPARK Museum of Electrical Invention in Bellingham, Washington, maybe one of the more unique museums you'll find. I have to be honest that the museum totally exceeded my expectations. The interactive displays and extensive collections include one of the United States' most giant Tesla coils (featuring a nine-foot-tall "MegaZapper"). The museum's exhibits illustrate the progress of electricity, the radio, and other electrical inventions that have altered human history and led us to where we are today.
We passed a static electricity exhibit that was a popular attraction for people of all ages. You can play with balloons and other materials to discover how they conduct electricity. There is also a machine that'll make your hair stand up straight that was a hit.
Make sure you don't miss the old Morse telegraph device. You can send a distress signal as if you're inside the communications room on the Titanic (and even see the signal as its visual representation pulses around the room).
WHATCOM MUSEUM
Are you a history buff who's interested in Native American artifacts, archaeological findings, natural history specimens, and fine art paintings centered around the diversity of the Pacific Northwest? If so, the Whatcom Museum may be one of the best things for you to do in Bellingham. The collections include objects that reflect the richness and diversity of the Pacific Northwest's history from post-settlement to today.
It was founded to educate and preserve history for future generations. The art you'll find at Whatcom museum is from the nineteenth century to the present day and is either produced in or is about the Pacific Northwest.
LAKE PADDEN PARK
Visiting Lake Padden Park is one of the best things to do in Bellingham. This area has a ton to offer both tourists and locals. You'll find a large lake sitting in the center of the Park with trails going around it, making for a perfect 2.8 mile walk around the lake. There's a boat launch at the east entrance for those wishing to explore the Park from the water. There are multi-use ball fields, pickleball, and a 205-acre award-winning 18 hole championship golf course for the athletic crowd.
Lake Padden is a great place to boat, swim, kayak, or just float around in the water and have a bbq in the summer. There's also excellent hammocking along the beach, with quiet nooks away from passers-by. Essentially a private beach and relaxation center for you, you can watch the ducks or read in the sun.
Lake Padden is also a wonderful place to bring kids for safe shoreline fishing. Fishing opportunities include stocked Rainbow Trout, Coastal Cutthroat Trout, and Kokanee and resident Largemouth Bass.
THINGS YOU'll FIND AT LAKE PADDEN PARK
Boat Launch – non-motorized or electric motors only
Fishing Dock
Outdoor Basketball Court
Tennis Courts
Pickleball Courts
Trails
Equestrian Trails
Pro tip: Mountain bikers, you can find the trail that takes you to Galbraith mountain to ride that instead of trying to find parking at the main trailheads.
LAIRMONT MANOR
Unless you're getting married or attending a wedding, Lairmont Manor doesn't offer much for a regular visitor to the area. However, this is a beautiful area with historical sentiment tucked away in the Edgemoor neighborhood of Fairhaven. Lairmont draws in guests each year who come to treasure and admire its stunning architectural details, beautiful gardens, and impeccably kept grounds.
The architectural preservation of Lairmont Manor is genuinely astounding considering its age. In its 100 years of existence, ways of life and times have changed around it, residents have come and gone, and thousands of people have passed through celebrating monumental life events. Amazingly through all of this, the quality of its original structure, and its character, are still fully intact.
LAKE WHATCOM PARK
The beautiful Lake Whatcom Park in Bellingham offers a less crowded alternative to more popular destinations like Oyster Dome and Mt. Baker, which also rivals fantastic views. Lake Whatcom Park is a welcomed retreat from the city. It allows visitors to stroll by the lake, discover surrounding waterfalls, wander lush forests, and enjoy breathtaking views.
What makes Lake Whatcom unique is that it is a glacially carved-out basin primarily fed by rainwater and mountain streams. As a result, the area has fascinating topography and houses a variety of ecosystems.
There are currently eight miles of trails to hike at Lake Whatcom Park and another eight along a forest road, with many more planned for the years ahead.
Here are 3 fun hikes to go on this fall at Lake Whatcom Park!
The Chanterelle Trail was recently extended to become a 10-mile roundtrip trek. It's part of a new recreation plan to create an extensive network of hiking trails that will eventually include about 95 miles of multi-use routes in Lake Whatcom Park and beyond. The Chanterelle trail is a moderate trail that goes through diverse forest types and ecosystems. At the top of the climb, you'll get unobstructed views of Lake Whatcom, the Cascade foothills, Bellingham Bay, and the San Juan Islands.
The Hertz Trail, which runs along the shore, follows the old Bellingham and Eastern Railway. Because of the trail's ease of gradient, it's a multi-use path where mountain bikers, hikers, runners, and horseback riders also enjoy it. The route leads to a beautiful waterfall, as well as lovely beaches and coves tucked away along the trail. If you're looking for quiet in Lake Whatcom Park, this is the place to go!
If you are looking to challenge yourself and get your heart rate up, going up to the summit of Stewart Mountain may be the hike you're looking for. This trail begins at the parking lot for the Hertz trail. You'll take the Wickersham Truck Trail, which is a wide-open service road. You'll have to work hard to reach the summit. Still, it will be well worth it since you'll get views of Mt. Baker, the twin sisters, Lake Whatcom, the San Juan Islands, and British Columbia's Gulf Islands. This hike is definitely a rewarding and fun thing to do in Bellingham that will offer some fantastic views.
ROCK RINGS
If you're looking for a unique thing to do in Bellingham, you have to check out the Rock Rings, created by artist Nancy Holt. The rock enclosure Holt made is similar to her other pieces and is heavily influenced by the sky. The Rock Rings were designed to align with the sun, and the "Rings" are mapped according to the North Star. The circular holes on the structure refer to NE, E, SE, NW, W, and SW as you would spot on a compass.
Holt designed this work to demonstrate how Native Northwest Mariners used the North Star to navigate their huge vessels. You can even observe how views change with the fluctuations of light and weather. The fog and rain typical of the Pacific Northwest alters the stones' substance and obstruct visibility.
The Rock Rings are located on the Western Washington University campus. They are a 10-foot tall structure made of inner and outer circular rings. The 40-foot outer ring is wrapped around a 20-foot inner circle and made from 6 different colors of local brown mountain stone colors. Each ring has two arched entryways and six round openings. Depending on one's position and proximity, the walls' openings create myriad shapes and perceptions of space.
MARINE LIFE CENTER GREAT THING TO DO WITH KIDS IN BELLINGHAM
The Marine Life Center is a real treat for people looking for an immersion experience into the waters of the Puget Sound- without getting too wet. The Marine Life Center is a tiny place, but it is packed with sea creatures. The center is a non-profit organization that accepts donations to visit. Its primary goal is to promote marine awareness and invite people to explore the beauty surrounding Bellingham.
At the Marine Life Center, over 70,000 visitors – mostly school children and parents – are introduced to the local marine flora and fauna in aquatic displays and a hands-on touch tank." They have octopuses. Yes, real live crawling creatures. If you have good timing, you can watch them eat a crab for lunch!
LUMMI ISLAND GREAT DAY TRIP FROM BELLINGHAM
If you're looking for an excellent day trip from Bellingham, you can't miss taking the ferry to Lummi Island. Lummi Island is a tiny island (9.25 square miles) in Whatcom County with a charming town center, endless kayaking, a good hiking trail, and a couple of quality restaurants.
Baker Preserve hike is a steep 1.6-mile climb to an outlook that provides views of the water and the San Juan Islands.
There aren't too many options for restaurants on Lummi Island, but we found Beach Store Cafe to be a good option for lunch.
MOUNTAIN BIKING AT GALBRAITH IS ONE OF THOSE FUN THINGS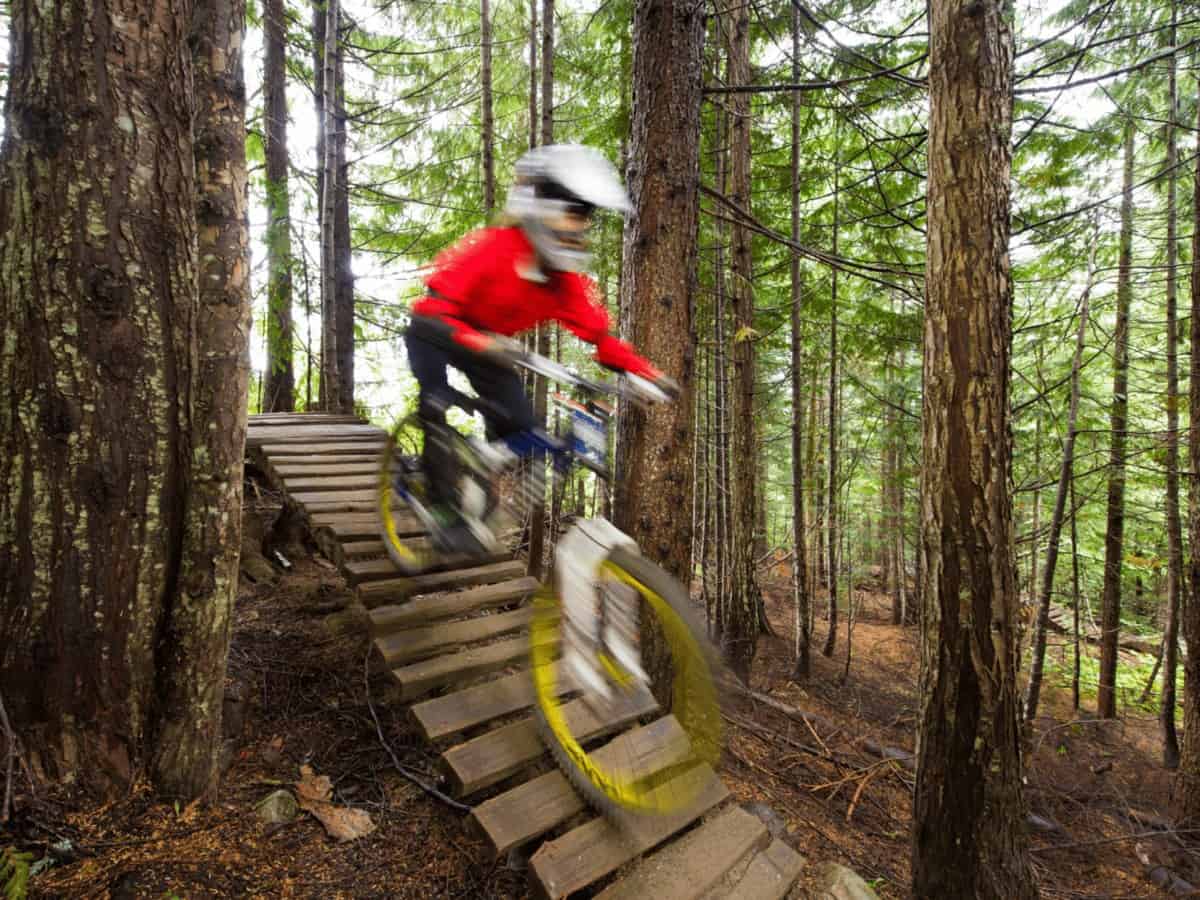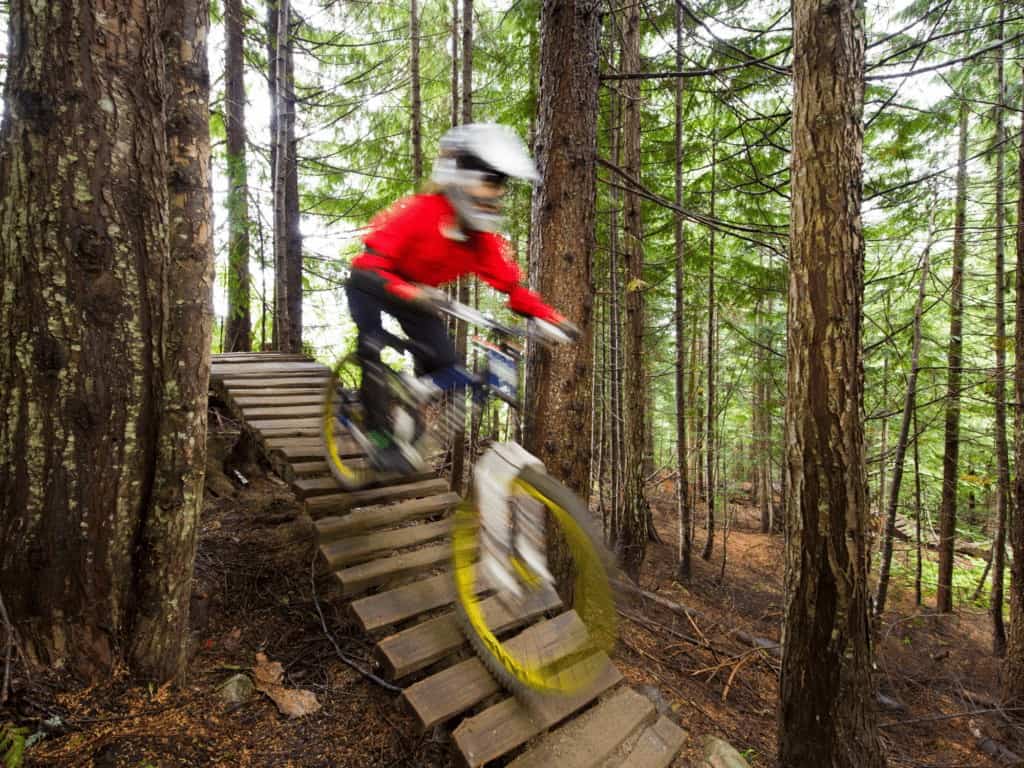 People come from all over to experience mountain biking at Galbraith mountain "Galby" for short. The world-class bike trails span over 65 miles, making them great for riders of all levels. For the downhill bikers, you'll absolutely love the technical terrain features, including log rides, ladders, drops, jumps, steep sections, and sharp corners. Did I just scare you when I said drops and ladder rides? If so, don't worry; there really is something for everyone here.
Don't miss the Unemployment line and Atomic ride descent if you're looking for an advanced ride. You can learn more about the specifics of the ride here
27 Easy Trails

68 Intermediate Trails
13 Difficult Trails
TRY SOME LOCAL CIDER
Bellingham, which has long been recognized as a beer-drinking town, is becoming increasingly popular with craft beverages of all kinds. What's the newest craze? Craft cider. In 2018, three new cideries debuted in Bellingham, adding to an already-thriving industry and elevating it into something new. Here are our recommendations for four ciders.
4 Craft Cider Tasting Rooms in Bellingham
Herbs Cider offers a range from dry to sweet. The ciders are made from 100% organic Washington apples and without any added sugars.
Lost Giants is the cidery for beer lovers. Opened in 2018 by three former Kulshan Brewing employees, they specialize in producing dry ciders.
If you're looking to pair your cider with some food, Bellingham Cider Company is your place. The family-friendly restaurant with a view of the Bellingham waterfront is ideal for cider enthusiasts as well as first-timers.
A longtime Bellingham favorite, Honey Moon has been serving up mead and cider from its downtown hideaway since 2005.
---
PUBLIC ART WALK IS AN ARTSY THING TO DO IN BELLINGHAM
If you're into art, then the public art walk may be a fun thing for you to do in Bellingham. In addition to the self-guided art walk, you can find here. Bellingham offers "First Fridays" downtown, where they showcase local galleries and artists. To stay in the know about new art shows, exhibits, or other happenings around Bellingham, check out.
You can also check out the Outdoor Sculpture Collection at Western Washington University, where you'll find sculptures scattered all around the campus tucked naturally into the environment.
BELLINGHAM THINGS TO DO IS AN ENDLESS LIST
Because outdoor activities in Bellingham are so popular, this is the outdoor enthusiast's dream place to live and explore. You'll find there are soooo many free things to do in Bellingham. You can walk around Bellingham downtown, partake in self-guided walking tours, explore the many parks and trails, or just lounge around one of the many lakes!