When it comes to trails, rivers, mountains, breweries, and a thriving community Bend Oregon is one of the best places to visit. The city is full of running and biking trails, mountains for skiing, and rivers for playing and rafting.
But outdoor activities aren't the only thing to do in Bend. The city has a great downtown that is very walkable, providing you with plenty of shopping and fabulous places to get a bite to eat.
So what are you waiting for? Read on to learn about unique things to do in Bend, Oregon
About Bend Oregon
Bend is the largest city in Central Oregon, nestled at the base of the Cascades, along the Deschutes River in Central Oregon. It's a popular tourist destination for outdoor recreation opportunities, including skiing, biking, fishing, hiking, and rafting.
It also has several restaurants that serve locally sourced food, breweries, art galleries, and boutiques.
Living in Bend
Bend is a great place to call home. It's has a relaxed atmosphere, plenty of outdoor activities, and a strong community spirit. The only downside is that it can be expensive to live there.
Getting to Bend
Bend is easy to get to by car. It's located on Highway 97, which runs north-south through Oregon. It's about a three-hour drive from Portland, two hours from Crater Lake, and a little over five hours from Seattle.
Flying into Bend
The closest airport to Bend is in Redmond, which has daily flights into the city. There are also airports in Eugene and Portland, which you can fly into before driving to Bend.
Getting Around Bend
Getting around Bend is pretty easy. The city is relatively small, and most tourist attractions are within a few miles of each other. Downtown is super walkable, and there are plenty of hotels located around the downtown area.
Bike Around Bend
Another option for getting around town is by bike! There are several excellent trails in Bend, as well as an extensive network to get you around the area.
Uber and Lyft
Yep, they're readily available and easy to use!
Tips for Driving to Bend Oregon
If you're planning on driving in the mountains, be aware of the potential for snow. The passes can close unexpectedly, so always check conditions before heading out. The drive to Bend is easy breezy during the summer, so you shouldn't have any issues.
How Many People Live in Bend
The population of Bend is roughly 85,000 and is growing quickly. Like many places, Bend saw an uptick in people moving to the area in recent years. The draw of the outdoors and a slower-paced lifestyle are among the reasons people choose to make Bend their home.
What's the Weather Like in Bend
If you're looking for a place that has four distinct seasons, Bend's got it! Summers are dry and hot, with plenty of sunshine and temps averaging 88 degrees. During the winter, you'll find temps dipping to a low of 24 degrees. Bend receives less than 12 inches of precipitation a year, with most of it falling as snow in the winter.
Best Time to Visit Bend Oregon
The best time to visit Bend, Oregon, really depends on what you're looking for. If you want to experience the city at its most vibrant, then summer is the time to go.
The weather is warm, and there are plenty of events and festivals going on. However, if you're looking for a more peaceful visit with fewer crowds, then spring or autumn would be a better choice. Wintertime can be beautiful but be prepared for colder temps and possible snow.
Camping in Bend
If you're visiting Bend and plan on camping, be sure to reserve a spot in advance. The campgrounds fill up quickly during the summer months.
Deschutes National Forest offers more than 700,000 acres of forest land to explore, and there are dozens of campgrounds to choose from.
Things to Bring When You Visit Bend Oregon
When packing for your Bend vacation, be sure to bring items that can handle a variety of activities. The city is known for its outdoor adventures, so you'll definitely want to pack some good shoes, a swimsuit, and sunglasses. And of course, don't forget your camera!
Bend Festivals
Bend has some fantastic festivals during the year. Some of our favorites are the Bend Brew Ale Fest, the Bend Summer Fest, and the Bend Film Festival.
Tips for Visiting Bend
Here are a few pointers for your trip since I always enjoy pro tips when I'm visiting a new place. Sisters is well worth the trip. If you plan on floating the river, be prepared for it to be busy. Drink lots of water so you can keep up with the craft beers you'll be drinking.
Vanlife Tips
Bend is a mecca for vanlifers; they're everywhere. We've been able to park almost everywhere in Bend, and we've never gotten "a knock" from the police. Just be sure to park legally and respect private property.
Hiking permits
The secrets out; Bend is cool. The popularity of hiking has exploded in recent years, and some trails in the Central Cascades' have seen an increase of 300% – 500% visitors.
To help safeguard these places, the Forest Service is rolling out a new Wilderness Permit system for high-use areas. Click here to learn more about permits and see if you need one for the place you'll be hiking.
Central Oregon Parking Passes
Many of the trailheads in Central Oregon are "sno-parks," and you'll need to buy a Sno-Park Pass if you want to park there from November 1st through April 30th. Be sure to buy one ahead of time because they aren't sold at the trailheads.
In addition, there are some trailheads in Central Oregon that charge a day-use fee to park. You can pay at the kiosk or buy an annual Northwest Forest Pass for $30.
Check Out Our List of Unique Things To Do in Bend, Oregon
Alright, now that you have all the deets about Bend, let's dive into some of our favorite things to do in the area.
There's something for everyone in Bend. Outdoor enthusiasts will find plenty of activities to keep them busy, including hiking, mountain biking, rafting, fishing, skiing, and golfing. There is also a large variety of restaurants, art galleries, and shops to explore.
Cascade Lakes Scenic Byway (And Our Favorite Place to Camp)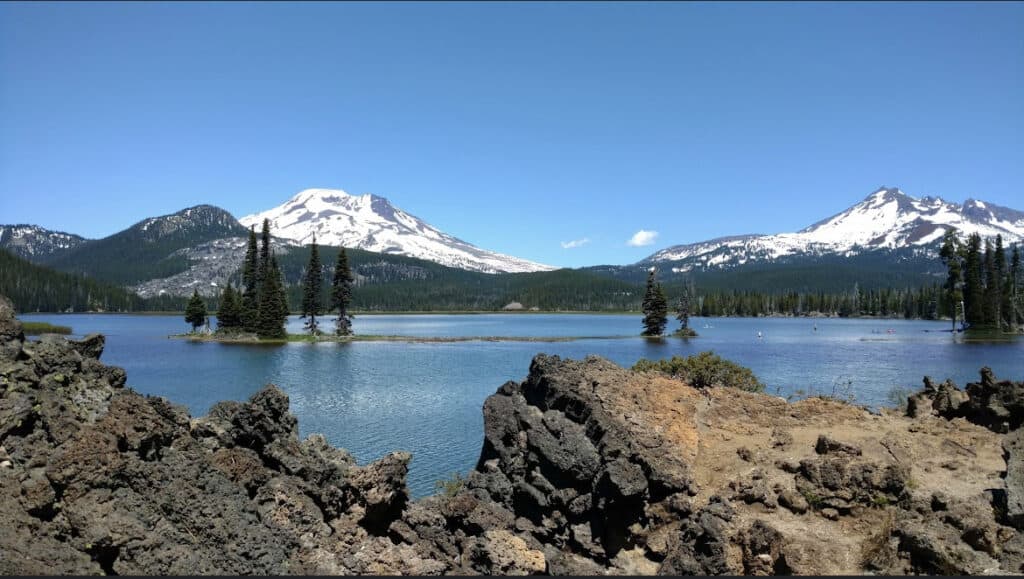 The Byway runs through the middle of Oregon and has the towering Cascade Mountains as a backdrop along the drive. You'll pass by the Deschutes River, several lakes, and lots of geologic formations, carved out by glacial and volcanic action.
The Cascade Lakes Byway is 66 miles long and takes about three and a half hours to complete. You'll start in Bend on Century Drive and wind up into the mountains in Deschutes National Forest. Before descending and finishing the drive you'll pass Davis Lake formed by lava flow; the Byway ends at Oregon Route 58 near Cresent and Odell lakes.
If you're looking for an outdoor adventure the Byway offers some of Oregons best recreational activities with fishing, boating, hiking rock climbing and nordic skiing during the winter.
There are also several camping options close to Bend along this route if you're looking for camping.
Our favorite spot along the Cascade Byway is Sparks Lake. There are about seven lakeside spots to camp, which in our opinion, are the best. I recommend trying to see if you can snag one of these for your overnight stay. You'll be pleased with this campground because you'll get beautiful lake and mountain views.
Pro Tip: Be sure to check the road conditions because this road can close seasonally depending on snow conditions
Deschutes River Trail Family Friendly Thing To Do In Bend Oregon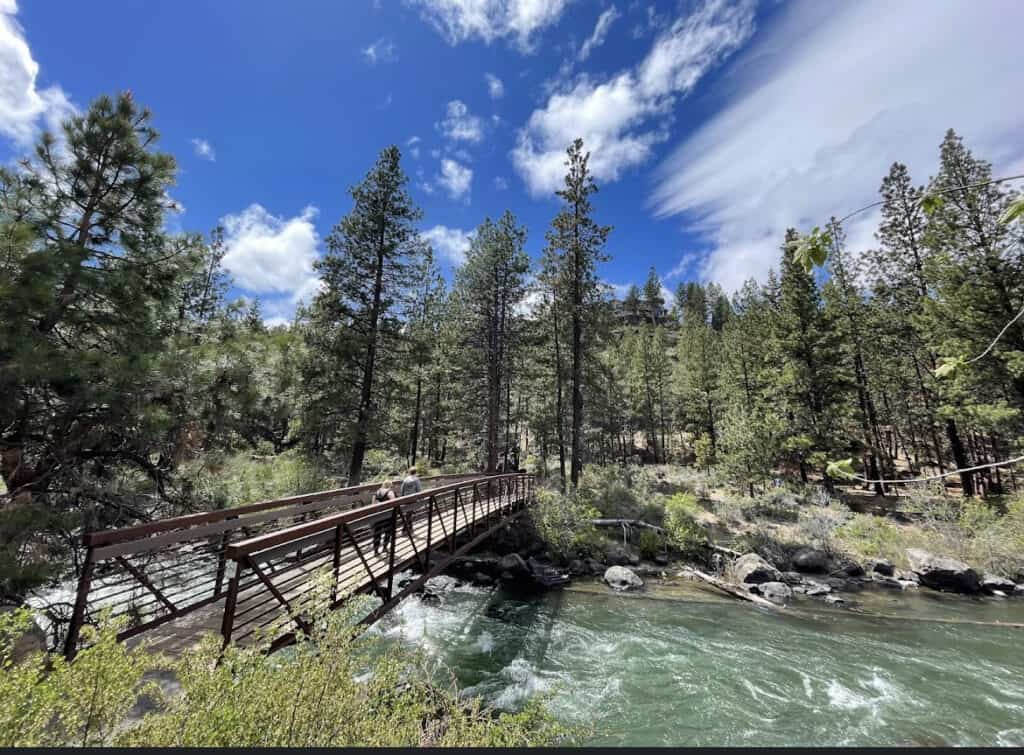 This local favorite takes you along the Deschutes River; if you're looking for a great place to run or walk, this is an excellent spot. I recommend parking near the Old Mill District lot on Bond Street to begin your stroll or run. Starting at the Old Mill District allows you to alternate running on both sides of the river.
Learn more about other places to access the river trail here.
Walk Around Downtown Bend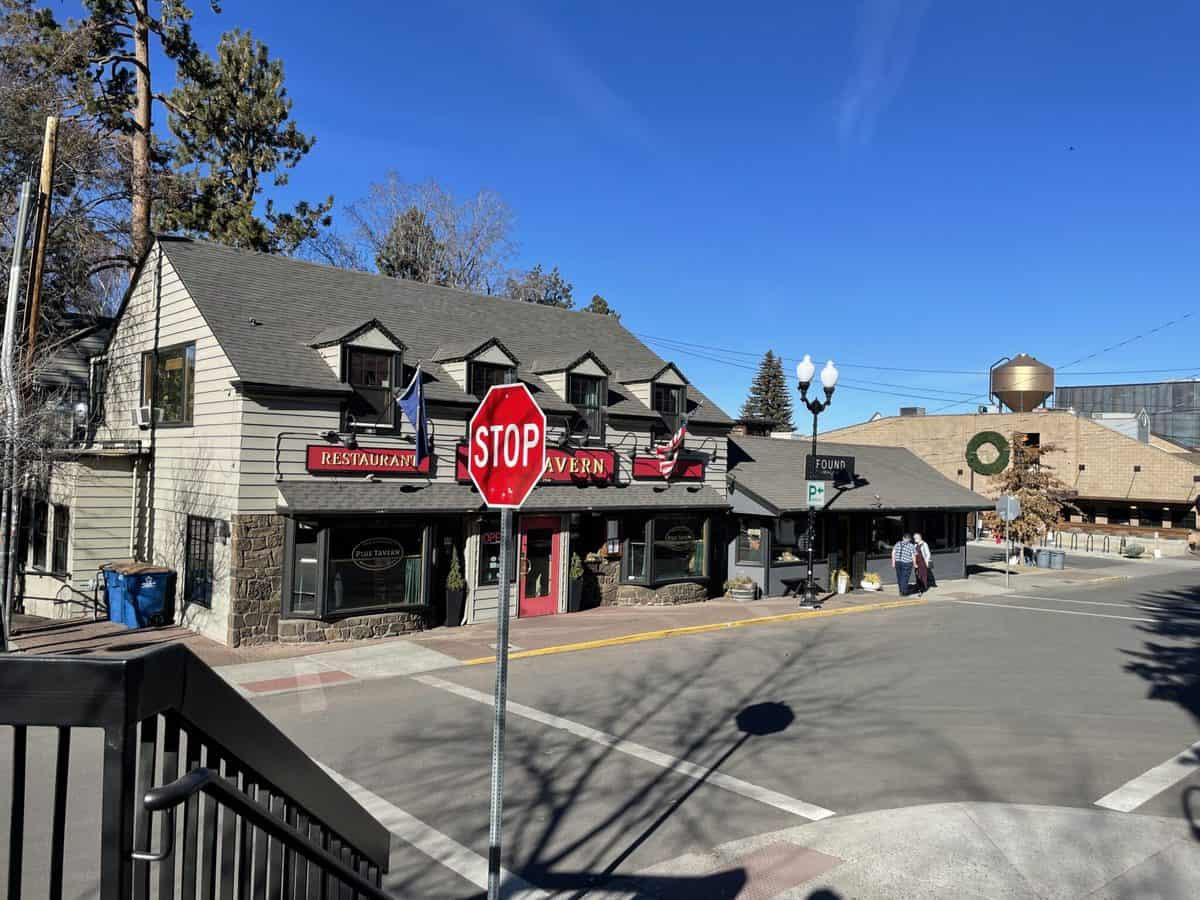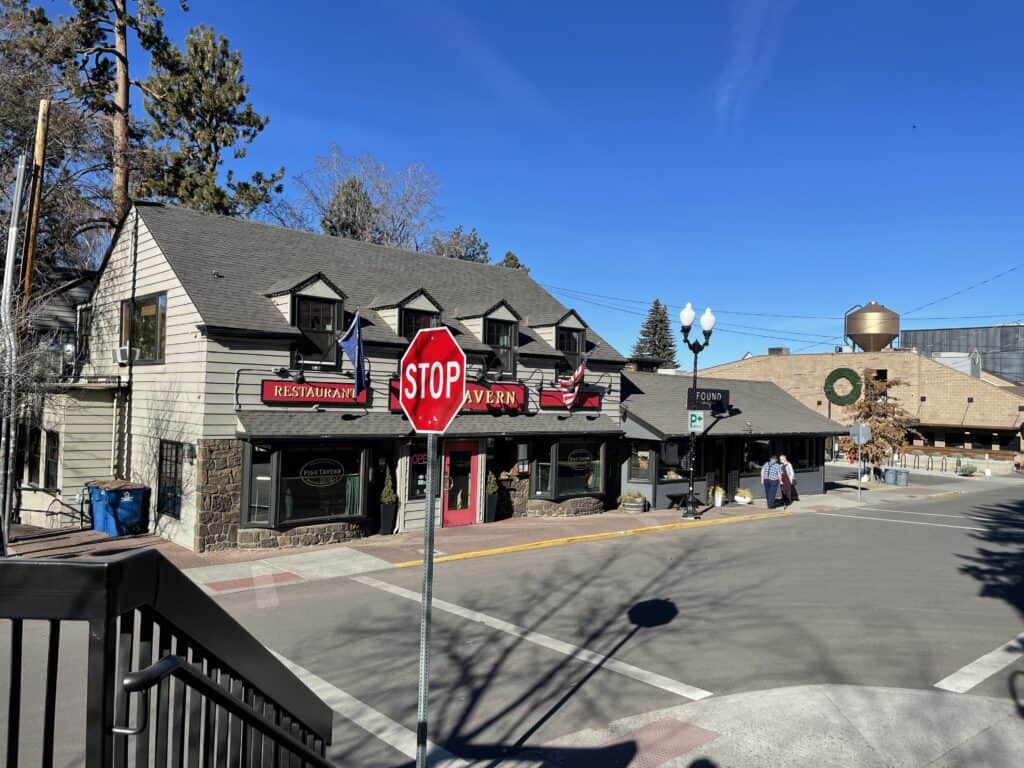 Downtown Bend is a great place to walk around and explore. There are a variety of shops, restaurants, and art galleries to check out.
If you get thirsty while walking, several breweries can quench your thirst. Bend Brewing Company or Deschutes Brewery are two good places to start.
Nightlife in Downtown Bend
If you're looking for some nightlife options, there are plenty of bars and breweries in downtown Bend to check out.
Some of our favorite places include:
Farmers Market in Bend
The Bend Farmers Market, open every Wednesday 2-6 May through October, is a great place to find fresh, local produce. It has everything from fruits and vegetables to jams, honey, and baked goods. You can also find local meat, eggs, cheese, and locally made alcohol.
Visit Breweries in Bend (Or a Cidery)
I know… I know… I've already touched on this above but breweries are a staple in Bend, so there's more to tell you.
Bend has more than 30 breweries that are all worth visiting. The first stop of your brewery tour should be Deschutes Brewery, (downtown Bend) the largest and most popular in town. After this, you can hit up Crux Fermentation Project and Boneyard Brewery for a pint or two.
If breweries are your thing and you prefer ciders, I highly recommend checking out Avid Cider Co. I was pleasantly surprised by how good their ciders are. In the past, I've been turned off by many ciders because they are too sweet, but Avid has their ciders nailed.
Other Great Brewery Options Are:
10 Barrel Brewing (great outdoor patio; and outdoor bar)
Worthy Brewing (large outdoor patio)
Bend Brewing
Enjoy a McMenamins Staple-Stay at Old St. Francis School
If you're looking for something a little different to do in Bend, why not stay the night at Old St. Francis School? This renovated catholic school turned hotel offers guests a unique experience with its themed rooms and beautiful courtyard. Don't miss the soaking pool during your stay this pool is like something you've never experienced before.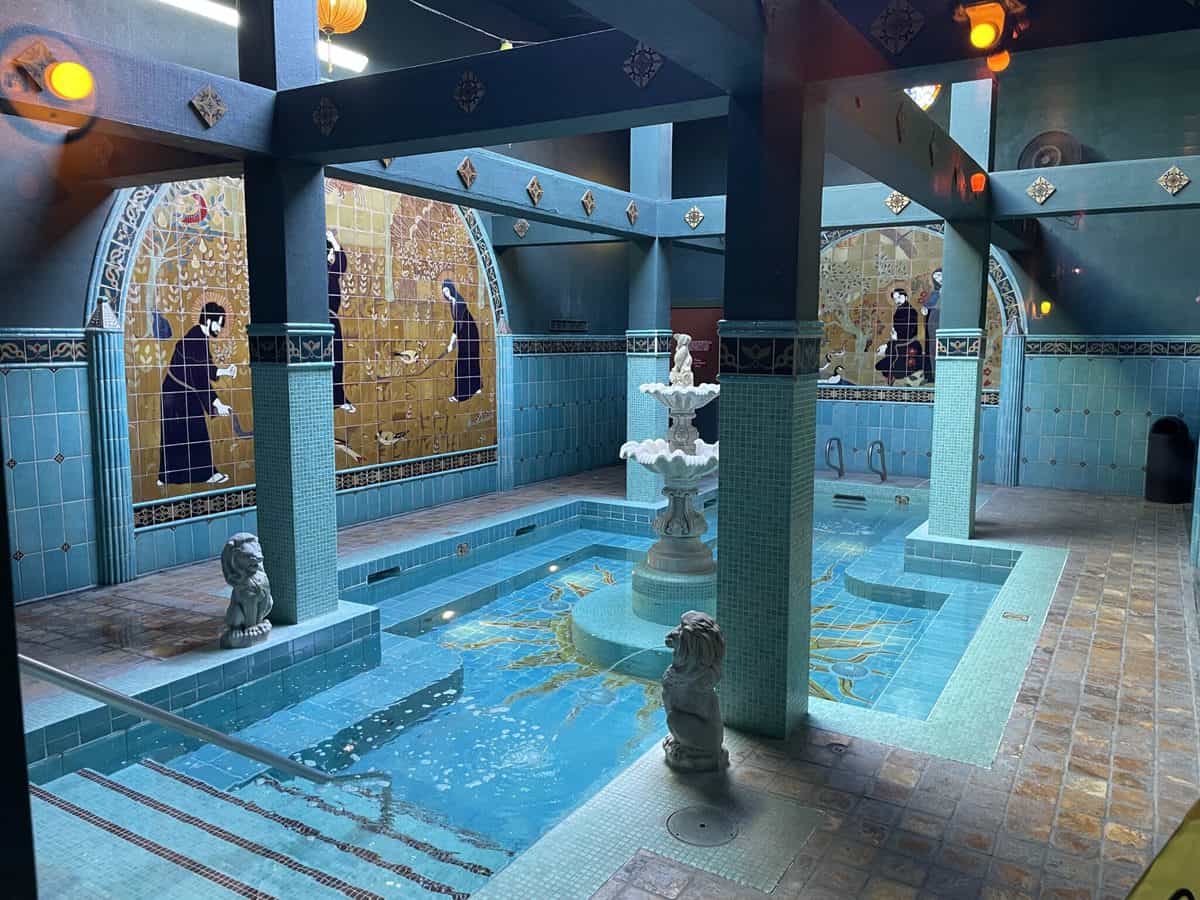 There is also a bar and restaurant on-site that serves breakfast, lunch, and dinner. You can find Old St. Francis School in the heart of downtown Bend.
Wondering what McMenamins is all about? Since 1983, McMenamins has been a family-owned business in the Pacific Northwest that serves its own handcrafted beer, wine, cider, spirits, and coffee alongside great hearty pub food. Steeped in art, history, and a connection to place, the pubs range from neighborhood bars to historic hotels where music and history talks are the norm. To learn more about McMenamins and its locations click here.
High Desert Museum
If you're interested in learning about the history and culture of Central Oregon, a visit to the High Desert Museum is something you may enjoy. This museum is located just outside of Bend and offers exhibits on everything from Native American cultures to pioneer life in the area.
See a Show at Hayden Homes Amphitheater-Formerly Les Schwab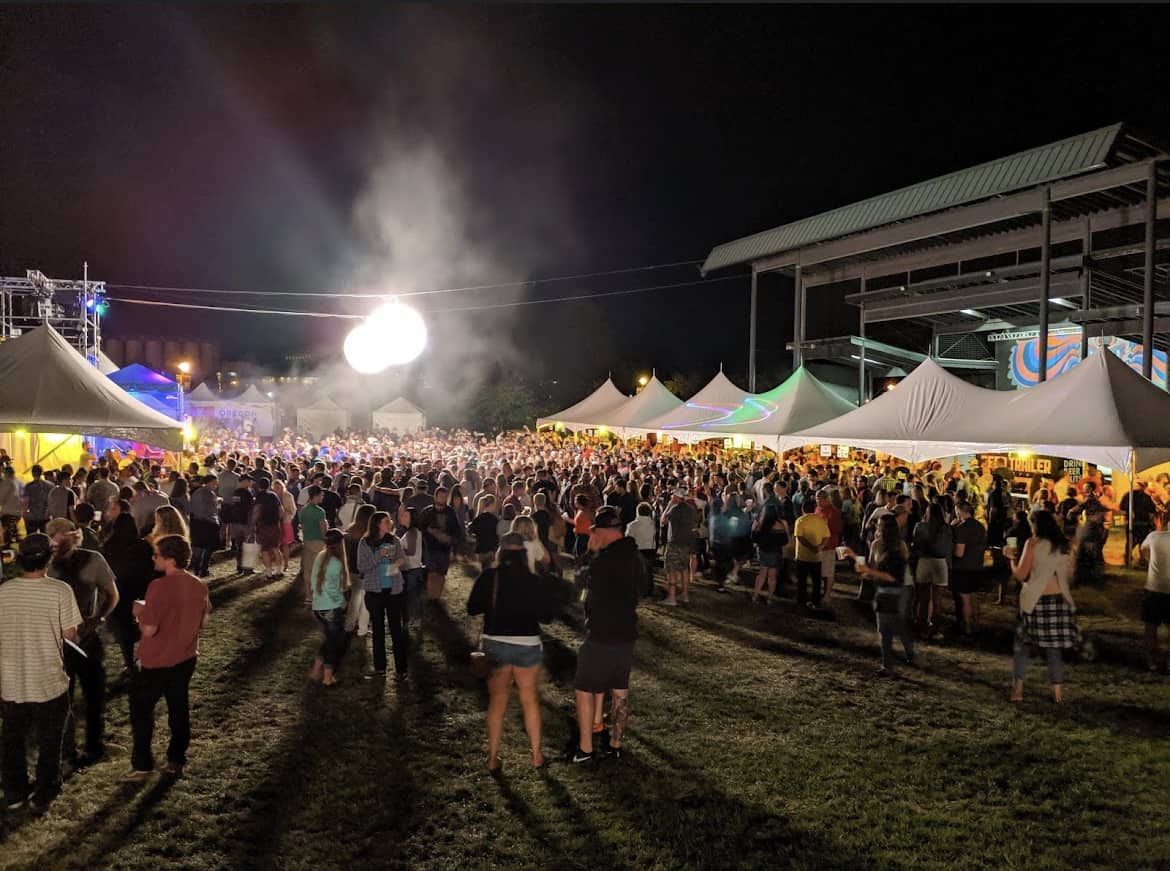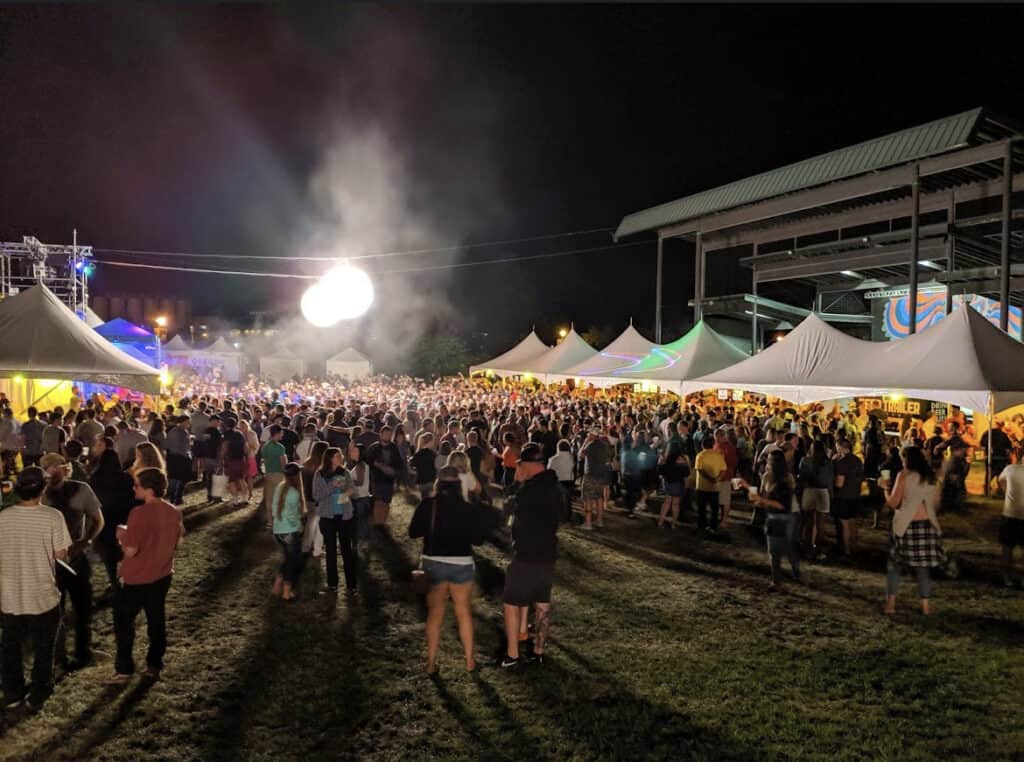 Hayden Homes Amphitheater is the premier outdoor concert venue in Central Oregon. Located just a short distance from downtown Bend in the Mill District, this popular summer destination offers something for everyone and has hosted some big-name acts over the years, including Drake, Sam Smith, The Weeknd, and many more!
Check out Bend First Friday Art Walk
Downtown Bend has a thriving arts community, and every month on the first Friday, The Downtown Bend First Friday Art Walk is in full swing. You can browse the charming downtown boutiques and art galleries while sipping complimentary beverages and treats.
Visit Tumalo State Park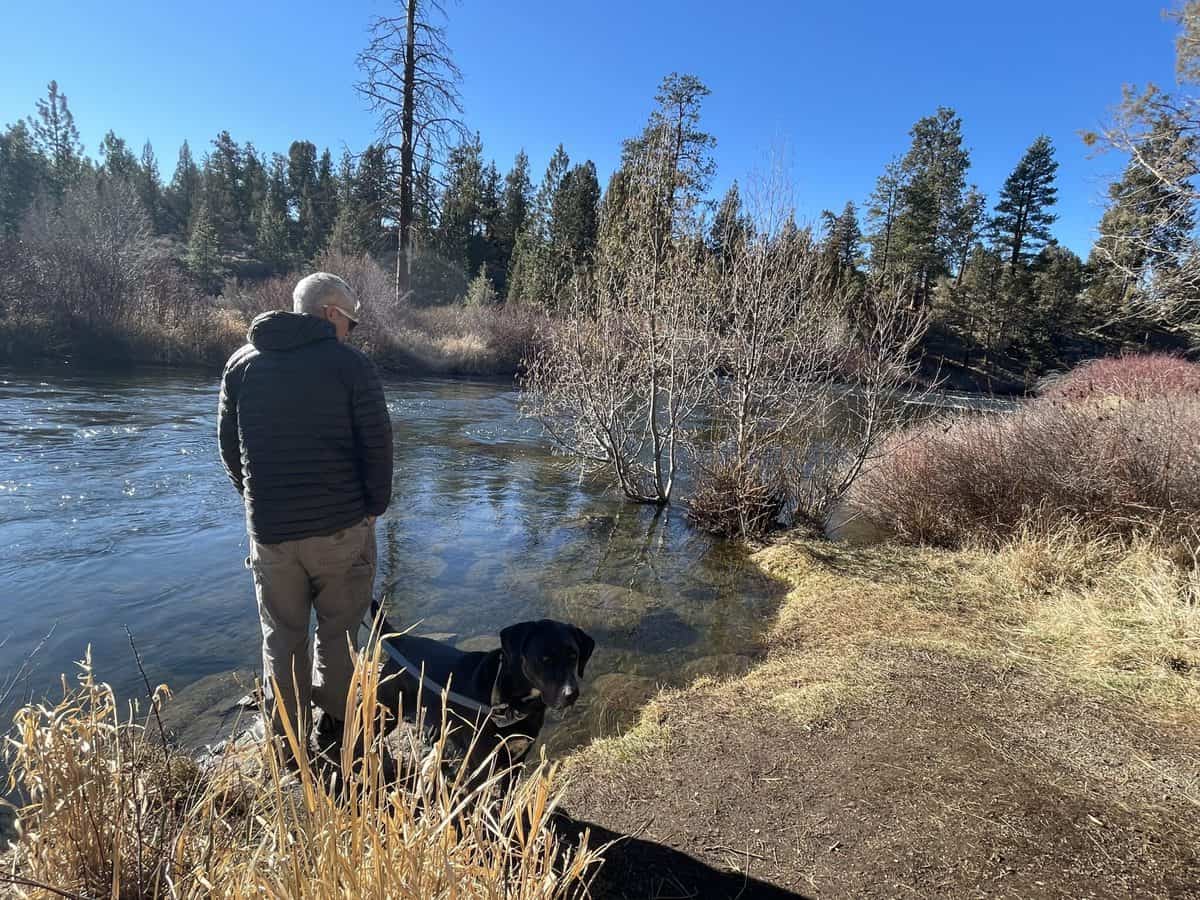 If you're looking for a place to camp, Tumalo State Park just north of Bend is a great option. They offer RV and tent camping, as well as cabins and yurts. There are also several miles of hiking and biking trails that run through the park.
Pro Tip: The State Park is a 35 min drive from Tumalo Falls
Tumalo Falls
This beautiful waterfall is a short drive from Bend and is well worth the trip. Tumalo Falls is one of the most popular waterfalls in Central Oregon, and for a good reason. It's easy to get to, has a great viewing area, and is surrounded by lush forests.
Pro Tip: Tumalo Falls is NOT located in Tumalo State Park
Old Mill District
The Old Mill District is a great place to go shopping, grab a bite to eat or take in the sights and sounds of Bend. It's located right along the river, so you can take a stroll along the river too!
Enjoy Benham Falls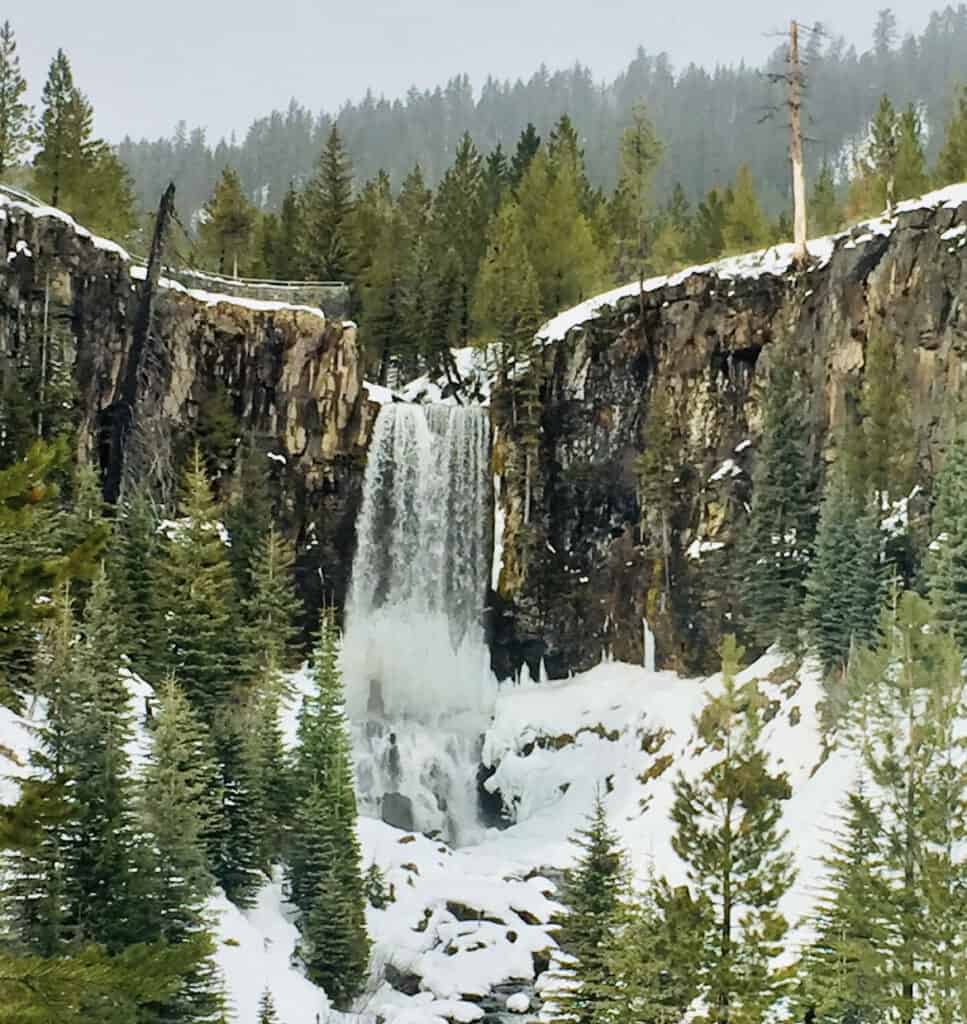 The 97 foot Benham Falls within the Deschutes National Forest could be described more as a cascade rather than a traditional waterfall. The water cascades down several ledges as the river goes through a deep canyon.
The trail to get to the falls is about a 1.5 mile out and back.
Drink Along The Bend Ale Trail
Bend has over 20 craft breweries, with the Bend Ale Trail as its centerpiece. Use the Bend Ale Trail map to find where Bend's breweries are. Visit each location and get your passport stamped. After you've completed all of your stampings, stop by the Bend Welcome Center to claim your reward.
Enjoy Food Trucks (And Beer) at The Lot or Podski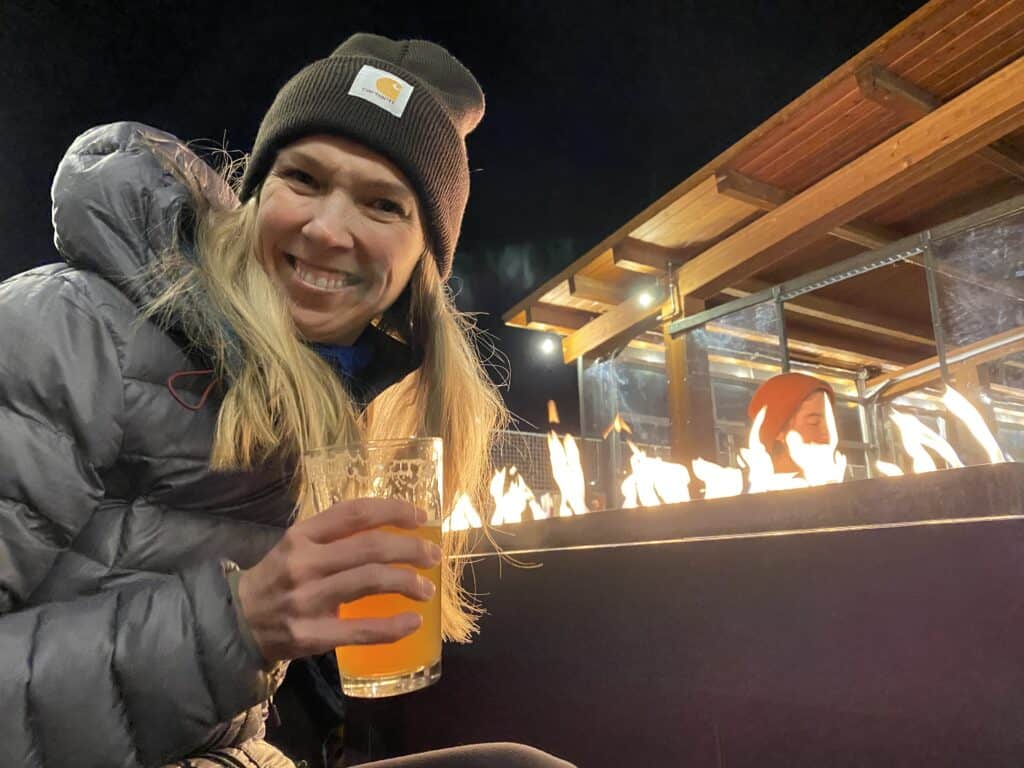 Food trucks aren't only in Portland anymore. Bend has a growing number of food trucks and "food truck pods." Food truck pods are a collection of different food trucks located in a specific area, and if you're lucky, they'll be situated by a great place to get a drink too.
The Podski and the Lot are great places to grab a bite to eat or enjoy a drink with friends. These Bend hotspots offer something for everyone, with outdoor fire pits (or heated seats if you're at The Lot), making them the perfect spot to spend an afternoon or evening.
Relax at Drake Park
Drake Park is a great place to take in the sights of Bend and enjoy a day in the sun. This park has everything you could ever want, including places to play ball, have a picnic, or just sit back and relax with some friends.
Active Things To Do In Bend
Peter Skene Ogden State Park
Peter Skene Ogden is a tremendous 300-foot-deep gorge into Crooked River Gorge, located nine miles north of Redmond on U.S. Route 97 and off the highway.
It's the perfect stop on a road trip between Mt Hood and Bend or even a day trip of exploring. This place is a real scenic gem, with interesting history and interpretive signs
The Scenic Viewpoint provides a breathtaking perspective of the Crooked River Canyon. The basalt canyon and scenic river are separated by three historical bridges that were formed over thousands of years by the Crooked River. Before the first bridge was built, the canyon served as a major barrier to travelers.
Visit Lava Fields at Newberry National Volcanic Monument… Hike Too
Did you know that there is a volcano the size of Rhode Island less than 30 minutes from Bend? If you're looking for an outdoor adventure involving lava fields, head over to Newberry National Monument. This monument has more than 60 miles of hiking trails that will take you through some of the most beautiful scenery in Central Oregon. Be sure to visit the Lava Lands Visitors Center to get yourself oriented before heading out to the Newberry Crater.
This national monument is home to 27 lava tubes. Some are small enough for you to walk through in less than five minutes, while others take hours to hike around. (Read more below about the Lava River Cave)
If you're up for a bigger adventure, I recommend hiking to the top of Paulina Peak, where you'll get stunning views of the Cascades and Newberry Caldera.
Go Spelunking- Lava River Cave is Close to Bend
You won't want to miss the opportunity to explore some of Central Oregon's wonder caves. Bend is a great place to go spelunking, with caves located all over the area.
The most popular and easiest to get to is Lava River Cave located in the Newberry National Volcanic Monument. This cave has been dubbed the "Cave with a View" for its spectacular lava rock formations and a natural skylight that illuminates the cave's inner walls.  Lava River cave was discovered back in 1889 and is mile long lava tube where you can tour on your own.
The Newberry National Monument is closed seasonally due to snow so be sure to check their site to see if they are open.
Pro Tip: Remember to take your flashlights because it gets pretty dark inside.
Hit the Hiking Trails Around Bend
There is no shortage of hiking trails in Bend, making it the perfect destination for your next outdoor adventure. With trails for all levels of hikers, you're sure to find the perfect hike for you. If you're looking for a shorter hike, you can't go wrong with the trails around Shevlin Park Loop or a walk through Drake Park. If you're looking for something a little longer, try out Lava Island Trailhead to Benham Falls or Tumalo Falls Hike.
Climb Around At Smith Rock State Park
Smith Rock is a must-see for any outdoor enthusiast visiting Bend. This world-famous rock climbing destination offers something for everyone and is well worth the trip. If you're not into rock climbing that's ok because there are plenty of hiking trails that meander throughout the park.
Float the Deschutes River
One of the most popular things to do in Bend during the summer is floating the river. The Deschutes River is the perfect place to spend a hot day; Float down the river in an inner tube, raft, or kayak and have some fun.
Because floating the river is pretty popular, it can get pretty busy, so this isn't a relaxing day on the river if that's what you had in mind.The Deschutes River becomes a popular destination to cool off from the hot sun by floating and kayaking the river in the summer months.
Play At Mt Bachelor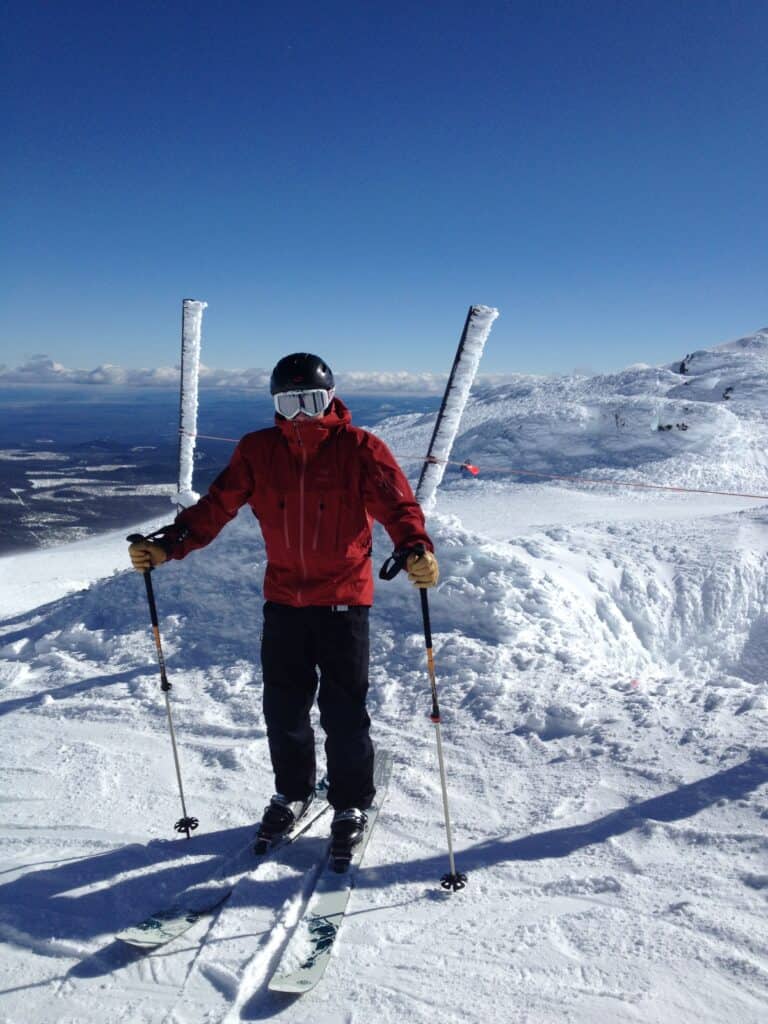 Mt Bachelor is a popular ski resort only 30 minutes from Bend. The mountain offers skiing, snowboarding, and other great activities during the summer months.
The three-mile-long summit road is open from mid-June through mid-October and offers magnificent views of the Cascade peaks, Central Oregon Valley to the east, lakes on both sides of Mt. Bachelor, and warm sunny days with cool nights in July and early August.
Practice Your Whitewater Skills At Bend Whitewater Park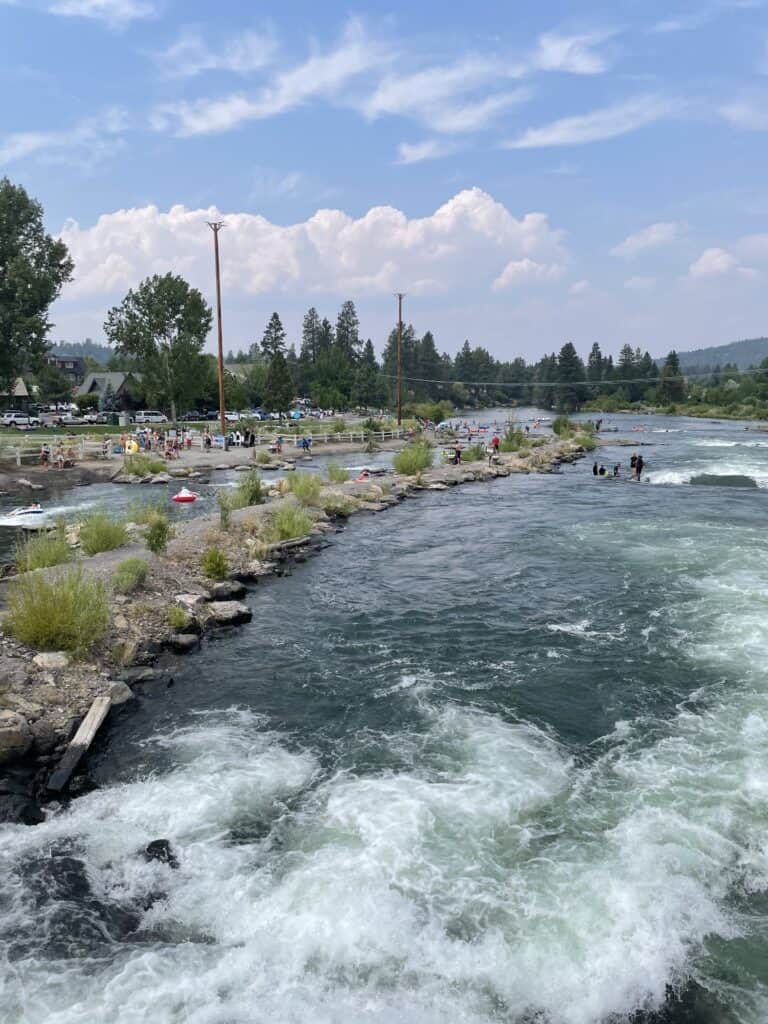 The Bend Whitewater Park is a great place to spend a day with friends and family. The park offers three whitewater channels that are perfect for all levels of kayakers and rafters. There is also a play area for kids, picnic areas, and restrooms. This park is located in the heart of downtown Bend and is within walking distance from the Old Mill District.
Hike Pilot Butte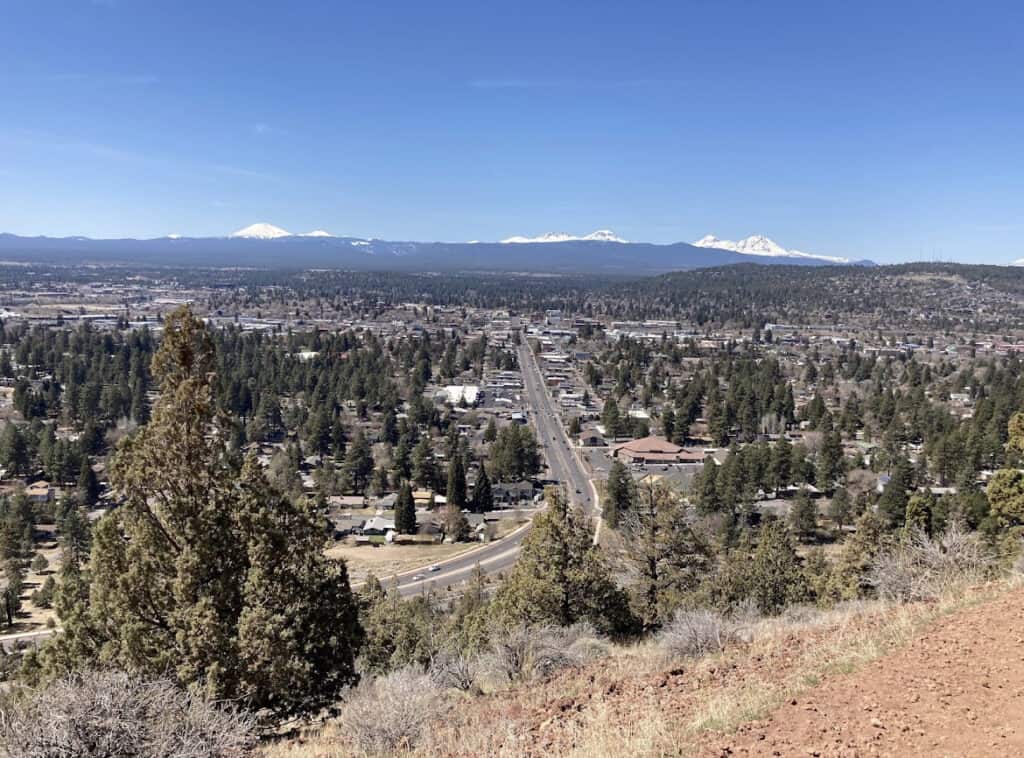 Pilot Butte is a distinguishable lava dome that can be seen from many places in Bend. A short hike up Pilot Butte rewards you with a fantastic view of Bend and the surrounding landscape. This extinct cinder cone volcano is a great place to get some exercise while enjoying Central Oregon's natural beauty.
Paddle the Deschutes River
Paddleboarding or SUP'ing on the Deschutes River is a great way to spend an afternoon or take in some views of Central Oregon that you can't get anywhere else.
Enjoy Mountain Biking
Bend has tons of trails to choose from and is home to some of the best mountain biking in all of America. During the summer months, you can even rent a bike at Pine Mountain Sports and ride through downtown or hit the trails; it doesn't get any better than that! The most popular trail system is Phil's trailhead, located just a short distance from downtown Bend. If you end up at Phils bike trails don't miss riding Whoops or Funner.
If you're looking for a longer ride, there are plenty of long rides in Bend, too a couple of our favorites are:
Swampy, North and South Forks (22 miles)
Peterson Ridge Loop
Where should I camp in Deschutes National Forest?
After a day of exploring the wilderness, there's nothing better than camping under the stars. Deschutes National Forest has over 600 campsites to choose from and is home to some of Central Oregon's most beautiful campgrounds.
Where To Eat in Bend, Oregon
There are nearly as many breweries as restaurants, or should I say that in reverse? Regardless we love breweries and eating out so we have to share a couple of our favorites. Juniper, which is located right on the Deschutes River has a beautiful patio for you to enjoy your meal. Zydeco is another excellent option for dinner and offers Creole cuisine with a Cajun flair.