Ready to discover the best things to do in Cottonwood Az? If so, you're in good hands because this charming town has so much to offer visitors of all interests.
Whether you're looking for outdoor adventure, wine tasting, local experiences, or simply a relaxing getaway, Cottonwood is the perfect destination.
With its natural surroundings, history, and growing arts and culture scene, you will surely find plenty of things to see and do in this unique and vibrant town.
We've had our eye on the Cottonwood area for several years, and it's been exciting to see how much the town has grown and changed during that time.
New businesses and attractions have popped up in town, from boutique shops and art galleries to award-winning restaurants and craft breweries.
Cottonwood At A Glance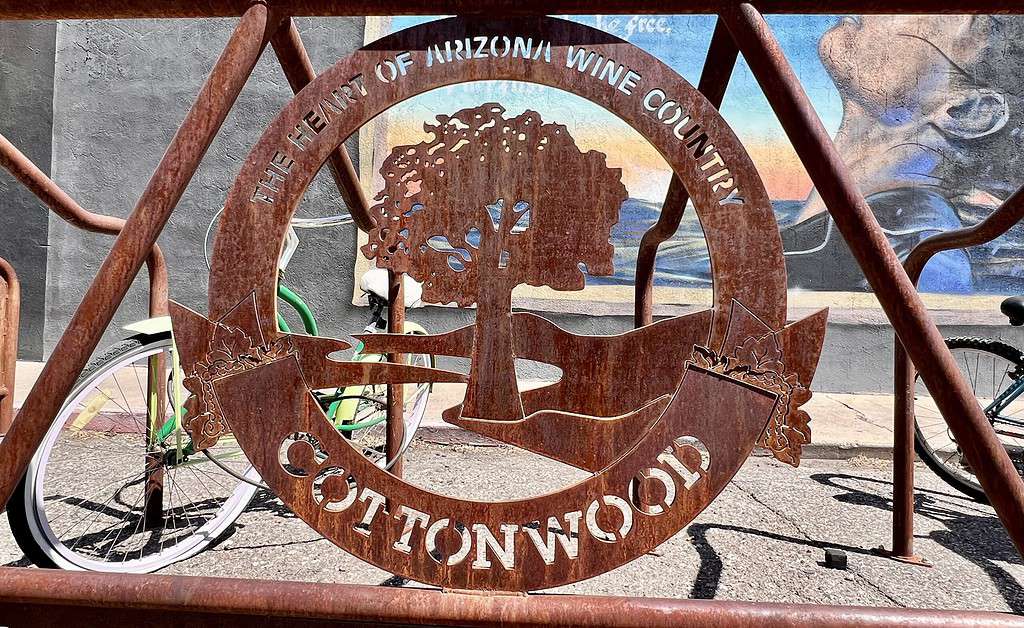 Situated smack dab in the middle of Arizona, Cottonwood is a charming town that bridges the gap between the desert and the mountains.
With its rich history and unique location, this town offers visitors a chance to experience the best of both worlds, from the rugged beauty of the surrounding landscape to the quaint charm of its historic downtown district.
The community of Cottonwood is located, between the cities of Prescott and Sedona. Originally serving as a U.S. Army outpost, the town was established in 1879 and took its name from the large cottonwood trees that grow along the nearby Verde River.
Today, Cottonwood has a population of over 12,000 and is often known as a gateway to the nearby red rocks region. However, the town has plenty of its own laid-back allure that draws many repeat visitors.
Weather In Cottonwood
Located at an elevation of around 3,300 feet above sea level, Cottonwood has a high desert climate that offers mild temperatures year-round.
Winters are typically in the 60s during the day, while spring and fall can see temperatures reaching the 70s and 80s.
The annual low temperature is around 28 degrees, and the town receives an average of 13 inches of precipitation per year.
Overall, Cottonwood offers visitors a comfortable and inviting atmosphere, making it an ideal destination for those looking for a relaxing desert getaway.
What's Cottonwood Known For?
One of the top attractions in Cottonwood is its thriving wine scene. The town is located in the heart of the Verde Valley Wine Trail, which includes several award-winning wineries and tasting rooms.
You can spend a day visiting local vineyards, sampling delicious wines, and enjoying stunning views of the surrounding mountains and vineyards.
In addition to wine tasting, Cottonwood offers plenty of opportunities for outdoor adventure.
You can go hiking or biking in nearby Sedona or explore the red rocks and canyons of the Verde Valley. You might also want to check out the Verde River, which offers kayaking and fishing trips.
For history buffs, Cottonwood has a rich past and many interesting historical sites to explore.
You can visit the Clemenceau Heritage Museum, which chronicles the town's history, or take a tour of the Tuzigoot National Monument, a 1,000-year-old pueblo ruin.
Finally, Cottonwood is also home to a vibrant arts and culture scene. You can catch a live performance at the Old Town Center for the Arts or visit the eclectic galleries and boutiques in the historic Old Town district.
1. Take A Stroll In the Historic Old Town Of Cottonwood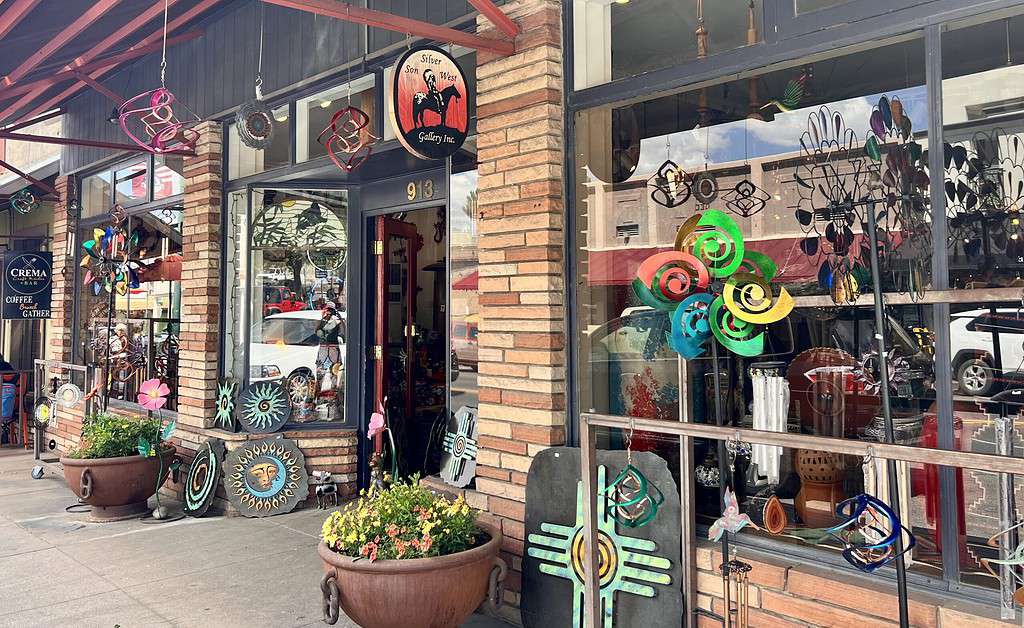 Exploring the charming and historic Old Town is a must-do when visiting Cottonwood. Though the town's main street is small, it packs a punch when it comes to delivering a unique and enjoyable experience.
The area has a variety of unique shops, art galleries, and restaurants, all housed in historic buildings that date back to the town's earliest days.
Visitors can take a stroll down Main Street and explore the many shops and boutiques that line the street, offering everything from vintage clothing and antiques to handmade crafts and locally produced goods.
A couple of our favorite shops in Cottonwood are the Rock Shop with life-size wing rocks and Silver Son West Gallery.
2. Wine Tasting In Cottonwood
As mentioned, Cottonwood is renowned for its vibrant wine scene, boasting a collection of 10 wineries and tasting rooms scattered in and around the area.
This concentration of wineries creates a haven for wine enthusiasts seeking to explore and indulge in the region's rich vinicultural offerings.
Each winery in Cottonwood showcases its own unique charm and distinct winemaking philosophy. From boutique family-owned vineyards to larger establishments, there is a diverse range of wineries to suit every taste and preference.
If you're interested in wine tasting, you can either spend an entire afternoon visiting multiple tasting rooms (in which case, you may want to consider the (Verde Valley Wine Passport) or you can visit one or two tasting rooms to try out a few different flights or glasses of wine.
Wine Tasting at the Pillsbury Wine Company
No trip to Cottonwood would be complete without a visit to the award-winning Pillsbury Wine Company. Founded by Sam Pillsbury, the vineyard offers a delightful selection of wines made with locally grown grapes.
Good To Know: Pillsbury Wine offers a Happy Hour Daily starting at 6 pm.
Burning Tree Cellars
With a cozy, intimate setting and a fantastic selection of red and white wines, Burning Tree Cellars is a great winery. We particularly enjoyed their Syrah and the lovely patio area.
Merkin Vineyards
Merkin Vineyards in Cottonwood, owned by Maynard James Keenan, the lead singer of Tool, offers a distinct wine tasting experience along with delicious farm-to-table food pairings.
If you're looking for a combination of excellent cuisine and outstanding wines, this is the place to visit.
One noteworthy aspect of Merkin Vineyards is their pasta, all of their pastas and breads are made from scratch, incorporating high-quality ingredients that create unforgettable flavors.
Among their wine selection, the Chupacabra red blend is highly recommended. This blend harmonizes different grape varietals, resulting in a bold and flavorful wine.
Cellar 433
Cellar 433 holds a special place in our hearts as one of our favorite wine stops in Cottonwood.
What truly set it apart was the warm and sophisticated atmosphere, perfectly blended with an incredibly well-informed and approachable sommelier .
The sommelier provided us with spot-on recommendations during our tasting. They tailored the experience to our preferences and palates, ensuring we had an enjoyable time.
Their understanding of the winemaking process, different grape varietals, and wine pairing with dishes was evident. They were able to explain these aspects clearly and enhance our appreciation for the wines we tried.
🍷If you're looking for a fun wine tour be sure to check out this TOP RATED wine tour of the Verde Valley.
3. Tuzigoot National Monument
Tuzigoot National Monument is a historic site located just outside of Cottonwood, Arizona. The monument covers 42 acres and includes the ruins of an ancient pueblo that was inhabited by the Sinagua people over 1,000 years ago.
Visitors to Tuzigoot National Monument can explore the ruins of the Pueblo, which include several structures that have been partially restored. The main building, known as the Tuzigoot Pueblo, is a three-story structure that once housed up to 100 people.
In addition to the pueblo ruins, Tuzigoot National Monument also includes a museum that offers visitors a deeper understanding of the Sinagua people and their way of life.
Entrance Fees (includes entry to both Montezuma Castle and Tuzigoot National Monuments):
Adults (16 and over): $10/7 days
Children (under 16): FREE
4. A Refreshing Dip In The Verde River
After exploring the ruins of Tuzigoot National Monument, be sure to head to the Verde River. This waterway offers a variety of recreational opportunities, from swimming and relaxing to kayaking and paddleboarding.
It's the perfect spot to escape the heat and take a refreshing dip in the river's cool waters.
One of the best places to access the Verde River is minutes from Tuzigoot National Monument; you can click here to learn about additional Verde River Access Points.
Most People don't know that the Verde River is the last river in Arizona to flow its entire length of 192 miles the whole year long.
5. Birding Along The Verde River
To be honest, birding isn't really my thing. However, while I was out for a run along the river area, I couldn't help but notice several people with binoculars gazing into the trees. It dawned on me that birding is quite popular in this area.
After a bit more research I learned the Verde River and its surrounding watershed is a prime destination for birdwatching, boasting many birding hot spots.
The Verde River is an essential contributor to biodiversity in the Southwest, offering critical habitat for a wide range of plant and animal species.
The river is home to over 200 bird species, 90 mammal species, and 75 species of native amphibians and reptiles, making it a vital part of the region's ecosystem. For all you birders here's more info.
6. Enjoy The Food Of Cottonwood
Cottonwood has a thriving culinary scene that will surprise you. You'll find some of the town's best restaurants located right along the main drag.
My personal favorite? Merkin Vineyards Tasting Room & Osteria (mentioned above in the "wine tasting" section). This family-owned winery offers an intimate, farm-to-table experience focusing on local, organic ingredients.
Crema Craft Kitchen & Courtyard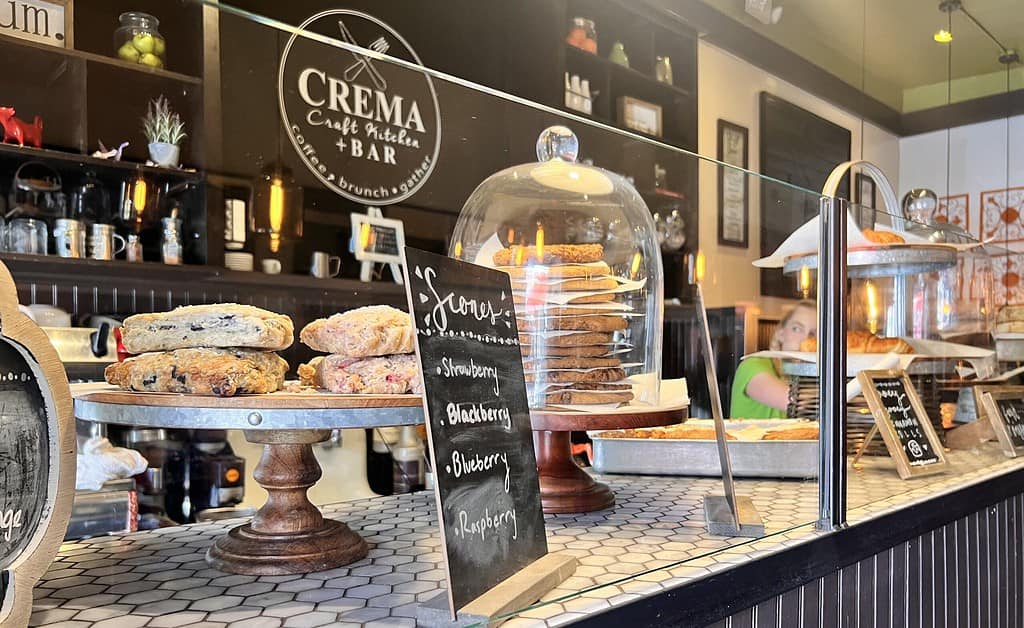 The popular Crema Craft Kitchen and Courtyard is our favorite place to grab breakfast. The inviting environment is fun and vibrant, and their menu is broad, offering all sorts of yummy breakfast and lunch items.
Good To Know: Crema occupies two historical buildings connected by tunnels once used for bootlegging and other illicit activities. During Prohibition, the buildings were operated by Acuna, a known bootlegger. Today, visitors can see a black and white photo of the original building outside in the courtyard, offering a glimpse into the history and character of this restaurant.
Bing's Burger Station- A Nostalgic Lunch Experience
For lunch with a side of nostalgia, Bing's Burger Station is a great spot. This retro-themed diner, housed in a restored 1950s gas station, serves up burgers, crispy fries, and thick milkshakes.
We enjoyed their classic cheeseburger and the fun, vintage atmosphere.
Old Town Red Rooster Cafe- A Cozy Cottonwood Classic
Ge Sure to grab lunch at Old Town Red Rooster Cafe this cute restaurant with a nice outdoor patio serves a great selection of menu items from breakfast, burgers, salads, and sandwiches. If you're looking for a cocktail, they even have some great options there too.
Pizzeria Bocce-Wood-Fired Pizzas and More
Pizzeria Bocce serves up mouthwatering wood-fired pizzas in a unique, fun, and inviting food truck sort of vibe.
I can't get enough of their Proscuito and Arugula pizza, which has a perfectly crispy crust and fresh ingredients.
Looking for desert? head to Strada at Bocce where you'll find twelve flavors of creamy, house-made gelato that are delicious.
And Yes! of course the namesake bocce ball court is located on the patio alongside the stream if you're looking for a fun game of bocce.
Tavern Grille- A Delightful Dining Experience
Located in the heart of Old Town Cottonwood, Tavern Grille is a fantastic spot for a delicious dinner or cocktails. They offer a diverse menu, from juicy steaks and pasta to fresh salads.
We had the Fillet Cobb salad during our visit, which was fantastic. The inviting atmosphere and happy hour specials make Tavern Grille a note-worthy place to visit.
Good To Know: The Tavern Grille Offers Happy Hour Daily from 3-5 daily at the bar
Adriana's Mexican Food- Authentic Flavors and Hearty Dishes
For a taste of authentic Mexican cuisine, head over to Adriana's Mexican Food. This family-owned restaurant serves up generous portions of traditional dishes bursting with flavor.
I fell in love with their homemade tamales and refreshing prickly pear margarita. The warm, welcoming atmosphere at Adriana's makes it a must-try dining spot in Cottonwood.
7. Explore Dead Horse Ranch State Park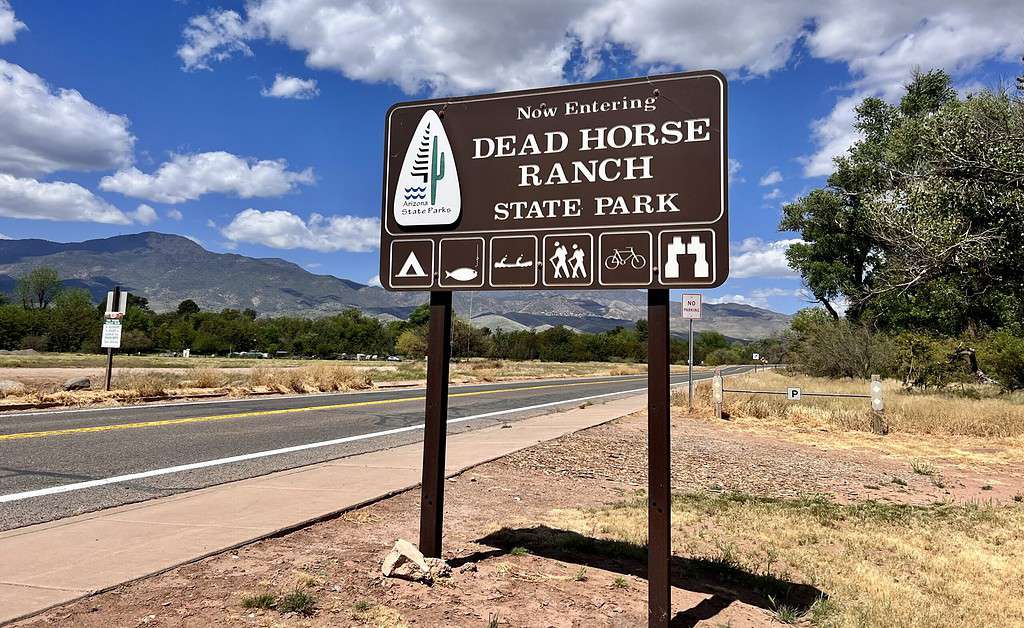 Dead Horse Ranch State Park is a recreational area that spans over 423 acres and offers visitors a wide range of outdoor activities, including camping, hiking, fishing, and birdwatching.
The park is a popular destination for families, nature lovers, and outdoor enthusiasts.
One of the main attractions of Dead Horse Ranch State Park is its extensive trail system, which offers over 20 miles of hiking and biking trails.
The trails wind through a variety of terrain, from open meadows and cottonwood groves to rolling hills and rocky outcrops. Some of the most popular trails in the park include the Lime Kiln Trail, the Lower Raptor Trail, and the Verde River Greenway Trail.
In addition to hiking and biking, Dead Horse Ranch State Park is also a great place to go fishing.
The park features two large lagoons stocked with rainbow trout, largemouth bass, catfish, and bluegill. Anglers can fish from the shore or canoe to explore the lagoons.
8. Mountain Bike Or Hike At Dead Horse Ranch State Park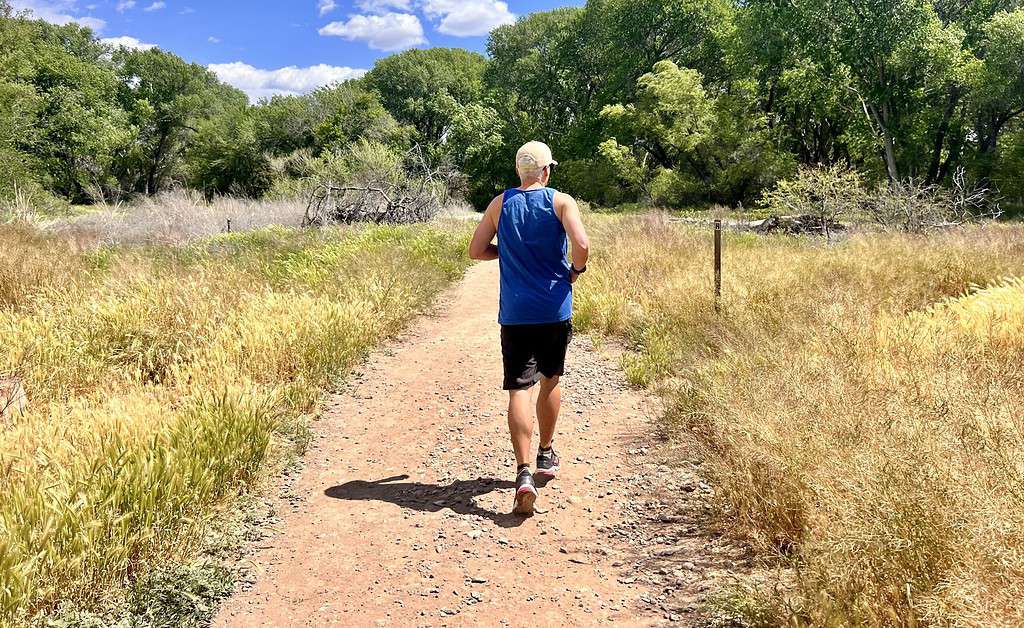 Cottonwood and the surrounding Verde Valley offer great mountain biking and hiking trails in Arizona. With miles of scenic trails winding through the mountains, forests, and canyons of the area, there's no shortage of outdoor adventure to be had here.
One popular destination for both biking and hiking is the nearby Dead Horse Ranch State Park, which offers a variety of trails that wind through the beautiful Verde River Valley. Visitors can choose from short and easy to longer adventures.
Good To Know: If you're up for a big adventure, the trails in Dead Horse Ranch State Park will even link you up to the popular Sedona hiking and biking trails. Check out the Trail Forks app for more details on how to connect the two.
9. Blazin' M Ranch: A Step Back in Time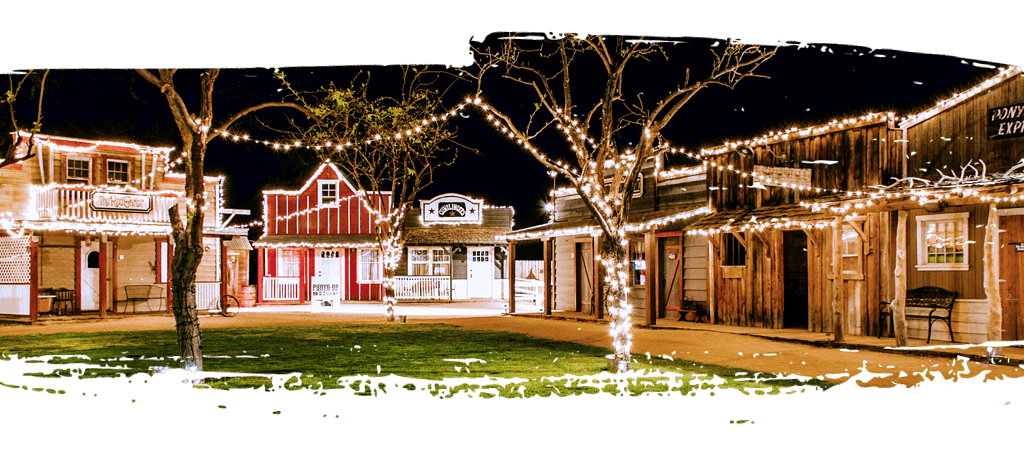 Blazin' M Ranch is a unique attraction located just outside of Cottonwood, Arizona. This family-owned and operated ranch offers visitors the chance to step back in time and experience the Old West in a fun way.
One of the highlights of Blazin' M Ranch is its "small Western town," which transports visitors back to the old days.
Perhaps the most famous attraction at Blazin' M Ranch is the chuckwagon dinner show, which offers visitors a chance to experience a traditional cowboy meal cooked over an open fire.
The show includes live music, comedy, and other entertainment, as well as a hearty meal that includes BBQ beef brisket, chicken, beans, and other Western-style dishes.
10. Discover the Past at the Clemenceau Heritage Museum
The Clemenceau Heritage Museum is a destination for anyone interested in the history and culture of Cottonwood and the surrounding Verde Valley.
The museum is housed in a historic building that was once a schoolhouse and offers visitors a chance to explore the area's rich heritage through a variety of exhibits and displays.
One of the highlights of the Clemenceau Heritage Museum is its collection of artifacts and memorabilia from the early days of Cottonwood and the Verde Valley.
Visitors can see antique tools, clothing, and household items that were used by the area's early settlers, as well as displays on local industries such as mining and agriculture.
Admission to museum is FREE, though donations are gratefully accepted
11. Walk The Jail Trail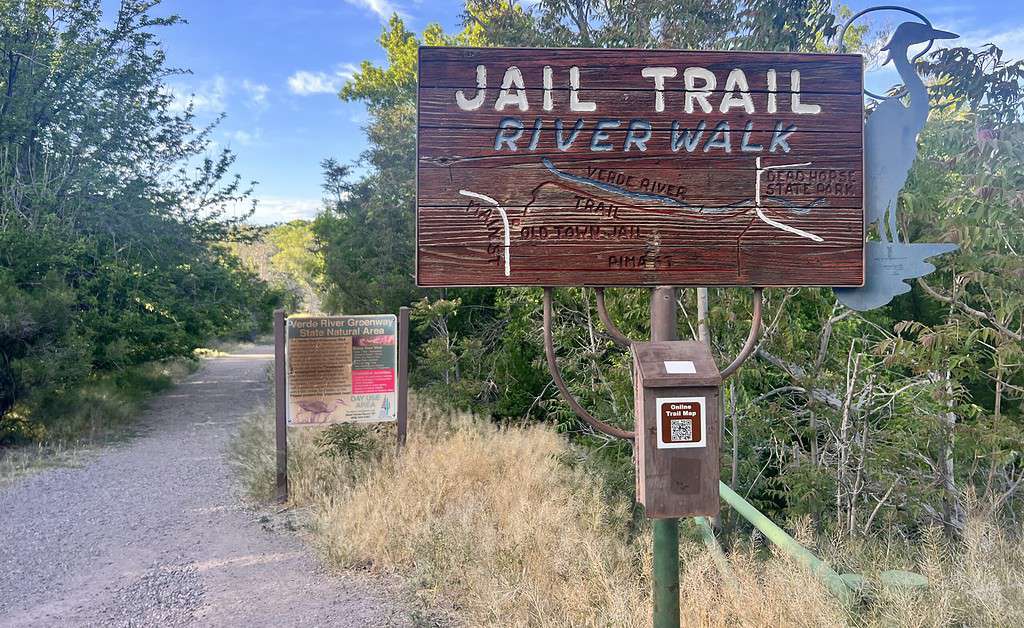 The Jail Trail is a popular path that runs along the Verde River. The sandy, yes legit sand trail is approximately 1.5 miles long and offers a great way to enjoy a bit of nature right from town.
Along the meandering trail, visitors can spot various birds and enjoy a sandy walk through shaded trees. If you walk the whole trail, you'll end up at Dead Horse Ranch State Park's entrance as well as a disc golf area.
The trail gets its name from the historic jailhouse that sits near the trailhead. The jailhouse was built in the early 20th century and was used as a holding cell for local lawbreakers.
12. Get A Beer at THAT Brewery
All wined out? THAT Brewery is a popular craft brewery that originated in Pine, Arizona, and has expanded to include a location in Cottonwood. The Cottonwood location offers a unique and inviting atmosphere, and its DOG friendly.
The brewery specializes in crafting high-quality beers using locally sourced ingredients. They offer a variety of year-round and seasonal beers, including IPAs, stouts, and lagers, so there's something for every beer enthusiast.
Good To Know: THAT Brewery doesn't have its own kitchen, but you're welcome to bring your own food.
13. Attend the Cottonwood Farmer's Market
If you're visiting Cottonwood on a Wednesday, be sure to check out the Cottonwood Farmer's Market. Experience the local flavors, fresh produce, and artisanal crafts, in the vibrant community atmosphere.
Every Wednesday from 4pm- 8pm at Old Town Square (Main Street next to Bocce and Strata on the curve in Old Town Cottonwood)
14. Visit the Verde Valley Wine Trail
Cottonwood is part of the Verde Valley, which is known for its vineyards and wineries. Take a tour along the Verde Valley Wine Trail and indulge in wine-tasting experiences at several unique and picturesque wineries in the area.
Click here for a downloadable map of all the Verde Valley wineries for your convenience.
Read Next: The Best Verde Valley Wineries and Beyond
15. Day Trip to Jerome: Cottonwood's Quirky Neighbor
Just a short drive from Cottonwood is the fascinating town of Jerome, perched on the side of Cleopatra Hill. We've visited this former mining town several times, and I can't get enough of its quirky charm and stunning views.
Make sure to explore the Jerome State Historic Park and the Gold King Mine Museum while you're there.
Take a Ghost Town Tour in Jerome
Take a tour of the ghost town of Jerome, explore the haunted buildings, learn about the town's intriguing past, and experience the haunting vibes of this former mining town.
16. Historic Verde Canyon Railroad: Clarkdale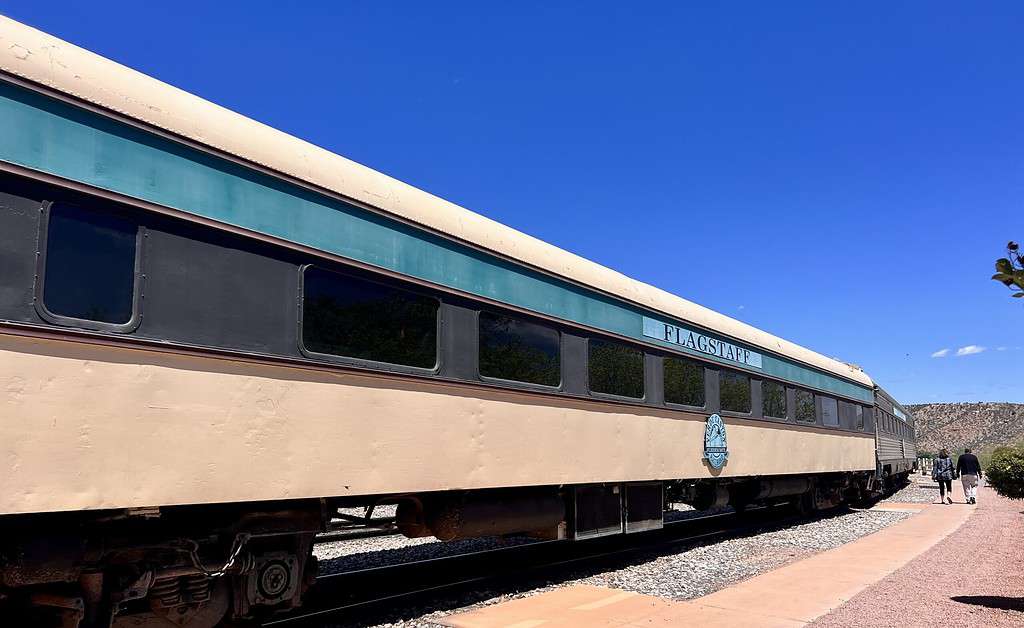 One of the most unique and exciting ways to explore the Verde Valley is by taking a ride on the historic Verde Canyon Railroad. This scenic train ride offers visitors a chance to experience the natural beauty of the area, including canyons, forests, and the waters of the Verde River.
The Verde Canyon Railroad departs from the town of Clarkdale, just a short drive from Cottonwood.
The train travels along a historic route that was first established in 1912 to transport copper ore from the mines in Jerome to the smelter in Clarkdale.
Today, the train offers a leisurely and scenic journey through the heart of the Verde Valley.
17. Get Inspired at the Arizona Copper Art Museum
Art and history enthusiasts won't want to miss the Arizona Copper Art Museum. Housed in a restored 1920s school building, this unique museum showcases a vast collection of copper art and artifacts from around the world.
Learn about the importance of copper in human history and marvel at the intricate craftsmanship on display.
Check out the museum's website for more details.
Exploring Other Towns Surrounding Cottonwood
When you visit Cottonwood, you'll discover that there are a couple of destinations that I listed above that are actually located in nearby Jerome and Clarkdale.
One of the major advantages of the Verde Valley is its close proximity to some of our favorite towns, allowing for convenient site-seeing of all these areas during your visit to Cottonwood.
Jerome
Just a short drive away, the charming town of Jerome is known for its rich history as a former mining town turned artist community. Take a stroll along its streets, filled with unique shops, art galleries, and cafes.
Don't miss the opportunity to visit the Jerome State Historic Park, which offers a fascinating glimpse into the town's past.
🤩After reading about the best things to do in Cottonwood be sure to read the best things to do in Jerome
Clarkdale
Another nearby gem is Clarkdale, a town situated along the banks of the Verde River. Clarkdale is renowned for its natural scenery, with hiking trails that wind through the surrounding mountains and offer views of the valley.
Whether you choose to venture to Jerome or Clarkdale, you'll find that both destinations offer a unique charm and great experiences.
Sedona
Visiting Sedona from Cottonwood is a must-do for nature lovers and adventure seekers. Just a short drive away, you'll find yourself surrounded by the breathtaking beauty of Sedona's iconic red rock formations and stunning landscapes.
If you happen to find yourself in Sedona for 2 days here's are popular 2-day itinerary for Sedona.
When To Visit Cottonwood
One popular time to visit is during the spring months when the weather is mild, and the wildflowers are in bloom. This is a great time to enjoy outdoor activities like hiking and biking, and to explore the local vineyards and wineries.
Summer can be quite hot in Cottonwood, but it's also a popular time for visitors who want to enjoy the area's many water activities, like kayaking and paddleboarding on the Verde River.
The fall months are another popular time to visit, especially for wine lovers who want to experience the annual grape harvest. Many local wineries and vineyards offer special events and tastings during this time, so it's a great time to explore the local wine scene.
Winter in Cottonwood is relatively mild, with cool temperatures and occasional snowfall in the surrounding mountains. It's a great time to enjoy the area's cozy restaurants and coffee shops, and to explore the nearby national parks and forests.
Overall, there's really no bad time to visit Cottonwood. Whether you're interested in outdoor activities, wine tasting, or simply relaxing and enjoying the town's laid-back vibe, you're sure to find something to love in this charming Arizona town.
FAQ: Things To Know About Cottonwood
Is Cottonwood In The Mountains
Cottonwood, Arizona, is nestled in the mountains of the Verde Valley. This town is surrounded by natural landscapes, offering panoramic views of peaks and vistas in every direction.
Does It Snow In Cottonwood
There's a very small chance of snow accumulation in Cottonwood during the winter months. While the amount of snow may vary from year to year, it is not uncommon for the surrounding mountain areas to receive snow.