This thriving city, often called the "Valley of the Sun," boasts a rich history, cultural diversity, and a spirit of innovation.
Our escapades in the Grand Canyon State have led us to develop a special bond with the bustling city of Phoenix, where we've found ourselves spending a significant amount of time.
Whether it's hiking the red rock of Sedona or getting lost (intentionally) in the sprawling metropolis of Phoenix, our adventures are fueled by a spirit that's nothing short of contagious.
In our time here, we've discovered that Phoenix is so much more than just a sun-drenched oasis surrounded by cacti and rugged landscapes.
It's a city with a rich cultural tapestry, a growing culinary scene, and an array of outdoor adventures just waiting to be explored.
From the vibrant art murals of Roosevelt Row to the summit of Camelback Mountain, Phoenix offers a unique fusion of urban sophistication and natural beauty that will leave you wanting more.
While we may not have been to every location mentioned below, our extensive time spent exploring Arizona has given us a solid understanding of the local gems and highlights that make the city shine.
With a combination of our own discoveries and the wisdom of Phoenix locals, we've put together an exciting list of attractions, restaurants, and activities that cater to a variety of tastes and preferences.
As passionate travelers ourselves, we understand the importance of having reliable and informative resources to help plan your adventures.
So grab your sunglasses, and let's dive into the best things to do in downtown Phoenix!
After you've finished reading all of this don't miss our other Arizona guides
Top Things to do in Downtown Phoenix
If you're looking for a quick list of the very best things to do in downtown Phoenix, here you go:
Enjoy the murals and nightlife on Roosevelt Row
Explore one of the museums-Heard museum is our fav
Take a hot air balloon ride over the Sonoran Desert
See a show at Orpheum theatre
Check out Historic Grand Avenue area
Order a handcrafted cocktail at one of the Arcade Or Game Bars
See Rossen Museum and Heritage Square
Catch a game at Chase field
Go on a brewery tour
See live music
Now your trip to Phoenix is almost planned!
But don't stop here…
Want more ideas? Well, you are in for a treat, my friend, because this article is absolutely PACKED with the very best things to do in Downtown Phoenix, plus all sorts of insider tips!
Top Attractions In Downtown Phoenix
Discover the vibrant heart of the city with top attractions in Downtown Phoenix, where a fusion of art, culture, and entertainment awaits you.
From the beautiful Japanese Friendship Garden to the street art of Roosevelt Row, the downtown area offers experiences for every traveler.
1. Japanese Friendship Garden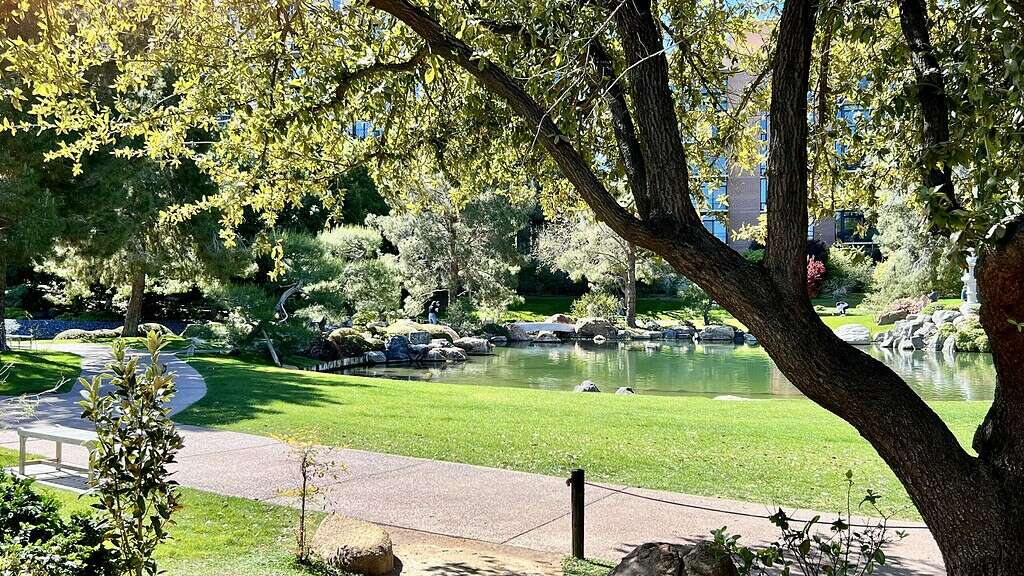 The Japanese Friendship Garden is the perfect spot if you're looking for a tranquil and peaceful escape from the hot city life.
This 3.5-acre garden has stunning attractions like cascading waterfalls, magnificent fountains, and beautiful trees, making it the perfect spot for contemplation and meditation.
Don't miss out on the Koi Pond and waterfall when you're at the Japanese Friendship Garden. These two things are among our top faves!
If you're looking for a quick virtual guide to the garden, check this out.
Fun Fact: Did you know? The larger koi fish in the pond have been residents since the garden first opened its gates!

That's right; they're almost 30 years old! To survive the chilly winters, these clever fish stay at the bottom of the pond where the water's warmer.

As for the scorching desert heat, the pond's depth lets the koi dive down to cooler waters when they need to beat the heat.
For ticket prices, hours and events, check out the official website.
2. Roosevelt Row Murals
If you're looking to immerse yourself in the local culture in Phoenix, you can't miss the Roosevelt Row Arts District, or 'RoRo' as it's commonly known.
This walkable area is full of large-scale murals and graffiti artworks created by local and visiting artists, making it the perfect spot for a photo op.
Be sure to also explore the eclectic mix of galleries, boutiques, and restaurants that give this vibrant neighborhood its unique charm and character.
A couple of our personal favorite murals are:
Lalo Cota collaboration | Carly's Bistro 128 E. Roosevelt St.
1 ½ Street mural | The Churchill 901 N. First St.
Doug Bale, Miguel Ibarra and Aaron Lim | Trans Am 1506 W. Grand Ave.
Maggie Keane | Rodriguez Boxing Club 1350 W. Roosevelt St.
Tyson Krank | Alley west of Fifth Ave. on Fillmore St.
3. Fly Above The Sonoran Desert In a Hot Air Balloon Ride
Getting up before sunrise isn't something we do often, but this experience is an exception.
Flying in a hot air balloon at sunrise with a direct view of the Sonoran Desert is the stuff dreams are made of.
Launching just before sunrise allows for views of the desert landscape as it comes to life with the first rays of the sun.
The flight takes you over cacti, mountains, and valleys, making for a magical experience.
There are several reputable hot air balloon companies in the area, each offering their own unique flight experiences.
Be sure to research each company to find the best fit for you.
4. Go On a Jeep Tour of the Sonoran Desert
A jeep tour is a thrilling way to explore the landscapes of the Sonoran Desert.
With rugged terrain and challenging trails, a guided jeep tour is the perfect way to experience the desert.
Several companies offer jeep tours of the Sonoran Desert, including those that depart from Phoenix, Scottsdale, and Tucson.
These tours take you deep into the heart of the desert, where you can see towering cacti, colorful rock formations, and the unique landscape of the region.
During the tour, guides will provide insight into the area's geology, history, and wildlife.
They will take you to hidden spots and vantage points where you can take in views of the desert landscape.
You may also have the opportunity to see wildlife, such as coyotes, javelinas, and desert birds.
5. Wander Around Historic Grand Avenue Area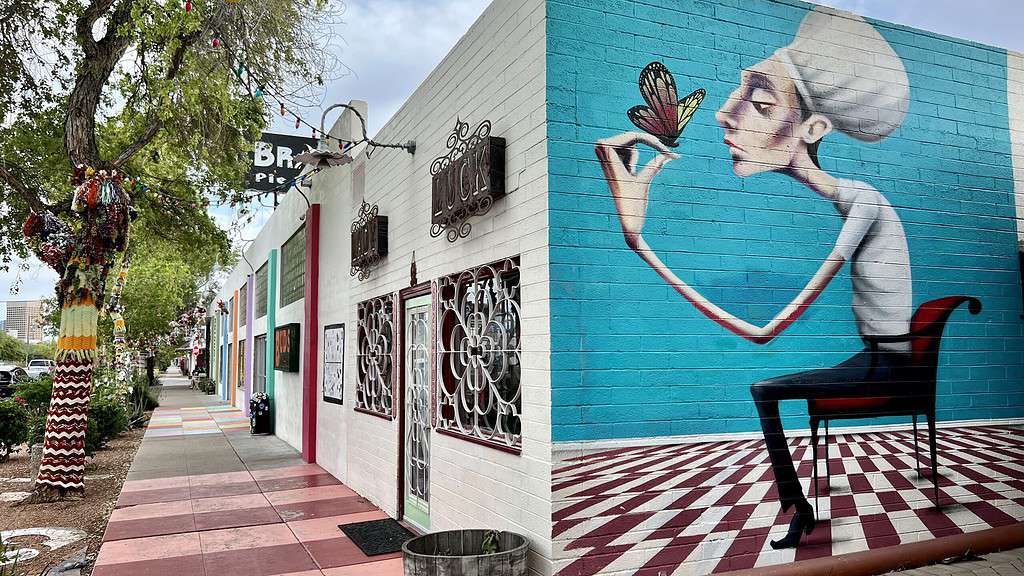 We're always on the lookout for unique and charming areas that exude a certain energy or character.
While there's certainly a time and place for suburban strip malls, we tend to be drawn to quaint squares and neighborhoods that offer a bit more personality and flair.
The Grand Avenue neighborhood in northwest Downtown Phoenix offers just this; it's known for its quirky vibe.
This eclectic neighborhood features an array of galleries, studios, vintage shops, and restaurants, making it the perfect spot to explore for those looking for something off the beaten path.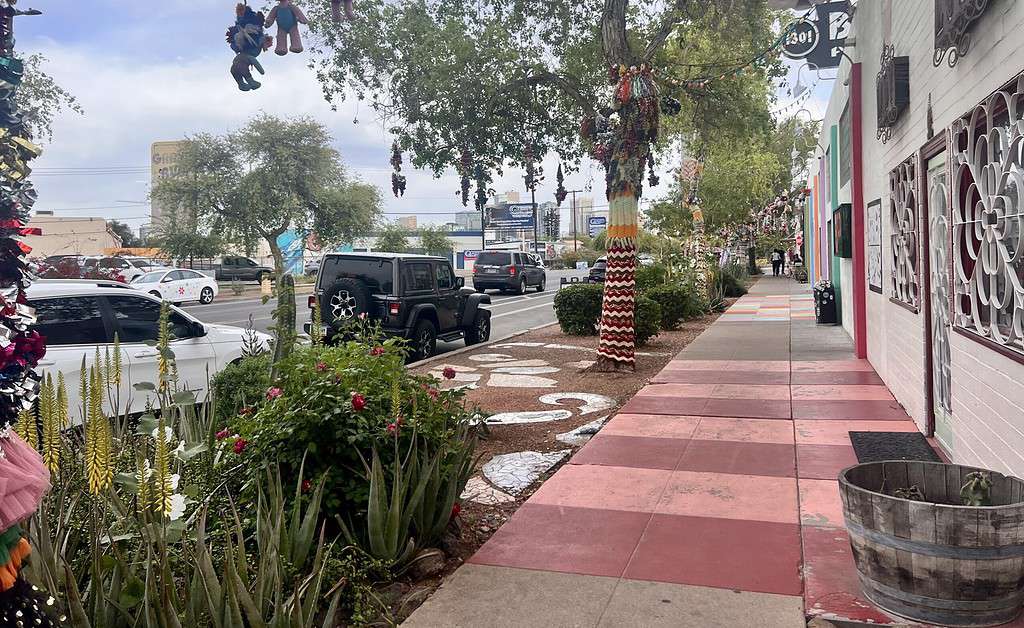 For us, The Grand Avenue neighborhood didn't disappoint – we stumbled upon a fantastic local brewery (Grand Avenue Brewing) and vibrant and colorful street art murals that adorned many of the buildings.
From abstract designs to thought-provoking messages, the murals added to the neighborhood's funky character.
Here's a map of the Historic Grand Avenue area.
Best Stops And Things To Do On Grand Avenue
6. The Rosson House Museum & Heritage Square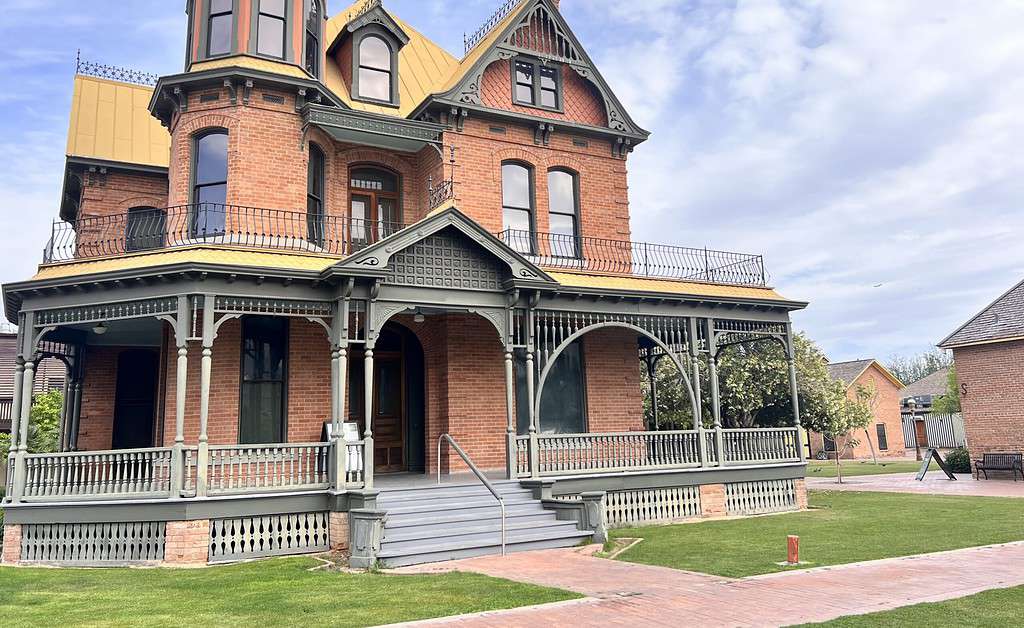 After enjoying a quick drink at one of our favorite breweries, we were ready to continue our exploration of Downtown Phoenix.
Our next stop was the Rossen Museum and Heritage Square, a hidden gem that surprised us with its unique character and charm.
Tucked away in the heart of the city, Heritage Square boasts a rich history and is home to a variety of cultural institutions, including the Rossen Museum, which showcases the city's fascinating past.
The museum's interior is filled with period furnishings and gothic works of art, perfect for anyone looking to step back into the 1800s.
While wandering Heritage Square be sure to check out one of the neighborhood restaurants each of these places has a unique story to tell and a character all its own.
Want to listen to an audio tour of the Historic Building at Heritage Square? Click here
Here are some recommendations around Heritage Square
Que Sazón– Previously a food truck; now this restaurant has a full on restaurant serving South American Cuisine, Ceviche, tacos, empanadas, tapas, and more.
Pizzeria Bianco & Bar Bianco– Wood burning oven serving up pizzas and entrees made with homemade mozzarella, fresh baked breads and locally grown veggies.
Stemistry-Looking for something different? Check out this luxury, build-your-own bouquet of flowers bar while drinking a unique coffee
Latha- Coming Soon!!!
7. St. Mary's Roma Catholic Basilica
St. Mary's Roma Catholic Basilica is a historic landmark in Phoenix, built in 1881 and visited by Pope John Paul II in 1987.
It is a place of worship, but also an amazing place to take a tour of the beautiful art and architecture inside.
This is one of the oldest and most renowned Catholic churches in the city, and it's worth a visit or at least a quick walk-by.
Sporting Events in Downtown Phoenix
8. . Footprint Center (Previously Know As Talking Stick Resort Arena)
Located in downtown Phoenix, the Footprint Center is a modern complex that hosts a variety of live events, including concerts and sporting events.
The arena is home to the Phoenix Suns, Phoenix Mercury, and Arizona Rattlers, making it a popular destination for sports fans.
9. Chase Field
Chase Field is one of the most iconic Major League Baseball stadiums in the United States thanks to it's retractable roof and signature swimming pool.
This air-conditioned facility provides millions of baseball fans with a comfortable and enjoyable experience watching their favorite team.
Phoenix Downtown Parks
10. Civic Space Park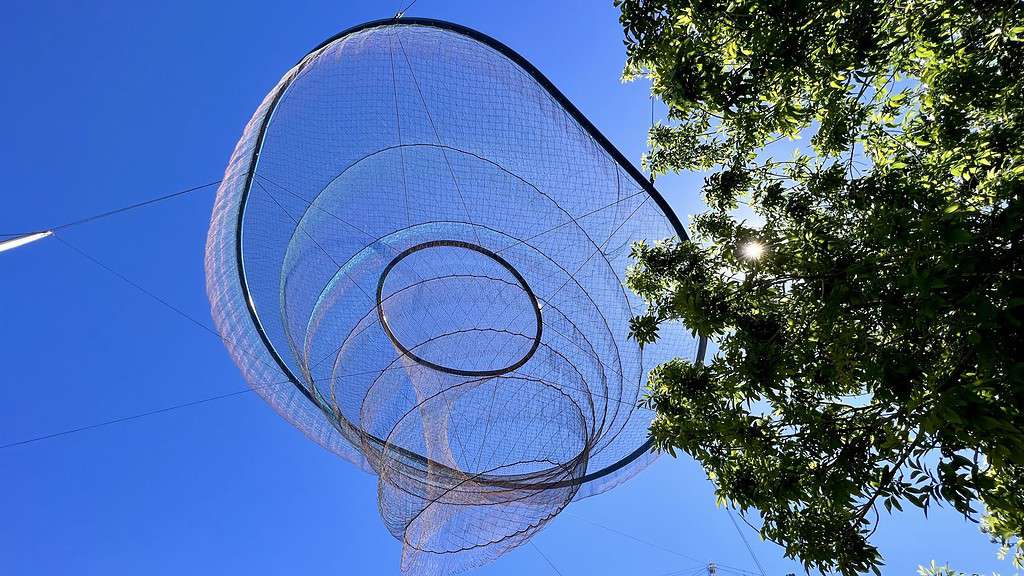 The park is a unique urban design that offers a cool and refreshing oasis in the city's heart.
It has a sustainable design that keeps the area cool and fresh, with 70% of the park being shaded.
The park is also close to the Arizona State University campus downtown, making it the perfect pop of green space in the city center.
11. Margaret T. Hance Park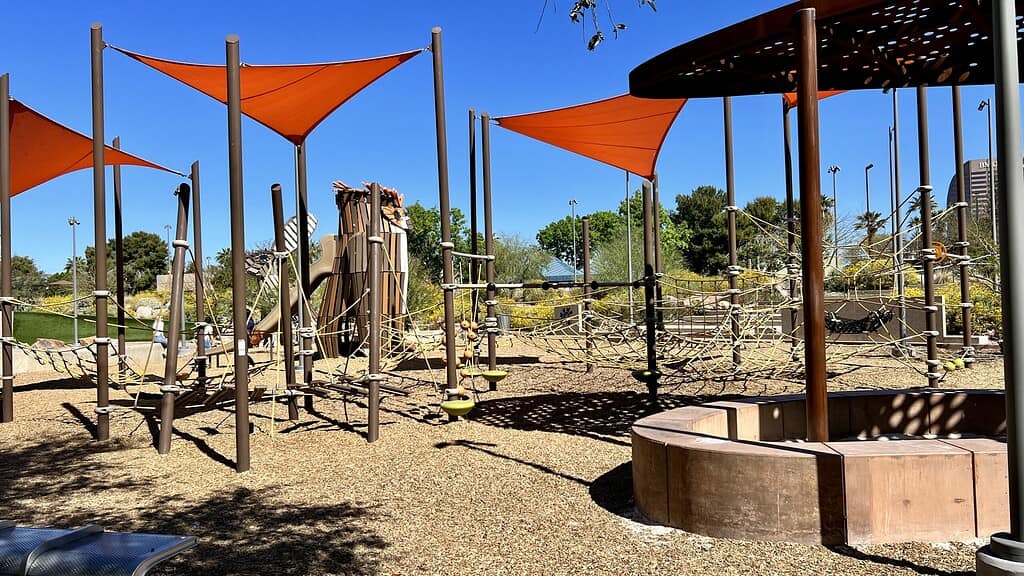 Margaret T. Hance Park, situated in the heart of downtown Phoenix, is named after the city's first female mayor.
This is one of our favorite parks in the downtown area.
This 32-acre park is is home to several attractions, including the Japanese Friendship Garden, Irish Cultural Center, McClelland Irish Library, Phoenix Center for the Arts, and Burton Barr Phoenix Central Library.
Good to know: If you're a dog owner, be sure to check out the Hance Park Dog Park, which is located on the west side of the park.

If you're a child owner 🤣 be sure to check out the kids play section with a climbing wall and even a sandbox!
Vibey And Unique Places and Things In Downtown Phoenix
12. Churchill For Food Drink And Local Shopping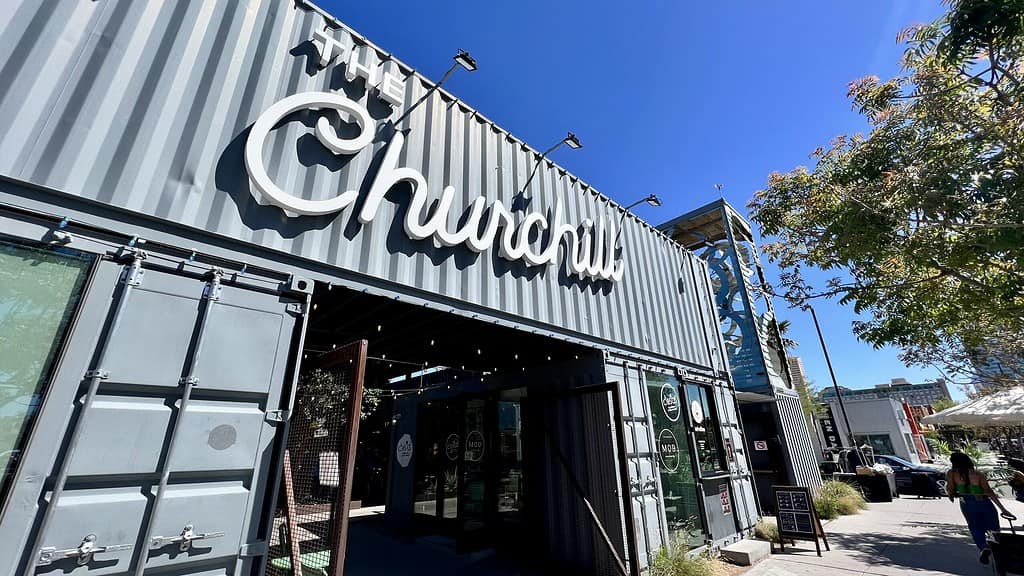 If you're looking for a unique experience that combines delicious food, craft beer, and local shopping, look no further than The Churchill in downtown Phoenix.
Constructed of repurposed shipping containers, The Churchill is a trendy and friendly hub for local businesses.
With ten small businesses in total, including both established and new ventures, it's the perfect spot to support and discover Phoenix's vibrant community.
The one thing I did notice (on a Saturday afternoon) is it was swarming with kids, which made for a lively and family-friendly atmosphere.
Looking for a rundown of the local businesses located at Churchill? Check this out!
Our Opinion: Swing by and Checkout Churchill to see what it's all about but do not miss heading over to the Pemberton PHX. Where you can have food, drinks, dance, art and shopping all in one!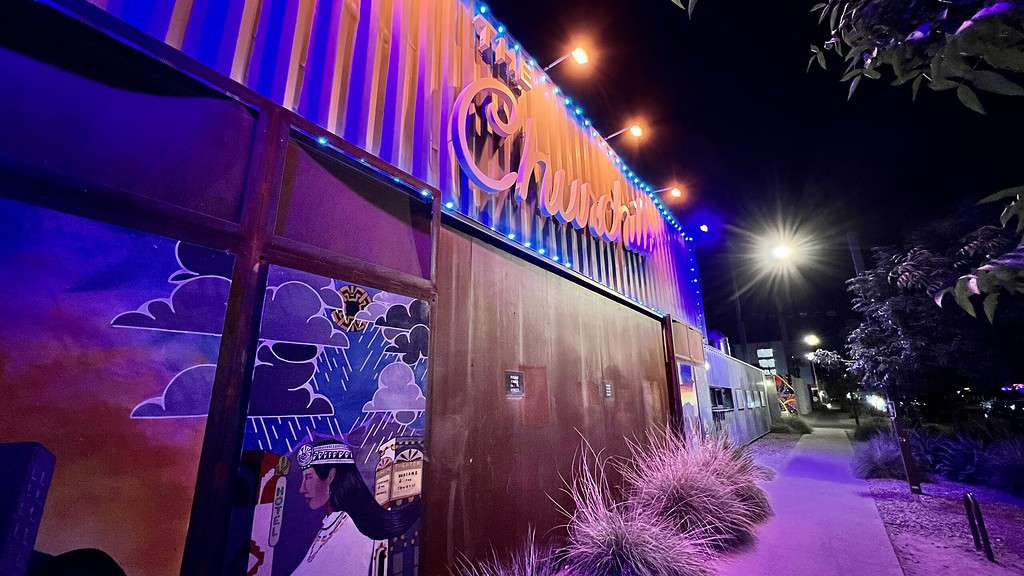 Pro Tip: For those seeking a kid free atmosphere, be sure to check out The Churchill on weekends after 9 pm when the atmosphere shifts to a 21 and up vibe.
13. Pemberton PHX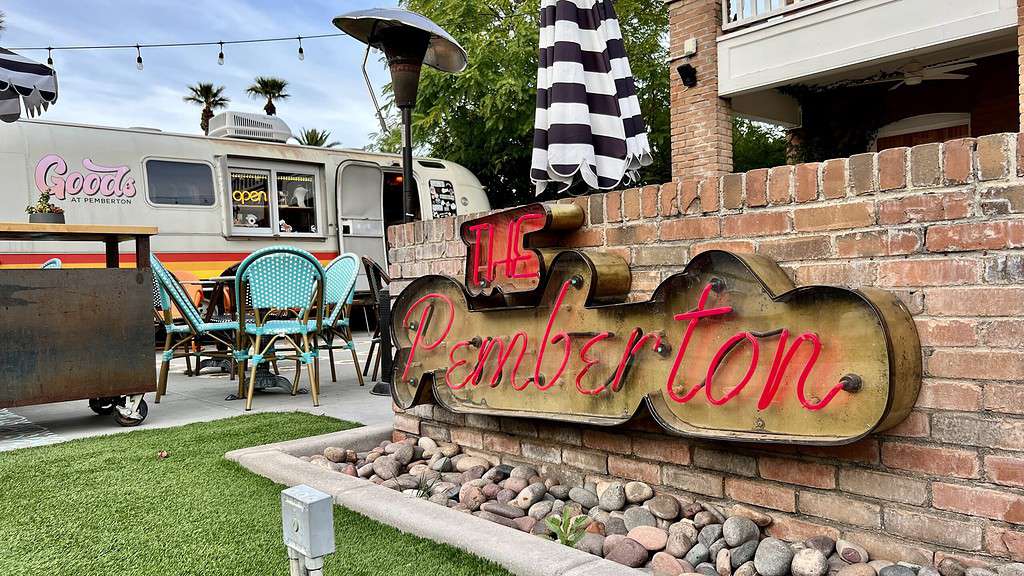 Wow… This place is REALLY cool. If you're looking for a place that has food trucks, drinks, art, local shopping, and music all in one, this is the place.
We stumbled upon this place and were immediately drawn in by the vibrant and eclectic atmosphere.
This hidden gem in Downtown Phoenix is much more than just an attraction- it's a dynamic gathering place that features food trucks, local vendors, and really unique art installations.
This place turns up the heat at night by having live music and events that keep the party going late into the night.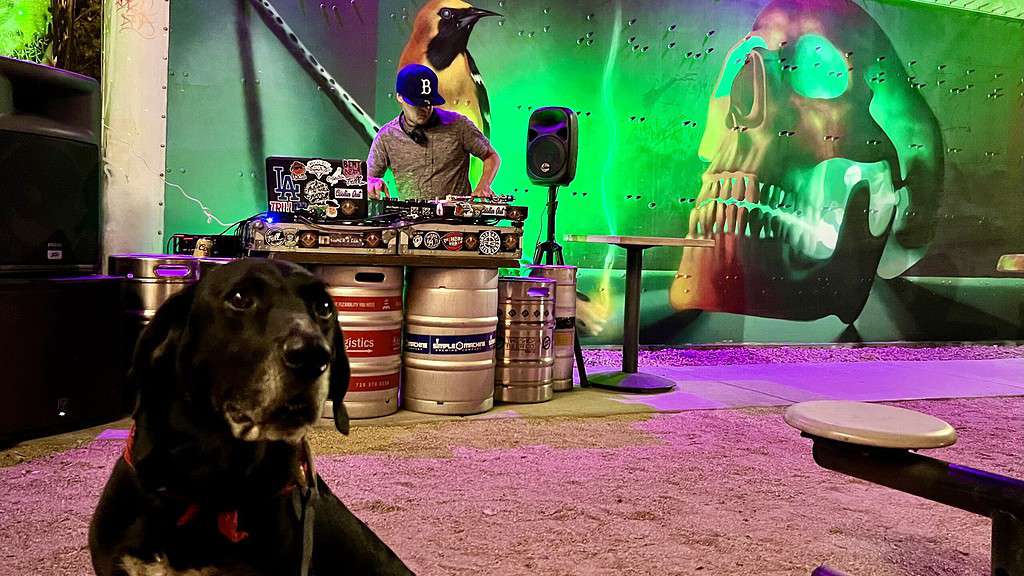 Whether you're in the mood for a drink, food, or some live entertainment, Pemberton PHX has got you covered.
It's the kind of place where you can come to unwind, socialize, and experience the best of what Phoenix has to offer.
Good To Know: Within the Pemberton PHX at Baja Fish Tacos and More, you can find free Salsa lessons and dancing every Friday and Saturday at 7:00.
If you're looking for a little flow in your life, there is an all levels Flow Yoga every Saturday at 11.
14. First Fridays Downtown Phoenix
If you're looking for an amazing night out in Phoenix, make sure to check out Downtown Phoenix's First Fridays!
The First Friday event in Phoenix covers a lot of ground.
While there is free admission and special discounts to some of the city's popular museums and attractions, like the Phoenix Art Museum on selected First Fridays, the Heard Museum, and the Japanese Friendship Garden, most of the excitement is centered in two distinct neighborhoods:
The Roosevelt Row and the Historic Grand Avenue art districts.
These neighborhoods come to life and become even more vibrant during this special evening.
Pro Tip: If you want to make the most of your time on First Fridays be sure to check out this guide
Fun Things To Do In Phoenix
15. Cobra Arcade
Looking for a cool spot in downtown Phoenix? Check out Cobra Arcade Bar!
This unique place combines vintage arcade games, craft beers, and yummy cocktails.
Located near the convention center and ball park, you can play all the popular games you played when you were a kid. And Yes, they do have pinball!
Good To Know: This is a 21+ bar and they offer happy hour Mon-Fri 4-7
16. Comedy At Stand Up Live
Looking for entertainment options? Look no further than Stand Up Live, a comedy club located in the Cityscape outdoor mall featuring the best of the best in talented comedians from all over the country.
Whether you're a fan of classic one-liners or you prefer edgier humor, you're sure to find something that will tickle your funny bone. 🤣
One of the best things about Stand Up Live is they offer a full bar and food menu, which makes it a great option for those looking to enjoy food and drinks while catching a show.
Adult Bowling At Cham Pang Lanes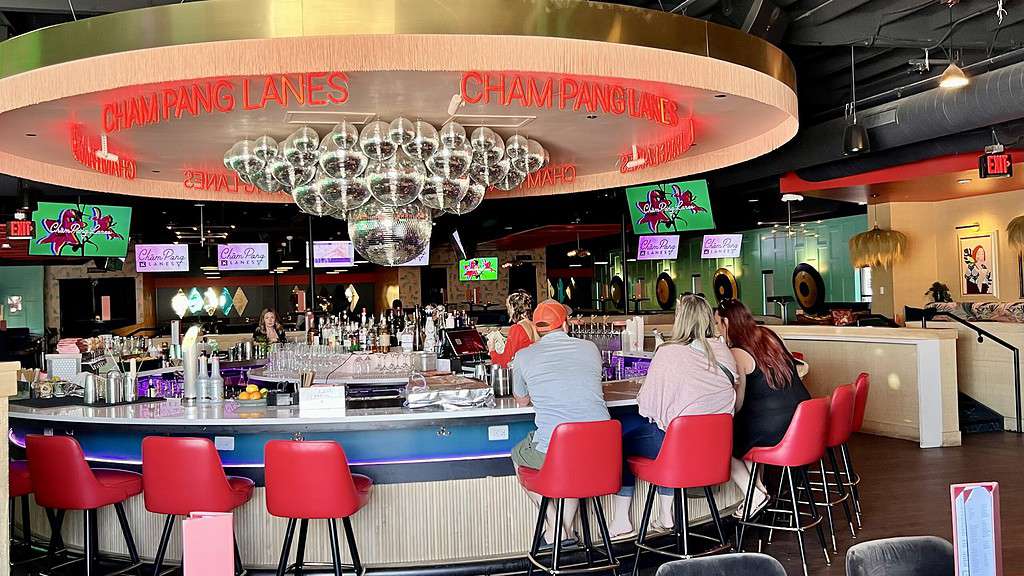 If you're looking for bowling, pinball machines, pool tables, and a champagne bar all in one, Phoenix's Châm Pang Lanes is the perfect spot to let your inner child out (in an adult way, of course).
The sleek decor and inviting environment make it a great place to hang out with friends and enjoy a night or (day on the weekends) of fun.
I've always had a special place in my heart for bowling, and this place did not let us down.
For only $15 per hour per person, you'll have a great time playing.
But… for those who are used to renting traditional bowling alley shoes, Châm Pang Lanes offers a different experience.
Instead of renting shoes, bowlers are welcome to wear their own fresh and clean shoes.
In our opinion, what truly sets Châm Pang Lanes apart, aside from their bowling lanes, is their vibey music that can be heard from the street, their chic champagne bar, and the eclectic menu.

I highly recommend trying their Bulgogi beef nachos, a unique twist on a classic snack.
Good To Know: Châm Pang Lanes is 21+ only after 8pm
Find Stardust Pinbar… Hint It's In Ziggy's Magic Pizza Shop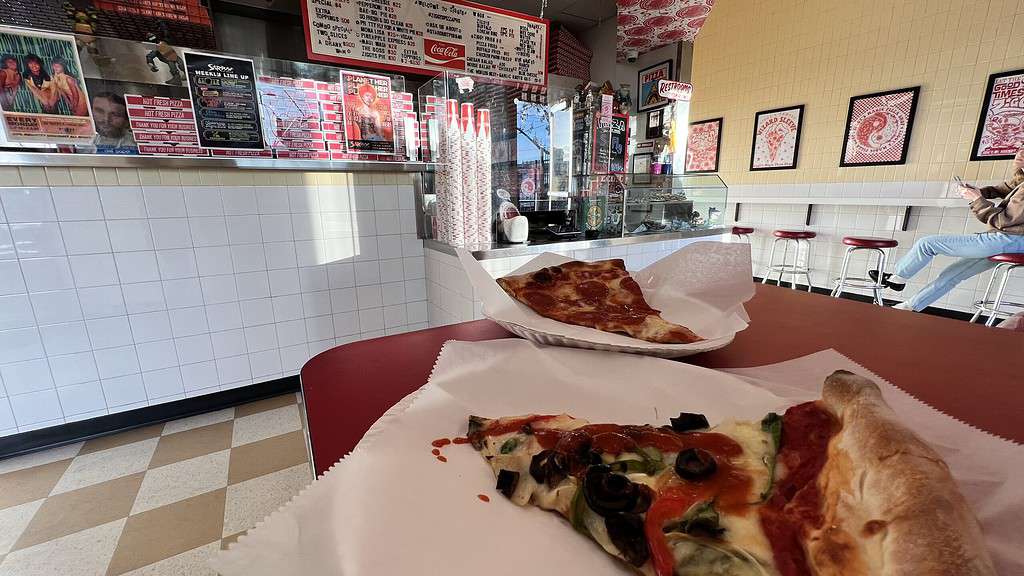 Ready for a secret hidden spot?
If so, we recommend stopping by Ziggy's Magic Pizza Shop in downtown Phoenix grabbing a slice of pizza and venturing to the a secret entrance to Stardust Pinbar, a David Bowie-inspired game bar next door.
Once inside, you'll find a glammy lounge with an illuminated dance floor, Bowie-themed art and cocktails, and a variety of pinball games.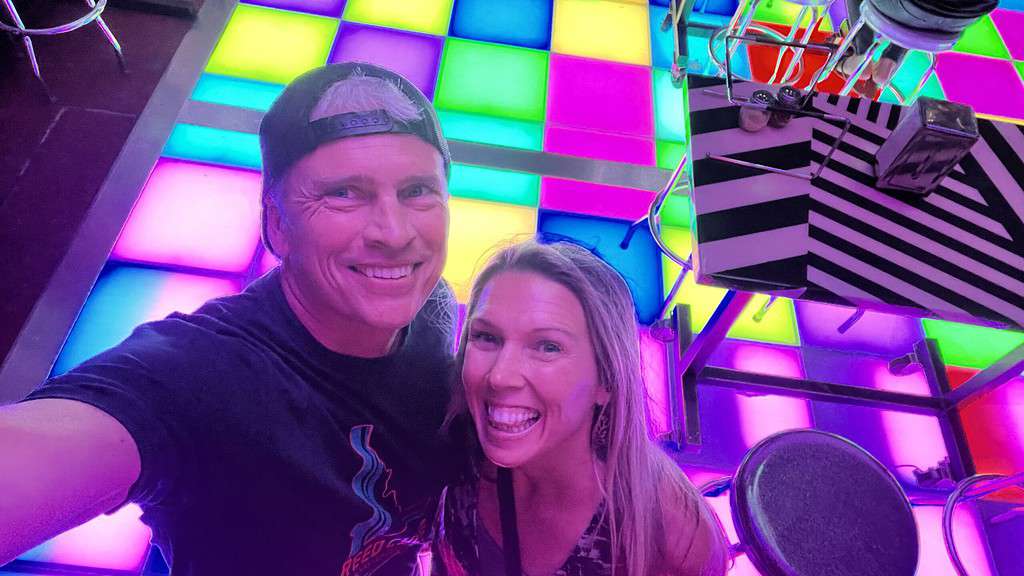 Insider Tip: We plan to bee line it to the Stardust Pinball and bypass the Ziggy's counter on our next visit. This way, we'll be able to enjoy a drink AND PIZZA in the lounge's glitzy bar, complete with its light up dance floor.
Good To Know: To access Stardust Pinbar stroll into Ziggys, look for the swinging doors to the right of the register, pass by the lockers and then walk through a mock-up of a walk-in freezer door.
Phoenix Theater & Performing Arts
The Phoenix Symphony
The Phoenix Symphony is an incredibly talented orchestra founded in 1947 and has since grown to be the biggest performing arts organization in the state of Arizona.
With a mission to educate and inspire, the Phoenix Symphony performs a variety of music styles, ranging from classical and chamber to family and pop programs.
Orpheum Theater Downtown
The Orpheum Theatre in Phoenix, Arizona is an iconic landmark with a long history of entertaining visitors.
Built in 1929, this Spanish Baroque-style building is a sight to behold both inside and out. What draws people to this theatre is its wide variety of events and performances.
From live music shows, ballet, and Broadway musicals this grand theatre is a great place to catch a performance
Ballet Arizona
Located in downtown Phoenix, Scottsdale, and Tucson, Ballet Arizona is a powerful combination of three different ballet companies, and I was very excited to take in a performance of some of the most famous ballets like Swan Lake and The Nutcracker.
Herberger Theater Center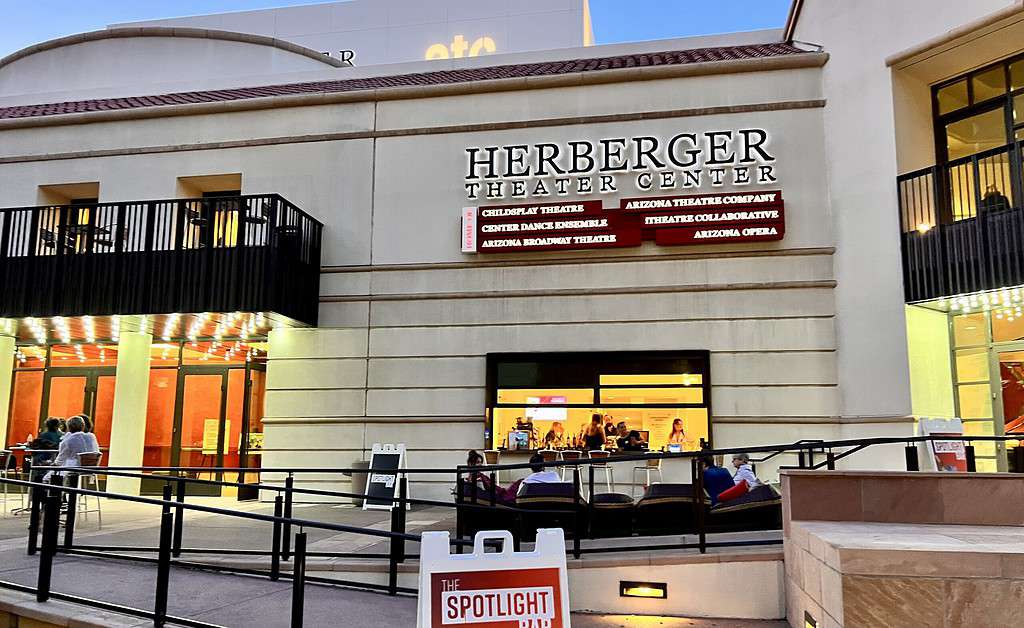 The Herberger Theater Center, located at Van Buren and Second Streets in Downtown Phoenix, is a vibrant and exciting venue for theater, comedy and music performances.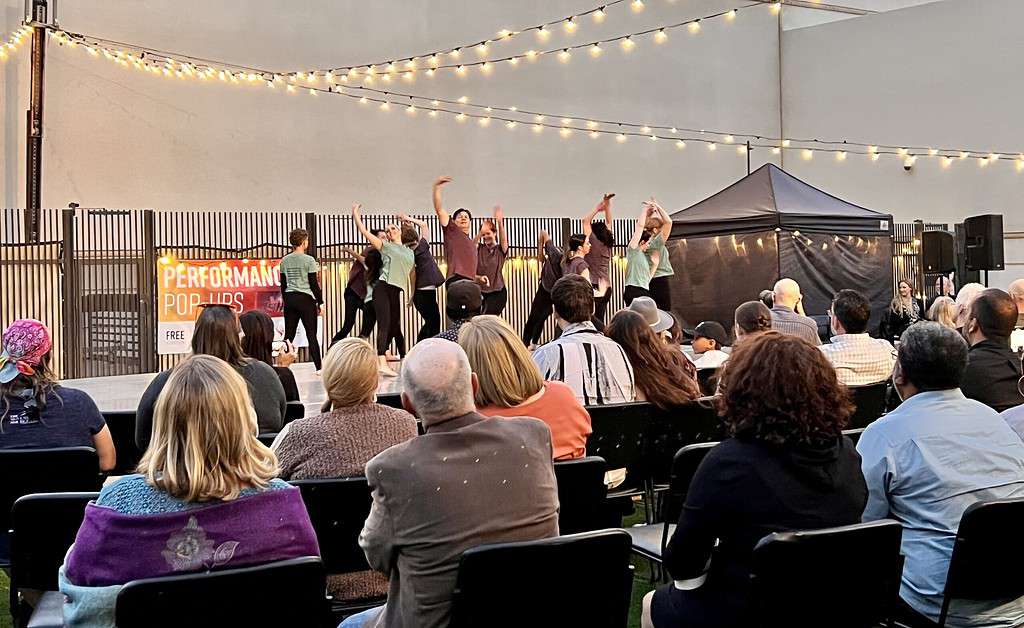 As one of the largest performing arts venues in the city, the Herberger Theater Center offers a variety of performances from opera, musicals, dance and more.
It houses three separate stages, each with their own unique character.
Valley Youth Theater
Valley Youth Theatre is the perfect place for you and your family to visit if you want to experience the stars of tomorrow before they make it big!
This dedicated theatre puts on shows like 'High School Musical' and 'Sleeping Beauty' and has been the starting point for many famous actors, including Emma Stone, Jordin Sparks, and Nick Cartell.
Take A Downtown Phoenix Brewery Tour
Pedal Haus
Located in the Roosevelt Row Arts District of downtown Phoenix, Pedal Haus Brewery is a hidden gem, as its entrance is tucked away in a large alley.
We loved the inviting vibe and their seasonal IPA beer.
Good To Know: They are dog friendly on their upstairs patio
Arizona Wilderness DTPHX
Fantastic indoor and outdoor seating with a great selection of beers and food.
We recommend getting a burger and paying a bit extra to upgrade to the confetti fries over the traditional fries. If you like beer cheese soup these are a must try!
Good to Know: They are dog friendly
Greenwood Brewing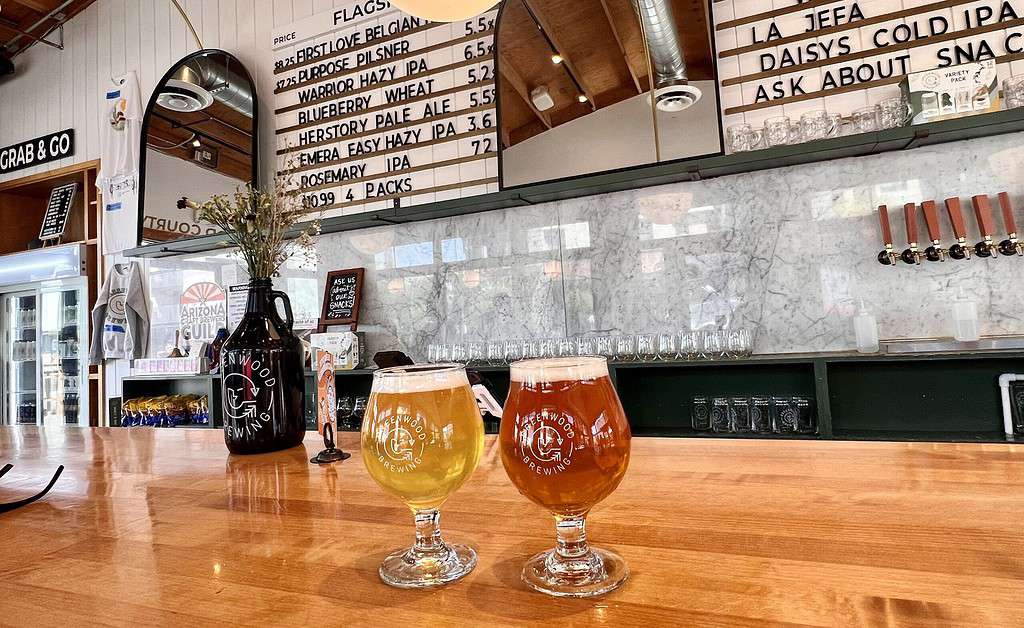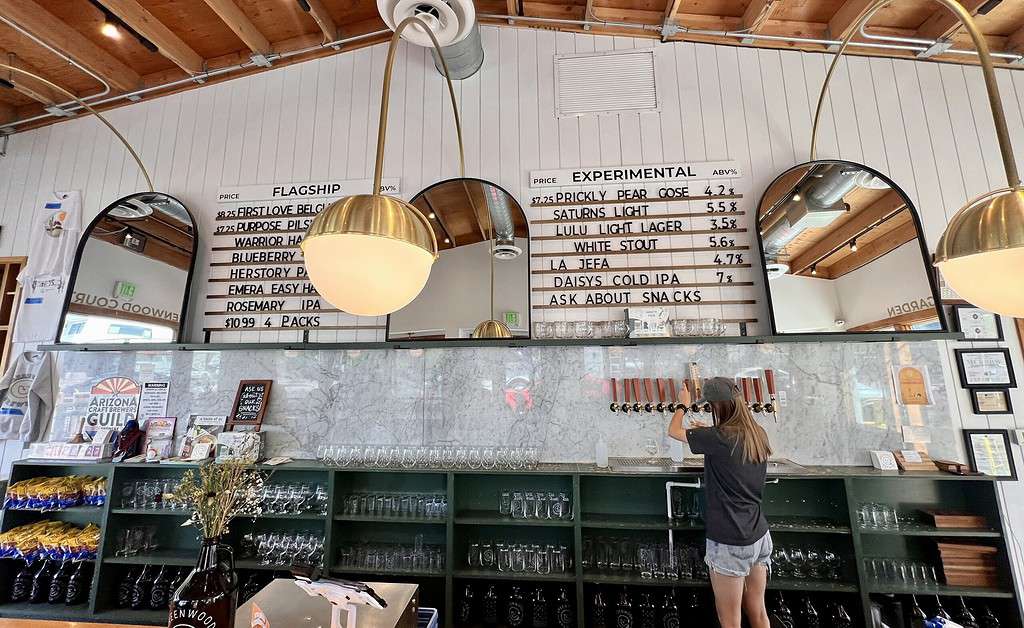 This chic, women-owned brewery has an impressive selection of beers.
The merchandise is top-notch, which is not surprising given the female ownership.
Although they do not serve food, they allow guests to bring in food from nearby restaurants.
If you're looking for a beer recommendation, the rosemary IPA is my favorite.
Good To Know: For those with furry friends, this place is dog-friendly.
Throne Brewing
Throne Brewing's beer menu features a wide range of styles, from hoppy IPAs to rich stouts and everything in between.
In addition to their great beer, Throne Brewing also offers a comfortable and welcoming atmosphere with a full bar and large menu.
Good To Know: This brewery is dog friendly
State 48 Brewery
State 48 Brewery is a popular brewery located in downtown Phoenix, Arizona. The brewery is named after Arizona's status as the 48th state to join the United States.
State 48 Brewery has quickly gained a reputation for its high-quality craft beer, as well as its welcoming atmosphere and friendly service.
In addition to its great beer, State 48 Brewery also offers a menu of delicious pub food.
The menu features classic dishes with a Southwestern twist, such as street tacos, nachos, and burgers topped with Hatch green chiles.
Grand Avenue Brewery
Is a gem located right off the main drag in the Historic Grand Avenue area.
We stumbled across this brewery and were impressed by the inviting atmosphere and delicious menu.
If you're looking for place that offers a a menu with Southwest flair this is your place!
Outdoor Shopping Malls And Farmers Markets
CityScape Phoenix
Located in the heart of downtown Phoenix, this outdoor shopping and entertainment center features a variety of retail shops, restaurants, and bars.
Shop at the Downtown Phoenix Farmers Market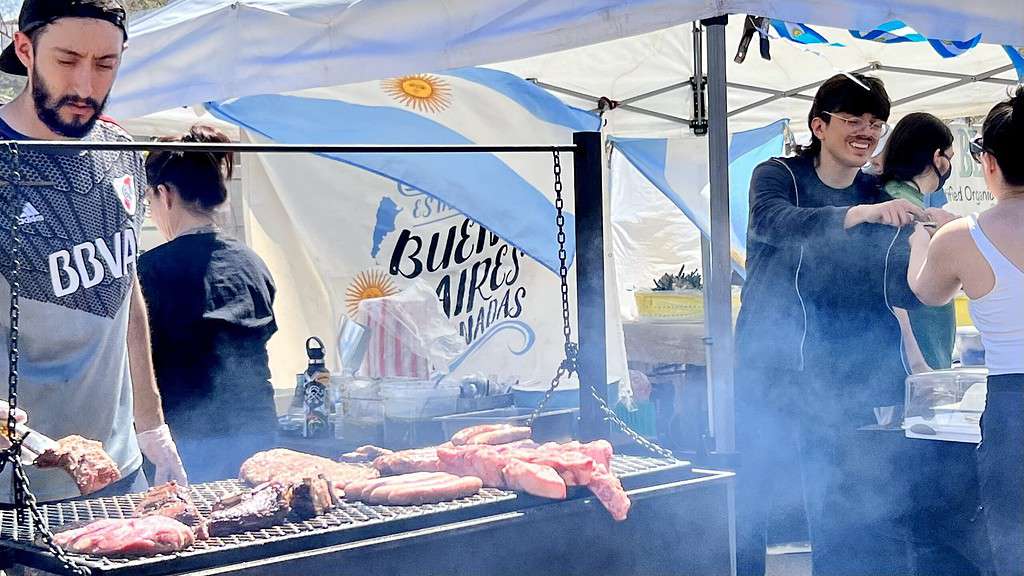 This year-round open-air market features many local merchants with plenty of fresh food, crafts, and goods.
It's a great way to support small businesses and enjoy locally-sourced produce.
When we visited, there were dozens of stalls with everything from fresh fruits and vegetables to coffee and food vendors.
Enjoy Some Live Music in Phoenix
Crescent Ballroom
If you're searching for a great live music experience or a night of drinks and bites in a former auto shop, look no further than the Crescent Ballroom in downtown Phoenix.
As we strolled around the city, we couldn't help but do a double take at the guests enjoying food and drinks at the Crescent's outdoor seating.
Naturally, we were intrigued and had to check it out for ourselves.
Once inside, we were blown away by the lounge area serving drinks and dishes from Cocina 10 Kitchen.
The lineup of shows at the Crescent is seriously impressive, and you can check out their calendar for all the deets.
The Nash Jazz & Blues Club
Named after Phoenix jazz drummer Lewis Nash, The Nash is an intimate live music venue that specializes solely in jazz performances.
With its dim lighting and nightly jazz offerings, it's widely considered one of the top jazz clubs in Phoenix.
The Van Buren
Van Buren in Downtown Phoenix is a must-visit spot for any traveler to the city.
Located in the heart of Phoenix and once a vintage auto dealership, the revamped concert hall is now the place to be for a great night out.
With a wide range of exciting new acts and nightlife shenanigans, it has hosted some of the biggest stars, including Sting, Billie Eilish, Death Cab For Cutie, and Dua Lipa.
The Valley Bar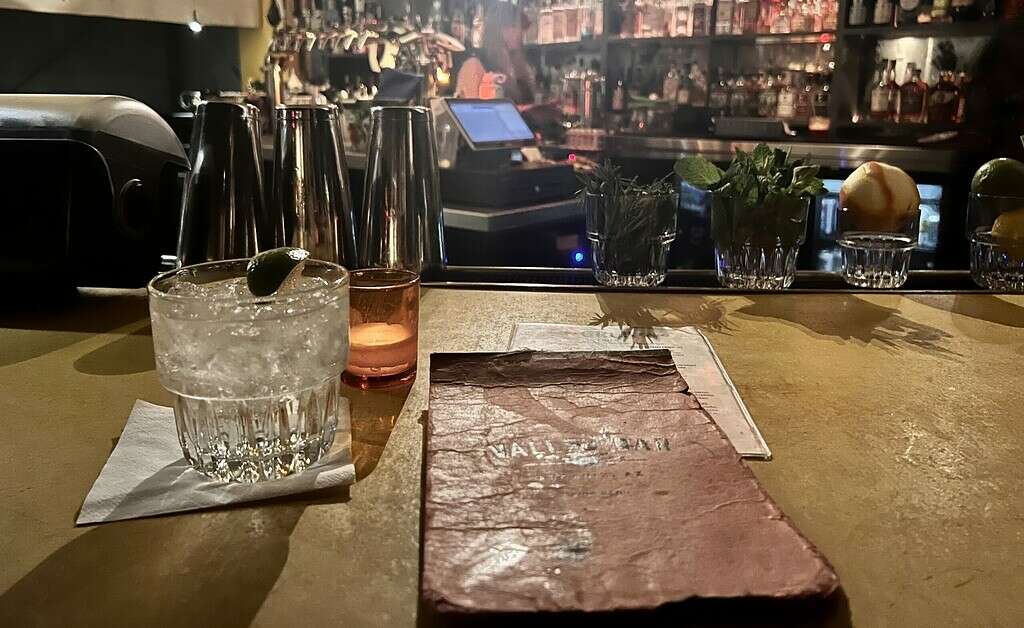 The bar's entrance being tucked away in an alley adds to its charm and exclusivity, and once you find it, you'll be glad you did.
The intimate atmosphere of the downstairs venue makes it the perfect spot for a night out. With its wide selection of drinks, live music, and game room, there's plenty to do here.
The game room is one of the highlights, with its pool tables, shuffleboard, skee-ball, board games, pinball machines, darts, and more.
Good To Know: The Rose Room is usually open to the public for free as long as there's room to spare!

Just keep in mind that for those super popular events that fill up the whole venue, you'll need to pay a cover charge.

If you show up well before any of the shows you're typically good to go having a drink at the bar.
Top Museums in Phoenix
Phoenix Art Museum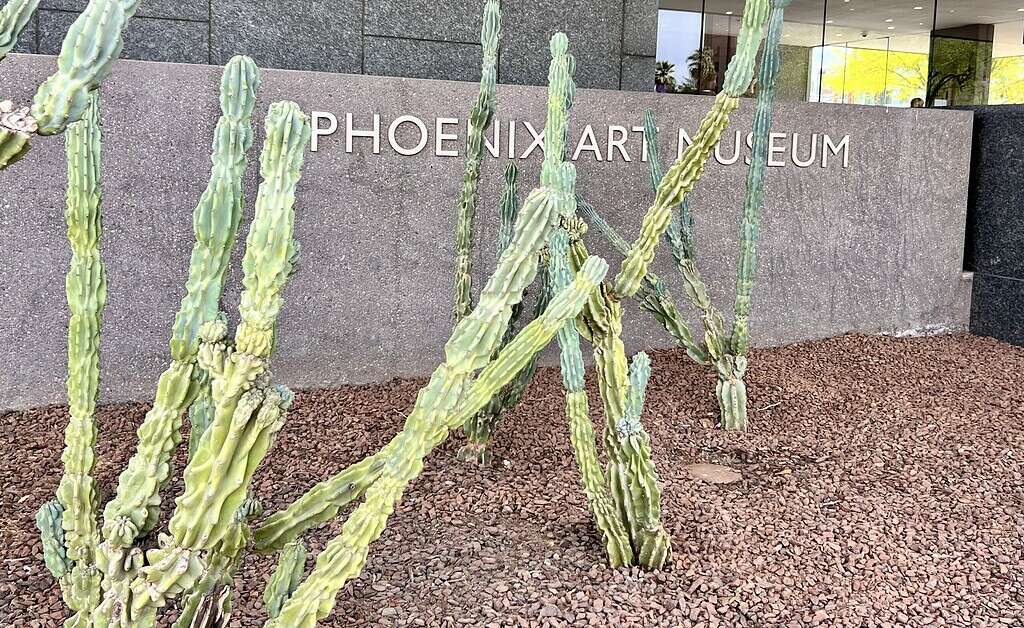 The Phoenix Art Museum is a world-class art museum located in downtown Phoenix, Arizona.
The museum's collection includes over 20,000 works of art from around the world, spanning from contemporary art to historical objects.
Visitors can explore a diverse range of mediums, such as photography, ceramics, and fashion design.
Arizona Science Center
Situated in downtown Phoenix, this interactive museum is committed to encouraging scientific exploration and education.
With a range of engaging exhibits and activities, visitors can enjoy hands-on experiences in topics such as electricity, magnetism, human anatomy, and space exploration.
In addition to permanent exhibits, the center also offers rotating exhibits on scientific themes, including environmental sustainability, biology, physics, and technology.
These exhibits are designed to be interactive and engaging, allowing visitors to learn through experimentation and exploration.
Children's Museum of Phoenix
The Children's Museum of Phoenix is an interactive museum located in downtown Phoenix, designed to provide a fun and educational experience for children.
Its exhibits cover a wide range of topics, including art, science, music, and engineering. The museum also offers educational programs, events, and birthday party options.
Heard Museum
The Heard Museum is one of downtown Phoenix's premier attractions.
Located on North Central Avenue, the museum was founded in 1929 and is dedicated to the advancement of American Indian art.
With a collection of over 40,000 pieces of Native American art, the museum is a must-visit for anyone looking to gain insight into Native American culture and history.
At the Heard Museum, visitors can explore a variety of exhibitions featuring pre-Colombian and modern Native American art and artifacts.
Best Restaurants in Phoenix
The Arizona Wilderness DTPHX (Food And Brewery)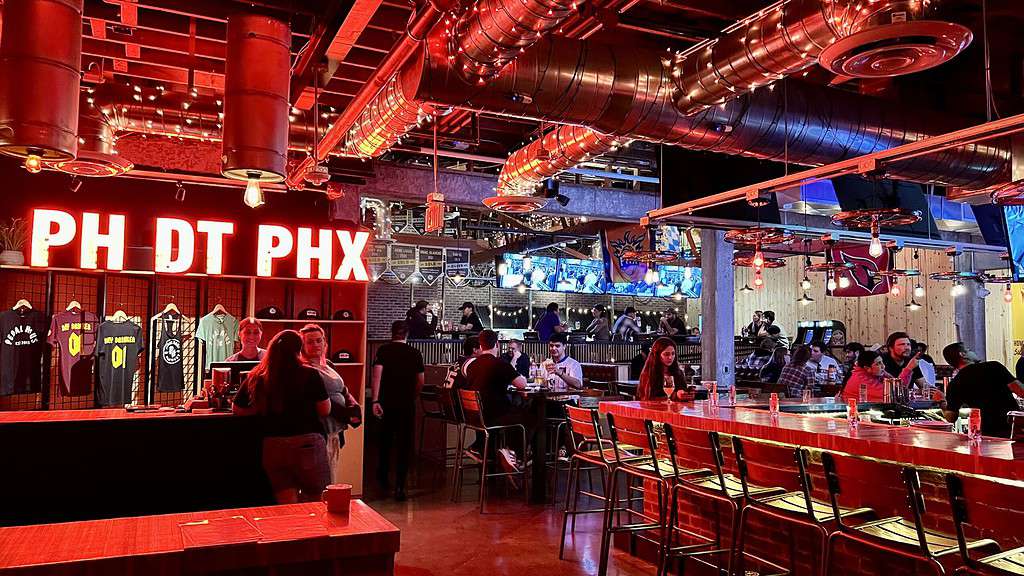 We were absolutely drawn to the Arizona Wilderness; the inviting outdoor atmosphere and dog-friendly environment made it a perfect spot to enjoy a meal with our furry friend.
The restaurant has a spacious patio area with plenty of seating, including picnic tables and cozy booths with fire pits.
Based on our experience, this place is busy at all times on the weekends. While the beer selection is great, it was the confetti fries that won me over.
Don't Make Our Mistake🙄 It's worth mentioning that if you're looking for an alcoholic beer, don't accidentally order a NA IPA when perusing the beer menu, unfortunately, that's what August did.
Places To Eat Downtown Phoenix
Here's a list of popular restaurants in Downtown Phoenix some we've been to some on are still on our bucket list
The Arrogant Butcher
Cornish Pasty
Hanny's
The Kettle Black Kitchen & Pub
Taco Chelo
Ziggys Magic Pizza Shop
Cibo
Pizzeria Bianco
Angels Trumpet Ale House
Taco Boys
Copper Blues Rock Pub & Kitchen
Places To Get A Drink
Crown Public House
Killer Whale Sex Club
The Whining Pig Downtown
In addition to SEVERAL more places (Don't worry we'll keep updating this with our favs)
Perfect Downtown Phoenix Itineraries
There are so many things to do in Phoenix for every type of traveler.
But with so much to do, it can be a bit overwhelming trying to plan your time.
We decided to give you a little head start and create the perfect Phoenix itinerary for each type of traveler. You're welcome!
Top Phoenix Attractions
If you're planning your very first trip to Phoenix, Arizona, these are some of the top sights to include on your trip.
Heard Museum
The Rosson House Museum & Heritage Square
Hot Air Balloon Tour
Jeep or UTV tour
Go to a game at Chase Stadium
Foodie Experiences in Phoenix
Phoenix is being recognized for it's culinary choices and for good reason!
Below we're sharing all of the best things to do in Phoenix for foodies (including some can't-miss drink spots too).
Visit one of the many breweries
Roosevelt Row District for food
Eat tacos
Pizzeria Bianco: This famous pizzeria has been featured on numerous "best pizza" lists and is a must-visit for any pizza lover.
Go brewery hopping
Phoenix's "Secret Bars"
Bitter & Twisted Cocktail Parlour
Desmond for cocktails
Free Things to do in Downtown Phoenix
If you're a budget traveler, we've got all sorts of free things to fill your time in Downtown Phoenix.
Roosevelt Row
Historic Grand Avenue
Phoenix Farmers Market
Picnic at one of the parks
Explore the historic Heritage Square
Scope out street art
Outdoor Adventures in Phoenix
If you're a nature lover, these experiences should be top of your list.
Chase Field for a game
Jeep or ATV tour
Hot air balloon ride above the desert
Visit a park
Japanese Friendship Garden
TOP RECOMMENDATIONS: Our Personal Downtown Phoenix Favorites
If we had to choose our very favorite things to do in Phoenix, this list would be it!
Spread them over a few days, and boom — you've got yourself the perfect weekend in Phoenix!
Roosevelt District
Hot air balloon ride above the Sonoran
Historic Grand Avenue
Phoenix Jeep Tour
Eat your way around the city
Brewery tour
Handcrafted cocktails at Phoenix's "Secret Bars"
Eat tacos at Taco Boys
Eat at Cornish Pasty
Go on a brewery tour
Get a Drink at The Whining Pig
Listen to music at Pemberton PHX
Best Day Trips from Phoenix
With the desert and cacti and rivers and mountains, Phoenix has the best of both worlds when it comes to adventuring.
There are plenty of opportunities for day-trips (or weekend getaways!) near Phoenix.
We even have an entire guide to all of the very best day trips from Phoenix (packed with all sorts of tips!).
But if you're looking for a quick list, here are some of our favorites…
Saguaro Lake
Sedona
Jerome Arizona
Goldfield Ghost town
Superstition Mountains