About Hood River Oregon
Hood River, Oregon, is a town in the northwestern United States on the Columbia River. It serves as the county seat of Hood River County. The city is about 30 minutes from Mount Hood, an hour from Portland, and 10 minutes from White Salmon, Washington.
Hood River is a fantastic place to enjoy wind sports, but if that's not your kind of thing, there are many other things to do too.
I think you'll be pleasantly surprised by the live music, food, shopping, breweries, hiking, and biking trails to keep everyone occupied.
So next time you're driving through Oregon, think about detouring off the interstate and spending a day or two in Hood River—you won't regret it!
How Do I Get to Hood River Oregon
If you're flying into the area the best way to get around is to rent a car from the Portland Airport. Use Rentalcars.com to browse the best deals on cars or SUVs. Our favorite way to travel is by campervan; if you'd like to try out an RV or campervan for your trip, check out Outdoorsy.
You can also read our full review on Outdoorsy here.
Portland International Airport (PDX) is the nearest airport to Hood River. After renting a car, you'll head about 120 miles east of Portland (an hour's drive) to Hood River. The drive is straightforward, and you'll be gifted with views of the Columbia River for most of the route.
However, if you're looking for a scenic road trip from Portland to Hood River, I HIGHLY recommend taking the Scenic Highway (more on this below)
What is the Colombia River Gorge?
The Columbia River Gorge runs 80 miles in length and is 4,000 feet deep. It passes cliffs, spires, and ridges set against the Pacific Northwest's Cascade Mountain Range.
The Gorge, shaped by years of volcanic eruptions and floods, is also a treasure trove of culture and heritage. It's also a vital transportation and communication route where trains, barges, and highways support interstate trade while natural forces generate wind and hydrologic power.
What Is So Special About the Columbia River Gorge?
Before I get into the list of things to do in Hood River, let's briefly talk about the Columbia River Gorge.
The Gorge is a canyon that has formed naturally along the Columbia River. It serves as one of the most popular destinations for wind sports, including windsurfing, kiteboarding, paragliding. The gorge divides the state of Washington and Oregon.
There are often high winds in the Gorge, which is why it's an optimal place for wind sports enthusiasts. However, if you're not into that kind of thing, there are plenty of activities in the towns near the Gorge to partake in. There is also a great path along the Historic Columbia River Highway State Trail that allows recreationist to walk, run, or bike sections of this trail.
Best Time to Visit Hood River
Thanks to pleasant weather for water sports, hiking, and biking, summer is the best (and most popular) time to visit. However if you're looking to avoid the crowds the best time to visit is early to mid-September.
Don't be surprised if you see people in the water year-round. Locals have been known to ski at Mt Hood the first part of the day and then head back down for an hour or two of wind surfing before the sun goes down.
Drive the Historic Colombia River Highway-Best Thing to Do With the Whole Family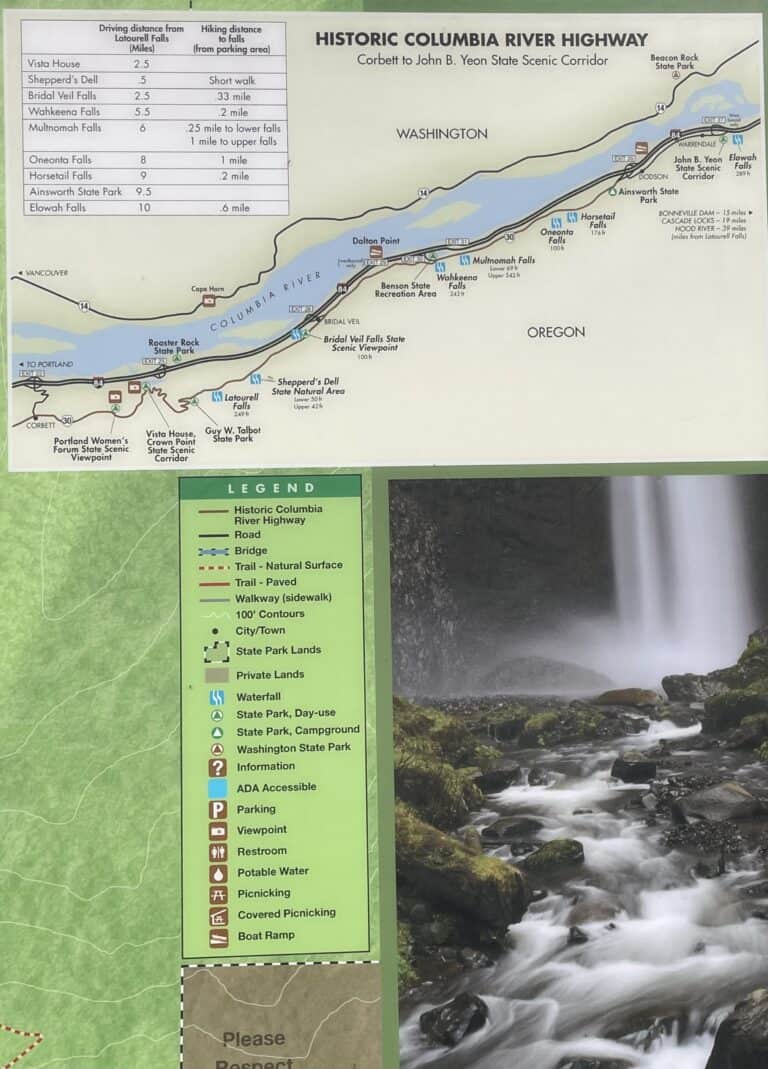 Hood River is home to the Historic Colombia River Highway. It's the first scenic highway in Oregon and provides waterfalls, rivers, dense forests, wildflowers fields, and panoramic viewpoints.
The whole drive should only take you about an hour or two, but it could easily be combined with other activities along the route like hiking, having a picnic, or visiting a winery.
Towards the end of the drive (If you're driving from Portland), you'll come across Bonneville Dam. It's home to Lewis & Clark Interpretive Center and also has an excellent visitors' center where you can learn all about hydroelectricity and dams along the Columbia River.
Pro Tip: If you're doing this drive in early spring, you'll experience a handful of waterfalls in full swing and beautiful. We did this scenic byway drive after a significant rain/snowfall in January, and it was perfect with very few tourists.
Cross The Toll Bridge to Washington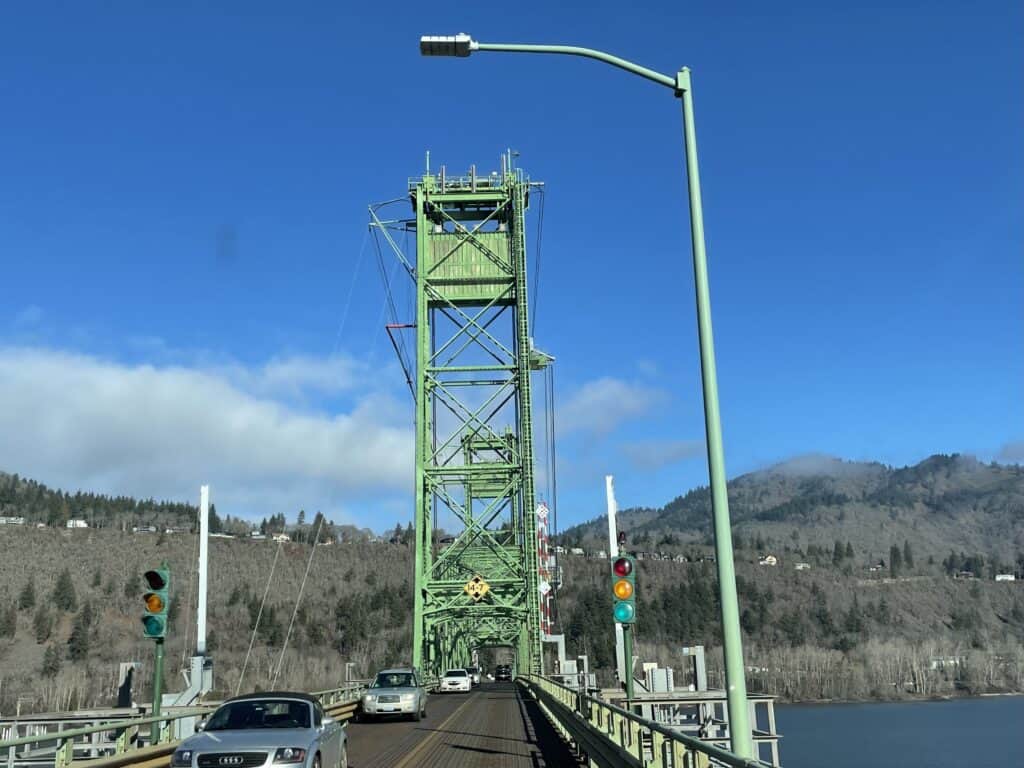 Once you finish driving along the Colombia River Highway, venture across the toll bridge to the quaint and charming town of White Salmon. Even though the toll bridge is only about a mile long, this "bridge to nowhere" has been a favorite of photographers and sightseers since it was built in 1938.
For me, it's a heart-pumping experience due to the narrow nature of the bridge.
The Toll Bridge provides two dollars access between Hood River and White Salmon.
Plus, there are some great views from White Salmon. Be sure to head up to the town park, where you'll get a birds-eye view of the surrounding area.
Visit White Salmon And Bingen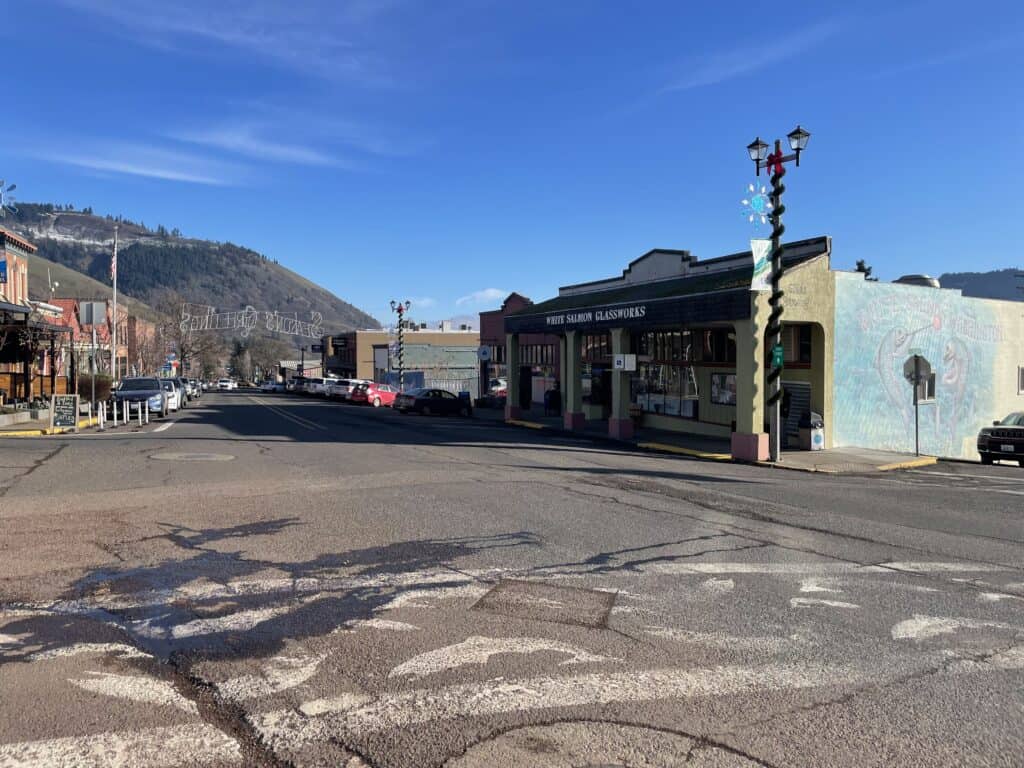 After taking the toll bridge to the Washington side of the Gorge, there are plenty of good things to see and do in the small towns of White Salmon and Bingen. Not only are there some great hiking trails with beautiful mountain views, the area has some excellent restaurants, scenic waterfalls, and a small but friendly downtown area to walk around.
While in White Salmon, if you're looking for a beer or a bite to eat, don't miss Everybody's Brewery. I highly recommend sitting outside on the back patio to take in some fresh air. If you're looking for a unique twist to Mexican street tacos, Pixan is a great place to eat across the brewery. Pixan can get really busy, so plan ahead if you're going to eat there.
Enjoy World Class Kiteboarding and Windsurfing- Best Thing to Do in Hood River
Hood River offers some of the best windsurfing in the world. If you're lucky enough to be there during one of their international water events, you'll be amazed by these adrenaline enthusiasts' talent.
Kiteboarding and windsurfing are two of the most popular outdoor activities in Hood River, and excellent wind conditions attract people from all around the world. It's not an easy sport to pick up, so you'll probably want to take a lesson or perhaps even two. There are plenty of places to get a lesson, but Cascade Kiteboarding is a reputable place.
Paddleboarding-Our Favorite Thing to do in Hood River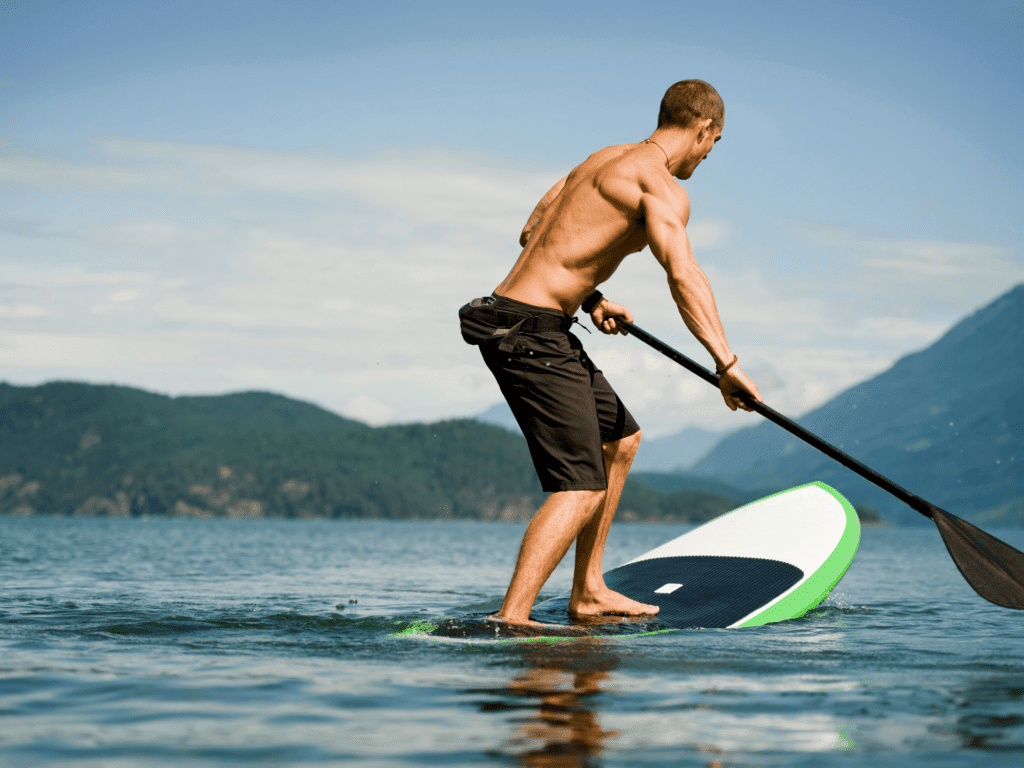 If you're looking for something a little more chill than letting the forces of nature be in control, renting a stand-up paddleboard ("SUPing") or kayak are good alternatives. Both activities are ideal for anyone who has never done them before, and neither needs much instruction to try.
The Hood River SUP and Kayak Company is located on the river and provides hourly rentals.
Into Trains? Get Your Fix With Mount Hood Railroad Ride
When visiting Hood River, one can't help but notice the number of trains and train tracks in the area. If you're looking for a train adventure, take a vintage-style trip through the Hood River region with a journey on a historic railway around the surrounding areas!
Depart from Hood River for an hour-long trip along orchards, rivers, and forested areas, all with views of beautiful Mt. Hood. The excitement of seeing new places is enjoyed by kids and adults alike while traveling.
Rowena Crest Viewpoint- Best Views in Hood River Area
The Rowena Crest Viewpoint is one of the most spectacular viewpoints in Oregon, offering a stunning view of the Columbia River Gorge and surrounding cliffs, forests, and mountains. The paved viewpoint offers a view of the Columbia River Gorge and surrounding cliffs, forests, and mountains.
The overlook is located within Tom McCall Preserve, which has a variety of short hiking trails from it. During the spring and summer, flowers can be seen on over 300 species throughout the preserve.
Appreciate the Local Art at the Columbia Art Gallery
If you're into the art scene, you'll love Hood River's art vibe. Stop by Colombia Art Gallery. You'll discover rotating exhibits from local artists and indigenous peoples at this museum. To get started making great Pacific Northwest art on your own, take a lesson to get started in creating great Pacific Northwest art on your own!
Getting to understand the arts of Hood River is an excellent approach to immerse yourself in the area's culture.
Shop Till You Drop in Downtown Hood River
There are plenty of places to shop if retail therapy is your thing. Downtown Hood River has many boutiques to purchase local art, jewelry, apparel, and other goods with fantastic views of Colombia River.
Explore the area's history and culture in Downtown Hood River. After you've explored the downtown area and worked up an appetite, there are over 30 restaurants to choose from for a bite to eat. If you're thirsty, there are some great breweries to quench your thirst. A couple of our favorite breweries downtown Hood River are listed below.
Mountain Biking in Hood River- Another Favorite Thing to do in Hood River
The Hood River bike trails are among Oregon's finest. The network of trails are crowd-pleasers whether you're a free rider or enjoy cross-country mountain biking.
The trail system is accessible via three main entry points: Seven Streams, which is only 15 minutes from Hood River, and Family Man & Post Flats, approximately 20 minutes away. The lower trails are ideal for those seeking an all-mountain or cross-country ride. The higher trails provide a free ride for those craving jumps, drops, and features.
For everyone, from novices to experts, this trail network on the banks of the massive Columbia River – and Hood River's famous beer destination – has something for everyone. The famed Syncline Trail is also not to be missed if you're in the area.
Road Biking Along Stretches of The Colombia River Byway Trail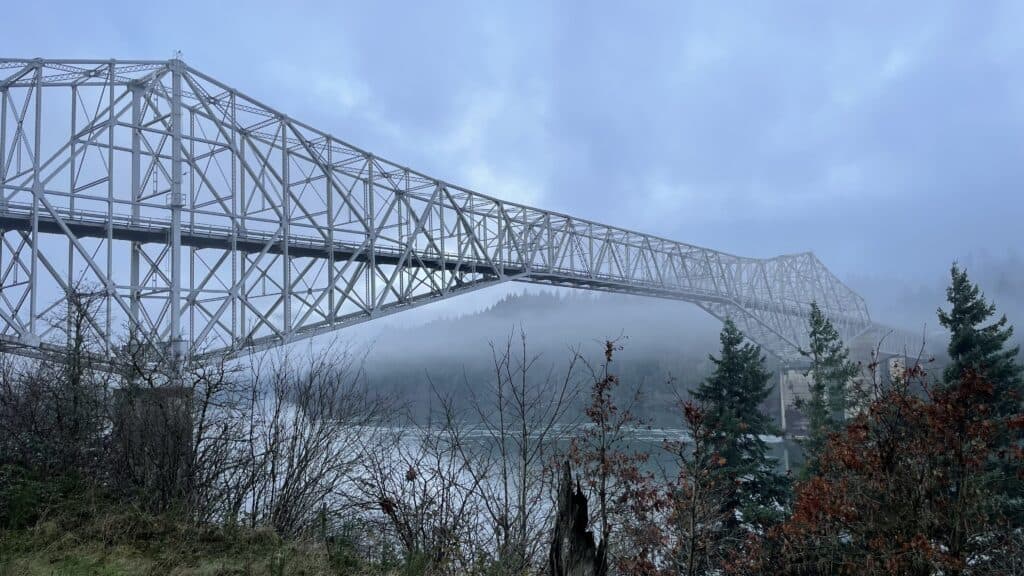 If you're looking to get in a bike and mountain biking is a bit too intense, you can cover portions of the Colombia River Byway on your bike. Be sure to check out the map to see where you can access the trail. The trail isn't continuous the whole way and is broken into sections, so you can click here to learn more.
Go Wine Tasting
Cheers, wine-o's. Oregon is the place for enjoying delicious wines, and lucky you, there are over 12 wineries and vineyards in the Hood River area. Hood River has some fantastic tasting rooms where you can try some of these locally produced wines. A couple of our favorite wineries are
Stave and Stone has an excellent tasting room in the heart of downtown Hood River. In addition to world-class wines, they have a great menu that offers unique cheese and appetizers.
If you're driving the beautiful Fruit Loop (which we highly recommend doing- more on this below), be sure to check out Stave & Stone's winery and vineyard. You'll enjoy the beautiful property and fabulous vino.
If you're looking for gorgeous views of the Gorge and super friendly staff, I highly recommend a visit to Cathedral Ridge.
Tour the Local Breweries
If wine isn't your thing, don't worry; there are some great, I mean really great breweries in Hood River where you can drink some fantastic PNW beers. The PNW is known for its hoppy IPAs, and Hood River is the perfect place to try new beer.
If you're looking to do a brewery tour, Full Sail Brewery is a great place to do one. You'll be able to see how things are made and learn about the history of the Hood River breweries.
The four breweries in Hood River offer something unique for everyone.
pFriem Family Brewers is one of our favorite places to get a beer with a view. It has a great restaurant style vibe, with fantastic beers. The brewery is located close to the river, so you can see the windsurfers and kiteboarders as you enjoy your beer from their patio.
Double Mountain Brewery has a great vibe with some really great music, maybe some of our favorite music on our brewery tour of Hood River. The large brewery restaurant has a two separate bars, where you can sample all of their delicious beers. They are super friendly and have some great pizza if you're feeling a bit hungry.
To read more about the best breweries in Hood River check this out.
Explore Cider The Alternative to Beer and Wine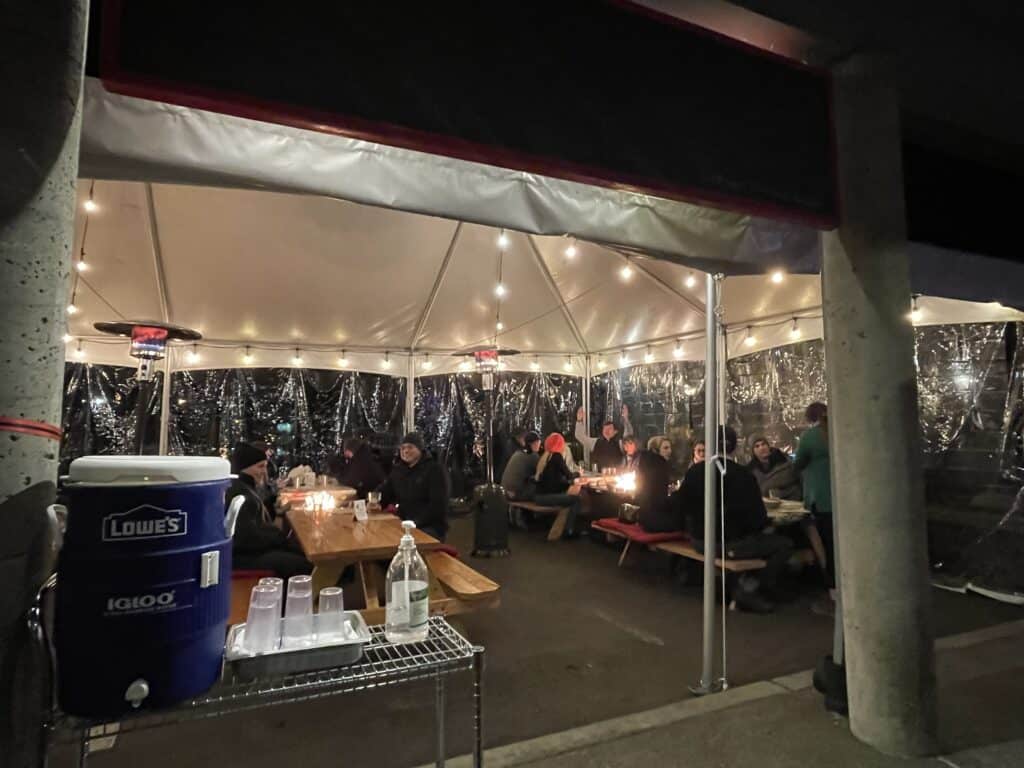 Ok, if beer and wine aren't for you, there's one more thing you may enjoy! Cider! In case you didn't know, The Hood River Valley is home to a plethora of apple orchards. The region has just the right combination of warm sunny days, chilly nights, and volcanic rich soil to create delicious apples. Fortunately, several cideries have emerged to capitalize on the fruit produced in Hood River.
Crush Cider Cafe is located a short walk from Hood River's main downtown area, and it was the city's first cider bar. The cozy cidery features a great tap list with over 17 house-made, local and regional ciders (as well as a few beers and kombuchas ). We love that this place has a fantastic outdoor seating area and is dog-friendly!
Eat Food And Find Wood-Fired Pizza in Hood River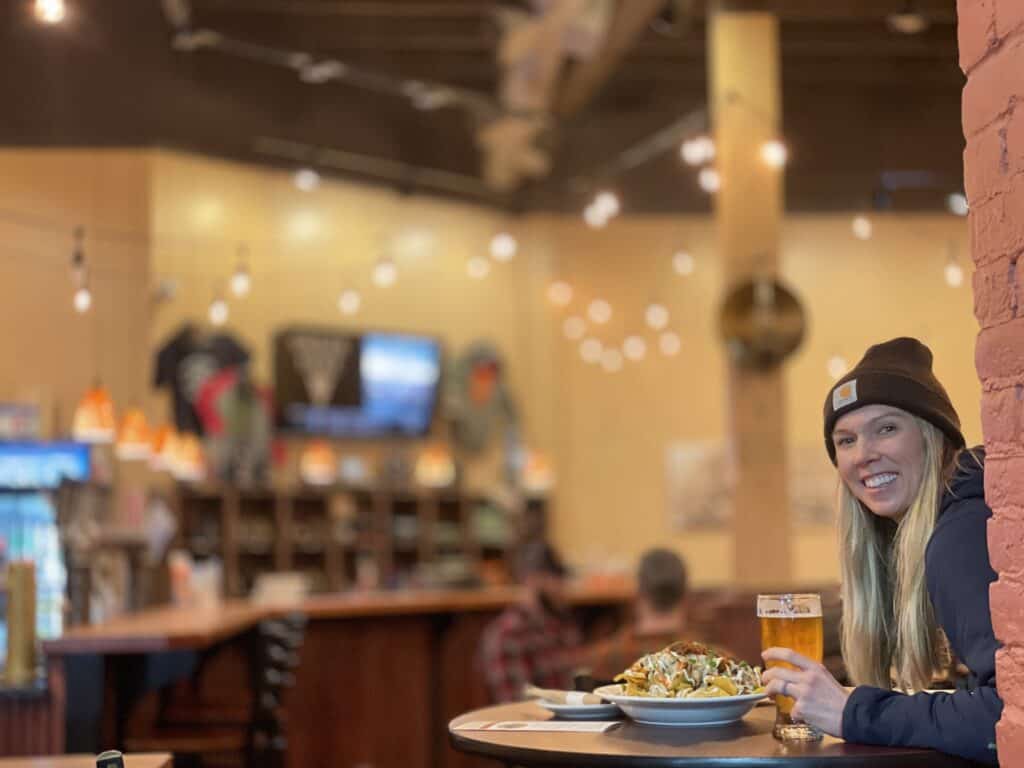 There are plenty of places to get a delicious bite to eat in Hood River. From our experience, Hood River is well known for its wood-fired pizzas, beer, and wine, so if you love pizza, you'll be well taken care of. If you're looking for a larger assortment of food, there are sushi restaurants and great food at all the breweries.
Enjoy Hood Rivers Farmers Market
If you're passing through Hood River from May until November, the Hood River Farmers Market should be on your list. It happens every Saturday from 9:00 a.m. until 1:00 p.m. in downtown Hood River. It's a fantastic place to pick up some native crafts or fresh fruits and vegetables. They also have live music making it a great thing t do for the whole family.
Skiing or Playing in the Snow at Mount Hood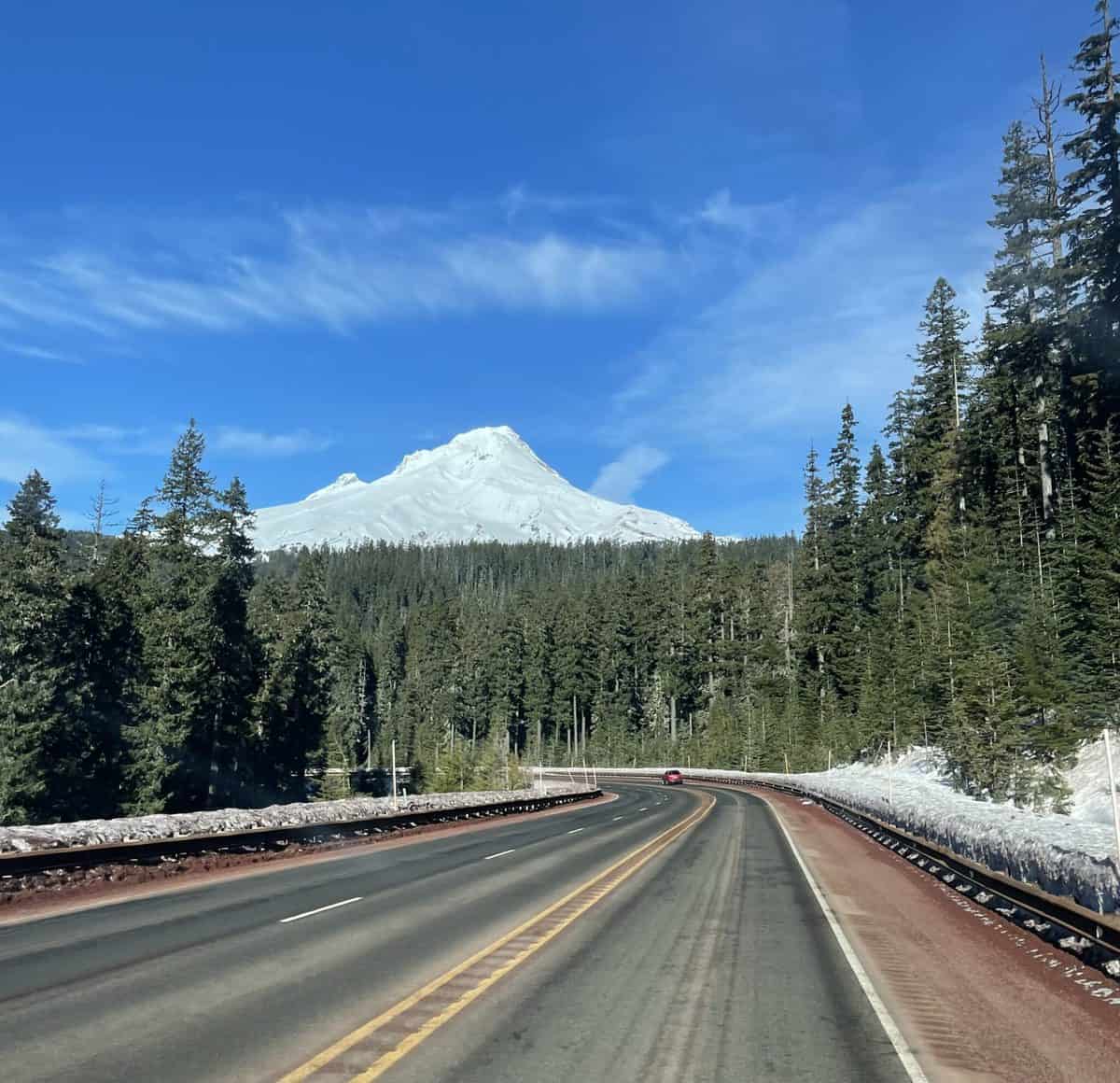 If you're looking for a winter (or summer) adventure in the snow, don't miss a trip to Mount Hood. Mt. Hood is the tallest mountain in Oregon at 11,249 feet and the 4th tallest in the Cascade Mountain Range. The great thing about Mt Hood is it's only about 35 miles from Hood River.
If you're looking for some cross-country skiing or sledding, you'll find both of these options on your drive from Hood River to Mount Hood. You can cross country ski and play on the free tubing hill at
Looking for more road trip tips?
Check out our Expert road trip guide to make road tripping a breeze
Find a Hike and a Waterfall Around the Colombia River Gorge
Take advantage of the beautiful Columbia River Highway's views and stop at scenic spots to stretch your legs and explore the well-maintained hiking trails.
There are tons of hikes to pick from in the Columbia River Gorge, as well as a few that are only minutes away from Hood River. If you decide to drive the Columbia River Highway for some of the popular hikes, Be sure to plan enough time that you're able to stop and enjoy the views along the drive
The accessible, heavily traveled Wahclella Falls is one of our favorite hikes along the highway. It's about 25 miles from Hood River and a 2-mile out-and-back trek that's mostly flat with a 350-foot waterfall at the end as a reward. The 4.5-mile round trip to Angel's Rest is quite challenging but offers stunning views of the Gorge.
If you're looking for overnight backpacking trips along the Gorge area there are plenty of those too. You can learn more about overnight trips, routes and options here.
Hood River Waterfront Park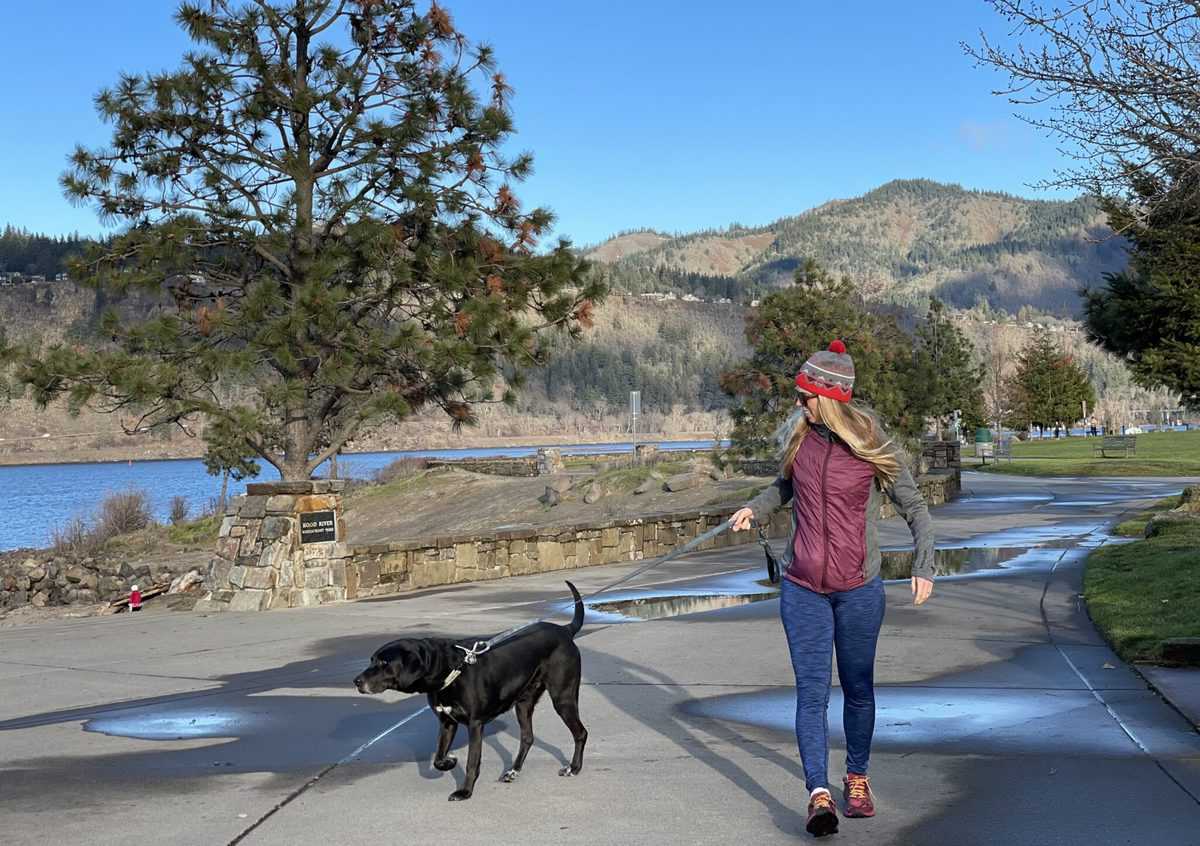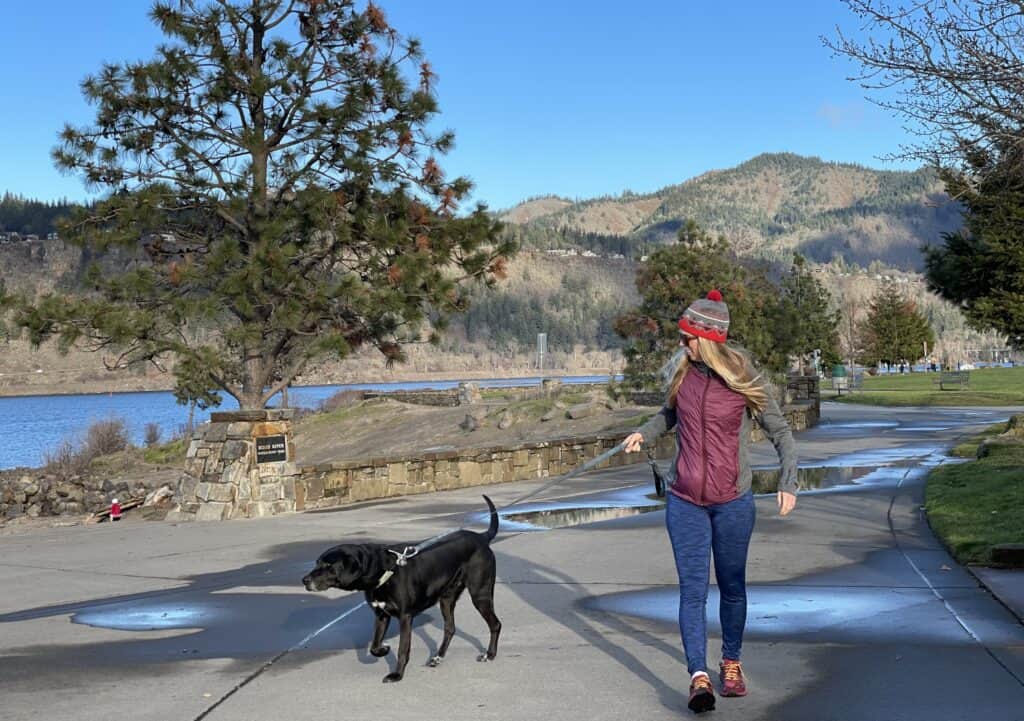 The Hood River Waterfront is a great place to spend an afternoon if you're looking for things to do in Hood River. It's about a mile long and has plenty of room for picnics, kites, kids, and taking in the beautiful views of the river and surrounding mountains. There are also water sports rentals available and restaurants and breweries close to the water.
Raft the White Salmon River
One of the most popular whitewater rivers in the Columbia River Gorge is the White Salmon River, just 12 miles north of Hood River. The 44 miles of river offers up some fantastic whitewater; although the river is on the Washington side of the Gorge, it's only 20 minutes from Hood River.
You can raft or kayak the White Salmon solo or sign up for a day trip or overnight excursion with one of these popular companies. Check out Wet Planet for half-day, full-day, and multi-day trips, or Zoller's Outdoor Odysseys to raft two rivers in two days.
Driving the Fruit Loop Is a Great Way to Spend a Sunny Day in Hood River
The Hood River Valley is home to world-class wine producers, fruit orchards, and wineries. There are at least 15 wineries open for tastings in the area. It's also a great way to see the valley's beauty with views of Mount Hood, Mount Adams, and even Mount St. Helens.
Be sure to check out a loop fruit map above, so you don't miss any of the popular stops along the way.
Pro Tip: The Fruit Loop loop is one that should be driven during the summer months because most of the wineries are operating on limited hours. With the snow on the mountains, you're not able to take advantage of the "You Pick" orchards.
Get Out and Explore The Best Things to Do in Hood River
I hope these tips for the best things to do in Hood River will help you to get out and explore this beautiful area. There is so much to do from Portland to Hood River for a weekend or day trip from the city. If you're looking for things to do in Bend, OR don't miss our favorite things to do in Bend.