Looking for the best things to do in Old Town Scottsdale?
You've come to the right place.
I'm excited to take you on an adventure through Old Town Scottsdale to all of our favorite places and even a couple hidden gems.
Why should you listen to anything I have to say about Scottsdale?
Because not only do we spend A LOT of time here, but we've also been exploring this lively area for years, discovering new and exciting experiences with each visit.
Old Town Scottsdale is a unique blend of the old and new, offering something for everyone.
Whether you're looking to immerse yourself in the local art scene, indulge in delicious cuisine, or experience the thrill of outdoor adventures, Old Town Scottsdale has it all.
From the Scottsdale Museum of Contemporary Art to the Scottsdale Wine Trail, the area is teeming with world-class attractions and activities that are sure to capture your interest.
But it's not just the big-ticket items that make Old Town Scottsdale special.
There are plenty of small, hidden gems waiting to be discovered, from quirky boutiques and vintage shops to cozy cafes and bustling farmers' markets.
We'll take you on a journey through the many treasures, uncovering the unique charm and character that makes Old Town Scottsdale what it is.
✈️Fly: The best airport for to fly into is Phoenix Sky Harbor, a 7-minute drive to Phoenix. Check KAYAK for tickets! (When booking your ticket be sure to confirm your airport so you don't end up at the wrong one like we did) 🙄
🚗Car Rental: Discover Cars is a car rental platform that partners with over 500 local car rental companies
🌵When to Go: October through May can be a great time to visit Scottsdale
✅Reservations are a MUST at some of the more popular restaurants; especially on weekends if you have your heart set on a specific location be sure to call ahead to secure your seat!
Top Attractions In Old Town Scottsdale
Old Town Scottsdale is home to numerous top attractions let's dive in and learn more.
1. Old Adobe Mission
The Old Adobe Mission is a historic landmark that deserves your attention.
Built in 1933 by Mexican immigrants, this mission-style church stands as a testament to the perseverance and dedication of its builders.
Constructed entirely of adobe bricks made on-site, the mission's architectural charm and simplistic beauty are evident in its rustic walls and traditional features.
Visiting the Old Adobe Mission provides a unique opportunity to delve into Scottsdale's rich cultural history.
🌵Scottsdale Vs. Sedona? Compare The Two For Your Next Vacation. Read More Here
2. Visit The Scottsdale Waterfront
The Scottsdale Waterfront is an urban oasis with a delightful blend of shopping, dining, and leisure options.
Set along the Arizona Canal, this contemporary development is a testament to the city's dedication to creating inviting public spaces.
As you wander along the beautifully landscaped promenade, you will encounter a diverse array of upscale shops, boutiques, and restaurants.
The Scottsdale Waterfront caters to every taste and budget, offering everything from high-end fashion to local artisan crafts.
3. Catch A Show At Scottsdale Center For The Performing Arts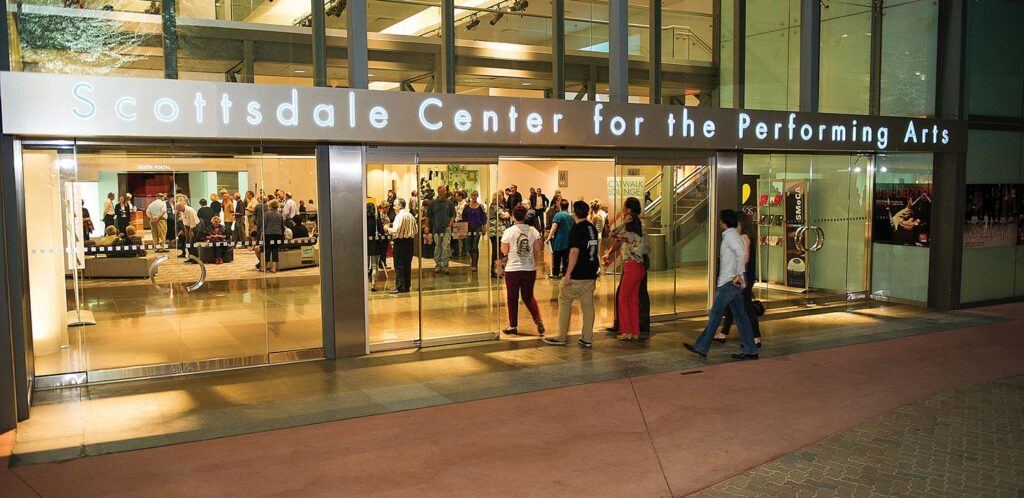 The Scottsdale Center for the Performing Arts is a cultural gem located in the heart of Old Town Scottsdale.
With its prime location just a short walk from some of the best restaurants, bars, and attractions, it's the perfect destination for a night out on the town.
This modern facility is home to various performances and events, from music concerts to theater productions to dance performances and more.
4. Experience Scottsdale From A Hot Air Balloon Ride
Soar above Scottsdale in a hot air balloon and witness the beauty of the desert landscape, mountains, and city below.
Skilled pilots will guide you through the skies, sharing their knowledge of the area and pointing out notable landmarks.
Experience the serenity of the ride, disconnecting from the noise of the world below and gaining a newfound appreciation for the natural wonders of Scottsdale.
Pro tip: Be prepared for a VERY early morning because flights take off just before sunrise, which means you'll need to wake up earlier than you might prefer, especially if you had a late night the evening before.
5. Go Wine Tasting on the Scottsdale Wine Trail
While not traditionally known as a wine destination, Scottsdale and the surrounding areas boast a surprising array of unique and flavorful wines.
This wine trail provides an opportunity to sample the diverse range of wines that Arizona has to offer.
Each of the seven tasting rooms along the trail possesses its own distinct ambiance and curated selection of wines, ensuring there's something to satisfy every palate.
Here our favorite wine tasting rooms:
Good To Know: If wine tasting is at the top of your list, the Scottsdale Wine Passport is a good thing to look into. The passport includes tastings at various wineries and tasting rooms throughout Scottsdale areas.
Looking For Things To Do This Weekend In Scottsdale? Read This
Old Town Scottsdale Shopping
Shopping in Old Town Scottsdale is an experience. This vibrant district is known for its eclectic mix of boutiques, galleries, and specialty shops, making it a shopper's paradise.
6. Shop at Fashion Square
Fashion Square Mall is your place if you're a fan of big names and indoor malls.
Fashion Square has something for everyone, from big names like Gucci, Louis Vuitton, Prada, and Versace to more traditional brands like Nordstrom, Neiman Marcus, and Anthropologie.
7. Browse Unique Boutiques and Galleries
One of the highlights of shopping in Old Town Scottsdale is exploring Fifth Avenue. This charming street is lined with an array of stylish boutiques, showcasing everything from designer clothing and accessories to handmade jewelry and artisan crafts.
Here, you can discover distinctive pieces that reflect the Southwest's rich cultural heritage and the city's fashionable flair.
Be Sure to See: Bischoff's Shades of the West: This family-owned shop showcases authentic and beautifully crafted pieces that reflect the rich cultural heritage of the Southwest.
8. Visit The Art Galleries
Immerse yourself in the world of art by visiting the art galleries in Old Town Scottsdale.
As you wander through Main Street and Marshall Way, you'll encounter diverse artistic expressions, from contemporary masterpieces to traditional Southwestern artwork.
9. Scottsdale Farmers Market
Discover a vibrant community of over 100 local growers and specialty food producers at the Scottsdale Farmers Market.
From fresh flowers to natural meats and free-range eggs, the market offers an abundance of culinary treasures to fulfill your every need.
Don't miss out on the artisanal cheeses, freshly baked breads, flavorful jams, and tantalizing tamales that await you at the market.
Museums In Old Town Scottsdale
Scottsdale really packs it in when it comes to having a lot to offer. Old Town even has 2 museums in the heart of it all.
10. Scottsdale Museum Of Contemporary Art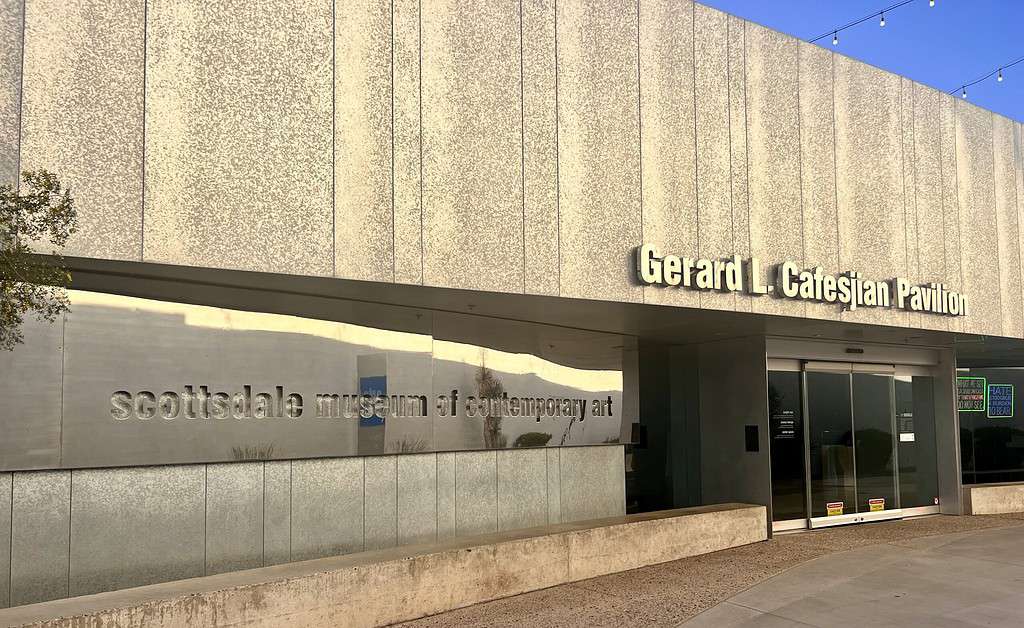 Discover the Scottsdale Museum of Contemporary Art (SMoCA), a cultural gem in the heart of Old Town Scottsdale.
Known for its dedication to modern and contemporary art, SMoCA showcases thought-provoking works by established and emerging artists across diverse mediums, including painting, sculpture, photography, and new media.
Beyond its impressive collection, SMoCA offers guided tours, artist talks, and interactive activities that deepen your understanding and appreciation of contemporary art.
11. Scottsdale's Museum Of The West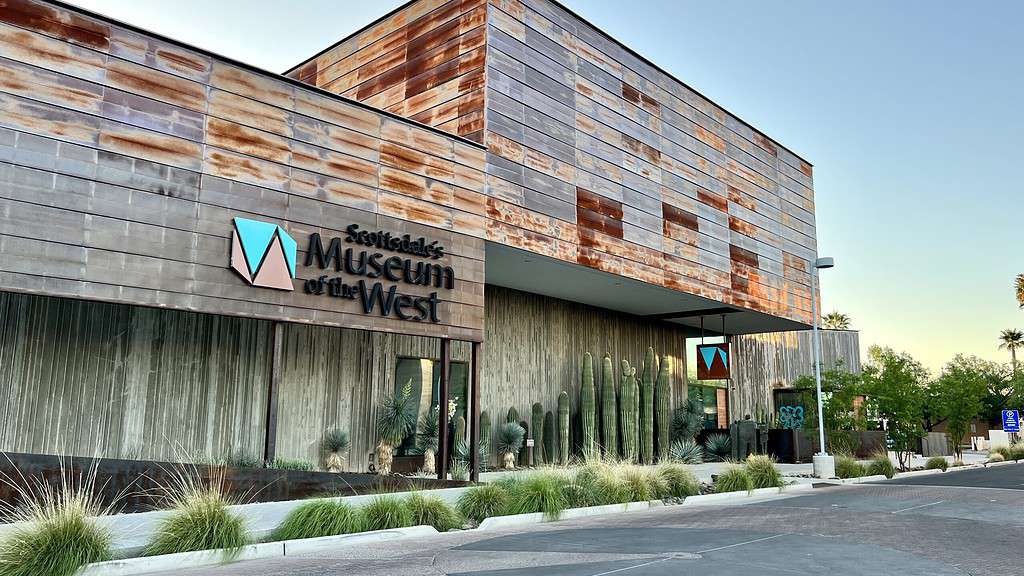 Scottsdale's Museum of the West is a treasure in Old Town's heart.
This museum celebrates the rich heritage and history of the American West through its exhibits and immersive experiences.
Step into the museum and take a journey back to the era of cowboys, pioneers, and Native American cultures.
Explore the diverse exhibits showcasing Western art, artifacts, and stories, offering a comprehensive perspective on the multifaceted history of the American West.
🌵 Have You Explored Downtown Phoenix Yet? If Not Read This.
12. Wonderspaces At Fashion Square
Wonderspaces is an immersive art experience. This one-of-a-kind exhibition showcases a collection of captivating and thought-provoking installations from artists around the world.
Each installation engages your senses and ignites your imagination, creating an unforgettable experience that blurs the boundaries between art and reality.
Fun Things To Do In Old Town Scottsdale
13. 🌮 Food Tour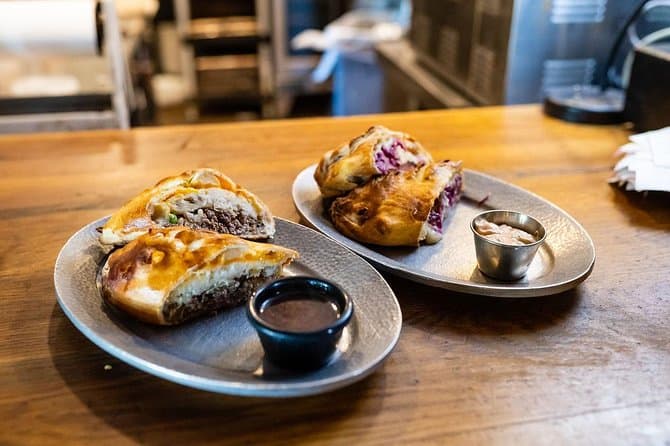 Immerse yourself in the rich flavors of Scottsdale with a food tour, allowing you to savor the city's culinary delights
Choose from several reputable food tour companies in Scottsdale, offering guided experiences that showcase the vibrant culinary scene of the city.
I like this particular tour because the tour takes you to 6 different restaurants and the guides give you some "local beta" on some of the best places to eat.
14. 🍦Eat Ice Cream At The Sugar Bowl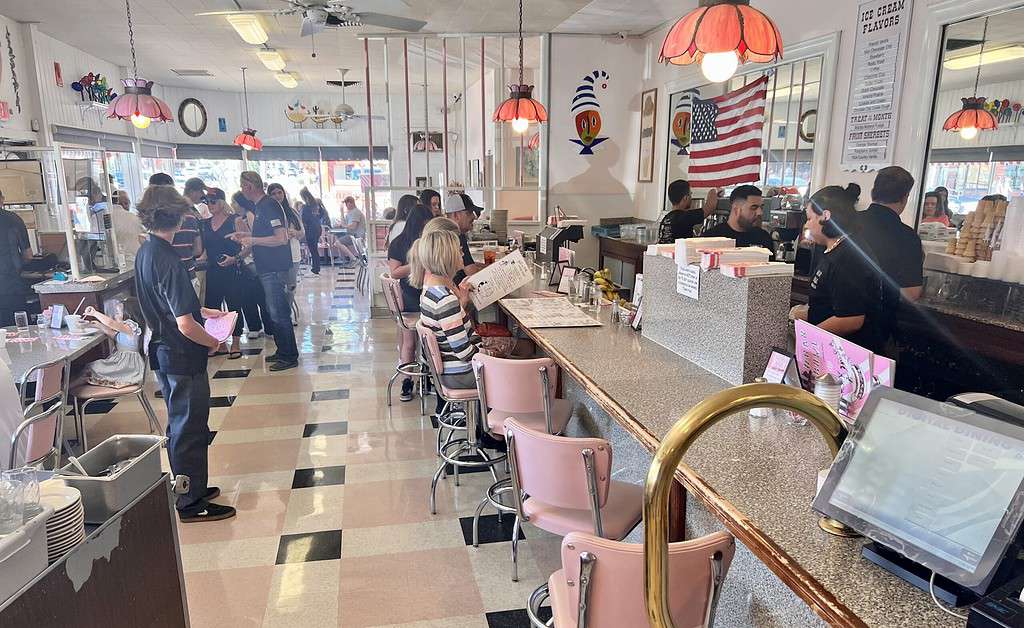 If you're looking for a blast from the past while in Scottsdale, Arizona, then you have to check out The Sugar Bowl.
From its bold pink facade to its authentic 1950s soda fountain, this old-fashioned ice cream parlor has been dishing up classic American favorites like meatloaf, tuna melts, and grilled cheese sandwiches since 1958.
15. 🚲 Bike Or Segway Tour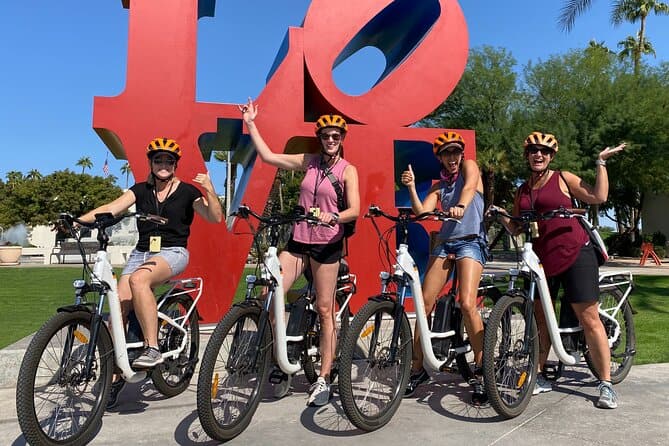 For those who prefer to explore the city on two wheels, there are also several bike and segway tour companies that offer guided rides through Old Town and beyond.
These tours provide a unique perspective on the city's architecture, history, and culture, with stops at local landmarks and hidden gems along the way.
16. Find The Goofiest/Most Fun Scottsdale Tour Possible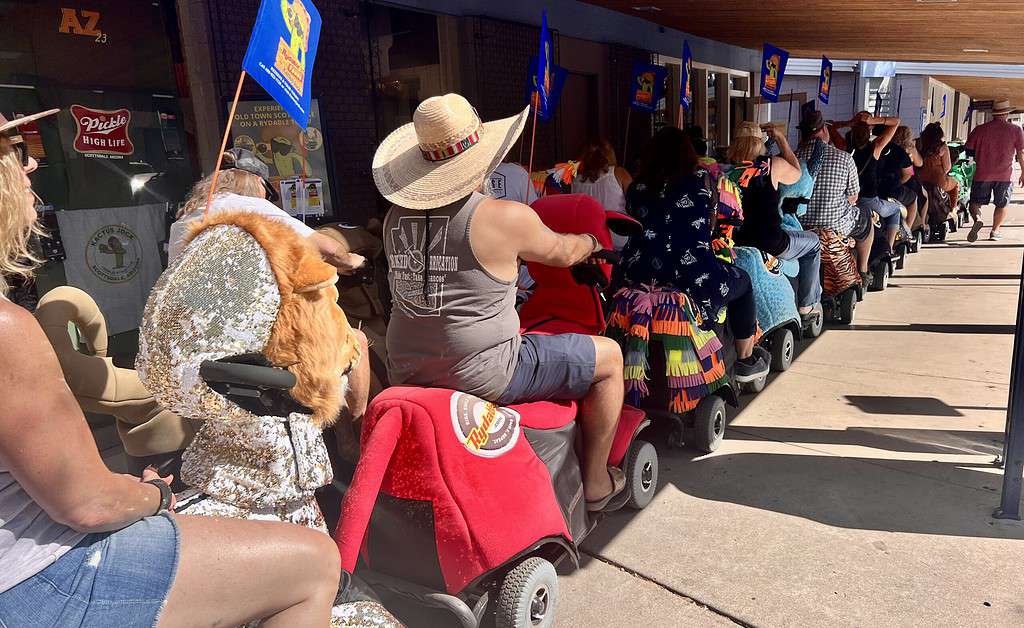 Ok this section is all about having fun in Scottsdale so If you're feeling like taking your Scottsdale tour to the next level of fun, there are options for that as well. Check out the reviews here.
17. Go On A Jeep Or ATV Ride
Don't miss out on the thrilling adventure of off-roading when you visit Scottsdale.
Whether you prefer the agility of an ATV or the ruggedness of a jeep, Scottsdale offers a wide range of options to cater to your off-road preferences.
You can book one of these ATV tours or these jeep tours that will take you out to explore the hidden gems of the desert landscape.
18. Pub Crawl by Bike
Do you enjoy a good pub crawl? If so, Scottsdale is the place for you!
This city has no shortage of pubs and entertainment districts (In fact, there are 9 distinct districts in Scottsdale), making it the perfect destination for a pub crawl.
A bike pub crawl allows you to cover more ground and see more places in less time.
Plus, pedaling your way through the city with fellow revelers is a lot of fun.
So what are you waiting for? Get ready to have some fun.
Scottsdale Events
19. Scottsdale Art Walk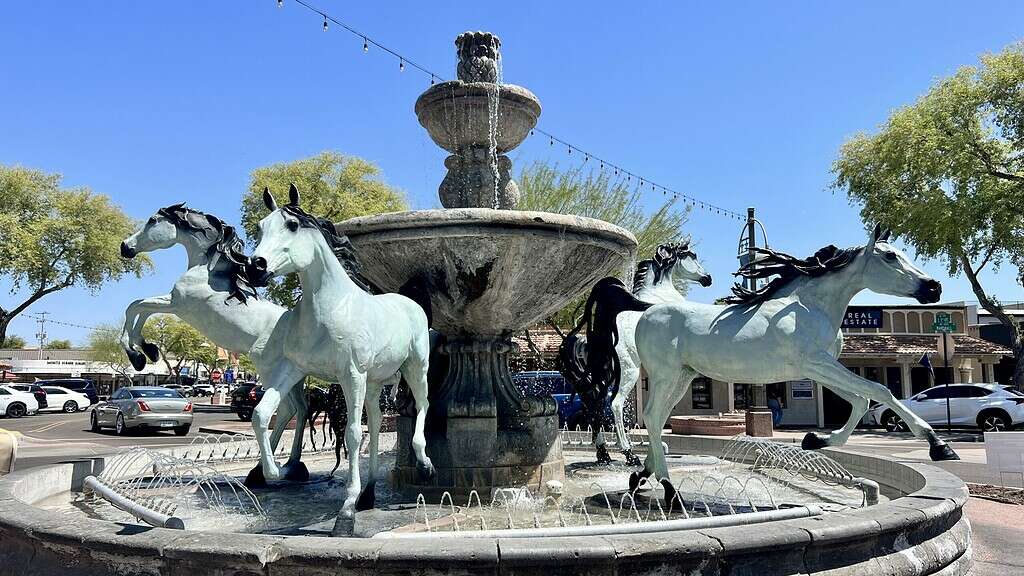 The Scottsdale ArtWalk is a free event held every Thursday evening 7-9 in Old Town Scottsdale.
As the sun sets, the streets come alive with art lovers and enthusiasts from all over the city.
Galleries, museums, and other art spaces stay open late for the event, offering visitors a chance to explore the local art scene in a unique and immersive way.
The atmosphere is lively and festive, with live music, street performers, and plenty of food and drink vendors.
Read This To Make The Most Out of The ArtWalk.
Old Town Scottsdale Parks
20. Civic Center Park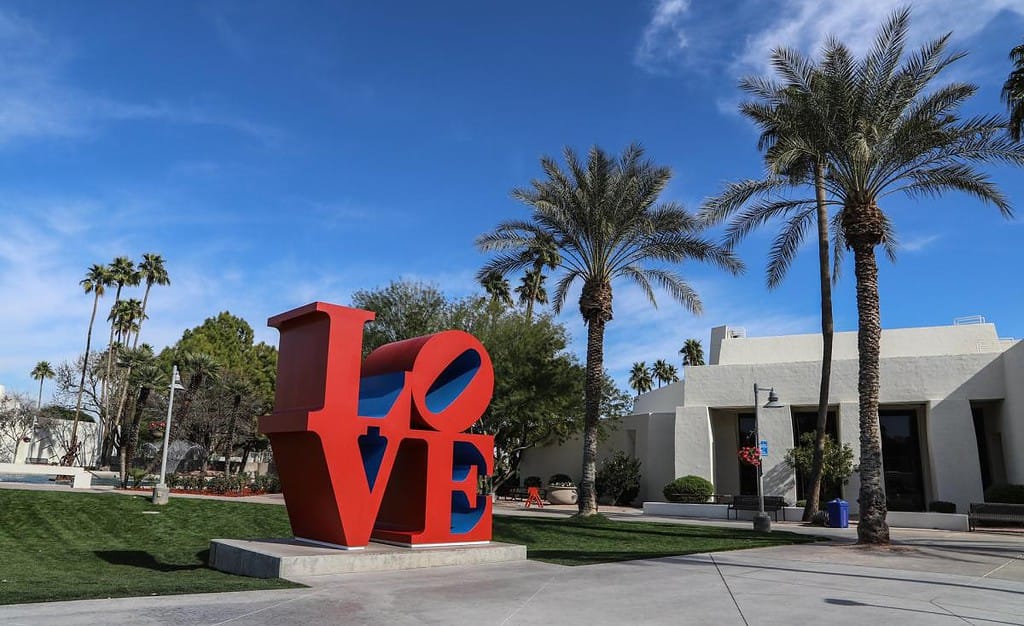 Tucked away in the heart of Old Town Scottsdale, Civic Center Park has lush lawns, tree-canopied walkways, and captivating public art installations featuring the iconic LOVE sculpture.
The park is also home to the esteemed Scottsdale Center for the Performing Arts, the Scottsdale Museum of Contemporary Art, and various inviting restaurants.
21. Pinnacle Peak Park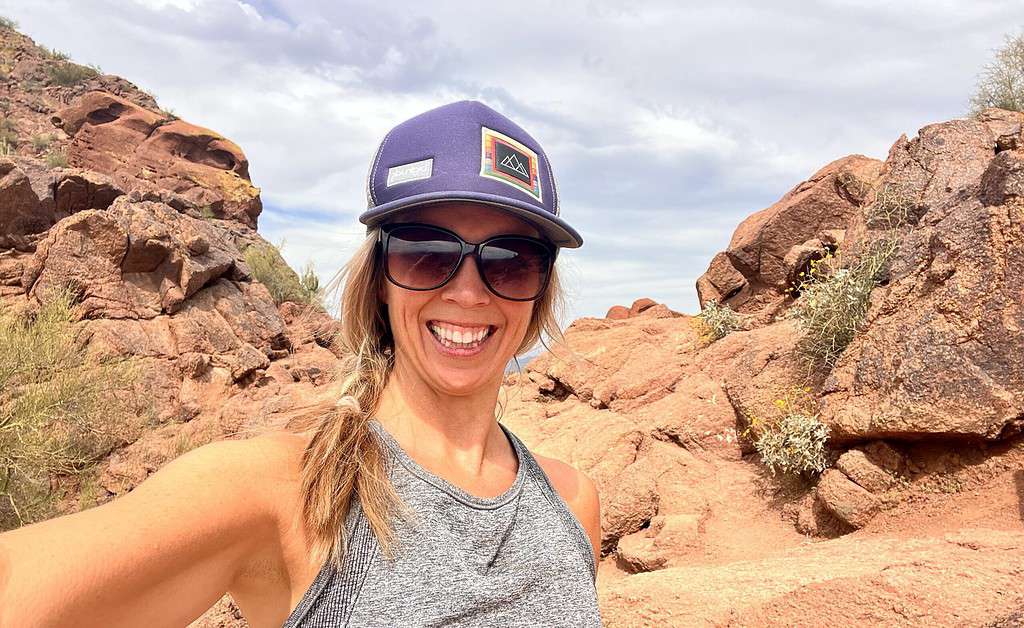 Situated in North Scottsdale, Pinnacle Peak Park is home to one of the city's favorite hiking trails—about 1.75-mile (one-way) the Pinnacle Peak Trail offers views of the city and the surrounding desert landscape.
Learn more here: Directions To Do The Pinnacle Peak Hike.
For those who enjoy rock climbing, designated routes present thrilling challenges, adding to the park's appeal for outdoor enthusiasts.
Old Town Scottsdale Outdoor Activities
Old Town Scottsdale is a haven for outdoor enthusiasts, offering a wide array of activities that allow you to embrace the beautiful Arizona landscape and enjoy the sunny weather.
22. Indian Belt Wash Greenbelt
For those looking for an outdoor adventure close to Old Town Scottsdale, consider taking a walk or bike ride along the Indian Belt Wash Greenbelt.
This trail provides a welcome respite from the city while remaining conveniently accessible.
Winding through picturesque neighborhoods, the Indian Bend Wash Greenbelt showcases the beauty of the Sonoran Desert, offering a delightful excursion for fitness enthusiasts.
23. Hike Camelback Mountain
This well-loved trail may be challenging, but the views from the summit are truly worth the effort.
Camelback Mountain earns its name from its unique shape, which strikingly resembles the hump and head of a camel.
For those who prefer a more moderate hike, the Cholla Trail (nearer to Old Town Scottsdale) offers a gentler incline.
For adventure-seekers searching for a rigorous climb, the Echo Canyon Trail (closer to Phoenix) is the most popular choice but be prepared for steep and strenuous sections.
Good to Know: Trust me, the hike can be challenging—we tackled the Echo Canyon Trail to the top and encountered numerous steep inclines and rocky boulders to maneuver over (sometimes using our hands). However, it was well worth it.
Pro Tip: To make the most of your hike, start early in the morning, particularly during the warmer months, to avoid the midday heat and crowds. Don't forget to bring water and wear sturdy shoes, as the trail can be rocky and slippery in certain areas.
Relaxation In Old Town Scottsdale
24. Spa Day
When it comes to relaxation and rejuvenation, Scottsdale is a haven with its impressive collection of top-notch spas.
From the Phoenician Spa to the Waldorf Astoria Spa at the Arizona Biltmore, you'll be spoiled for choice with a wide range of treatments, including massages, body wraps, facials, and more.
Don't miss the opportunity to experience unique desert-inspired therapies like prickly pear sugar scrubs and hot stone massages,
Good To Know: Scottsdale boasts the highest number of destination spas per capita in the nation.
Free Things To Do In Old Town Scottsdale
25. Do the Historic Old Town Walking Tour
A Historic Old Town Walking Tour is a fantastic way to immerse yourself in the history and culture of Scottsdale.
This self-guided tour, which is completely free, allows you to explore the charming streets of Old Town at your own pace, taking in the area's historic buildings, public art, and picturesque landscapes.
Here's a map of the walking tour
Be sure to visit these landmarks on your walk:
Little Red Schoolhouse
Old Adobe Mission
Cavalliere Blacksmith Shop
🌵Looking For More Free Things To Do In Scottsdale? Read This
26. Do the Public Art Walking Tour- Free Thing To Do in Scottsdale
One of the best ways to experience the creative spirit of Scottsdale is the Public Art Walking Tour, a free activity that showcases the city's commitment to artistic expression.
This self-guided tour highlights the numerous public art installations scattered throughout Scottsdale, allowing you to discover various unique and thought-provoking pieces that enhance the city's cultural landscape.
Here's a map of the art tour.
27. SMoCA (Mentioned Above)
Offers free admission on Thursdays. Visitors can enjoy an ever-evolving selection of contemporary art, architecture, and design from different parts of the world.
28. Take the Trolley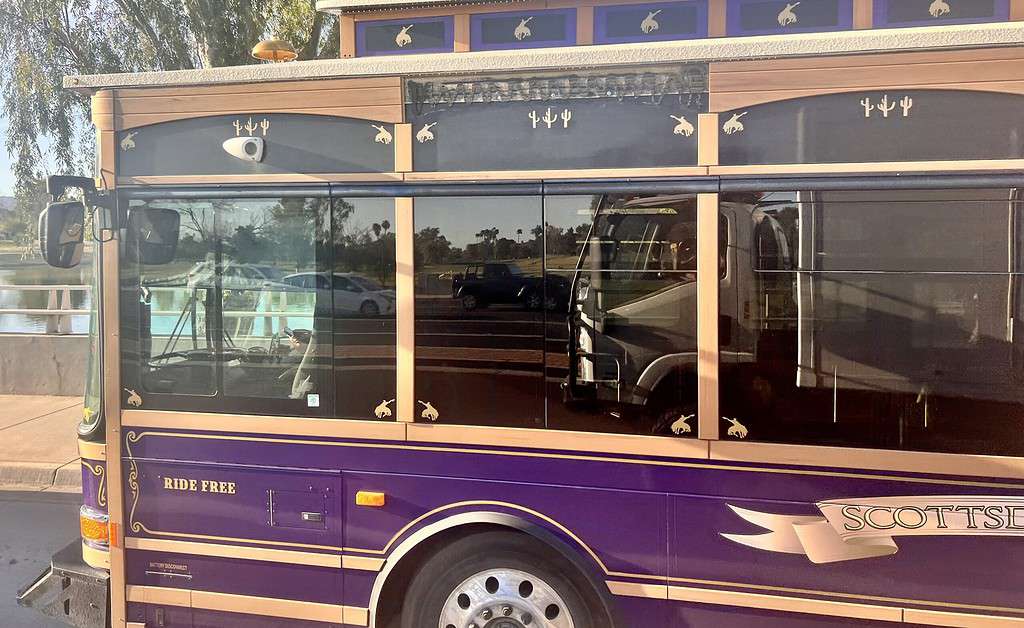 Exploring Scottsdale has never been easier, thanks to the reliable and convenient trolley system!
A hop-on, hop-off experience, the trolley takes you to all the city's best attractions, restaurants, and sights. Here's a map so you know where to catch the trolley.
29. The Best Old Town Scottsdale Restaurants
Scottsdale is a culinary haven, with a wide array of restaurants that cater to every palate.
Culinary Dropout is a great choice for those looking for a lively gastropub atmosphere and unique cuisine.
Diego Pops– Is a trendy and fun restaurant that has great food like the brussel sprout nachos and Sonoran dogs. Also there salads are affordable and delish.
Be sure to check out Diego Pops Happy Hour they offer half off appetizers. Hmmm. The perfect chance to try those brussel sprout nachos at half off.
Virtu Honest Craft serves up Mediterranean-inspired dishes made with locally sourced ingredients.
Citizen Public House If you're looking for upscale American fare and artisanal cocktails this is your place
Good To Know: Don't miss the Pork Belly Pastrami and Roasted Brussels Sprouts at Citizen Public House.
The Mission– serves us a really high end dining experience with Latin insipired cuisine
Barrio Queen– A great laid back environment with an upbeat vibe offering the best of Southwest flavors.
Frank and Lupe's-Is a popular spot in Scottsdale known for its flavorful Mexican cuisine and vibrant atmosphere.
A couple of our other go to restaurants are
Salty Senorita
Grimaldi's Pizzeria
Cafe Monarch
Farm And Craft
For a less crowded dining experience, check out Los Olivos Mexican Patio. They offer tasty Mexican food at affordable prices, and their spacious patio is perfect for those who prefer walk-ins over reservations.
Things To Do in Old Town Scottsdale At Night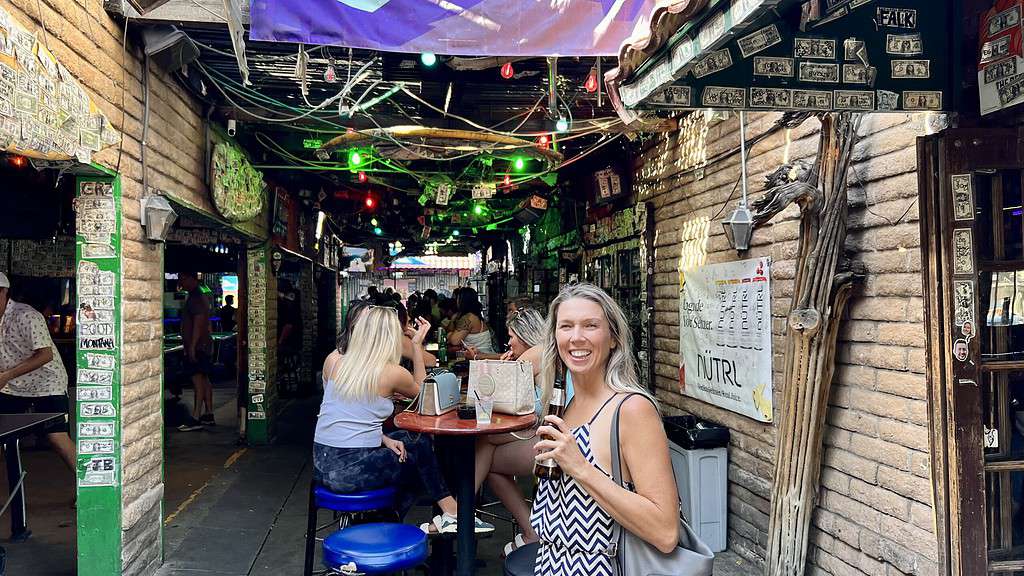 When the sun sets, Old Town Scottsdale comes alive with a vibrant nightlife.
Here are some exciting things to do in Old Town Scottsdale at night.
30. Enjoy Some Live Music in Old Town Scottsdale
If you haven't experienced it yet, let me tell you that Scottsdale knows how to party, and live music is integral to the city's vibrant nightlife.
No matter what genre gets your heart pumping, you'll find a venue in Scottsdale that caters to your musical preferences.
Rock out to exhilarating live bands, sway to the infectious rhythms of country tunes, or groove to the soulful sounds of jazz and blues.
Here are some of the best places to hear music in Old Town Scottsdale:
The Rusty Spur Saloon – A beloved local favorite, The Rusty Spur Saloon is known for its live country music performances. Step into this historic bar for an authentic Western experience filled with toe-tapping tunes.
Handlebar J – This honky-tonk venue is a must-visit for country music enthusiasts. Enjoy live performances by talented artists while savoring classic BBQ cuisine and soaking up the Western atmosphere.
Kazimierz World Wine Bar – If you're a jazz lover, Kazimierz is the place to be. This intimate lounge offers live jazz performances in a cozy setting, accompanied by an extensive selection of wines from around the world.
Read The Best Things To Do At Night In Scottsdale Next
31. Dance And Night Clubs
When the sun sets, and the vibrant nightlife takes over, Old Town Scottsdale comes alive with a variety of dance clubs.
Suggestions of The Best Dance and Night Clubs In Old Town Scottsdale
Maya Day and Nightclub – A popular club with a large dance floor, VIP bottle service, and frequent live music and DJ performances.
Bottled Blonde –By daytime, this is a great place to grab some pizza by night; it turns into a club with a wide selection of drinks and cocktails.
Riot House – A high-energy club with multiple bars, dance floors, and VIP areas.
The District – A trendy club with a chic atmosphere, a rooftop bar, and a large dance floor.
Cake Nightclub – A popular club with multiple bars, a VIP area, and a rotating lineup of DJs.
El Hefe – A party bar and club with a lively atmosphere and frequent events and promotions.
Pretty Please Lounge – A chic lounge and club with a modern atmosphere, creative cocktails, live music, and DJs.
32. Best Bars and Dive Bars In Old Town Scottsdale
Old Town Scottsdale is home to a wide variety of bars and dive bars. Whether you're in the mood for a craft cocktail or a cold beer, you're sure to find a spot that suits your taste and mood.
Here are our favorite bars and Dive bars in Old Town Scottsdale:
33. Best Places To Get A Cocktail in Old Town
For those seeking a more upscale experience, there are plenty of bars and lounges that fit the bill.
The Montauk – This casual East Coast meets West Coast-style bar offers refreshing cocktails and a relaxed atmosphere.
Second Story Liquor Bar – A speakeasy-style cocktail bar with creative drinks and small gourmet plates.
The Citizen Public House-known for its creative cocktails
The Canal Club- another hot spot, featuring a chic atmosphere and stunning canal views.
Insider Tip: If you're looking for a speakeasy, head over to the Kaz Bar, one of Arizona's first speakeasies. Located down an alley and accessible through a nondescript door, this hidden bar is easy to miss but shouldn't be overlooked.
Inside, you'll find an intimate vibe, live entertainment, craft cocktails, and other hidden treasures. We're going to leave it up to you to find this place because, honestly, it's a bit difficult to explain 😉
34. Karaoke Clubs (One Of These Even Has A Sushi Bar)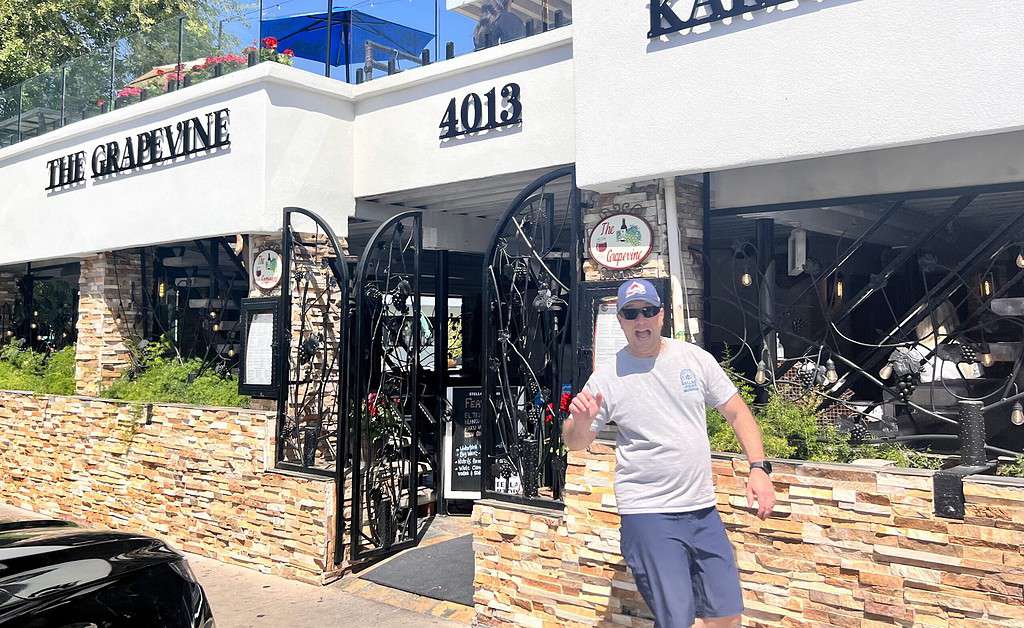 Geisha A Go Go is the go-to place for an amazing night out with friends.
With private karaoke rooms you can enjoy a comfortable and memorable experience. Their extensive selection of pop and rock 'n' roll sets the stage for an unforgettable experience.
Good To Know: In addition to Karaoke, Prepare to be impressed by the top-notch sushi bar and cocktail offerings at Geisha A Go Go.
At The Grapevine, the fun extends beyond wine and food to include an exciting karaoke experience. This lively wine bar and restaurant offer karaoke nights that are sure to bring out your inner star.
BS West, located in the heart of Old Town, is Scottsdale's iconic LGBTQ+ bar and nightclub.
This vibrant venue hosts a variety of exciting events that guarantee a good time for all.
Karaoke Sundays provide the perfect opportunity to take the stage and shine for those who love to showcase their vocal talents.
Good To Know: Check their website for other fun events… There's plenty of celebrations at this lively bar.
35. Tiki Bars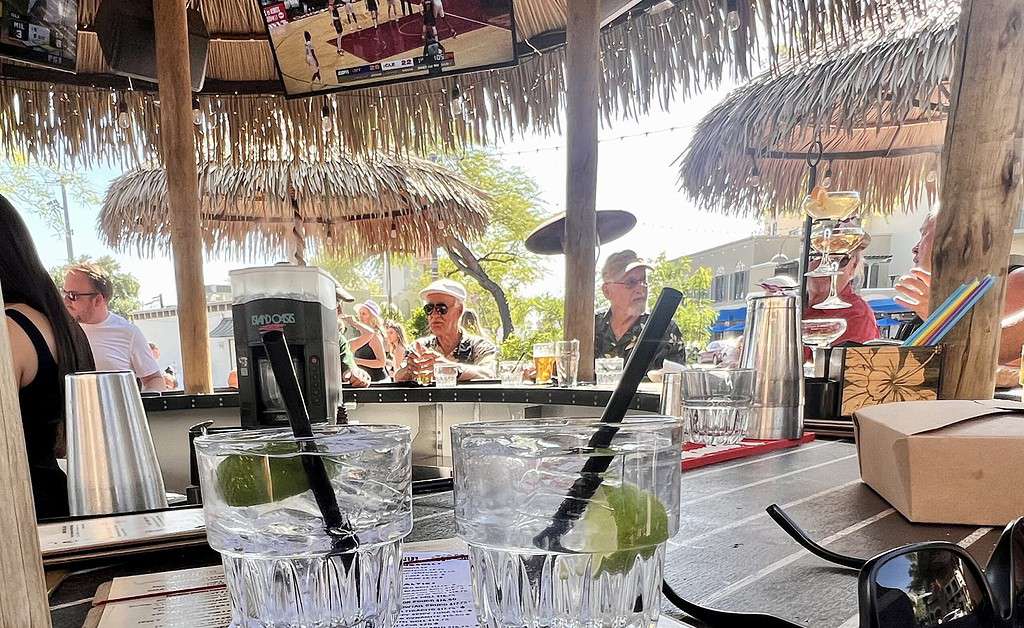 Drunk Munk– Discover the perfect combination of frozen cocktails and great flavors.
Or enhance your experience by pairing your favorite frozen cocktail with a mouthwatering flaming pu pu platter filled with tempting treats like pork pot stickers, coconut shrimp, and teriyaki ribs, accompanied by a trio of flavorful sauces.
Good To Know: Drunk Munk's weekend brunch is a must-try. Enjoy the popular mimosa flights and a visually stunning champagne tower, creating a celebratory ambiance.
Hula's Modern Tiki– Experience the vibrant tiki culture of the 1950s and 60s with rum-kissed cocktails like the tantalizing Tropical Itch or a classic Mai Tai.
Good To Know: Enjoy Polynesian specialties, such as Crispy Coconut Shrimp Rolls and the mouthwatering Hilo Sliders.
36. Cheers To Beers
I couldn't write about all there is to do in Old Town Scottsdale without including some of our favorite places to get a beer.
Goldwater Brewing– Discover the best of Old Town Scottsdale's craft beer scene with an inviting taproom.
Bottled Blonde-Indulge in a delicious combination of pizza and craft beer.
Brat Haus– Experience the ultimate beer garden escape at Brat Haüs, where you can enjoy a refreshing pint of beer alongside soft Bavarian pretzels and haüs-made brats.
Good To Know: The Brat House is super dog friendly
Get Out And Enjoy Old Town Scottsdale
A visit to Old Town Scottsdale promises an unforgettable experience filled with history, culture, culinary delights, and unique attractions. Whether you're strolling through the charming streets, exploring art galleries, indulging in delicious cuisine, or immersing yourself in the vibrant nightlife, Old Town Scottsdale offers something for every traveler.
Tips For Scottsdale For A Successful Trip
Is downtown Scottsdale the same as Old Town?
Yes, downtown Scottsdale is often referred to as Old Town Scottsdale
Can you walk around Old Town Scottsdale?
Yes, Old Town Scottsdale is a pedestrian-friendly area, and it is highly recommended to explore it on foot.
How would you describe Old Town Scottsdale?
Old Town Scottsdale can be described as a captivating blend of the old and the new, where the charm of the Old West meets contemporary flair.
Does Scottsdale have a main street?
Yes, Scottsdale's main street is called Scottsdale Road.