Seattle is a city where uniqueness is embraced, craft beer and coffee are popular, and outdoor activities are integrated throughout the city. There are so many sites to see and things to do in Seattle, but there's also a certain vibe that we think you'll appreciate.
If you are planning a trip to Emerald city or just looking for things to do at night in Seattle, we've got you covered.
We've put together a list of the best things to do in Seattle at night to help you start planning your next trip to this fun and quirky city.
You'll find some things to do in downtown Seattle, various Seattle evening activities, and the most popular places to go in Seattle at night.
First things first, let's answer a couple of questions that you may be thinking about.
Must-See Places to Visit in Seattle at Night
Let's say you only have 24 hours in Seattle. What are the must-see night activities Seattle has to offer:
Space Needle
Seattle Waterfront
Seattle Great Wheel
Capital Hill
Walk around Pioneer Square
Does Seattle Have Good Nightlife?
It sure does; Seattle's range of nightlife options runs the gamut, from trendy hot spots to dive bars. Emerald City has a wide variety of nighttime activities.
From sexy jazz clubs to swanky speak-easies, the city has an infinite number of choices for a lively night out.
Seattle Style: What to Wear at Night?
Seattle is a very casual place, and the fashion mimics this too. When planning on what to wear out for a night in Seattle, think simple and basic. Blacks are simple and always acceptable.
Think about jeans, fashionable sneakers, trendy shoes, and a simple yet nice shirt dressed up with unique earrings.
What to do in Seattle at Night if You're on a Date?
The list of Seattle night activities is pretty extensive. It really depends on what kind of night out you're looking for.
If you are looking for something romantic and chic, your Seattle night will look quite different from a night full of breweries and quirky underground tours.
Seattle Things to do at Night if You're Looking for Romantic Vibe
Suppose you're looking for Seattle night activities that are classy. In that case, I'd hit up a tasting room like Structure Cellars in the industrial district or one of the many rooftop bars in Seattle. Next, I would head over to the Pink Door for a dinner and show, or perhaps even a dinner cruise on Lake Union.
Seattle Things to do at Night if You're Looking for a Fun Vibe
If you're looking for something fun and different. I'd start at one of the breweries for happy hour, then head over to Flat Stick Pub or take one of the many tours around the city. I'd finish my night off by a show at the Can Can.
Both of these options offer great ideas for Seattle night activities. It just depends on what you're going for.
You'll find that Seattle is a city of neighborhoods. Many locals will be found in popular neighborhoods like Capitol Hill, Ballard, Georgetown, and Fremont. Happy hour downtown is popular for locals who work in the downtown area. You'll find young techies gathering for a cocktail or beer after a busy day of work.
Looking for Other Things to do Around Washington?
Alright its time to dive into the Seattle nightlife and discover some fun things to do in Seattle at night
Pike Place Market
Yes, The Pike Place Market closes around 6pm, but that doesn't mean that you can't wander the area and see what else exists once the flowers and food vendors close up shop.
You'd be surprised by some of the fantastic restaurants in Post Alley and Pike Place Market.
Some of our favorite things to explore as the day turns into night are:
Pink Door-Italian restaurant with entertainment
Unexpected Productions: The oldest improv theater in Seattle; if you want a belly-achingly hilarious experience from laughing so much, don't miss these guys. Not only are they famous for their productions and talented artists, but Unexpected Productions is who made the gum wall famous. Learn more here. Check out their calendar to plan your next outing here.
Can Can– Nobody tops the talent of Can Can's performers. This tiny theatre is tucked underneath The Pike Place Market and transports you to another world while you watch the performance. The shows are classy (and perhaps a bit edgy at times).
You can expect a mix of singing, acrobatics, dancing, and more. The shows switch up every few months, ensuring that repeat visitors have a new experience with each visit. Check out their show schedule.
Drinks, Cocktails, Beers, and Experiencing Bars Around Pike Place
If you're looking for a place to grab a drink, there's plenty of opportunities for that too. Pike Place Market and Post Alley have some fabulous bars making it a great area to have a fun night out on the town.
Smith Tower
I'm not sure about you, but I prefer less touristy locations. If you want to see Seattle from a similar perspective to the Space Needle but without the tourists, consider checking out the Smith Tower.
The Smith Tower in the Pioneer Square area of Seattle is an excellent place for dinner or just a drink. The bar's speakeasy vibe is worth checking out, even if you just stop for a quick cocktail.
Kerry Park
Kerry Park has been dubbed the most incredible sunset spot in Seattle. This is your location if you want to capture photographs of the city at sunset. You'll observe not only the city but also the glowing lights of yachts, cruise ships, and towering Space Needle.
Pink Door
What more could you want in a night out? The Pink Door restaurant is a well-known local and tourist hotspot in Seattle. The Italian cuisine is coupled with theatrical performances that will impress everyone.
From cabaret shows, trapeze acts, and music, this lovely restaurant switches up its shows regularly to keep you coming back for more.
Space Needle
If you haven't experienced Seattle from the Space Needle, this may be something you should check out. I'm typically not into paying top dollar for tourist attractions, but I am into checking off things on my bucket list, and this was on there.
The views of the Seattle skyline from the Space Needle are absolutely incredible, and it's something that you may want to experience on your trip to Seattle.
It is a pricey, attraction though, so be sure to factor this into your budget. You can choose to ride up the elevator to the observation deck for $25-$38, or you can spend a chunk more and have a lovely dinner at the Space Needle.
Pioneer Square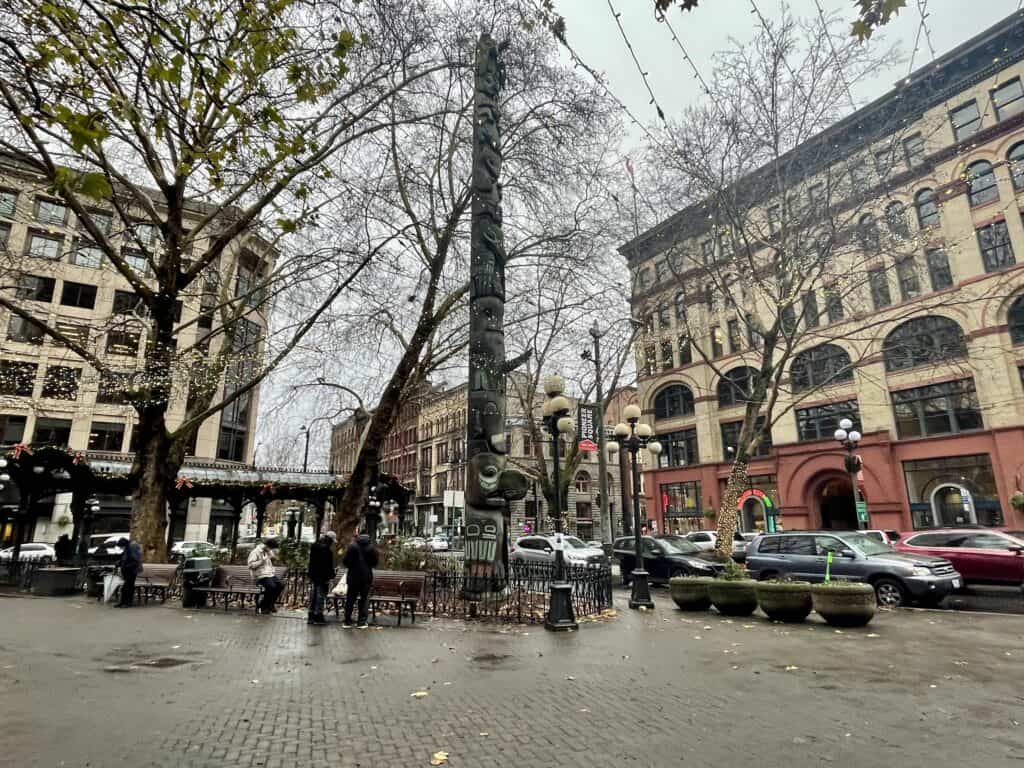 Pioneer Square has been dubbed Seattle's birthplace, claiming fame years ago as Seattle's first neighborhood. The first thing you'll notice when walking into Pioneer Square is the unique and historic atmosphere you can feel in each building lining the area.
After a massive fire demolished this area, Seattle rebuilt on top of itself a bit higher than the area before. Doing this buried a lot of older Seattle buildings, sidewalks, and unique artifacts. You can check all of these sights out by taking the underground walking tour.
If you're into the bar scene and getting a drink at the oldest functioning bar in Seattle, head over to Pioneer Square, where the first saloon in Seattle was established.
Merchants Cafe is known to have some of the best drinks, along with live music and open mic nights.
Bowling is a Late Night Attraction in Seattle
The Garage on Capitol Hill is a perfect thing to do on a Friday night in Seattle because it's open till 2am on the weekends.
You'll find multiple bars, pool tables, shuffleboard, food, and bowling. All of this is housed in an enormous former auto garage.
Laser Dome
Don't miss the Pacific Science Centers laser light shows if you're looking for a fun thing to do at night in Seattle. The Pacific Science Center's Laser Dome lets you explore music in a whole new light.
The Laser Dome dances beautiful patterns on the ceiling during each performance to the delight of music fans throughout the city.
Olympic Sculpture Park
A stroll along the Olympic sculpture park is a free thing to do while in Seattle. It provides an opportunity to view some of Seattle's most beautiful pieces of outdoor art.
There are multiple sculptures in the park and plenty of space to enjoy some time with friends and family while enjoying the creativity.
Fun Fact: The Olympic Sculpture Park, was created by the the Seattle Art Museum (SAM), it's a FREE public park that displays both modern and contemporary sculptures downtown
Seattle Art Walks
Participate in the longest-running established art walk in the nation. Pioneer Square has provided art enthusiasts with First Thursdays art walk throughout the city for almost 30 years.
The heart of Seattle's art scene is Pioneer Square, which features the breadth and depth of the vibrant Pacific Northwest arts community in a single square mile.
Art enthusiasts will find all sorts of free activities that they will not want to miss out on!
To learn more about future events, check out this website.
Lake Union Cocktail Cruise
It is an experience like no other if you're willing to fork out a bit of cash, but it is 100% worth the cost. The amount of things you'll see along the way is impressive, and not to mention, there's a full bar on this cruise as well! This means that you can enjoy your day with friends by enjoying some drinks while exploring Seattle.
See the iconic sights like the Space Needle, the Fremont Bridge, and Gas Works Park from the water.
As you're on the boat, you'll cruise by lavish yachts, sailboats, floatings homes (remember Sleepless in Seattle?), and see seaplanes departing and landing.
Seattle Harbour Cruise
Explore the historic waterfront area on this 1-hour cruise that includes a riveting narrative about the history of Seattle, with the city's majestic skyline providing a fascinating backdrop.
From the cruise, you'll be able to view spectacular Seattle sights like Pier 90, Alki Beach, the Space Needle, the Great Wheel, and the surrounding Cascade and Olympic Mountain ranges.
popular evening cruises:
Hot Tub Boats
The hot tub boats are all the craze these days. Imagine navigating the waters of Lake Union with sweeping views of the Seattle skyline, the space needle, and the mountains in the backdrop.
It's a one-of-a-kind experience and a fantastic thing to do at night in Seattle. The wood-fired hot tub boats are always warm, so no matter what sort of weather Seattle throws at you, you'll be comfortable.
Brewery Tour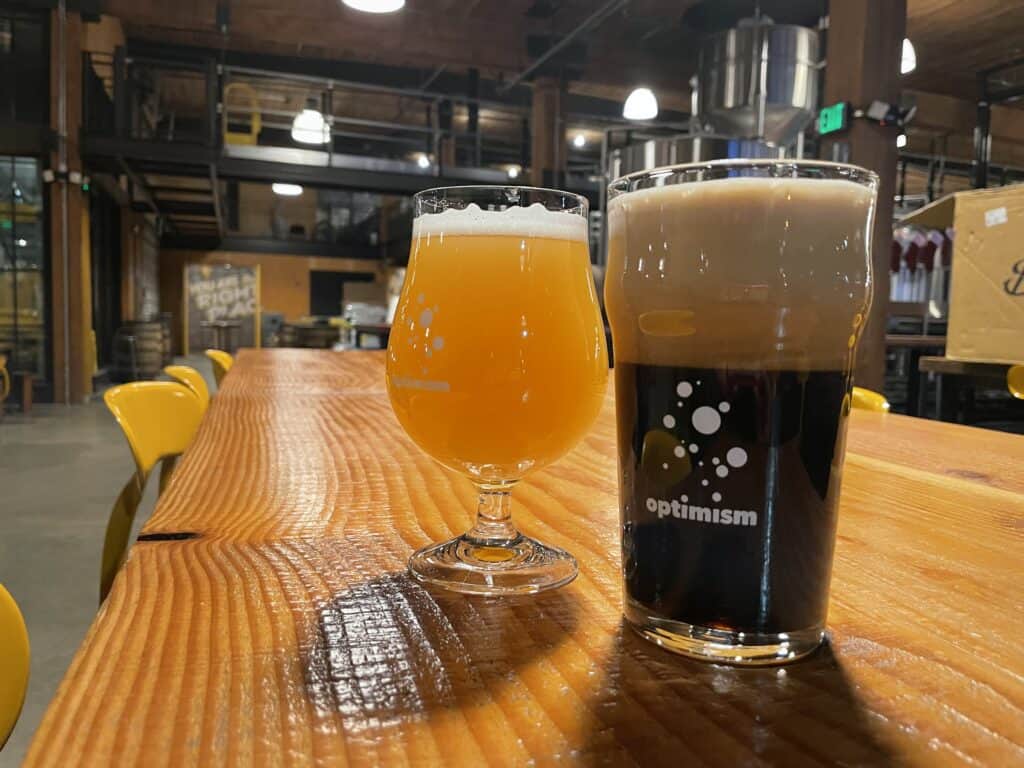 This is our jam! We love the PNW breweries and the tours that accompany these breweries. So we decided to put together a list of some of the best brewery tours around Seattle.
If you'd prefer to take a brewery tour on your own here are a few of of our favorite places to get a good PNW beer
Seattle Great Wheel
Riding the Seattle Wheel once the sun has gone down is an excellent experience for anyone who likes to take in the lights of the city.
Not only does it offer a beautiful view of the city but it also provides an exciting experience. The wheel has 42 gondolas that hold up to eight people and offer a full view of Seattle, including the iconic space needle!
Riding the Great Wheel is one of those family things to do in Seattle at night because it's truly a fun thing for everyone.
Seattle Waterfront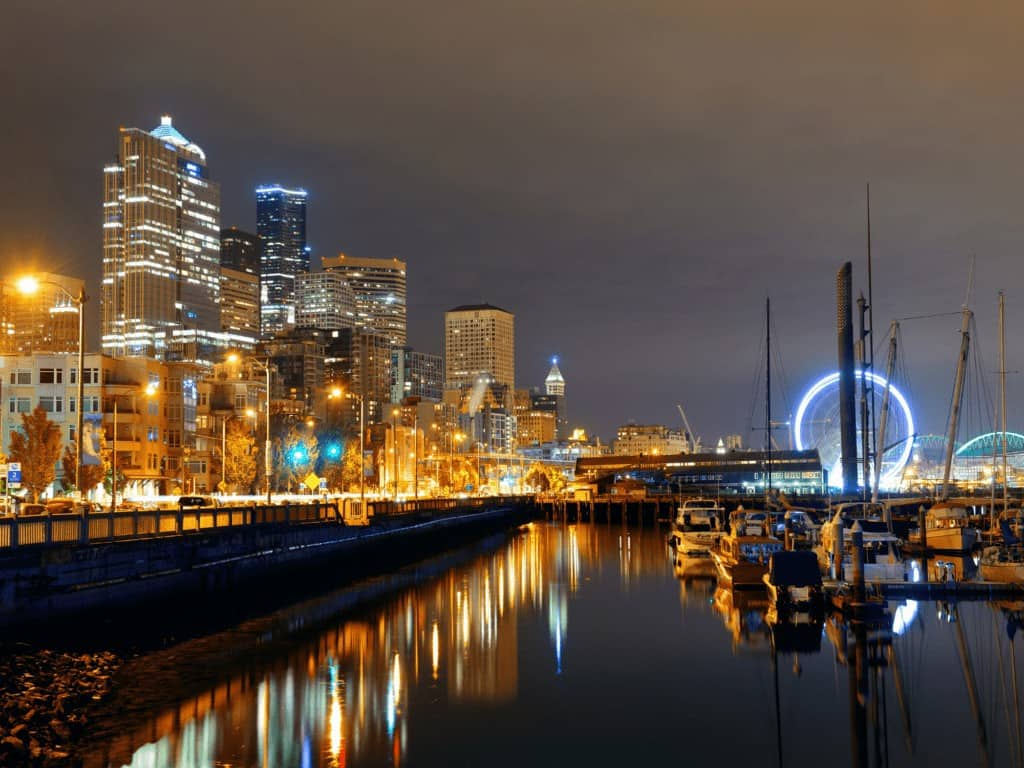 Walking the Seattle Waterfront at night is a perfect way to take in the city and enjoy the Seattle skyline as the day fades and the night begins.
A walk along the Seattle waterfront is free to do and provides all sorts of entertainment for everyone. Walking the Seattle waterfront is one of those things to do in Seattle at night for free that most people really enjoy doing.
Comedy Show
There's something about going to a comedy show that makes people feel good. A comedy show is a great way to have fun with your friends and meet new ones as well!
And Seattle has an abundance of these types of shows. Great venues to go see a comedy show include:
Jazz
Seattle is a musical city full of all sorts of musicians. Don't pass up Jazz Alley in Seattle if you're looking to take in some great music with a fantastic dinner.
Jazz Alley has been serving up great music for years. This venue hosts all sorts of musicians, including local, national, and internationally known artists as well! They also have some fantastic food that can match perfectly with your musical experience.
Karaoke
If you're looking for your special moment where you can belt out your favorite tune under the spotlight, head to one of the many karaoke venues in Seattle.
Karaoke is a great thing to do in Seattle at night. Not only is it fun, but it's a great way to meet new people and make friends. A few of the best karaoke places in town are:
Selfie Booth Museum
Of course, we all know that Seattle is Instagram-worthy but did you know that they have a selfie booth to prove it? The Seattle Selfie museum is a popular thing to do at night in Seattle. First, you start off with a cocktail to loosen your nerves before your photo shoot, then you head over to the museum to
You thought the gum wall in post alley was the place to get your photos. Sorry to pop your bubble, the Seattle Selfie Museum is committed to turning your photo op into the perfect shot.
Theatre Performances
The Paramount Seattle is home to many musicals, comedy acts, concerts, and plays, all of which are sure to amaze. The 5th Avenue Theatre has plenty of shows along with its exquisite Chinese-inspired decorating.
Barcades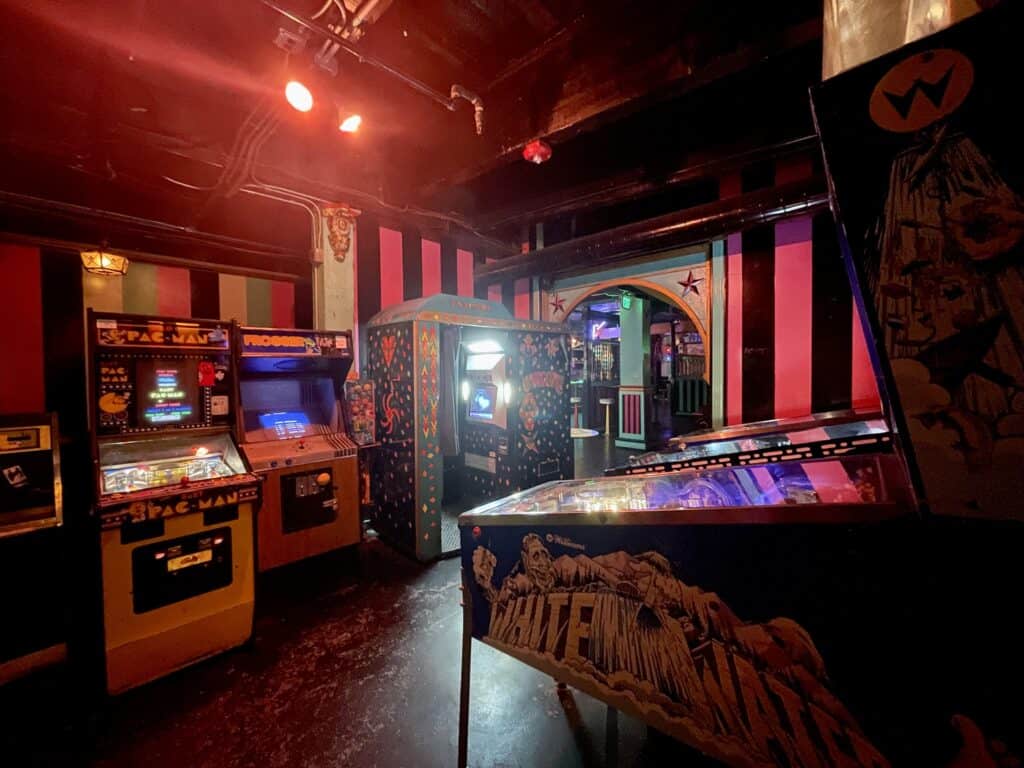 Want great local beer and cocktails while taking bar games back to their roots? A combination of a bar and arcade equals a good time at a Barcade! Barcades are a great place to unwind and play a game or two.
Hey! We all know that kids enjoy "their" playgrounds. Why can't adults have a boozy playground of their own?
Unicorn Bar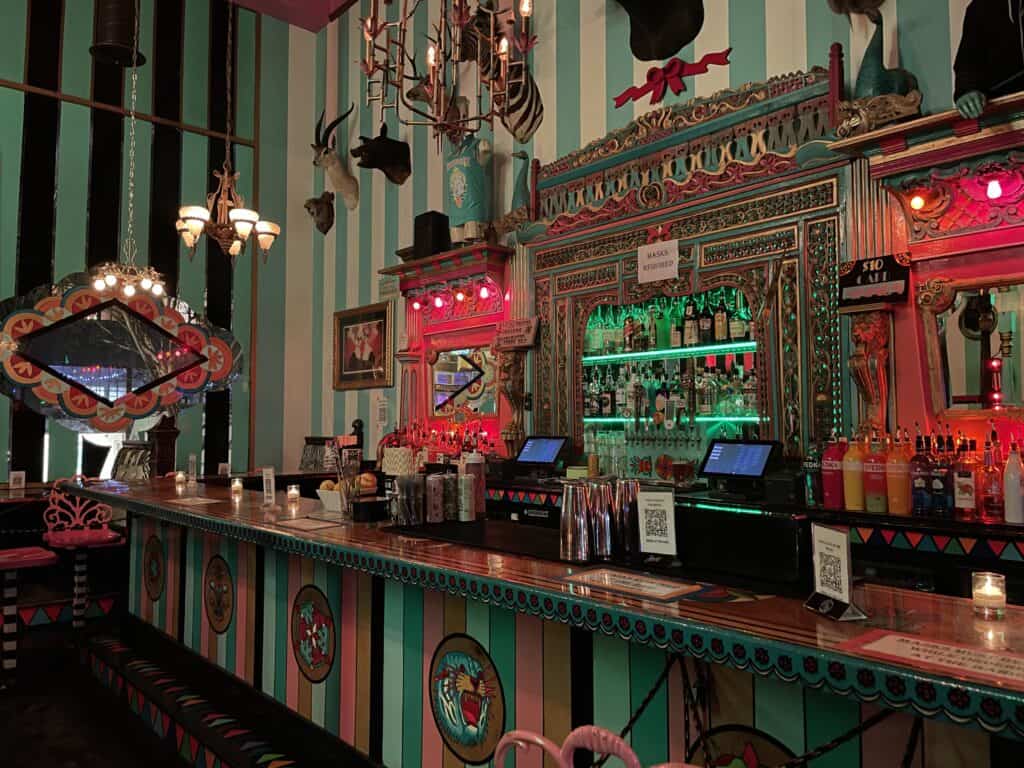 The Unicorn Bar is a unique thing to do at night in Seattle. This funky place with carnival-themed décor screams a distinct kind of Seattle oddness – that we loved it!
The cocktails are fantastic and have rather creative names. I found a tequila drink to be quite enjoyable! The corndogs are the real show-stealers, as they're delicious and offer vegetarian alternatives.
They have arcade games and Thursday night trivia downstairs, too. The atmosphere is fun, the food and drinks are excellent — definitely worth visiting!
Burlesque Show
If you've never seen a burlesque show, this is your chance. Seattle's Pike Place Market is home to Can Can, a burlesque entertainment venue offering entertainment, drink, and dinner in one sitting.
This intimate and artistic experience is matched with equally impressive views of the Puget Sound from Post Alley.
This performance is more than your average show; this venue is stocked with creatives and professionals who will transform your dining experience into something you've never experienced. Sip your cocktail and watch the show from your romantically lush booth seating.
Other great performance venues:
Haunted Seattle Ghost Walking Tour
Take a walking tour of Seattle's fascinating history and hear some of its most notorious and spine-tingling ghost tales on this unique haunted pub crawl. Only people 21 or older are permitted.
The tour will be led by a costumed guide for about two and a half hours, taking guests on a journey through the city's history while telling tales of long-dead phantoms and spirits who still reside there.
Needle & Thread Bar- Speak Easy
If you're looking for something to do at night in Seattle that offers you a speak easy prohibition-era vibe, head for the Needle & Thread.
The Needle and Thread is more than just a speakeasy, it's a fun experience from the beginning. You'll start by entering Tavern Law and head to the back corner, where you pick up the old-fashioned "speak easy" phone. Once you chat with the person on the other end, a latch will be unlocked, and a door will be opened for you.
Once you're in, you'll head up some stairs , where a talented bartender will mix you up with something fabulous in the charming bar area.
This is the perfect place to let the bartender take the wheel and make you a creative drink because there are no cocktail menus here. Also, take note that your reservation is only valid for an hour, so keep that in mind during your visit.
Hot Stove Society- Cooking Classes
Hot Stove Society offers cooking classes, whether you're looking for something fun and boozy or aspiring to be the next best chef.
Classes are for people who want to improve their skills or just have a fun night out. There is plenty of staff to help you with preparing the pre-determined menu, so be sure to check their calendar in advance to book your reservation.
Inside Passage- A Perfect Way to Spend Friday Night in Seattle
The Inside Passage will blow your senses. This tropical immersion bar is an underwater experience through the eyes of a sunken ship.
You'll see all sorts of sea treasure and a giant octopus at this eclectic and fun bar. You enter the Inside Passage through a sliding door in Rumba, Capital Hill's bar known for its 700 varieties of rum.
Flat Stick Pub
If you're looking for something fun to do at night in Seattle, Flat Stick Pub is your place. Flat Stick Pub is a mini-golf bar that serves local craft beers, brick oven pizza, salads, and other yummy bar foods.
Flat Stick Pub makes for a great evening in Seattle because it's something active that gets everyone moving as you play with a drink in hand. The vibe is unique to each location so visit them all.
Eat a Seattle Dog Like a Local
Many cities have their own "signature hotdogs," but have you had a Seattle dog smeared with cream cheese and grilled onions? If not, this is something you definitely need to try; they are delish!
The long-standing hotdog stands have "staked their territory" outside the popular late-night bars. One of our favorite places to get a Seattle dog is outside Merchants Cafe in Pioneer Square.
Take Advantage of Late-Night Happy Hour
Traditionally, happy hour starts around 4-6 and is our favorite time to get some cheap eats and drinks. But Seattle has done it right with late-night happy hour options on top of the after work hours happy hour.
This is perfect if you've had a couple of drinks and need an affordable dining option after the restaurants have closed their full menus.
One of the most extensive HH menus I've seen is Queen Anne's Toulouse Petit where they have everything from drinks and amazing late night dinner options Umi Sake is great choice if you're into sushi
If You are Looking for Things to do in Seattle this Weekend
Here are a couple of good resources to check to see what's happenin'
Get Out And Explore The Best Things To Do In Seattle At Night
We hope this list of things to do in Seattle at night will motivate you to get out and explore all the fun things there is to do.