Are you looking for some of the best things to do in Twin Falls, Idaho? If so, you're in good hands. We love exploring Idaho and have spent a good amount of time in Southern Idaho.
Twin Falls has been referred to as the Gateway to Snake River Canyon and is known for waterfalls, scenic canyons, natural beauty, and a plethora of activities.
People from all over the country flock to Twin Falls to see the Snake River, Shoshone Falls, and the Perrine Bridge, but there's so much more and we can't wait to share some of our favorite things to do in this fun little city.
Whenever we're traveling through Southern Idaho, we love taking the tiny detour to visit Twin Falls; if you enjoy waterfalls, beautiful river canyons, and a killer brewery or two I think you'll really like this area too.
If you've never been to the area Twin Falls is a fantastic destination to include in your next Idaho road trip itinerary.
GETTING TO TWIN FALLS
Twin Falls is located in southern Idaho at the crossroads of Interstate 84 and Highway 93. It's a 2-hour drive from Boise, Sun Valley, Pocatello, and 45 minutes to Jackpot, Nevada. Twin Falls is a great stopping point if you're on a road trip heading from Boise to Salt Lake City or heading over to Yellowstone National Park.
WHEN TO VISIT TWIN FALLS
If you want to see the massive Shoshone Falls in action, the best time to visit is spring. However, my favorite time to visit Twin Falls is in the summer because of the great weather and numerous outdoor activities.
But if you happen to find yourself in Twin Falls on a rainy day, there are plenty of things to do during the rain too. 
ABOUT TWIN FALLS IDAHO
Dubbed as the city of waterfalls Twin Falls attracts outdoor enthusiasts with paddle boarding, kayaking, mountain biking, rock climbing, and BASE jumping.
It has some fantastic restaurants and expanding collection of local breweries. The small city is a wonderful place to visit at any time of the year, but it's especially popular in summer due to its outdoor activities.
3 THINGS YOU CAN'T MISS SEEING IN TWIN FALLS
Shoshone Falls
BASE Jumpers
Centennial Waterfront Park
Because BASE jumping is such a popular thing in Twin Falls, we can't write an entire article on the area without including a bit about the BASE jumping history.
ARE YOU WONDERING WHAT BASE JUMPING IS?
First things first, BASE jumping is an adrenaline sport. It's definitely not for the person who's scared of heights or doesn't like to take risks. BASE jumpers jump from objects, using a parachute to descend safely to the ground. "BASE" is an acronym for the fixed objects that the jumpers jump from: buildings, antennae, spans (bridges), and earth (cliffs).
People from all over the world come to Twin Falls to experience world-renown BASE jumping.
1. SHOSHONE FALLS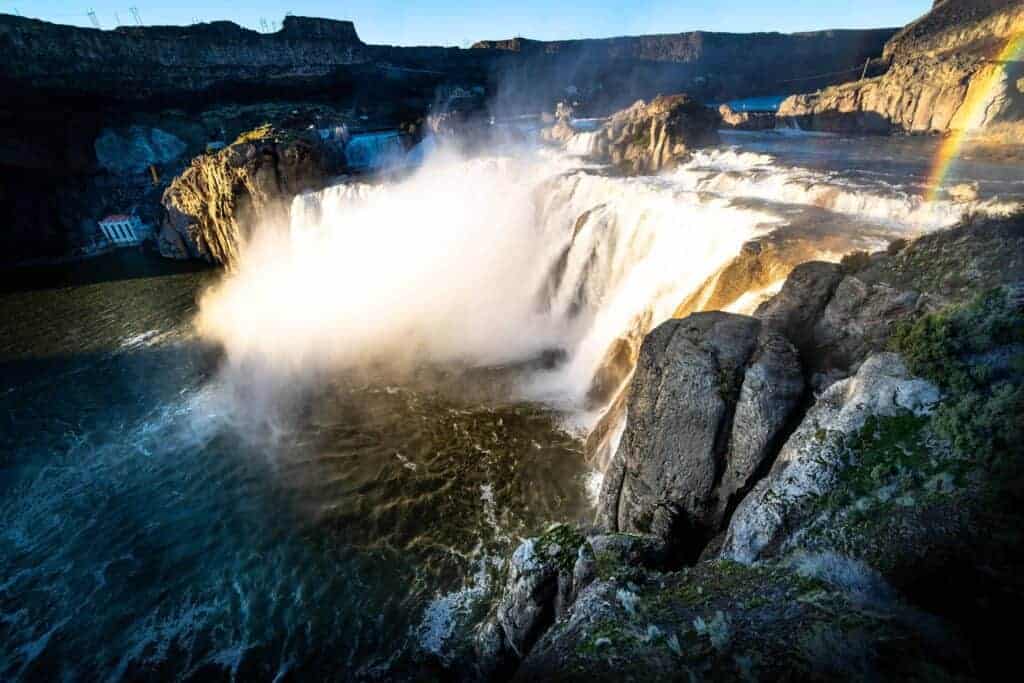 Perhaps the most dramatic natural attraction of the entire Snake River Canyon is Shoshone Falls. Dubbed the "Niagra Of The West," these massive falls are actually 212 feet taller than Niagra.
The great thing about the falls is they are just a few minutes from downtown Twin Falls, making them super accessible. Most people drive to Shoshone Falls Park, but you can also walk along the scenic Snake River Canyon Trail to access the falls. 
If you're visiting the falls in the spring, you'll be shocked as the mist hits you in the face from the lookout area. After having your fill of the falls, make sure to enjoy some time in the Shoshone Falls Park, where you can have a picnic or soak up some warm sunshine on a sunny day.
If the summer heat becomes too much, you can easily head over to Dierkes Lake park just next to the Shoshone Falls Park and hop in the water to cool off. (More on this next).
Pro Tip: The falls are their biggest during the spring runoff between April and July. Check out our Shoshone Falls guide for further details.
Here's some drone footage of the falls we took in this spring. Absolutely stunning!
THERE ARE OTHER WATERFALLS TO SEE TOO
Don't let the mighty Shoshone Waterfalls trick you into thinking it's the only one around the area. In fact, there are several more waterfalls to check out.
Cauldron Linn
Box Canyon Springs
Auger Falls
Thousand Springs
Niagara Springs
Twin Falls
Pillar Falls
Devil's Washbowl – Malad Gorge
Minnie Miller Springs
2.TAKE A BOAT TOUR ON THE SNAKE
Take a boat ride up the Snake River Canyon to Pillar Falls. On the tour, you'll be 486 feet below the Perrine Bridge and have the opportunity to watch BASE jumpers as they launch into the wind.
The boat tour provides the ideal blend of beauty, history, and comfort for exploring the canyon, waterfalls, and more.
The beautiful cruise up the river typically takes about 90 minutes, but in the summer heat, when the river is lower, you'll get the chance to walk around and explore the landscapes.
To learn more or book a tour, click here.
3. DIERKES LAKE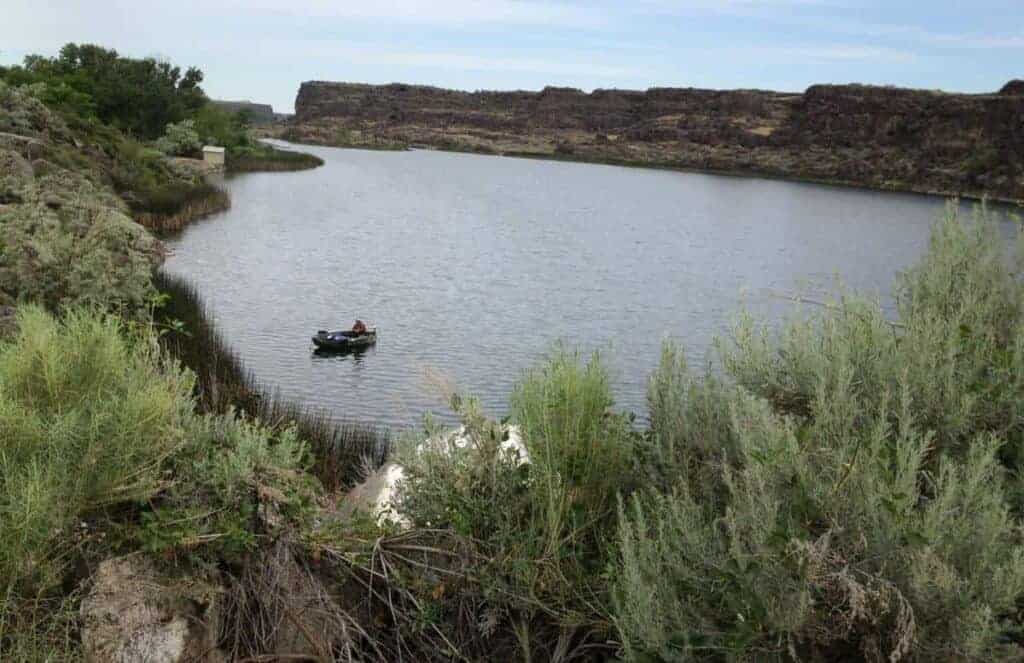 Located just past Shoshone Falls via the Snake River Trail, Dierkes Lake shares the same parking lot as the falls.  Dierkes Lake is a popular fishing and swimming hole. A great place to cool off during the hotter months all while enjoying the scenic Snake River Canyon.
There are docks to swim from and rock cliffs should you desire an exhilarating jump. You might even catch some rock climbers on the cliffs with their trusty belay partner, the river, standing guard from below.
If you're looking to stretch your legs, take the nearly two-mile loop around the bright blue lake, which provides spectacular views with lava rock formations.
4. CANYON SPRINGS GOLF COURSE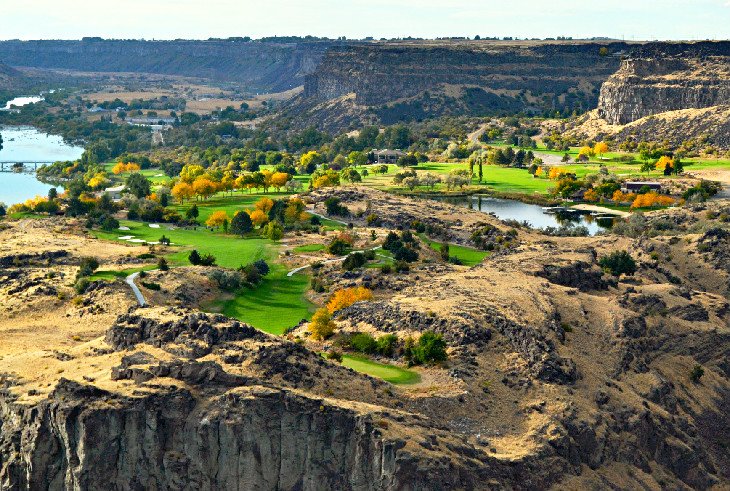 Canyon Springs Golf Course is an 18-hole public golf course.This stunning golf course is located at the base of Snake River Canyon and offers an incredible view.
I'm a terrible golfer, but just one look at this course almost makes a golfer out of me. Canyon Springs Golf Course is absolutely stunning. Sitting in the bottom of the Snake River Canyon, the course splashes spots of green amongst the rock and cliffs, all while the Snake River carves its way through.
Just when you're about to snap your club in half, all you'll have to do is look up at the numerous waterfalls and the massive Perrine Bridge to bring you back to your Happy Gilmore place.
5. MINIDOKA NATIONAL HISTORIC SITE
Just 17 miles from Twin Falls in Magic Valley is the Minidoka National Historic Site which now honors what was an internment camp for more than 13,000 Japanese-Americans who were imprisoned for three years during WWII; it was one of 10 camps like this throughout the country.
6.CENTENNIAL WATERFRONT PARK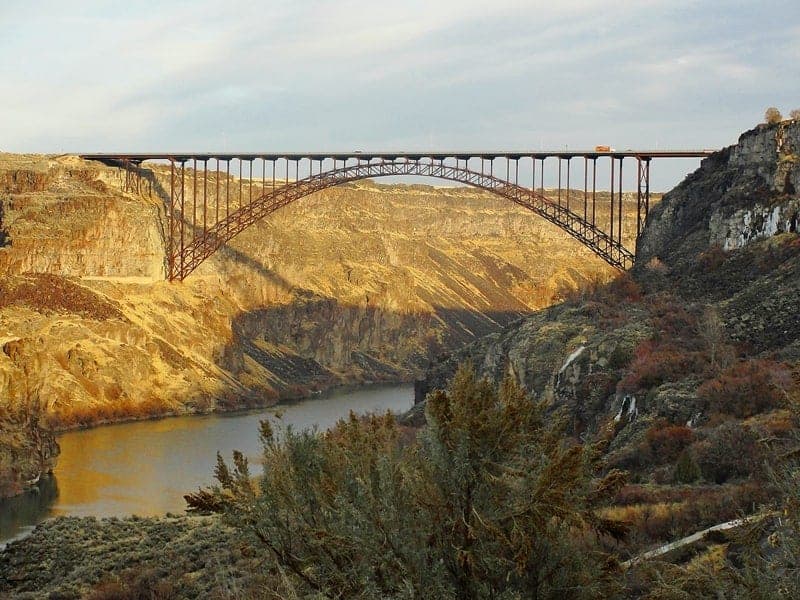 This lush, green, and downright cool park is adjacent to the Canyon Springs Golf Course and Auger Falls Park on Canyon road. It's ideal for watching the BASE jumpers leap off the Perrine Bridge. The park offers a variety of recreational activities such as paddle boat rentals, kayaking, hiking trails, and picnic sites.
There is both motorized and non-motorized boating available and a playground for the kids. There's even a nearby Zipline course for a truly unique view of the Snake River Canyon.
It's easy to kill a day here with plenty of green grass, picnic tables, and barbecues.
7. WALK BEHIND PERRINE COULEE FALLS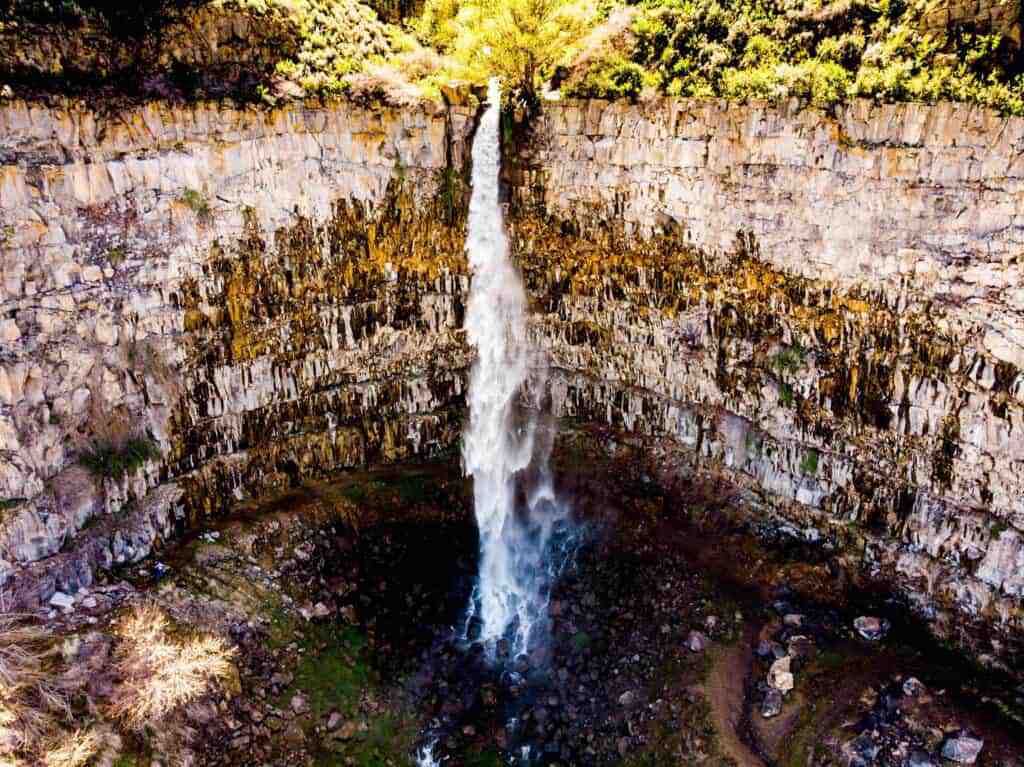 If you start at the restaurant Elevation 486 and walk about 100 yards towards the bridge, you will come to an overlook where you can see Perrine Falls. You'll also have good views of the Centennial Waterfront park and golf course. This same path will eventually take you to Shoshone Falls and is 8 miles round trip. Details here.
The view of the Perrine Falls from up top is excellent but be sure to walk to the falls from Centennial Park while you're down there.
The Canyon Springs road that takes you down to Centennial Park has a small parking area right as you reach the valley floor. Park there and walk back up the road where you can scramble right up to the waterfall.
Perrine Falls from above with the switchback road that takes you down to the park.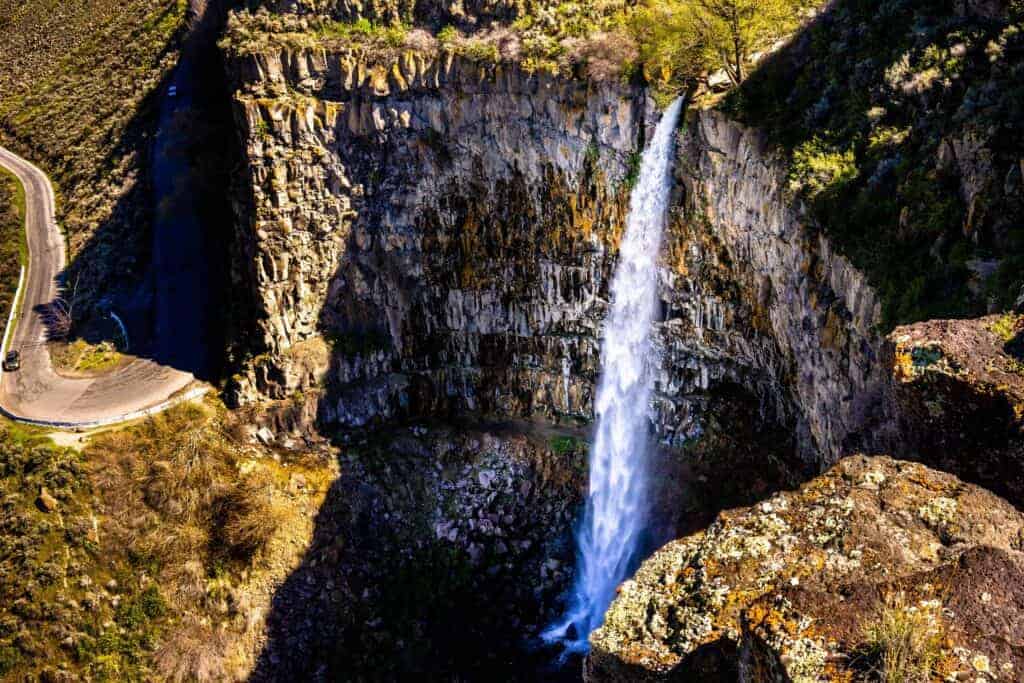 What's cool about the falls is that you can walk right behind them. Expect to get a touch wet but trust me it's worth it. Through the cascading water you'll see the golf course, waterfront park, and Perrine Bridge.
8. EVEL KNIEVEL JUMPING SITE
Evel is a legend. He was best known for his motorcycle stunts between 1965 and 1980. But for those too young to know much about Evel, he tried to launch himself across the Snake River Canyon.
The ramp where Knievel leaped from is still visible on the rim of the Snake River Canyon. It's about two miles east of the Twin Falls Visitor Center. The location itself is privately owned, but visitors can see it from the visitor center.
9. HAVE BREAKFAST AT THE BUFFALO CAFE
Skip the chain restaurants and hit up this cozy, locally owned restaurant that serves up a fabulous American-style breakfast. Be aware that this place is busy on the weekends so plan accordingly.
While there make sure you order some home fries, they're delish and you can't spend time in the potato state without eating some potatoes.
10. TAKE IN HAPPY HOUR AT ELEVATION 486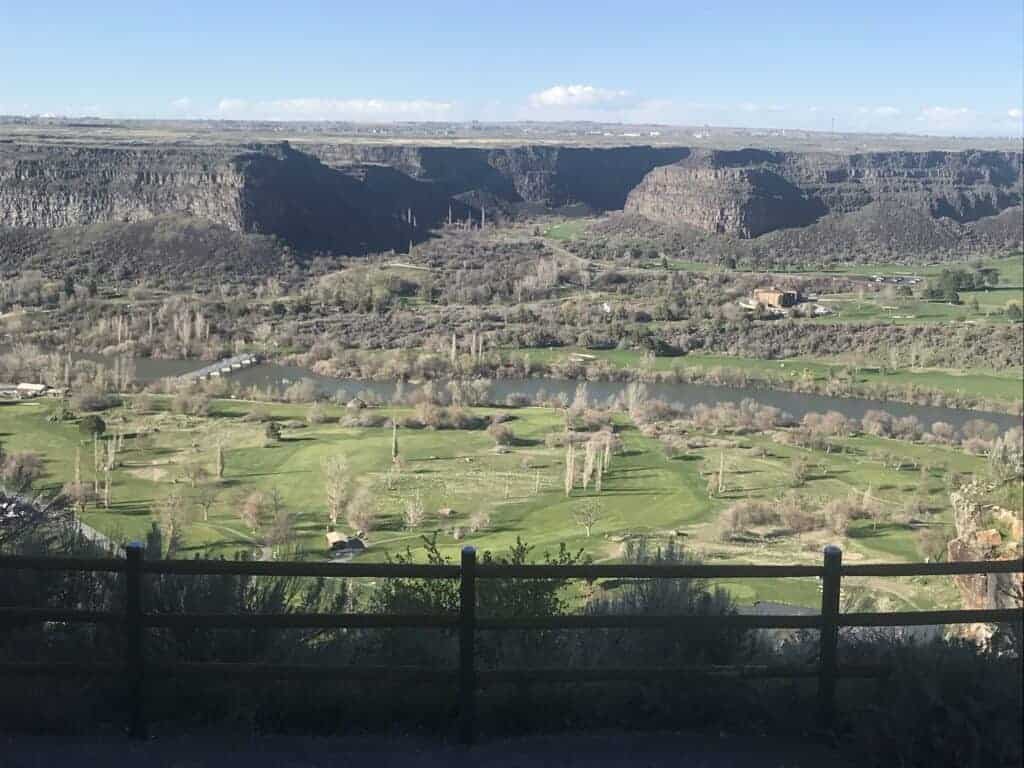 When you're in Twin Falls, you CAN'T miss happy hour at Elevation 486. The drinks are fantastic and the views are spectacular. On a clear day, you can see Soldier mountain and Pommerelle while sitting on their outdoor patio.
If you're looking for a classy yet welcoming restaurant with incredible views, this is your place. Elevation 486 has a great happy hour food menu and a drinks list. They have indoor and outdoor seating making this a perfect place to grab a drink and enjoy the view in the summer.
PRO TIP: Elevation 486 stands for the elevation for the Perrine Bridge
11. LISTEN TO MUSIC AT THE DOWNTOWN COMMONS
In recent years, downtown Twin Falls underwent a makeover, with the Downtown Commons now being a great gathering area. It's become a popular location to listen to live music, play in the splash pad, and socialize.
Locals go down for First Fridays to enjoy art and live music. Learn more about First Fridays in Twin Falls here.
12. HERRETT CENTER FOR ARTS AND SCIENCE
If you're looking for something to do on a rainy day in Twin Falls, visit the Herrett Center for Arts & Science. The world-class museum houses a great collection of natural history, astronomy, art, and anthropology artifacts, especially from the ancient era of North America's continents.
The Herrett Center for Arts and Science is located on the College of Southern Idaho campus and has the largest planetarium in Idaho. 
13. TANDEM BASE JUMP ADRENALINE JUNKIES ONLY!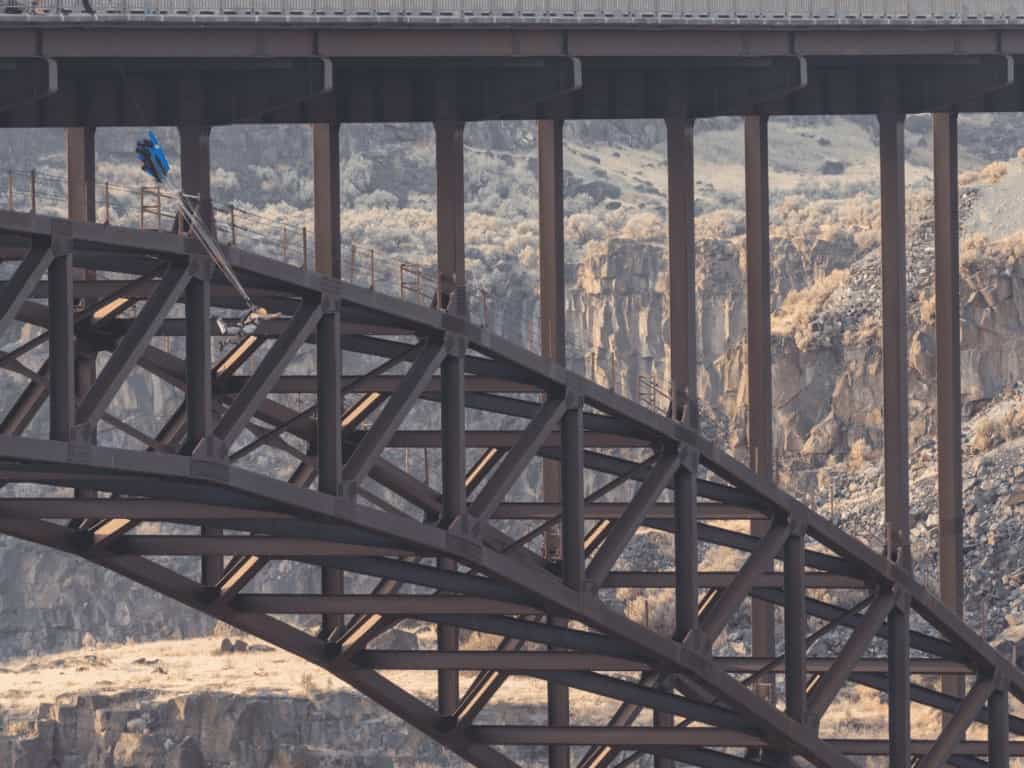 Are you looking for the experience of a lifetime? If so, here' your chance. You can make your first BASE jump off the Perrine Bridge with a highly experienced BASE instructor in Twin Falls. The instructors are pros for their tandem jumps and they'll assist you in jumping from the 486 Perrine bridge, while you take in the beautiful surroundings of the Snake River Canyon. To learn more about tandem base jumping click here.
14. PADDLEBOARD THE SNAKE
If you're looking for a summer activity to beat the heat in Twin Falls, try out some paddle boarding on the Snake River. If you don't have your own paddle board, you can rent one here.
Paddling the snake is a great way to explore all there is to offer. I'd recommend paddling 2 miles upriver to see Pillar Falls.
15. ZIPLINE THE CANYON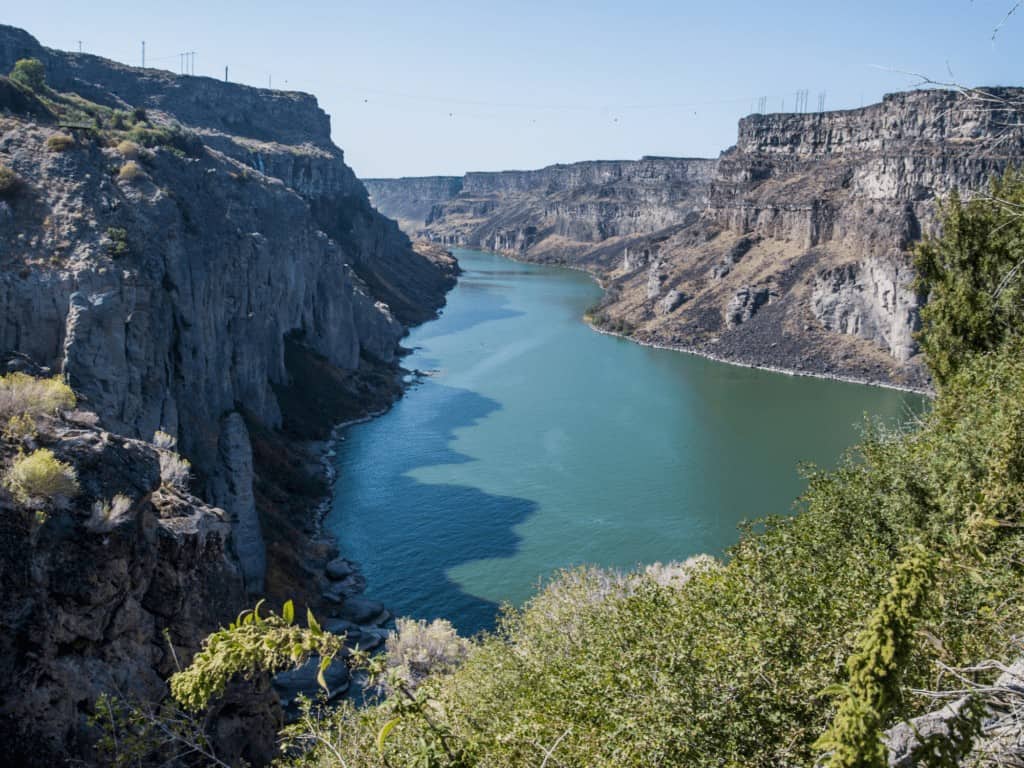 Are you looking for an adventure? If so, take a 45 mph zip through the Snake River Canyon. With AWOL Adventure Sports, they offer four zipline courses to quench your thirst for an adventure.
There's nothing better than seeing the beauty of the canyon surround you as you fly through the on a zip line through their course and see
16. EXPLORE DOWNTOWN TWIN FALLS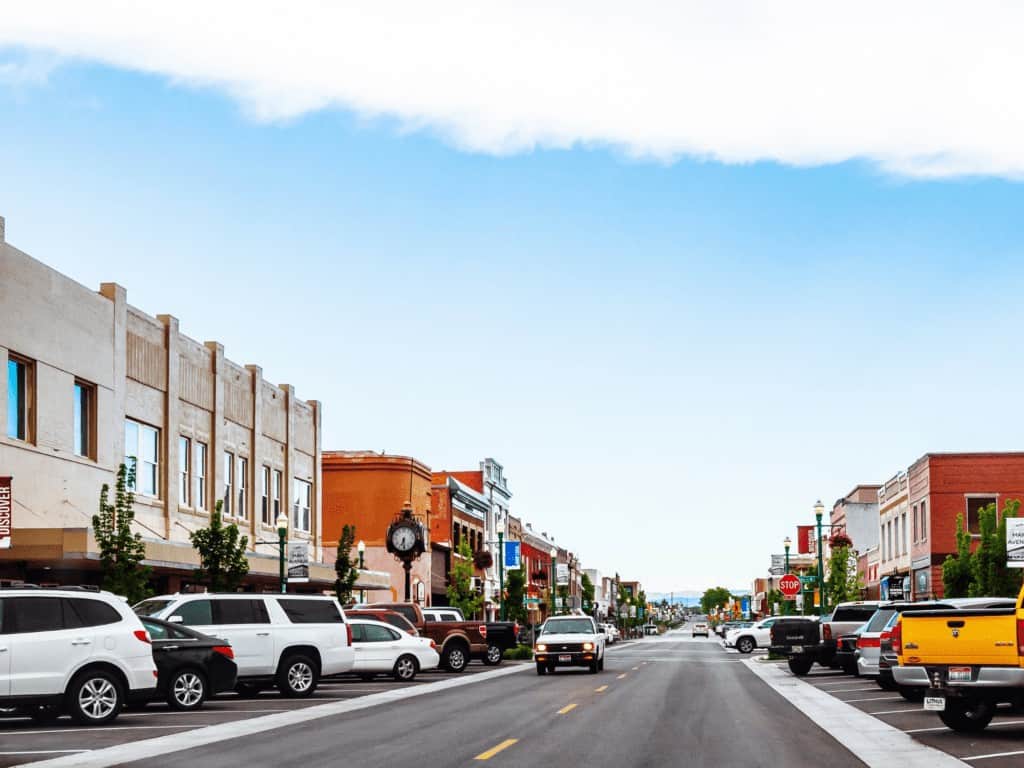 Twin Falls, Idaho, is the 7th largest city in Idaho. The best part is that it's a "smallish" city" compared to other densely populated states. Walking the streets of downtown, you'll experience the friendly vibe, welcoming restaurants, and unique shops.
We recommend heading to Koto Brewing or Magic Valley Brewing for a delicious beer and a bite to eat.
Once you've experienced some of the yummy beer Twin Falls has to offer, it's time to visit some local shops. I'd hit up Brass Monkey, this shop has all things "Idaho." The next store to see is Perrine Man Press, which sells all of the coziest sweatshirts with a distinct Idaho style.
17. VISIT A HOTSPRING
Both Miracle hotsprings and Banbury hotsprings are in the Twin Falls area. Whether you're aiming for a kid-friendly getaway or a romantic weekend, Miracle Hotsprings has you covered.
Banbury Hotsprings is located just down the road from Miracle (they share owners), has a large artesian swimming pool and on-site camping — a great choice for family picnics and reunions.
If you need more privacy, check out the mineral hot tubs and Jacuzzi tubs on site.
18. WALK OR BIKE THE SNAKE RIVER CANYON RIM TRAIL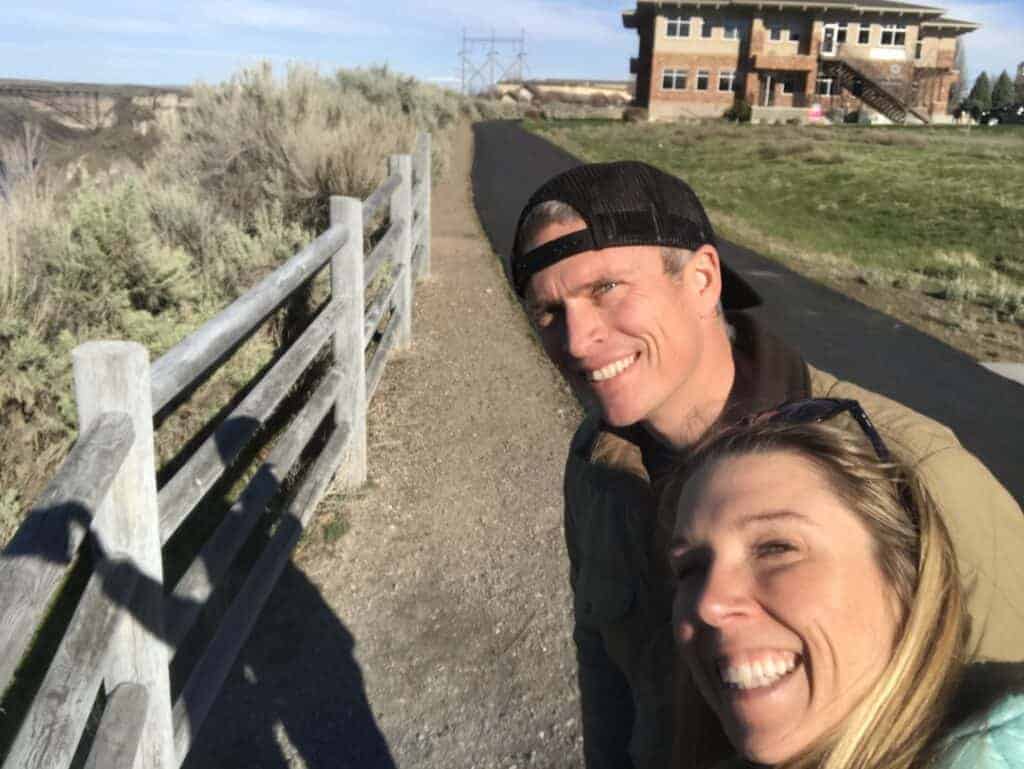 The Snake River Canyon is a popular ten-mile trail frequented by bikers, walkers, runners, and dog walkers easily accessed at the Twin Falls Visitor Center, North end of Washington Street, or Shoshone Falls Park. 
Click here to see a map of other access points for the rim trail. It's not unusual to see BASE jumpers leaping from the Perrine Bridge or kayakers enjoying the Snake River below. There's no shortage of scenery on these trails.
19. MOUNTAIN BIKING (OR HIKING) AT AUGER FALLS HERITAGE PARK
Auger Falls Trails is a 10-mile trail system that is fun for the whole family. You won't find any super advanced black diamond trails here, but it's a network of trails close to town that offer some rocky sections amongst the pretty flat trails.
Biking the Eagle trail will provide excellent views of the Snake River, with Auger falls in the backdrop.
If mountain biking isn't your thing, don't worry because Auger Falls offers plenty of hiking trails and birding opportunities too.
20. PERRINE MEMORIAL BRIDGE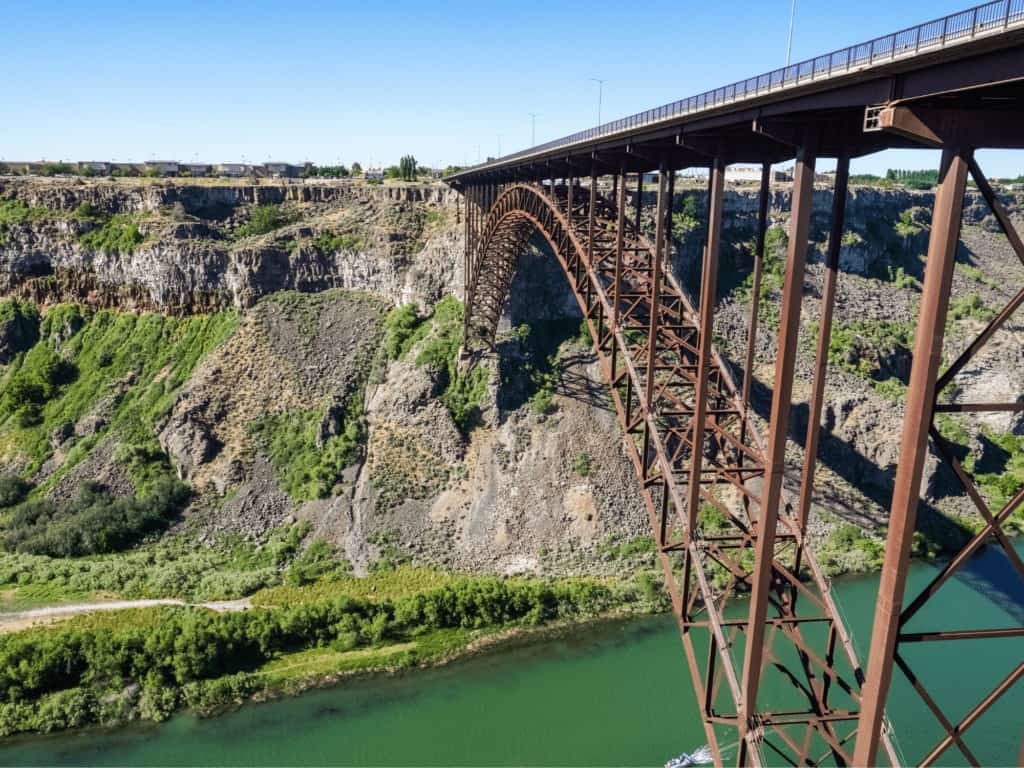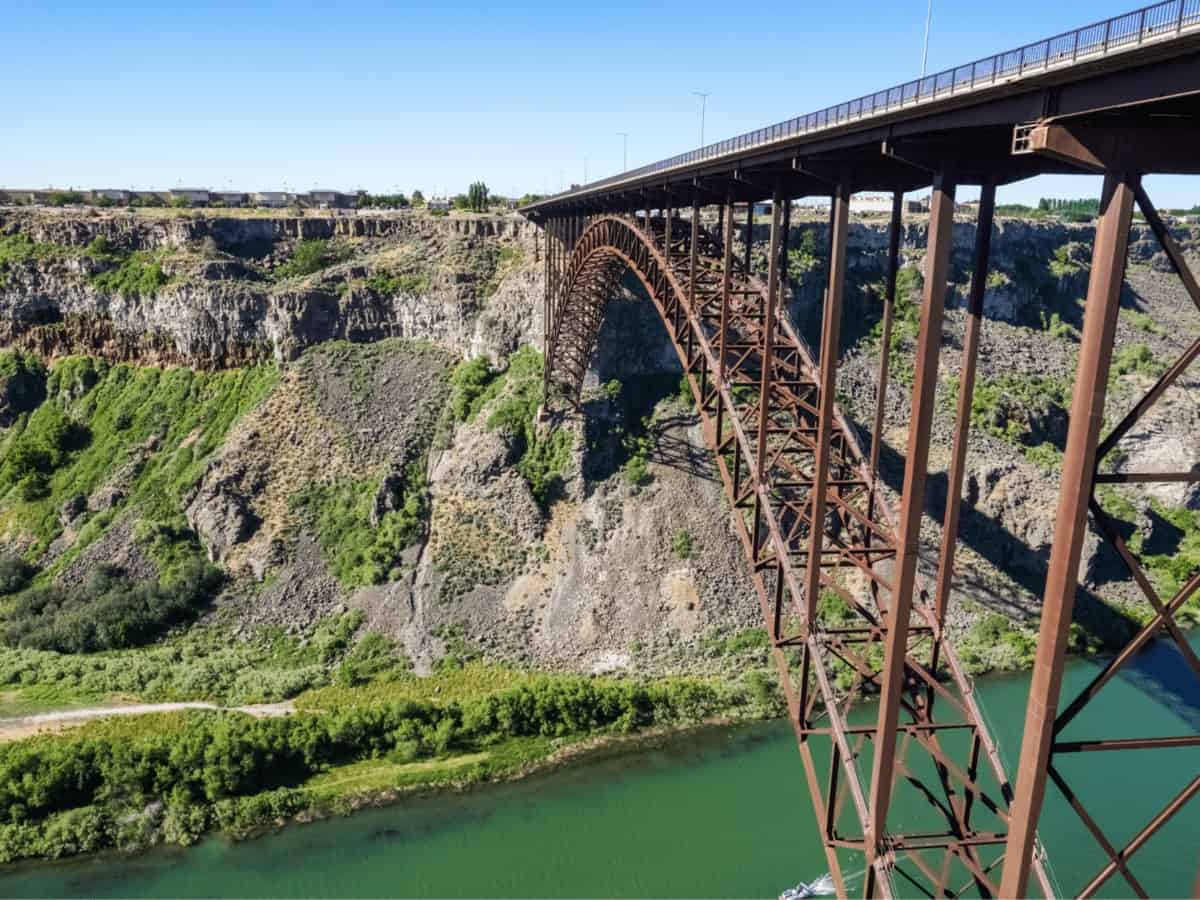 You can't spend time in Twin Falls without gazing at the most famous bridge in Idaho. The popular 1500 foot long Perrine Memorial Bridge spans across the Snake River Canyon and is known for BASE jumping.
The pedestrian-friendly bridge has walkways allowing visitors to walk the length of the bridge and enjoy the Snake River's gorgeous views and waterfalls.
Pro Tip: If you want some Idaho souvenirs or information about Evil Knievel and his attempt to jump the canyon, you can find it all at the Twin Falls Tourist Center at the end of the bridge.
21. DAY TRIPS AROUND TWIN FALLS
There are plenty of day trips around Twin Falls that you can enjoy while staying in the area. From Sawtooth National forest to hot springs, there is no shortage of sightseeing and outdoor activities that will keep you busy. So what are you waiting for? Get out and explore!
Hagerman Valley
Thousand Springs
Miracle Hotsprings
Banbury hotsprings
Sawtooth National Forest
GET OUT AND EXPLORE FUN THINGS TO DO IN TWIN FALLS
Twin Falls, Idaho, was a good reminder for us that you don't have to travel far to find some great things to explore your own backyard. We were stoked to see these fun things to do in Twin Falls, Idaho.
For more great things to do in Idaho, head over to Idaho Uncovered