If you are looking for a small town with tons of fun things to do, look no further than Wenatchee, Washington. With everything from mountains, rivers, and valleys to apple picking and wine tasting.
The city of Wenatchee is a beautiful place that has everything you could ever want to do, see, or eat. With over 200 days of sunshine, finding things to do in Wenatchee isn't a difficult task.
After a great day of exploring all the various Wenatchee attractions, you can finish your day with dinner and drinks at one of the many restaurants or bars downtown.
The one thing that surprised both August and me while visiting Wenatchee is the number of places that offer wood-fired pizzas. So if you're into fired pizzas, there's no shortage in Wenatchee.
Wenatchee Attractions And Things To Do Around Wenatchee Wa
Where Is Wenatchee?
Wenatchee is a mountain gateway located between western Washington and the agricultural area of the Columbia Plateau to the east. Wenatchee, Washington, sits in the middle of Washington State, located roughly midway between the Columbia and Wenatchee rivers, near the eastern foothills of the Cascade Range.
Wenatchee is a 2.5-hour drive making it the perfect weekend getaway or more extended day trip from Seattle.
Pro tip: If you're coming from Seattle or Western Washington, keep an eye on the highway road conditions along Hwy2 and I90 east. If the passes are covered in snow, and the conditions are dangerous, both routes may be closed.
When Is The Best Time To Visit Wenatchee, WA?
The Wenatchee Valley, known as the world's Apple Capital, is a mecca for outdoor activities. It has one of the most diverse natural playgrounds year-round.
You'll find the things to do in Wenatchee are just as plentiful as their apple orchards.
With plenty of sunshine and four distinct seasons, it makes Wenatchee the perfect place to visit any time of the year.
Wenatchee Weather
WENATCHEE WEATHER
Wenatchee WA Map
Wenatchee is in the Southeast corner of Chelan County and is on the west side of the Columbia River. Keep in mind that East Wenatchee, located on the opposite side of the river, is a separate town and part of Douglas County.
Looking for Other Things to do Around Washington?
What's The Hype With Wenatchee And The Washington State Apple
Are you wondering what the significance is with all the apples in the state of Washington and specifically Wenatchee? Washington is the nation's top apple-producing state, making up 80 percent of Washington's fruit crop.
In the 1890s, orchardists discovered that Central Washington's Yakima, Wenatchee, and Okanogan valleys were ideal for apple growing. Growers were able to market their fruit nationwide after railways arrived.
Throughout the second half of the twentieth century, the Red Delicious was Washington State's most popular variety, but it is now being challenged by the Gala, the Fuji, and other varieties.
What To Do In Wenatchee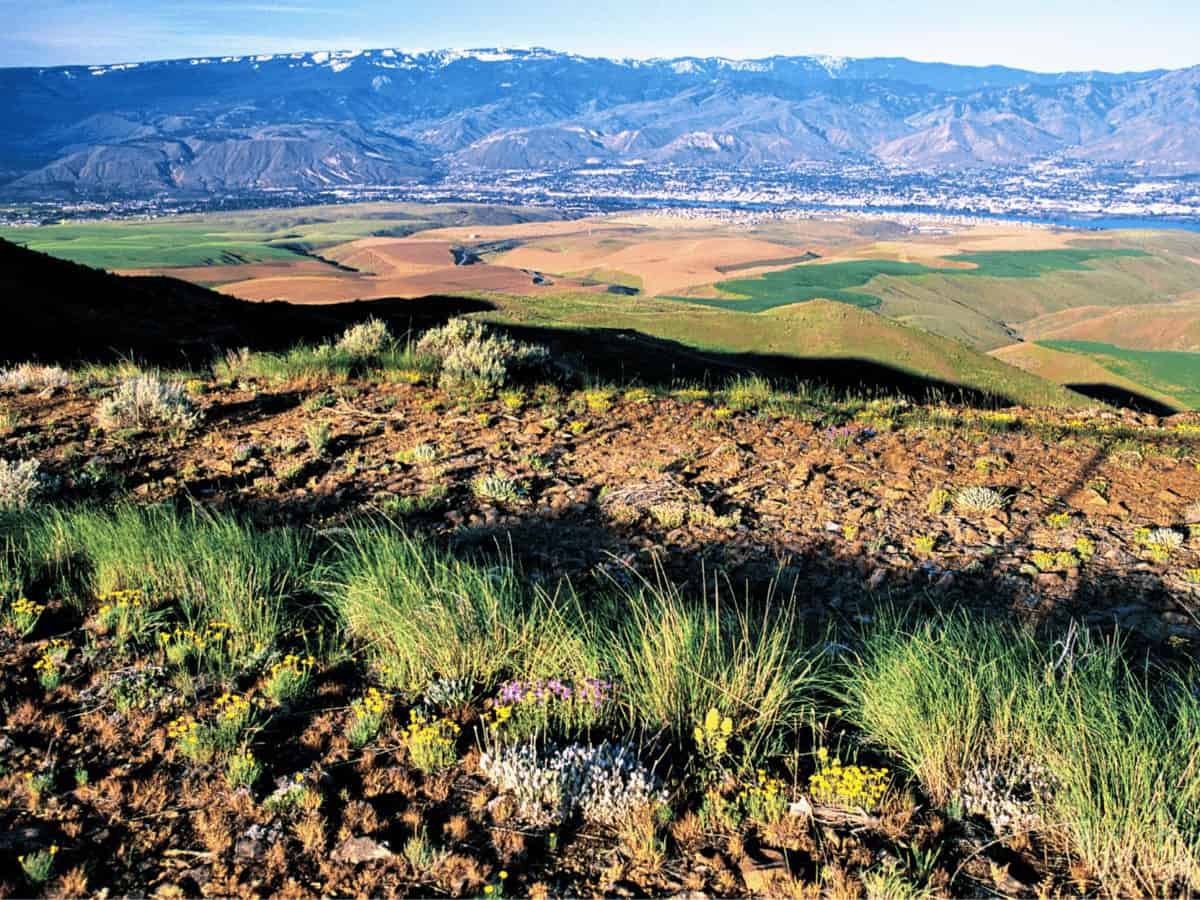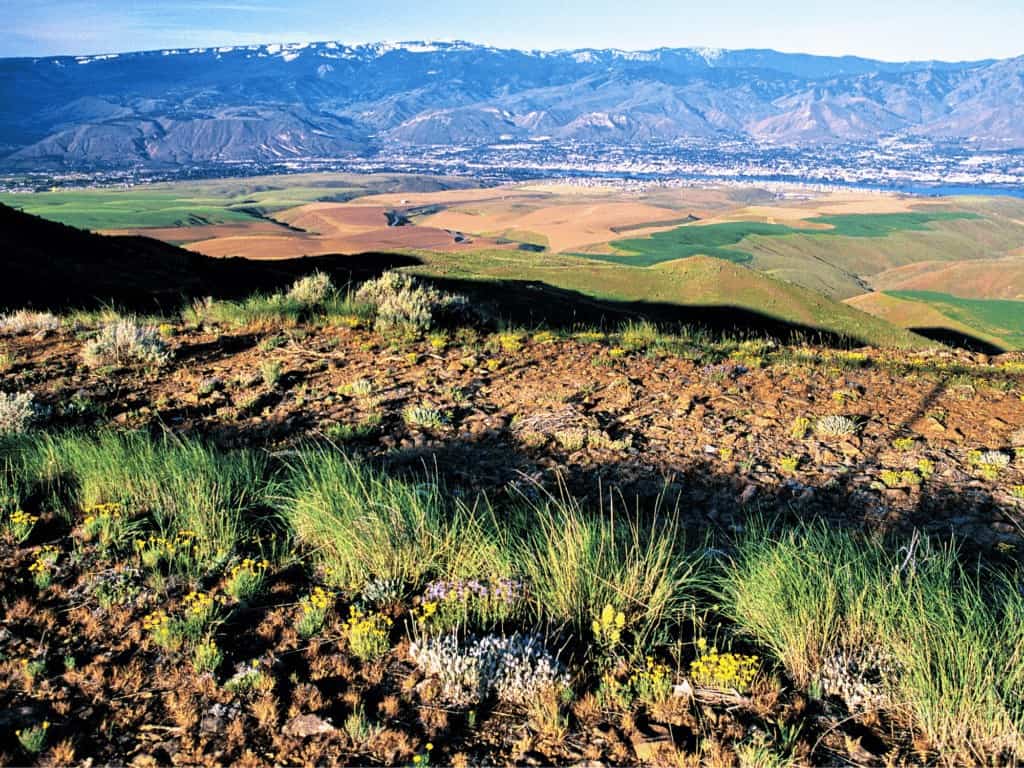 With so much to see, let's dive into the best things to do in Wenatchee.
Apple Capital Recreation Loop
It seems pretty fitting that Wenatchee would have a trail named the Apple Capital Loop, especially since it IS the world's Apple Capital. The popular trail is 22 miles encircling the Colombia River (10 miles on each side of the River) and meanders through 4 riverfront city parks.
It's a popular trail that is frequently used by bikers, joggers, walkers, and skaters.
Taking a bike ride along the Apple Capital loop will give you a good overview of the Wenatchee area because you'll get to see some of the popular Wenatchee attractions.
You'll see the Wenatchee Riverfront Park, Walla Walla Point Park, the Horan Nature Area, and the Wenatchee Confluence State Park.
Wenatchee Valley Museum
Located in the heart of downtown, the Wenatchee Valley Museum tells the story and history of North Central Washington. The museum offers classes and camps for both kids and adults!
The primary goal of the Wenatchee Valley Museum and Cultural Center is to preserve and protect relics, photographs, and printed materials that illustrate the area's long history.
In addition, they showcase how the American Indian groups of the Columbia Plateau interacted with each other and the outside world.
Go Wine Tasting
If you know us, you know we enjoy visiting breweries. When we learned that Wenatchee Valley has more than just apples, there's a new wine industry with dozens of wineries and tasting rooms to explore, we had to learn more.
Situated in the Columbia Cascade wine-growing region, downtown Wenatchee is home to about 12 tasting rooms and several wine-tasting events throughout the year.
Popular Wenatchee-area wineries and tasting rooms to visit while in the area.
Peshastin Pinnacles State Park
Peshastin Pinnacles is a popular destination for rock climbers. But it's also a great place to stretch your legs when traveling along Highway 2.
The base of the climbing area features a short zigzagging trail system with a moderately steep loop and a picnic area, making for a great way to finish off your visit at Peshastin.
Wenatchee Confluence State Park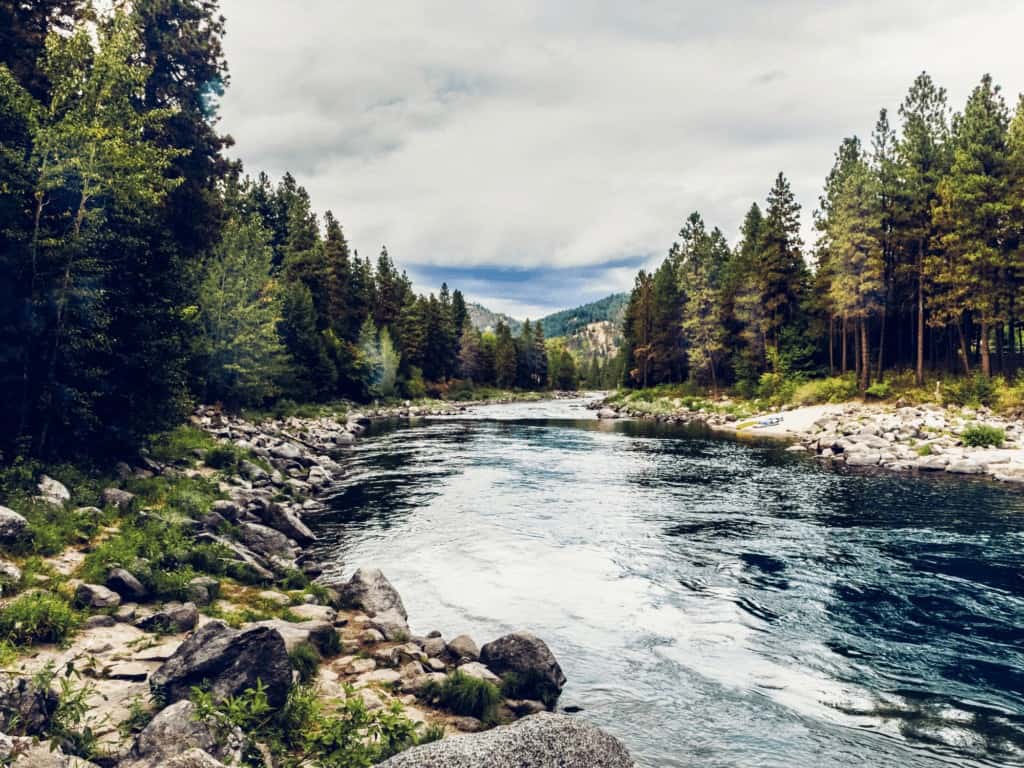 Wenatchee Confluence State Park is a 194-acre, year-round camping park at the confluence of the Wenatchee and Columbia rivers just 10 minutes from downtown Wenatchee.
There are hiking, biking trails, and a lovely protected swimming beach with no river current making for a nice calm spot to swim during the summer.
Washington State Apple Blossom Festival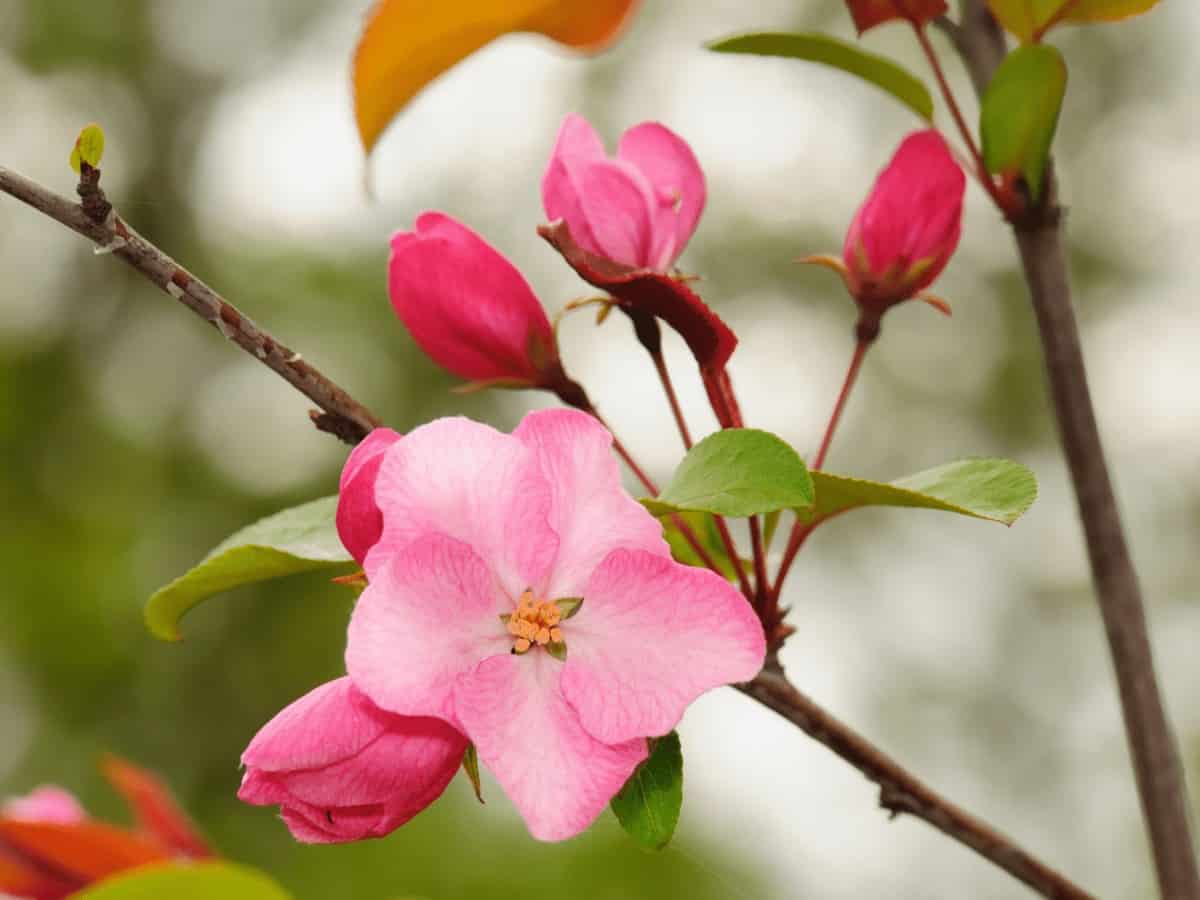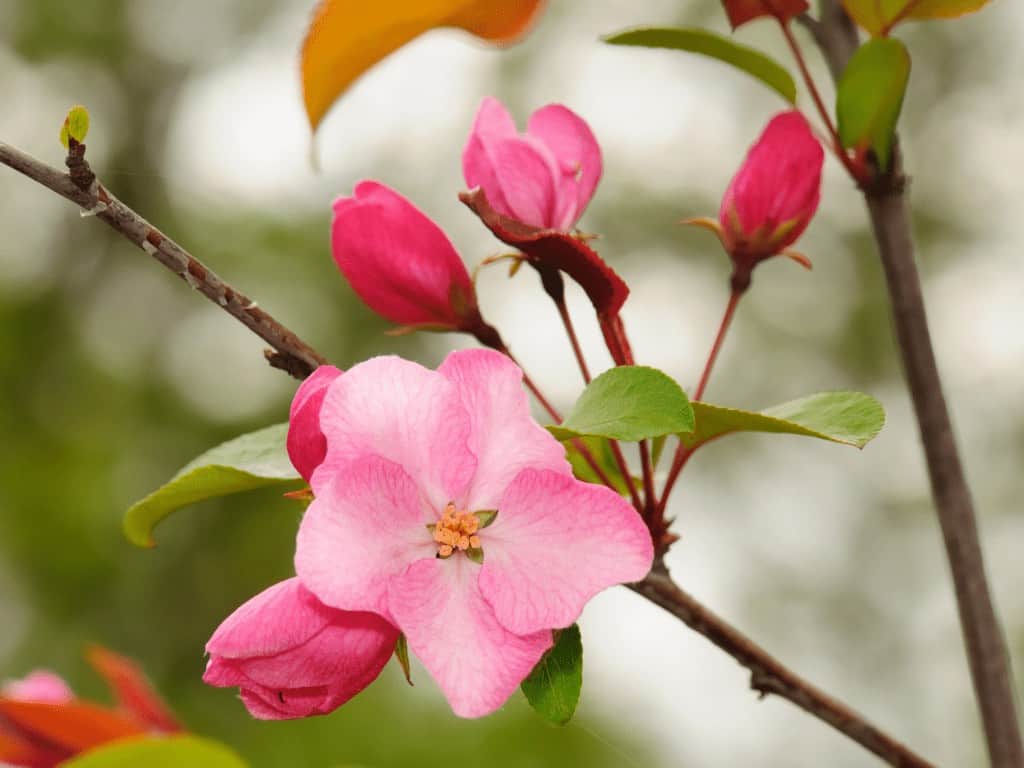 The last weekend in April and the first of May is one of the liveliest times of the year in Wenatchee, with sunshine, music, brews, and flowers! The Apple Blossom Festival is a Wenatchee tradition celebrated for more than a century, making it Washington state's oldest major festival.
The Wenatchee Apple Blossom Festival boasts one of the best parades in the Northwest! In addition, you'll experience fantastic entertainment, a great variety of food, arts, crafts, and gem shows.
Apple Blossom Kids' Events
In addition to the Parade, there are other exciting things for kids to do at the festival. Youth Day is a whole day during the Apple Blossom Festival dedicated to entertaining youngsters. Make a point of attending this fantastic family-friendly event!
Wenatchee Riverfront Park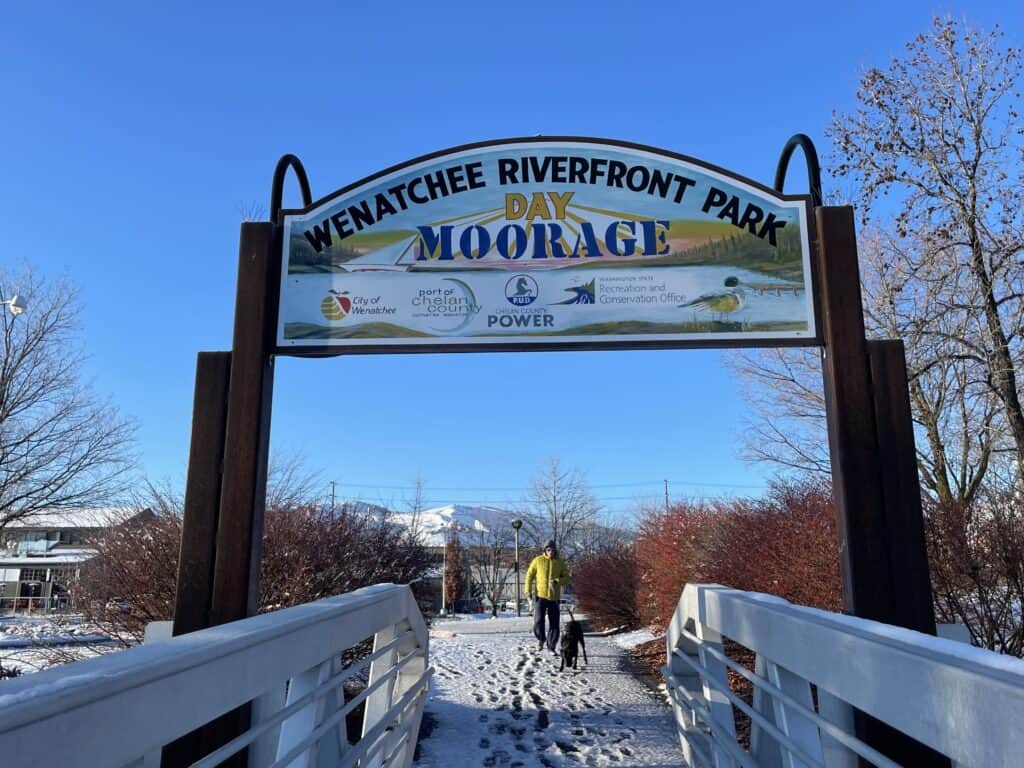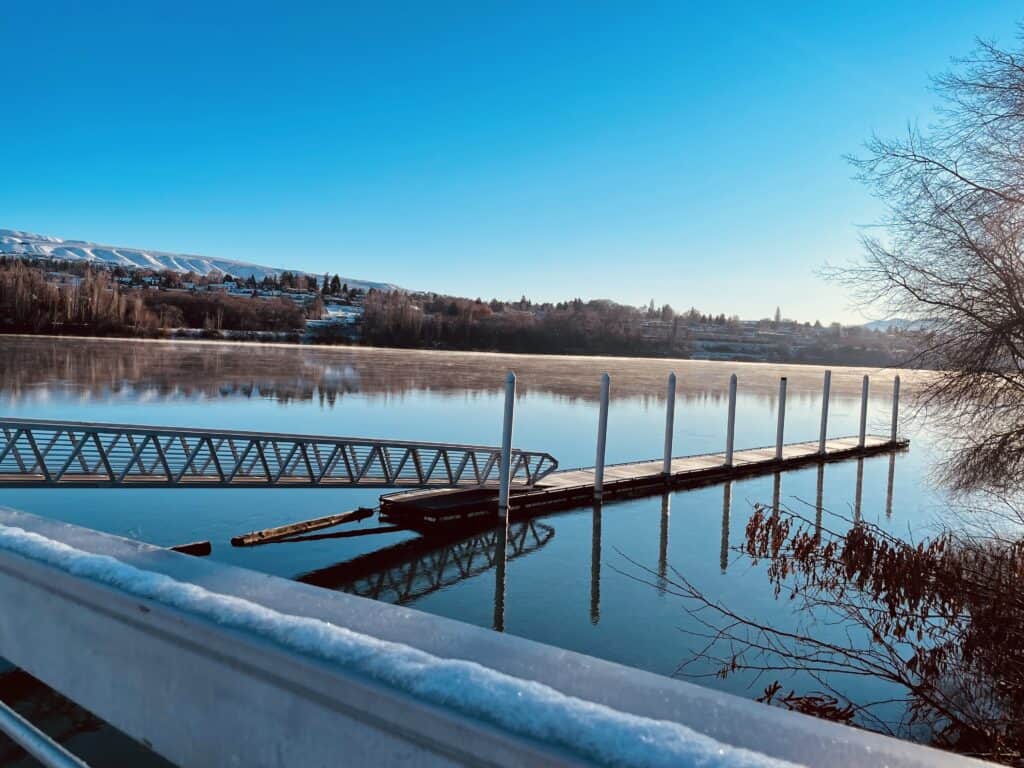 One of the fun things to do in Wenatchee is to check out the Riverfront park. It is a great place to walk, jog, or bike. This trail is part of the 22 mile Apple Capital Loop Trail popular with bicyclists.
Riverfront Park connects to Walla Walla Point Park, which connects to Wenatchee Confluence State Park, ending at Pybus Public Market. This results in 4.6 miles of walking and biking trail along the Columbia River and Wenatchee River.
Walla Walla Point Park
Walla Walla Point Park, located on the Columbia River, is a great place to take a leisurely stroll along the water. This popular destination offers more than 1 mile of trail with stunning mountain views making it easy to forget you're still in town. The famous Apple Capital Recreation Loop Trail passes through this park.
Pybus Public Market
If you're looking for a unique experience in Wenatchee, the Pybus Public Market is your place. Here, you'll find a restored factory building once owned by Pybus Steele Co. that has a railroad track going through the building.
This charming factory is now a large indoor market with about 20 local businesses. You'll discover everything from specialty foods and fine teas to unique restaurants and gift shops.
While shopping at Pybus, don't forget to stop for a coffee at Cafe Columbia or a beer and wood-fired Pizza. If you're looking for artesian cheese, don't miss the Cheesemonger's shop.
The Pybus Public Market also hosts the famed Wenatchee Farmers Market every May – October from 8 AM to 1 PM.
Mission Ridge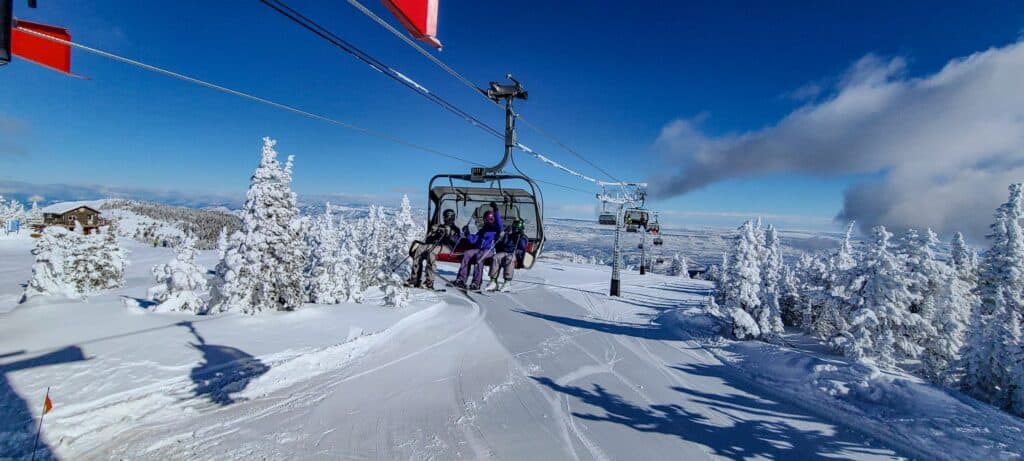 Envision another fun thing to do in Wenatchee… Tons of sun, amazing views, light, fluffy powder, and terrain that fits everyone in the family. Located on the east side of the Cascade Mountains, only 12 miles from Wenatchee, you'll find Mission Ridge.
Mission Ridge is a ski area built into a 2,000-acre basin, so when storms roll in, they drop a different kind of snow– light, dry powder.
Go Ice Skating
Looking for fun things to do with kids in Wenatchee? The Town Toyota Center offers ice-skating, a fantastic way to burn some energy while increasing confidence and sharpening skills.
For some reason, gliding across the ice makes you feel joyful and carefree. Sure, there's a little fear involved, but open ice skating allows you to perfect your skills at your own speed.
For more up-to-date information, check out.
Pro Tip: It's cold in the arena, so be sure to dress warmly.
Brewery Crawl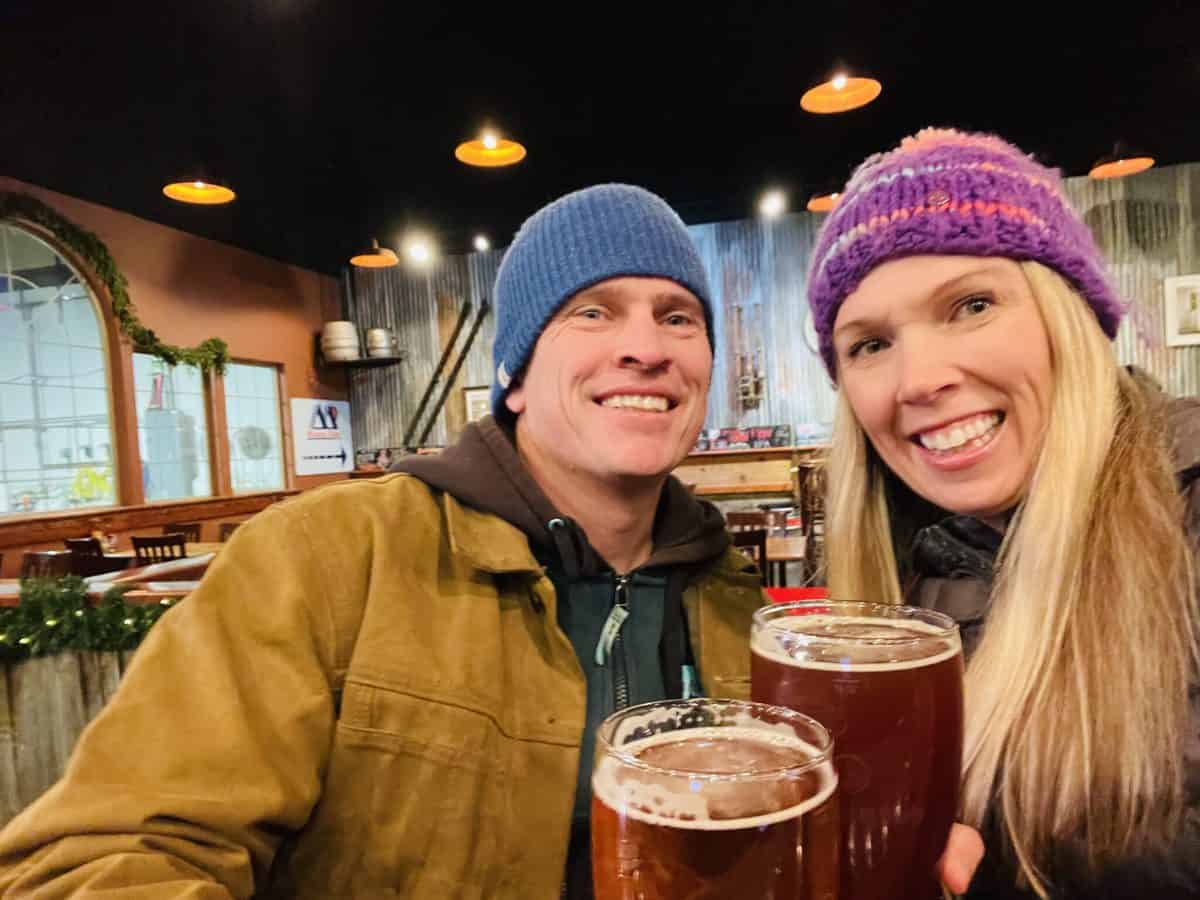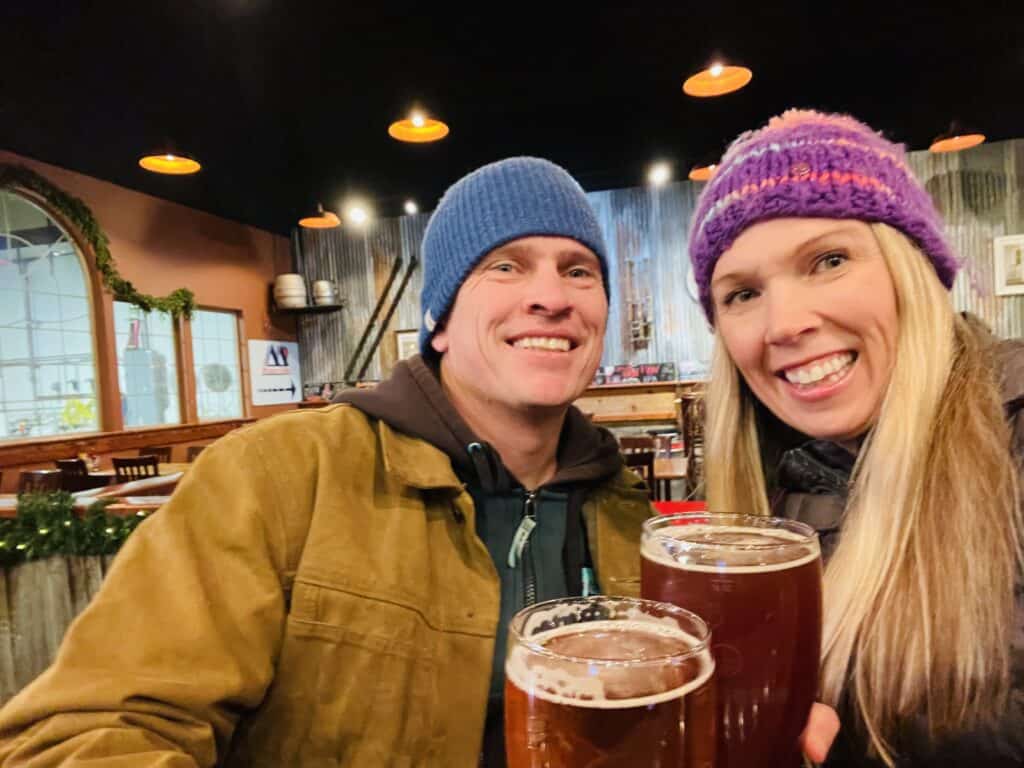 Visit a brewery
As mentioned earlier, we enjoy our breweries, so another fun thing to do in Wenatchee is to visit a brewery or two during your stay in Wenatchee.
What's even better is the breweries are located along Wenatchee's Columbia River waterfront in the "craft brewery district" and are all within walking or biking distance of each other.
Brewers Row is an area where you'll find four different breweries. The Columbia Valley Brewing Company is the oldest commercial brewery in Wenatchee, which opened in 2012 and is next to the Riverfront Park and the Columbia River.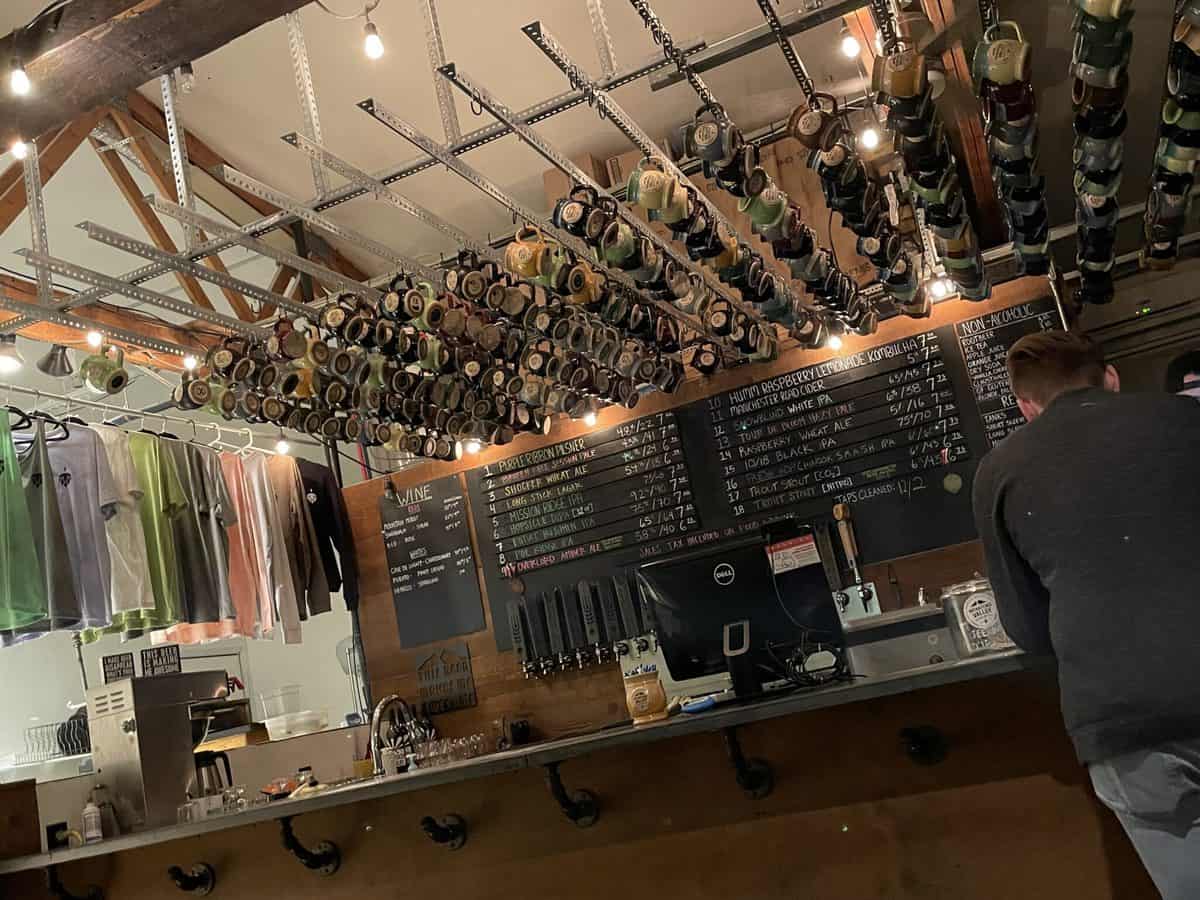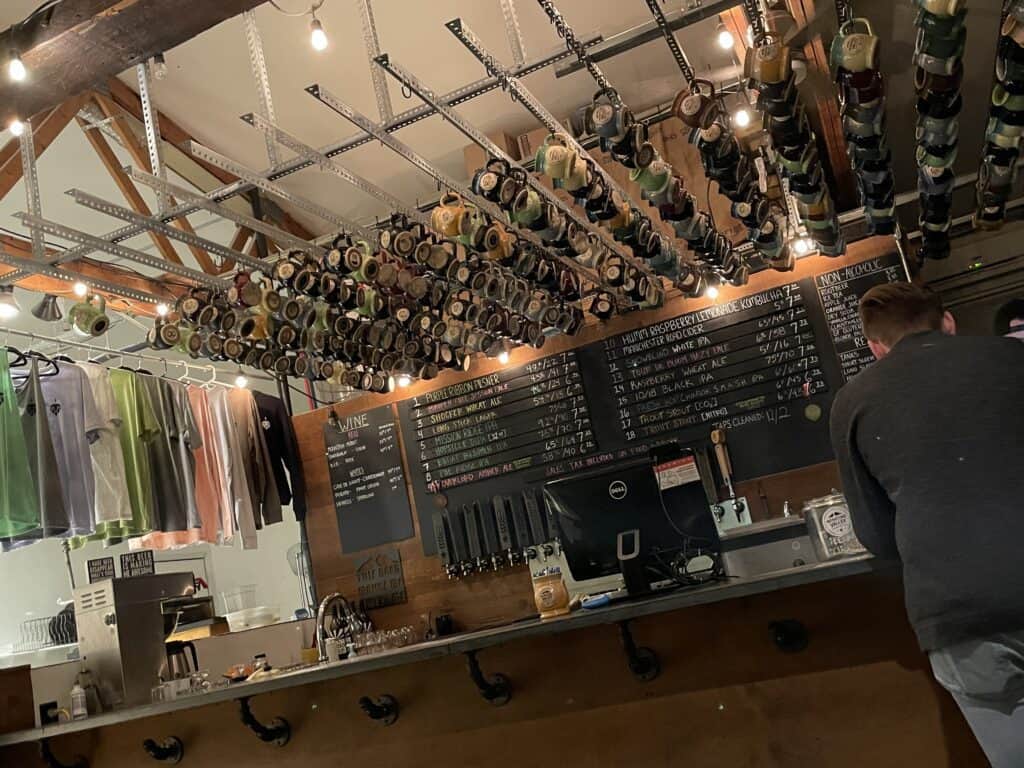 Badger Mountain Brewery was established the following year in an abandoned fruit warehouse facility. In 2017, after converting an old home adjacent to Riverfront Park, Wenatchee Valley Brewing opened its doors. The latest but hopefully not last to join Brewers Row is 509 Bierwerks who opened in an old industrial building in 2019.
Go On A Hike In Wenatchee
With over 2,500 miles of recreational trails in the Wenatchee National Forest, hiking and trail running could keep you busy for a while.
Some of the popular hikes to go on in the Wenatchee area are:
Clara Lake – 2.8 miles roundtrip to Clara Lake, 4.5 miles roundtrip to Viewpoint A peaceful, wooded hike where you'll see an alpine lake basin. Just 20 minutes from downtown
Ingalls Lake Roundtrip 8 miles. A beautiful blue lake with views of Mt Stuart
Beehive Mountain– Distance: 1.4 miles (roundtrip). Elevation Gain: 300 vertical feet.
Squilchuck to Wheeler Loops Distance: 8.75 miles for the loop to Wheeler Reservoir (long loop), 5.25 miles for the short loop. The park is located seven miles from Wenatchee but 2,200 feet higher. It is nicely wooded and surprisingly cooler, making it a great summer getaway.
Castlerock– Castle Rock is a 1.8 mile lightly trafficked loop trail located near Wenatchee, Washington that offers scenic views.
Art Walk is a Fun Thing to Do in Wenatchee
Wenatchee First Fridays Art Walk is a self-guided tour of Wenatchee's Arts Scene. This event samples local Visual, Performing, Literary, and Culinary Arts events in galleries, shops, studios, streets, museums, theaters, churches, artisan markets, and coffee houses.
While centered in Wenatchee's Historic District, the event also includes out-lying venues. 5–8 PM, some venues have different hours. Free.
Canoe, Kayak, or Stand Up Paddleboard The Columbia River
Paddling on the Columbia River offers a wide range of experiences, from gentle protected water at the confluence of the Wenatchee and Columbia Rivers to rushing river waters.
If you're looking for a guided Stand Up Paddle Board Trip, check out Wild Water River Guides, where they provide a guide and all the equipment you'll need to have a fun time on the river.
Rock Climbing
There are several well-known faces in the area, including rock faces. The sandstone slabs of Peshastin Pinnacles State Park are among the most recognized. If you like to clatter up walls and rappel down, North Central Washington is the place for you.
If outdoor climbing isn't your thing try your skills at River Front Rock gym for some indoor climbing. This is a perfect thing to do with teenage kids in Wenatchee.
PRO TIP: For outdoor climbing, many of the parking areas require a Discover Pass
Ohme Gardens
This 9-acre wooded garden overlooking Wenatchee, Wash., is perched on a hilltop and features panoramic views of the magnificent Columbia River. Ohme Gardens offers over 1 mile of native stone paths, which lead you through towering pine and fir trees, lush plantings, waterfalls, and serenity pools.
There are several stone seats in the garden if you need to rest and enjoy the beauty of the location. Ohme Gardens also hosts numerous special events, such as the annual Concerts in the Gardens in July or Yoga in the Gardens, which take place throughout the year.
Don't Miss McGlinns Public House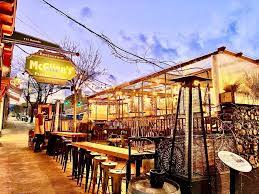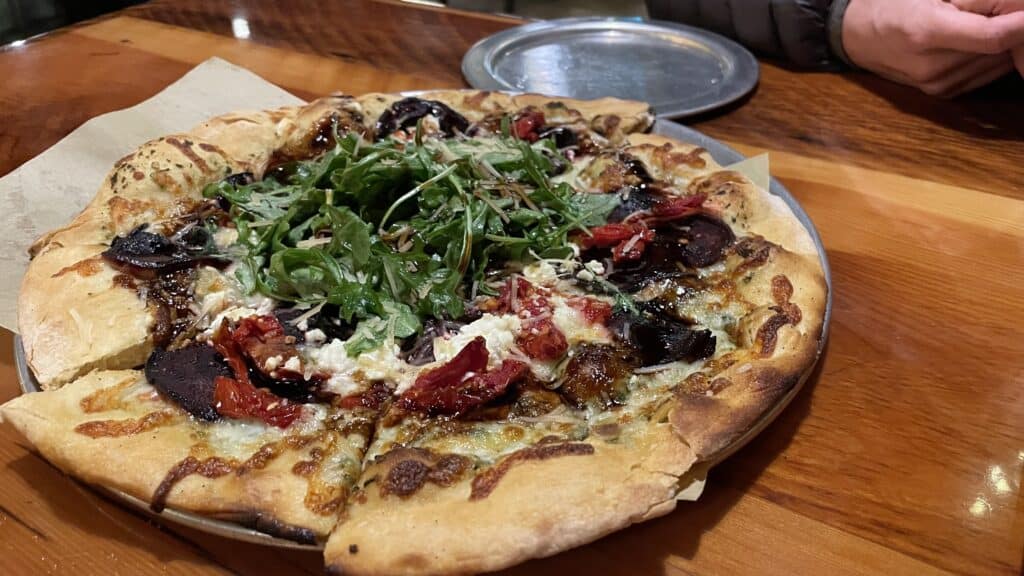 Looking for somewhere to get a bite to eat after the Riverfront walk? Head on over to McGlinns Public House where you can get some of the best of the wood-fired pizza that Wenatchee has to offer. This is a great place for people who want to enjoy fantastic pizza, wine, and beer.
Where to Stay in Wenatchee
These are just a few of the most highly recommended places to stay in Wenatchee:
Warm Springs Inn & Winery
The American Cabin
Hilton Garden Inn
SpringHill Suites Wenatchee
Mountain Escape
Comfort Suites Wenatchee Getaway
Things to Do Around Wenatchee
If you're looking for things to do near Wenatchee, don't miss heading over to the Bavarian town of Leavenworth. A weekend in Wenatchee wouldn't be complete without a day trip to this charming town.