Flagstaff Arizona, a drinking town with an outdoor problem, has been a favorite of ours for years. While the town itself has an amazing vibe, culture, food, and nightlife – the surrounding areas are what really make it special.
With so many things to do near Flagstaff, it really is one of the Southwest's best destinations. Follow along as we explore all that this area has to offer.
1. Grand Canyon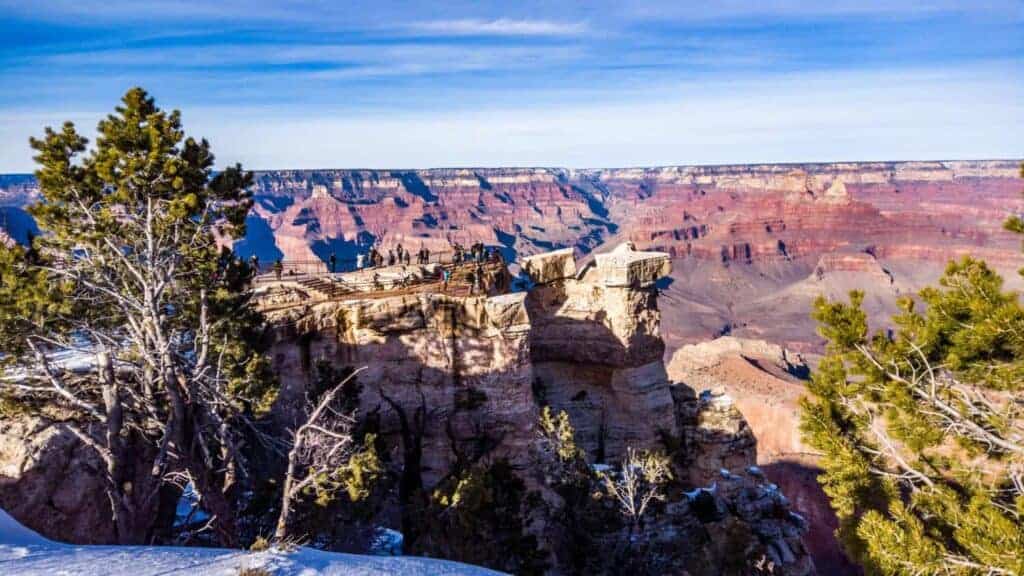 With so many things to do near Flagstaff, one of the most famous places in the world, the Grand Canyon should not be missed. With its massive views and fascinating history, there's lots to do here.
You can even hike to the bottom of this mighty canyon but be warned it's no easy feat. Or just hike just part way down to catch some great views.
To get to the Grand Canyon consider taking the train from Williams and skip the headache of driving.
DETAILS:
The south entrance of the Grand Canyon is a 90-minute drive from Flagstaff. Google map directions here. Or better yet take the train out of Williams which is only a 40 minute drive.
Cost: $35 per vehicle
---
Check out our Grand Canyon Guides:
---
2. SEDONA ARIZONA
Sedona deserves at least a day or two to check out but if you don't have time it's just a short drive from Flagstaff. The drive itself down historic Route 89 is worth the trip alone.
Here you will wind your way down the stunning Oak Creek Canyon with countless places to swim, hike, or camp. Be sure to check out Slide Rock, a great swimming hole in Oak Creek Canyon. Slide Rock is one of our favorite things to do near Flagstaff.
As you get into Sedona you will be taken back by the immense rock formations that jut up right in town. Every direction you look is an intense and dramatic scene.
Sedona offers endless hiking and mountain biking as well as a dizzying amount of window shopping.
DETAILS:
From Flagstaff be sure to take route 89 and not the interstate. It's about a 40-minute drive but plan on taking lots of stops along the way. This is one of America's most scenic drives.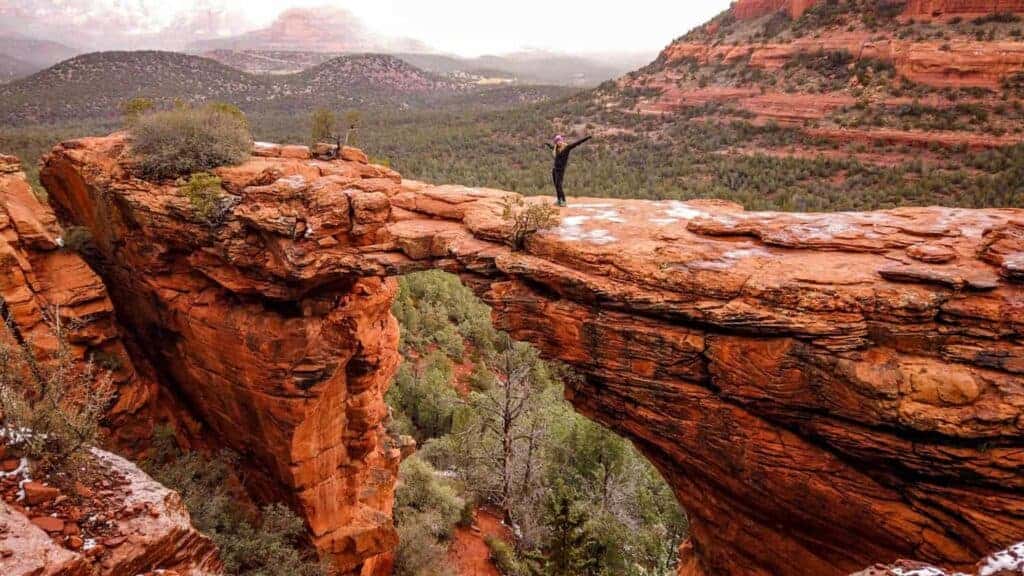 While you're in Sedona be sure to check out Devil's Bridge Hike. Where else can you stand on an arch! It's a short hike right outside of Sedona.
3. BEARIZONA – WILLIAMS ARIZONA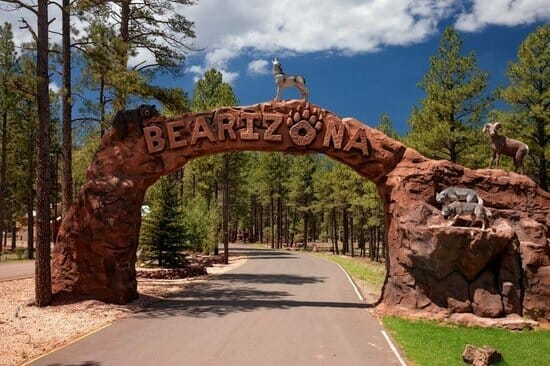 The classic western town of Williams just 30 miles away is well know for the Grand Canyon Railway that takes you in style to the Grand Canyon. In addition to its rugged charm, Williams has a great drive through wildlife park.
Bearizona wildlife park gets you up close and personal with bears, wolves, bison, elk, and rocky mountain goats to name just a few. Admission is just $25 bucks and lets you cruise through in the comfort of your own car or motorhome.
DETAILS:
LET'S MAKE TRAVEL BETTER
---
---
4. HORSESHOE BEND PAGE ARIZONA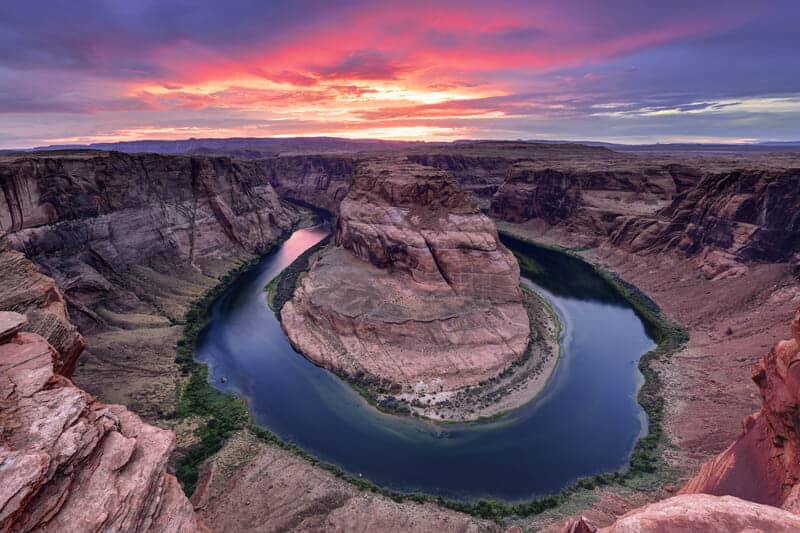 Horseshoe Bend is a nearly circular meander of the great Colorado River. What's even better is how you can look down on this mighty work of mother nature.
After a 3/4 mile, sandy hike, you'll be rewarded by a 1,000 foot near vertical look at Horseshoe Bend. Sunset is a great time to visit as the colors are brilliant.
The hike in is sandy and hot so bring a good pair of shoes and some water. While the parking lot and trail in can be very busy once you get to the rim the crowds will dissipate.
To get further away from the crowds and selfie sticks just walk along either side along the rim and you'll find your own perfect sitting rock. Bring a bite to eat and don't be in a hurry. This place demands some much needed relaxation.
DETAILS:
---
Thirsty yet? Have a delicious craft brew at one of Flagstaff's Best Breweries!
---
5. ANTELOPE CANYON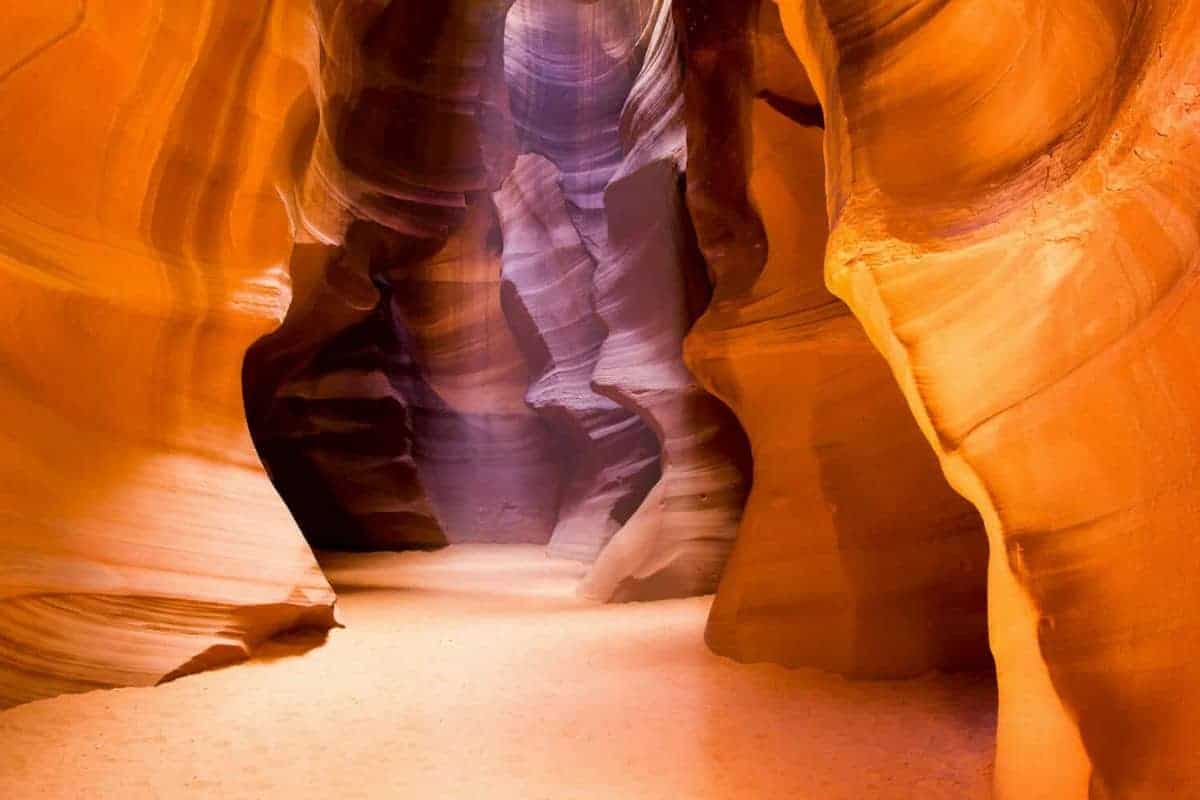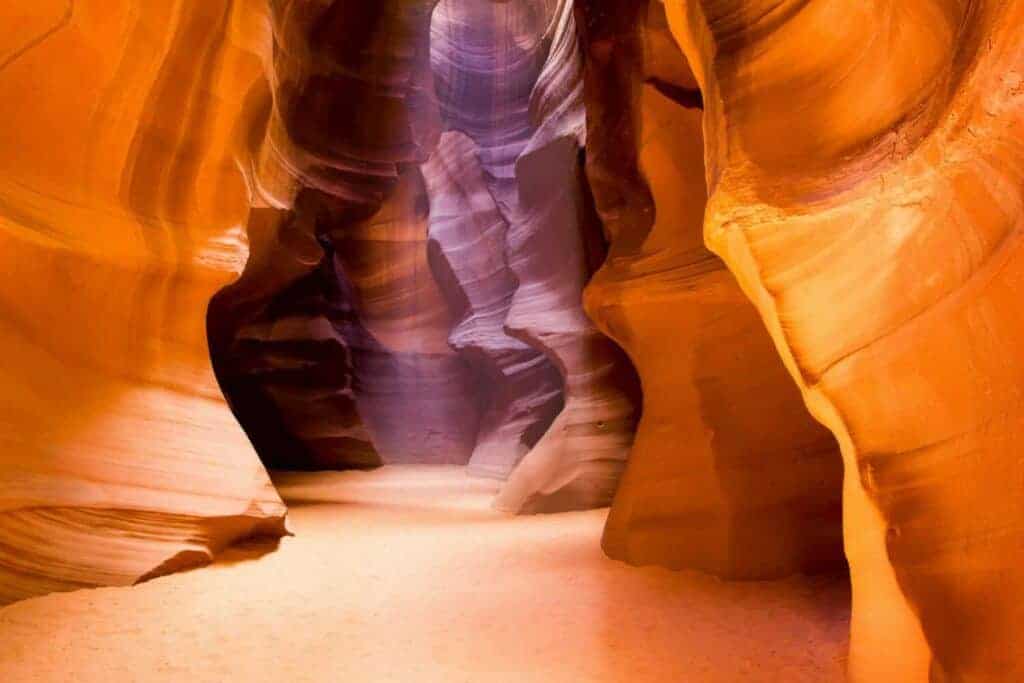 Antelope Canyon is a true wonder of the world. The sand filled floor gives way to the most intense canyon walls that are just an arms width apart.
As the light is filtered through the sliver above you, prepare to be blown away by the colors in this truly magical place located in the Navajo Nation.
Because Antelope Canyon is within the Navajo Nation a permitted tour is required. I recommend GetYourGuide to find a tour.
DETAILS:
Location: Antelope Canyon Google Maps
Antelope Canyon easily made our Top Destinations Of The USA.
6. PETRIFIED NATIONAL FOREST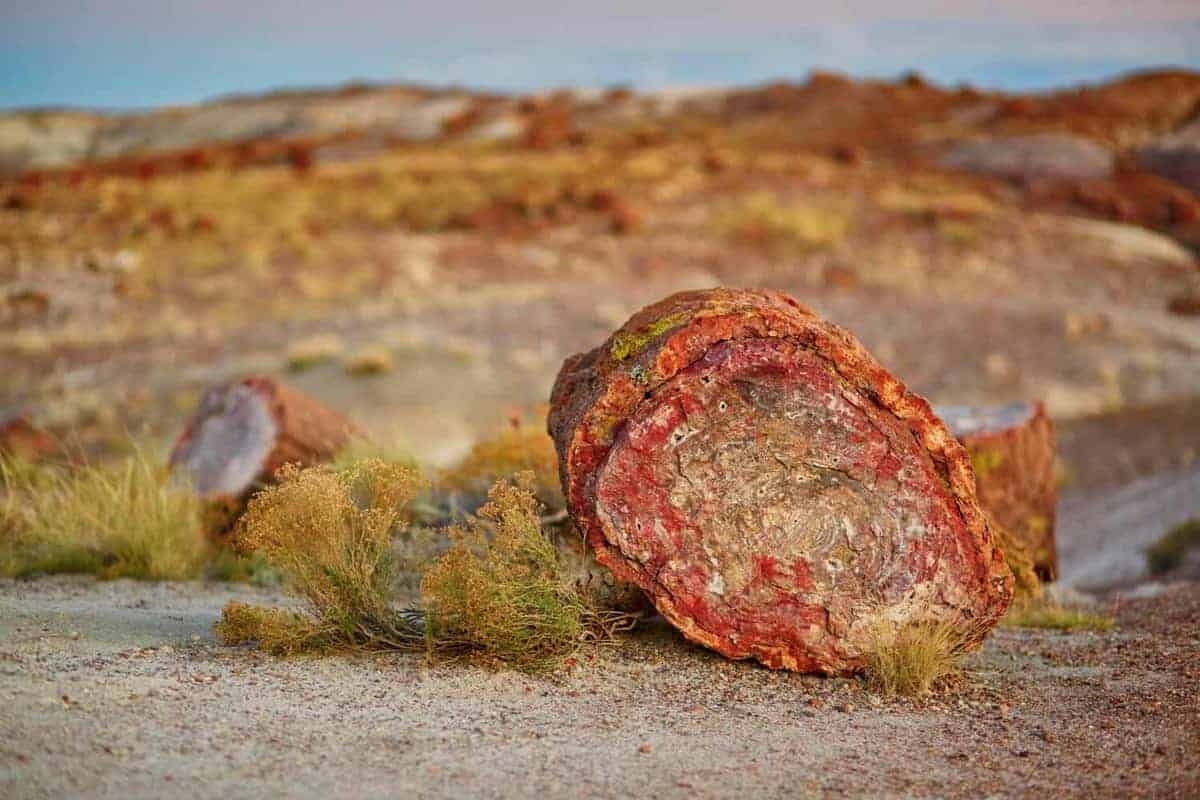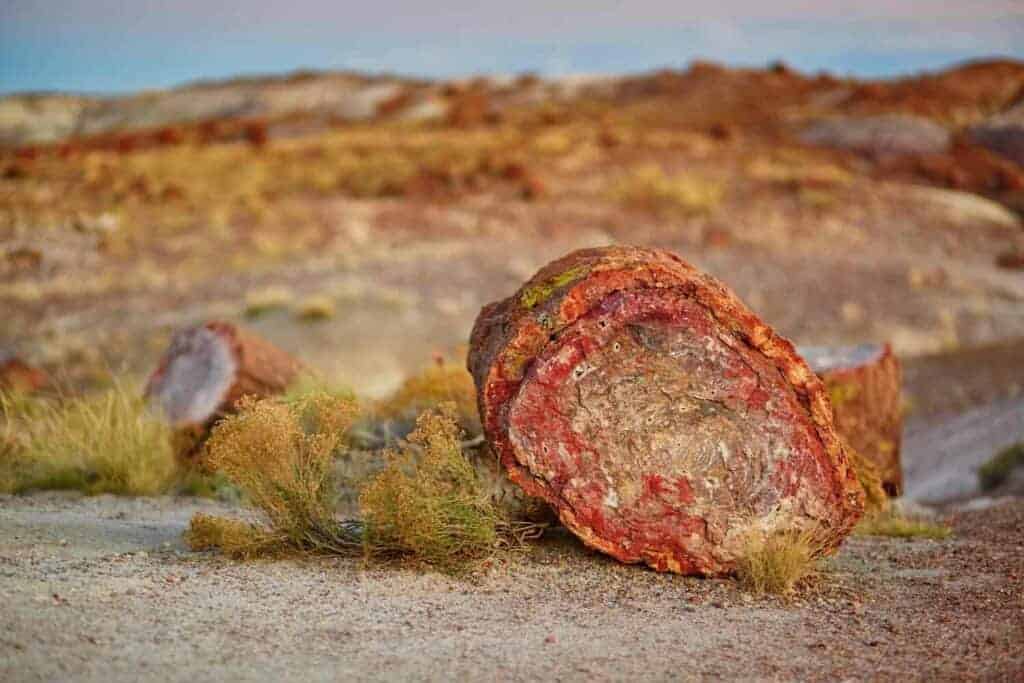 More than 13,000 years of human history and culture are represented at Petrified Forest National Park. From prehistoric peoples to the Civilian Conservation Corps, from early explorers to Route 66 motorists, the park has many stories to tell.
The park will take you about an hour to see on a self-guided tour with various films and live demonstrations available at park headquarters.
This day trip can be easily combined with the Meteor Crater below.
DETAILS:
Location: Directions Here, located about 1.5 hours from Flagstaff East on I-40.
7. METEOR CRATER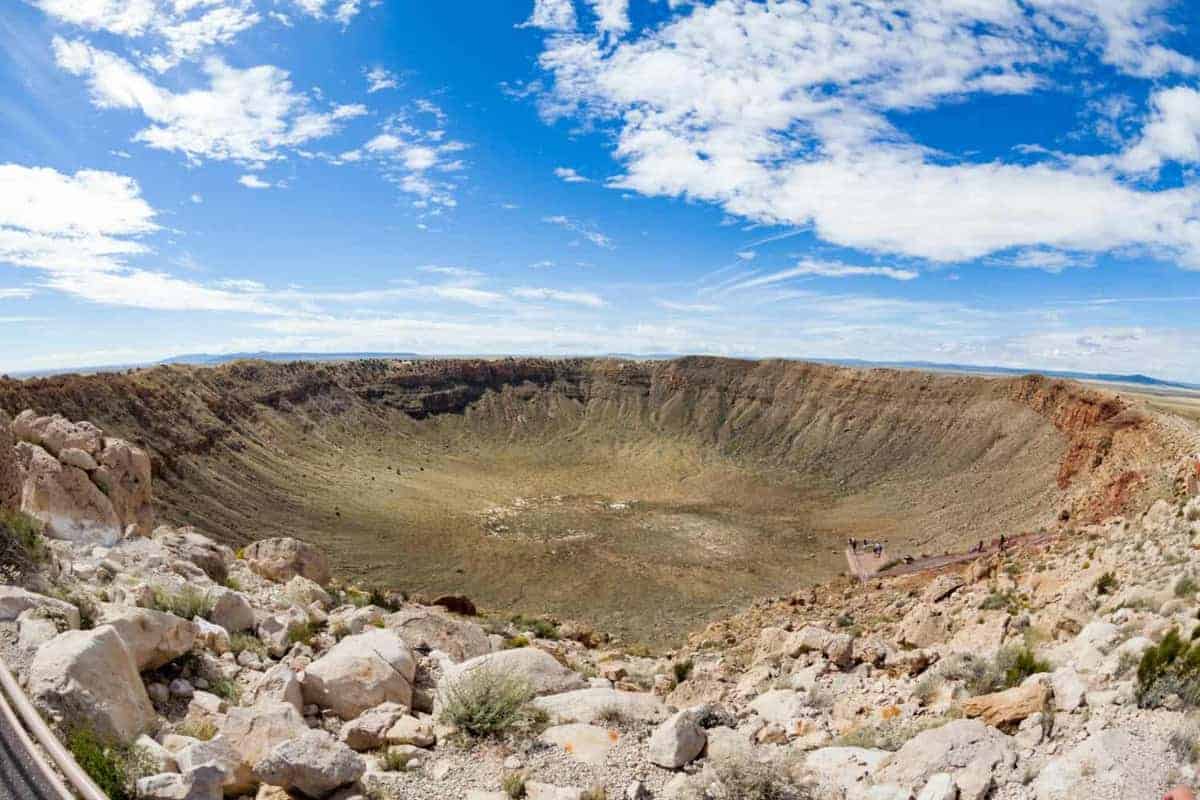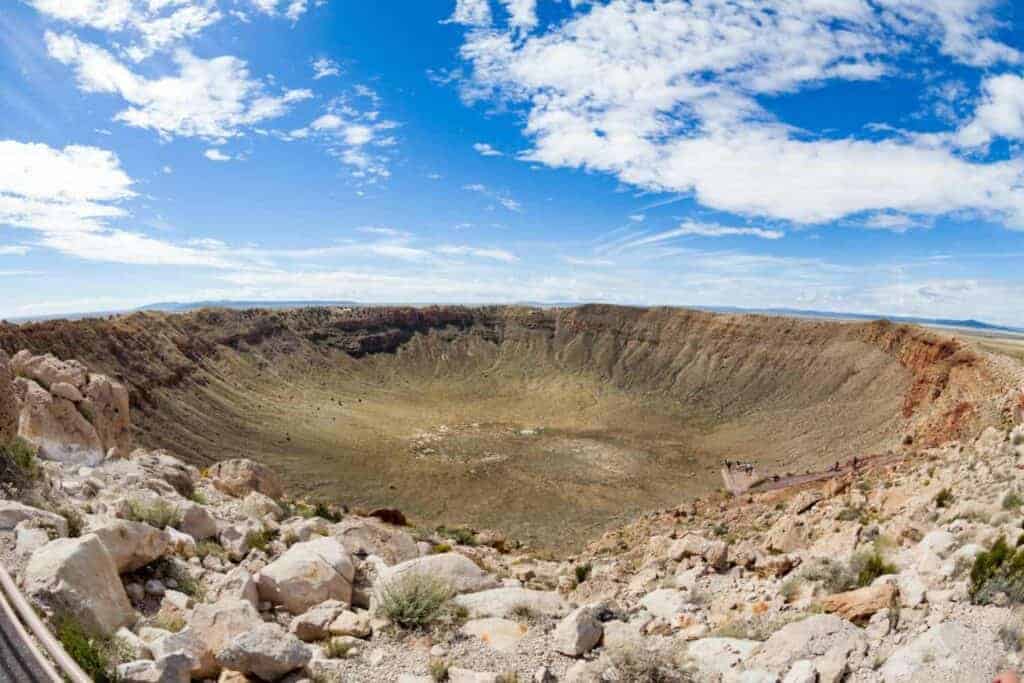 Said to be the world's best preserved meteorite impact site, located near Winslow and easily combined with the Petrified National Forest above. Here you can enjoy the theater presentation, gift shop and visitor center in addition to standing on the rim of this massive impact site.
DETAILS:
8. JEROME ARIZONA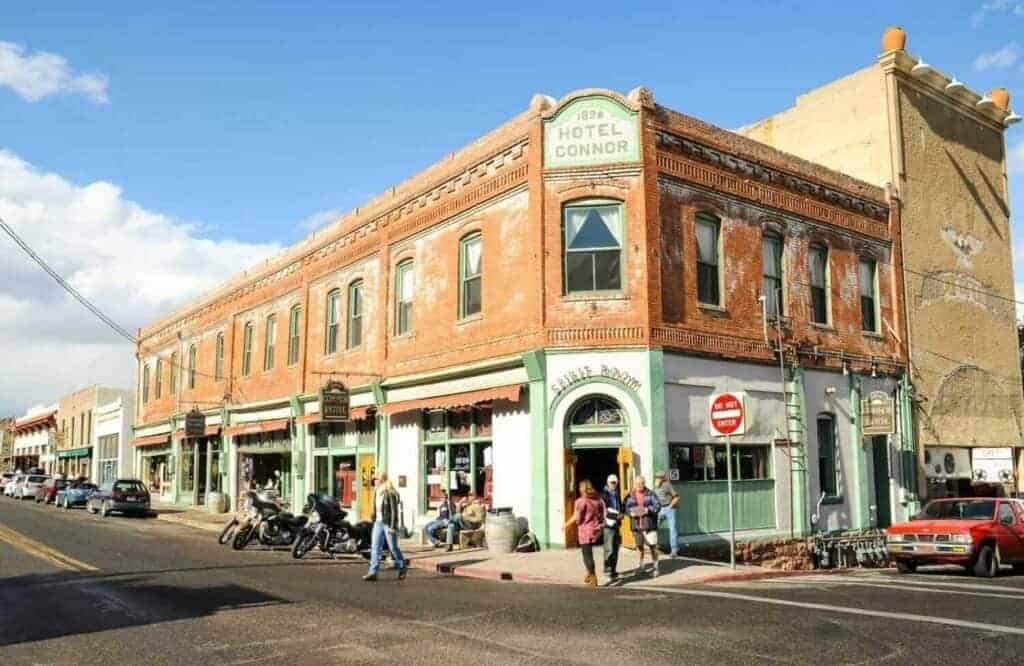 Located high on top of Cleopatra Hill between Prescott and Flagstaff is the historic copper mining town of Jerome Arizona.
Started with just a settlement of tents Jerome quickly became a bustling mining community. Founded it 1876, Jerome was the 4th largest city in Arizona.
Today the town calls itself a ghost town and is a popular tourist spot. Filled with all sorts of shops, art galleries, restaurants, and bars it's an easy place to stay for the night. So much so, I would recommend a night here over Sedona.
Jerome is perched on a steep hillside with terrific views overlooking the valley and is hands-down one of our favorite things to do near Flagstaff.
Check out what to do in Jerome Arizona HERE
DETAILS: