We were nothing short of blown away by Tirana Albania. The fun culture and energetic vibe far exceeded our expectations. The distinct and unique neighborhoods all of which contributed their own awesomeness were the icing on the cake.
Let's explore this friendly and great city and find out how best to visit Tirana Albania. Here's what we'll be covering.
Best things to do in Tirana
Getting around Tirana by bus
The recent history that makes Tirana such a fascinating place.
Getting off the beaten path to fully experience this unique city.
Our favorite places to stay in Tirana
Tirana's weather and best time to visit Albania
Next we'll cover some getting around fundamentals for visiting Tirana.  If you want to jump straight to the best things to do in Tirana click HERE.
When we first decided to go to Albania this was a common question that got thrown back at us. And the simple answer is, absolutely it's safe.
Random acts of violence are practically unheard of and even petty theft and pickpocketing are extremely rare. This is not the case with other more mainstream European destinations.
In fact, Albania had some of the friendliest people we've ever met. They are happy people filled with optimism as they emerge from their recent communist past.
Although Albania tourism is skyrocketing, the numbers are still low so the locals aren't burned out on tourists. This all adds up to a great experience.
TIRANA ALBANIA WEATHER
In Tirana, the summers are hot, dry, and short. While winter is a bit longer, chilly, overcast, and rainy.
We recently visited at the end of May and had fine weather. We certainly had some rain but in general, we were comfortable with a long-sleeved shirt by day and jacket for the evenings.
The cafe/bar scene is impressive here and is all about sitting outside. So plan an extra warm layer to experience the Tirana cafe scene.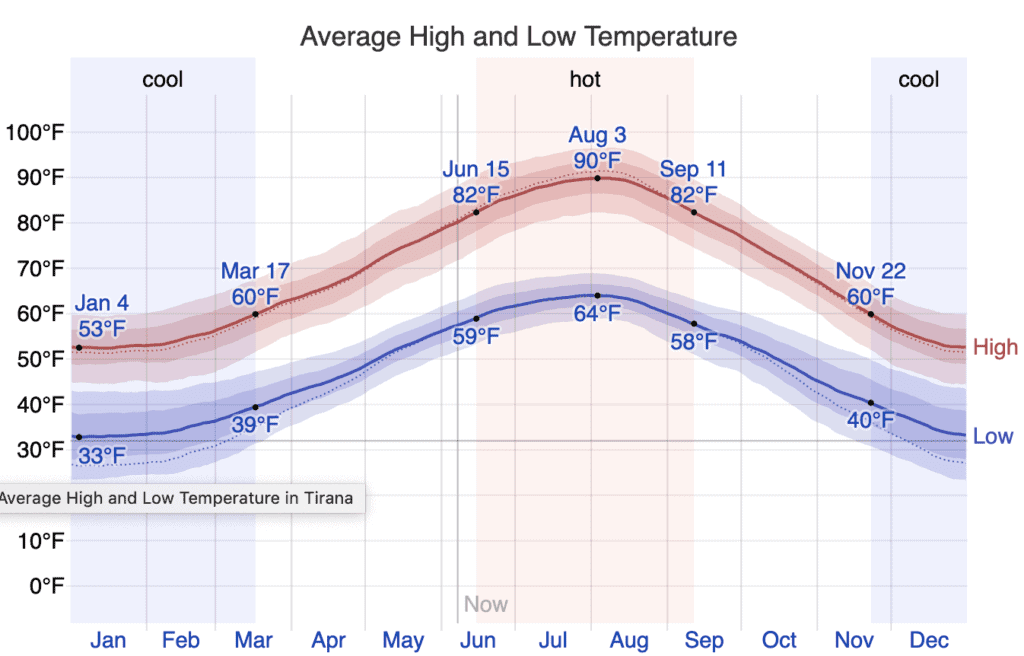 ALBANIA'S HISTORY – THE SHORT VERSION
The capital city of Albania, Tirana, was only established in 1920. The city existed prior to this under the Ottoman empire and then by Italy. Most recently Albania was ruled by communist forces until their demise just recently in 1990.
Tirana is the perfect place to get a grasp of Albania's fascinating history. Relics from the communist period can be seen throughout Tirana and are impressive reminders of how life here was very different not too long ago.
GETTING AROUND TIRANA
Navigating a new country or even the state next door starts with a good map. There is no better map for travel than Mapsme.
It's an app for both IOS and Android that lets you download maps for an entire country to your phone. These maps can be used offline along with the phone's GPS. Best of all it's a FREE app. It's a must have!
TIRANA BUSES
There are plenty of Taxis in Tirana which are easy to use so I won't go into them any further. We prefer buses anyways.
There are 3 types of buses in Tirana. The large Coach style bus, the city bus, and Furgon.
The Coach bus is what you'd expect for longer trips. These larger buses with the storage below will have AC and are very comfortable for longer trips.
The city buses are just what you'd expect and are no different than what you likely have back home
Furgons are an unlicensed minibus, think Sprinter van, that are very affordable and popular in Albania.
TIRANA BUS STATIONS AND BUS STOPS
The Mapsme app does a great job of labeling all the bus stations and stops but here are a few key ones you need to know.
TIRANA BUS STATION – SOUTHERN DESTINATIONS
Here's a Google Map showing the Tirana Bus Station for Southern destinations.
Serves the destinations in and around Berat, Dhermi, Himare, Vlore, Durres, Gjirokaster, and Sarande.
The stations is located about 1.5 miles West of downtown. In the Mapsme app search for "bus station to south Albania."
TIRANA BUS STATION – NORTHERN DESTINATIONS
Here's a Google Map showing the Tirana Bus Station for Northern destinations. This station is just a mile outside of town.
Serves Northern destinations such as Shkodra and Kukes.
The South and North bus stations are along the same road and about a 1/2 mile or 15-minute walk between them.
In the Mapsme app search for "bus station to north Albania."
TIRANA BUS STATION – SOUTHEAST DESTINATIONS
Here's a Google Map showing the Tirana Bus Station for Southeast destinations. This station is just a mile outside of town.
This station serves destinations such as Permet, Korca, Pogradec, or Elbasan.
In the Mapsme app search for "Southeast bus station."
TIRANA BUS STATION – INTERNATIONAL DESTINATIONS
Here's a Google Map showing the Tirana Bus Station for International destinations.
This station is a bit more legit and resembles an actual bus station.
In the Mapsme app search for "International bus station Tirana."
TIRANA AIRPORT SHUTTLE BUS STATION
The Tirana airport shuttle is a breeze. It runs from 7am till midnight on the hour. The ride costs 150 Lek ($1.50). Look for the white bus.
From the airport hang a left when exiting the terminal and you'll see a bunch of buses. Just ask for the downtown Tirana bus and they'll point you in the right direction.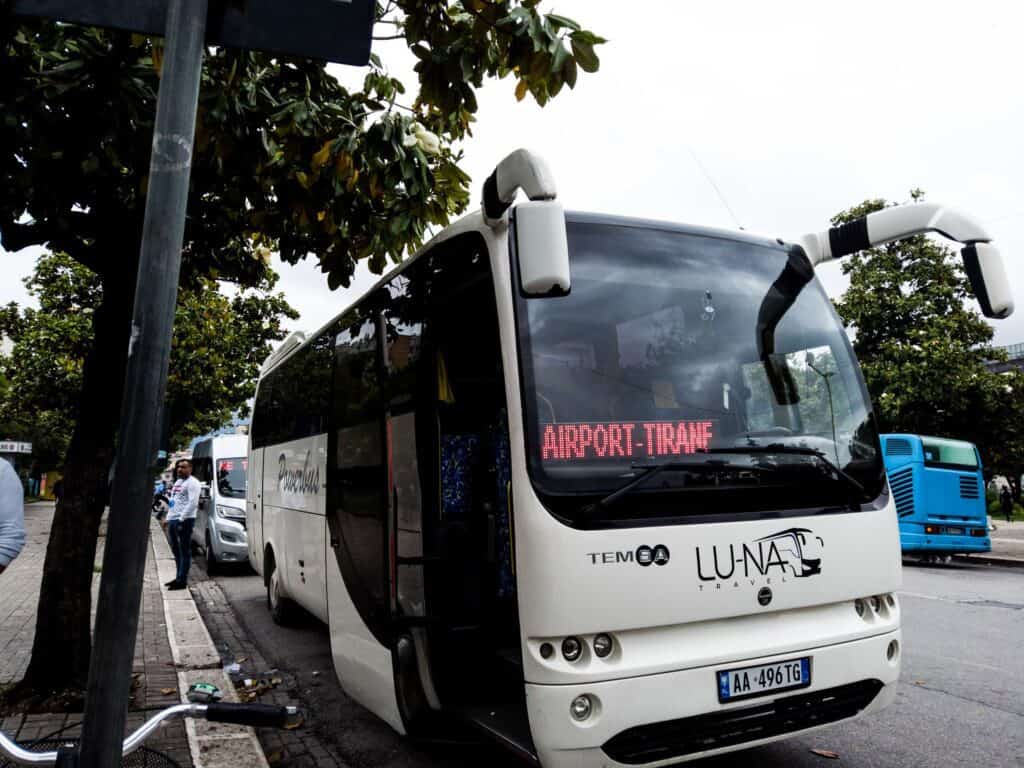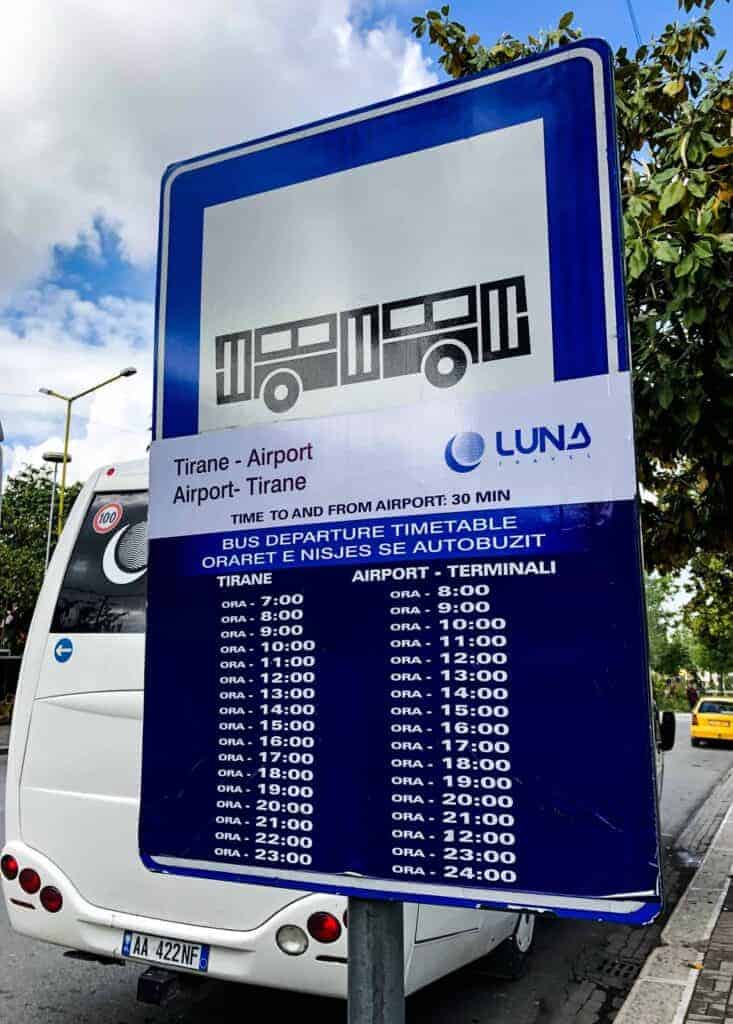 BEST THINGS TO DO IN TIRANA
Now it's time for the fun stuff. Let's have a look at the best things to do in Tirana.
First off let's get a taste for the history of Tirana Albania and why this such a fascinating place.
1. TIRANA NATIONAL HISTORY MUSEUM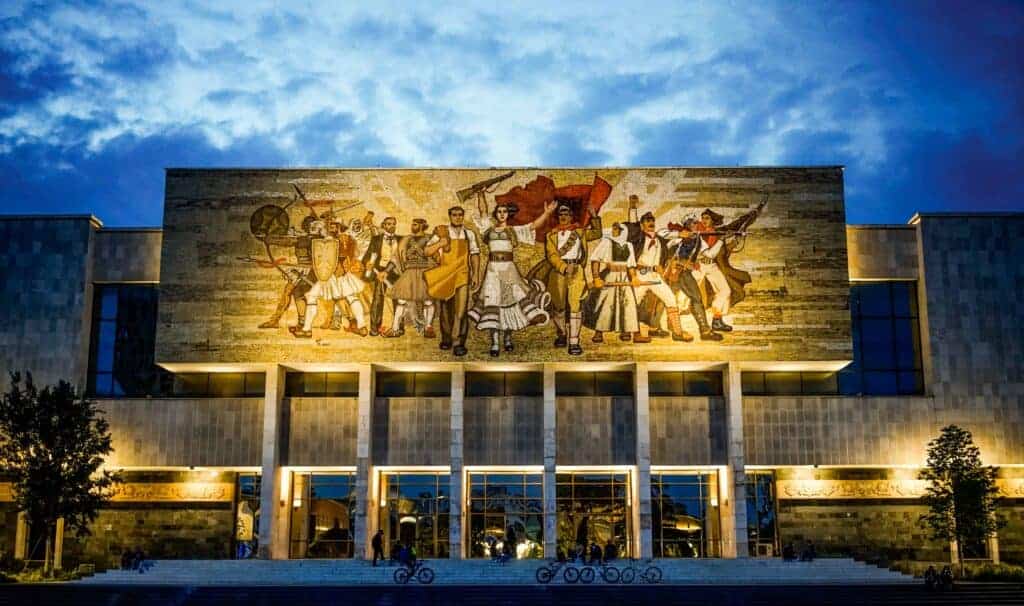 There's no better place to sort out Tirana and Albania's complicated past. The museum is sorted by pavilions, each covering a different period in history.
The Pavilion of Antiquity was a great one with a collection of almost 600 items spanning from the late Palaeolithic to the Middle-Ages.
Don't miss the Beauty of Durres, which is from the 4th century BC and the most cherished ancient mosaic in the country.
To get you started with all of the best info for traveling Albania Checkout our TOP TIPS FOR TRAVELING ALBANIA at the bottom of this post!
Getting Here:
Located in Skanderbeg Square in the heart of Tirana.
In the Mapsme app search for "tirana national historical museum."
2. SKANDERBEG SQUARE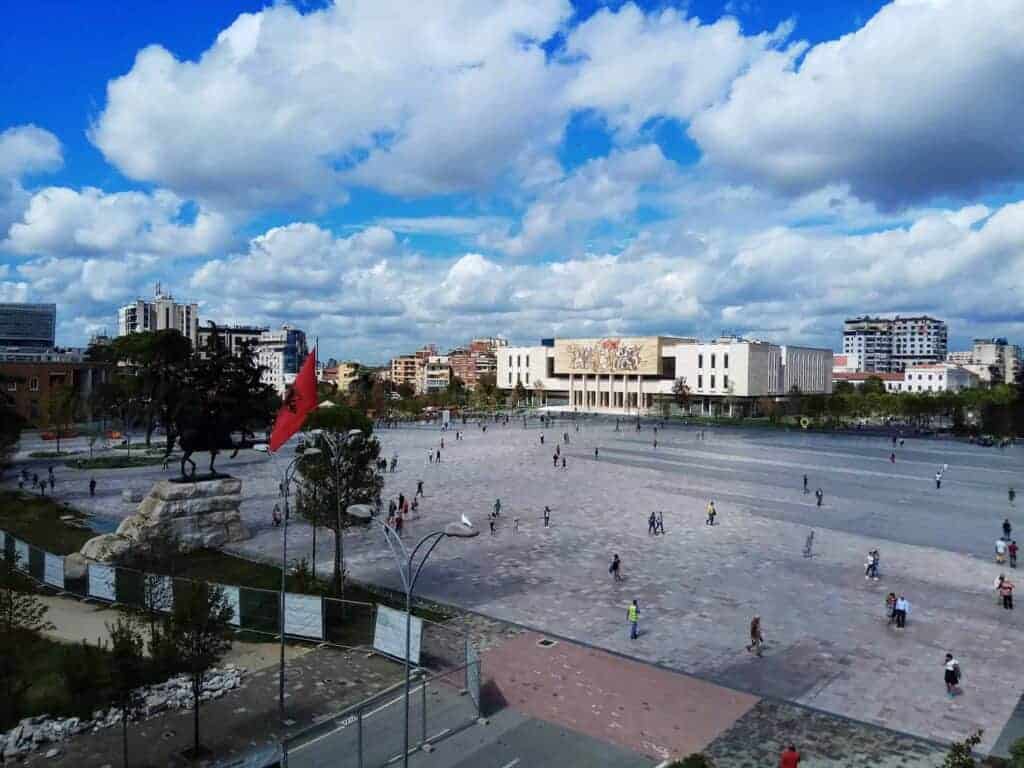 The main plaza in the center of Tirana is named after the Albanian national here, Gjergj Kastrioti Skenderbeu, credited with halting the advance of the Ottoman Empire into central Europe.
You can find a monument to Skanderbeg in the square, which stands where a communist statue of Josef Stalin once stood.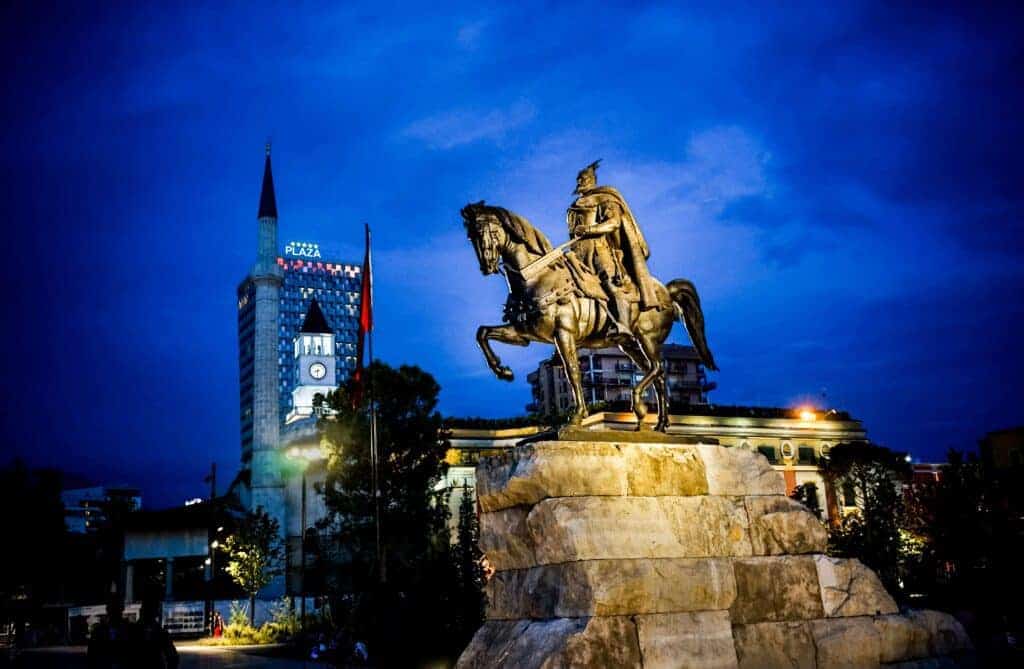 The square is buzzing with activity and a great place to people watch.
The square is home to many of Tirana's premier monuments including the National Historical Museum, Clock Tower, and Et'hem Bey Mosque.
3. PYRAMID OF TIRANA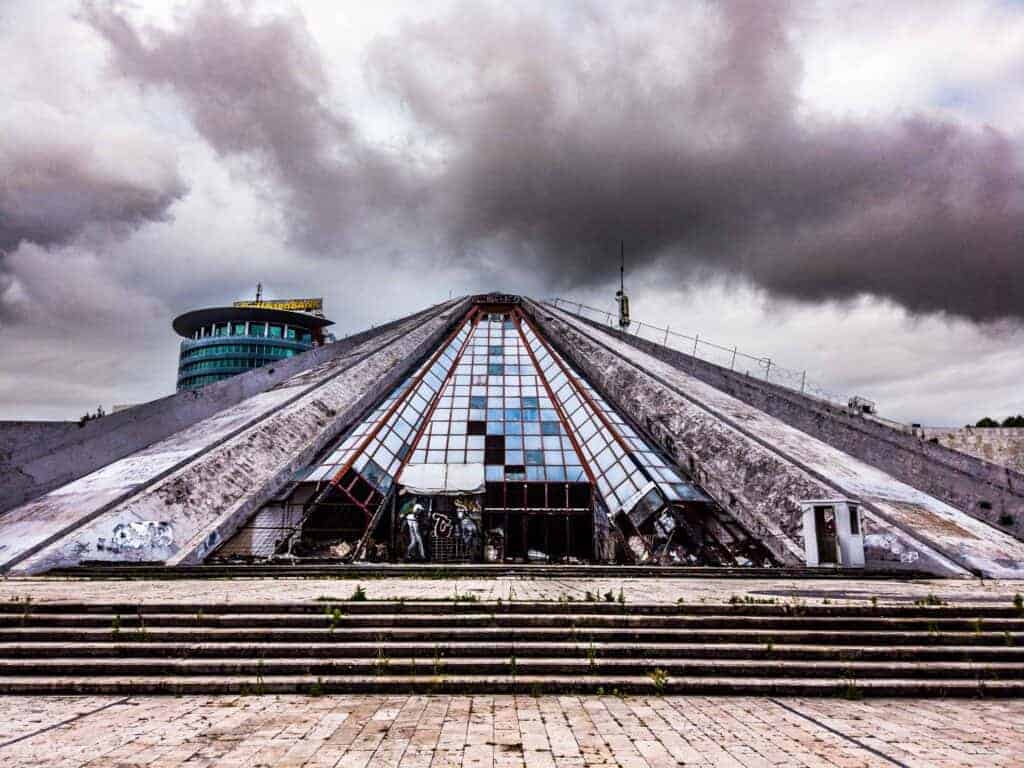 This decrepit yet culturally significant Pyramid of Tirana represents a lot what this country has just recently gone through.
The building was intended to honor the despotic dictator Envor Hoxha who ruled from 1945 to 1985. But with the fall of communism in 1990 these plans came to a quick halt.
Today the building's future is uncertain. Many Albanians want it torn down as it represents a dark communist past. While others see it as a culturally significant landmark that should be preserved.
Getting Here:
The Pyramid of Tirana is just a short walk south from the main square.
On Mapsme app search for the bus stop "piramida."
4. DAJTI EKSPRES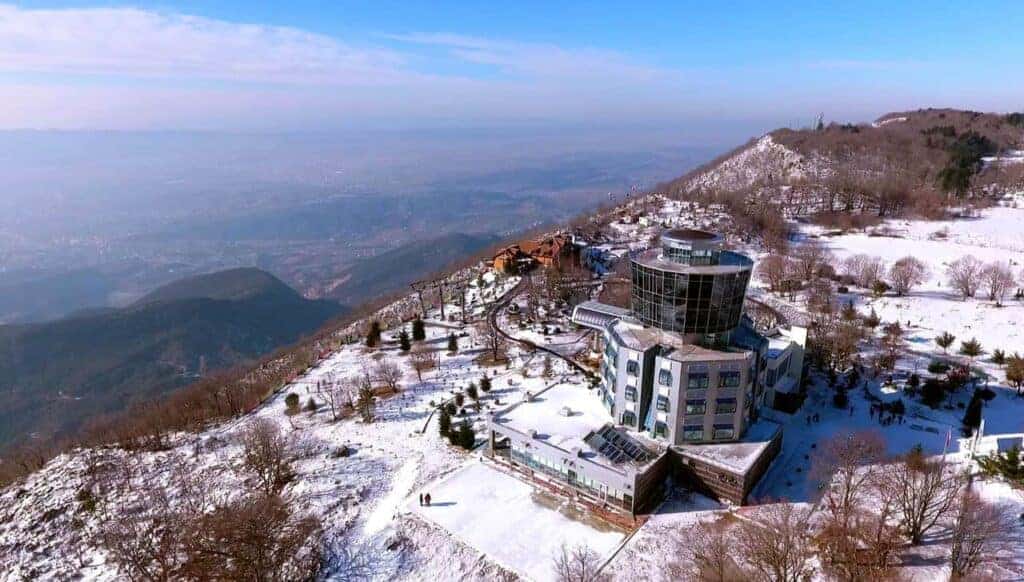 The Dajti Ekspres Gondola is a great way to get a bird's eye view of Tirana. The ride takes about 15 minutes and climbs over 2,400 feet.
At the top you'll find a visitors center as well as restaurants and even a hotel. There's hiking, horseback riding, and even skiing in the winter.
This can be easily combined with BunkArt1 as they are very close together. Plan on a full day if you chose to do both of these.
Price – 800 Leke
Getting Here:
Catch the city bus just outside the square where the airport shuttle stops, see airport bus mentioned above.
Look for the blue city bus going to "Porcelani" and tell the bus attendant your going to BunkArt or Dajti and they'll let you know when to get off.
Better yet on Mapsme here are the search terms to use.
Search for "Tirana airport shuttle bus." Look for the blue bus on the other side of road going to "Porcelani."
You'll get off the bus at the stop "Market Hippo" you can search that term in Mapsme.
The return bus stop back to town is in a different location and is not in the Mapsme app. See picture bolow, the return bus stop is the red star.
5. ET'HEM BEY MOSQUE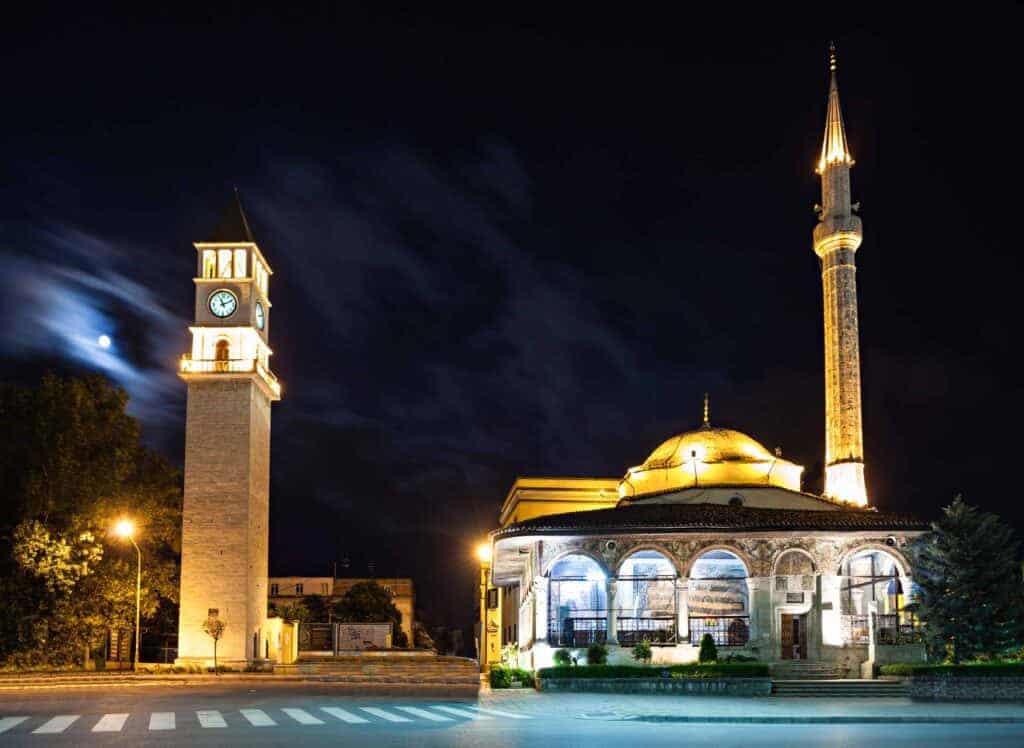 The Et'hem Bey Mosque built in the 19th-century was home to one of Tirana's most remarkable events.
The mosque which was closed under communist rule was central to a turning point for religious freedom in 1991.
On January 10th, 1991 10,000 people gathered to practice their religion against the orders of authorities who had banned Islam for the past half-century.
This marked a religious turning point for Albania as there was no police interference whatsoever.
Getting Here: Located in the main plaza
6. TIRANA CLOCK TOWER
The Tirana Clock Tower Located next to the Et'Hem Bey Mosque can be seen in the picture above.  Finished in 1822 by Etëhem Bey Mollaj who also completed the mosque next door.
The tower is open to visitors free of charge. You'll climb up a narrow winding staircase where you'll be rewarded with some tremendous views of the city and square. Unfortunately for us, the tower was closed for maintenance which means we'll just have to come back some time. Oh darn 🙂
7. GRAND PARK OF TIRANA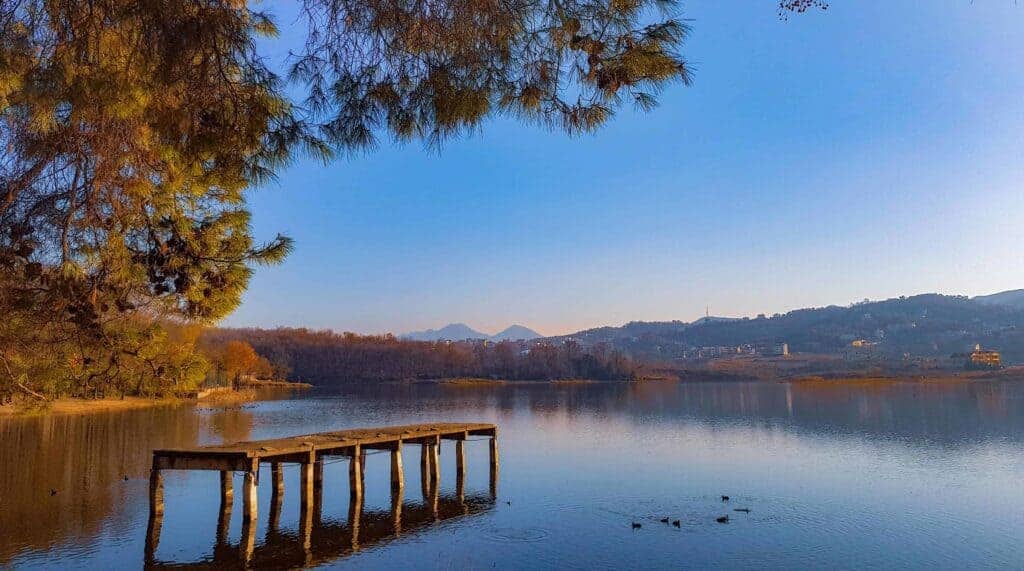 The Grand Park of Tirana is one of the many reasons to love this city. It's not often you'll find such a massive park in the capital city and even more amazing that it's right in the center.
Great for an early morning run or a leisurely stroll. The trails around the lake within the park are particularly nice. The park also features an open-air theatre where you can catch various shows.
What makes this park of Tirana even more unique are the memorials that can be found commemorating those who have given all for Albania.
Oh! Don't miss the swimming pool complex and the zoo. Tons to do here.
8. TIRANA BUNK'ART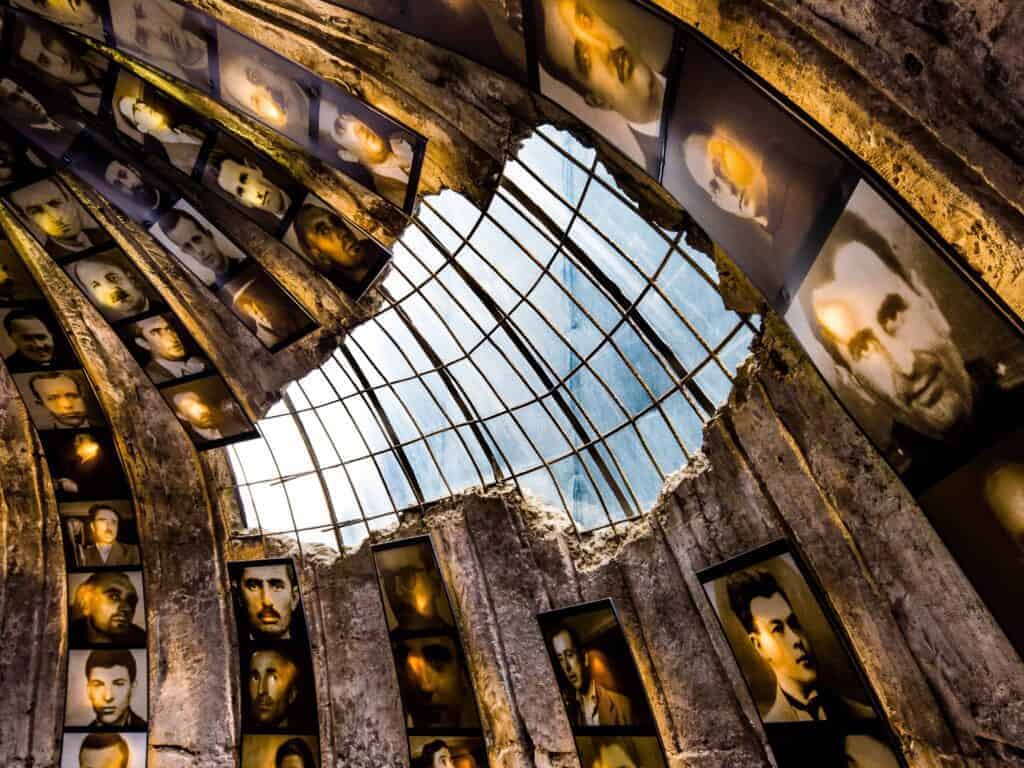 This place was so fricken cool and even a bit spooky.
Bunk'Art puts you right inside Albania's troubled past. These communist-era bunkers were constructed for the elite political and military personnel in case of nuclear war.
There are two Bunk'Art exhibits. Bunk'Art 2 is located near the city center while Bunk'Art 1 you'll need to take the bus or a taxi.
BUNK'ART 1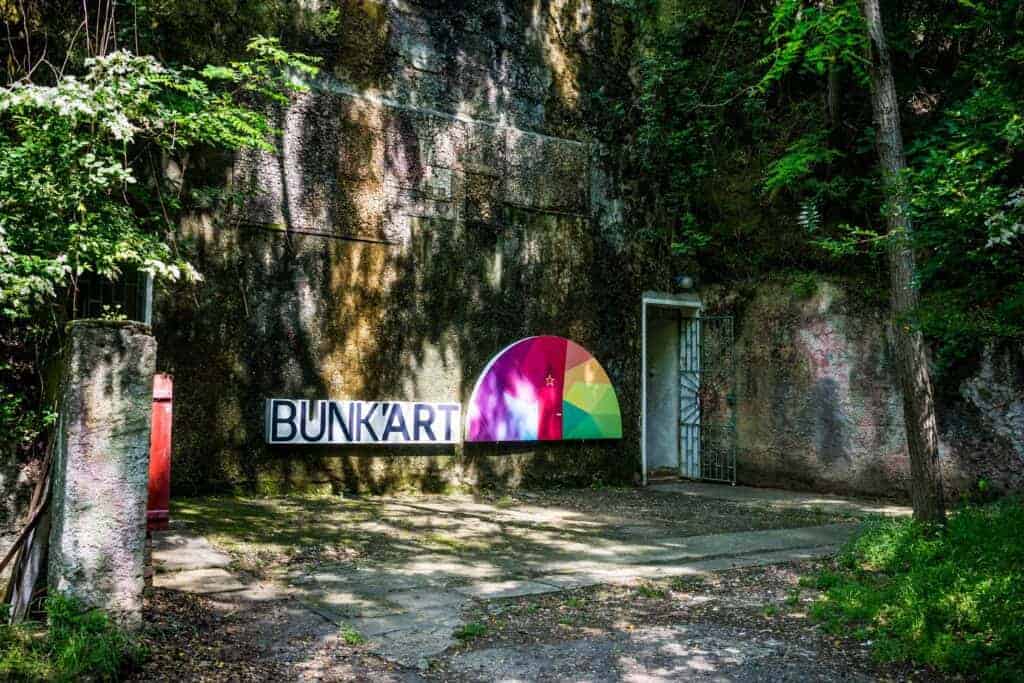 Bunk'Art 1 is massive and throws down big with over 106 rooms, five stories, and a massive meeting hall with 200 seats.
The bunker was completed in 1978 and was the masterpiece of dictator Enver Hoxha.
Once you pass through the massive concrete doors you'll begin your walk down the seemingly endless hallway.
All along the way you'll find rooms filled with artifacts, pictures, and displays that tell a fascinating story.
They even had a schoolhouse for the political and military elite.
Getting Here:
Follow the directions HERE from the Dajti Tram to get there by bus. Or you can hire a taxi.
Entrance Fee: 1,000 Leke (about $10)
On the Mapsme app search for "bunkart1"
BUNK'ART 2
As soon as you walk in you'll hear live recordings reading off the names of the politically convicted. Below you can find the names and a memorial of these 100,000 politically persecuted people.
This Bunk was just recently opened in 2015 and is one of Enver Hoxha's 700,000 bunkers that he built out of paranoia.
The bunker was secretly built from 1981-86, beneath the Ministry of Internal Affairs in the heart of downtown Tirana.
A touch smaller than Bunk'Art 1, this bunker has a mere 24 rooms. But inside you'll find a different collection of history and artifacts making it a worthwhile visit.
Getting Here:
Located right off the main square.
In the Mapsme app search for "bunk'art 2"
9. FREE WALKING TOURS OF TIRANA
A great way to get a feel for the city is one of Tirana's Free Walking Tours. The tours last about 2-hours and are led by an English speaking local.
They are free but a donation is greatly appreciated.
Tours start at 10am and 6pm 7-days a week. Meet in front of the Opera house in the main square.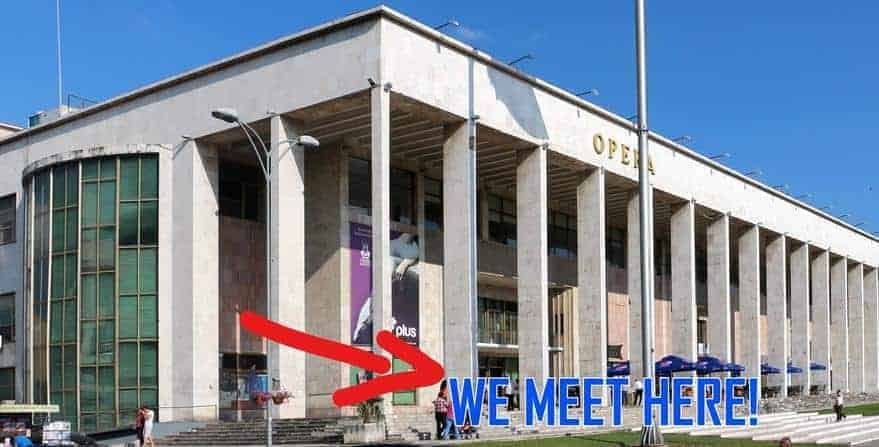 Your content goes here. Edit or remove this text inline or in the module Content settings. You can also style every aspect of this content in the module Design settings and even apply custom CSS to this text in the module Advanced settings.
NEIGHBORHOODS OF TIRANA YOU SHOULDN'T MISS
I wanted to mention a couple neighborhoods of Tirana that are worth a visit and will at least get you started with exploring this great city.
BLLOKU – FOR THE TRAGICALLY HIP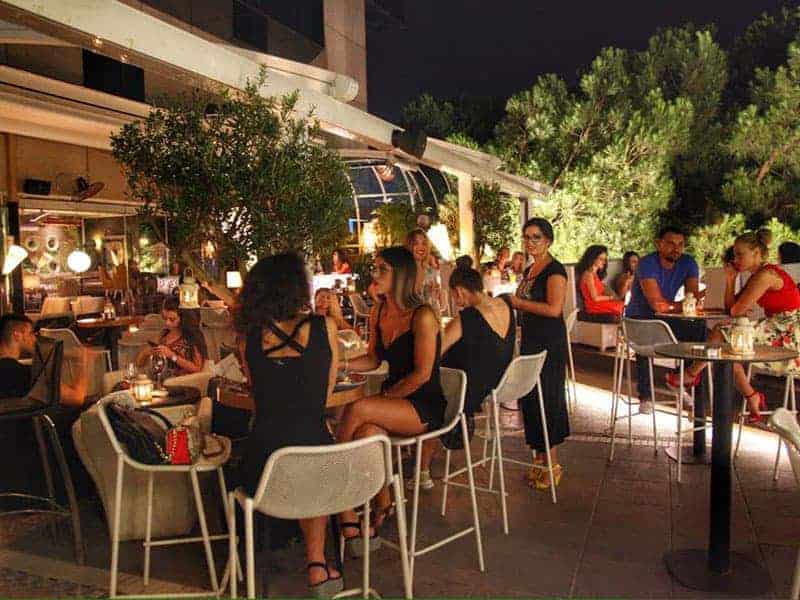 The famous Blloku district was once the stomping ground for dictator Enver Hoxha. The area was only open to communist party members and you can even see Hoxha's former home.
Today it's a swanky and lively part of town. Cafe's, bars, and restaurants line the street all offering something slightly different. It is THE place to be.
MARKET AREA
The market is another great area and is a good contrast to the swanky Blloku district. For a more low-key and local feel, this is a good spot that's close to the center.
The area is centered around a small food market with restaurants all around. We found this place when we cruised by on the bus and noticed people drinking these enormous beers.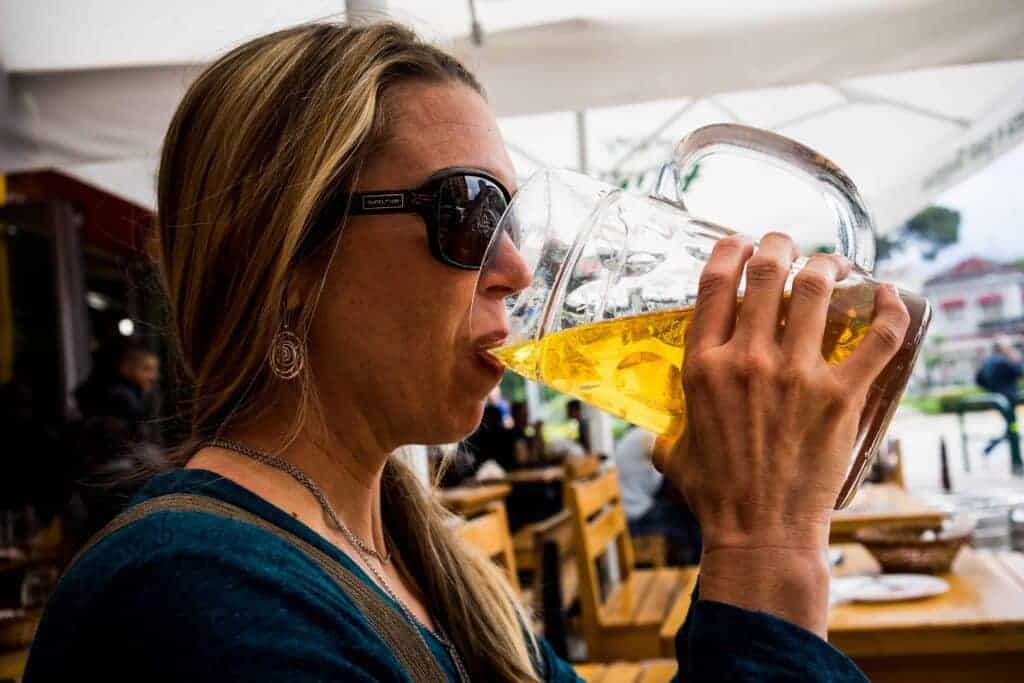 This cluster of restaurants all serve these massive beers that cost only 200 Leke ($2). We also had the best Albanian fried white cheese here at Kernace Zgare Fatosi(link to google maps).
You'll also see a seafood restaurant that's right next to the market. It looked amazing but was too full for us to even get in. Had to leave that one for next time.
In Mapsme search for "blloku"
THE PYRAMID AREA
Adjacent to the Pyramid is another fun part of town that is especially lively in the evenings. It's home to a bunch of fun bars as well as some really nice restaurants. There's even an Irish Pub if you need a Guinness fix like we did.
BEST BARS IN TIRANA
There are a ton of great places to catch a drink here in Tirana but if I had to pick two these would be on top.
RADIO BAR TIRANA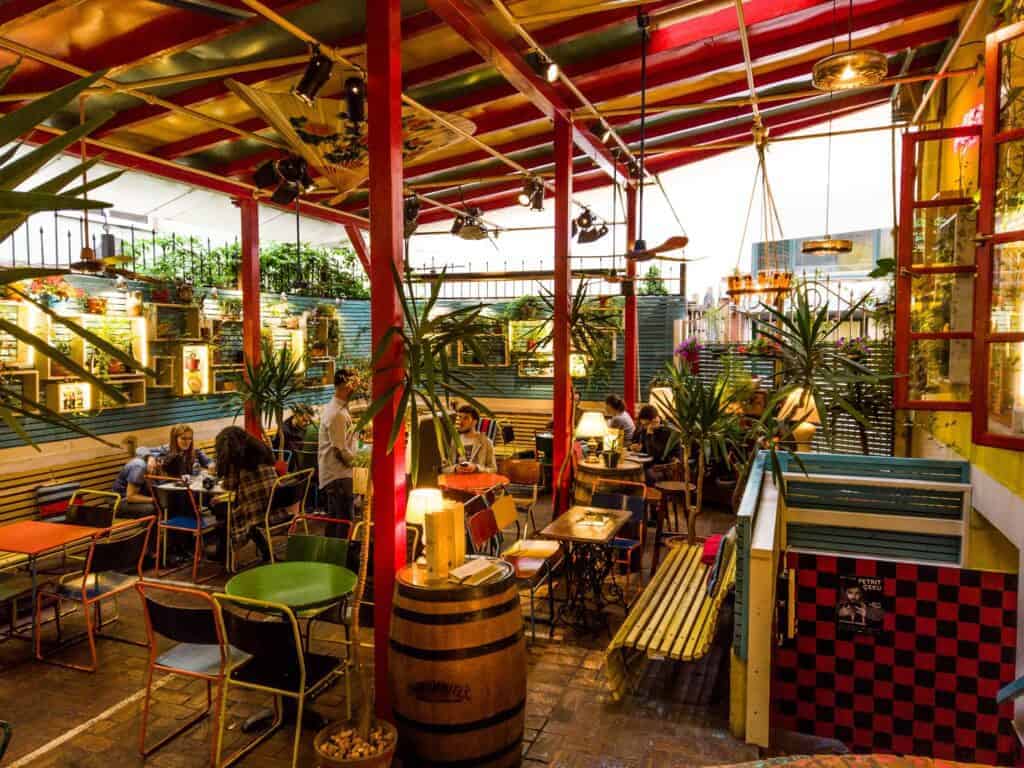 This place was legit. The decor is off the charts and the vibe will keep you there for hours. Outstanding cocktails and a perfect atmosphere make this a must see.
It's the most blah looking place from the outside and would be really easy to miss as it sits back off the street a bit.
Getting Here:
In the Mapsme app search for "radio bar"
KOMITETI KAFE MUZEUM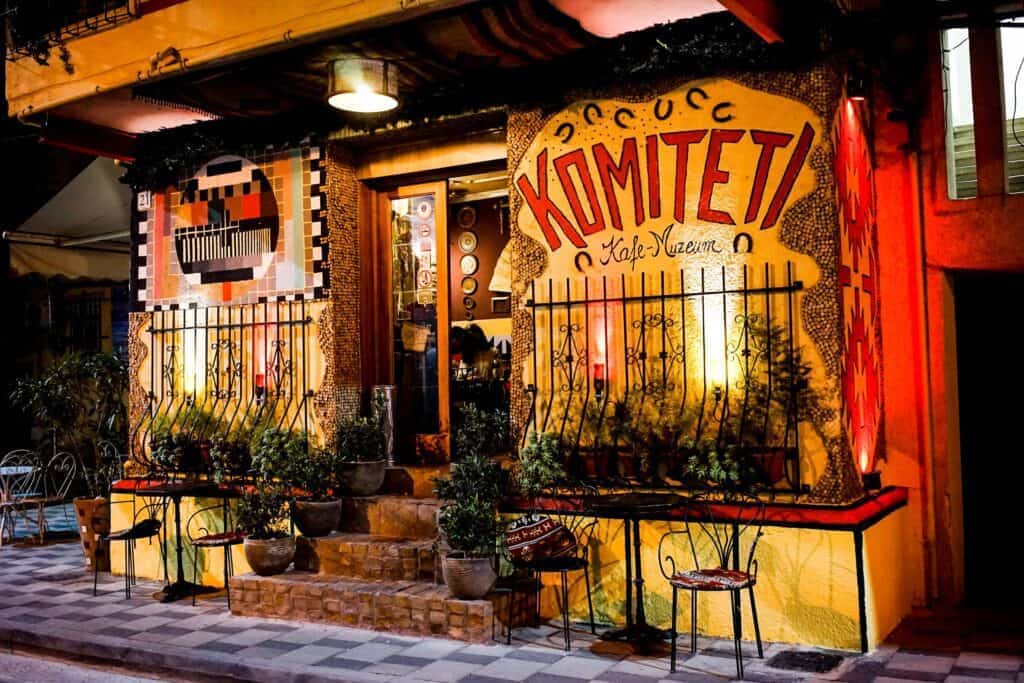 Komiteti is an awesome place and you won't believe your eyes once you walk in. It deservingly calls itself a museum.
You could spend an hour just walking about and looking at all the interesting artifacts.
Amongst all this decor sits one of Albania's largest Raki selections. They have over 50 varieties so you shouldn't have any trouble finding one that suits you. The bartenders were really friendly and helpful by the way.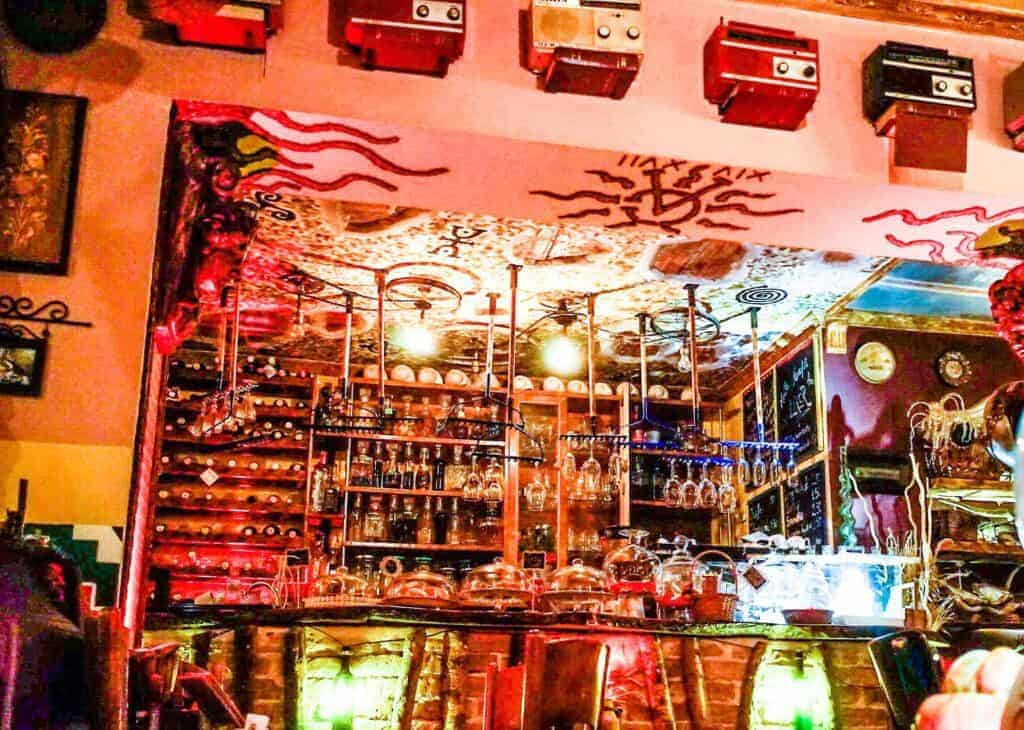 So what is Raki? Raki is a distilled alcohol that is common throughout Albania, Greece, and all of the Balkan countries. It's often sweet but we found plenty of varieties that weren't sweet at all.
It's often produced off-label and many families have recipes that have been passed down for generations. While some Raki is commercially produced, you'll often find them pouring it out of unmarked bottles.
It's meant to be sipped and is often served with cold water or ice cubes on the side.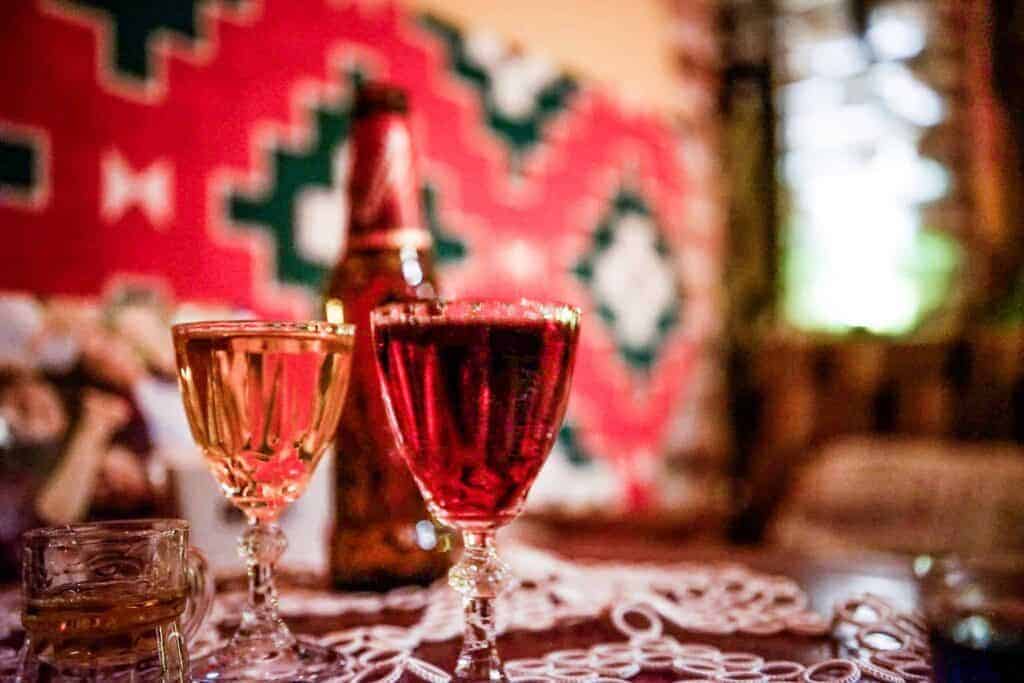 Getting Here:
Search for "Komiteti" in the Mapsme app.
It's located just a block from the Pyramid.
FREE PRINTABLE–YOUR ALL-IN-ONE GUIDE FOR ALBANIA TRAVEL TIPS TO HELP YOU TRAVEL WITH EASE
Get access to our free resource library full of great info that includes FREE Albania Travel tips by signing up below
VISITING TIRANA ALBANIA
I hope we've sparked your inner travel bug with Tirana Albania. We sure enjoyed our time here and can confidently recommend this as a safe, friendly, culturally significant, and beautiful country that deserves a spot on everyone's bucket list.
If you have any specific questions don't hesitate to contact us, [email protected].
Happy Travels