Most people would agree that packing a toiletry bag can be one of the biggest headaches when it comes to travel. Toiletries and bathroom essentials are one of those things that you need while traveling but they can be burdensome when you're trying to pack light and get through security efficiently.
I know that the security checkpoint can be a stressful time for many people and the fear of having your liquids confiscated while trying to pack enough product for an extended vacation isn't easy. If you can master a couple of my tricks below you'll not only fly through security with everything you need but also ensure that nothing explodes along the way.
FIRST THINGS FIRST WHAT ARE TOILETRIES?
Toiletries are considered to be any product or tool you use to keep yourself looking and feeling your best also known as "keeping yourself groomed." Your bag of toiletries might include travel sized bottles of shampoo, dental floss, deodorant, toothpaste and soap. We'll go over more of this below.
WHAT ARE THE MOST IMPORTANT TOILETRIES TO PACK?
Think about the 5-10 things you use every day, obviously "the most important toiletries" will be a little bit different for each person.
Shampoo
Conditioner
Deodorant
Toothbrush
Toothpaste
Soap
Hairbrush
Floss
Contact Solution
Contacts
Face Wash
Razor
Shaving Cream
Feminine Period Products (obviously not used everyday but one of the most important to have with you)
Prescriptions
WHAT TOILETRIES TO PACK FOR VACATION?
For me there are some non-negiotables (things I don't want to use from the drug store) like face wash and face cream. Other items such as soap and toothpaste are things that I don't mind purchasing while I'm on vacation. So think about how long you plan on being away.
Can you supplement your toiletries with the items that are provided by the hotel?
ULTIMATE TOILETRIES PACKING LIST
Remember if you plan on carrying on any of the below items make sure they are toiletries that are travel size
Shampoo
Conditioner
Toothbrush
Toothpaste
Mouthwash
Tooth floss
Facial cleanser
Toner
Face Moisturizer
Eye Cream
Body Wash
Shaving Cream
Razor
Contact lens solution*
Contact lens case
Body Moisturizer
Body Powder
Sunblock
Deodorant
Hair Smoothing Cream
Hand Moisturizer
Hand Sanitizer
Nail Polish
Nail Polish Remover
Tweezer
Q-tips
Makeup Remover
Comb/Brush
Leave in Conditioner
Dry Shampoo
Anti-heat Spray
Styling Gel/Mousse
Hair Spray
Flat Iron
Curling Iron
WHAT SHOULD BE ON YOUR TRAVEL TOILETRIES LIST AS A FEMALE TRAVELER?
It seems that women are the ones with all the things, I mean there's lot of fun products to make females feel "girly." From lip glosses to fragrance lotions, and curling irons we have a lot to think about.
In addition to the regular toiletry Items here is an additional toiletries list for ladies to consider
Feminine Products

Birth Control
Lip Gloss
Subtle roll-on fragrances
Pain Relief
Hair Ties
WHAT TOILETRIES CAN I TAKE ON THE PLANE
One of the most important things to know before you start planning for your trip is what you are allowed to bring in your suitcase. The toiletries you can take on a plane depend on whether or not you are checking your luggage.
WHAT NOT TO TAKE IN YOUR TOILETRY BAG
Sharp items that may be considered weapons
Flammable items
Bottles larger than 3.5 oz in your carry-on
Unsealed Liquids
Anything you don't plan to use every day
WHAT'S THE BEST TOILETRY BAG FOR CARRY-ON LUGGAGE?
I'd opt for taking two toiletry bags:
TSA clear plastic one to hold your liquids
functional hanging toiletry bag for all of your other belongings.
Clear Travel Toiletry Bags that hold your travel-sized liquids (shampoo, conditioner, soap, face wash) are ideal since they make security checks a breeze; simply pull out your TSA-approved toiletry kit and place it on the conveyor belt. There's no guessing what's in the bag with a transparent bag; this will help you get through security without being hassled
A hanging toiletry bag is a great way to organize all your toiletries while traveling, what I like about the hanging bags is that they are easy to use when counter space is limited in smaller bathrooms
HOW DO YOU KEEP YOUR LIQUIDS FROM LEAKING?
Nobody wants to show up on vacation with shampoo or conditioner all over their belongings. The best way to keep liquids from leaking is to open your liquid bottles and place a small piece of plastic wrap over the top of the bottle then put the cap back on.
Also don't forget to place any items that could leak into a plastic bag. Placing them into a plastic bag gives you peace of mind that the air pressure changes on the plane won't compress your bottles causing them to leak on your clothes.
HOW MANY TOILETRIES CAN I TAKE IN MY CARRY ON?
It's really not about how MANY toiletries that you can take but more bout the volume of liquids that you can take
If you're planning a trip here's our most popular guide for planning a trip
12 TIPS FOR THE MOST STREAMLINED TOILETRY PACK
1. GET A TOILETRY BAG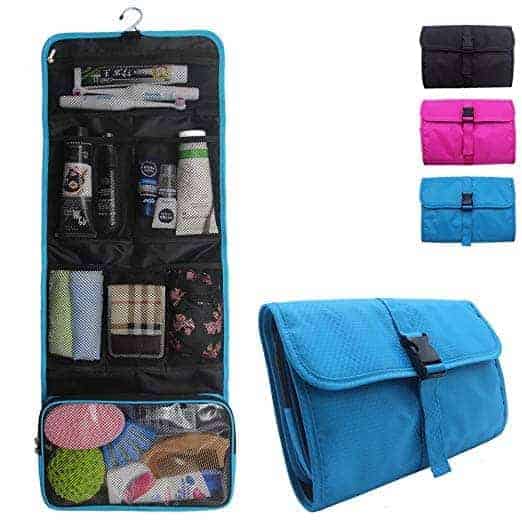 Start with the right toiletries bag. There are all sorts of toiletry bags out there, you'll want to find one that has lots of compartments and comes with mesh so that you can easily see what you have. I'm a big fan of toiletry bags that come with a hanging system like this so that you can hang your bag on a towel rack keeping your bathroom counters clutter-free. Please keep in mind that any of the liquids you plan on carrying on the plane have to be properly bagged in a quart-sized bag according to the TSA regulations. If you don't want to worry about running into any security hassles what you need is this TSA approved clear toiletry bag! It fits all TSA standards – under quart size and see-through design. You can pack 8 to 10 (3 oz) bottles of toiletries inside.. Plus, this transparent toiletry bag is sturdy and durable.
2. REFILL AND REUSE YOUR BOTTLES
I'm a huge fan of refilling and reusing bottles for travel. There's no need to purchase those travel-specific shampoos and lotions when you can get yourself reusable leak-proof silicone bottles. I know those travel-specific toiletry sections at the drug store can be appealing but it's really best to use the shampoo you have at home to fill those bottles. Another good toiletry hack is to use medicine bottles for your lotions or shampoos, they're leak-proof and I use them all the time. Let's not stop at reusing bottles you could even fill an old contact lens case with dabs of makeup or eye cream.
3. TRAVEL-SIZE ELECTRIC TOOTHBRUSH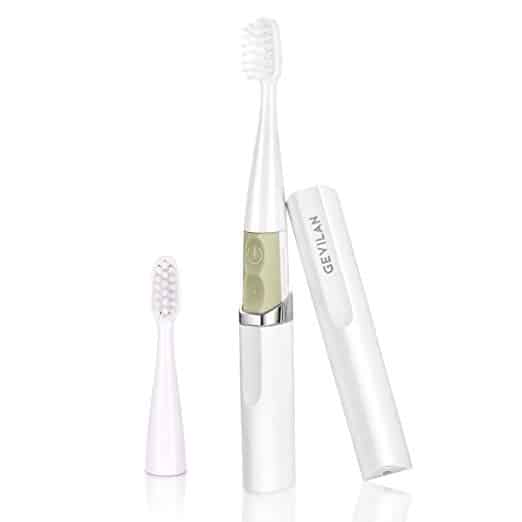 If you're anything like us you've become accustomed to your electric toothbrush. And every time we travel without one it just doesn't feel right. This electric toothbrush is really compact at only 6 inches and stores easily in its own case. Runs off a single battery so no charging base is needed.
4. TOOTH FLOSS
Speaking of those pearly whites keep them healthy and flossed while traveling by using something like this.This floss card is very convenient and comes in packaging as thin as a credit card (so pack as many as you'd like)!
5. MOUTHWASH
While we're on the topic of caring for your teeth if you're a habitual user of mouthwash get some of these Listerine chewable mouthwash tablets! Using these makes for one less liquid to pack in your toiletry bag.
6. CHOOSE MULTI-PURPOSE PRODUCTS
Finding multi-purpose products while you're traveling is the best space-saving trick around. Think of using a multi-use product like this highlighter by Nars that adds a pop of color for both your lips and your cheeks. You can consider using argan oil as a skin moisturizer and hair conditioner. If you can find a good quality all in one shampoo and conditioner to eliminate the need for bringing a conditioner you can save a ton of space in your toiletry bag.
If you do need to bring conditioner it can easily double as a shaving cream too. I'm a huge fan of bringing along coconut oil while I'm traveling. Coconut oil can be used as a moisturizer, makeup remover, and can help with various skin conditions such as eczema. Additionally, if you're really pinched for space a mini bottle of Dr. Bronner's liquid soap can be used as a body wash, face wash, shampoo, bath soak, deodorant, and even as toothpaste in a pinch.
7. LEAVE THE LIQUIDS AT HOME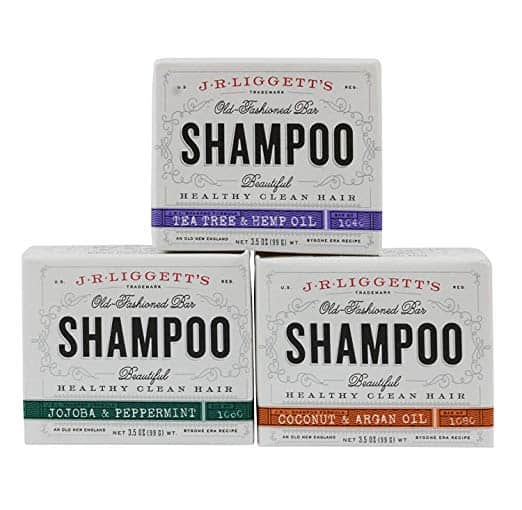 BAR SHAMPOO
Sometimes no matter how much you prepare your toiletry bag for travel you'll still run into security issues if you overpack too many liquids. To avoid the dreaded quart-sized bag issue try and leave unnecessary liquids at home. There are lots of products you can buy that come in bars. This bar shampoo is a perfect example of a product you can use as a shampoo and body soap eliminating the need for bringing both.
DRY SHAMPOO
A travel sized dry shampoo spray is my ABSOLUTE go to while traveling. Keeping my hair looking fresh without having to bring my big bottle of shampoo is a lifesaver while traveling. It also saves a lot of time because I'm not having to style my hair as often while traveling. Let's be honest who wants to be spending time getting ready when they could be seeing the attractions of where you're visiting.
PRO TIP: Blondes may be able to get away with using powder as a hair freshener upper. For those with darker hair consider throwing in some cocoa to powder to darken it for you.
TOOTHPASTE TABS
You can also get these toothpaste tabs that will allow you to leave toothpaste containers at home. If you do decide to bring these tabs I recommend putting them into a small-sized plastic bag so you aren't taking up space in your bag with the container.
SUNSCREEN STICK
My absolute favorite packing hack and a good way to save money when you're traveling is to purchase sunscreen in the stick form. It's kind of like a stick of deodorant and actually works quite well. We all know that paying for sunblock in a resort area can be expensive and if you bring a bottle you'll have to check a bag due to liquid restrictions.
This Neutrogena sunscreen stick is ideal for those who want to lessen the liquids they're carrying during travel. It's portable but still as effective as lotion or spray types of sunscreen!
8. COLLECT PRODUCT SAMPLES
I'm a huge fan of collecting product samples for travel. If I get a sample freebie from Sephora or a small package of moisturizer from the beauty counter I make sure to slip them into my toiletry bag to use while I'm away. By reducing the volume of products in your carry-on while traveling you'll be sure to glide through security with ease.
9. DEODORANT WIPES
Putting a couple of these deodorant wipes in your purse is a great way to freshen up mid-day or they can even be used as an alternative to traditional deodorant sticks (they're lighter too). Throw in a few of these deodorant wipe packets in your toiletry bag and you're good to go.
10. TRAVEL SIZE FACIAL CLEANING WIPES
If you're getting close to exceeding your TSA liquid limits and don't have space for your liquid facial cleaner pack something like these facial wipes into your bag. These travel size facial wipes allow you to remove makeup at the end of the day, and they're even great for a midday refresher.
11. DRY SHAMPOO
When you're traveling nobody wants to spend time washing, and drying their hair when they could be seeing the sights. To save yourself time and keep your hair looking fresh and clean consider bringing a dry shampoo in your toiletry bag.
12. PACK IN ADVANCE
Don't wait till last minute to pack that toiletry bag. With so many things to remember, it can be easy to forget a much-needed product. The only way you're going to have a perfectly-packed toiletry bag is to give yourself time to get organized.
Spend time packing your kit, and choosing the right products. Or even better I recommend creating yourself a list that you leave in the bathroom drawer that has everything you need written down to help you easily and effectively pack your toiletry bag in a moments notice.
HOW TO PACK YOUR TOILETRY BAG FOR TRAVEL
Now it's time to start packing that bag! Of course, you can just dump everything in one pouch… If you don't mind the clutter and disorganized mess. But if you want to be a pro at packing your toiletry bag do yourself a favor and follow the steps below!
Be aware that the TSA Liquids Rule applies to all carry on bags only. Your liquids should be packed in containers under 3.4 ounces and must fit in a 1-quart size clear bag. If you want to know more about the TSA Liquids Rule check out this link to the TSA website
Use 2 toiletry bags – Pack all your liquids in a TSA approved clear toiletry bag. This bag can easily go in your carry on or even your personal bag! Be sure to pack all non-liquids in a separate toiletry bag that can remain in your bag during security. Doing this makes it super easy to grab the liquids bag during TSA security!
If you're looking for some of our best travel tips don't miss this article, you'll learn all of our top tricks for traveling the world cheap.
POPULAR TOILETRY BAGS
POPULAR SMALL TOILETRY BAGS
POPULAR REGULAR SIZED TOILETRY BAGS
FAQS ABOUT TOILETRIES AND TRAVEL
Can you bring a razor on a plane?
This one gets a bit confusing straight blades and razors are NOT allowed in your carry-on luggage. However, disposable razors such as the ones used to shave are acceptable in your carry-on
Can I bring full sized shampoo bottles on a plane?
If these items are going into your checked luggage, yes you can bring full sized bottles of most things on the plane
Where can I find a good Mens toiletry packing list?
This packing list is catered towards men and has the most popular toiletries that men use and take while traveling
THAT'S ALL FOR NOW
I hope you found our toiletry packing tips to be useful if you have some packing hacks or trips you'd like to share we'd love to hear about them. Leave a comment below to share with all of our readers